Every baby is striving to sit up and see what's around them, it's a primal instinct and shouldn't be ignored. There are new and innovative baby toys and stuff that's been tailor-made to ensure that your child can develop their strength and grow. This review looks at the best baby sitting toys, the best bumbo floor seat for your baby, and the many different types of floor seats that can help with that, so you will no longer need to be propping them up with pillows and keeping an anxious eye on them.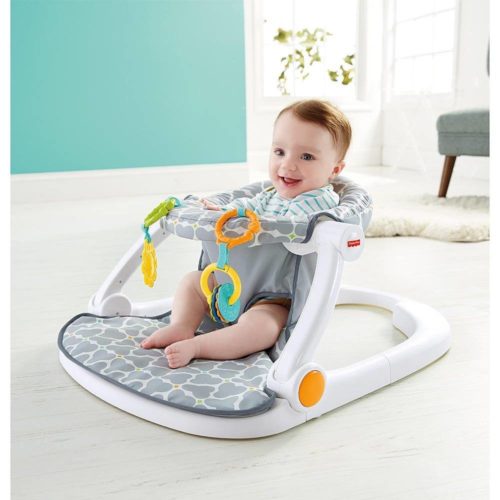 Considerations
When looking to buy the best baby floor seats you want to consider the following, these factors would ensure your little one stays comfortable and safe in the best baby floor seats. The following baby floor seats have been carefully tested to make sure that that each of the baby sit up chair makes it easier to care for your little one. Make sure to carefully consider the following factors if you are looking for a chair to help baby sit up.
Safety
Some components of the baby seats are not as sturdy as others and although this is uncommon, making sure they are designed by a well-known company is important to us. We choose safe and trusted sites like Amazon to ensure that we introduce you to the best baby floor seats.
Style
Each baby chair offers slightly different features and styles, so choose one your little one will love. Some noticeable differences are whether they are flat sitting surfaces, rotating tray, supported leg position and have a chest-level support feature which is a favorite of many. For every baby, there is a perfect baby floor seat waiting.
Certification
ASTM international offer approval-only on products up to standard and partners with the JPMA, which makes sure the manufacturing process meets the regulation standard, also ensures your child is safe in play with high quality finished items. The little floor seats that would be coming your way are industry certified to keep your child safe at all times.
Easy Assemblage
The easy to assemble is always best and the quicker is usually a sign of well-made baby floor seats, which is why in this review I choose Fisher-Price. They are easy to assemble and you will find it easy to handle unlike some I have come into contact with over the years.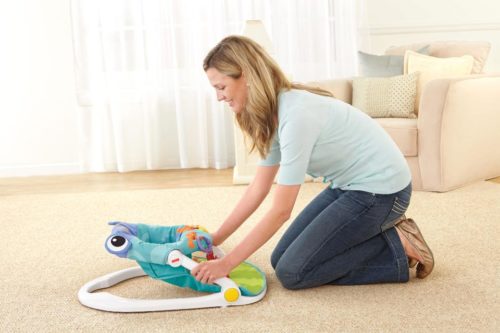 Reasons to get a baby floor seat
Baby is supported at the early stages of development
Gives the parents a rest
They have teething toys and things to help keep them amused
encourages infant mobility and strength
Helps interaction with things happening around them
In this infant floor seat review, my aim is to show you some of the slight differences on the market and try to get you the parent the best deal without the countless hours of research because that's what a good review aims to do. The baby floor seat reviews are designed to show what is possible and on the market both to highlight bonus features and subtle differences.
Ideal Age for the Infant Chair
Sometimes choosing the best baby seat that helps baby sit up is difficult and time for a specific toy, tool or device can be tricky and if the manufacturing guidelines don't state the advisable age use, then this is maybe something to either query or question because most distributors should do this a standard practice.
Safety is always paramount and should be the first consideration in choosing baby floor seats, but once this is satisfied then it's about making sure you have the right age of use for the child. This review is focusing on the best baby floor seats, which are usually used from the ages of 3 months up until 8-9 months, but some have been designed for extended use.
Prince Lionheart bebePOD Baby Seat
This is where your child begins to learn their table manners and with this baby seat they can be comfortable while building strength to learn to sit upright and support their little head.
The design of this floor seat is made from plastic and is imported and is safe with comfortable padded seating, so they can maintain comfort while seated for prolonged periods.
The size and durability mean this can be used for travel and taken to the relatives for family visits for the child to see their grandma. The strap means that they are secure and safe. The feeding tray is large and means play time and feeding can be done together. The tray is removable, lightweight and easy to wipe, so high levels of hygiene can be maintained throughout.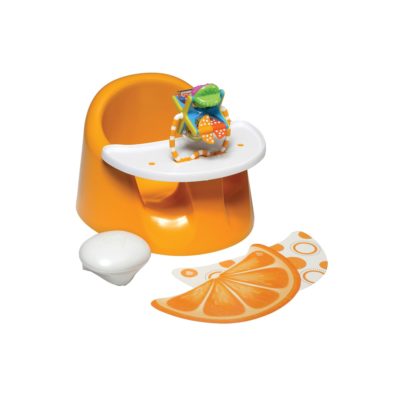 Fisher Price Women's Sit-Me-Up Seat Happy Daisy One Size
The baby in this picture looks adorable and content, simply enjoying seeing the world from another point of view, which is essentially what we are all trying to do as well, so that being said this fisher price little seat for babies trying to sit up is a great introduction for this review to shed some light on the available options, both pros and cons.
The baby floor seat is supportive in structure and has been designed to ensure utmost support without impacting on their natural anatomical development. This fisher price sit on chair for baby is extremely comfortable and offers support at the right key points, which helps maintain their happiness for prolonged periods throughout the day, it's really ideal for a mother who has loads to maintain at home.
This top baby floor seat is wide and supports well with a wide base to help with stability, especially if they have the tendency to be really stretching at the later stages of the seats use (8-9 months).
The infant play seats are great for keeping them entertained as well as help with their hand-eye coordination, which will be stimulated and assist with early stages of development. The frog design of this baby support seat is pleasing to the eye and helps with keeping in line with the cute theme.
This chair for infant is extremely mobile and offers an easy to carry handle, which comes in handy when on the move, out for lunches or trips away to see extended family.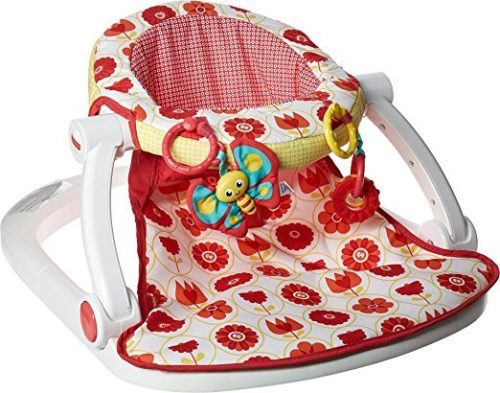 Fisher Baby Seat with Tray
This amazing infant floor seat is comfy and has a particular soft fabric that is easy to clean and helps cushion them so they're snug and supported.
This awesome baby chair has really neat speakers that activate when your child presses on them, which might encourage them to actively use their legs and help build strength over time, which is one of the main reasons for these great supportive baby seats.
This lion baby seat has a couple of toys and can be used for supporting the development of your child, especially at the teething stage, which is handy because any other toy would be thrown on the floor without the tie-on-feature.
The tray on this infant seat is ideal for them to get used to feeding on a toddler high chair and promotes early development, but also simply just have a tray to place things for them to touch and get used to feeling new things, seeing fanciful objects etc. The tray is also removable and is handy for when it's not needed.
Sounds and connections are important for the little ones, it is the process of understanding the world around them and being able to make decisions based on their environment, which is constantly changing, so linkable toy feature helps stimulate this and is awesome.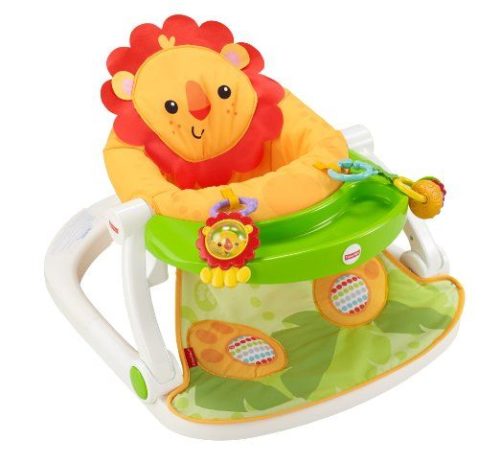 Deluxe Sit up Floor Seat Monkey
This cheeky monkey is sure to get your baby monkeying around with a supportive newborn seat structure, it's extremely snug in design and won't drop him from the high branches above.
The upright seating position means that they can see the world around them and begin to create gradual understandings of what is coming and going.
The foot pads are again super cool and make learning loads of fun for your baby, especially when the monkey begins. The speakers make a soft but firm sound and allow for some gentle stimulation while being safe and secure.
The link-able toys are imaginative and give hours of playing, touching and chewing for those early learners. The removable cover makes for cleaning super easy and for those messy babies and worries mothers, fret no more it's been taken care of. This is highly mobile and easy to transport, so no matter the journey it'll be an easy companion.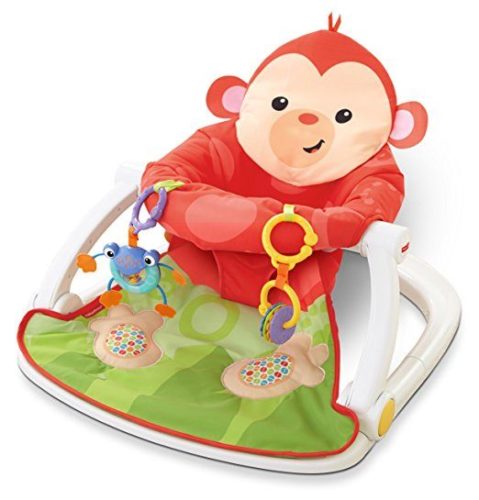 Bumbo Multi Floor Seat
The Bumbo floor seat is the latest in design for babies and has a 3-in-1 feature that allows it to be a floor seat, booster and can be used for a feeding seat as well. This is the only one in the review that can be used for all purposes.
The 3 stage harness and overall stability is both solid and secure, which means that feeding time will remain seated, although I cannot promise about the food, but be sure that your child would be safe with the 3 stage harness.
The bumbo seats are padded with foam and can be comfortable for your child for hours at a time, so you can get on with the growing number of tasks to be done. This comes with a tray for feeding and a wide base for handling the rocking movements that some children like to make. The wide base increases the floor seat stability and handles any type of vigorous behavior, but be warned some children find their way into releasing the harness, but very rare.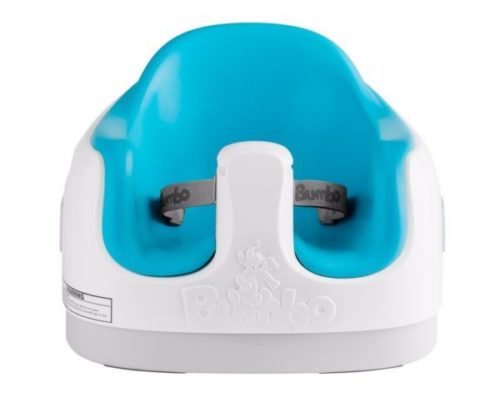 Baby Einstein 3-in-1 Floor Seat 
This is another 3-in-1 design and can be used for each stage in their development, from support seat to being strapped to a chair.
There is a snack chair with different activities that keeps them entertained and helps with developing hand-eye coordination. The floor seat has a tray that can rotate 360 degrees and makes rotation easy for accessing the toys.
The tray pivots and can be released with a release of a button, so each time mom needs to lift in and out, its quick and easy. The tray latch is important to be easy to use and some designs have let parents down with stiff and awkward to use devices for releases and fascinating, however, this is easy to use and functional.
This is a good floor seat for babies learning to sit up and the more support they need it can offer, but as they become stronger in upright posture the baby einstein releases so they can grow with comfort. These 3 modes are ideal and this is where the future of floor seats seems to be heading, so save money and time by investing in the 3-in-1 design, regardless of which type.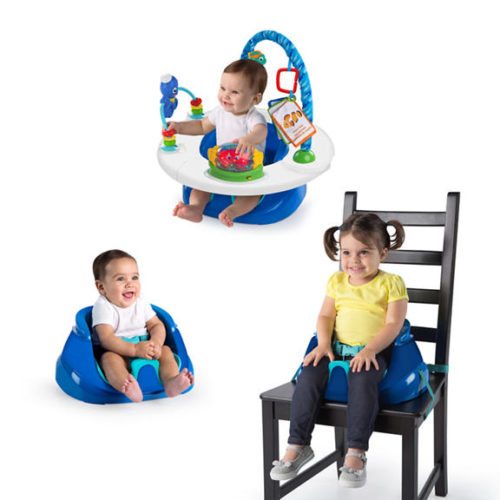 Summer Activity Seat for Girls
This beautiful floor seat for little girls exemplifies safety and comfort. The simple but beautiful design makes it a favorite among parents and guardians. Your little girl would a rotating tray with many fun activities to distract and engage her.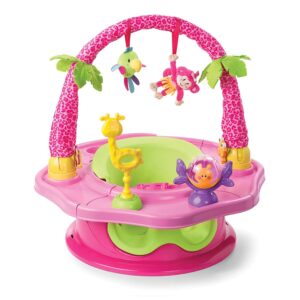 Best Overall Pick
While all are toys to help baby sit up and get the little ones well on their way to becoming toddlers there is one that stood out "Deluxe Sit up Baby Floor Seat Monkey", which has all the essential features a parent would want from a sit me up floor chair for infants. The Speakers sound when pressed, toys are chew-able for teething and the washable cover is ideal for messy children.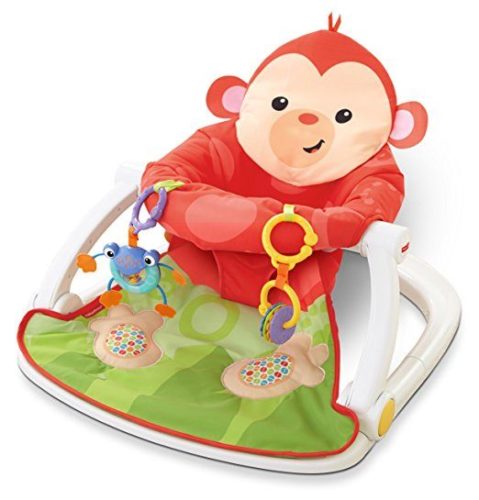 Best Budget Pick
Every baby sitting chair needs to have some essentials and this sit me up baby floor seat is cheap compared to some of the others in this review, but still has some great core features like; soft cushioning, toys to be chewed and plenty of room for them to explore. This is a highly mobile sit me up floor seat for your little one, and it offers similar features to all the baby chairs in this review, it'll offer a great transitional seat to ensure they manage to sit up and progress to the next stage.