Are you looking for the best educational toys for 3 year olds, to help them learn some new skills as they play? Here, you will find 20 carefully selected toys which are perfect for helping preschoolers learn through play. We have only chosen the very best toys here which offer some learning benefits to your child – whether you are keen for them to start counting or want to teach them some basic, fun science. By giving your child one of these toys, you can be sure they will be learning all the time, whilst still having a great time. After all, kids learn best when it's fun! Let's first look at some ways to ensure you pick the best learning toys and gifts for 3 year old boys .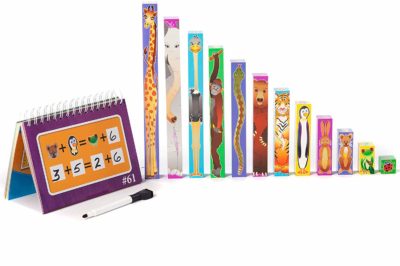 What to Consider When Choosing Good Educational Toys for 3 Yr Olds
With so many different toys out there, it can be difficult to choose one which offers the most benefits to your kid, whilst still being fun for them to play with. There's no point buying a toy your kid doesn't enjoy playing with! So how do you know which is the best? First, ensure the toy is suitable for the child's age and level of development. Whilst these toys we have chosen are aimed at children aged 3, kids are all different at this age, so every toy might not suit every child. Also think about whether you want to choose an electronic toy, a wooden toy, or perhaps something else. Climbing toys and slides are great for toddlers.
We've chosen a range of different toy types here, so there should be something to suit your preferences. Finally, check out the educational value of the toy. There's no point in choosing something too simple for your child, as this won't help them learn anything new. Make sure it can help them learn or practice an important skill they don't have already.
20 Top Educational Gifts for 3 Year Old Kids
We will now present our top 20 learning toys and gift ideas for 3 year old girls and boys, so read on to find something they will love to play with!
1.
Munchkin Floating Letters and Numbers
Our first pick of the top educational toys for 3 yrs olds are these bath letters and numbers. They come in a pack of 36 – that's every letter from A-Z and numbers from 0-9. You can choose between primary or pastel colors, and the shapes are designed to stick to the tub when they get wet. The letters and numbers are soft yet durable, and are sized just right for little hands to hold. This set is great for turning bath time into an educational experience! Kids can continue to enjoy these letters as they get older, spelling out different words or perhaps using the numbers to perform basic addition and subtraction.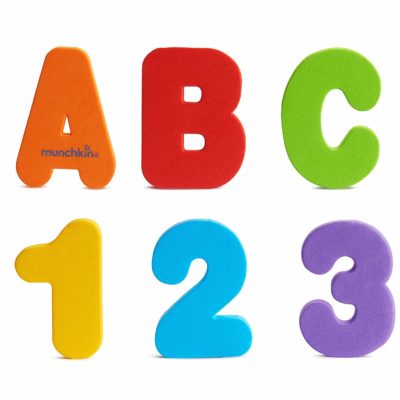 2. Bears in Pairs Game
This cute game is excellent as a first game, as no reading skills are required. The game includes a 3D playset with six different compartments, as well as six little plastic bears. The rules of the game are like hide and seek meets memory match, and there are only three steps required to play. There are three different ways to play the game, so it will never get boring! This game offers a great first step in early reading and number skills, so it's perfect for setting the foundations for the future. Even if your child doesn't want to play the game according to the rules, it's fun to use as a cute playset too!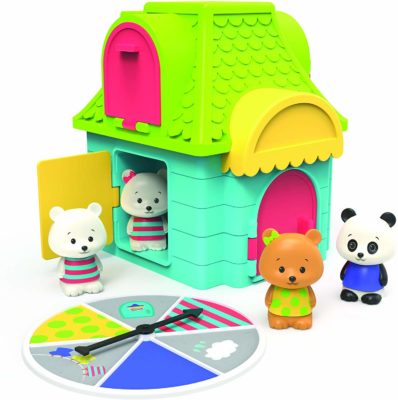 3. Lil' Engineers Building Blocks
It's never too early to start introducing your toddler to STEM learning toys, and that's exactly what this set of building blocks intends to do. There are 101 pieces to build with in this set, as well as two wrenches to assemble the pieces with. There's a book included which has 12 different building design ideas for kids to copy from. The blocks are washable which is ideal for younger children, and they come with a storage box to keep all the pieces neatly together when play time is over. Kids will have hours of fun building the models, and will feel so grown up using their own little tools to do so! This set is sure to be used time and time again, even as they get older. It's ideal for creative building as well as following the instructions.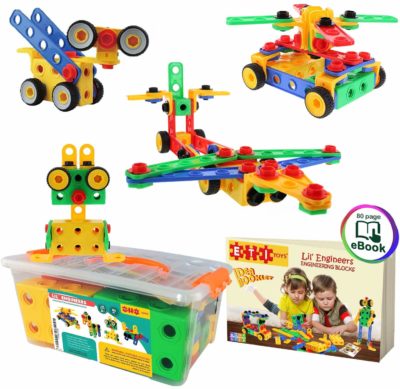 4. Teach 'n Tag Movi Robot Toy
Robots can be fun for kids of all ages, and this one from Fisher Price is great for even the youngest robot fans. The robot can move around anywhere as it has full 360 degree movement and it has more than 60 different facial expressions which change as the robot plays. The toddler robot toy can be used to teach skills such as following directions and is great for helping kids keep active as they follow it around. There are three different modes to play in, including games and alpha fun, so it never gets boring! Kids can enjoy this toy until they are around 6 years old, so it offers excellent value for money.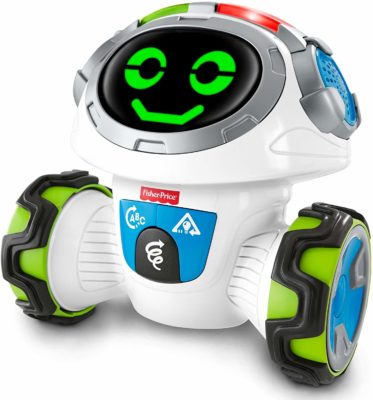 5. Dado Cubes
These fun activity cubes can be arranged in various configurations and are endlessly entertaining and educational. There are ten cubes in the set in lovely bright colors, and they are sized from 1 inch to 5 inches. The cubes can be stacked, nested, interlocked or arranged by size or color. So, by playing with these cubes, toddlers can improve their spatial awareness, creativity, fine motor skills, and more. When all the cubes are stacked together, they look pretty cool, making this an interesting display piece for your child's room too!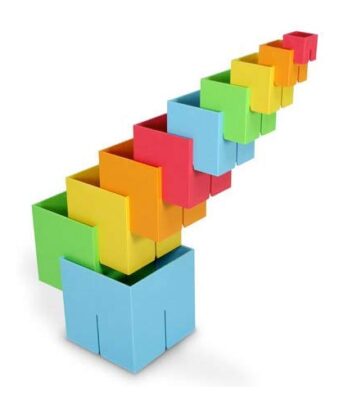 6.
Inchimals Math Blocks
These wooden blocks can be used in loads of different ways to help preschoolers learn to count. There are 12 animal blocks in the set, all different sizes and numbered in order from smallest to largest. The set comes with a book filled with simple sums which can be solved using the help of the 'inchimals'. Kids will love to learn to measure and count with these adorable toys, or lining them up in order. The award-winning toy set offers plenty of learning opportunities and are sure to be used over and over again.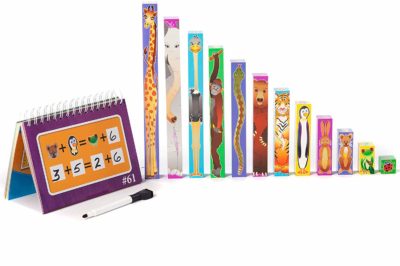 7.
Plus-Plus BIG Building Toy
This unique building toy is simple yet endlessly fun! It has 15 large sized blocks in a variety of shapes and strong colors, as well as a tube to store all the pieces when they're not being played with. The building pieces are great for STEM learning and can be used to make either flat or three-dimensional models. The set can be combined with others in the same range to make even bigger and better models which will allow kids to use their imagination even further. This is a great toy for using either at home or on the go – it's perfect for keeping kids entertained in the car or in a restaurant.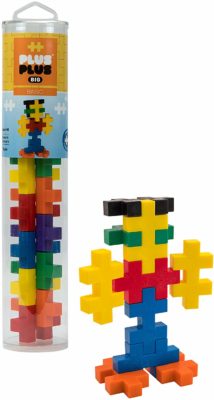 8.
Magnetic SuperMind Toy
This fun puzzle game comes with 20 double-sided sheets and 30 magnetic puzzle pieces to build the different designs. There are loads of fun designs to choose from, and they are nicely challenging to keep your preschooler occupied for a while. The pieces are magnetic to ensure they stick to the puzzle boards easily and will stay in place without having to be adjusted. Kids are sure to have many years of fun with this set, and they won't grow out of it quickly. In fact, older siblings and perhaps even mom and dad will enjoy having a go at solving the puzzles too!

9. Take Apart Dinosaur Toys

These fun dinosaur toys are perfect for any curious kid who loves to learn how things work! The set includes 6 different dinosaur models, with a total of over 200 pieces. There's also a set of wrenches and screwdrivers to take apart and rebuild the models, as well as a storage container to keep all the pieces neatly together when not in use. Kids will love to build their favorite type of dinosaur whether it's a triceratops or a T-Rex, or perhaps something else. This toy is excellent for STEM learning and is sure to keep your little one occupied for hours.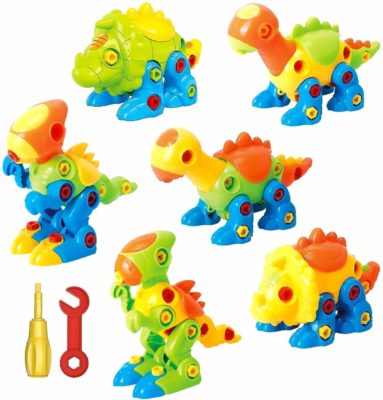 10. Little Genius Starter Pack
If you're looking for one of the top rated educational toys for 3 years old, this could be just what you're looking for. The best-selling Osmo Little Genius turns your child's screen time into an educational and interactive experience. The game requires an iPad and comes with several game pieces to combine the physical and virtual worlds for a unique and educational gameplay experience. There are a few different games which can be played with this set, to teach ABCs, phonics, problem solving skills and more. The games are tailored to a preschool level and are excellent for kids aged 3 – 5 years old.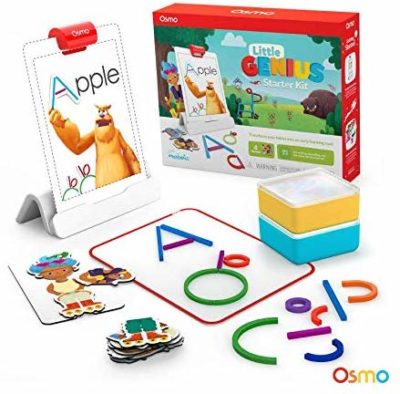 11.
Robot Engineer Set
If you're keen to get your child learning about robotics from an early age, this set from Kids First is exactly what they need. The set includes an interactive story, which kids can read along as they build. The robots aren't motorized, and in the story they work in a candy factory. The pieces are large so they are easy to build with, and they're also brightly colored to hold your child's attention. Kids love using science kits over and over again, as there are 10 different robots from the story which can be built, so it doesn't get boring quickly.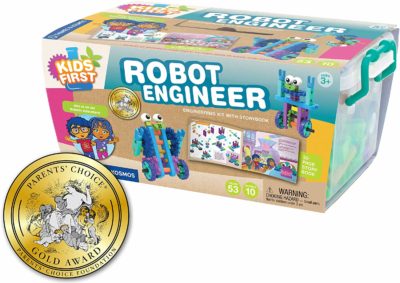 12. Write and Learn Magnetic Board
If you're looking for great learning activities for 3 year olds, look no further than this writing game from VTech. The magnetic drawing board has an animated screen which shows preschoolers how to correctly form uppercase and lowercase letters, using the correct stroke order. The board can be customized to teach your child how to spell their own name, and they can also use the board to draw pictures. There are magnetic stamps and stencils also included so your child can really let their creativity run wild!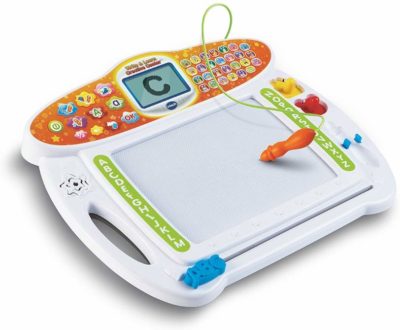 13. Wooden Activity Play Board
Melissa & Doug are known for making some excellent quality developmental toys for young children, and this wooden latches board is no exception. It is excellent for helping with fine motor skills, as there are six different activities to explore. The board is also ideal for helping with color and number recognition, as each panel is colored differently and they are numbered from 1 – 6. Some of the activities include different types of latches, sliding bolts as well as chains. This is a great toy for improving skills which can be used when playing with other types of toy too. As a reward for successfully unlocking each latch, kids will be delighted to see a colorful cartoon image inside each panel.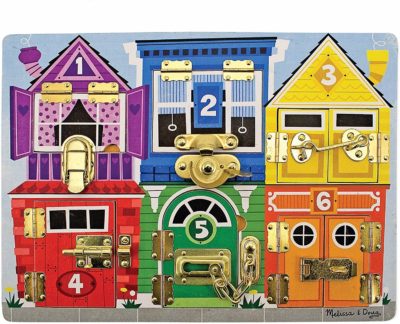 14. A-Z Rubber Duckies
These alphabet rubber ducks are great for making bathtime more educational! There are 26 included, one for each letter from A – Z. The ducks feature the letter in both upper and lower case, and each is decorated with something related to that letter. For example, the M duck resembles a monkey, whereas the P duck is a pirate. The ducks can be used in the bath of course, but they are also fun to use on dry land for practicing the ABCs. These toys are made from pure rubber so they're designed to last for a long time.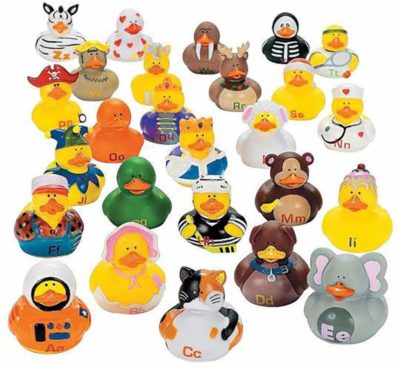 15. Daily Magnetic Calendar
This calendar is excellent for helping your toddler learn to name the days of the week, months as well as talking about weather conditions, seasons, holidays and more. There are 80 magnetic pieces to attach to the board, to ensure kids can fill it in every day. This is great for helping young children learn about the concept of time, as they can often struggle to know the difference between a day and a month! One of the boards has the daily calendar to complete, whilst the other is black for storing magnets. It also has a dry erase surface so it can be drawn on with appropriate markers too. Check out our seasonal advent calendars!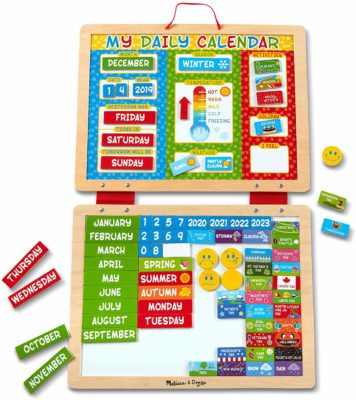 16. Alphabet Locks and Keys
Here we have another toy which is great for helping with letter recognition and matching. There are 26 locks and 26 keys – each key has the uppercase letter on one side and the lowercase letter on the other side. The locks have upper and lowercase letters on one side and an image on the other side. They're all made from high quality plastic to ensure they are durable enough to last for years to come. There are loads of different ways to play with this set – try challenging your toddler to use only the upper or lower case letters or to use only the images on the locks to see if they can figure out which letter the words start with.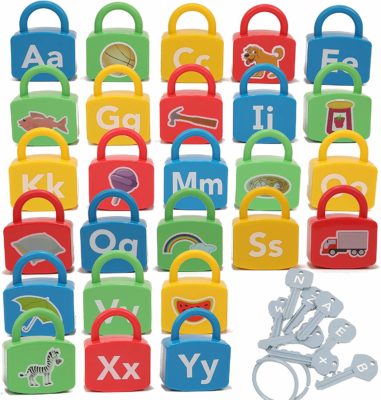 17.
Hedgehog Fine Motor Skill Game
When it comes to fun educational toys for 3 yr olds, this hedgehog game is a great pick. It's ideal for improving fine motor skills, and can also be used for counting practice and naming and matching colors. There are 12 quills included in 4 different colors, and they can all be stored inside the hedgehog for easy tidy up at the end of the day.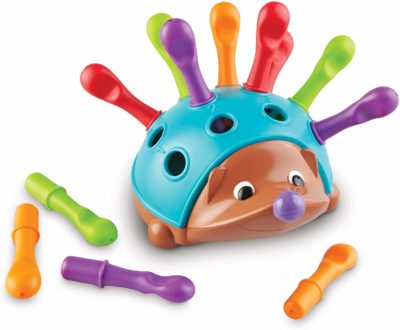 18. Zingo Game
Board games are great fun yet also educational, and this one from ThinkFun ticks all the boxes. It is ideal for kids who can't yet read, as well as those who are just beginning to read. It can be played with up to 7 players, so it's perfect for the whole family to join in. The rules of the game are similar to bingo – players must race to be the first to collect all the symbols on their card and yell out 'Zingo!' once they have done so.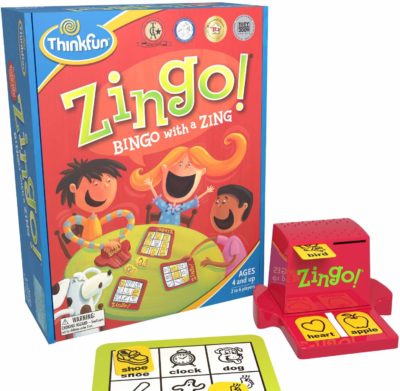 19.
Touch and Learn Interactive Desk
If you're looking for the best electronic learning toys for 3 year olds, VTech have some excellent offerings. This activity desk is excellent for all-round education, as it has ten different activity pages with content including alphabet, numbers, body parts, fruits and more. Preschoolers can learn how to write letters correctly and the desk can also be used as an easel for drawing. The stool is also included which is just the right height for toddlers to sit at, and there are storage compartments for drawing supplies to keep them close to hand.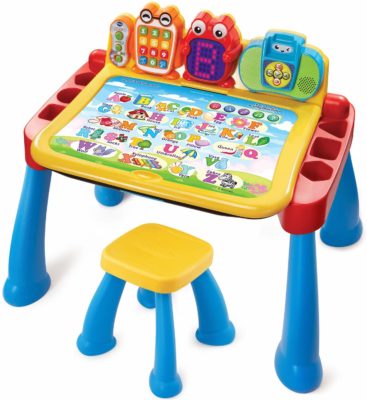 20.
Wooden See & Spell Toy
Here we have another pick from Melissa & Doug which is ideal for learning about letters and spelling. There are eight double-sided boards with a range of three and four letter words to spell, as well as many wooden letter pieces to spell them out with. The set comes with a nice storage box for the word cards and the letters, so it's ideal for fun on the go too. Kids can practice spelling out words with this set, as well as working their fine motor skills when they place the letters into the boards. The words are illustrated with nice images to help kids with the puzzle.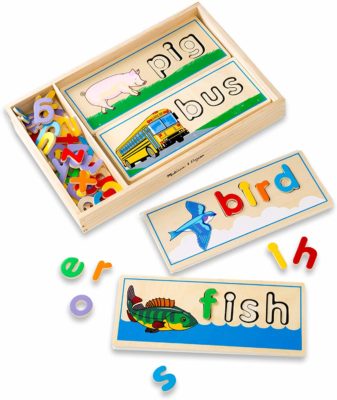 21. Shapes Puzzle Set
Our final pick of the best toys for preschoolers to learn something new is this fun wooden puzzle set. The set has over 35 wooden puzzle pieces as well as 60 different pattern cards for them to build and copy. This game is excellent for learning and practicing various skills such as spatial awareness, hand-eye co-ordination, problem solving, and more. Kids will love working their way through the different patterns as well as using the pieces to make up their own unique design. The pieces can be neatly stored in the included tin when playtime is over, to make tidying up easy and to ensure none of the puzzle pieces get lost.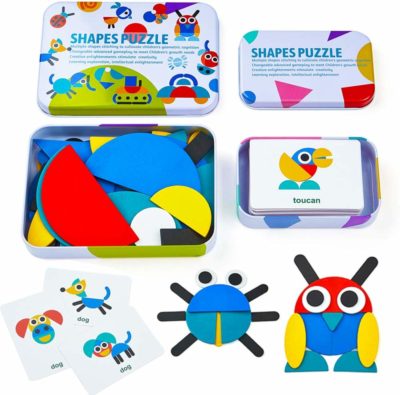 Best Buy Overall
With so many great products on offer, it's difficult to choose which is the best learning toy of all. However, we've chosen the Little Genius game from Osmo as a great all-round pick. Even at the young age of three year old, kids love playing with tech toys. That's why we love this game – it turns screen time into an educational opportunity, and requires kids to interact with physical game pieces. There are a great range of games on offer in the set, and the pieces are included for each different game. It can be enjoyed for a couple of years before it will be outgrown, and the level of learning is perfect for preparing your child for starting school.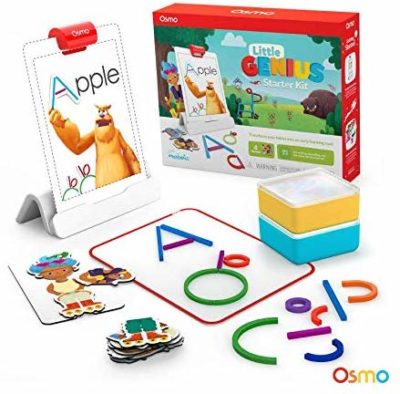 Best Budget Pick
If you don't want to spend a small fortune on a new learning toy, it's worth considering the Write and Learn board from VTech. It is excellent for introducing early writing skills and letter recognition, and we love how it can be customized to teach your child how to spell their own name. It's great as it can be taken on the go for easy entertainment anywhere, and it can be used to draw freely if your child isn't in the mood for some writing practice. The stamps and stencils are a nice added extra, and we love how the board can easily be erased to start all over again!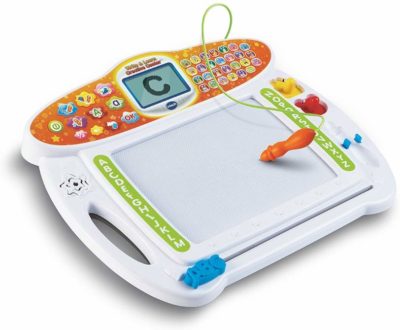 Where to Buy Educational Toys for Preschoolers?
All of the products reviewed above can be found and purchased from Amazon, so it's really easy to buy them and have them delivered straight to your door. Any good toy shop will have a range of learning toys too, so this is a great option if you like to look at and compare physical products. Many supermarkets also stock some great toys which can help toddlers and preschoolers learn and develop as they play. Just be sure to look for reputable brands so you can be sure of the quality.
What Can My Child Learn from These Toys?
Every toy offers a different learning opportunity – choose a range of educational toys 3 year olds to ensure great all-round development. Just some of the skills a child might learn from these toys include:
Counting and number recognition
Letter recognition
New vocabulary
Color and shape recognition
STEM skills
Problem solving
Logic and reasoning
Drawing and creativity
More Review Articles and Activities for Toddlers