Are you looking for the perfect personalized baby gift frames? Or maybe baby photo frames month by month. Well don't worry, our review guide below will have all you need to make the right purchase! A newborn baby is an exciting time. So you'll want to celebrate it and what better way to do that than with a personalized frame. These seemingly simple items can actually make really beautiful, heart warming gifts that any new parents would greatly appreciate and love. It's a sad fact that even the most exciting events in our lives can become faded memories after a while. But the beauty of photos is that we can remember those life-changing memories forever. An elegant and wonderfully designed frame is the perfect gift, whatever the special occasion.
Choose from a range of simply stunning designs, you'll be spoilt for choice! We've picked out some of the finest frames from the expert, skilled craftsmen of these companies. So you know you'll be getting a high-quality product that will last. Read through our guide and are still undecided? We've picked out our best overall frame and best budget frame, to help you choose!
We've chosen some of the best personalized baby frames for you, all of them unique and fun in their own way. These make beautiful and touching gifts for new parents or yourself. You can treasure moments from your little one's early days and hold on to those favorite memories. Are you looking for an affordable baby frame or are you wanting to splash out a bit more? You're sure to find something with our handy guide below. No matter what the occasion, whether it's for a 1st birthday, christening, baby shower or to celebrate a newborn, we've got you covered.
We've even picked out frames especially for godmothers and grandparents too, so there's something for everyone! A cute baby photo frame will really brighten up any room in the house, so why not have one in every room! Newborn baby photo shoots are very popular and if you decide to have one, our selection of frames would be perfect to showcase the beautiful finished photos of that special day. Are you celebrating the birth of your twins or even triplets? Then these frames that we've selected are utterly perfect for your babies first year photo frame.
There are so many benefits to frames; they turn your precious photographs into pieces of art and there are so many different designs to choose from. Elegant and sophisticated, fun and quirky or simple and classy. They also protect your photographs from accidents or wear and tear from everyday life. Essential if you have accident-prone older children or pets! There's something so aesthetically pleasing about a beautifully framed photograph that brings charm and grace to its surroundings. They also allow you to hang your photos without ruining them using nails or glue. The last thing you want is to have your lovely photos spoiled by accidents around the house, and choosing a good quality frame with a glass insert is a very good idea.
If you are worried about accidents happening it's probably best to choose a solid wood frame with a glass insert, as wood will last longer and is a lot tougher than other materials, so it'll be able to withstand more. Alternatively, if you're looking to incorporate a more elegant and luxurious atmosphere, we highly recommend a beautiful glass frame, which will instantly add a little pizzazz to any room.
Considerations Choosing baby gift picture frames
Budget
We have frames for every budget in this guide. Baby picture frames are a perfect gift choices for everyone because even if you're looking to splash the cash, they still won't break the bank. Some of the frames in this guide even include personalization in the price, no extra charges. As an added bonus, a few of them also come with a gift box so they're ready to be given straight away – saving time and money!
Age
Because all of the frames in this guide are personalized, you can buy them for any occasion. So, whether you're looking at 1st birthday picture frames or something for a younger baby, you'll find it in our helpful guide! We even have a monthly baby picture frame, so you can reminisce about your baby's first year. As time usually flies by, especially with children, what better way to look back on your little one's first year?
15 Best Personalized Baby Frame Gifts
Grey and Yellow Frame with Engraving.
Looking for baby's first year picture frame? This beautiful glass, engravable baby frame would look wonderful in any household. Handcrafted by glass experts, Devlin Glass Art, this elegant, statement piece would make the perfect gift to celebrate the birth of a new baby. The glass frame means that it will suit any decor too! You can have the frame personalized on any of the three clear glass points, more than enough room to fit your baby's name, date of birth and birth information on. What a lovely treasure to look back on in 30 years' time! It also has the added bonus of being environmentally friendly, with its solder-free materials.
Of all the baby birthday photo frames, we think this is one of our favorites! This a truly unique, one of a kind frame. J Devlin has 20 years' experience producing dazzling frames such as this one, and the many excellent reviews show this. When you buy this frame you'll be receiving a unique and exclusive J Devlin design, unlike any other frames.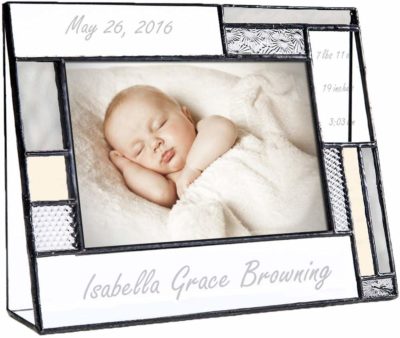 Wooden Personalised Baby Announcement Frame.
If you're searching for a modern, contemporary frame, we're confident you'll love this one from Gifted Oaks! Celebrate the birth of a new baby with this adorable frame that you can have personalized with your little one's birth date, weight and time of birth, to treasure that magical day forever. There are a multitude of baby announcment frames available, but we think this one is a winner! Beautifully made and hand-painted to perfection, with a smooth finish and expert detailing. Available in a range of colors to suit your taste, we think it'll make a perfect baby girl or boy picture frame. As an added bonus it comes with a gift box and bubble wrap, ready to be gifted to the new parents. Gifted Oaks are committed to creating beautiful products that you'll be proud to own. Their expert laser engraving means you get a spectacularly detailed frame. Their charity work and green approach to manufacturing their products make them a top seller in our eyes!

Navy Blue Personalised Frame.
If you're looking for a simple but chic design, we think you'll love this gorgeous frame from Things Remembered. With its classic design, it'll look amazing in any household, no matter which type of decor you have. Made from sturdy metal with a beautifully smooth, glossy finish, this landscape frame comes with free personalization, machine engraved so you get a perfect finished product. Personalize it however you want, whether it's your baby's birth date, christening or first birthday, it's sure to put a smile on people's faces. Available in 3 colors to suit your taste and whatever message you choose will be beautifully displayed for all to see. Because of the sophisticated, classic style of this frame, it would be a lovely centerpiece for the living room, for family and friends to admire and enjoy.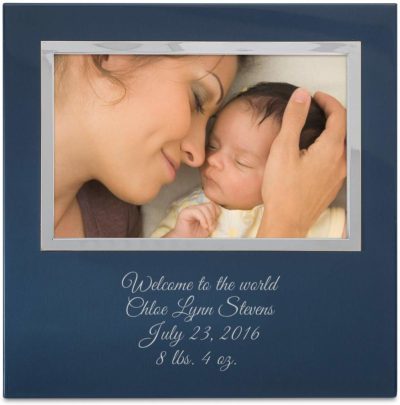 Godmothers Personalised Photo Frame by Lifetime Creations.
A Godmother is such an important part of any baby's upbringing and we think this adorable frame would make a perfect gift for your child's Godmother to treasure. Gifts like this will become a timeless keepsake and it's sure to make anyone feel warm and fuzzy inside. This frame offers great value for money as it's made with genuine red alder wood, meaning it will last for years and years to come, allowing your child's Godmother to treasure if for longer. Comes packaged in a beautiful white presentation box so it's ready to hand over straight away. Other handy features include a glass insert over the photo to protect it and an easel back for easy display and wall hooks so you have the option of hanging it up on a wall instead.
The creators of this frame; Lifetime Creations, are a family run business with 5-star reviews and it's easy to see why. They are dedicated to bringing their customers high-quality frames and each product they create undergoes a rigorous quality inspection, so you know you'll only be buying the best!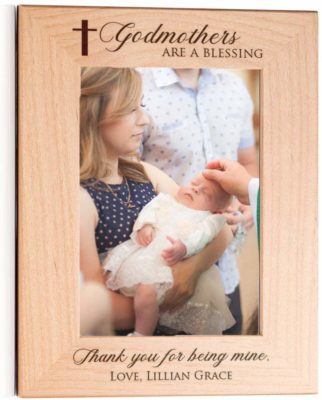 Glass Engravable Baby Frame.
Are you looking for the perfect baby first year photo frame? We think this elegantly stylish frame fits the bill. With its frosted white engraved letters and delicate heart detailing, this cute frame would be perfect for your baby's first year photo frame. With its glass frame, it would look at home in any room of the house, so you and your guests can enjoy it wherever you are. J Devlin has also added its unique triangle sides and base to support the frame and make it more stable. The 5-star reviews for this frame speak for themselves; you'll receive a top-quality product from a trusted brand that will bring smiles all round.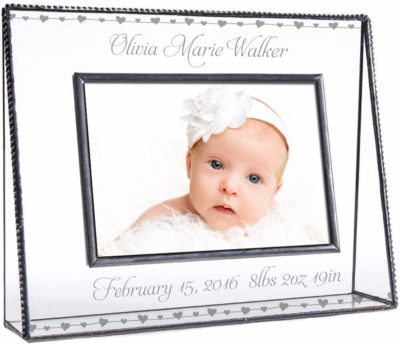 White Baby Girl Heart Detail Photo Frame
Are you fed up of trawling through all of the baby girl picture frames that are available online? Can't find the perfect one? Well, stop looking because we've found it for you. This adorable frame, adorned with hearts is sure to put a smile on any grandparents' faces, as they treasure their precious baby granddaughter. Hand made from solid hardwood, this frame is strong and sturdy and has a glass insert over the photo to protect it. With its easel back and wall-mounted hooks, you can choose where you display this super cute frame, it'll look perfect in any room of the house.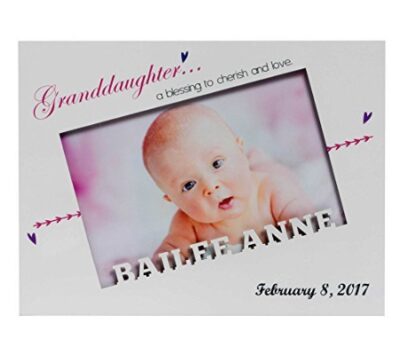 Personalized 12 Month Baby Picture Frame
Here we have the ultimate first year photo frame! A monthly baby picture frame is the perfect way to look back on your baby's first year with pride. With this ingenious baby 12 month photo frame from Northland Frames you can see baby's development month by month, especially good because it can be hard to keep up with them as they grow so fast! This super-duper collage frame is made from high-quality hardwood which is warp-resistant, meaning it won't burn underneath the laser engraving so you get a neat, perfect finish. And while you're filling your frame up you won't need to worry about unsightly blank spaces, as there is a poem sheet included with splendid, heartwarming words for each month. Available in a wide range of colors to suit your taste and home decor, you're sure to find something to suit.
Northland Frames are a family run business, passionate about creating beautiful gifts that bring happiness and joy to all of their customers, and this frame, which has received nothing but 5-star reviews, will do just that!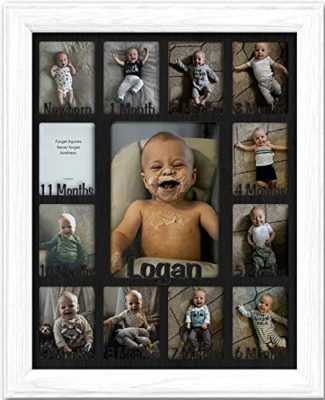 Personalized Wooden Announcement Frame By Nordic Lasers.
If you've been looking through the tons of personalized baby frames that are available and wondering which one would be perfect, then we think you'll love this one by Nordic Lasers. For those looking for a more simple, less extravagant design, this one is sure to please. Without pictures, precious memories can easily fade over time, but with this cute frame, you can cherish those beautiful memories forever. You can have your little bundle of joys photo somewhere you can enjoy it forever. Nordic Lasers only use the best quality American materials to make their frames, so you'll only receive the best! Personalize it with your newborn's name, date of birth and important birth information, such as weight, size and time of birth, so you won't forget a single detail from that very special and exciting day!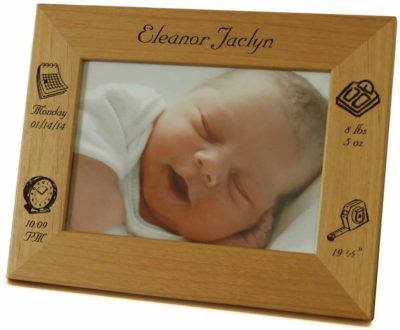 Personalized Elephant Baby Announcement Frame
Have you or someone you know just welcomed a newborn baby boy into the world? If so, this charming hand made frame is a must-have! In a gorgeous baby blue color, featuring an adorable elephant and little baby footprints, this fun, and unique frame will capture everyone's hearts. With room to put all of the baby's important birth stats, including birth date, name, weight and even length at birth, this will make such a special gift for new parents. The personalization of this frame is free and it even includes a gift box and a super cute custom birth magnet that matches the frame with all of your baby's birth information. Studio1workshops really have created a unique and fun frame and we're sure you'll love it!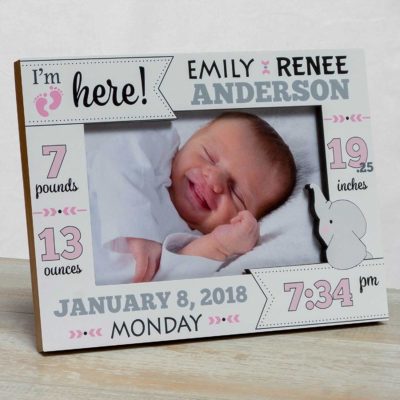 Baby Girl Personalised Photo with Moon
If you're celebrating the birth of your newborn baby girl, this frame is a perfect choice. With a pretty pink and purple colorway and adorned with a moon and teddy design, this frame is utterly adorable. It also comes with a birth magnet and presentation gift box, making it the perfect present for new parents or grandparents. The lightweight frame means it's easy to handle but still strong and sturdy.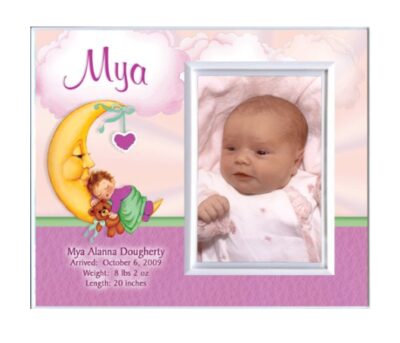 Grandparents Personalised Frame By Studio1workshop
Grandparents are a big part of your child's life, what better way to commemorate their invaluable input by gifting them this beautiful frame. With it, they can treasure their first newborn grandchild forever. They can proudly display it in their home for guests to admire and love. The glossy embossed leaf design adds an elegant touch to this frame and you can choose from either pink or blue wording. Hand made from high-quality solid hardwood, you can be sure this frame will last!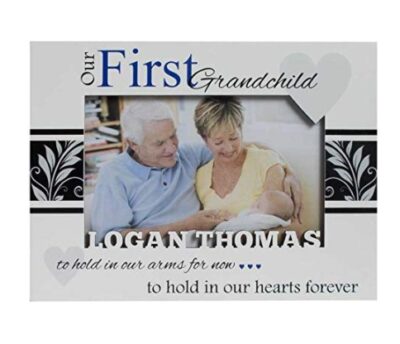 Personalized Elephant Baby Announcement Frame
Here we have a baby pink version of Studio1workshops marvelous frame, so if you or a loved one is celebrating the birth of their newborn baby girl, this frame is an essential purchase for that very exciting time! This one also features the adorable elephant and comes presented in a gift box with a birth magnet, customized with your baby girl's name and birth details, which also matches the frame. Because of the white and baby pink colorway, we think this would look absolutely adorable in your baby girls nursery.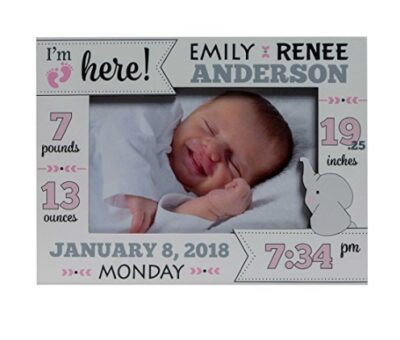 Classic Personalized Baby Photo Frame.
How long have you been trawling through the hundreds of baby boy picture frames available? Given how popular these cute little keepsakes are, probably awhile, but Studio1workshop is bound to please if you're looking for a high-quality frame from a trusted brand. With free personalization, a gift box, and birth magnet, this frame offers excellent value for money and would be an amazing gift that is sure to make new parents smile. As usual, Studio1workshop uses high-quality solid hardwood, hand made to perfection with a glossy finish. With its easel back and wall hooks, it can be displayed on a table or windowsill, or hung up on a wall for all to see and enjoy.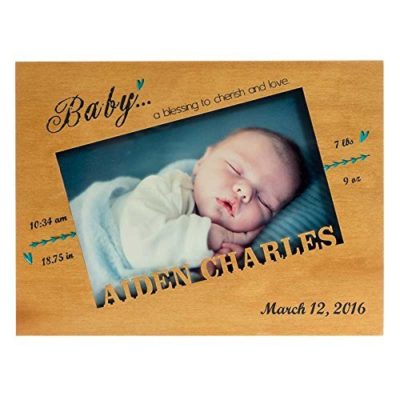 Hand Crafted Ivory Birth Announcement Frame.
This beautiful frame is the perfect way to remember and cherish the details of your baby's birth date. Beautifully elegant, with its neutral colors it will suit any decor. This gorgeous frame would make a lovely addition to a baby's nursery too. This unique frame includes free personalization and would make a lovely baby shower gift because of its stunning design. With its intricate laser engraving, you'll receive a stunning piece that is sure to make your whole family happy!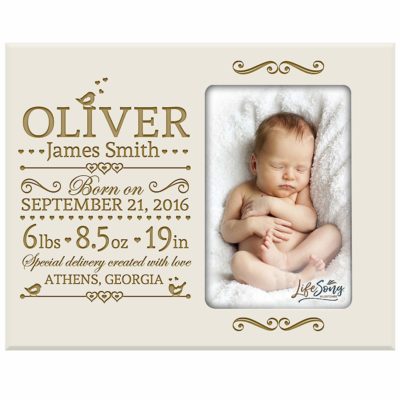 Best Overall Personalized Frame
Grey and Yellow Frame with Engraving
Our best overall personalized frame has to be this Stunning work of art by J Devlin Glass Art. Their craftsmanship and expertise mean that they've created not just a product for you to buy, but a memory that will last forever. Beautifully handmade and designed, this one is a winner and we're sure it will bring joy to whoever receives it. Because of its stunningly neutral color, this would make the perfect purchase whether you're welcoming a baby boy or girl into the world. Display it in your living room for all of your guests to see and enjoy; we're certain everyone will love it.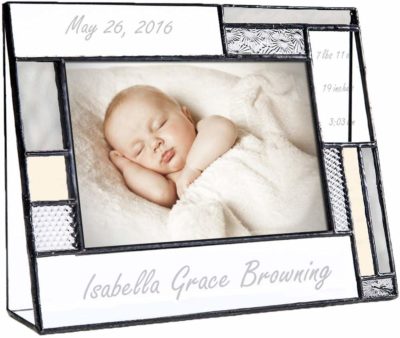 Best Budget Frame
Baby Girl Personalised Frame with Moon.
For our best budget frame, we chose this super cute moon frame. At a bargain price this is a great framed gift but still doesn't skrimp on quality. Adorned with an adorable moon and teddy and the subtle pink and purple cloud design. This gorgeous frame would be perfect for any newborn baby girl. To make this frame even better value for money you can choose to have it delivered in its own gift box. This will be available with different color ribbons. With its lightweight materials, this would be perfect in your baby girl's nursery to complete the look.