Ride-on toys make a great gift for older babies. They are great for improving motor skills, balance and coordination. Many ride-on toys also have fun sound or light effects to really keep your baby's attention. There are lots of different types of ride-on toys to choose, so we have chosen our top nine picks to help you find one to suit your child.
Considerations
There are a few important things to think about when choosing a ride-on toy for a baby. Choosing the wrong toy can lead to your baby becoming frustrated, and could even be dangerous.
Style – There are a huge amount of ride-on toys to choose from. Think about if you want an electric toy or a manually operated one. Each offers different benefits so it's worth looking at all types before making a decision. Some ride-on toys can be converted to use as push-toys. This makes them great for babies who are learning to take their first steps. It also means you don't have to buy two separate products, saving space and money.
Brand – Ride-on toys need to be safe, and made from strong, durable materials. It's worthwhile to choose a well-known brand so you can ensure the toy is high-quality. Reputable brands meet all current safety requirements, meaning parents can rest assured their baby won't have any nasty accidents with their new toy.
Child's age – It can be dangerous to choose a ride-on which is too advanced for your child. If buying for a younger baby, a 'my first ride-on' type toy is great. These are very small so young babies can reach the ground, and have limited functions. If buying for an older baby, it's worthwhile to invest in something which will last them a bit longer.
Fisher-Price Sit, Stride & Ride
This fun toy is the perfect ride-on for growing babies. It can be used by babies who are able to sit up independently, then as they grow and develop, it can be converted into a ride-on. The toy is also great for helping babies take their first steps, as it can be pushed along from behind.
The toy features lighting up buttons which play songs and phrases to teach baby about colors and numbers. It also comes with some balls which can be 'fed' to the lion, dropping out below. When using the toy as a walker, it offers encouraging phrases to give your baby motivation to keep going.
Your baby will love to ride on the Fisher-Price toys too, as it plays fun sounds as they go along. This is a great ride-on to grow with your baby from when they can sit until they become a toddler.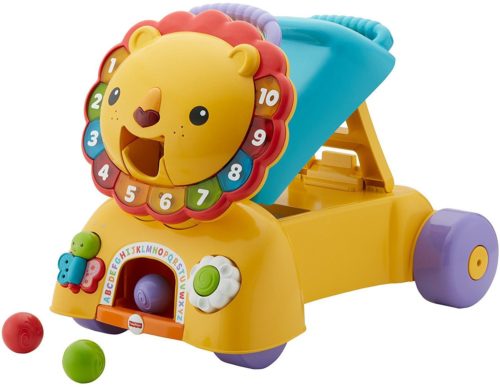 VTech Sit-to-Race
This VTech baby ride-on offers three fun ways to play. The handlebar can be removed for younger babies to play with on the floor. It has buttons offering different sound effects, sure to delight young babies. There are also things to twist and turn to improve motor skills.
When your baby gains more confidence and ability, they can ride on the toy, which also doubles as a rocker. As they rock back and forth, music and sounds play to encourage your child to keep going. The final mode turns the rocker into a ride-on vehicle with a convenient handle. This means your child can either push themselves around, or you can guide them.
The ride-on is ideal for babies as well as toddlers, growing with your child from 6 months to 3 years of age. It is made from high-quality materials, so it is sure to last your child through the years.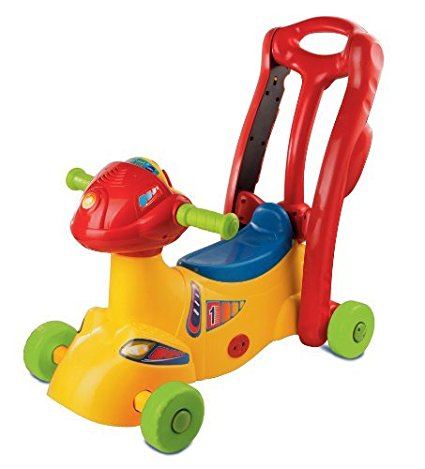 Fisher-Price Music Parade Ride-On
This musical ride on toy is perfect for young musicians to learn about different instruments. The keyboard at the front of the toy can be used for baby to compose their very own masterpiece! As well as offering the sounds of musical instruments, it also plays engine noises.
The seat of the car lifts up, allowing more toys to be stored inside. Your baby will love to fill it up and take their favorite toys for a ride with them!
The push and ride toy is ideal for younger babies, as it has strong, wide wheels which give it great stability. It also has a handle at the back, which allows parents to help when needed.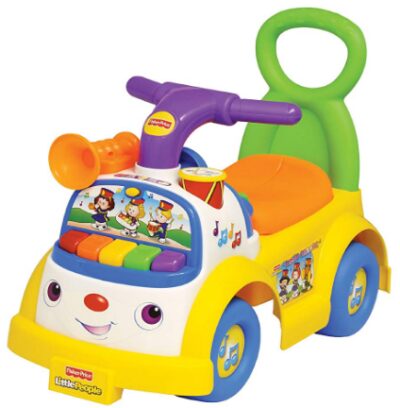 Peppa Pig Musical Ride-On
The Peppa Pig ride on car is perfect for all fans of the cute piggy! The toy has buttons which, when pressed, offer sounds and songs from the cartoon. The lights flash as the music plays, adding even more excitement for your baby.
The handle on the push and ride car makes it perfect for your baby to push once they are able to walk. It's also ideal for parents to steer the vehicle when baby gets stuck. The steering wheel is easy for little hands to grip on to. There's also some storage under the seat, perfect for carrying toys or a snack.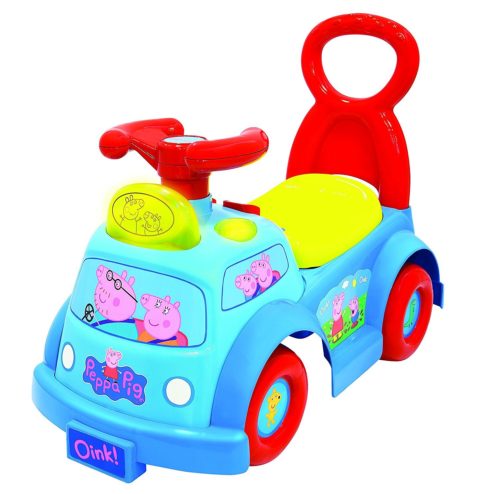 Paw Patrol Marshall Ride-On
The Marshall-themed ride-on is great for all Paw Patrol fans. The stickers and sounds are sure to delight any child who loves the program. Your baby can be just like Marshall with the walkie-talkie and fire hose which is included with the toy.
The push handle on the sit and ride is shaped like Marshall's fire ladder to add extra fun to this toy. It's great for encouraging babies to learn how to walk by holding and pushing the handle. The walkie-talkie and fire hose accessories are great for helping develop manual dexterity. These features also make the toy entertaining for an older toddler to play with.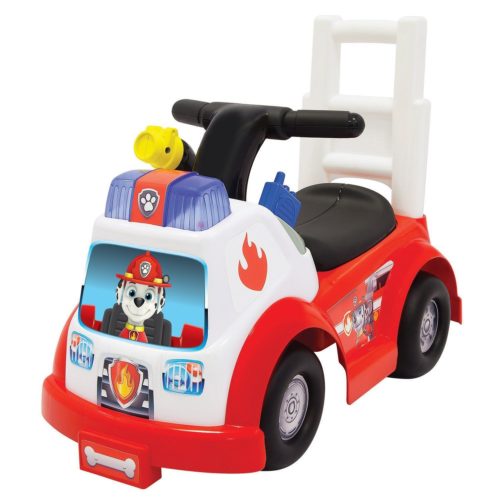 Little Tikes Push & Ride
This classic baby ride on is perfect for young drivers. It's suitable for babies as young as 9 months old thanks to its useful features. The seat is low enough that climbing on and off the vehicle is easy for youngsters. It also features a stable handle, which makes the toy ideal for using as a walker too.
The racer features easy to grip handles, making it easy for young drivers to learn how to ride. The seat is higher at the back to help maintain stability. There is a small seat at the back which is perfect for your infant to bring along their favorite doll or stuffed toy.
The sit and ride are well-made and durable, and it's ideal for use indoors as well as outside. Even 2-year-olds will love to play with this ride on, making it excellent value for money.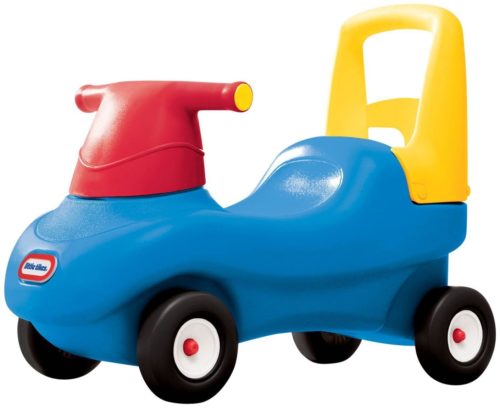 Step2 Push Around
This sit and ride are suitable for even the youngest little adventurer. It has a parent handle and a seatbelt, making it perfect for babies of any age. It's great for taking to the park instead of a stroller to offer your infant an exciting change of scenery.
The push around buggy is great for kids aged 6 months to about 2 years old. It offers a storage compartment under the hood, making it ideal for taking on long walks. There is also a horn for your child to enjoy when they're riding in their car.
It comes in different styles and colors so you're sure to find something to suit your child's personality.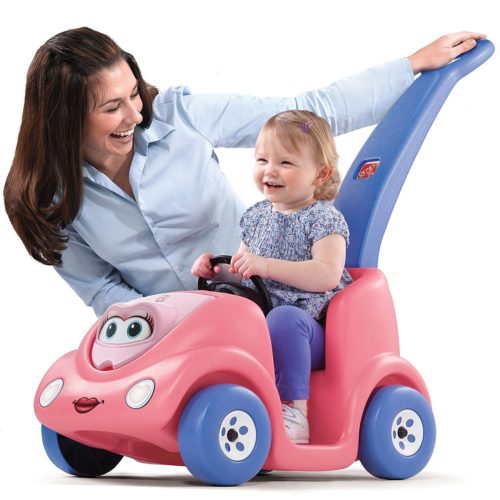 Little Tikes Cozy Coupe
This classic baby ride-on car remains popular generations after it was first introduced. Babies who are able to sit well independently can enjoy a ride in this classic toy. The latest model comes with a parent handle on the roof. It also features a removable floor, meaning parents can easily take younger babies for a stroll around in their new ride!
As your baby grows into a toddler, remove the floor and they will be able to enjoy pushing themselves around. It also features an ignition switch and a gas cap which can be opened, so your child can copy mom and dad in their car. There is a small storage shelf behind the seat, perfect to keep a drink or snack to hand.
The Cozy Coupe is the perfect ride-on toy for 1-year-olds. It would make an excellent first birthday gift and will provide years of fun.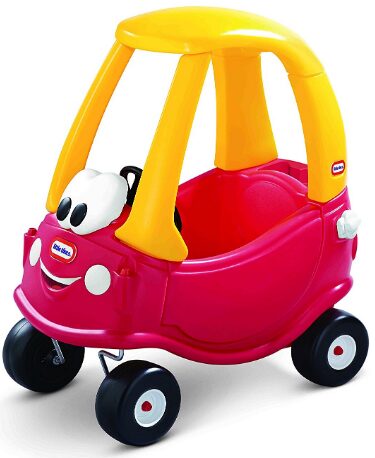 Best Ride On Mercedes
This eye-catching ride-on is perfect for babies who want to travel in style! It is licensed by Mercedes and has realistic-looking features. It also plays music and has a horn to make it even more fun for your baby.
The sit and ride car have under-seat storage perfect for your baby or toddler to take along everything they need. It comes in a variety of colors to suit both boys and girls. The car can carry a child weighing up to 40 pounds, meaning it will provide years of fun.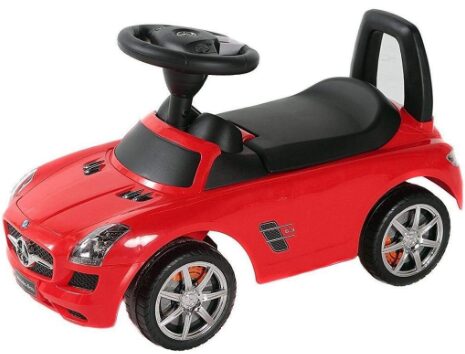 Best Overall Baby Ride-on Toy
The Step2 Push Around is a great ride on for even the youngest babies. As soon as your baby can sit well, they can be safely strapped into the car. The parent handle is a good height, meaning you can comfortably use this toy in place of a stroller. There are a variety of fun designs to suit all tastes.
Best Budget Pick
The Fisher-Price Sit, Stride & Ride Lion is perfect for parents on a budget. It offers great value for money, as it can grow with your child from when they can sit up until they become a toddler. The fun lights and music are perfect to entertain young babies. It can be used as a walker for when a baby is learning to take those first steps. The Sit, Stride & Ride is an excellent ride-on for babies of all ages.