Makeup can be a great way for any individual to explore their personal style in a creative way. While there is much speculation around the appropriate age to start wearing makeup for cosmetic purposes, there is a range of kids makeup kits that can be bought for creative fun. From creating elaborate fancy dress looks to simply testing out some pops of color, there is lots to do with makeup sets and an imagination.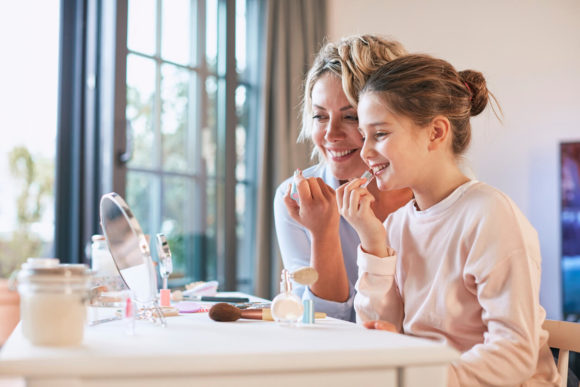 Considerations Choosing Kids Makeup Sets
Before we present our top choices for your little ones, we've put together a handy list of considerations to share when buying this type of product.
Age recommendation – Age recommendations are super important when it comes to any type of makeup for kids. Some of the sets can include small parts that can pose a hazard in themselves but the main area of care for age consideration comes down to the ingredients used.
Ingredients used – Many children makeup kits are made using a range of ingredients that are suitable for sensitive skin. However, we always recommend fully reviewing the ingredients list to ensure that there isn't a single ingredient that your child may be allergic to.
Washable factor – Kids play makeup will need to be washed off once the fun of applying it and wearing is over with. Always review products based on this as the last thing you want is color that stains your child's skin. Most make ups for kids can be washed off using a baby wipe! We always recommend choosing non-toxic kids play makeup of-course!
What is the right age for girls to wear makeup?
Generally speaking, most young girls begin to wear makeup between the ages of 12 and 15 years old, however, this isn't a written rule. Girls younger than this age group may decide to start experimenting with makeup sets to explore what they enjoy from as early as 7 years old. Toddlers may also enjoy putting on makeup with the help of a parent or adult too. There is no right or wrong answer to this question, it's all about the girl in question.
What To Look For in makeup?
When buying any children makeup kits you should look for product diversity and keep an eye out for any potentially harmful ingredients. As mentioned already, most makeup sets for children will ensure in their manufacturing that all of the ingredients used are safe for sensitive skin, but it's always best to be sure. We recommend looking for sets that have nail polish, lipstick or lip glosses, eyeshadows, and blush as a basic introduction.
The 20 Best Kids Makeup Sets Of 2023
Now that we've covered some of the FAQs you may have surrounding makeup sets, here are our top 20 picks of 2023 with reviews so you know which will be best for your child!
1. Little Cosmetics Play Makeup
This play makeup for toddlers is a smart product that can introduce little ones to the names of makeup products. None of the makeup pieces in this set are actually applicable meaning that they're great for imaginary play. The brushes can be used to carry out the action of putting on makeup without the mess you'd find in other sets. Encouraging both creative and imaginative play, we recommend this set for children ages 3 years and above.
Included in the set is a compact duo that comes with a shatterproof mirror so that little one can admire themselves, a blush, a glitter pot, lip gloss, eyeshadow, brushes, and the Little Cosmetics purse that the items are stored in.

2. My First Princess Makeup Set
This all in one kids makeup box is one of our favorite products in this category. It's great for any child that wants to explore their creativity by applying makeup and is packed full of lovely, children-friendly makeup pieces. This little pretend set is sure to keep any curious mind busy for a long time through imaginative play. Girls will have plenty of fun 'applying' the products on each other at Princess themed occasions or parties and it is also a great individual activity to enjoy.
Included in this make up set for kids is an eyeshadow palette, two lipsticks, two lip glosses, two nail varnishes, eyeshadow trios, and some brushes too. All of these toy products can be easily packed away into the Princess floral pouch that comes with the set for no-mess playing.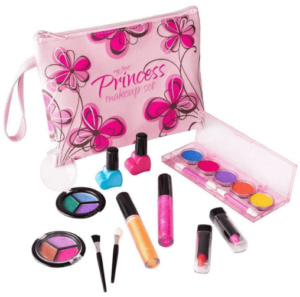 3. Pink Carry Case Girl Makeup
This is one of the most beautifully packaged girls makeup sets for 7 year olds we could find and it comes packed with goodies too. The padded pink purse with a bow and charm detailing on the front is easily portable thanks to a comfortable handle, making it great for carrying about. Inside the purse, all of the kids makeup is made using friendly ingredients to not cause any unwanted effects on the skin. From the sweer toe dividers to the bonus hand lotion, there are so many makeup products in this kit making it excellent value for money.
Included in this kit you'll find a pink nail varnish, eyeshadow applicators, false nails, a nail file, a toe divider, lipsticks, and more.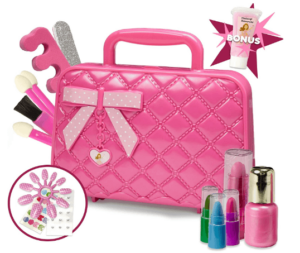 4. Polka Dot Makeup Set
This standout makeup for 7 year olds comes with an eye-catching pink polka dot case to store all of the cute products inside. Your little girl will have plenty of fun with these realistic items that promote both creativity and learning. Made using high premium end materials, you won't have to worry about quality or application, as all of the products in this set are pretend. Children can practice their makeup applying techniques on themselves or each other.
This set comes packed full of items including nail polishes, glitter pots, foundation, a compact mirror, eyeshadows, brushes, mascara, lipgloss, and much more.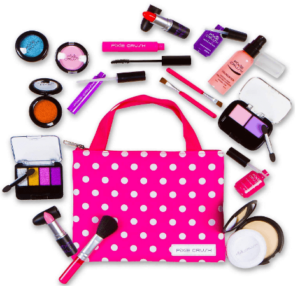 5. Little Cosmetics Little Charmers Set
This play makeup set is sure to charm any little girl who interacts with it. We love the star mirror included alongside the fake makeup products, each of which is made using high-quality materials, and the carry case! A perfect set for introducing children to the names of different products and helping them to creatively play via imaginary application of each makeup item.
In this set, your child will get a handy purse with a handle and cute design on the front, a star-shaped mirror wand, real brushes, an eyeshadow palette, blush duo, eyeshadow glitter, and a pink colored lipstick too.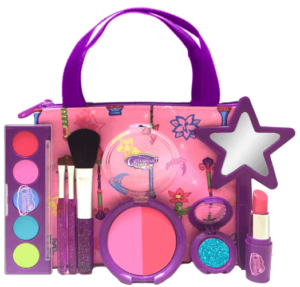 6. Unicorn Makeup Kits For Girls
None of the items in this adorable rainbow unicorn set are real, meaning there is no need to be concerned about cleaning! This is a great, high-quality set for any child that enjoys imaginary play. Packed full of fake makeup goodies, kids can practice applying blush and other items to transform themselves or friends into real-life Princesses. The cute purse that the items are packed into is our favorite highlight of this set with its lovely, magical colors that are guaranteed to brighten your little girl's day.
In this set, there are 11 pieces in total including a makeup bag, two makeup brushes, eyeshadow colors, a glitter pot, nail polishes, blush colors, lipsticks, and glosses.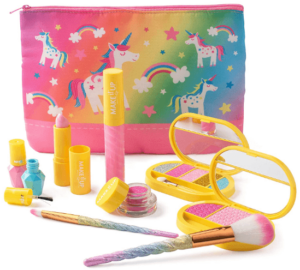 7. My First Princess Makeup Set
This is the perfect first kids makeup set for any wannabe Princess! Your little girl is sure to be delighted with the range of lovely makeup toys inside. A fun play activity for little ones, there is plenty of learning and imaginary play to be had when practicing applying the products to themselves or friends. We love this toy's style which is consistent throughout, making it a cute addition to a girl's princess collection. All of the items in this set are non-toxic and washable meaning that you won't have to worry about skin sensitivity or anything else.
Contained in the Princess pouch you'll find a blush trio, a Princess themed glitter lip gloss, two other lip glosses, nail polishes, eyeshadows, an eyebrow pencil, and 3 soft brushes.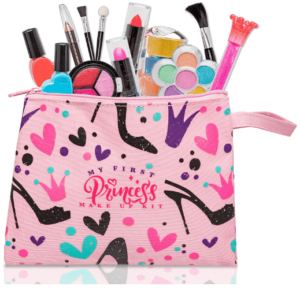 8. Pink Makeup And Hair Set
This lovely 12 piece set is perfect for any ambitious beauty stylist. As one of the best makeup kits for young girls, there is everything in here and more. Inside there are all the tools and accessories needed to set up a beauty parlor at home. Every product in this set is made using BPA free plastic to ensure maximum safety, add to this a fantastic creative design for ultimate imaginary play. All of the realistic tools included are made to replicate the real deal, and this kit's hairdryer is battery operated to blow air.
Inside of this fabulous pink carry bag, there is a hairdryer, scissors for styling hair, a brush, hair clips, straighteners, a credit card to pay, makeup items, and more.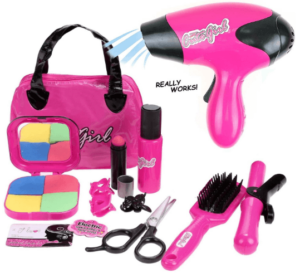 9. Glitter Girl Make Up Set
If you're seeking a make up set that is packed full of all the goodies your little girl would expect, this could be the ideal product. Inside of the glitter case, your child will find top quality makeup items that can be used in pretend play to replicate the application of different makeup to areas of the face. Little girls will love playing with this set for hours on end and you won't have to worry about tidying up either, as the set's items are completely pretend. Intended to replicate the items a girl would perhaps choose to use later on in life, this is one of the best girl make up sets for kids that we could find.
Included in this set are 17 unique items to provide lots of fun and creativity inclusive of eyeshadows, brushes, lipsticks, and nail varnishes too.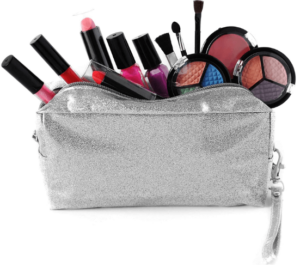 10. Pink Pretend Makeup Kit
A BR branded product, this little girl makeup set comes packed with a total of 58 magical colors, allowing children to fully connect with their creative streak. Inside of the set, you'll find everything needed to sit for hours on end and experiment with looks. As one of the most popular makeup kits for 9 year olds and beyond, this is a great birthday or Christmas gift idea and it is sure to help any budding beautician realize their passion.
This compact kit comes with a total of 58 different compartments containing 6 lip glosses, eyeshadows, blush, and more.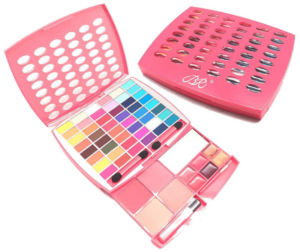 11. Shany Fix Me Up
We recommend the Shany Fix Me Up as ideal makeup kits for 10 year olds, this is because unlike some of the other products listed, this set contains real vibrant makeup. With 36 different products to choose from, girls will have plenty of fun applying different looks to their eyes and lips using semi-glossy and matt makeup. A member of PETA, this product's manufacturer uses safe and cruelty-free ingredients throughout for total peace of mind.
This set comes in a handy box with various compartments that are used to store the individual makeup items and applicators.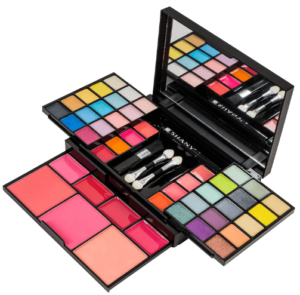 12. Pretend Pink play Makeup
This awesome pink make up for 5 year olds doesn't contain any real products so that you won't have to worry about the mess on your little one's skin. While all of the makeup products contained in this set look realistic and can be used for hours of creative play, they are totally safe and simply allow children to get creative with playtime. With 15 pieces, this set contains everything and more you'd expect from this type of toy. We love the cute pink packaging and the heart embellished case that the products can be stored in.
Inside of the case, there is a varied eyeshadow color palette, a compact foundation, a foundation puff, 2 eyeshadow compacts, nail polishes, brushes, and an awesome twist lipstick.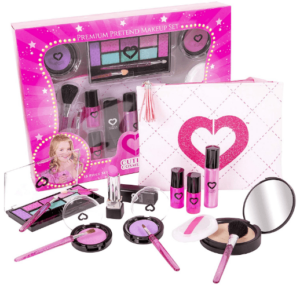 13. Little Unicorn Cosmetic Bag Kit
This pretend makeup kit will provide lots of fun for little ones who love getting creative. Packed full of makeup toys, each has unique colors and functions to interact with. Moms won't have to worry about toddlers getting messy, as none of these products are applicable. This is one of the loveliest makeup kits for girls that we could find due to its sweet design and unicorn features. All of the makeup is made of safe foam and plastic making it ideal as play makeup for toddler ages.
In the unicorn case, you'll find lipsticks, brushes, eyeshadows, blush, nail varnish, and much more!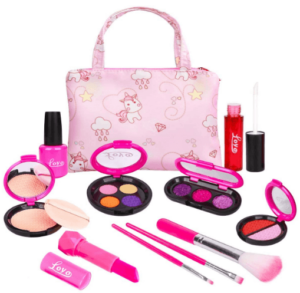 14. Limited Edition Colorful Compact
This bright pink compact kid's makeup set is sure to bring about a smile on any little girl's face. Suitable for ages 6 years and above, the limited edition makeup palette includes a range of real makeup products that can be applied and washed off easily. With secret compartments and drawers, your little girl will love revealing the different makeup types and it is guaranteed to provide hours of creative play with this set. Made using non-toxic ingredients, this palette will help your girl recreate her favorite Princess looks!
Inside the set, there are 4 blushes, eyeshadows of varying colors, lip glosses, glitter to be applied onto the face, a mirror, brushes, and more.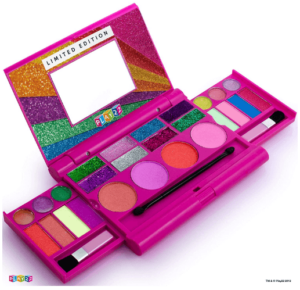 15. Starry Girl Make Up
This is one of the most unique girls makeup sets we've come across due to its starry themed case. Suitable for older girls, each of the products inside is made using completely non-toxic and water-based material that is soft on the skin. The accessories inside are all real-life sized and are great for beginners looking to experiment with their look. Your little girl will be the star of the show with this lovely PU leather bag full of goodies which is easy to carry and to cleanout.
The set contains brushes, eyeshadows, blush, powders, and brightly colored lipsticks that are a perfect pop of color.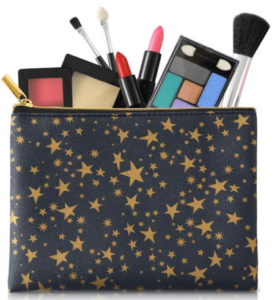 16. Real Makeup Kit
If you're seeking real makeup for kids, this is a great set packed full of beginners makeup products. Suitable for children older than toddler's age, this set is designed to help encourage the imagination of little girls equipping them with more tools to dress up and play! Made of safe and high-quality ingredients, this set is washable and free of irritants. All of the makeup can be stored easily in the pink carry case that comes with a comfortable handle for portability.
Inside this kids makeup box, you'll find lots of exciting items including lipsticks, blush, lip gloss, powder, eye shadow brushes, blush, and much more.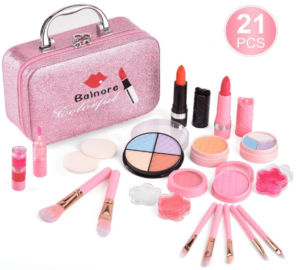 17. Flower Themed Little Girl Makeup
If your little girl loves flowers, she is sure to enjoy this fantastic realistic makeup set. The lovely floral-themed case is packed with makeup products all of which great pretend toys to get creative with. This is a great way to introduce your little girl to the various product names and how they're applied. Made of non-toxic materials, this set isn't going to cause any irritation and is fragrance-free too.
The makeup bag contains 18 different products including glitter lip glosses, eyeshadows, nail files, skin-safe jewels, a toe separator, and other items too.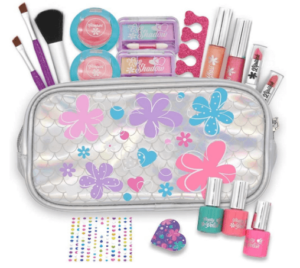 18. Frozen Play Makeup
For any Frozen fans out there, this is the perfect gift! As one of the most unique makeup kits for young girls we could find, it's full to the brim with Disney themed goodies that are going to encourage creative play for hours on end. The set enables little ones to explore beauty safely through the use of non-toxic products that can be applied safely to the skin. Each bottle in this set is lovingly decorated with images of Frozen characters including Elsa and Olaf.
This Frozen makeup kit comes with 2 hair clips, press on nails, lipglosses, nail stickers, lip tubes, a nail file, gems, and a handy pouch to store them all in.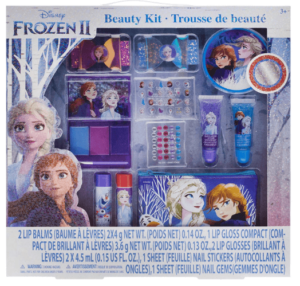 19. Doll Kids Makeup Kit
This is a truly one of a kind makeup kit as it takes away the idea of applying products to self and rathe onto a toy doll. Your little girl will love the sweet doll that comes with this kit, allowing her to get fully creative with different makeup looks while you'll love the minimal cleanup. Kids can beautify their Princess doll using a range of different products to add color to areas of the face. Completely BPA free and hypoallergenic, you won't have to worry about skin sensitivity with this set.
As one of the best makeup sets for 8 year olds, products include are blushes, brushes, lipsticks, lip glosses, nail polish, and handy makeup remover too.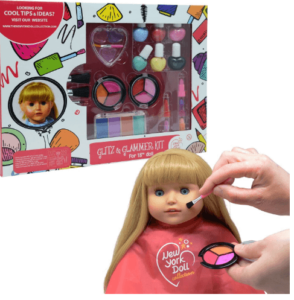 20. Wooden Makeup Toys
This is a great option for toddlers due to the kit's durability! Each item in this adorable pretend kids makeup box is made using wood and non-toxic plastic. There are no overly small parts so you won't need to worry about safety and each product comes with its own unique features encouraging imagination and role play. The wooden comb and mirror included are great items that can be used for styling, while toddlers will have the opportunity to learn different product names through interacting with each separate piece.
In this pink themed set there is a sturdy carry case, a cute bow headband, a wooden comb, a plastic mirror and, replica makeup items as well as some hair ties.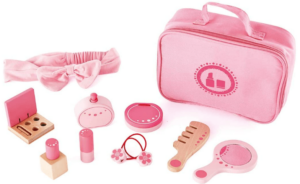 We've come to the end of our girls make up sets reviews, as you can see there are so many great choices. From real makeup options to pretend toddler options, there is plenty of fun to be had with this type of toy. Here are our best overall and best budget picks!
Best Overall
Our best overall girl makeup set is this lovely Frozen set by Disney. Packed to the brim with Frozen-themed goodies, this kit offers lots of exciting products for little girls to practice their makeup application. Each of the bottles in this set features images of favorite characters from the movie too including Princess Elsa! From hairclips to nail stickers, there are lots of pretty items to get creative with and have fun alone or with friends.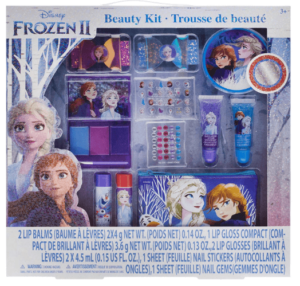 Best Budget Buy
Our best budget buy in the category of children makeup kits is this wonderful rainbow unicorn makeup kit. Each of the items included isn't real, ensuring mom can have total peace of mind with no worries about washing products off the skin. This kids makeup pouch is affordable and contains replicas of all the makeup products an adult would use. It provides a great opportunity to expand vocabulary and practice by applying each product in a fun and creative way.