Easter is coming and what better way to celebrate than with a gift of prefilled Easter baskets for kids? If you have little ones in your life, choosing pre made baskets for Easter can make this holiday a whole lot easier! You are certainly lucky these days because there is so much choice available. However it can be overwhelming to know where to buy pre-made Easter stuff, so let us help you out with our comprehensive guide. 
As parents, we know that kids have many gift items on their wish lists at this time of year, usually including chocolate. But if you are looking for something a little different, why not consider one of these fantastic gift baskets? We have collected themed gifts, baskets for girls, and selections for all ages. Look no further than this bumper article, which is sure to make your shopping experience much easier this Easter!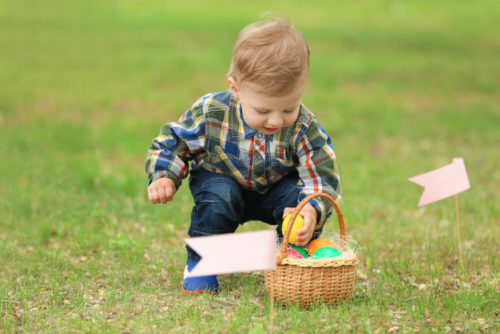 Considerations choosing kids Easter baskets
Whether you are buying for your own children, relatives, or your friends' kids, it will be worth your while to take the time to think about what kind of pre made basket will be most suitable for the recipient. This way you can be sure your thoughtful gift will be gratefully received!
Age: in this guide, we have options for all ages of kids, including, from babies and toddlers up to older children. The age of the child will determine the level of safety consideration needed as well as the items likely to hold their interest. For example, gift baskets for toddlers and babies should not contain any small items that could pose a choking risk.  
Theme: does your kid love a particular character or TV series? Likely that we have featured themed Easter gifts for boys and girls in this guide! By choosing a gift basket featuring their favorite character or activity, you know they'll adore their present!
Contents: chocolate is of course the traditional gift at Eastertime. Think about whether you want to go with this traditional route, or perhaps you would rather branch out with activities such as a coloring book gift basket? With so many types available, you are sure to find something to suit your recipient's interests!
Budget: giving kids gifts at Easter can bring a smile to your face and theirs, but it does not have to break the bank! Our guide features many budget-friendly options, which is perfect if you are buying for multiple children. To make your life even easier, we will also present our overall budget buy, so no need to overthink your shopping list.
Best Pre Made Baskets in 2023
1. Hatchimals Easter Basket with CollEGGtibles
Isn't this pink Hatchimal egg just adorable? Any fan of these little creatures will be thrilled to find this gift from the Easter bunny! It comes with a beautiful pastel colored basket and six exclusive Hatchimal characters, including four in egg and two out of egg. Little kids will adore caring for and hatching their animals, which are contained inside pearlescent eggs. Each of the four eggs contains a surprise animal that 'hatches' when the egg is held and 'cracked'. 
The basket is ideal for storing and transporting the Hatchimals collection and features a sweet heart shaped handle. Nests for the eggs keep these treasured creatures safe and secure when being carried. This basket would make the perfect addition to any Hatchimals collection!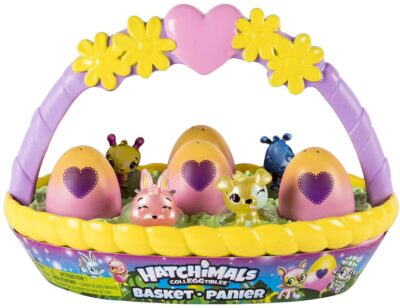 2. LO LORD LO Easter Kids Bunny Bag
Are you planning an Easter egg hunt this year? If so, you will want to stock up on these fantastic kids' bags from Lo Lord Lo! The 100% polyester cylindrical bag is made from eco-friendly material and is safe for children.
Fill it with trinkets and gifts, or use it to encourage kids to find chocolate eggs hidden around your home. As a bonus, it is ideal for carrying school books, bag lunches, and anything else your child needs to take around with them. The bag comes in a range of printed designs so you are sure to find one your kid will love! At 23cm by 23cm, it is a great size for using at Easter and beyond.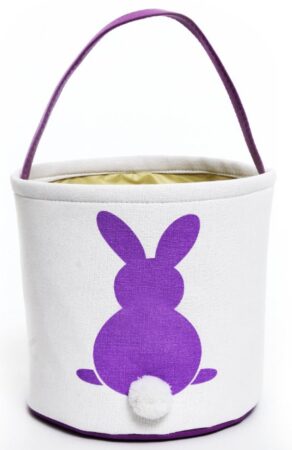 3. Easter Egg Hunt Basket
For more ways to make your egg hunt the best on the block, check out this sweet set of egg baskets from Prextex. It contains three plastic baskets in bright and cheery spring colors that will catch your little one's eye.
Perfect for toddlers and little kids, each basket has an easy to grab handle and large opening. They are made from BPA free plastic, which means they are safe for little ones to handle. Each basket measures 5 inches by 7.5 inches, making this set a great choice for egg hunts and Easter favors.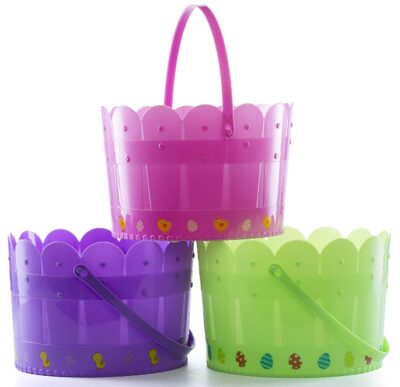 4. Boys and Girls Gift Box
Are you looking for a deluxe gift for the special kid in your life? If so, this would make a great choice. The fun themed gift box contains everything your little one could possibly need to entertain them! Snacks, activities, games – you name it, this box has it.
Featuring crayons, Play Doh, card games, a stress ball, and glow in the dark jewelry, your kid is not going to get bored quickly! And if they do, there are snacks to keep their attention: cracker jacks, rice crispy treats, candies, and granola bars. What more could they want?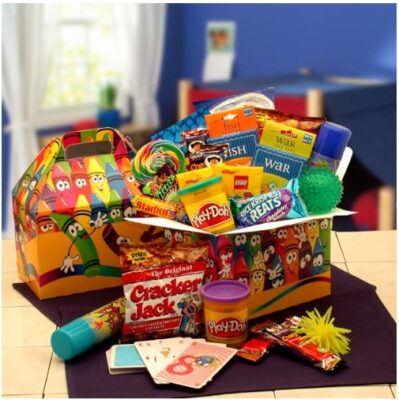 5. Gift Basket LEGO Star Wars
Got a Star Wars fan in your life? Look no further, we have found the perfect gift choice! This mega LEGO Star Wars gift set contains everything your little fan could wish for. Inside, you will find a 92 piece Millenium Falcon Microfighter Set, coloring book, gliders, balloons, jelly beans, pencils, sticker book, puzzle, and finger puppets.
These incredible items are packaged in a themed bucket that can be reused for storage. It is sure to put a huge smile on your kid's face come Easter!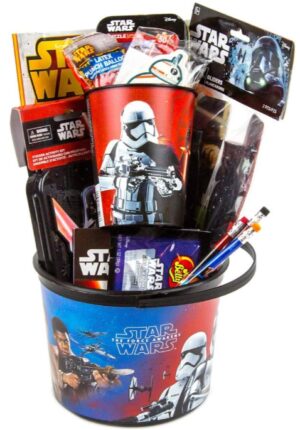 6. Personalized Plush Bunny Basket
This adorable plush bunny from GiftsForYouNow is a perfect choice if you need pre made Easter baskets for babies. Put an even sweeter mark on it with the name personalization and you have a wonderful memento for baby's first Easter!
The basket is made from soft velour type material and features floppy ears, a friendly face, and a carrying handle. Embroidered accents on the face give this little rabbit a cute cartoon look that is sure to appeal to little ones. Name personalization can be added for no extra cost.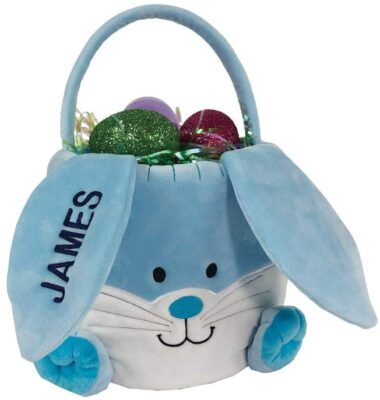 7. Disney Princess Gift Basket
If you have a little Disney princess to buy for, check out this gift basket! It is full to the brim of jewelry and cosmetics that your kid will love exploring. Each of the ten individual items is themed for Disney princesses and is sure to delight any little fan.
The set includes a mini purse and coin purse, stick on earrings, lip gloss, a plastic tumbler, hair accessory, nail accessory, cards, a diary, and nail polish, as well as an adorable gift box. This set is designed for children aged between three and eight years old.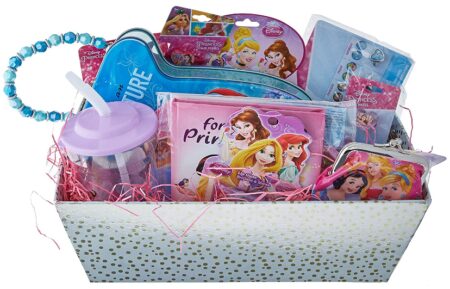 8. Stuffed Plush My First Easter Basket
Need ideas for pre made Easter baskets for toddlers? This delightful set from GUND is designed with the littlest celebrants in mind! It is a five piece play set featuring a carrot crinkle toy, a chick rattle, an egg squeak toy, and a bunny sound toy.
The soft plush figures come in their very own storage basket, which your baby is sure to love exploring. This would make a perfect gift for a baby's first Easter or for toddler's little hands to grasp and carry. This toy set features embroidered details for optimum child safety.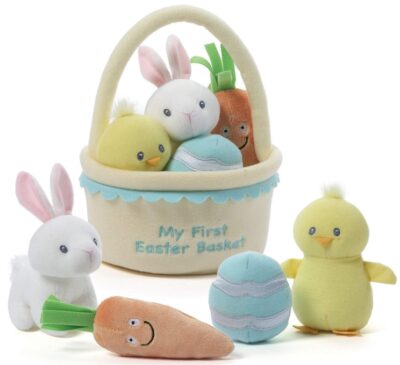 9. Minnie Mouse Birthday Basket
This adorable Minnie Mouse themed gift would be perfect, whether you are looking for pre made Easter baskets for girls or boys. Designed for children aged 3 to 8 years old, it is packed full of fun and games for encouraging imaginative play.
Featuring an adorable tin purse with easy to grip handle, this set is sure to delight your child. It also contains an 11 inch plush Minnie Mouse toy, dress up watch, card game, a puzzle, stick on earrings and rings, a hair accessory, and a candy basket. The ultimate thoughtful gift for any young Disney lover!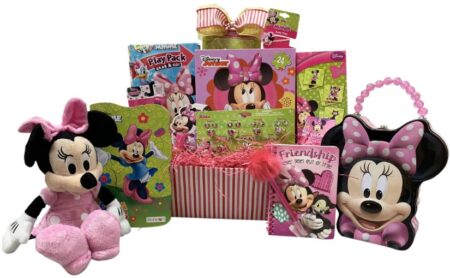 10. DC Batman Basket
For your tiny comic book fan, this Batman themed bucket is sure to please! A perfect choice for pre made Easter baskets for boys and girls, it is absolutely stuffed with Batman loot. The bright blue plastic bucket is made to be durable and is an ideal size for even little toddlers to grab. The set features 12 blue plastic prefilled eggs designed for a super special egg hunt.
Each egg contains a bright and engaging toy, such as whistles, stickers, bubbles, stamps, temporary tattoos, yoyos, figurines, notepads, key chains, and more. Hours of fun are guaranteed!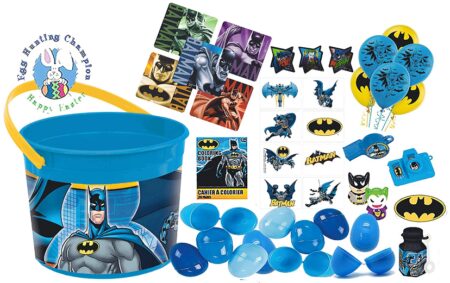 11. Princess Themed Gift Basket
If you are looking for stunning premade Easter baskets, this one will not disappoint! This is a huge collection of sweets, treats, and toys stuffed into a handmade traditional looking basket. An incredibly thoughtful set, this is perfect for the little princess in your life and is sure to put a smile on your kid's face.
The basket contains a jump rope, toy butterflies, a plush ballerina bunny, crayons, a Disney Princess sticker book and story book, washable markers, and a whole host of sweet treats!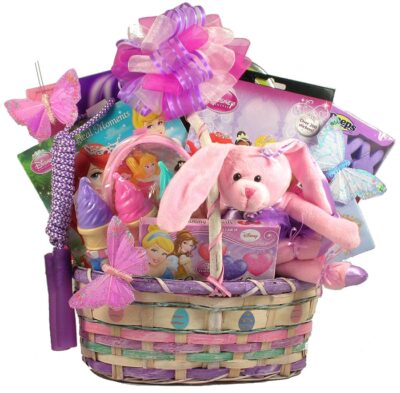 12. Easter Eggs Puzzle Basket
This basket from Prextex would make a fun and educational alternative to the traditional chocolate gifts at Easter. Perfect for babies and toddlers, it features an easy to grip carry along basket in a vibrant primary color.
Inside, your little one will find a dozen plastic eggs designed to aid color and shape recognition. Split each egg open and you will find a different shape and bright color! Your child is sure to enjoy sorting and matching the egg halves as they slot together. Each toy is egg sized and the set has been tested to be safe for children. An ideal themed educational Easter gift!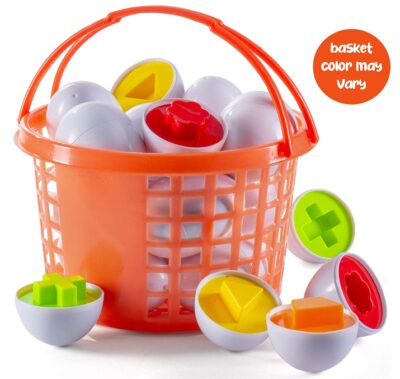 13. WWE Wrestling Gift Basket
Looking for super pre filled Easter baskets for boys or girls? This wrestling themed bundle would make a great gift for any WWE super fan! The plastic bucket is printed with wrestling favorites and is stuffed full of toys and treats to keep your child occupied all day.
Each set includes a wide variety of WWE wrestling themed toys such as temporary tattoos, paddle ball, character figures, and a wristband. Your child is sure to love the sweet treats they will find in this basket, including pop rocks popping candy! It is a great mix of toys and sweets for your older child this Easter.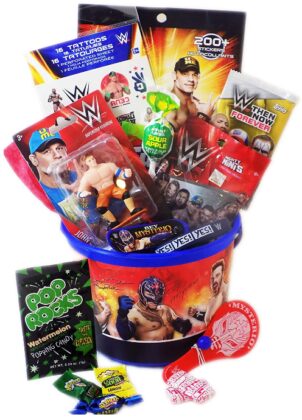 14. Kids and Adults Gift Basket With Plush Bunny
If you want to shower your child with treats this Easter, look no further than this deluxe gift basket from Heart and Holly. The sweet traditional woven basket contains 40 individual items that are beautifully presented and packaged for a truly impressive gift.
The set is filled with chocolate, candy, activities, and toys, including some of your kid's favorite snack brands. It also features a soft plush bunny toy that your little one is sure to treasure. The high quality wicker and bamboo basket provides a pleasant storage solution for the treats and toys. This is a gift that is sure to be appreciated!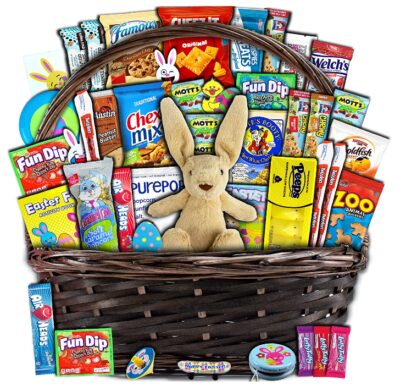 15. Pixar Cars Themed Kids Gift Basket
This Cars themed gift basket is sure to impress your little Pixar fan! It features an excellent collection of movie themed toys and games, with favorite characters from the world of Cars. Designed for children aged three to eight years of age, the basket contains games, art activities, and sweet treats to entertain even the most discerning child.
The set includes a flying disc to encourage outdoor play, character bingo, color in puzzle, stickers, a key chain, wristband, candy and sweet treats. All items are packaged and presented beautifully to enhance the gift experience. Young fans of Lightening McQueen and Mater are sure to love exploring this set.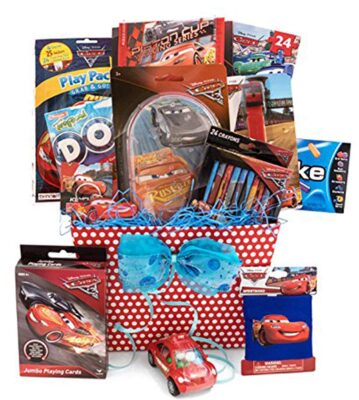 16. Disney Princess Easter Basket
Here is another wonderful item for any little princess in your life! The Disney Princess pre filled Easter basket from Princess Easter is full of toys, activities, and accessories designed to keep your child entertained for endless fun. This beautifully wrapped basket includes notepads, pencils, ruler, eraser, coloring book, stickers, puzzles, and candy.
Each item features your little one's favorite Disney princess characters, like Snow White, Jasmine, Rapunzel, Merida, Belle, Cinderella, Mulan, and Tiana. It is recommended for children aged 6 years and up. The back of the cardboard packaging also features creative activities to keep the fun going as long as possible!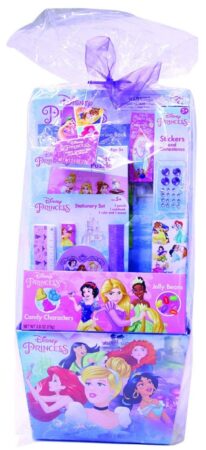 17. Sports Themed Easter Basket
Do you have a young sports fan to buy for? Check out this incredible selection from Salty Bears! The eight inch wide sports themed basket is made from durable plastic and is full of toys and activities. You will not find any candy or chocolate in this box, which could be perfect if you are trying to limit your child's sugar intake this holiday!
The gift set contains sports themed plastic hollow eggs, mini soccer game, miniature billiards set, magic shoot basketball game, mini ten pin bowling, finger football, super yoyo, jump rope, flying disc, flashing spinning top, flying boomerang, and much more!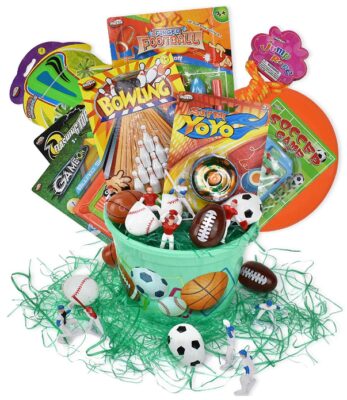 18. Gold Wrapped Lindt Bunny
This traditional Easter gift from Lindt will not fail to please any lucky recipient. The classic gold wrapped Lindt bunny is synonymous with Easter and can be seen in stores everywhere at this time of year. This cute set contains two delicious milk chocolate Lindt bunnies in a sweet 3.5 ounce basket. It is perfect for a small gift, Easter favor, or festive table decoration.
Lindt gourmet chocolate is expertly crafted by master Swiss chocolatiers and is known for its distincly smooth and rich taste that is sure to impress. This cheerful little set will brighten up any gift basket or table this Easter.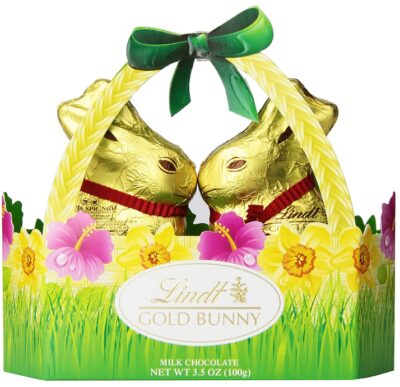 19. Train Themed Gift Basket All Aboard
If you want to go all out this holiday, you will want to check out this bumper gift basket from Gift Basket Village. The train themed set includes a whole host of exciting toys and games that are designed to keep kids entertained for hours of enjoyment.
Beautifully packed and presented, each of these stunning baskets is put together by hand in Florida by a team of professional gift basket designers. This arrangement includes a soft plush teddy bear, bubble wand, light up finger beams, silly putty, card game, coloring pencils, crayons, kids' silly songs DVD, and plenty of sweet treats.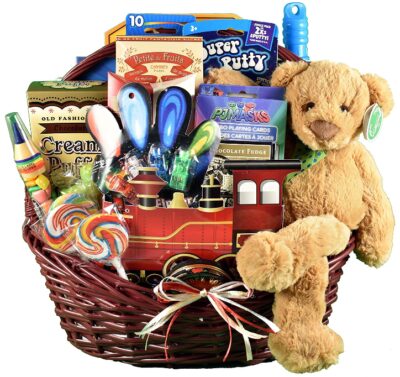 20. Plush Prefilled Easter Basket
For an adorable gift that any little kid is sure to love, we present this plush prefilled basket. The sweet felt basket is shaped like a truck and contains a colorful soft toy ball, Pez dispenser with candy refills, and a prefilled plastic egg.
The set also includes an eight inch plush toy bunny that will make for a wonderful keepsake, and a bunny shaped tic tac toe board. Proving that gifts do not have to be elaborate to make an impact, this sweet set combines toys, activities, and candy for a thoughtful and entertaining present.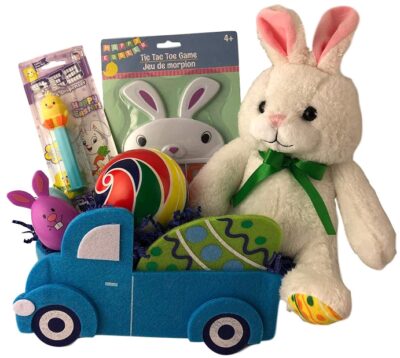 Best Easter Basket
There are so many pre made Easter baskets for kids available on the market that it can be difficult to select the right one for your recipient. We know that you will find something suitable in our guide, whoever you are buying for, but if you still need some assistance, we will now present our overall best buy.
For this, we have selected the train themed gift basket as it is packed full of toys, activities, games, and sweet treats for your little one to enjoy. It is guaranteed to provide endless hours of entertainment in one special package. This is surely a super deluxe gift that any little one would be lucky to receive.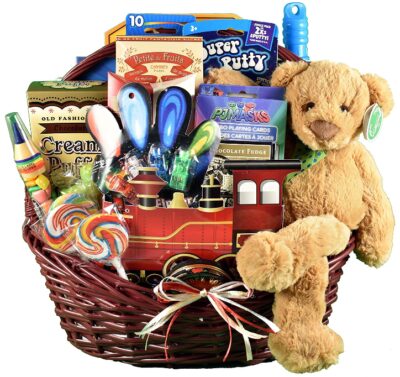 Budget Basket Pick
Easter can be an expensive time, with many people to buy for. One way of keeping costs down without compromising on thoughtfulness is to select already made easter baskets for the children in your life. If you are on a tight budget, let us guide you with our overall best budget buy.
We have selected the classic Lindt bunny gift basket, because it is an impactful gift that will not break the bank. This classic and delicious chocolate bunny has become a symbol of Easter and is sure to be well received by any little one this holiday!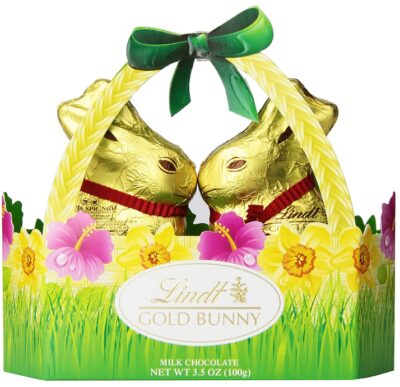 Take a look at these also: