Crawling tunnels are great fun and your child is destined for an imaginative adventure if you decide to get one. As a parent every child's development is super-important and they're a miracle in their own right, therefore you want to see them happy, healthy, developing from simply sitting-up to crawling and all the way into adulthood.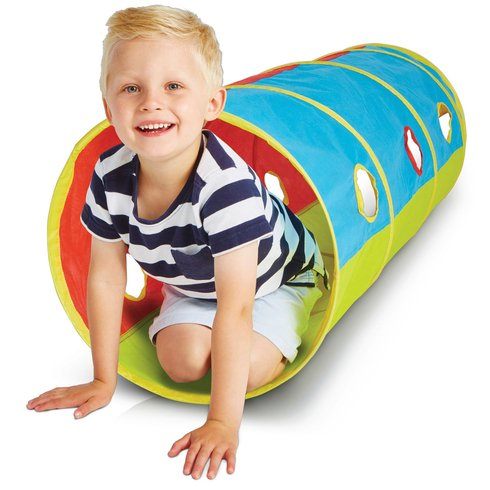 Reasons Kids Should Crawl
Crawling is a necessary part of the growing process of a child and helps create a fully developed toddler. By crawling they learn hand-eye coordination, visual awareness, and perception. These actions help develop further emotional constructiveness and increase awareness of their environment, which eventually makes them able to endure and tackles life's challenges.
Every kid needs to learn to crawl at some point and there are loads of ways to help them develop this very necessary skill. One is, of course, the crawling tunnel, which makes learning awesome fun and a pleasure for an over-imaginative child.
Other reasons can be:
binocular vision – using both eyes
bilateral integration – ability to use both sides of the body in unison
Awareness of space, time and attention
Increases memory and concentration
Muscle increase
Caterpillar Toddler Crawl Tunnel
This tunnel is spectacular to look at and the theme is fantastic, it really is a great introduction to this review and sets the bar high for comparison.
The largemouth and tunnel-like body are stunning, it gets the imaginations running off in all directions. The children will love hanging out and crawling through the tunnel, it's a play tunnel like no other.
The tunnel itself can be dismantled section by section to accommodate a specific size needed for a children's party that might be happening.
The awesome pop-up design is easy to assemble and means time can be saved when the time is short because parenting is always time restricted and nobody want's to spend those precious moments setting up and dismantling play tunnels for crawling kids.

Playz Crawling 3-Piece Kids Play Tunnel
This tent is a 3 piece suite for the toddler that want it all, it's got tunnels, domes, balls pits and colors to keep the imagination tantalized for hours on end. This can be used for various ages, but as they get older the basketball hoop can be a great thing to inspire them to get up and throwing at the hoop.
The soft fabric and material mean they will get no scraps or bruises on those precious hand or knees, which can happen from poor quality design and manufacturing tunnels because lots of time spent on their knees will have an impact.
The play balls are not included with this tunnel, but would definitely be a lovely add-on for those parents wanting to go that extra mile and spoil their kids.
This can be used for multiple purposes and some ideas that come to mind are birthdays, weddings, BBQ's, carnivals and even just in the playroom.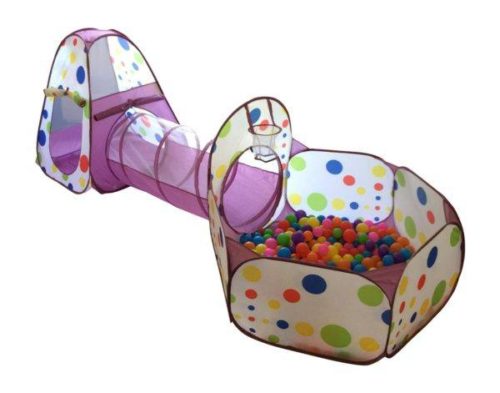 Kiddey 4-way Crawling Tunnel 
This 4-way crawling tunnel is fantastic and means a few kids' can play together at the same time, especially with the open middle as a meeting point for laughter and giggles.
The tunnels are 8 feet in length and offer loads of space for crawling around and getting the games started.
The design is super-easy to set-up and ready to go, it'll be done with a few minutes on arrival and the children will be having the time of their lives.
This unique design is compatible for outdoor use and is perfect for the summertime when long hours are spent outdoors in the sun.
The material is nylon and durable, able to handle rough play because children sometimes don't often realize the potential ripping that might happen. This material is very easy to clean and after a long afternoon of sticky fingers, it'll easily wipe off with a cloth.
This is one of the perfect toddler toys for getting the kids running around, having fun and making mischief, but in a safe environment.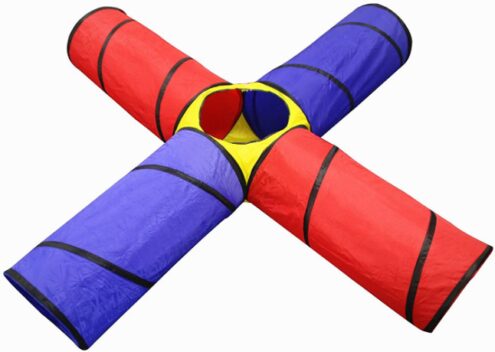 The Best of the Bunch
The simple truth is that each one of these crawling tunnels for toddler are slightly different and offer a slightly alternative experience and therefore I feel the choice is up to you the parent to know which one would be the right one for your child, but you should know that each one is fantastic and will keep them happy for hours.
HOWEVER…the "Playz Crawling 3-Piece" was the best for my children…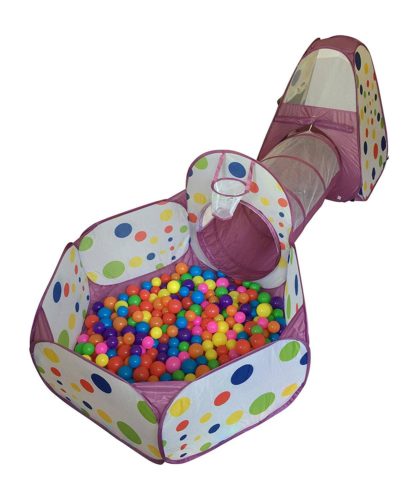 How to Choose the Right Crawling Tunnel?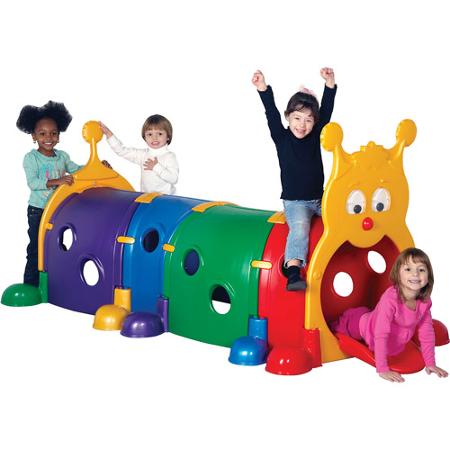 The tunnel for kids is important for those with specific colors and preferences. Sometimes the simple act of choosing the right color is the factor of the child liking it or not, so try to figure out the color your child favors if you don't know already! Make sure, if you don't have a handyman to assemble the tunnel to hand, you get one of these popup tunnels, it'll make life easy for everyone. The material can be a factor for some kids with special requirements, while others might need one with particular padding and cushion. Lastly, some tunnels can be much larger to set up and to store, so be aware of your available space and make sure to read the review and manufacturing guidelines.
Types of Toddler Crawling Tunnels
There are several types of toddler tunnels and all with their own specific twist. Some a straight and offer a mystery crawl to the other side to the unknown lands of…well you get my drift…so, there are others that have a play tunnel target basketball hoop with ball pit and even 4-way tunnels with a pop up middle to see from the crow's nest as they say.
Some play tunnel for children are more specific and accommodate for different ages, but this is for the parents to decide on their child own stage of development, personally the less complex a crawling tunnel the older in age.
I'm sure you find joy in seeing them happy and the carefree attitude worries you at times but also inspires your creativity. Sometimes this creativity molds into a form of a gift and why not a tunnel you thought, so if you have stumbled here or already have an intent to find the best toddler crawling tunnel then by the end of this review you hopefully will find reasons to be generous and make your lovely little-one happy.
I remember the first time I saw a crawl tunnel, it was round at friends, they had connected it to the couch and made an elaborate game out of it. The children had been inspired to make a maze, which was part of an underground secret web of tunnels leading to the main entrance of the castle. At this point, I remembered the wonderful imagination of kids, which made me feel like I wanted to be one again. This is why I partly felt I wanted to find the best out on the market, compare them, filter through the nonsense and hopefully pass on some good options for parents like myself to buy, so this all being said and done there are some factors to consider before making a purchase.