Kids electric cars can be both fun and a learning experience. The best electric cars are well designed, safe, reliable, and faithfully replicate classic design models. In fact, some of them look so good you might just search Amazon yourself to see if they come in larger sizes.
Ten of the best toy cars and trucks available are reviewed here today. These cars for kids have various price points and design features but what they do have in common is a focus on safety and fun – something that should make both you and your child happy.
Considerations When Choosing a 12V Ride On Car Toy

Here are a few things to keep in mind when considering your options:
Price – These cars come at various price points.
Battery run time and recharge time – Run time is fairly constant across the various ride on cars featured but recharge times do vary.
Size – If your child is a big kid and is growing fast you might need to consider a ride on car or truck with a larger maximum load capacity and larger physical dimensions.
Terrain – Will the toy be used inside or outside? Is the space rough, uneven, or sloping? Ensure the vehicle is suitable for the ground it will be used on.
Child's age – Is your child older and more able to handle a ride on car with a slightly higher maximum speed?
Safety – Safety features are key. Some of the ride on cars are larger and more sturdier than others. But all are well designed and built and all include seatbelts.
Added extras – Bells and whistles… kids love noisy things. How are you going to handle the horns and music? One or two of the ride on cars even feature police sirens and microphones. Great for an early morning wakeup!
Best 12V Ride On Toys in 2023
1. Best Choice Products 3 Speed Truck
Everyone loves driving and this sturdy battery operated ride on toy will provide hours of entertainment for the pint sized driver in your life. Recommended for children aged between 3 and 5 years, with durable 14" traction plastic wheels, this is one of the best 12 volt ride on toys for grass and outdoors.
With many kids electric cars on the market, this comes with a spring suspension system, an adjustable seatbelt, LED lights, built in music or a USB port for your own tunes. If you are worried your little driver heading for the hills, a remote allows parents to control steering and the three speed settings.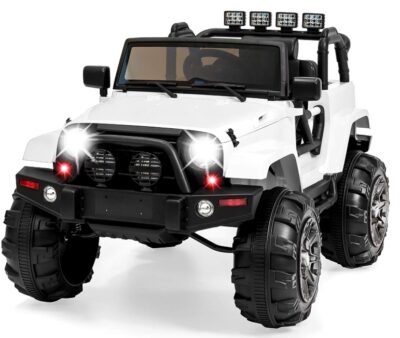 2. Best Choice Products Lamborghini Aventador
Your child will have serious street cred getting around in this Lamborghini Aventador SV Sports Car, one of Amazon's best rated electric cars. Weighing in at 60.6 pounds, with dimensions of 52 x 28.8 x 18", a top speed of 3.7 mph and a parental remote, this cool car for kids is both safe and fun.
Doors swing upwards – just like a real Lambo! There's a seatbelt, a horn to warn mom you're on the way, LED lighting, music, and long lasting batteries, making this one of the best 12 volt ride on toys around.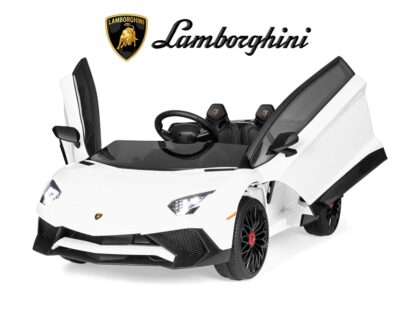 3. Best Choice Red Sports Car
It will be one happy kid who takes this replica Porsche battery powered car out for a spin. With a gear switch, LED lights, horn and music, this car is one of the best best electric cars around for children aged 3-5.
There's a seatbelt to buckle up with, inbuilt music (or a USB port to provide your own) and a remote for mom and dad when they need to slow-down their junior speedster. This 12 volt battery powered ride on toy has a running time of 1-2 hours and a charging time of 8-10 hours.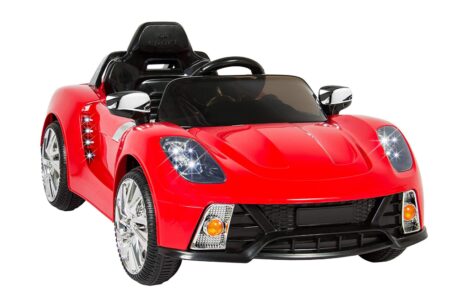 4. Costzon Mini Cooper Ride On
This cute little Mini kids electric car is suitable for children aged 3-5 years, weighing up to 66lbs. On a flat surface you can expect about 40 minutes running time from this 12V ride on toy.
Your child can steer and drive themselves, or a parental remote lets you take charge. But, no matter who is in charge, your little driver will have a great time getting about in this car. You can control the speed making this one of the safest 12V ride on toys for kids.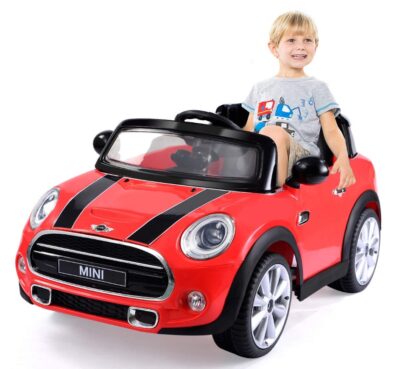 5. Costzon Licensed Audi Toy Car
Audi's are some of the best cars around and your discerning little driver will love this 12V toy Audi car. Weighing just 27lbs with load limit of 44lbs, this car for kids is easy to assemble, looks great, and can even go backwards when you need to bump into dad for some attention or a recharge.
A remote lets parents control steering and speed if they wish. But the lights, horn, and music… that's for your little Audi aficionado to take care of. Enjoy !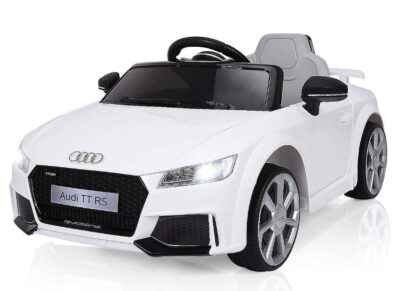 6. Best Choice Ride On Fire Truck
Oh boy, a firetruck… What little boy doesn't want one? This nifty 12V ride on toy fire engine will see your boy demanding matching helmets, gear and a fire to extinguish. Suitable for children weighing up to 75lbs and with a run time of 1-2 hours, this kid's truck comes complete with police sirens, music, LED headlights, a microphone and a functional water hose – handy if your little fireman thinks mom's legs might catch on fire!
Initial charge time is up to 18 hours. Subsequent recharges take 8-12 hours. Simply one of the best 12V toys around.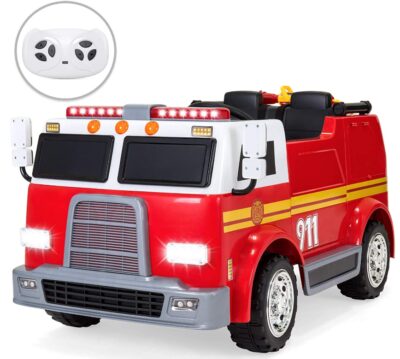 7. Costzon Pink Ride On Truck
A power wheels jeep that's one of the best 12 volt ride on toys for girls around? Have a look at this pink Costzon kid's truck that can get your little girl around in style and safety.
With a steering wheel and foot pedal for acceleration, forward and reverse functions, your child will develop motor and coordination skills while you can keep control of things with the provided steering and braking remote control. Built of plastic and iron, this sturdy Barbie jeep will provide hours of learning and enjoyment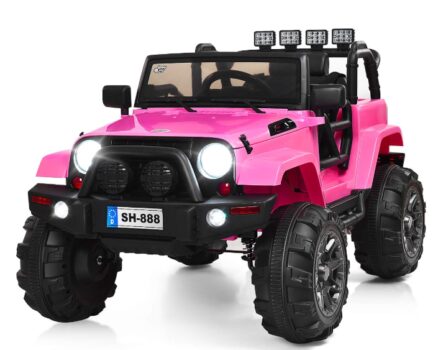 8. Mercedes Benz Ride On Car
If your little tot hankers for the Beverly Hills lifestyle, then this ride on toy Carbon Black SLS AMG Mercedes Benz is the kind of car for kids that may see them digging out their designer sunglasses and asking for a credit card.
Good performance is as important as looking good and this is one of the best electric cars around with LED headlights, tail and fog lights, a USB port for music, a horn to wake up dad, seatbelt, and two speeds (up to 6mph). There's a remote for parents in case they start asking how far it is to LA.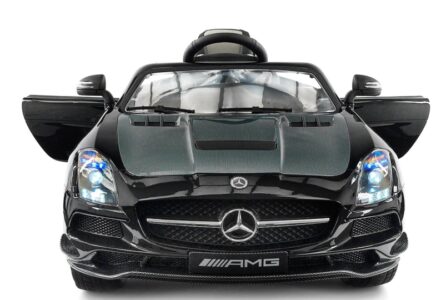 9. BMV 12 Volt Ride On
This 12V ride on toy 4 Series grey BMW puts a focus on safety as well as fun. In comparison with other 12V toy cars and kids trucks, this kid's electric car has a limited top speed of just 1.87mph and an extended parental remote control range of 50m – making this one of best 12 volt ride on toys for younger children or parents concerned about safety.
Carrying capacity is 65lbs, making the BMV ride on car suitable for children aged 3-5 years.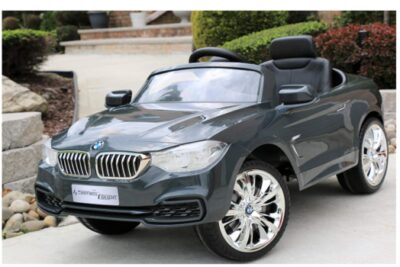 10. Green Mercedes Benz Ride On Car
With a bigger than usual load capacity of 90lbs, this green 2 seater Mercedes Benz GTR 12 volt battery powered ride on toys coupe will have the proud owner's big brother begging for a drive.
Looking super smart, this is one of the best electric cars around with dual rear motors easily pushing the car over bumps and up slopes. The battery has a run time of 1-2 hours and a recharge time of 6-8 hours – a faster recharge time than many comparable 12V ride on toys. A top speed of 4mph and a remote with a 50m range allows for parents to keep control.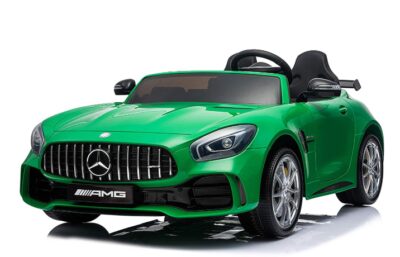 Top Rated 12 Volt Ride On Toys
Well, that's a tough one. The little boy in me wants the fire engine, the starlet in me wants the Merc, and I've always like Audis. Decisions are the worst …
But the adult in me like the 4 Series BMW best.
Why ?
The BMW is well priced in comparison to other cars and trucks. That's important.
There is a reasonable maximum load of 65lbs which allows for some years of use as your child grows.
This toy car can handle grass, uneven and slopes – something not all these cars can do – so it's okay for outdoor use. For me, I'd rather it be used outdoors than indoors – less furniture and adults to bump into.
The low maximum speed of under 2mph really appeals. Combined with a parental remote control that has a better than average range at 50m, I'd have more time to shut down my little driver if they decide to take off and go exploring.
Finally, the recharge time of 6-8 hours is significantly shorter than some of the other cars and trucks featured.
But if I was 4 years old, I'd be pumping for that fire engine.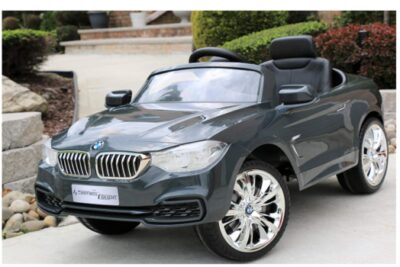 What are the Different Types of Ride On Cars?
A wide variety of ride on car types are featured here including a fire truck, jeeps, coupes, and sedans. What they have in common is a focus on classic car design. Some, such as the pink Costzon ride on truck and the replica Morris Mini will appeal to girls. Others, such as the ride on fire engine toy truck will be a hit with boys big and small.
All of the featured cars and trucks are powered with a 12V battery (often with two 6 volt batteries) and these 12 volt battery operated ride on toy cars and trucks are chosen to suit to a wide variety of play environments. Some, such as the 3 speed truck, perform well outside and on slopes, others perform better on flat even surfaces indoors.
Where you want to use the toy ride on car will help determine your choice.
What Age are These Toys Suitable For?

It's best to check the manufacturer's recommend age groups. They start around 2-3 years of age. A check of the product reviews online reveal parents putting younger children in battery powered cars and safely driving them around using the parental remote.
The upper age can be determined by two factors. Firstly, your child may outgrow the toy's physical dimensions. These dimensions are listed on Amazon's site and vary and will help determine choice. Secondly, each of the cars or trucks have a maximum carrying capacity. This too varies.
How long your child gets to enjoy their battery powered ride on car will depend on how fast they grow !
Are Ride On Cars Safe?
Keeping your child safe is paramount and every 12V battery operated ride on toy car featured here has the following safety features.
All the cars and trucks featured come with a parental remote control that can control speed and steering. The remote's range is generally between 30 and 50 meters.
These kids electric cars come with two speed settings. You may have confidence letting your child control the speed. Alternatively, you can use the remote.
Top speeds vary. The Mercedes Benz ride on has a top speed of 6mph. The 4 Series BMW ride on has a top speed of under 2mph.
The carrying capacity of battery powered cars for kids does vary. Some are only suitable for smaller children, others will safely carry older children weighing up to 90lbs.
All the featured cars include adjustable seatbelts.
In a controlled, supervised environment, ride on cars are safe to use.
What are the Benefits of Riding a Power Wheels Car?

It's fun, mom. Who doesn't want their own car? Especially when it's a fire engine, an Audi or monster truck. These battery powered cars and trucks look so good they must surely bring out the inner child in even the most responsible parent. Buying your grandchild one? Well, surely that would send you straight to the top of the favorite grandparent's list.
But these cars for kids are also a learning experience. Like adult, the kids learn to drive their toy cars in a regulated environment – no smashing into other cars or garage doors! They learn coordination and motor skills. Plus, looking out for obstacles like the cat helps develop perception skills. These battery powered cars and trucks for kids aren't just fun – they provide a learning experience.