Go karts are one of the most talked about toys when it comes to adventure toys for kids. However, these toys require a lot of control as they can be quite fast, which is one feature that leaves kids intrigued about go karts. Go karts are usually designed using a quality suspension system combined with high quality steel which makes them durable and almost indestructible.
Most kids would love to own a go kart someday and if you are reading this right now you are probably trying to find one for your child. You can rely on our 21 best go karts for kids to bring you the best models to consider before making a final decision.
Best Go Karts for Kids Reviewed In 2023
#1 Hauck Lightning Go Kart
Featuring a sporty and innovative design as well as impressive and amazing features, this is one of the best and most exciting go kart toys for kids. This go kart enables drivers to control pedal speed and it is designed to provide young drivers with an amazing driving experience.
This go kart comes with an easy to adjust and a well-shaped seat which doesn't just guarantee maximum comfort but also ensures safety while riding. The kart is aimed at improving coordination, endurance, physical strength and activity.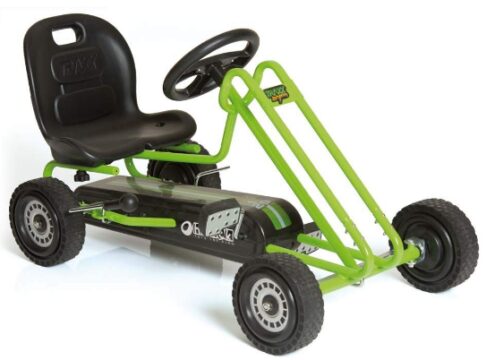 #2 Hauck Batmobile Go Kart for kids
If your kid is a fan of Batman, they would surely love to own a vehicle which will enable them to combat crime in their city. The Hauck Batmobile pedal go kart comes with a three point steering design which enables quick and responsive steering action. The kart is attractive and will excite kids, as its front panel comes with an amazing Batman design.
This go kart comes with an easy to adjust seat that can match any rider's height. The hand brakes allow young drivers to gain maximum control over the rear wheels. Parents have nothing to worry about as this go kart is designed to offer a smooth ride and better grip thanks to its ball style brakes and well-designed wheels.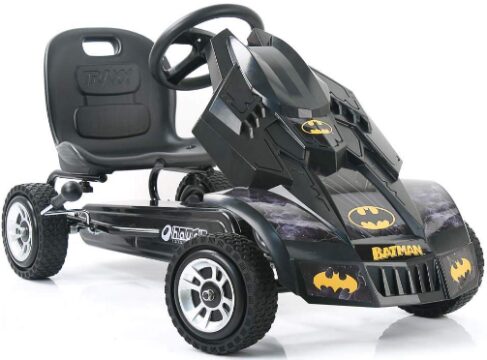 #3 Hauck Sirocco Low Profile Tires Go Kart Car
The fun part about this amazing go kart cart is no one needs to worry about charging its battery before use – simply climb in start pedaling. This isn't just a toy for fun but one that is aimed at helping kids improve their levels of coordination, endurance, strength and even physical activity. This kart is ideal to play with both indoors and outdoors.
Maximum comfort is guaranteed while riding this car as it comes with an easy to adjust seat which also helps to make drivers feel safe. It also comes with a backrest that helps to provide an additional amount of comfort and support whilst driving.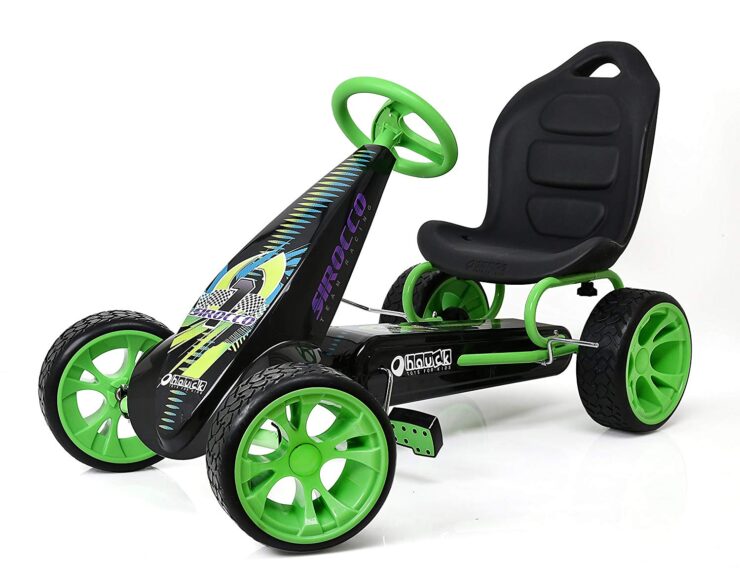 #4 Hauck Go Kart Nerf Battle Racer
One impressive feature of this go kart for kids is its unique placeholders which can be used to hold brackets and Nerf blasters. It is built to be durable, as a this unique kart is made using top-quality tubular steel. Unlike most low quality go karts found on the market today, this amazing go kart for kids comes with a handbrake which ensures that its speed is kept in check.
This go kart doesn't come with darts and blasters, so you will need to buy these separately if you wish to engage in battle! However, it comes with an easy to adjust seat which is sturdy enough to accommodate a weight of up to 110 pounds.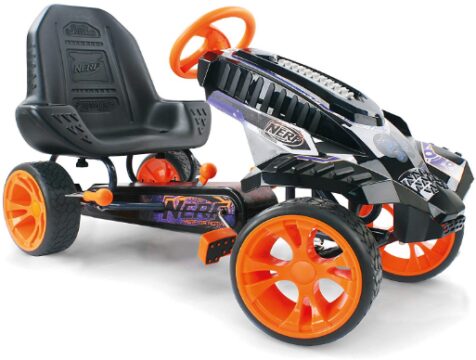 #5 Junior Buddy Berg Toys
Durability is one of the key features of this amazing ride. It is made using tubular steel combined with a powder coating, which doesn't just enhance product life but also provides maximum strength. This is one car which will give young drivers so much joy, thanks to its superb tires that ensure better traction, control and durability.
This is the ideal gift item for kids aged three to eight years old and it is one that they will find easy to ride as the pedals enables drivers to move forward, reverse and drive smoothly. Other additional accessories include an LED headlight, a horn and safety flags.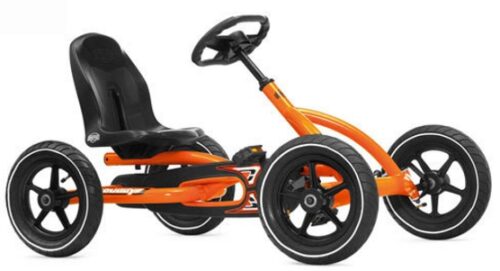 #6 Go Kart – Hauck Nascar Lightning
Featuring easy to use and highly responsive steering, this impressive go kart from the famous Hauck company is one that every kid out there would dream to ride in. It comes with an easy to adjust seat that will fit most heights. It also features unique rubber wheels which ensure excellent traction when driven both indoors and outdoors.
One other feature that makes this go kart car unique is its ball style brake which ensures that drivers have a firm and better grip while driving. The kart aims to help kids improve their physical activity, endurance, strength and coordination.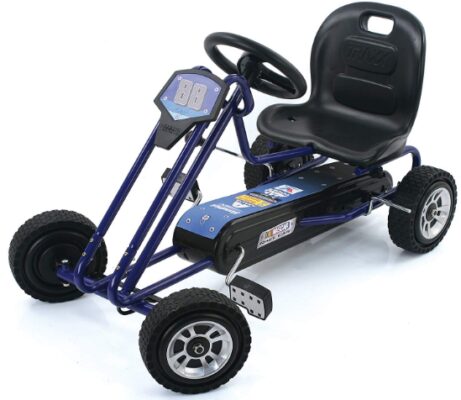 #7 Go Kart – Hauck Hurricane
Every young driver will find this go kart amazing and attractive as it features a stylish graphic design on its front panel. It is one that also has durability written all over it as its frame is made using a high quality steel tube which ensures long lasting use.
Drivers will be able to steer and maneuver quickly while driving this car as it comes with three point steering. Thanks to its easy to adjust seat, riders will enjoy maximum comfort as the seat can fit a variety of heights and weights.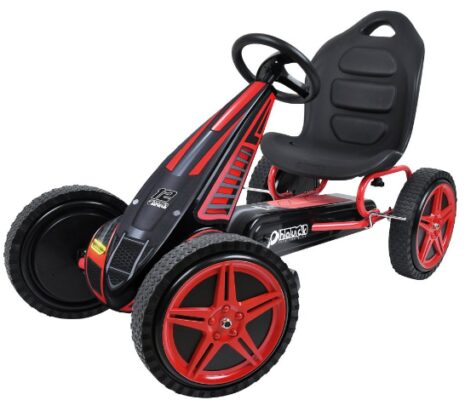 #8 Go Kart – Hauck Nerf Striker
This is another amazing go kart from Hauck which every kid would love to ride in. It is one that boasts of the combination of versatility, speed and accuracy which is why it is such a popular choice. One impressive feature of this go kart is its placeholders where kids can be able to store their Nerf darts and gun blasters. Thanks to its low profile rubber tires, three point steering and handbrakes, drivers can enjoy a smooth and well-controlled ride.
This go kart ride on is also aimed at ensuring kids improve on their coordination, endurance, strength and physical activity. It doesn't come with darts and blasters, however.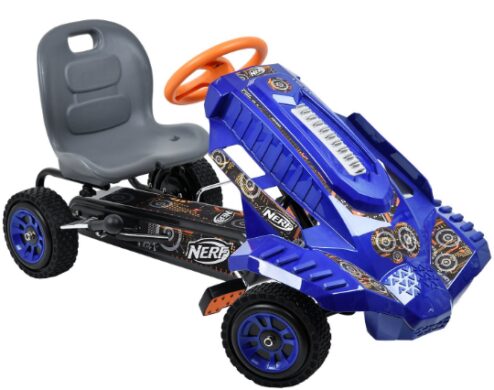 #9 Optimus Prime Transformers – Go Kart
Unlike most poorly designed go karts that one might encounter, this is one kart that will really attract kids and get them riding and playing for hours. It comes with low profile rubber tires which drivers will find easily navigate various terrains, and its steering is quick and highly responsive.
The pedal kart offers kids a smooth and comfortable ride. It also features a responsive handbrake which gives kids more control over their speed.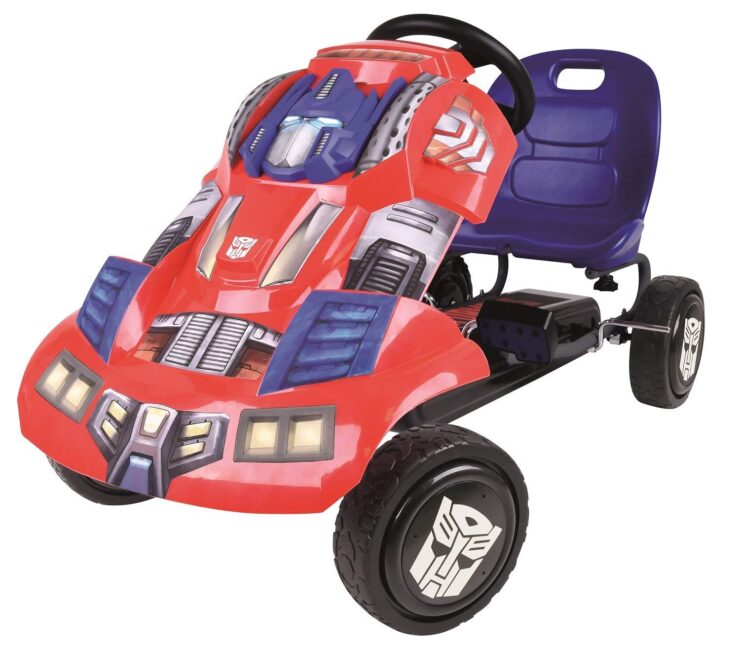 #10 Costzon Pedal Car Go Kart – Blue
Made using polypropylene, the Costzon pedal go kart is totally safe for kids as it doesn't contain harmful materials. It is also lightweight so kids can have endless fun when riding. Whether on a rainy or sunny day, kids will want to ride this car which is why it is ideal for both outdoor and indoor use. Since it uses pedals rather than batteries, riding this kart is a great form of exercise for kids.
One notable feature of the Costzon go kart car is its ability to reverse, and it also features a handbrake. It comes with a seat that can be easily adjusted to suit various heights. The seat also has a high back rest which ensures the back is comfortable and supported whilst riding.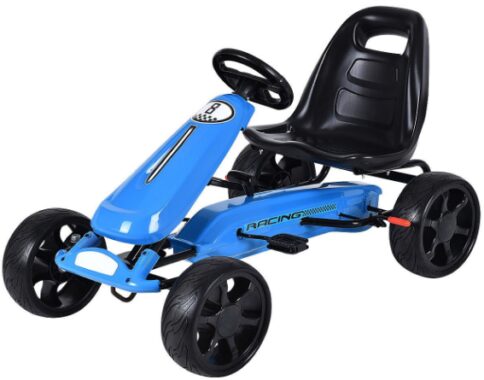 #11 John Deere Go Kart – Berg Pedal
This is recommended for both boys and girls and it would make an excellent gift for kids aged three and above whether on Christmas, birthdays and other notable celebrations. The bright yellow design ensures it looks attractive – it is sure to appeal to any young child.
Parents will be thankful as this kart will keep kids engaged for hours. Durability is one of the main features of this go kart. It is made with high quality and original materials which ensures it lasts longer than expected.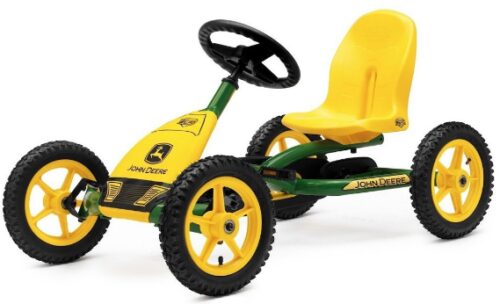 #12 Costzon Go Kart Car – Black
This stylish kart is ideal for use indoors and outdoors, meaning it's perfect for all weather conditions. It uses pedals rather than batteries, so it's a great form of exercise for kids. Not only will they be keeping fit whilst playing, they are also sure to have loads of fun. The pedals can also make the kart go backwards, which is loads of fun for kids!
The kart features a handbrake for controlled stopping, and the seat is adjustable. It's easy to move the seat in order to accommodate your growing child. In addition, the seat back is high to offer support and comfort when riding in the kart. The Costzon pedal go kart is made using polypropylene, which is a safe and long-lasting material. It's also lightweight, meaning the kart is easy for young drivers to handle.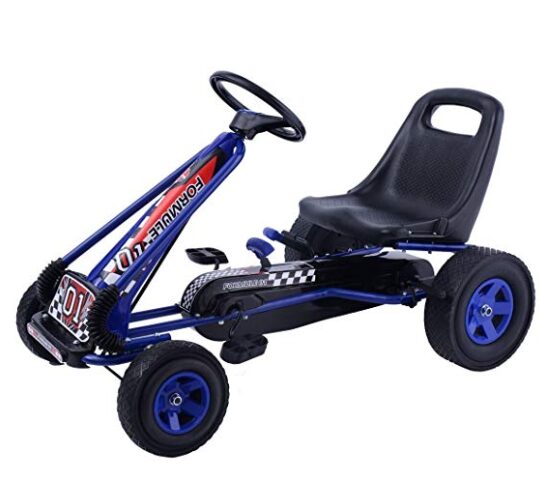 # 13 Feber Mad Racer Go Kart for Boys and Girls
This kart will raise kids' adrenaline levels as it offers extreme fun, yet also has lots of safety measures. It is perfect for either boys and girls, and is an ideal gift item for kids on their birthdays or for Christmas.
With this car, kids will find it easy and fun to practice drift skills, spin, and also drive at high speeds. Thanks to its anti-rollover features and stable design, drivers are guaranteed maximum safety so parents have absolutely nothing to worry about.
Other impressive features of the Feber Mad Racer go kart include a handle for easy carrying, LED battery indicator, easy to adjust footrest and smartphone support.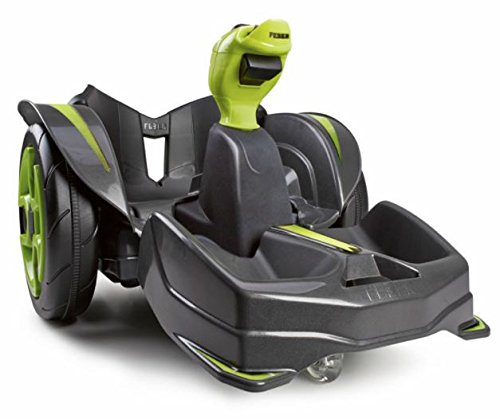 #14 Grow With Me Radio Flyer Remote Control Car
If you want a car that will provide so much fun for your kids then this is the ideal choice. Kids won't outgrow this car in a hurry, and it has been thoroughly tested and enjoyed by adults and children. One impressive feature of this unique ride is its remote control, which can be stored safely under its seat. Thanks to the powerful rechargeable battery, this car can drive as fast as 2 mph.
Kids will find it easy to spin and maneuver while riding this car. It is designed to accommodate weights of up to 43 pounds, making it the ideal gift item for kids aged one to four years old.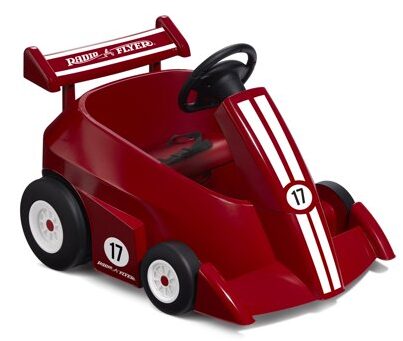 #15 Aosom Kids Non-Slip Wheels Go Kart
This go kart is driven by pedaling, so it is a good form of exercise for children. They will find it extremely easy to move backwards and forwards, and this unique go kart car comes with an amazing handbrake which is great for controlling speed. This is the ideal gift item for kids aged three and above whatever the occasion.
Constructed using top-quality materials, this car is very durable and will last longer than poor-quality products available today. Another important feature of the Aosom kart is its non-slip wheels which guarantees a smooth and easy ride regardless of the terrain.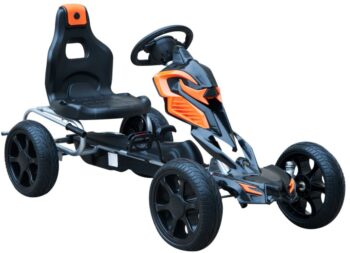 #16 Kids Electric Go Kart 
If you are seeking the perfect car to introduce your child to all the fun that comes with driving then this innovative electric go kart is simply the best choice. The rugged construction makes it extremely durable and helps it handle a variety of terrains with ease. When fully charged, this electric kart lasts for as long as two hours, however this is dependent on the driver and the terrain.
Maximum comfort and safety is guaranteed with this electric family go kart car, as it comes with seat belts. The seats are easy to adjust for comfort and ease of use too. It also features durable rubber tires which ride smoothly and conveniently across any terrain, making this the perfect kart for off-road driving.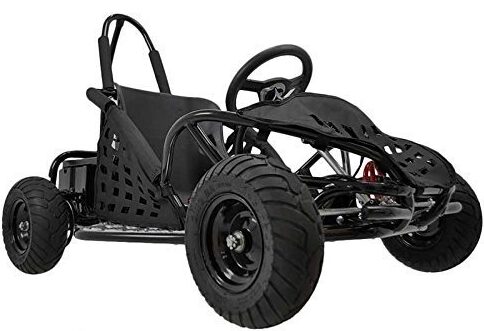 #17 Berg Buzzy Go Kart Toy
The Berg Buzzy go kart toy is another unique and amazing toy that every kid ought to own. It is one that comes with a simple design which makes it easy yet fun to ride in. Unlike other poorly designed pedal go kart cars on the market today, the Bugzy Buzzy comes with pedals that are properly positioned so kids can reach them easily whilst riding.
This go kart ride on comes with EVA tires which are not the most common type of tire used for karts. However, these tires are hard-wearing and reliable, meaning they ride smoothly with great balance across any surface. Young drivers will find extremely easy to make quick reverse and forward movements in this amazing car.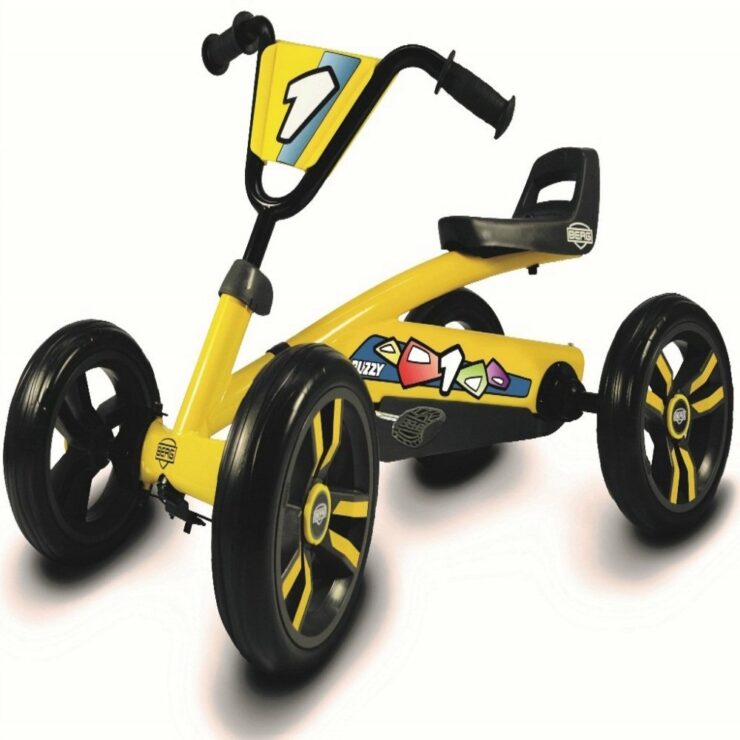 #18 Buzzy Racing Berg Kids Pedals Go Kart
Parents can trust this go kart ride on to help their kids learn the art of driving. It is easy to drive, and has lots of amazing and unique features. Its durable EVA tires and four wheeled design offers great balance and stability no matter what terrain it is driven over.
The pedals on the kart can be used to travel in both forwards and reverse directions. The kart even comes backed with a two year warranty. So, parents can be sure this kart will last a long time, and not have to worry about getting a replacement anytime soon.
It is the perfect ride on toy for kids aged two to five. The seat can be adjusted to one of three different positions, making it ideal for growing kids.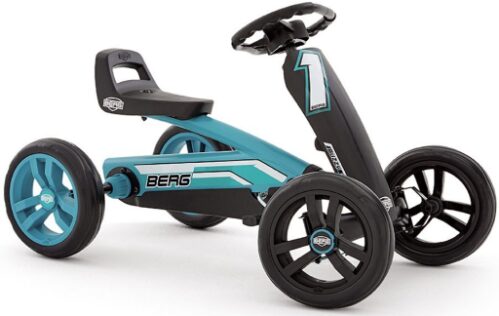 #19 Lil Rider Ride on Go Kart for Boys and Girls
Fun isn't the only feature of this go kart toy – it also ensures that kids are quite safe while driving. It is made using high-quality, safe plastic materials which do not contain harmful or toxic materials that could be detrimental to kid's health. This is the perfect kart for both indoor and outdoor use and, thanks to its great pedal design, kids will find it extremely easy to navigate safely on any terrain or surface.
This go kart doesn't require charging batteries before driving – all it requires is pedaling, so it can be considered as a form of exercise for kids. It is one that can be washed completely and cleaned easily in order to maintain its new and shiny look.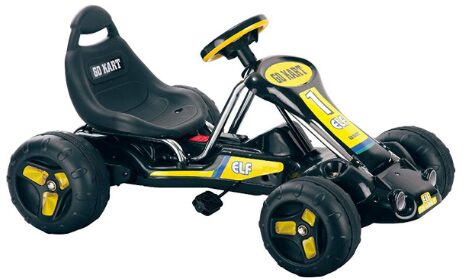 #20 Bumblebee Transformers Hauck Go Kart
One notable feature of this transformer kart is its double touch handbrake design which works effectively in regulating speed levels. The handbrake controls the kart's rear wheels to prevent kids falling out the front of the kart. Parents and children can rely on this kart to offer a smooth and comfortable ride thanks to its durable tires which also help maintain balance when riding. Drivers of various heights can ride this kart comfortably thanks to the easily adjusted seat position.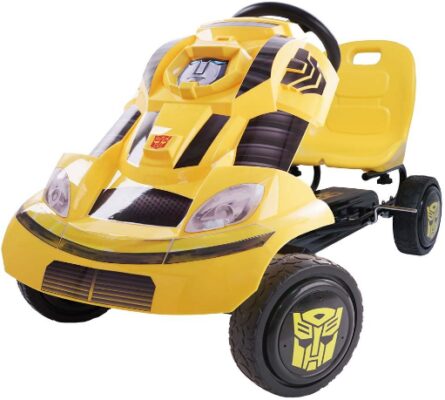 #21 Vroom Rider Go Kart – Red
This go kart ride comes with large sized tires that ensure it rides smoothly both indoors and outdoors. It also comes with a three point steering wheel, offering fast and responsive steering, allowing the kart to maneuver with ease. Specially designed for kids aged three to seven, this go kart ride proves to be the ideal gift item for kids this age on their birthdays.
It is sturdy enough to accommodate kids weighing up to 65 pounds. It even comes with a high backrest which ensures maximum comfort and support on the back whilst driving. The classic shiny red color makes this kart attractive to both kids and parents alike.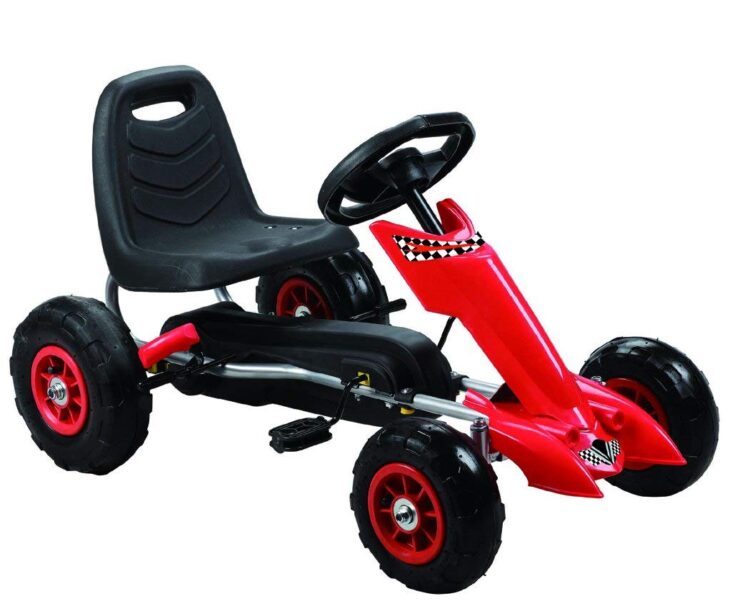 Benefits of Riding a Go Kart
Listed below are some reasons why you must gift your child a go kart;
Improves driving skills – riding go karts helps kids learn about driving at an early stage in life. It helps them to learn about driving with caution and control, valuable skills for when they get behind the wheel of a real car.
Outdoor fun –many kids spend too much time indoors in front of screens and gadgets. A go kart is a great way to encourage kids to spend more time outdoors in the fresh air, and will guarantee they get some exercise too.
Enhancing cognitive skills – increased self-assurance and confidence are benefits that come with riding a go kart. It also helps in keeping the mind engaged and also challenged.
Builds the spirit of sharing – riding a go kart can be so much fun for kids and this also helps in building a sense of control and freedom. If they have younger brothers or sisters, they will want their siblings to join in the fun as they can take turns in riding the kart.
Top Electric Go Karts for Kids
For older children, an electric kart might be the best choice. Whilst this won't be giving them as much exercise, they will still enjoy the benefits of playing outside in the open air. Electric karts are a lot of fun to drive, and there are loads of great choices available. They are perfect for kids who want more thrill while riding their toy go kart.
Conclusion
Every go kart listed here is durable, safe, will keep kids engaged for hours and will help build up certain skills. So, if you are thinking about giving your child a kart for their next birthday or Christmas, you can confidently choose one of the models listed above knowing your child will love it and feel safe driving it.