Lego have produced a fantastic range of Starfighters from various Star Wars movies. Each one has been created to include stunning details and features to make these models special to every movie fan. If you have a favorite battle scene then Lego are sure to have created a fabulous X Wing Starfighter Lego model representing this movie that definitely will not disappoint. These great Lego model sets are not only enjoyed by kids and adults, making them perfect for building as a family but they are also highly sought after by collectors. For anyone who is looking to get their first Starfighter model the most frequently asked question is; how to make a Lego X Wing? Every Star Wars LEGO kit will have its own detailed instructions for you to follow so you do not need to worry about how you will manage to build any of the models from this amazing Lego collection.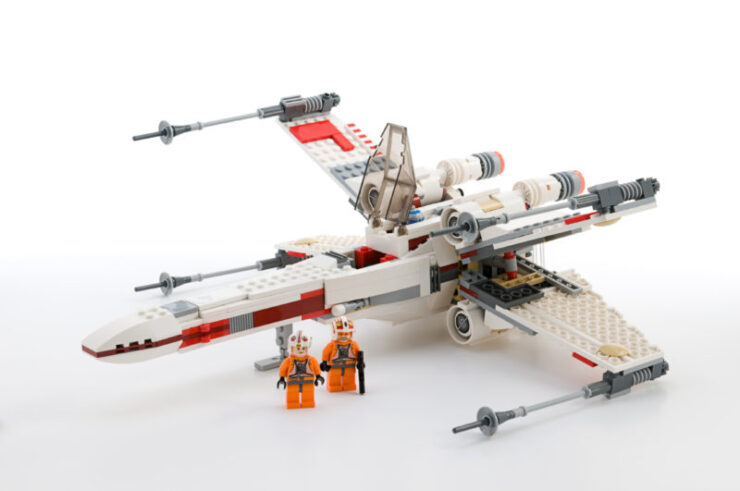 This article will take you through the most popular X-Wing sets produced by Lego so you can choose the set that most appealing. If you are buying a Lego model for any kids then you will need to make sure that it is suitable for their age and skill level. Lego always makes a great gift idea, so you will not go wrong by choosing one of these great Lego Starfighter sets.
Top Lego X Wing Fighter Sets
We have reviewed a lot of different sets below and with all our previous LEGO reviews, ranging from Best LEGO star wars sets to LEGO Marvel Sets that kids also go crazy for, so be rest assured we got you covered!
1. X-Wing Starfighter 75218 Building Kit
All fans of Star Wars will love to have one of the latest X Wing Lego sets with its incredible detail and extra features. Released in August 2018, this fantastic Lego X Wing 75218 set will be enjoyed by true fans of this Lego collection as the X-wing has reverted back to the original appealing grey and red color. In addition there are 4 great mini figures included with this new Lego Starfighter X-Wing set to add a special finishing touch to the set. The mini characters Luke Skywalker, Biggs Darklighter Pilot and the droids R2-D2 and R2-Q2 will be enjoyed by all. This 75218 Lego Fighter Jet has exciting retractable landing gear and can change from cruise mode to ready to attack with the simple push of a lever, providing the set with added character. The addition of side mounted shooters and wing mounted spring loaded shooters are amazing extra details that set this Star Wars Lego Starfighter apart from other collections. Kids will also love that the cockpit opens and a mini figure can fit inside. Even with all these lovely finishing touches, the highlight has to be that this Luke Skywalker's Red 5 X Wing Lego set can be converted in to Biggs Darklighter's Red Three Jet, by simply decorating your Lego build with the great stickers provided. This Lego 75218 730 piece set is perfect for older kids and adults to enjoy as it has been recommended for 8 to 14 years old due to the level of skill required for building the jet. More LEGO for boys!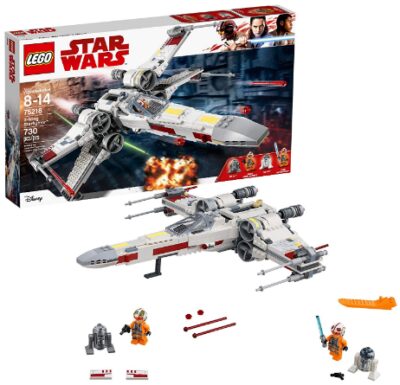 2. X-Wing Fighter 75102 Building Kit
All serious movie fans will want to get hold of this great Poe's X-Wing Starfighter Lego 75102 Set as it based on the fighter jet from Episode VII, The Force Awakens and is the first Lego build from this line. This X Wing set is an interesting and worthwhile build with 717 pieces included in the kit, enabling the addition of some fabulous features that will be enjoyed by kids and adults alike. It also has a color design that will make it stand out with its orange and black finish. This Poe Dameron Lego X Wing demonstrates an additional utility train, 4 spring loaded shooters and 2 stud shooters, the landing gear is retractable and the wings can be opened or closed. This is an impressive model that is 12 inches wide with the wings open, 14 inches long and 4 inches high so is the perfect size for role play and will be loved by all 8 to 14 year olds. For additional fun this great set includes the mini figures; Poe Dameron, Resistance ground crew, Resistance X-Wing Pilot and the Droid BB-8 Astromech. These mini figures can be incorporated into the model by using the cockpit which opens and closes and will fit one mini figure inside. There is even space behind for the Droid, weapon rack, extra missiles and ammunition. The highlight of Legos X Wing Starfighter sets are always the attention to detail and this model is no exception. Poe's X Wing Lego Set really does have everything it needs to provide hours of fun and imaginative play.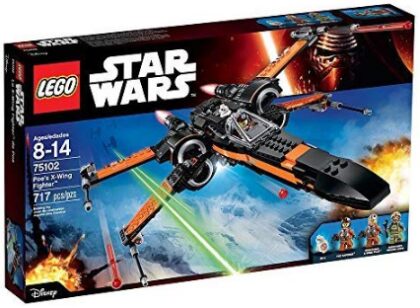 3. Resistance X-Wing Fighter 75149 Kit
This blue and gray Resistance X Wing Starfighter Lego Set is similar to the first fighter jet in The Force Awakens line with a few key changes that enhances the final build. In comparison, Lego 75149 vs 75102 does not include the utility train for maintenance and modification of the Starfighter but instead has a removable engine towards the rear of the model. There are also the expected features included with this Poe X Wing Lego Set with wings that open and close, 4 spring loaded shooters, retractable landing gear and a cockpit that opens and fits a mini figure inside. You can choose from the great mini figures of; Poe Dameron, Lor San Tekka and First Order Flametrooper, to which one has the important task of operating this Lego X Wing Fighter 75149 and transporting the Droid BB-8 Atromech. For added excitement Poe Dameron and Lor San Tekka have a double sided head so they can show multiple emotions, making the acting out of The Force Awakens scenes more realistic. This 740 piece set is an exciting build, though is probably out of the skill range of kids younger the 8 years old. This great X-Wing Lego Set is exactly the same size as Poe's Starfighter with a width of 12 inches when the wings are open, making this the perfect size for a detailed model. The highlight of this fantastic 2016 set is the additional extras that are included. For example Flametroopers weapon has flames coming from it so along with the container and toppling tower that has fire elements that can be attached, a Lego blaze can be set up for hours of imaginative play.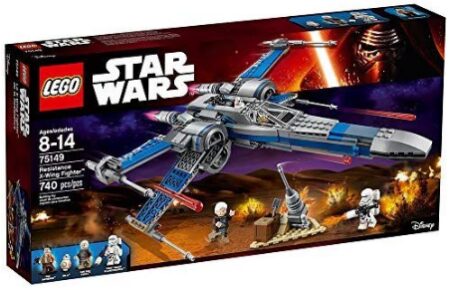 4. LEGO Star Wars Resistance X-Wing Fighter 75125
Many of the Lego X Wing Starfighter sets are advanced builds and can be a complicated set to start with so it is recommended for beginners to start with this Resistance X-Wing Fighter 75125 set. This is because it makes an ideal first Lego X-Wing kit as it has fewer pieces in the overall build but the model produced still includes fantastic detail and will look great in every display. In addition, this lovely 87 piece set is suitable for younger kids when compared to other fighter jet models that are on offer, with this set being recommended for kids between 6 to 12 years old. This great Star Wars Lego Starfighter is part of an exciting Series 3 Disney Microfighters line and with 6 other models in the line these sets make the perfect collection for every serious fan. These Microfighters are also the perfect size for displaying as they are smaller than others in X Wing Lego Fighter collections but they still have a fascinating level of detail. For comparison this particular model is 1 inch tall, 3 inches long and 3 inches wide. Both kids and adults will love that this model has a blaster pistol and folding wings for more realistic imaginative play and the cockpit also opens with space inside for a mini figure. For completeness there is also a Resistance X-Wing Pilot with its own Lego Starfighter X-Wing Pilot helmet included in the set. This is a great Lego kit for kids and once they complete this lovely set they will want to carry on building more, making it a great introduction into Lego.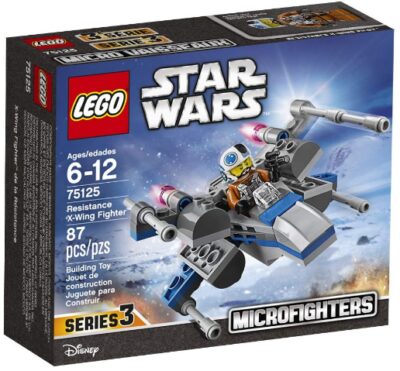 5. LEGO Star Wars X-Wing Starfighter Trench Run 75235
This Star Wars Starfighter set is a special 132 piece kit with a clever design idea to make this popular Lego collection accessible to younger kids and those who are new to building Lego. This means that the minimum age for this building kit is 4 year old, so is much younger than most of the other sets, making it the best of the X Wing sets for a starter kit. Lego have managed to make this kit simpler and easier to build by including a special starter brick base and allowing kids to learn to build using clear and concise steps. There is also an easy to understand guide included in the kit. Even though this kit has been simplified Lego has not lost any of the exciting detail from the model and kit is still full of excitement. Kids will love that the wings of this great X-Wing Lego Fighter fold so they can recreate scenes from the movie for more role play fun. It is also the perfect size for kids to play with at 3 inches high, 5 inches long and 7 inches wide, so they will get hours of fun from this Lego building kit. Scenes from the movie can be recreated using the 3 mini figures of Luke Skywalker who is complete in his pilot suit, Stormtrooper and the Droid R2-D2, who are all included in the kit. There are even the much loved extras of the Defense Turrent, which can be rotated for added effect. Kids will love this Trench Run Lego building kit as it the perfect choice for starting out in the world of Lego but they will also enjoy that it is the most recent 2023 release.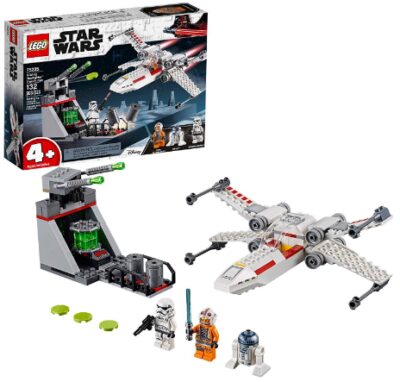 6. LEGO Star Wars 10240 Red Five X-Wing Starfighter Building Set
Every collector dreams of building models that come complete with exciting details but also has a high level of authenticity, so this 10240 Lego Star Wars X Wing Red Five Starfighter Building Set is the perfect set that achieves this. Even as an old X-Wing Lego set that was released in 2013 it is still highly sought after by mega fans and collectors. With the high attention to detail that this Starfighter model offers there comes a more complicated build, making this set suitable for older children over the age of 16 years old and adults. This 1559 piece set is definitely not the set for your first Lego build if you are looking to get started but is well worth the build if you have some experience. Along with all the detail that the model offers, the wings open and close for added excitement and the cockpit can also be opened. Fans of the movies will love that the popular Astromech Droid R2-D2 is included in the set. This fantastic Lego set 10240 is bigger than all of the standard models at 10 inches high, 20 inches long and 18 inches wide, and if you are looking to display this model then the display stand will be very useful so you can show your much loved model off to family and friends.
7. LEGO Starfighter Trench Run 75235 Kit (132 Pieces)
Movie fans will love that this Lego model set is a 2 in 1 build, as there are 2 different Fighter Jets that can be built from the same set. This makes the Star Wars Lego X Wing 2006 6212 set a great source for imaginative role play and depending on your preference you can choose to customize your build as either Luke Skywalker Lego Ship Red Five or as Wedge Antilles Red Two. It is easy to change between the 2 models as handy interchangeable panels are included. The Lego model set also comes with some great features, which is customary with most of the great Lego designs. This particular model has S-foil wings and they can be opened into attack mode to allow a more realistic recreation of your favorite movie battles. This Lego Red 5 also has folding landing gear, a cargo hold along with many other exciting details. The highlight of this lovely set is the inclusion of 6 mini figures, making this a sought after set by Fans of this Lego series along with collectors. This is because this is the first Lego model set where the mini figure Wedge Antilles is seen and Wedge is still popular character that everyone wants in their collection. Also included are the great mini figures of Luke Skywalker who is the pilot, Princess Leia, Han Solo, Chewbacca and R2-D2. This 437 piece set is great for older kids and adults as the set creates a lovely detailed Lego build that will provide everyone who enjoys the movies with hours of entertainment.
8. LEGO X-Wing Fighter (4502)
This 2004 Lego model set makes a very special build that will be loved by both kids and adults who love the films as well as being popular with collectors. The model represents popular scenes from the movie The Empire Strikes Back making this Lego X Wing Fighter 4502 Set everyones favorite. This 563 piece set is suitable for older kids between the ages of 8 to 12 years old and also adults, who will enjoy helping their kids create this wonderful model. As this Luke's X Wing Lego Fighter is taken from the scenes in Dagobah, the swamp planet, there are some great fine details that have been added to the Fighter Jet to provide an accurate build, with algae being found on the model. The jet also has a lever that allows the wings to move up and down, which will be enjoyed by kids when they re-enact their favorite movie scenes. This great Lego Set 4502 is much more than just the Jet as it also includes Yoda's house with bed, a glass and fantastic secret compartment, which is ideal for creating endless role play opportunities. The set also includes the 3 mini figures of Luke Skywalker, R2-D2 and Yoda. Luke is a special figure in this set as he has been created in this Dagobah training clothes, making this a popular mini figure with collectors. This may be one of the older Lego models available but the great details that this model shows continue to make it a much loved set.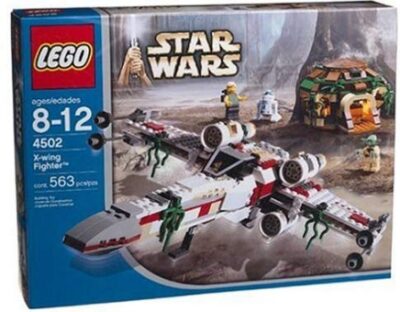 9. LEGO Star Wars X-Wing Starfighter 9493
For the perfect Lego Starfighter that fans of the movies can build and use to enjoy re-creating their favorite battles, this X Wing Fighter set is the perfect option. It is suitable for older kids between the ages of 8 to 14 years old and of course adults can join in too. Lego is the perfect toy creation for all inquisitive and adventurous kids as this 560 piece set will keep them occupied for hours and once built it is perfect for role play. The highlight of this particular Lego Xwing 2012 model is the great extra features that the set offers as it sets it apart from other Starfighter models. There is retractable landing gear, 2 exciting proton torpedoes, a weapon and lightsaber and extra wing markings provided. As is similar to other models, the cockpit opens and a mini figure can fit inside to pilot the Fighter Jet and the wings also fold when going into attack mode. Once built the model is a good size at over 12 inches long making this a great value set that is also perfect for collectors and enthusiasts to display. When discussing this Lego X-Wing 9493 you cannot forget the 4 exciting mini figures that are included. Everyones favorite character Luke Skywalker is found in this set along with the sought after Jek Porkins, R2-D2 and R5-D8. This model is an essential piece in every Lego fans collection.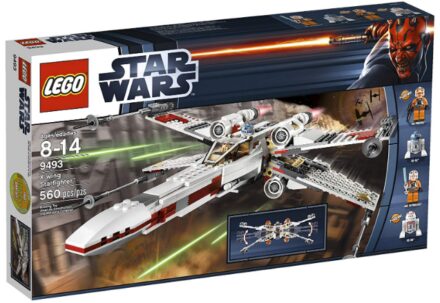 10. LEGO Star Wars Poe's X-Wing Fighter 30278 Set
This is a unique Lego set that is different from what you would usually expect from the traditional Lego builds but you will not be disappointed with the result. Every kid will love Poe Dameron's Star Wars X-Wing Fighter 30278 and because the set is not as complicated as other Lego Starfighter sets, which makes it suitable for younger kids between the ages of 6 to 12 years old. This straight forward 64 piece set comes in a bag instead of the usual box, which is great for reducing storage space. Every Poe X Wing Lego Review is complimentary about this lovely set and all movie fans love that this great Fighter Jet is a scaled down mini version of a previous Lego model; Poe's X-Wing Starfighter. This makes this popular orange and black model accessible to a wider range of Lego fans so everyone can enjoy the process of building this Fighter Jet based on the movie The Force Awakens. Released in 2015 this particular Lego model was only produced in a limited quantity so any kids who get the chance to build Poe's Starfighter are lucky, especially if this is the set that introduces them to Lego.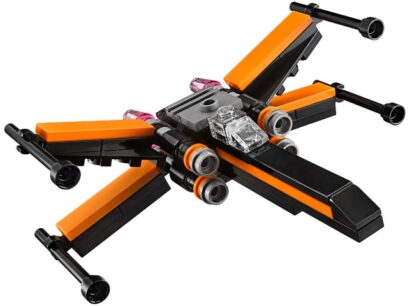 Best Overall Pick
This X-Wing Lego Starfighter 4502 is our best overall pick, as this great model is based on everyones favorite movie The Empire Strikes Back, allowing the re-creation of your favorite scenes. This is a lovey 563 piece build that is based on Dagabah. The Starfighter has accurate detailing of its swamp location with the addition of algae, which fans of the movies will love. The model also shows some impressive features as it includes wings that move up and down. Also included in this fantastic model set is Yoda's house and the 3 mini figures of Luke Skywalker, R2-D2 and Yoda. This Lego model is suitable for kids between 8 to 12 years old so it will be loved by both older kids and adults. This is a great model that can be used for role play or would also make a stunning display.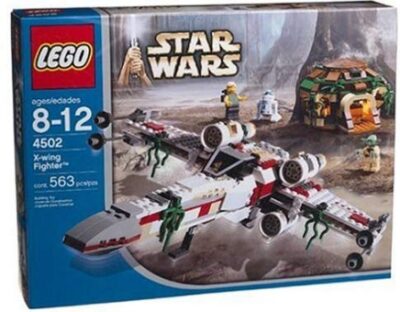 Best Budget Buy
Our best budget buy is this great 2023 Star Wars X-Wing Starfighter LEGO set as it makes Lego accessible to younger kids over the age of 4 years old and is also perfect for anyone who is looking for an introduction to building Lego models. This special 132 piece model has been simplified to make it straight forward to build as it has a unique starter brick base and concise steps to follow, allowing the build to be successfully completed. Once built kids will love this model's features, with the wings that can be folded for wonderful role play fun. The model is also the perfect size for kids to play with or can even be displayed after kids have proudly finished building this lovely model. This Lego Trench Run Set also comes with the 3 great mini figures of Luke Skywalker, Stromtrooper and R2-D2, which all kids will adore. This is the perfect first Lego model set for kids to enjoy building.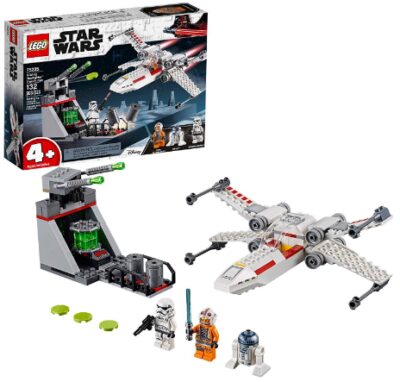 More LEGO Reviews in our LEGO Section: