Are you up to speed with the latest new Power Ranger Toys? And what to buy and what not to buy for your kid who simply loves power rangers!
Here in this review of power ranger toys, we have selected different types of action figures and include all the action heroes from the movies and power ranger series.
Considerations When Choosing Power Rangers Toys
When choosing Power Rangers gifts there are some things you might want to consider.
First, consider who the toy is intended for. If it is for children, be sure to check the age range on the product. Many action figures have smaller parts (guns, attachments, swords, etc.) that can easily be swallowed by infants and young children. It's important to get the right toy for the right child. Power Rangers action figures with small parts are not intended for very young children.
Some teenagers might be too old for Power Rangers gadgets. It depends on your child's friends and culture. Make sure you do not buy Power Rangers playthings for children that have grown out of them. They could get bullied or teased at school as Power Rangers games are often perceived by teenagers to be for pre-teens.
Also make sure that for children you buy Power Rangers toys that are made by the original creator Bandai or licensed by the new owners, Hasbro. This is because there are many copies of Power Rangers items are created from inferior plastic that could be toxic to children if they bite or play with the toys using their teeth.
Top New Power Rangers Toys of 2023
1. Fisher Price White Ranger
The White Ranger is part of the Fisher Price line of Power Rangers toys, licensed from Hasbro. It comes with a range of accessories that can be attached to the figure. Weapons that can be switched out, two projectiles, as well as the white power ranger human figure that sits on the back of tigerzord. The tigerzord's waist can be twisted to create a slashing action, to simulate fighting between different action figures. You can also press the power pad on the tigerzord to launch the projectile missiles. The toy weighs 2 lbs. and is 10 inches high.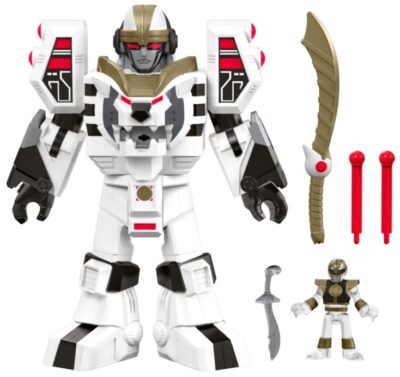 2. Ninja Steel Battle Morpher
The Power Rangers ninja steel toys battle morpher is a toy ninja star that has three modes. You can replace the central part of the ninja star with attachments for sword mode, claw mode and beast morpher's mode. The three modes will allow the device to emit different sound effects. This is great for children who like to role play along with the TV series and movies, using their imagination while they play. There is a full range of over ninja stars available that have many different attachments and sound effects and they are interchangeable. The toy runs on batteries.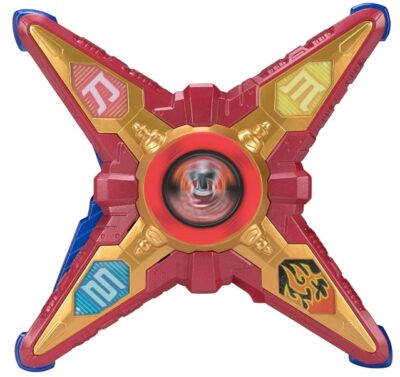 3. Fisher Price Red Ranger
The Fisher Price Red Ranger comes with a red power ranger action figure, the same as all the other toys in the Imaginext Power Rangers line by Fisher Price. The red power ranger morphs into a robotic T-rex Dinozord. You can turn the power pad to activate the chomping jaws of the dinosaur. There is a button you can press to fire the missiles. There are two launchers and a total of 4 missiles. The toy weighs 1.65 lbs. and is 11 inches high. If you can get the Imaginext Megazord then you can assemble all the Power Rangers figures into the ultimate form.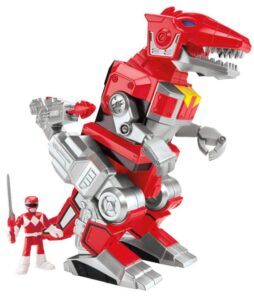 4. Super Ninja 12 Inch Action Figure
Hasbro makes the super ninja steel action figure of the red ranger. It is 12 inches high and has 7 different moving parts (head/neck, shoulders, wrists and legs). This makes it a highly flexible action figure that can be used to create multiple action poses. The toy is great for recreating scenes from Power Rangers legacy TV shows and movies. The toy weighs 8.8 ounces and as it does not have any parts that come off, it is recommended for children aged 4 months to 8 years.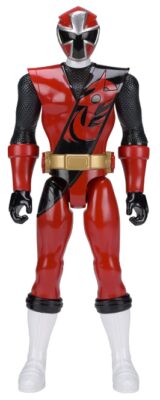 5. Megaforce Deluxe Gosei Morpher
The Megaforce Deluxe Gosei Morpher is now discontinued, so it's worth picking up if you're a collector, as their value could increase significantly in coming years. The toy features lights and sounds from the TV series and the movies. The different sounds are activated using collectible cards that can be switched out in the toy. There is a total of 180 phrases and sounds that can be collected separately by buying the cards. The toy is 1.25 lbs. and 8 inches high. There is a full range of Power Rangers Super Megaforce toys to check out.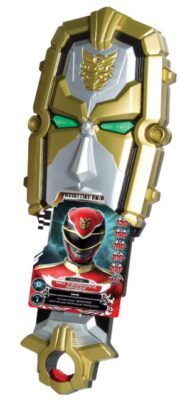 6. Dino Super Charge Morpher
The Power Rangers Dino Charge Morpher blaster set can transform between two modes. It can be a t-rex or a super charge morph blaster. It is one of the best Power Rangers beast morphers. The toy has lights and sounds. Your child will be able to play with either mode of the toy, using it as a dinosaur action figure or a toy gun. If you have more than one child, then you can get one of the Power Rangers dino charge toys for each of them so they can recreate some of the epic battles from the TV series when they play. If your kids like to play with plastic guns, then this blaster might give them that extra edge in the neighborhood as it's a lot more exciting than a standard toy gun!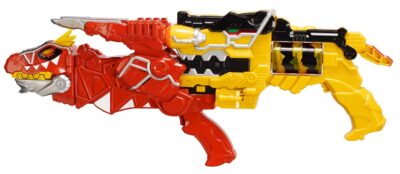 7. Interactive Megazord with Ranger Figures
The Power Rangers Megazord is one of the ultimate forms of the Power Rangers. The 5 different colored rangers combine their powers and take up places within the giant mech so that they can take down the evils in the galaxy. There is a spot for the yellow, black, red, pink and blue rangers in the Megazord. The Power Rangers Megazord toy comes with all 5 of the Power Rangers figures, so your child can recreate some of the major battles in the TV series. The toy comes with expandable wings, cannons, swords and the toy has multiple lights and sounds that it can emit. It is powered by batteries, weighs 5 lbs. and is 21 inches high.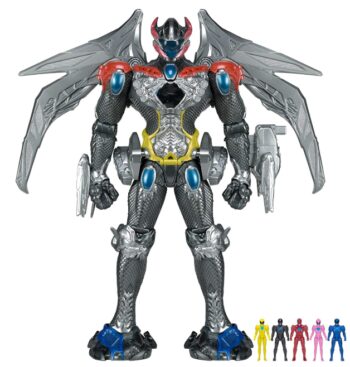 8. Collectible Power Rangers 6-Piece Set
The Bandai Collectible 6-piece set comes with the 5 standard Power Rangers (pink, black, red, green, blue) as well as an exclusive Goldar action figure. The action figures are 5 inches high. This is an authorized Bandai set and may not be available in the future as the new owners are Hasbro, so it might be worth getting into your collection. The figures also come with melee and ranged weapons and can be posed in many ways to recreate scenes from the TV shows. They are great for playing in the bath or in the sandpit.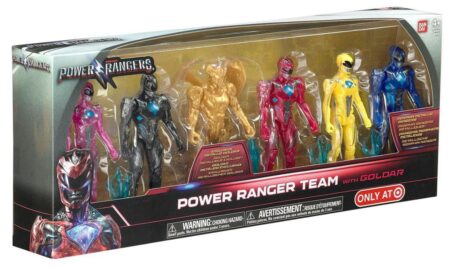 9. Power Rangers Movie Power Sword
The red ranger's power sword, made just for children to play with. It is made from plastic and the grip fits snugly around your child's hand. To help your child recreate battles from the TV series and movies with their friends, the power sword comes with batteries and can create lights and sounds. The sounds are the sword sounds from the TV shows. There are two modes on the toy – training mode and battle mode. In training mode, the voice will coach your child to develop ranger battle skills and the battle mode is a sandbox free form that creates sounds and lights when your child swings the toy.


10. Pink Ranger Plush
Power Rangers are for everyone and the pink ranger plush is a favorite. Made by FunKo pop Power Rangers and licensed by Power Rangers the plush is a stylized version of the Power Rangers with an exaggerated cute head and a smallish body. It is 8 inches tall and each colored plush toy is slightly different to the others – all the heads have their own unique shape and facial expression. The plush toy is 2.4 ounces in weight. It's great for your kids' bedroom, to bring in the car on long rides, or just for shelf decoration if you like to collect plush toys.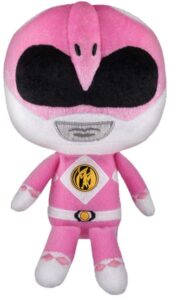 11. Mega Collection Legendary Ranger Pack
The Power Rangers Mega Collection legendary pack contains 10 action figures in the new 5-inch format. Bandai officially licenses them. The action figures can be posed in many ways and they come with melee weapons such as tridents, spears, sais, axes and swords as well as ranged weapons such as blasters. Your child will also be able to recreate hand to hand combat scenes from the TV shows with these figures. The different action figures are some of the most popular from the Power Rangers Samurai, Operation Overdrive and Mystic Force lines of toys. This is a great collector's set.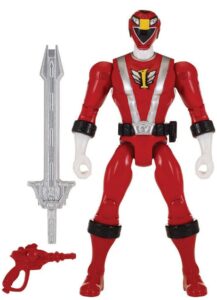 12. Power Rangers in Space 6.5 Inch Figures
These Power Rangers action figures are not only great for kids, but for collectors who like to recreate detailed action scenes from the movies. They are slightly larger than the standard 5-inch figures and are actually 6.5 inches high. The Power Rangers legacy figures in the set are red, pink, gold, black and blue and are heroic and muscular as well as having a huge 21-point articulation on them. These figures are from the original Mighty Morphin Power Rangers series. The 5 Power Rangers can be attached to the Megazord toy as well, which is sold separately.


Overall Best Buy
It seems that the overall best purchase from all of the Power Rangers toys is the set of 5 collectible 6.5 inch figures. AS they are based on the original Mighty Morphin Power Rangers series, they offer the best value for collectors. Additionally, because they can be posed with 21 points of articulation, it is very easy to recreate any scene or montage from the movies or TV shows with the action figures.
In addition to the above, the action figures come in collectible, legacy boxes. This means that if you are one of those collectors who never wants to take them out of the packaging (because you recognize the value that they have this way) then you can keep them in permanent 100% mint condition until you are ready to sell them at a later date.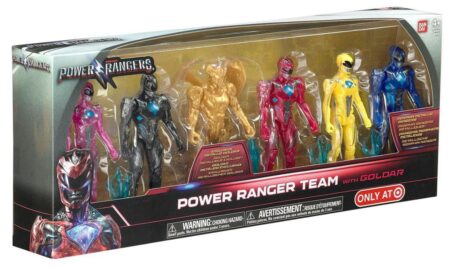 What are the Different Types of Power Ranger Toys?
The most well-known of the power rangers stuff is, of course, the action figures. These are the oldest and go back to the early 1990s when Bandai and Fox Kids came out with the Mighty Morphin Power Rangers TV series. The action figures came into a highly competitive market with other toys such as Star Wars, He-Man and GI-Joe, but they have held their own ever since and have become a much-beloved franchise for children as well as adult collectors.
There are not only action figures but also larger Megazords as well as many of the villains of the TV series, so your child can recreate the many battles in the TV series and movies. In addition to action figures, there are also blasters and ninja stars and other life size plastic weapons that have lights and sounds, so your children can play fight with each other using the Power Rangers Weapons.
What are the Benefits of Playing with Action Figures?
One of the biggest benefits of playing with action figures for children is to develop their imagination. Children often begin to play by imitation, so using action figures they can recreate scenes from their favorite TV shows and movies. This helps them with their memory as well as their role-playing ability, as they will often have to improvise with their siblings or friends, who are also playing with the action figures and recreating scenes.
There are many other added skills that can be developed when children play with action figures, such as team work and cooperation. If they have to share the figures with the other kids, they will 'act out' the role of one or more of the action figures while the other kids use different toys. So one kid might play the good guys and another the bad guys, etc.
At What Age Will My Child Enjoy These Toys?
The age at which your child will enjoy Power Rangers toys depends on the type of toy. Action figures tend to be the most resilient, as they can be enjoyed by younger children as well as pre-teen and even some teenagers. For very young children, avoid the toys that have small parts or that are easy to disassemble.
Young children might also enjoy the electronic life size plastic weapons that come in the Power Rangers toy range, such as ninja stars, power swords, axes, spears and so on. All of these weapons are great as they have batteries and can make lights and sounds, which are fantastic for recreating scenes from the movies or TV shows.
Finally, there are many adult collectors of Power Rangers as well as they are a long lasting and very popular franchise. So if your toys survive the kids then you might want to hang onto them as they can become valuable collector's items!
All About Power Rangers and their History
Power Rangers is an American entertainment franchise that follows the adventures of ordinary people who gain superpowers when they activate their color-coded uniforms. The original TV series that gave rise to the whole franchise was called Mighty Morphin Power Rangers and debuted in 1993, also as part of the Fox Kids programming during the 1990s. The original Power Rangers was developed from Japanese Super Sentai cartoons by Saban entertainment, but the franchise was sold to Walt Disney in 2001.
The first Power Rangers were created by Bandai in the 1990s. Now Hasbro and the Walt Disney Company produce all of the toys. Power Rangers is a very lucrative franchise, with Hasbro paying $522 million for Saban Brands assets in 2018.
Some of the original Power Rangers collectibleswere created by Bandai in the 1990s are rare collectors' items and can fetch big prices at private auctions. There are also other toys, video games, comics and books that make up the franchise.