Star Wars has been a family favorite for many years, especially with the new franchise being released more recently even your kids can enjoy this amazing franchise. When it comes to toys there are loads of options for boys and girls of all ages, making StarWars a great place to start when it comes to buying gifts for Christmas or birthdays. Whether your child is more creative, or prefer role-playing games there is an option for you, with walkie talkies lending more to imaginative play, creating scenes and adventures.
There are a few considerations to make when it comes to buying these kinds of gifts and here are a few to think about.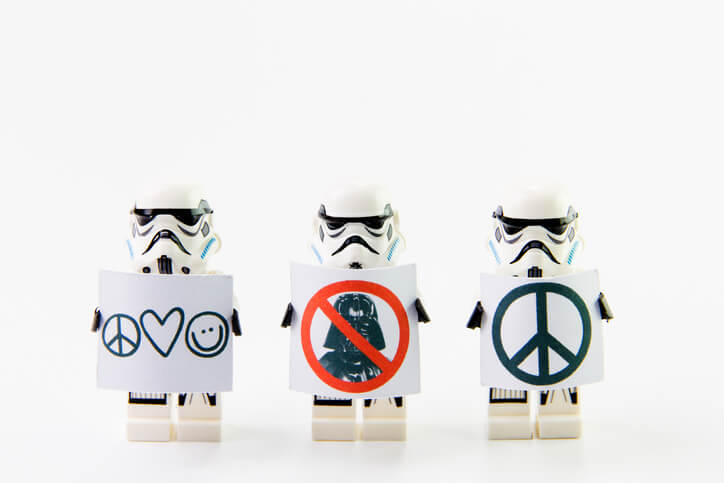 Considerations When Choosing Star Wars Gifts
Budget – The price of toys is always something to think about, there is a lot of variety when it comes to these kinds of toys so there is defiantly something you can find in this amazing series in your price range.
Product – The product can cater to many different children, if your child is captivated by creativity and building then a star wars LEGO X-wing product could be great, but for more imaginative role-playing games, buying figures could be a great option.
Age Range – Age range is something to think about when it comes to any kind of children's toy. If the recommendation is too low then it could be too simple for your child leaving them bored within a few moments, or the opposite and your child could become frustrated with a toy that is too advanced for them. Age recommendation is defiantly something to consider before buying.
Top Star Wars Gifts for Kids
1. LEGO Star Wars A-Wing Starfighter
Build this iconic A-wing fighter with this amazing LEGO sets, great for any StarWars fans or just kids with a keen interest in building things with their hands. This advanced building kit has interactive features with 2 firing missiles and retractable landing gear. This StarWars gift is a 269 piece set including several Minifigures each equipped with their weapons to start the action right from opening the box. When the building has finished your little ones will be able to enjoy roleplaying games, recreating their favorite scenes from the movies. This collectible model has an A-wing's cockpit that opens and shuts, retractable landing gear and wingtip cannons that fire the spring-loaded shooter missiles for fun, exciting play. A great size measuring over 2 inches high, 7inches long and 4 inches wide for all kinds of creative build and play.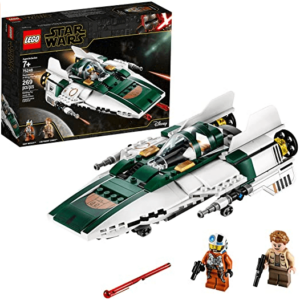 2. Sphero R2-D2 Droid
The R2-D2 droid from Sphero has fully authentic movement looking like the real thing, simply connect your device through Bluetooth to the droid and move around the floor. Go from Tripod to bipod stances, or trigger different emotive waddles. This R2-D2 is fully integrated with speakers and LEDs creating sounds to come right from the little droid, with front and rear lights that are fully functional. If you download the Sphero Edu app you can code R2-D2 with specific characters to get him to complete STEM activities. The watch with me setting lets you enjoy your favorite Starwars films with R2-D2 reacting right by your side. One of the amazing Christmas star wars gifts in our list and its abilities don't stop there, a holographic simulation allows your little ones to explore the galaxy of the Starwars franchise and roam iconic crafts from the movies.

3. Darth Vadar Pajama Set
This Darth Vadar pajama set is a three-piece that includes a top, pants, and a detachable cape so they can feel like the sith lord himself. An authentic Disney product original and genuine design that can be found in the store. The pajama pants are matching to the top, and have an elasticated waist for extra comfort. The ribbed cuffs help keep the warmth inside the top making them cozy to wear. The printed design on both the pants and top has a full Darth Vader costume making your child feel like they are the man himself. Stylish and comfortable, making them the perfect outfit for bedtime. For those looking to save money, this is a great option as well, providing high-quality products at a low price.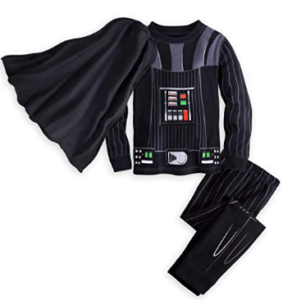 4. StarWars Galactic Heroes
One of the best Star Wars gifts is the galactic heroes figures, perfect for small hands to handle and play with, including 10 Galactic Heroes figurines for lots of role-playing fun. Your child will adapt their imagination with these 2.5-inch sized figures. Includes all of your child's favorite characters from the movies like Luke Skywalker, Rey, Yoda, Chewbacca, Obi-Wan Kenobi, Darth Vader, Kylo Ren, Emperor Palpatine, General Grievous, and a Stormtrooper model.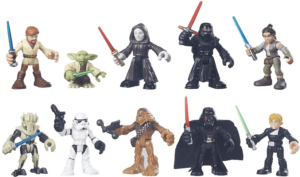 5. The Force Awakens T-Shirt
This officially licensed piece of merchandise has been made in the USA from 100% Cotton. It is super soft for extra comfortable wear and easy to clean as this T-shirt is completely machine washable. Available in an array of different colors making these T-shirts great for both boys and girls alike.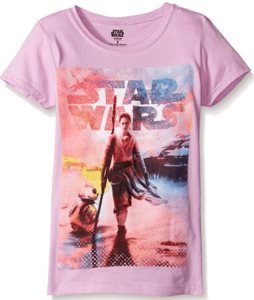 6. Vtech Smart Watch
StarWars gifts for kids don't always have to be toys, this smartwatch is amazing. Containing 36 themed clock faces both digital and analog helping kids learn to tell the time. A camera app is downloadable which includes different effects that are all Starwars themed and has the memory to store a massive 1600 photos or eleven videos with a duration of 1 minute. Motion detection starts 3 action activities, and your children can play with lightsaber sound effects with the sound shaker activity. The fun doesn't stop there, with 3 built-in games included in this amazing smartwatch. 

7. Force Of Destiny Ray Figure
The Force of Destiny Ray figure is an 11-inch poseable adventure doll with accessories and a little BB-8 droid. Swing lightsaber action when you squeeze Rey's legs and BB-8 also moves his head. Ray's hair is beautifully rooted in film-like features. The accessories that are included are an adventure figure, droid, lightsaber, vest, pair of boots, a holster belt, a blaster, and 2 arm wraps.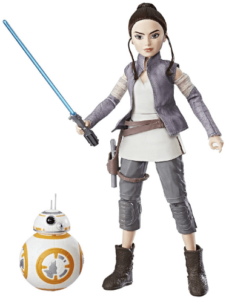 8.R2D2 Thermos
With this amazing R2D2 thermos flask your child will be able to keep their drinks cold for up to 12 hours with the vacuum insulation technology providing supreme temperature retention. A strong and durable stainless steel exterior and interior making this flask last with the bumps and bangs it could endure. The lid has a hygienic push-button feature that pops the straw up for a clean drink every time. It is recommended that it is washed by hand due to all the moveable sections of the bottle.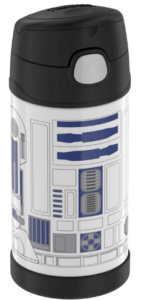 9. I Am A… Little Golden Book
Meet all the heroes and villains in these epic stories from Little Golden Book Library, from Jedi to Sith and droids to pilots everyone is included in this exciting Christmas star wars gift. Featuring retro illustrations, the five books included are the perfect stories for both children and adults alike. A true fan favorite, and must have in your collection.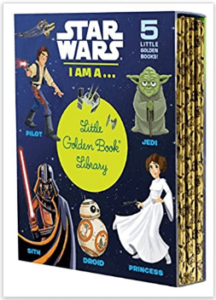 10. Vader Castle Building
Your little ones can build Darth Vaders castle with this amazing LEGO set including a buildable TIE Advanced Fighter, a lot of accessories, and character figures straight from the movie. The building set comes with 6 Minifigures including 2 guards, an imperial pilot, and Darth Vader himself. Children will have heaps of fun acting out different scenes from the movie with all of these role-playing characters. The Bacta Tank castle kit also includes a TIE fighter starship for added fun in the skies. With LEGO building sets your child will develop loads of crucial skills like hand-eye coordination, and creative confidence in building and using their imagination. The castle is a great size for interactive play, when built it measures over 41cmhigh, 28cm wide and 23cm deep, a 1,060 piece set that will be a favorite with boys and girls alike just about any StarWars fan would love this in their collection.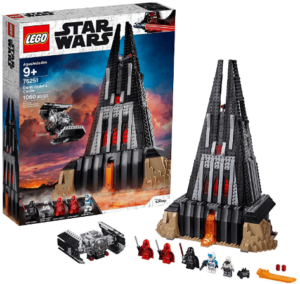 11. Science Force Levitation
With this Starwars science kit, your child can interact with real electrical charges to suspend and move objects in mid-air making them feel like they are using the force in real life. The electrostatic force allows the objects to move, being pushed by the Jedi training rod and pulled with their own hands. An educational toy that comes with a science learning poster and an experiment guide that has lots of different activities using the static electricity generator that is included. The guide also has activities including the 8 deflectors that are in the box and interactions with common household objects. An amazing STEM toy for kids offering lots of educational fun.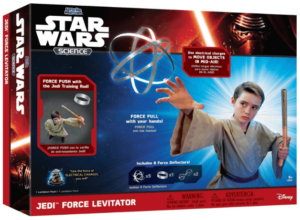 12. Portable LED Nightlight
This stunning portable LED nightlight displays six incredible images from the beloved StarWars saga, each 3ft. The image is projected onto the ceiling of your room and use the cycle wheel to select your favorite. The globe is fully adjustable allowing full control of where the image is projected, there is also a slow glow that shines acting as a guide. This nightlight is great, it comes with light-sensing technology that turns on when it becomes dark, and off when the sun begins to rise. Collect all the available projectables including, X-wing, Death Star, TIE fighter, BB-8, and a multi-image. This product is strong and sturdy, a piece of Starwars merchandise that is built last.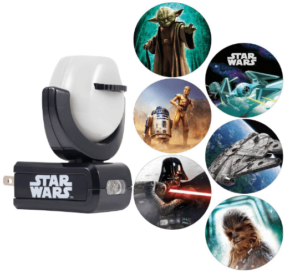 13. Chewbacca Mask Voice Changer
For any Chewbacca fans, this awesome voice changing StarWars gift for kids is guaranteed to bring about a smile. Your child will be able to roar with intergalactic action as they enjoy the Wookie mask with sounds taken from the iconic character. The mask is triggered by opening the mouth for immersive playtime and comes equipped with all the authentic sounds you'd expect. Based on the furry hero from the much-loved movie series, this toy makes an epic gift choice for children who love dressing up.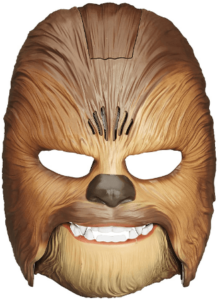 14. Multi-Colored Gloves
These awesome hats and glove sets are perfect for your kids in the winter months. Made from an acrylic polyester elastane mix this hat and gloves will ensure your little Jedi is warm and cozy. The colorful hat contains an Empire design including stormtroopers, death stars, Darth Vader's helmet, and the iconic StarWars Logo. The gloves are knitted in black and red colors with an elasticated cuff to keep the warmth inside. Officially licensed merchandise exclusively designed for Character USA.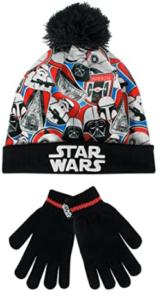 15. Death Star 3D Lamp
Looking for a way to light up your child's life? This awesome Starwars themed 3D light is a unique gift that can be given for any occasion. Playing magical illusions on the eyes, the bright light comes in 3 different designs for plenty of choices. Kids will have full control over the color that the light shines with 7 options. Equipped with a remote control, the light is easy to change whenever you want to, and at any time too. This night light is a great addition to any star-wars themed bedroom decor and helps children fall soundly to sleep while imagining their favorite scene from the movie. You can also adjust the brightness of the light as well as the color for extra customization. This gift is a great value for money gift that brings both practicality and fun to any bedtime routine. If you've been searching for a one of a kind nightlight gift for your child, this could be an excellent idea.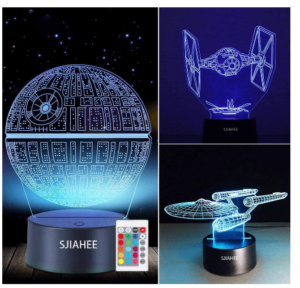 16. Throw/Blanket With Sleeves (Slanket)
The beautiful combination of putting sleeves on a blanket allows you to be comfortable on the sofa but still has the full ability of your arms. Made from 100% Polyester with multiple different designs available such as Chewbacca and Darth Vader. These sleeved blankets also come in adult sizes so you can enjoy being warm and cozy with your little ones, both in these StarWars designs. Completely machine washable which makes cleaning easier than ever before.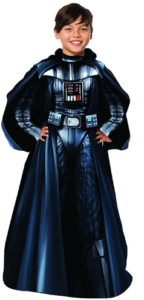 17. Character Throw blanket
Made in China from 100% Polyester this super comfortable blanket that has a vibrant graphic is cozy for when its time for your little ones to sleep. A great size measuring 46 inches by 60 inches, giving more than enough space to cover your little ones completely. The graphic print covers the entire blanket, right to the edges in strong vibrant colors. Easy to clean as this blanket is machine washable, and also machine dryable.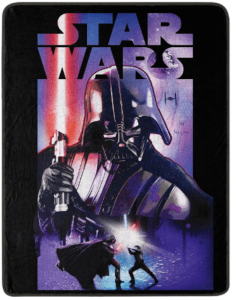 18. Darth Vader Voice Changer
This amazing movie-accurate Darth Vader recreation has all your little one will need to look and feel just like the sith lord himself. The electronic helmet will transform your voice to sound just like Darth Vader, making it great for imaginative play recreating favorite moments from different scenes. The box contains a helmet and instructions but needs 3 1.5V AA batteries that are not included in the box.

19. Little Golden Library Book
In this Little Golden Book Library, there are the first 6 episodes of the amazing Starwars episodes, The Phantom Menace, Attack of the Clones, Revenge of the Sith, A New Hope, The Empire Strikes Back, and Return of the Jedi. All of these stories are retold in a fun and exciting way, complete with stunning, retro illustrations that are captivating to look at. This box set is a great gift for kids and adults who love anything to do with StarWars.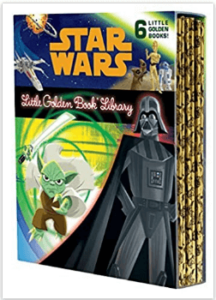 20. Girls Multi-Pack T-Shirt Set
Any girl StarWars fans will love these amazing tops made from 100% Cotton for an extra comfortable fit. Made in the USA but imported all over the world, these stylish t-shirts will look good anywhere. Completely machine washable making cleaning these easier than ever. The super-soft, short sleeve tees come in a multi-pack of 3 for 1 small price, which is amazing value for these officially licensed products.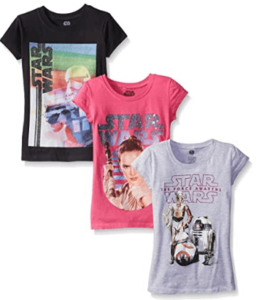 21. eKids Stormtrooper And Kylo Ren Walkie Talkies
With the eKids walkie talkies, your children will be able to take their favorite characters with them wherever they go. A static-free design and extended range keep clear quality communication between the two handsets. These 2 way handsets are easy to use, simply press the button on the side of the device and speak into the microphone for 2-way connectivity. The walkie talkies require 2 AAA batteries to work which are not included in the box but make the perfect gift for your little ones any time of the year.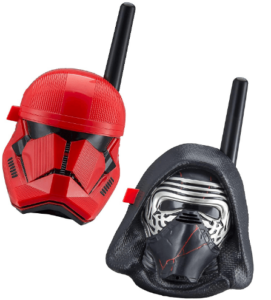 22. Storm Trooper Costume
These pajama sets are great for kids, they come with an elasticated waist for extra comfort, and cuffed ends to the sleeves and legs that help keep in the warmth perfect for those cold winter nights. The authentic design is what you would expect from a stormtrooper from the film, becoming a family favorite using this is a costume or the intended bedtime clothes.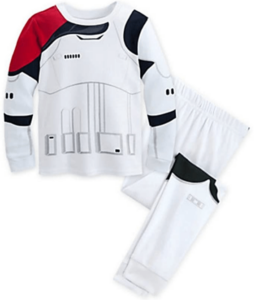 23. Little LEGO Underwear
This LEGO StarWars Underwear looks and feels amazing. They are made from 100% Combed Cotton that is easy to clean as they are 100 percent machine washable. Containing an elasticated waistband that is decorated in bright, colorful trim that comes in a pack of 5. The color and print may vary from pack to pack but will all contain fully licensed character images.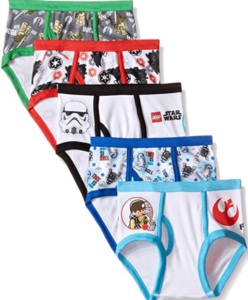 24. eKids Command Centre
The walkie talkie command center from eKids lets your kids and their friends go on awesome adventures together, completing all kinds of StarWars related missions. Easy to use, simply push the talk feature and speak into the walkie talkie and you are away. The mission button that is on the control center allows new adventures to begin. A graphic from episode 9 has been used on the design, perfect for your little ones. The perfect gift for birthdays and Christmas.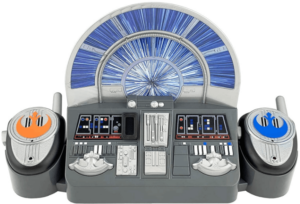 25. LEGO Quartz Plastic Watch
The LEGO Quartz buildable children's watch has multi-colored, interchangeable links with 12 additional links that help to fit most wrists. Easy to read analog display and comfortable, durable design. This watch is also water-resistant up to 5ATM and has a scratch-resistant acrylic lens. For added peace of mind, there is a 2-year warranty on this watch giving it a true test of its high-quality materials. The watch also comes with a small figure that can be used with any LEGO sets your little ones may have. Recommended for children aged 6 and above.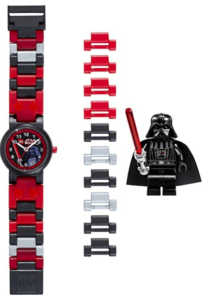 Best Gift Overall
The best overall buy is the LEGO Darth Vader castle. It has a massive 1,060 pieces inside and offers lots of creative fun. Like all LEGO products, they offer loads of development that your children will gain skills from as when the creative building is finished, the figures and buildings that have been developed can be used for role-playing fun. Measuring a great size that your kids will be able to enjoy a real hands-on approach to the interaction of this amazing Darth Vader LEGO set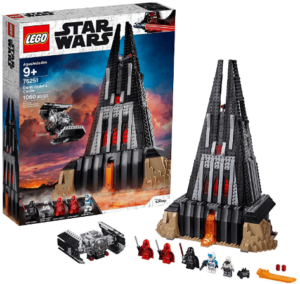 Best Budget Gift
The best budget buy is the 3-in-1 t-shirt set for girls. It will provide any girl who is a fan of StarWars with an extra comfortable and stylish look with the 100% cotton material. Easy to clean as they are machine washable, a multi-pack of 3 different t-shirts for 1 amazing low price. The 3 different shirts all have different designs that come from the force awakens film showing different characters like Ray, C3PO, R2D2, BB-8 figure toys and the classic Stormtrooper.
Where to Buy Star Wars Gifts?
StarWars gifts can be bought everywhere, on the high street, in toy shops, and also online. We recommend that a place like Amazon would be the best way to purchase these products as you can find good prices and reviews from other people who have bought the items, giving a first-hand experience of the item you are thinking of buying. Also, a great way to see product descriptions and compare similar gifts making sure they are perfect for your child.
Unusual Gifts for Kids who Love Star Wars
If you are looking for something a little different to give your little ones, why not choose an art activity to help try and spark their creative side. There are loads of different options such as coloring books that contain different characters from the movies, origami paper folding tasks that will get your kids to create simpler items from the series such as small lightsabers, going to more difficult pieces such as master Yoda himself. When it comes to StarWars there are lots of choices that you can make, ensuring your child with have fun no matter what they are doing.