Anyone who has ever formula fed a baby will be able to tell you how much work making up milk can involve for a new parent, especially during the night. So why not make feeding your baby simpler and less work by considering a handy formula making machine? This will allow you more time to enjoy your new baby and less time worrying about preparing the next feed.
There are a number of benefits that can be gained from using a formula preparation machine that range from saving time to being able to produce milk that is the ideal consistency with some machines also including some amazing features that can be brilliant to use even after you have stopped feeding formula. Many parents will also ask about how to mix baby formula without bubbles but with these brilliant formula machines you do not need to worry about bubbles entering the milk as the machine will stop this from happening. Most dispensers are BPA free so you can be sure that using them will not harm your baby's health, which is peace of mind for all parents. Now you just need to decide which formula dispenser will be best for you.
When you start looking for the perfect formula machine you will soon find that there are many different options out there, all with different features to consider. This can make choosing the right one a difficult decision, so this review will take you through the top 10 formula dispensing machines and help you decide on features that you desire, so you can pick the perfect option for you. We also have a lot of baby stuff worth checking out!
Considerations when choosing a Formula Dispenser
How are you feeding your baby?
If you are formula feeding your baby then any of the available preparation dispensers will be suitable for you to use but you will need to decide which features you want your machine to have because each model will vary. However, for mothers who are breastfeeding, they most likely to require a bottle warmer function or even a defrosting mode, which can be used with expressed milk, so that they can get the most use out of the machine.
Which formula are you feeding?
Many of the latest models can use virtually any brand of formula but if you are using a specific brand then you should check that it will be suitable for your chosen formula machine. Otherwise, you may potentially damage your machine or end up producing milk of the wrong consistency for your baby.
Which features do you require from your formula machine?
There are many different features that you can pick for your formula machine to feature, so you need to decide which ones will be most helpful for your lifestyle, so you can pick a machine to match. It may be that you want to be able to use a certain brand or size of bottle with the machine or that you want to be able to adjust the concentration of formula powder added to the milk. You should check that your machine fits your requirements before purchasing one.
How much space do you have for your machine?
Some formula dispensers are larger than others, so if you have limited space in your kitchen then you need to make sure the machine fits into the space that you have. If you are struggling to fit one of the fully automated machines in your kitchen then there are some great slim line versions that might be ideal. Otherwise, there are some brilliant semi-automatic machines that would be the perfect compromise as they take up less space but still help save valuable time when making up formula.
The Top 10 Formula Dispenser Machines
1. Baby Brezza Formula Dispenser Machine
If you are looking for a reliable machine for dispensing formula that is completely automated, then the Baby Brezza Formula Dispenser Machine is the one for you. It is the ideal new baby gift as this wonderful dispenser has been designed to make the lives of all new parents easier and as an added bonus this latest model is 20% slimmer than the previous model, so takes up less valuable space. Everything about this dispenser is convenient, as it can store 20 8oz bottles worth of formula in an airtight storage container and up to 50oz of water in a removable dishwasher safe compartment.
As a top formula maker Baby Brezza have included all of the best features, so the machine will work for you and your baby with almost any formula and any bottles of any brand or size. Parents can also choose what temperature they want the formula dispensed at with the option of; body temperature, below body temperature and above body temperature, so there is certain to be the ideal setting for every scenario. This machine also gives the option of the amount of formula to be dispensed from 2oz through to 10oz, with the great advantage that brilliant machine can increase the amount by 1oz increments. The highlight of this wonderful formula machine for babies is that all of the options are digital, so for ease of use there is no manual preparation involved. This is the best formula dispenser that parents will love to use, especially during the long sleepless nights.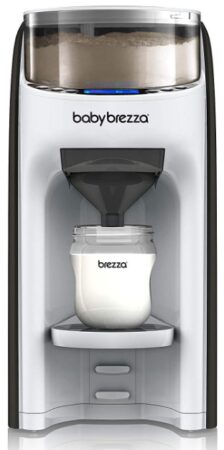 2. BabyEXO Formula Kettle
It can be overwhelming when trying to choose the best formula milk dispenser, so if you want a simple to use machine that is convenient to use then you should try this BabyEXO Formula Kettle. Alongside being a wonderful baby bottle maker this great kettle also acts as an ideal coffee maker, is brilliant for preparing baby food and can be used in any other situation that requires hot water, making this the perfect kitchen item for parents with new babies.
This wonderful kettle will boil water and then keep the water at your requested temperature for up to 24 hours, making it quick and convenient for you to make up formula bottles, as you know the water will be at the correct temperature. Parents will love the boil dry feature, so if there is no water detected in the kettle then the kettle will shut off to prevent any damage. With a wide mouth this kettle is also easy to keep clean, which is an important feature for all new parents. The downside of this kettle is that formula will still have to be mixed together manually, which can increase the time it takes to prepare a bottle. However, the advantage is that the kettle can be used with all formula brands, so you know that it will be suitable for every new parent. This reliable Formula Kettle is essential for all new parents to make feeding their baby easier and quicker.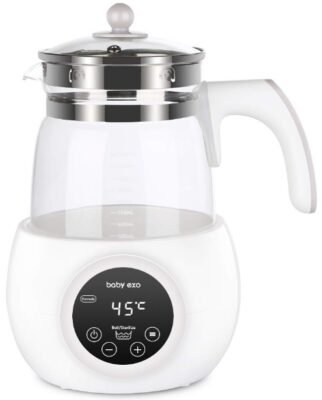 3. Rxlife Smart Formula Maker
When looking for a simple but reliable formula mixer machine you take a look at the Rxlife Smart Formula Maker that is perfect for all first time mothers. Simple store your formula power in the 300g storage container and pour cool boiled water into the 1200ml water tank and let the machine do the rest.
For peace of mind the machine is easy to take apart and keep clean, even the formula storage container can be steam sterilized to ensure that it is kept clean and safe for baby. It is also easy to set up, making it one of the most straight forward formula makers that are available to buy. Parents will also love that the machine is BPA free, so you can be sure that it is safe to use with your baby. This machine has some fantastic features included, which ensure that it will highly useful for all new parents. There are 9 formula concentration options for parents to pick from, making it suitable for many different types of formula. In addition the temperature and amount of formula to be made can also be altered for convenience. This fully automated machine is great value and you can be certain it is reliable, making it a favorite Amazon formula dispenser that many other parents also love.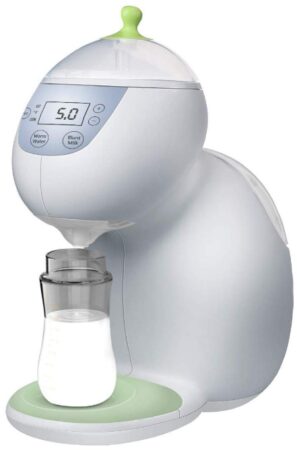 4. Dr Brown's Formula Mixing Pitcher
You will not find a formula mixer more straight forward to use that this Dr Brown Formula Mixing Pitcher, making it a convenient baby item that is essential for every new parent. It is BPA free, so is safe for using to prepare your baby's feed and as it is also easy to keep clean, parents can be sure that there will never be any nasty bugs to harm their baby.
This great Dr Brown Formula Pitcher is perfect for mixing formula to a smooth and even consistency, making the perfect bottle every time. The pitcher may have a simple design but the clever inclusion of a stopper on the unique blade ensures that minimal air is introduced to the feed, resulting in a more comfortable feed for baby and more rest for mum. The disadvantage of this mixer is that it requires the manual measuring of formula powder and water and also requires parents to heat the bottle to their desired temperature before being able to give to baby. However, this lovely mixer can prepare 32oz of formula in one go, which is the equivalent of 4 8oz bottles, making this the ideal mixer for travelling. The Dr Brown Formula Mixer is best of the manual formula preparation machines so provides a nice simple option that will help all parents when preparing formula bottles.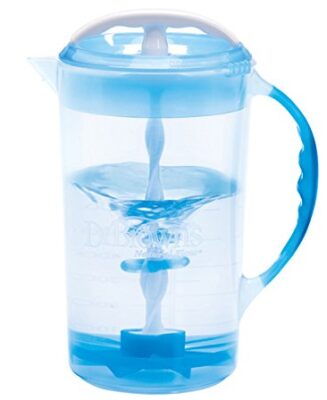 5. Kristall Baby Kettle
If you are looking for a bottle maker machine that comes with multiple functions, all designed to make your life as a new parent easier, then this Kristall Baby Kettle is a top choice for you. The kettle has an amazing 5 in 1 function so you are certain to get plenty of use from this machine even after you have finished mixing baby formula and moved onto solid food. Alongside heating water to perfection so that it is ready for baby bottles, this machine will also warm bottles, steam baby food, sterilize bottles and pacifiers and make the perfect cup of tea. You could not ask for any more from one machine.
To get the water perfect for you baby's formula bottle this amazing kettle will firstly boil the water to ensure there are no harmful bugs present before cooling the water to the correct temperature. There is even a smart delay so that you know the water will be kept perfect for your baby's next feed, which is ideal for long night feeds. The kettle can hold up to 1 litre of water, so is perfect for all bottle sizes, making it an essential item for all new parents. Busy mums will love that the kettle is quiet with a maximum of 60db meaning that you can be certain that it will not disturb your sleeping baby. This is a much loved machine that will have a use in every home.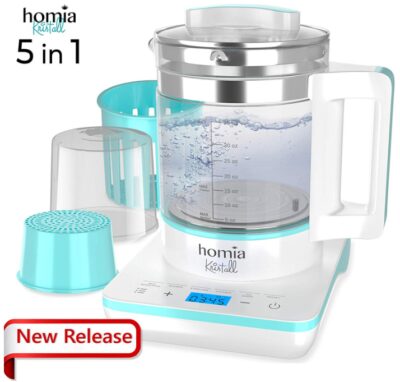 6. Gimify Smart Formula Mixer
For a top of the range baby formula maker you should consider this brilliant Gimify Smart Formula Mixer, so you will never need to spend time measuring out formula or heating bottles again. This accurate machine is the best addition for every new parent that ensures that you baby's bottle is perfect every time. Parents will also love that they can control this baby milk maker remotely through an App, which is a highly appealing feature that enables parents to save valuable time.
The formula mixer is easy to use and simple to keep clean, so you will not need to spend hours trying to set up this amazing machine. The water tank holds up to 1200ml so is perfect for any size bottle or for when you need to make up multiple feeds and by using an instant heating boiler this not only avoids heating up the water multiple times but also makes the machine energy efficient. The mixer is also quiet, even when heating the water, so there is no risk of it disturbing your baby. This has to be one of the most appealing formula preparation mixers as it has all of the appealing features that parents could ever want.

7. Grownsy 6 in 1 Baby Bottle Warmer
While this Grownsy 6 in 1 Bottle Warmer is a bit different to the normal formula machines it is still a great item for all parents with babies that they should consider. Everyone who owns one of these useful 6 in 1 warmers will get plenty of use from it, as it serves a purpose around every home until long after you have stopped feeding formula. The warmer is also BPA free and safe for you baby's feeding equipment to come into contact with, providing peace of mind for all parents.
Parents will love that there are so many essential functions that this warmer includes. The bottle warmer can heat bottles with a normal warming mode or even a fast warming mode, perfect for when baby will not wait for their feed. There is no need to buy a separate sterilizer as this warmer will efficiently sterilize and even has an anti-dry burning function for safety. Once baby is weaning you can heat their food by using the warmer or if feeding breastmilk the water is perfect for defrosting the milk and ensuring that it will be ready when you need it. Ultimately, every parent will find this warmer useful, no matter how you are feeding your baby and whether or not you are mixing formula brands or having to use a special dietary formula.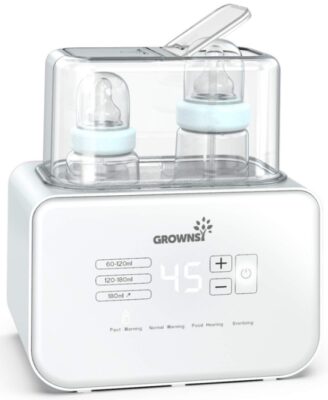 8. Laxtex Formula Dispensing Machine
If you have previous experience of making endless baby bottles throughout the night then you will appreciate this genius Laxtex Formula Dispensing Machine that really takes the stress out of preparing formula and revolutionizes night time feeds. This machine will allow you to spend the maximum time with your family, which parents will cherish as they discover that their babies grow up quickly. As all parts of the dispenser are also BPA free you can be sure that this machine will not be harmful to the health of your baby.
After preparing the machine with formula powder and water, this milk dispenser machine will do the rest of the work for you. It will prepare formula of the perfect consistency in 8 seconds, so will be ready before baby even realizes that they are hungry. The highlight of this machine is that it will connect through WiFi to an app that allows you to control the machine remotely. This is ideal for night time feeds as it reduces the time needed to get the next bottle ready. There are multiple volume options so different bottles can be used and different amounts of milk produced. This baby bottle maker machine will also reliably produce formula at the correct temperature, making this one of the best baby formula dispensers available.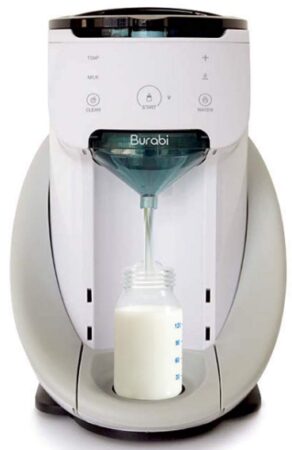 9. BabyEXO Milk Maker
Having a newborn baby is hard work so this brilliant BabyEXO Milk Maker is the perfect gift for any parent that will help reduce their workload and allow more precious moments with their baby. This is a formula mixer baby will love too, as it mixes the formula powder and water to perfection with no added air bubbles, all within 10 seconds. Parents can be reassured that the milk maker is BPA free, so there are no risks to their baby's health with this amazing machine.
This great machine can be adapted to use most brands of formula and any size bottles, so it really will fit in with every parents routine. Parents will love that they can set their preferred temperature between: 104 to 158 Fahrenheit and decide on the quantity of milk produced within 0.5oz increments. This allows the user to personalize the settings of the machine to fit in with their feeding choices for baby and reduce any milk waste from too much being produced. With one of the larger water tanks, at 1800ml, this is one of the most convenient milk makers that also has the advantage of being easy to clean and straightforward to set up.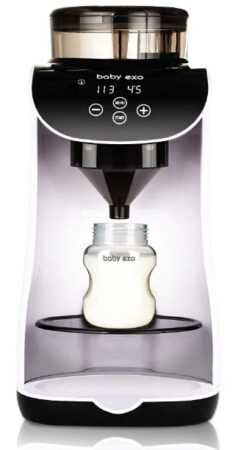 10. Munchkin Smart Blend Mixing Pitcher
This Munchkin Smart Blend Mixer Pitcher is a great value mixer that has a simple design and is straightforward to use but is as perfect as any other baby bottle mixer. It has a clever design with little extra features that make this mixer ideal for most new parents and eliminate the need for a expensive formula preparation machine. With this mixer parents will still have to measure out the correct amount of formula and water when making up the milk, so if they are happy to do that then this could be the perfect mixer for them.
Add the formula mixture powder and water together and simply use the Munchkin Formula Mixer to mix the milk. The mixing blade is designed to break up clumps and prevent air bubbles from being introduced, so the resulting milk is the ideal consistency every time. Once the milk has been made the mixer can be used as a storage bottle, so there is a handy adjustable time scale enabling parents can keep track of when they made the milk. The mixing handle also forms a seal so the milk can be hygienically stored before use and with a 24oz capacity you can make the milk up in handy batches. This is a wonderful formula mixer by Munchkin that will not be for every parent but those who use it will definitely recommend it.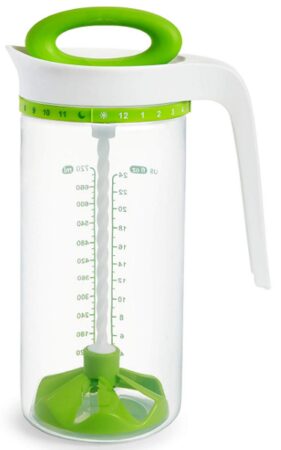 Best Overall Buy
Our best overall buy is this Laxtex Formula Dispensing Machine as it is fully automatic, so beyond loading the formula powder and water tank, the machine will do the rest of the work. The highlight of this dispenser that makes it a top product is the ability parents have to control the functions of the machine via WiFi, which can make a huge difference to busy parents, especially during the night. For peace of mind the machine is reliable and accurate so it will produce the perfect formula feed every time within 8 seconds. This is a great option that all new parents will love that saves them valuable time and work.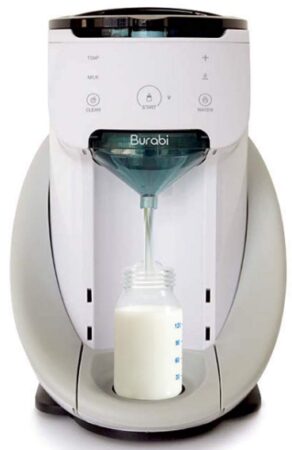 Best Budget Buy
The Munchkin Smart Blend Mixing Pitcher is our best budget buy, as even though it is not fully automatic and does involve a little more work compared to some of the other formula dispensers, it will produce formula of the perfect consistency every time. The highlight of the mixer is that the blade does not allow air bubbles to be introduced to the milk, which can make a huge difference to the comfort of a baby after their feed. Once formula has been made up the mixer can be used to store the milk, making the mixer convenient as well as easy to use.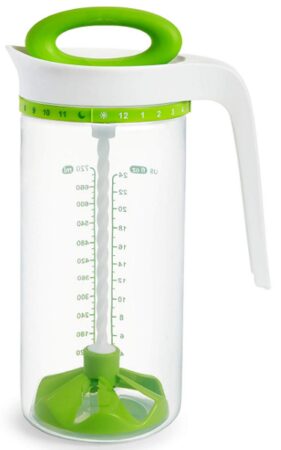 Other Related Articles