There are so many baby gadgets available now which simply didn't exist in our parent's generation. The range is mind boggling, so shopping for your new arrival can be daunting. Here, we have rounded up the latest baby gadgets, to show you what you need and what you can probably live without. The products have been broken down into categories, based on the age of baby they are best suited to.
Types of Baby Gadgets
Car Gadgets for keeping organized with a baby are crucial especially for new parents. Getting ready to go out in the car can be a mammoth task for first-time parents. You'll be worried about the car seat being fitted correctly, and remembering to take everything you need for a day out with a baby (which is a lot!). Products which help you get organized make days out with a little one more enjoyable.
Electronic Gadgets are great ways for keeping things organized and with all the tech gadgets around, integrating them with your iPhone or with your daily routine helps reduce time wasted and leaves more time for being with your baby. There are an increasing number of smart baby gadgets, for monitoring all sorts of different things.
Kitchen Gadgets are ideal for making bottle feeding and weaning your baby easier. In this section, you will find products like baby food makers, bottle prep machines, sterilizers and self-warming bottles.
Camping Gadgets – Taking a baby camping for the first time can be a daunting thought. There are lots of products to help make the experience a little easier. Things you might want to take camping with a little one include foam tiles for the ground, a screen house for diaper changes and storing all your extra gear and a Bumbo or playpen depending on the baby's age – so they can be safe whilst parents are doing the camp chores.
Tech Gadgets – these type of baby gadgets might include machines to listen to your baby's heartbeat before birth. Another increasingly popular piece of tech for babies is a onesie which monitors the child's vital stats such as temperature and pulse rate, sending it to mom or dad's smartphone!
Bath Gadgets are handy for first-time parents who might worry about safety during the daily bath. You can find special thermometers which double up as a bath toy, faucet protectors in case your little one slips, and even special seats to keep babies of all ages supported in the bath.
Travel Gadgets – Thankfully, there are loads of great gadgets to make getting out and about with little ones easier than ever before. You'll find baby-wearing slings, travel cots, portable high chairs and special kits for changing diapers on-the-go.
Home Gadgets make life at home safer and easier with a young baby. In this category, you'll find items such as baby-proofing gear and stair gates as well as more modern kit such as sensors to tell you when a door has been opened. These are great for when your baby becomes mobile.
Fun Gadgets – There are loads of gadgets to make living with a new baby even more fun and exciting. They aren't essential, but can make life easier. Gadgets of this type might include fancy nightlights or mobiles, for example.
Handy Gadgets – These might be things which aren't essential but will help make life easier. In this category, there are plenty of smart devices to take some of the stresses out of looking after a newborn.
Bedroom Gadgets – There are so many products to help new parents ensure their newborn is sleeping safely. In this section, you'll find items such as baby monitors with video monitoring, sleep positioners and self rocking cribs. There are even white noise machines for babies, as well as room humidifiers
Age Guide: How to Choose the Right Gadget Toys for Your Needs
The type of gadgets you need for your baby will vary depending on their age. What you found useful for your newborn might not be so necessary by the time your baby approaches their first birthday. Here, you will find how to choose the best gadgets for your baby no matter how old they are.
0 – 3 Months Old
Many first time parents panic when the baby is born, worried that they haven't bought everything they need. For babies this age, you'll probably want to focus on sleep related gadgets, since they'll spend the majority of the day, and hopefully the night, sleeping! These might include bedroom thermometers, nightlights or humidifiers. Devices to make bottle prep easier might also be handy at this age, when your baby is feeding very regularly.
3 to 6 Months Old
At this age, 3 months old +, babies spend a little more time awake, but won't be on the go just yet. Bathtime gadgets might become more important at this age, as your little one starts to love being in the water. You might also be looking for products to make day trips easier, as you may be going out and about more now baby is more alert.
6 to 9 Months Old
Feeding gadgets are probably on your mind once your baby hits 6 months old and starts weaning. A baby food maker is a great idea at this age, as it will save you so much time in the kitchen. Your baby will be much more alert and interactive at this age, so any type of gadget which can save you time and energy is great, as you will have more time to spend with your little one.
9 to 12 Months Old
Your baby will most likely start to become mobile at 9 months old, so you'll want to focus on safety gadgets. Products such as those which notify parents when doors have been opened, or video monitors where you can speak to your baby are ideal.
Top Gadget Toy Baby Brands
There are loads of great and trusted toy brands making tech for parents. Some brands have invented their own, brand new and unique products and these can make great choices too. Some of our favorite brands include Summer, Boon, Nokia and Philips Avent.
The Reviews: We'll help you make the right choice
In this section, you will find reviews of the best baby gadgets available on the market today. They have been broken down into 3 sections, for babies aged up to 3 months, 3 to 6 months and over 6 months old. Each section contains 7 products, so you are sure to find what you are looking for here.
Best for 0 – 3 Months Old
4moms Spout Cover
This smart bath thermometer helps parents make the baby's bath the perfect temperature every time. Not only does it prevent scalding, it also stops nasty bumps as babies get older and more mobile. The foam design ensures a soft landing if your little one happens to slip and bump themselves on the faucet.
The display is color coded making it easy to see straight away if your little ones bath is the right temperature. The screen lights green when the temperature is just right, blue if it is too cool, or red if it's too hot.
The baby bath thermometer has a mildew resistant design, meaning you won't have to worry about it needing replaced. The hole on the top allows easy access to the diverter, meaning the thermometer can be kept in place all the time. It fits any standard faucet, and there is a strap to keep it securely in place.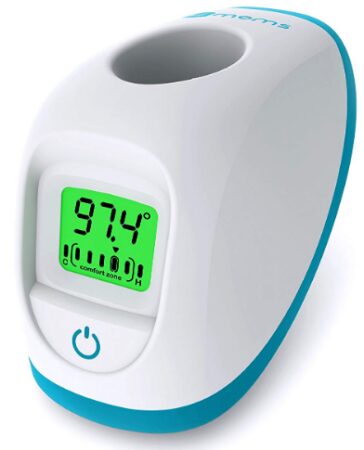 Mimo Wearable Baby Monitor
This smart onesie is perfect for providing reassurance to new parents. It allows you to monitor the baby's vital stats such as breathing rate and temperature, without the need to keep going to check on them when they are asleep.
The onesie comes in sizes 0-3, 3-6 and 6 to 12 months old, meaning once you have the starter kit you can just buy the next size onesie when your baby grows. Mimo can provide reassurance when you leave your baby with someone else, too. Because the data is sent straight to your smartphone, you can check how your baby is sleeping whether you are at home, at work, or just about anywhere. You also receive nightly snapshots, to show you how well your baby sleeps each night.
In the kit, you'll find 3 cotton onesies, a turtle shaped Bluetooth sensor which attaches to the onesie, and a lilypad base station. The onesies are easy to care for – they can be machine washed and can be dried on a low heat. They can be worn alone, under sleepwear, or on top of up to 3 layers of cotton and still give accurate data.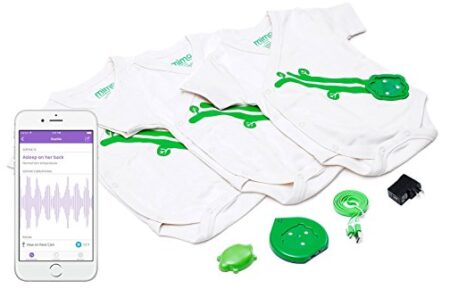 MistAire Ultrasonic Mist Humidifier
An air humidifier is a great addition to your baby's nursery. This model is ideal because it operates very quietly meaning it won't disturb sleep. There is also an optional night light, meaning it can grow with your child. The tank can hold up to 1.5 liters of water – up to 16 hours of use on the low setting.
The room humidifier offers 2 settings, either high or low. There is a 360 degree rotation, meaning the mist can be directed anywhere in the room. The device comes with its own cleaning brush, to make it easy to keep the humidifier in good working order. The humidifier omits 150 millilitres of water per hour, making it perfect for rooms up to around 200 square feet.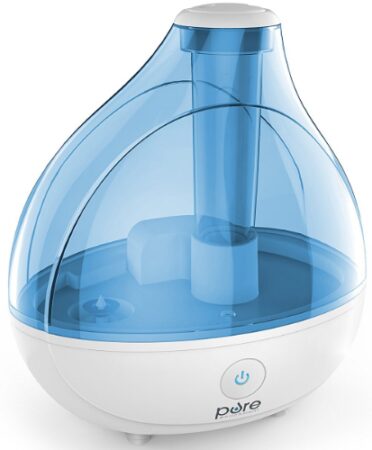 iiamo Go Self Warming Bottle
This smart baby bottle is perfect for feeding on the go. It can warm 6 oz of milk to body temperature in just 4 minutes. It's perfect for taking on trips, or for using in the middle of the night when warming milk can take up precious sleep time.
The baby bottle comes in a choice of 4 colors, so there's something to suit all tastes. You need to buy the heating cartridges separately – they are sold in packs of 5. The bottle comes with a nipple, but others are also available to purchase if you need replacements.
The bottle is easy to use, just add milk which is at room temperature and leave it for a few minutes. Then, simply shake to ensure even heating and it's ready to feed. This is a great gadget for parents of newborns – it will make planning a trip less stressful as you won't have to worry about finding somewhere to warm baby's bottle.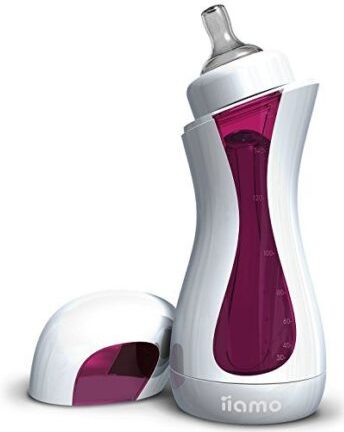 Philips Avent Bottle Warmer
A good bottle warmer is a must for parents who choose  to formula feed their baby. Philips Avent is a well-trusted brand, and this product is one of the reasons why. It offers several heat settings, to you can warm the milk to exactly the temperature your baby prefers.
Using a bottle warmer is the safest way to heat milk for a baby. This particular model circulates the milk as it warms to ensure no hot spots are created. There are also sensors which monitor the temperature to ensure milk doesn't get overheated. It warms the milk gently to preserve the quality and vitamin content of the milk.
If you get distracted by baby, the milk will stay warm for 20 minutes after the cycle is finished. It also offers a defrost setting, and can be used to warm baby food too. The warmer is compatible with all Philips bottles, and will also fit most other brands. All you have to do it add the filled bottle and some water to the warmer and it will take care of the rest.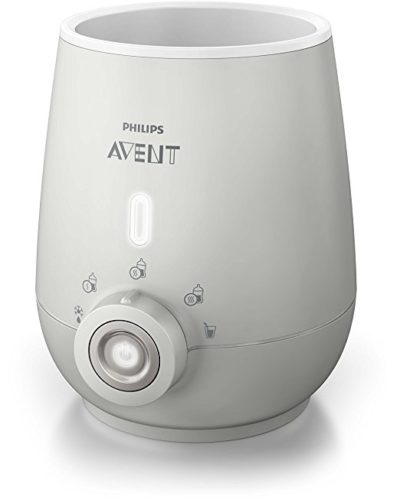 Philips Avent 3 in 1 Electric Sterilizer
This electric sterilizer is a great way for formula feeding parents to save time. Sterilizing bottles with this device takes only 6 minutes, and keeps everything clean inside for up to 24 hours. The unique 3 in 1 design allows a variety of bottles and accessories to be cleaned at a time. It can hold up to 6 Philips Avent bottles.
The electric sterilizer has an automatic shut off once the cycle is complete, meaning once everything is in and the machine is switched on, you can get back to spending important time with your baby. It is compatible with any wide or narrow-necked bottles, and can also clean equipment such as breast pumps or drinking cups.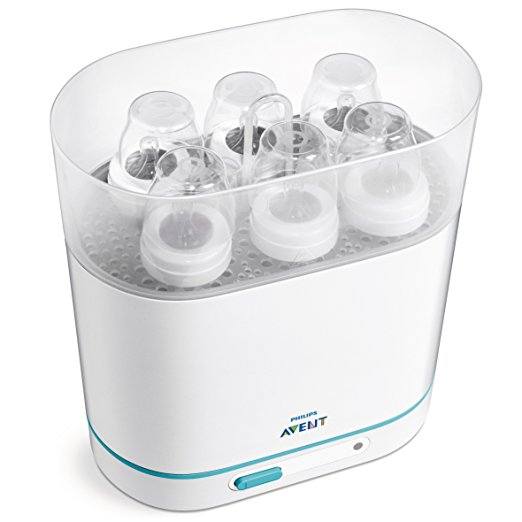 Evoz Vision Baby Monitor
This high tech baby monitor lets parents know as soon as baby starts crying. It takes a photograph at the moment the baby begins to cry, so mom and dad have a better idea of what is causing the crying.
The baby monitor connects to an iOS or Android device, notifying you when your baby is crying through an SMS, email or push alert. Therefore, you can monitor your baby remotely, from just about anywhere. However, the connection is secure and parents can choose who can access it. This is great for those who sometimes have sitters or grandparents – you can give them access only when necessary.
The camera records HD video, and offers a night vision mode. In the app, parents can input anything they want to keep a record of. This might include feeding, changing or sleeping information, which is great for when someone else is looking after the little one.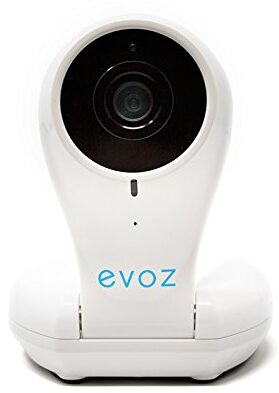 Best for 3 to 6 Months Old
Ba Baby Bottle Holder
This unique device is ideal for babies who are learning to hold their own bottle at feeding time. It can be used by babies over the age of 3 months. The holder comes in two colors, pink or green, making it ideal for either boys or girls.
The bottle holder is compatible with most standard bottles, with necks between 2 – 2.5 inches wide. Once your baby is old enough to hold their bottle without the holder, it can be used as a toy. The material is perfect for little ones to chew on, and it can be used as a ball. In fact, even toddlers will enjoy playing with the bottle holder, meaning it offers excellent value for money!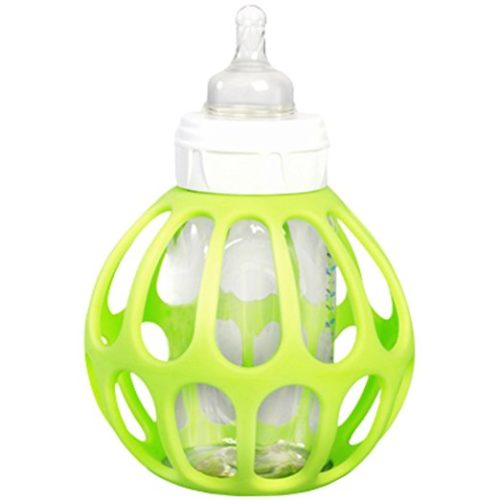 Doddle & Co Pop Pacifier
These keep clean pacifiers are great for younger babies who are prone to dropping things. The unique design ensures that the nipple pops into the protective bubble when it is taken out of the mouth. This means it always stays clean, no matter where it lands.
The pacifiers come in a pack of two, are are suitable from birth up to 6 months old. Each soother consists of one piece, and is made from silicone. This makes cleaning them at the end of the day very quick and easy. The pacifiers are especially handy for trips out, where you might not be able to clean a standard one if it gets dropped.
The pacifier remains popped out when the baby is suckling, then pops back into place as soon as it falls out of their mouth. The nipple can also be pushed out by hand if baby can't get it out by themselves. Pacifier clips can also be used with these, to stop them from getting lost.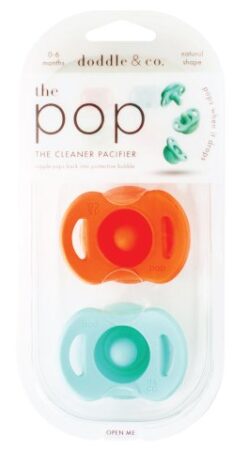 Pacif-i Pacifier Thermometer
This smart pacifier is great for using when your baby is unwell. At the touch of a button, you can see your baby's temperature displayed on your smartphone. It has a range of up to 30 feet meaning you don't even have to be in the same room to check how they are doing.
The pacifier thermometer is a great way to keep a check on your baby when they are sleeping, without disturbing them to take their temperature manually. The pacifier requires an iOS or Android device with the compatible app. Here, you can keep a log of your baby's temperature changes, which can be ideal when going to the paediatrician. You can also set alerts and reminders in the app. This means you can easily remember when to next give medication for example. It works with a Bluetooth connection, which is very low energy and gives a long battery life.

Ergobaby 360 Baby Carrier
This unique baby carrier is a great investment – it grows with your child from birth right up until they are 3 years old. It can be easily adjusted to ensure both baby and parent are comfortable. The carrier can be worn on the front or back, and there is an optional extra insert for newborn babies to ensure a snug fit.
The waistband and the shoulder straps can be adjusted to fit almost all body shapes and sizes, meaning the carrier is ideal for mom or dad. The hood offers the baby protection from the sun, or gives privacy to nursing mothers. The baby carrier is made from high-quality materials to ensure it is strong and durable. It can be used into toddlerhood, and can even be used for more than one baby without getting worn or damaged. It's also easy to put on once you know how, and can be done alone without difficulty.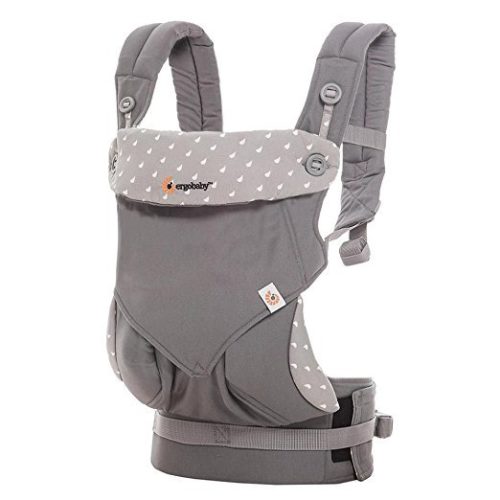 Itzbeen Pocket Nanny
This wonderfully simple baby gadget is perfect for new, sleep deprived parents. It helps you remember when you last performed baby care tasks such as feeding and diaper changing. So, when your baby cries, you can see at a glance what is likely to be wrong with them.
The device is little more than a timer, but it has several handy features which make it incredibly useful. For example, it has a gentle nightlight so you can quickly see what your baby needs even at night, without waking anyone. The timer also has a miscellaneous button, which is ideal for when baby is taking medication, or anything else you need to remember. It is also great for when someone else is taking care of the baby – you don't need to tell them when feeds or changes are due as everything is recorded on the screen.
The gadget is great for slightly older babies, who are in more of a routine. It's not great for newborns who sleep and feed round the clock. It is intended for children up to 2 years old.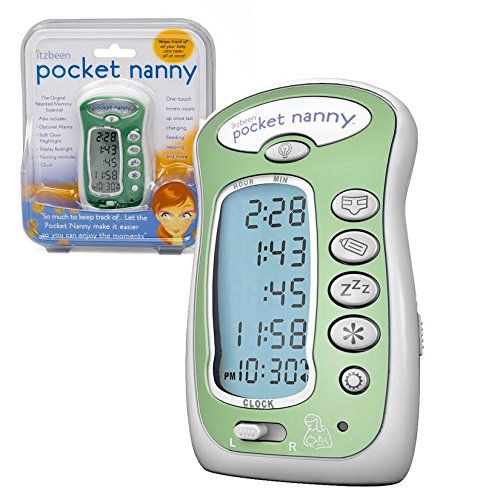 MamaRoo Infant Seat
This smart baby chair is perfect for soothing babies who won't settle. It offers 5 different rocking motions, so there's sure to be something which will help your baby. The options include car ride, rock a bye and kangaroo – moves just like parents do. The motion and sound can be controlled via Bluetooth, using a smart device. There are 4 build in sounds to choose from, or the chair can be connected to any MP3 device to play any song.
There are loads of parent friendly features on the baby chair, too. The fabric can be easily removed for machine washing, for example. The seat can also recline to varying levels, making it perfect for growing babies. This also means it's ideal for playtime or napping. There's even a build in mobile with toys to keep your baby occupied when they're in the chair.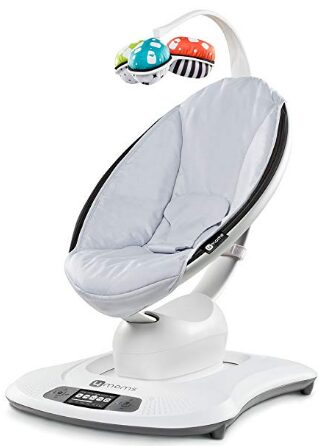 Portable Diaper Changing Pad
This portable changing pad is a must have for any new parent who is always on the go. It opens up to reveal a perfect surface to change your baby, with wings at the side to keep wriggly babies' arms away from unclean surfaces too.
When the pad is opened, there are pockets inside to keep everything you need for a diaper change. The pockets fasten with zippers and some are mesh. There is even an external pocket to keep essential such as keys and a phone. The storage compartment of the pad can be removed from the changing mat for independent use.
The portable changing pad comes in a choice of 2 colors, either pink or gray. The changing pad is made from easy clean, wipe-able material, for quick clean up after a messy change. This gadget is a must have for anyone who plans to take their baby out and about for the day.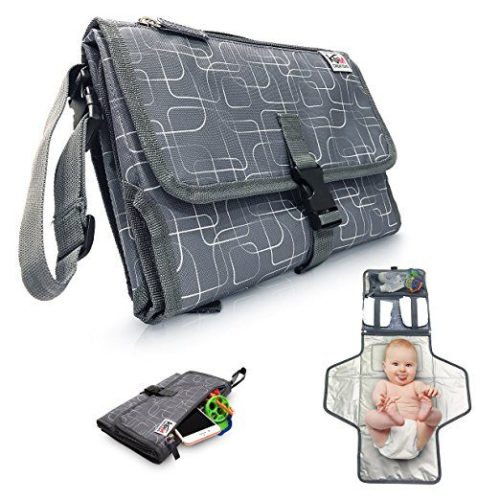 Best for 6 to 12 Months Old
Boon Glo Nightlight
These unique nightlights are perfect for helping babies make the transition to their own bedroom. They can glow in a choice of 6 colors, meaning there's something to suit all occasions. Or, you can let the colors circulate As your child gets older, the orbs can be removed from the base. This means when your child is taking themselves to the bathroom during the night, they will be able to see and won't get scared. The balls glow green for 30 minutes after being removed from the base – more than enough time for a trip to the toilet.
The lights are LED, meaning they are cool to the touch so even young children are safe to use this product. Babies might even like to play with the orbs before bedtime, and older toddlers will love a game of catch in the dark! This nightlight really grows with your child, and will provide years of usage.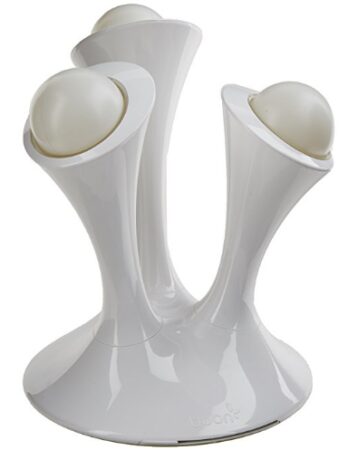 Baby Food Maker and Blender
This baby food maker is great for babies who have just started weaning. It can prepare meals for babies at any stage of weaning in as little as 15 minutes. Meals can be pureed for younger babies or more textured and chunky, meaning the machine will be used well into the toddler years.
Ingredients are steamed, to lock in nutrients making the meals even healthier for your baby. Once the meal is ready, the timer sounds an alert, so you can just put everything in and let it cook, giving you more time to spend with your baby.
The machine offers 4 functions in 1. It can be used to reheat or defrost food, as well as blending and steaming. This reduces the need for multiple gadgets, saving parents space in the kitchen. The machine can easily be used with one hand, making it ideal for days when baby just won't settle without mom or dad.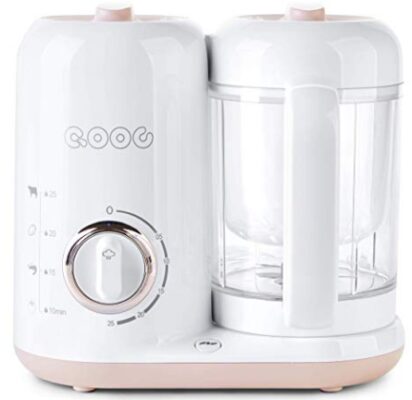 Infantino Squeeze Baby Food Prep Machine
This handy gadget is perfect for parents who are always on the go. It allows you to put home-made baby food into reusable pouches much like store-bought baby food. This means your baby can eat healthy, home cooked food anywhere with ease. It also allows parents to save a huge amount of money, compared to regularly relying on pre made pouches of food. Each pouch holds up to 4 oz of puree, making it the perfect portion size for babies of all ages.
The baby food machine even includes spoon attachments, which screw on to the end of the pouches to make feeding anywhere so easy. Even if you don't make your own baby food, you can still transfer food from jars or yogurt pots into the pouches to make it easier for your baby to eat. The machine is easy to clean, and can be put in the dishwasher. You can also purchase more pouches separately, including reusable ones to minimize waste and save money.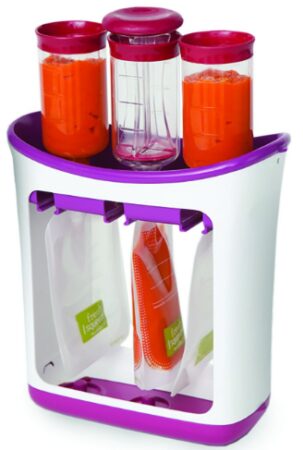 B Kids Dream Station
This crib mobile is excellent for helping babies learn how to settle themselves when they wake at night. It features 18 soothing tunes to help little ones drift off peacefully. Parents can even choose the mood of the melody they wish to play, depending on how the baby is feeling. The mobile also projects lights to calm your baby down before bedtime.
The mobile features a sensor which detects movement from the baby. It detects when the baby is awake, and plays music to sooth them to sleep. Once the baby falls asleep, white noise is played to help keep them sleeping soundly. The machine then stays in standby, and offers a gentle glow if it senses the baby has woken up, in order to keep them calm. You can even set the machine to gently wake your baby up. After a set amount of time, music will begin to play and the lights will come on, allowing baby to wake up peacefully ready to start a new day.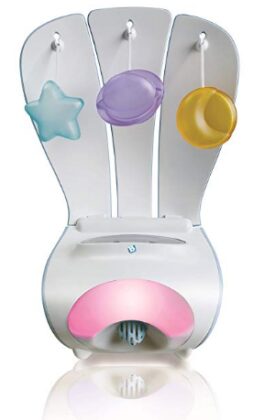 Gro Egg Room Thermometer
This smart room thermometer is a great way to keep an eye on the temperature in a baby's bedroom. It glows a different color according to the temperature in the room. If the room gets too cold, the egg will turn blue, and when it gets too warm the egg glows red. When the perfect temperature is reached, the thermometer will glow orange. This means you can easily see if the room is the right temperature without waking baby, simply peek around the door and you'll be able to see the color.
The nursery thermometer also acts as a nice gentle nightlight for babies who are just starting to sleep in their own bedroom. The thermometer works on mains power, meaning you won't have to keep changing the batteries. It's also easy to switch off when not in use.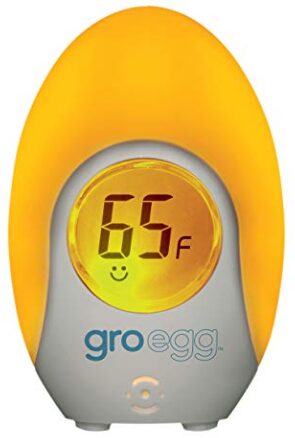 Smart Nursery Alert Sensor
These door sensors are great for babies who are just starting to get mobile. They connect to smart devices and give a warning when a door or window has been opened or closed. Therefore, they are great to attach to nursery doors, cabinets and even the refrigerator.
The sensors operate using a WiFi connection, meaning you can track movements on any compatible smart device. They are battery operated, using regular AAA batteries. They also give a warning when the battery level is getting low, so you can always be prepared. The sensors come with double sided adhesive tape to fasten them to any surface with ease. Overall, this is a great device for babies who are on the move, and will be used into the pre school years.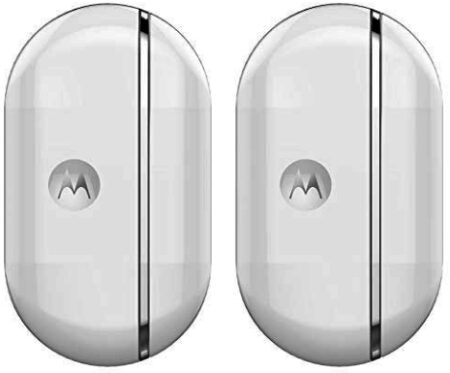 Flipping Holder Food Pouch Holder
These holders are great for babies who are learning to feed themselves. They are compatible with most major brands of baby food pouches and come in a pack of two. There is a choice of two colors, either white or blue, or you can have one of each color in a pack.
The food pouch holders can be turned around and used to hold juice boxes as your child gets older. Because the handles are closed, the holders can be tethered onto a strap to prevent babies from dropping them. The devices are great for stopping babies and toddlers getting into a mess when trying to feed themselves. Once the ouch is places in the holder, babies won't be able to squeeze it, meaning the puree won't leak out all over the place.