Buying the right car seat for your toddler should not be hard if you know where to look.
What's actually important is for you to consider the safety of your child when choosing a convertible car seat,
As a result of this, it's important to carry out adequate research so that you can select the child safety seat that offers high safety ratings and protection for your baby.
You should also look at the other features that a particular car seat offers.
Can you install it easily?
Does it offer enough comfort features?
Will it be easy to use and manage?
These are questions you should ask yourself when you are about to purchase a convertible car seat.
When a car seat satisfies all these criteria, then you can be sure that you have found the best convertible seat for your kid.
Note: Although you will find detailed reviews of convertible car seats on this website, it is highly recommended that you try and check the car seat you want to buy in a retail store before buying it online.
This will ensure that your car seat model fits your vehicle and accommodate your little one.
---
Graco Nautilus 3-in-1 Convertible Car Seat
---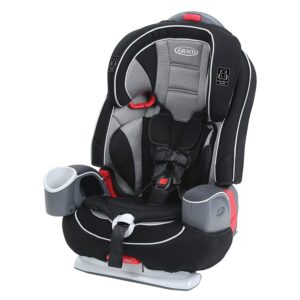 Unlike other models such as the Britax Marathon 70-g3, Graco Nautilus 3-in-1 has been rated top by leading consumer magazines and publications and has been America's top-selling harnessed booster seat for a while now.
5-Point Harness System
The Harness System is the most important safety element you can find in a car seat. Graco Nautilus 3-in-1 features a 5-Point harness system that can be used for kids weighing 20lbs up to 70lbs.
It can be used for children; first as rear-facing and then forward-facing convertible car seats and can finally be converted into a backless booster seat to support your child as it grows.
Durability
Graco Nautilus convertible car seat comes with a reinforced steel bar which makes it withstand the test of time.
The steel frame makes it a solid and sturdy car seat and can support your child's weight for up to 70 pounds while still ensuring a secure and comfy environment for your kid.
The Nautilus comes in a 3-in-1 multi-mode option which ensures for longer use; it can support children from 20 pounds (starting from 2 years) up to 100 pounds (could be up to 10 years).
This ensures that you do not need to purchase or upgrade to another car seat when your baby outgrows the rear/forward-facing capabilities of this model.
You simply change from forward-facing convertible car seat to backless booster seat when the need arises.
Safety Features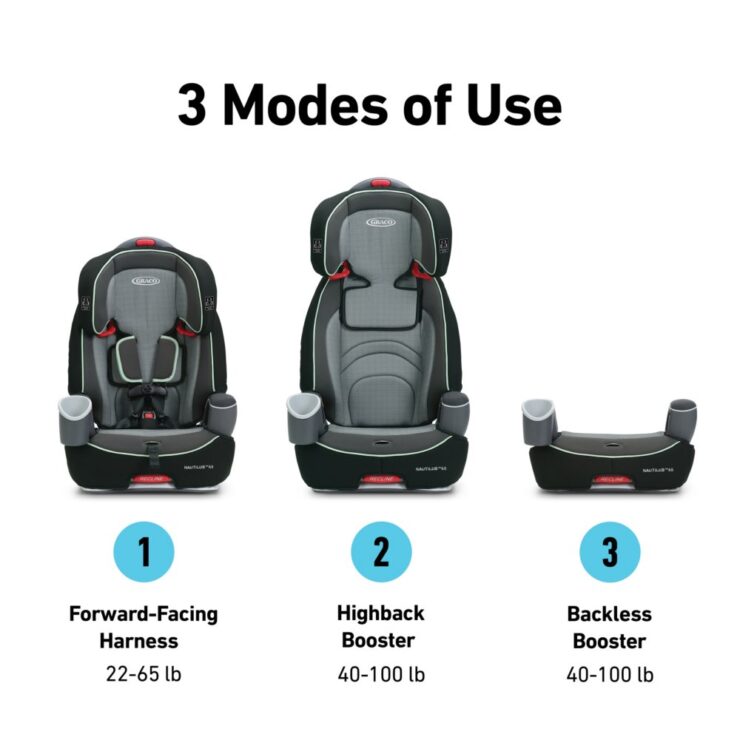 If you were asked what the most important feature you would look out for in a car seat-especially when you want to buy a new one for your kid-what would it be?
I can vouch that you will likely consider safety features first.
This is not sheer speculation; it has been proven by many parents (who have bought this car seat) that the most important thing they look for in a convertible car seat is the safety features.
Fortunately, this model comes packed with lots of safety features.
The Graco Nautilus 3-in-1 has been rigorously crash-tested to meet or exceed US safety standards specifically with the 5-Point Harness System to provide the highest safety standards.
It has also been side-impact tested with the EPS energy-absorbing foam for occupant retention.
In order to provide maximum protection and safety for your toddler, this model is furnished with open-loop guides for correct vehicle belt-positioning while you're using it in the backless belt-positioning booster seat mode.
Graco Nautilus has also been tested for structural integrity at both low and high temperatures to make sure the product is suitable in any temperature.
3-Point Recline
Since your baby gets to sleep during travel either on a long journey or a visit to the mall, you are more likely to welcome this feature.
With the 3-Point recline capability of the Nautilus, you can adjust the seat to three different angles to suit your baby's need.
With a simple draw with one hand at the rear of the seat, you can move the Nautilus forward or backward to enclose and hold your child in a comfortable position.
Comfort Features
The Graco Nautilus is packed with features that will definitely enhance your child's comfort in the car.
Offers contoured and padded armrest – The Graco Nautilus will make your child very comfortable as a result of the contoured and padded armrest which is suitable for small hands.
It features an integrated cup holder for keeping those tiny cups that flows around the car. But don't be sold on this as it only has one space where you can place your baby's cup.
The Graco Nautilus is built with adjustable head support that can easily be adjusted according to your kid's preferences.
Graco Nautilus As a Convertible Car Seat
This model is designed for kids that weigh 20 pounds up to 70 pounds.
It is capable of supporting children in a rear-facing position; you can convert it to a forward-facing convertible car seat and finally transition to harness booster seat.
With this feature, you do not need to upgrade for a long period of time.
Other Features
Dimensions
Graco Nautilus measures at 29H x 20W x 22D and has a shipping weight of 26 pounds. The Graco Nautilus 3 in 1 is a large convertible car seat. You should keep this in mind when buying it.
Colors
The Nautilus comes in different colors so you're are able to choose a color that goes with your preferences.
Padding
The Graco Nautilus 3-in-1 is a combination of plush and rich materials for added functionality.
EPS energy-absorbing foam for absorbing energy and shock from side-impact with a glossy pillow that engrosses your baby to provide a smooth sleeping experience when it's time to sleep.
Recline
You can move the seat and re-position it in three different angles to by slowly drawing it forward or backward or to simply leave it in the middle.
Easy to adjust and even more useful when your child is asleep.
Rigorously crash tested
The Nautilus is rigorously crash test to provide adequate safety for your child during normal travel and in the case of a collision.
Cupholder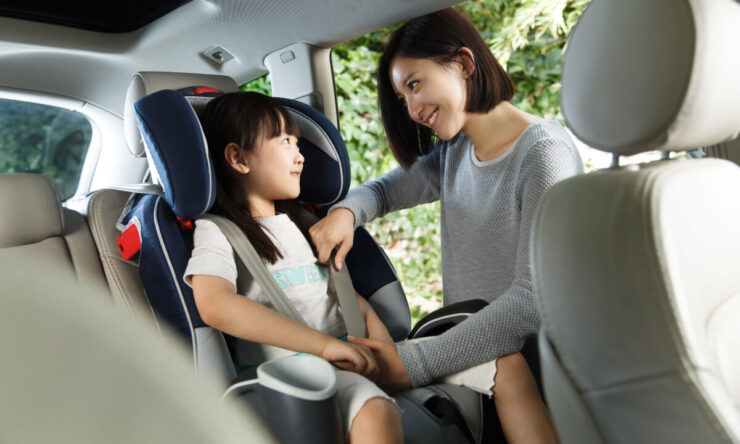 This is where you keep your child's cup so as to prevent spilling and other unavoidable mess while traveling. Besides, I think this is a nice feature in a car seat!
Open-loop belt guides
This model from Graco comes with open-loop belt guides for you to follow to ensure proper installation.
Contoured Armrest
The armrest is what it is. It helps to secure your tot's hand in position.
One-hand adjustable headrest
You can use one hand to adjust the headrest and move it forward or backward as needed.
LATCH-compatible
The open-loop belt guides enable you to correctly position the vehicle's seat belt.
The car seat is latch compatible. This means you can use it with your vehicle's latch system, thus making it easy for installing everything properly.
Machine washable cover and cushion
Fortunately, you can remove the seat cover, wash it, and most importantly, reinstalling it again is easy. Very easy to wash since it is machine washable!
---
Pros and Cons
Pros
Parents are comfortable the Nautilus 3-in-1 convertible car seat because it converts into three different configurations starting from a rear-facing car seat and transition into a forward-facing convertible car seat. Finally, parents can convert it to a backless booster seat.
It also features EPS-an energy-absorbing foam for reducing shock and energy from side impact.
Parents especially like all the safety features of the Nautilus as this is the most important part of the car seat. Also, the wide variety of colors available makes it more appealing to parents.
Cons
With all the attractive features of this model, it does not go without complaints from customers. The complaint is that the Nautilus is bulky and can be difficult to buckle up.
If your kid is small, you shouldn't worry about the bulky as such. Even the complaint about it is not realistic and shows a lack of proper research. From the information that is available and a quick glance at the dimensions, one can easily deduce that this one is a large booster seat.
---
Consumer Ratings
---
This car seat has a high rating on the popular retailer website Amazon.com. And as you can see in this Graco Nautilus review, it's a great seat, so it deserves all the ravings.
This is an indication that many people are in love with the Graco Nautilus car seat. Also, the percentage of those who are happy with it stands to justify how well most parents receive the Nautilus 3-in-1.