The latest LEGO movie has proven to be a huge hit, and naturally, there is a huge selection of building kits to go with it. There are toys replicating just about every aspect of the movie, so there's sure to be something your child will love. Finding the perfect LEGO set to add to a collection is always challenging. Here, we have reviewed a selection of products from the Ninjago range to help you make the best choice for your child.
Lego is very popular and kids love to use it to make things as well as visit LEGO Land. The tradition of playing Lego has been around a long time and this popular hobby seems to last and is growing in popularity.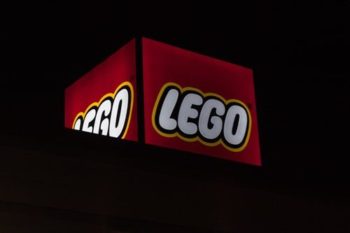 Considerations
The main thing to be considered when choosing a LEGO set for your child is their age and ability. All LEGO products come with a recommended age range, although this should be taken as a guide as all children are different. It's also worth noting who your child's favorite characters are, to ensure you get a set they will really love.
Some LEGO sets are designed for older children and adults, so are not suitable for young children. This could be because they have very small parts, or they might have a large number of parts which are difficult to put together. It's also worth thinking about what other LEGO products your child already owns. Perhaps they already have something which can be used with the new set, or they might like to start a new collection in a different range.
There have been a total of 8 Ninjago seasons so far and many kids have been following all of them closely. Parents are always trying to keep up with buying the latest lego Ninjago set for their child. I started getting the Lego Sets from season 6. My favorite season has to be the latest and season 7, which was good with the dragons forge episodes.  There are loads of Ninjago box sets for kids to choose from and if your kid has just started getting into Lego then this is a great collection of figurines, boxsets, characters to collect, storylines to follow and even the occasional movie to watch at the cinema.
Each of the Ninjago set blow has been chosen because of their great value and endless hours of imaginative play in store with each game set. The popular characters like Kai, Lloyd, Jay, Nya and loads more are all available to be found. Lego is always on every wish list and children want it for special occasions like birthdays or Christmas.  The figures and box sets make great presents and it will guarantee hours of play, let's take a look at the first one in this review.
Lego Ninjago Minifigures Set
This is the ultimate addition to any Ninjago fan's collection. It comes with 20 popular characters from the latest movie, all in one huge set. Each minifigure comes with an accessory just like they would have in the movie.
The LEGO Ninjago Minifigures don't come assembled, but kids will love to see the characters come to life as they build them all in turn. A building is part of the fun of any LEGO set, and this one is no different.
If your child wants to safely store their figures, or put them on display, there are compatible storage organizers to keep the figures in great condition. This set offers great value for money and works out much cheaper than buying each figure individually.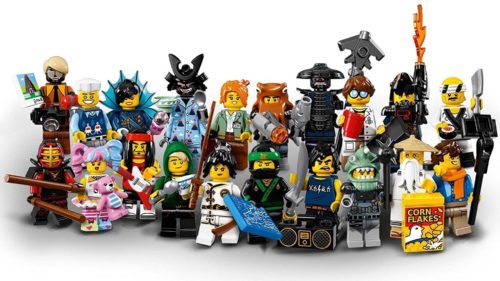 Lego Master Wu Dragon
This large LEGO set includes nearly 600 pieces to build 3 different models, and also comes with several accessories. Kids can build Sensei Wu's dragon, a temple, and a rickshaw, and the set also comes with 5 minifigures. Each character also comes with weapons and accessories, enabling children to act out their favorite scenes from the movie.
The building toy is recommended for children aged between the ages of 8 – 10 years old up to 14 years old. It includes fun, interactive elements which make it perfect for kids of this age. For example, the head of the dragon can be posed as well as having opening jaws. The wings, tail, and legs of the dragon are also articulated, making it much more realistic.
The rickshaw model has disc shooters, as well as a compartment to store the discs so they don't get lost. This makes the set perfect for imaginative and interactive play. Each model is highly detailed with a range of decorations and accessories, perfect for playing with or displaying.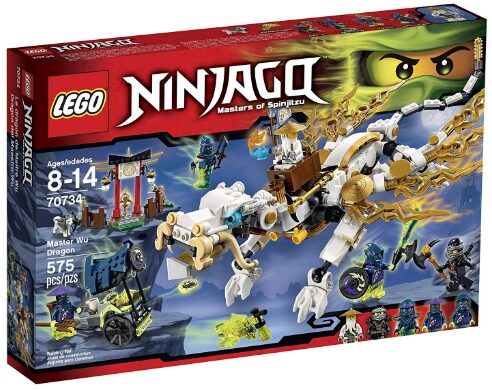 Ninjago City Set
This huge LEGO playset features almost 5000 pieces, making it an excellent project for older children or teenagers. The box includes 16 minifigures for creating loads of fun adventures. The building features 3 levels, each of which can be removed to allow for easier play. Each level has a range of interactive features, including a working elevator, a river, a market and a house.
The model measures over 2' tall and 1' wide, meaning children will have hours of entertainment with the set. It also includes a fishing boat to act out adventures, like going to the fish market. The model is highly detailed – there is even a sushi conveyor and a functioning ATM.
The toy is suggested for those aged 16 years old and above. However, younger children will definitely enjoy playing with it. Parents or older siblings could help them build the tricky bits, so little ones can still have fun playing!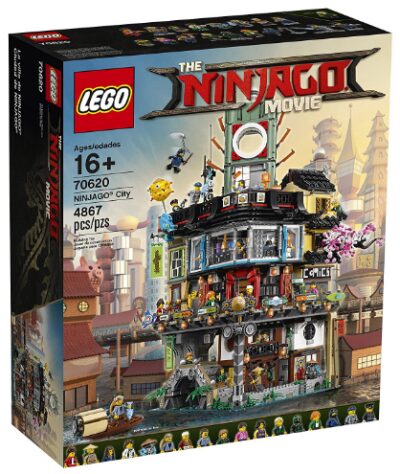 Jay's Elemental Lego Dragon Set
This 350 piece building toy is ideal for children aged around 7 years old. The dragon model is highly posable thanks to the ball-joints, and it also features snapping jaws. The model also comes with 2 figurines, and several weapons for them to use.
The dragon model measures 12" long and 11" wide, making it perfect for young children to play with. It is just the right size for creating epic battles and adventures but will look equally great displayed on a shelf.
The suggested age range on the LEGO model is 7 years old up to 14 years old. Whilst younger children will love playing with it, they might struggle to put the whole thing together by themselves. It would make a great gift for a young boy or girl, as the whole family can spend some time building it together.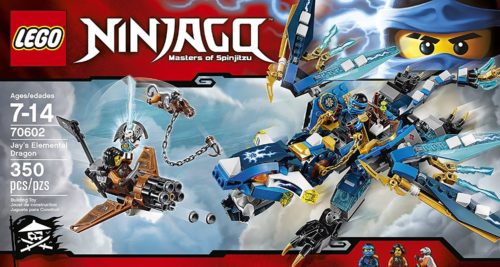 Ninjago Lightning Jet
This large LEGO set has almost 900 pieces and is great for older kids between the ages of roughly 9-14 years old. It has loads of interactive features and moving parts, making it perfect for play as well as display.
The Lightning Jet model measures an impressive 17" long, and comes with 6 minifigures. There is also a range of weapons, and the Jet itself features a spring-loaded shooter. This makes is great fun for younger kids – they will love to chase the 'shot' LEGO pieces and hunt them down!
The instruction booklet with the model is easy to follow, and building the Jet should take a good few hours. Therefore, it's great to keep kids busy and entertained at the same time!  If your child's favorite character in LEGO Ninjago is Jay, they are sure to be delighted with this toy.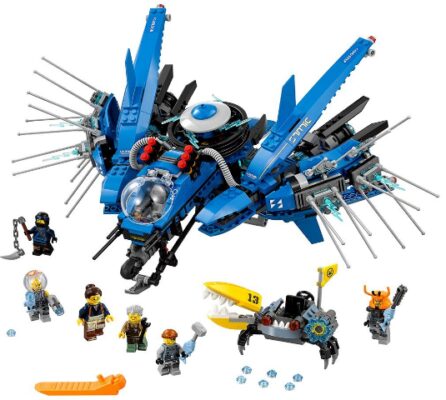 Ninjago Dragon Forge Set
This large LEGO playset is ideal for older kids between the ages of 9 years old -14 years old. It has over 1000 pieces, to keep youngsters entertained for hours. The set includes the building, the dragon and a buildable mech. Also in the box are 6 Mini figurines as well as a large range of accessories and weapons.
The Ninjago Spinjitzu toy offers lots of fun functions, making it great for providing hours of play time. The dragon is highly posable and can seat 2 Mini figurines, perfect for kids to take their favorite characters on an adventure. It also has a functioning crossbow for going into battle!
The Dragons Forge building opens out allowing for easy play as well as storage. The roof can serve as a landing area for the Fusion Dragon, too. Inside the building are plenty of fun features and accessories, such as a blacksmith's working area and a leisure area with chairs and tea accessories.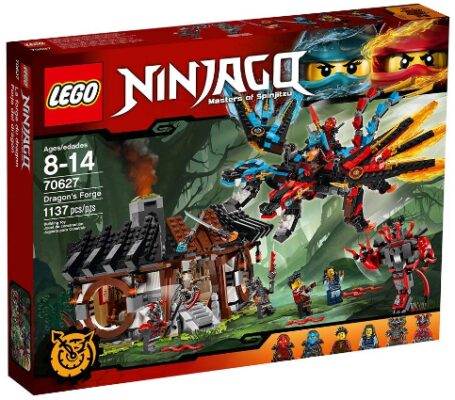 Ninjago Temple of Resurrection Building Kit
This Ninjago Movie playset is great for older children up to the age of 14. It has laods of pieces, making it a challenging build. The Temple of the resurrection is a great set for creating favorite scenes from the movie, and it includes an impressive 7 minifigures. The building stands at around 10" tall when fully built, and it has a storage room, 2 levels and plenty accessories to fill them.
There are lots of interactive elements, making this LEGO perfect for playing with over and over again. Kids can set a range of traps including falling rocks, swords which really chop as well as blade shooting traps. This is great for encouraging imaginative play, creating a range of new adventures. Overall, this large model is a great addition to any Ninjago fan's LEGO collection.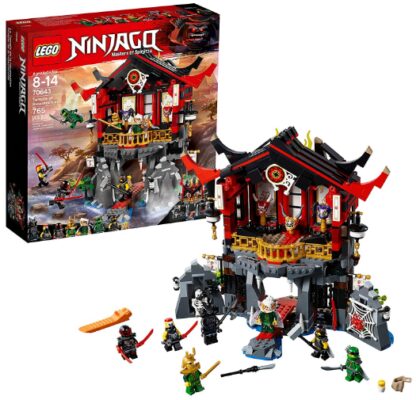 Lego Destiny Ninjago Ship
This huge, 2300 piece Ninjago Movie building set is great for older children and young teens. It comes with 7 minifigures including all 6 ninjas and Master Wu, making it perfect for starting a collection. There are a range of weapons included, as well as several accessories. Accessories include items such as books, a telescope, fishing rods and various helmets and armour.
There are different areas of the ship, including a ninja training zone a bathroom and Master Wu's bedroom. Kids who love the Ninjago movie will be thrilled with this set – it even includes the Ultimate Weapon. There are plenty interactive elements to keep kids busy time and time again, including an anchor which winds up and down. There are also hidden weapons for the minifigures to arm themselves with.
The ship features 3 levels which can be taken apart easily to make play easier. Overall this is a great value set with plenty elements to keep kids of all ages entertained for years to come. It is one of the more pricey sets but it offers good value for money, with the number of pieces and accessories it has.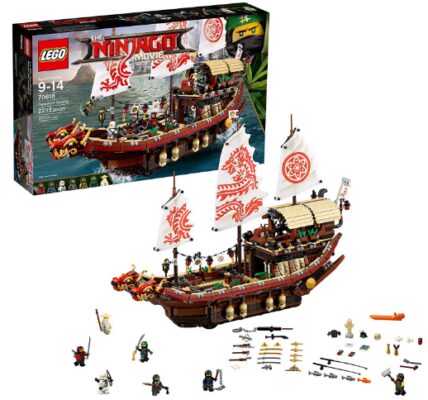 The Ninjago Lighthouse Siege
This Ninjago Spinjitzu Lighthouse model is perfect for children over the age of 8 years old. It contains 767 pieces and comes with a great selection of 7 minifigures as well as several accessories. The set is great for re-creating intense action scenes – it has traps, a hidden basement with a prison, a hidden spring-loaded shooter and a pole for figures to slide down for a fast escape!
The model opens out for easy play and has battery-operated glowing bricks at the top of the lighthouse tower. The toy will take a few hours to put together, and comes with easy-to-follow instructions. Younger children will love to play with the toy too but might need a bit of help from mom and dad to build it.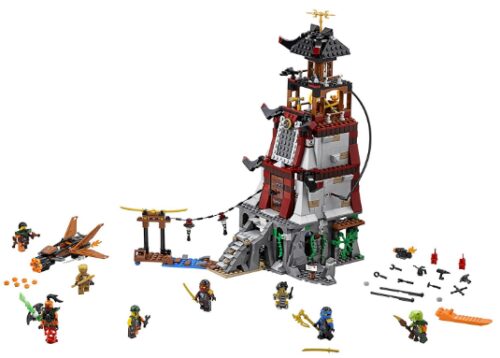 Fire Ninjago Mech Figurine 
This LEGO Ninjago toy features almost 1000 pieces and is therefore ideal for those over the age of 9 years old. The Mech has a minifigure cockpit, so your child can choose their favorite character to pilot it. The set comes with 6 different minifigures, including Kai and Zane, as well as their weapons and accessories, including a popsicle!
The Ninja LEGO model stands at over one foot tall, making it the perfect size for playing with and creating epic battle scenes. The model would look equally great displayed on a shelf, making it perfect for older kids, too. The Mech can shoot discs from the shooters on its shoulders, for more interactive play. The model has some adjustable parts such as the legs, elbows, and shoulders, so it can be posed into different positions.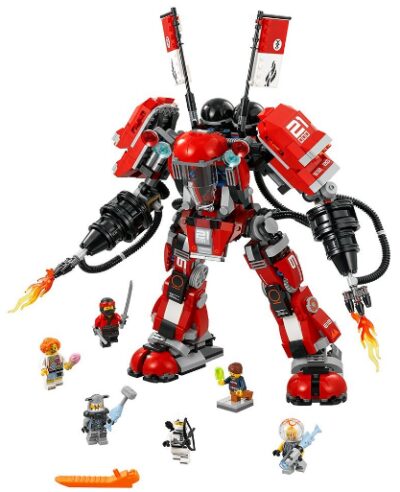 Green Ninja Mech Dragon
The LEGO Ninjago dragon model has over 500 pieces and is great for children between the ages of 8 years old to 13 years old. It is perfect for fans of the latest LEGO movie, who will love to re-enact their favorite scenes with the posable model. The set also includes 4 popular characters including Wu, Garmadon and of course, the Green Ninja.
There are plenty of fun features in this kit, making it great to play with. For example, the mech dragon has articulated jaws, a wheel-activated moving tail as well as stud shooters. It is also a great size at almost 2' long.
The Green Ninja dragon is the perfect toy for any fans of the Ninjago TV series or movie. It's sure to be loved by boys and girls of any age, thanks to the interactive elements and the perfect number of pieces.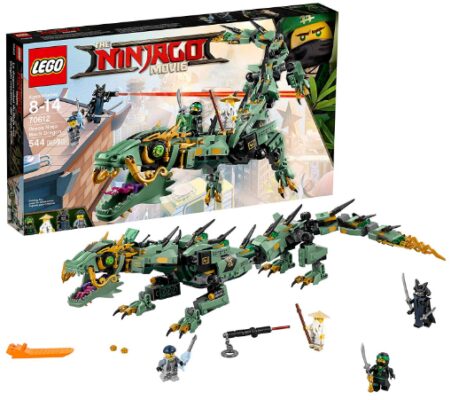 Best Overall LEGO Ninjago
For any big fan of the LEGO Ninjago movie or series, the Ninjago City model is a real must-have. Whilst it is pricey, the set features a huge number of pieces and will keep kids entertained for hours. Once it is built, it will provide even more entertainment, and is sure to be played with every day. The set also includes a whole collection of 16 minifigures, and a range of accessories and features, making it excellent for playing with or having on display.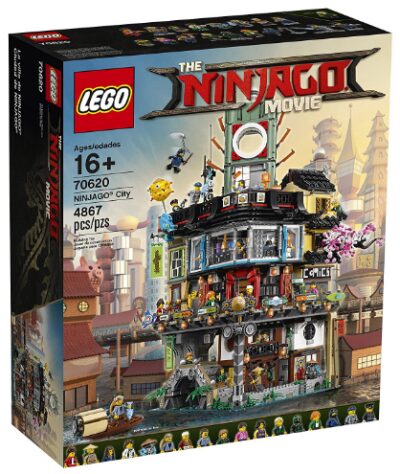 Best Budget Pick

If you are looking for a smaller model at a lower price, the Dragon's Forge playset is an excellent choice. It offers a great number of pieces for the price and lots of fun interactive features. The set is great for creating epic battle scenes or letting the figures relax in the Forge. There are so many possibilities with this set – it's sure to keep youngsters entertained for years to come.