Are you looking for a great LEGO gift for your little girl? We have reviewed some of the top girl LEGO toys to make it easier for you to make that decision.
LEGO toys are fun and they help kids boost their creative mindset whilst building confidence and problem solving skills. Do you want to help your little girl learn through play? This is a fantastic starter toy for kids and one the whole family can enjoy together.
Here is our summary of the Best LEGO toys for girls.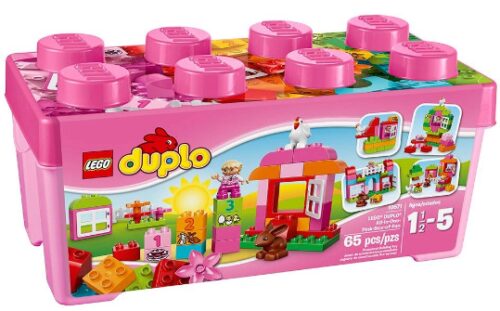 Best Picks for 2023
1. Emma's Art Lego Stand Building Set
Emma's art stand is a set with quite a number of features and activities. Brightly colored, it has a postcard stand, a sales hatch and an art stand trailer that opens in three different ways.
The art toy has a separate painting area with easel and a scooter as well; it includes a LEGO Friends mini doll figure with Chico the pet cat. So, this is a fun set for girls who love animals.
The play set is a creative building toy kit for girls; it's suitable for kids between the ages of 6 to 12 years old. It helps kids figure out their creative mind set with confidence.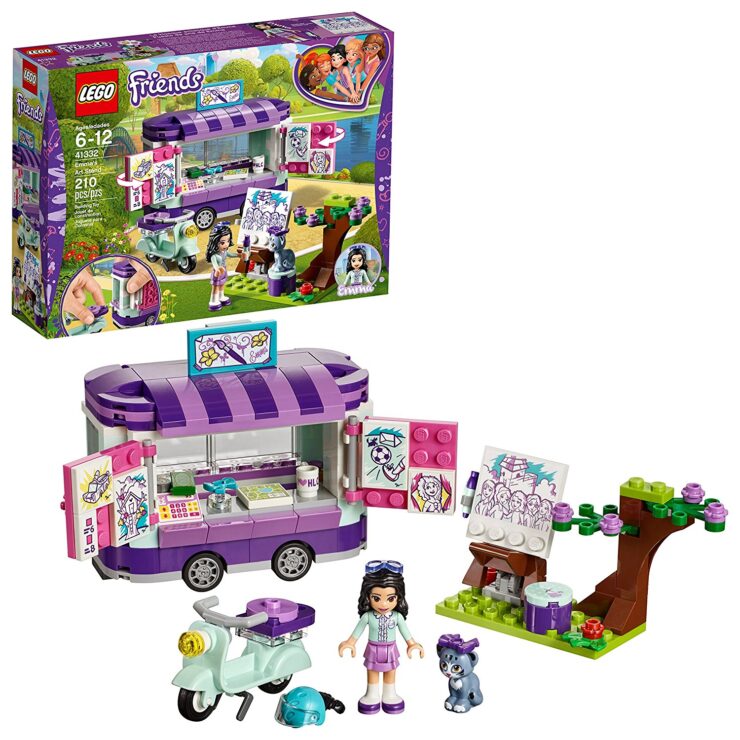 2. Olivia's Lego Mission Building Kit
This explorer set features a truck toy for rescue assignments, a removable roof and a secret compartment with a control center computer. It includes three mini-figures; Olivia, a zobo robot figure and a cat figure.
The Olivia's Mission play set vehicle measures 10cm high, 13cm long and 5cm wide, whilst the park scene measures over 3cm high, 3cm wide and 4cm deep. It has 223 pieces and is suitable for girls between the ages of 6 and 12 years old.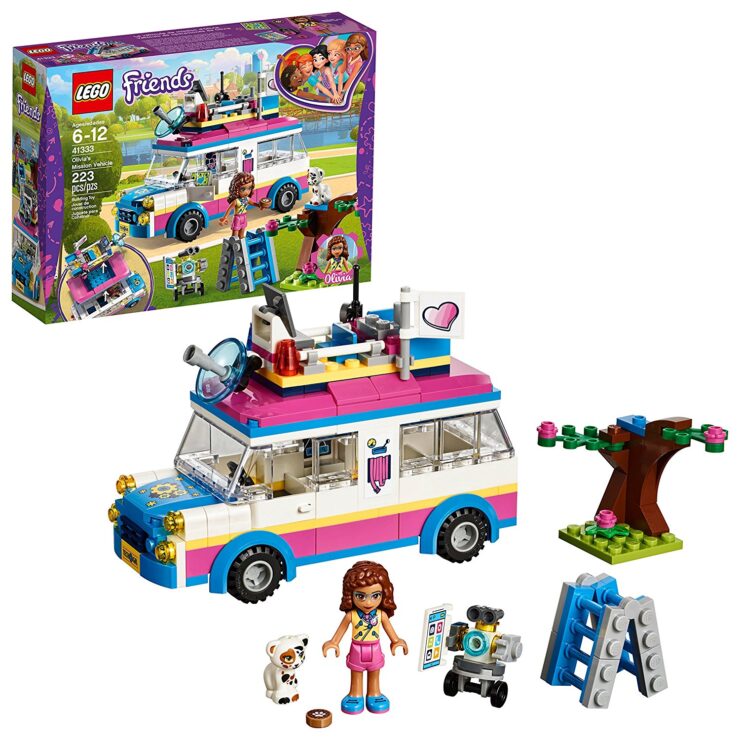 3. Heart Lake City Pet LEGO Kit
This two-level Heartland City pet center includes a pet shop, vet clinic, grooming parlor and a grooming van to build. It comes with several mini-figures including Mia and Liam as well as several animal figures.
It has 474 pieces to build up, so it will keep your girl amused for a long time. The Pet Center measures 14cm high, 25cm wide and 7cm deep, whilst the grooming van measures 4cm high, 7cm long and 3cm wide. It is suitable for kids between the ages of 6 to 12 years.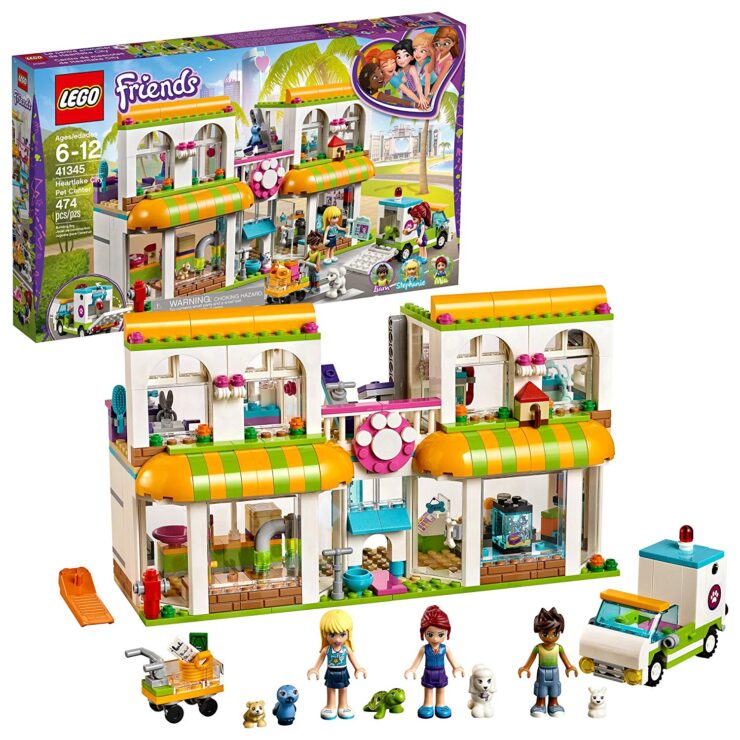 4. Friends Summer Pool LEGO Boxset
This set has 589 pieces to build a summer pool with a range of fun accessories for the mini-dolls to enjoy! There's a waving slide, a rubber ring, a diving board, an air mattress, an aquarium, a shower, a TV screen, a swim bar, two speakers and a fountain. The set also includes two mini-figures – Andrea and Martina.
The summer pool with swim-up bar measures over 7cm high, 9cm wide and 9cm deep. The hot tub and day bed area measures over 2cm high, 4cm wide and 1cm deep. This set is great when combined with the Heart Lake Sports Center for more warm weather fun! As with most LEGO Friends sets, this one is ideal for girls between 6 – 12 years old.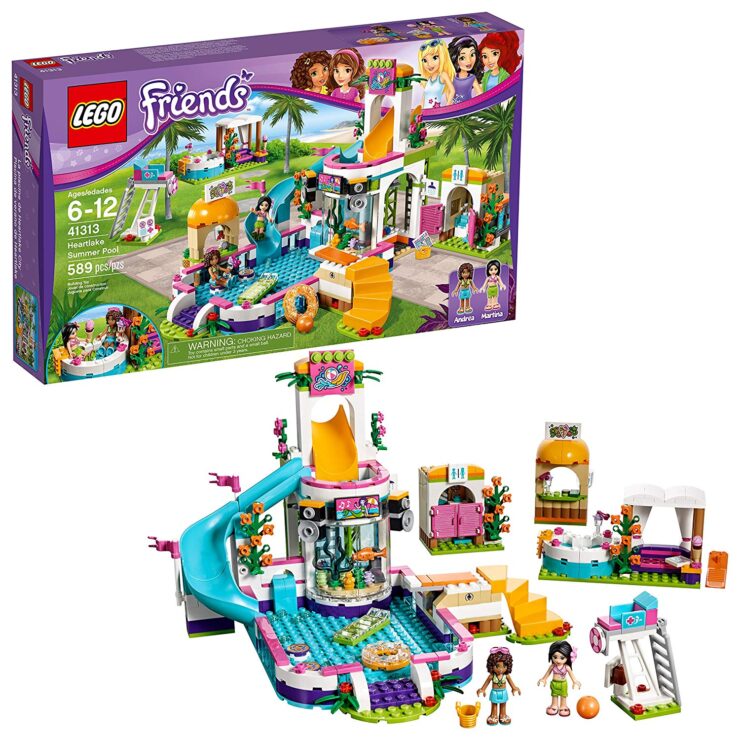 5. Friends Stephanie's LEGO House Toy
Here we will build Stephanie's house in Heart Lake city; a two story building with a porch, lounge, kitchen, bedroom, spiral staircase, bathroom, rabbit hutch and an office. The set also comes with three mini-figures; Stephanie and her parents, as well as a baby rabbit figure.
It has 622 pieces which makes building somewhat challenging. Stephanie's house measures over 8 high, 9 wide and 10 deep. The rabbit hutch measures 3cm high, 3cm wide and 3cm deep.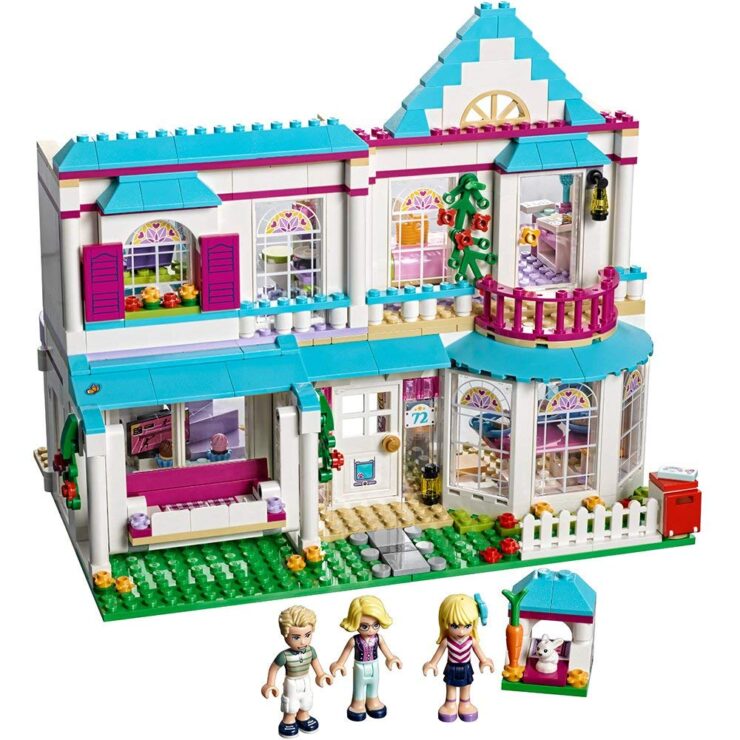 6. Princess Cinderella's Dream Castle Disney Building Set
This toy is an ultimate fairy-tale story which will give kids the opportunity of re-creating the scenes in their own way. It has 585 pieces to build up, so building will amuse kids for a while as will playing with the set afterwards. It has two mini-figures; Prince Charming and Cinderella as well as two mice figures and a foal.
The three-story castle features a dining area and table, pumpkin patch, horse jump and cart, bedroom with an opening secret compartment, balcony with a revolving dance floor and kitchen with a turning fireplace and secret hiding place. So, kids will have loads of fun enjoying some imaginative play after building the model.
This kit comes with accessories like an opening book, glass slipper tile, invitation tile, perfume bottles, hairbrush, jewels, hair bows, cookies, cheese, croissants, pumpkins, water bottle, pan and cooking pot. This helps ensure hours of fun will be had when playing with this set.
The dream castle measures 34cm high, 25cm wide and 12cm deep, and the cart (without the horse) measures 4cm high, 9cm long and 5cm wide.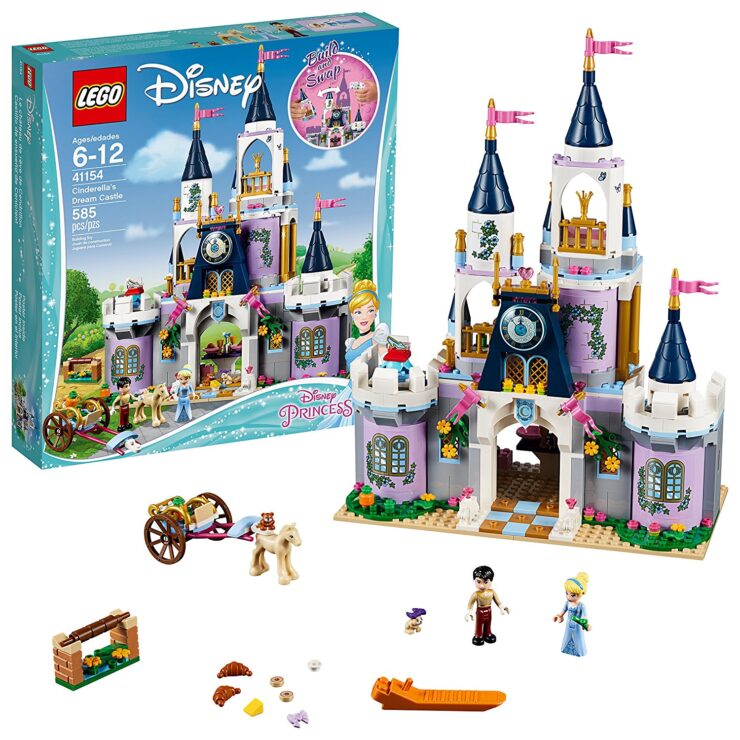 7. Snow Resort Ski Friends Lift LEGO Building Kit
This snow resort ski kit brings great fun to girls! It features a ski slope, mountaintop restaurant, slide function, rock climbing wall, equipment hire stand, bear cub cave and trail map stand. It includes two mini figures, Mia and Olivia, and a baby bear figure.
It has 585 pieces which kids can use to build these features. The Ski Resort, the lift and the slope measures over 7 inches high, 15 inches wide and 9 inches deep. The trail map stand is over 2 inches high, 1 inch wide and 1 inch deep. The mini slope is over 1 inch high, 2 inches wide and 10 inches deep, whilst the equipment hire stand measures over 3 inches high, 3 inches wide and 1 inch deep. It's a great building kit toy for 8 to 12 year old girls.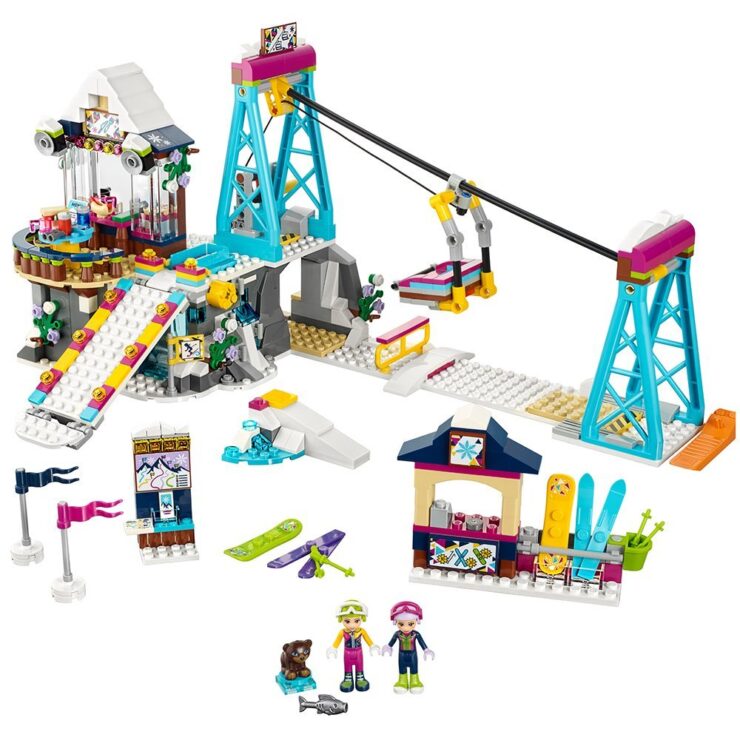 8. Stephanie's Building Set
This building kit set features a souvenir shop, two floodlights (non-functioning), taco bar, shooting function basketball game, outdoor spectator stand, scoreboard and moving ball function tennis court.
It provides limitless sporting activities with its two mini figure dolls Vicky and Stephanie. It has 460 pieces to create all these fun features – kids will love building it as well as playing with it.
This product is best for girls under the age of 12 years old. Each piece is a good size for playing with, yet not so large that building it will take hours and hours.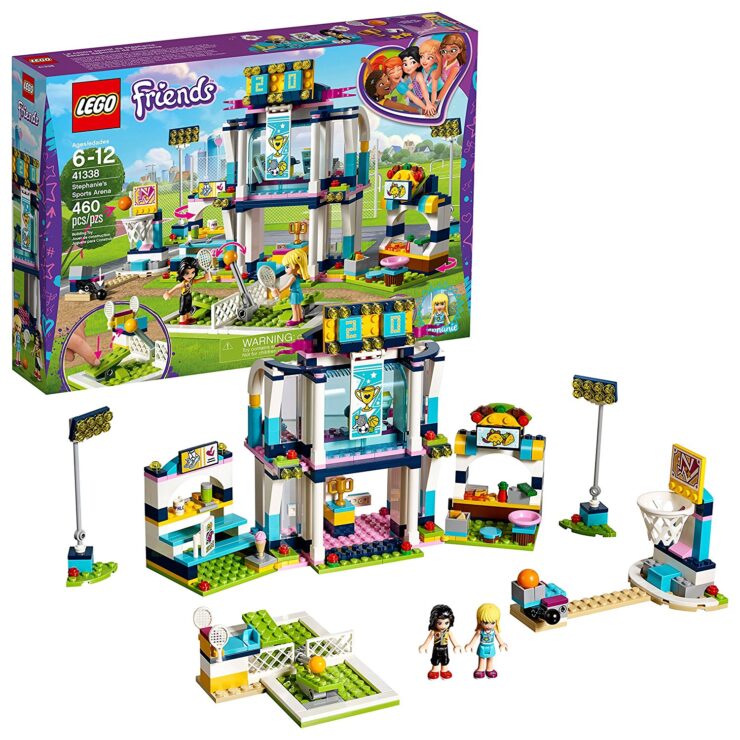 9. The Big Friends Race Day
This is a race building kit, allowing kids to pretend they are getting ready for a big race competition. It comes with lots of features and activities to keep girls amused for ages.
It features 648 pieces to used to create the features needed like a racing event, racing tracks, start and finishing line, 3 go carts with launchers and a winner's podium.
It has mini figures of Mia, Vicky and Stephanie plus Dash the dog, Vega the cat and Twister the rabbit figures. Other main features include a restroom, dressing room with nice lockers and also a VIP lounge for the animals to watch.
This is one of the best gifts or surprise toys for any girl because it features a race track with race cars that can be built or reconstructed themselves. The big Friends race is suitable for kids between the ages of 7-12 years old.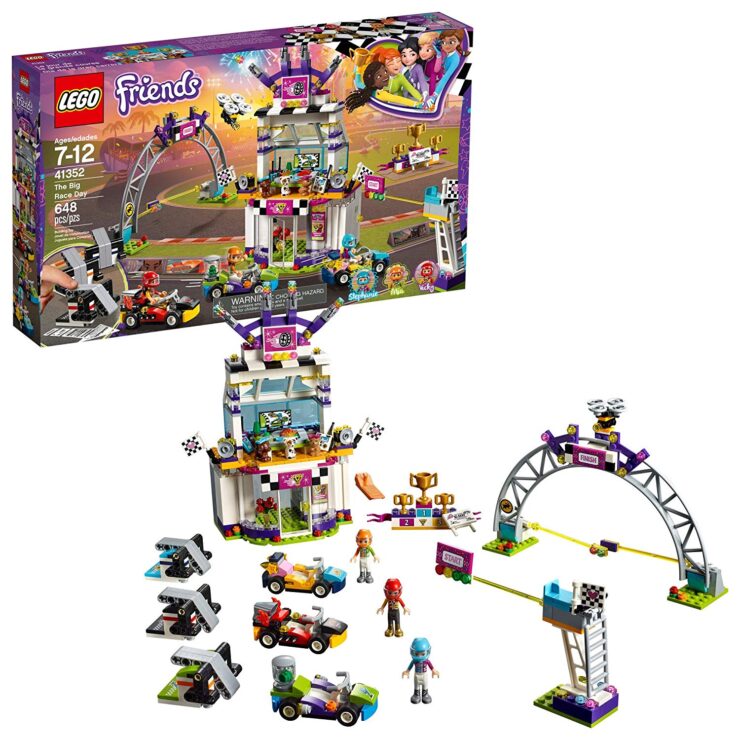 10. Playmags 100 Piece Super Set: With Strong Magnets
This is a magnetic play set which features over 80 magnetic tiles. It enables kids to have fun and learn – the magnetic tiles are used to creative strong and tall 3D buildings and structures.
The magnets are super effective, durable and help the structures merge together. The set is recommended for kids over the age of 3 years old, and it is sure to be enjoyed for many years to come.
This engineering toy develops kids imaginative mindset and curiosity; the will get familiar with different types of shape and learn to solve problems that come with building. The set is colorful and has pieces of different sizes and shapes to offer hours of creative and educational fun.

11. Mia's Friends Tree House
This is an adventurous and creative toy for kids; this LEGO toy offers role play opportunities and also lots of fun building. Here, kids will be building Mia's tree house, a cool skateboard and a folding ladder. The kit also includes two mini doll figure Mia and Daniel and animal figures like a bunny and Cinnamon the pet bird.
Inside the tree house there are accessories like a climbing net, a zip wire and attic with an opening roof. Kids will have hours of fun making the figures explore these fun features!
There 351 pieces to use to create all these features. The tree house play set measures over 16cm high, 17cm wide and 16cm deep. This is the best gift idea for girls between the ages of 6 and 12 years old.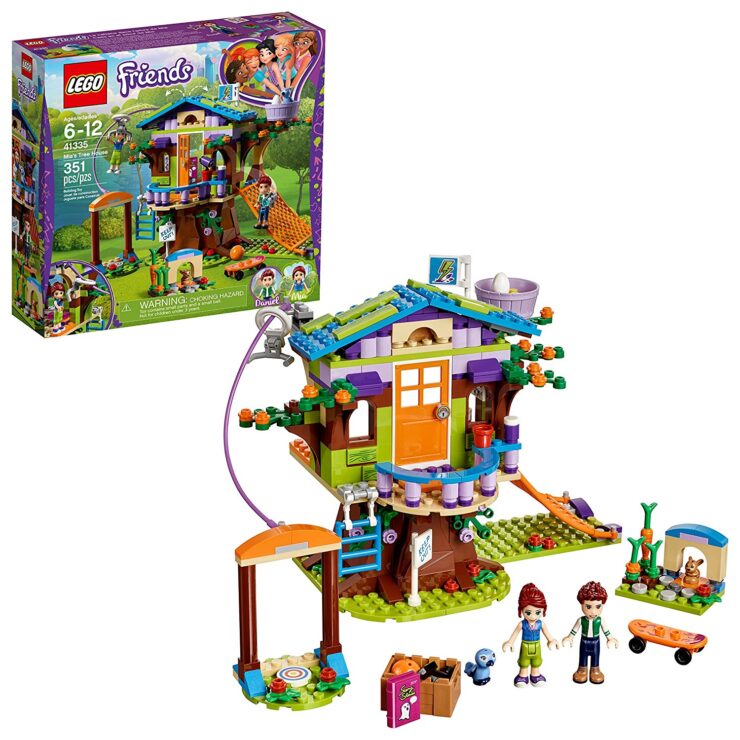 12. Roller Coaster Challenge Building Kit – ThinkFun

This is a roller coaster challenge game, an awesome, fun game which is educational as well. The building set comes with a game board, 39 tracks, 36 posts, a roller coaster car and 40 different mind challenging cards with solutions.
This product comes with an instruction manual that makes it easy to use, learn and understand. It is a very challenging game, kids have to reason and use their planning skills to build and put together the track. This game gives them an interesting learning experience and it is suitable for kids from the age of 6 and above.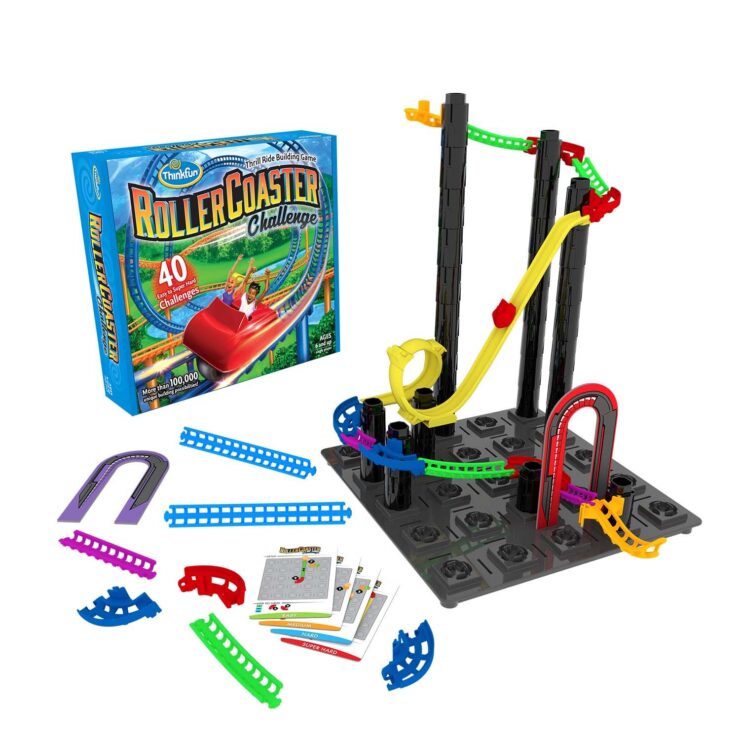 13. Classic Large Creative Brick Box 10698
The Creative Brick Box has 790 building bricks with over 33 different colors. It has 8 different types of doors and windows, two green base plates on which to build, some wheel rims and six tires. This kit is great for kids who are new to LEGO, as they can use the pieces in any way they wish to build anything they can imagine!
The pieces can of course be used and reused over and over again, meaning there is no limit on what can be built. The green base plates are a good size for building all kinds of buildings and structures on, and the wheels are great for making a range of vehicles. This set is best for kids from the age of 4 and above.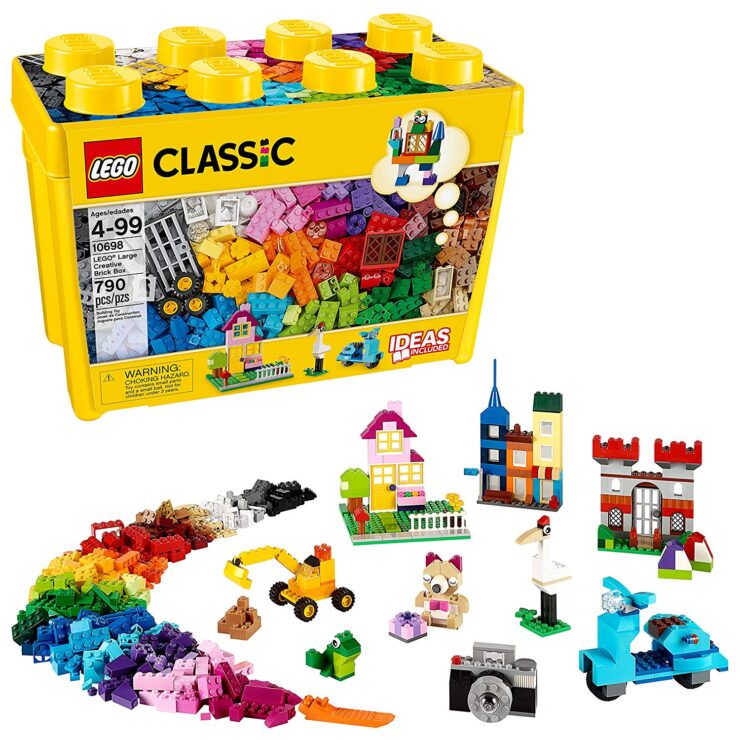 14. Lego Building Kit 4 + Mountain Police Chase/ Juniors
This toy kit has a story attached to help with your child's imaginative play. It is about a chase between a police officer and a crook! Here, kids will have to build a police station that has a jail cell with opening door and safe and a lookout with spyglass. There is a separate quad bike and a helicopter complete with spinning rotors and a chain and hook.
It is simple to construct, with just over 100 pieces. The police station measures 10cm high, 12cm wide and 6cm deep; the quad bike is 4cm high and 5cm wide whilst the helicopters is 8cm high, 12cm long and 10cm wide. It is great for girls between the ages of 4 to 7 years old and is the perfect introduction to building LEGO.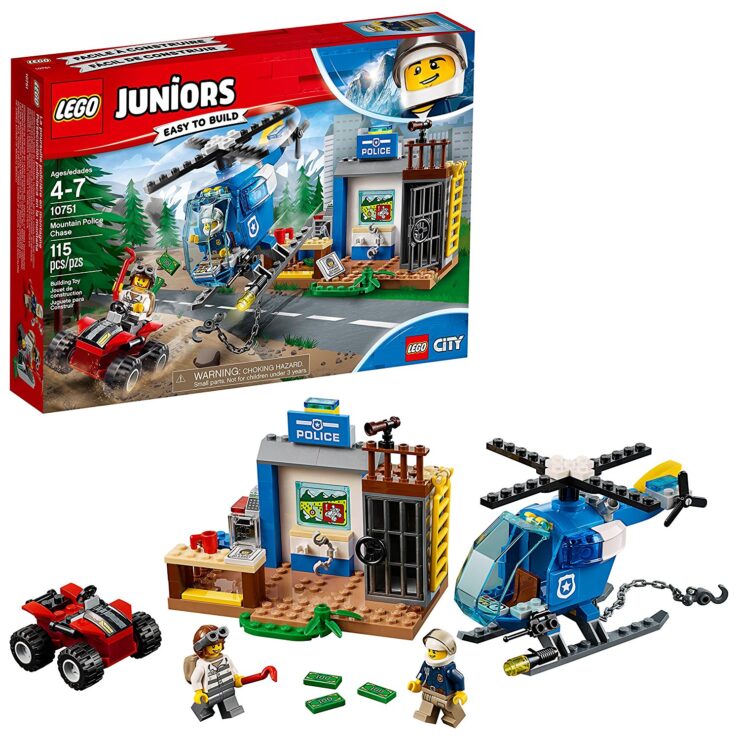 15. Jurassic World Stygimoloch
Ever seen the movie Jurassic Park? That's the idea behind the toy. While building up this LEGO set, you can imagine you are in charge of your own Jurassic world!
The activity includes constructing a laboratory with an observation deck, mini figures of Dr. Wu and guards and also the all important dinosaur figure.
This play set has a dinosaur measuring 15cm high, 15cm wide and 23cm deep – which is a great size for playing with once building is complete. A great gift idea for the budding paleontologists out there and preferably for girls between the ages of 6 to 12 years old. This set is very easy to build so it is ideal for beginners.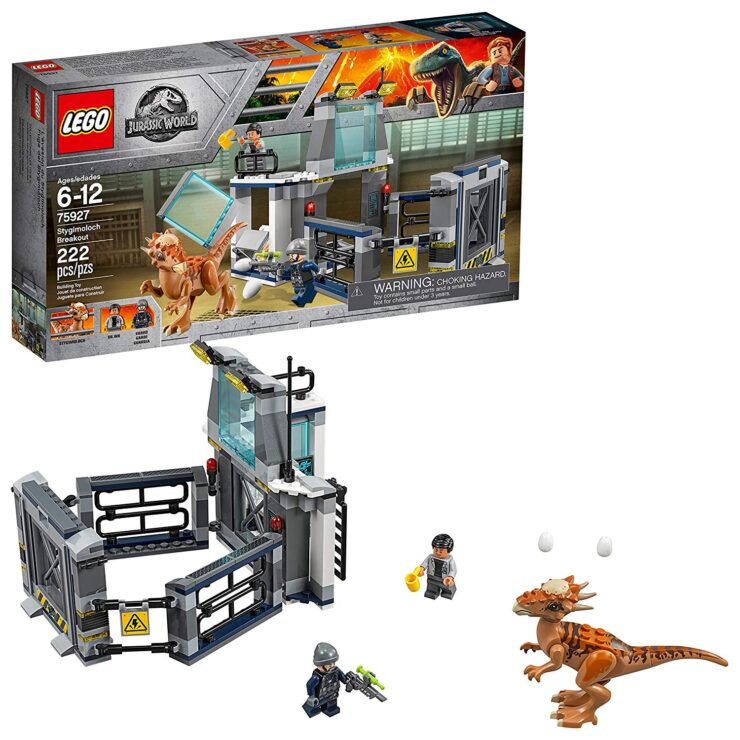 16. Heavy Cargo Transport City
The heavy cargo transport set has many different features; a toolbox and opening cab, heavy truck with bull bars, opening cockpit, exhaust pipes, an extended flatbed trailer, a helicopter with spinning rotors, and a chain.
This kit has two mini figures; a helicopter pilot and a truck driver, it has 310 pieces which can be used to put together all the features and other extra accessories like a wrench, walkie-talkie, mug, box, shovel, oil barrel and a fire extinguisher.
The heavy truck measures over 8cm high, 14cm long and 6cm wide; the helicopter measures 8cm high, 8cm long and 4cm wide while the flat bed trailer measures over 3cm high, 27cm long and 5cm wide.
Tip on how to put together: the trailer has to connect to the helicopter, the rotors have to spin and launch the helicopter off the flatbed trailer also the helicopter chain should be hooked to the oil barrel to move it to the site. Girls from the age of 5- 12 years will understand this kit better.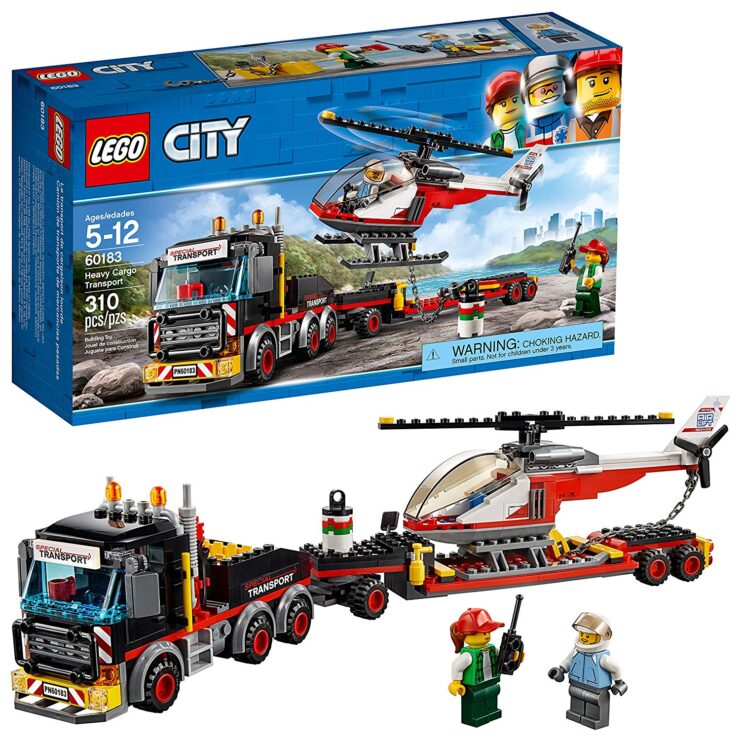 17. Creative Classic Suitcase 10713
As the name implies, the Creative Classic LEGO toy nurtures your child's creativity. The yellow storage case is perfect for keeping all the pieces neatly together when not in use.
There are many different bricks in the case which will allow your child to build whatever they want. There are over 210 pieces which include; different bricks, shapes, wheels and eyes. The suitcase is 26cm high, 28cm wide and 6cm deep.
This building kit can be used to create different kinds of house buildings, creatures, vehicles and so on; it's quite an interesting kit to use for creative minds. It is suitable for kids over the age of 4 years old.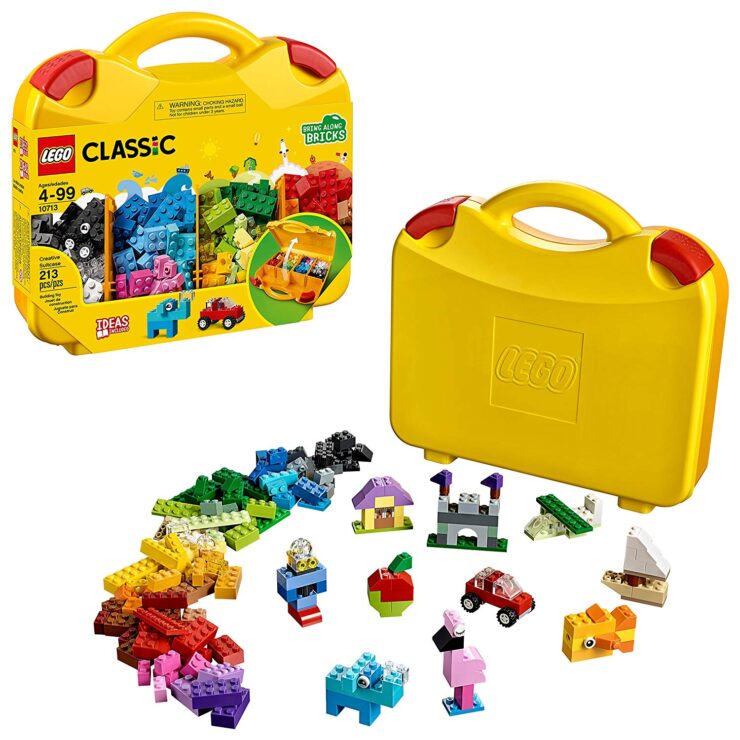 18. Creator 3in1 Cruising Adventures 31083
Jump aboard the yacht and sail off on your next adventure!
This set has three mini-figures that are ready for a fun adventure. It has 597 creative building bricks that can be used to create other features like a beach house, scooter, and luxury yacht .
The yacht itself has 4 hull-mounted life preservers and also comes with a surfboard, palm trees, fishing rod, water scooter and a sand castle.
It's an imaginative play set for girls between the age of 9 – 14 years old. The measurement of the luxury yacht is about 27cm long, 16cm high and 10cm, offers a 13cm wide, 19cm deep and 9cm high beach house.. This kit can be used to build other creative features.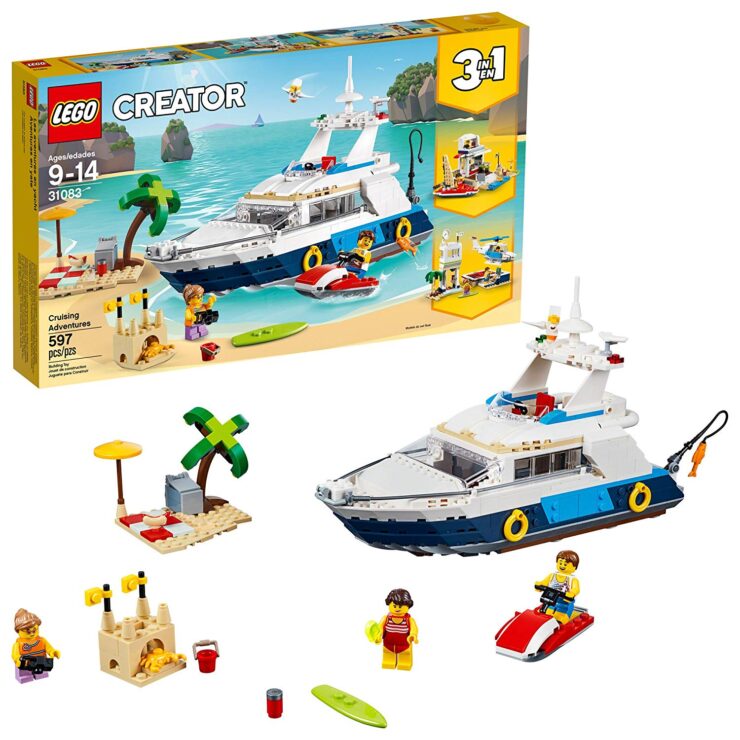 19. Outdoor Adventures People Pack Building Kit
A great pack with some fun figures and accessories reflecting lots of different characters. This easy to use set has a bunch of mini-figures; here we have 14 different figures including a selfie stick man, a teenage girl glued to her phone, the sporty mountain biker and a majestic eagle!
This kit also comes with a dinghy, log pile, mountain wall, tent with opening flap, a mountain bike and a sign post with other accessories like two life jackets, camera, lantern, two paddles, three helmets, backpack and a fish.
The tent measures 6cm wide and deep, 5cm high; the mountain wall measures over 3cm deep, 7cm high and 3cm wide. This kit has 164 pieces for fun; it's an adventurous toy for girls between the ages of 5 to 12 years old.
Tips – kids can have fun with: building up the tent first before hiking and paddling out on the white water dinghy. You can also hop on the mountain bike and jump off the log ramp.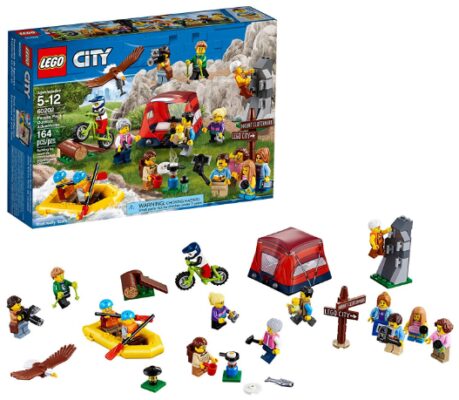 20. Passenger Train Lego City Building Kit
The passenger train kit is motorized with an engine – this is entertaining for kids of all ages! It has 4 mini-figures included; the train conductor, the attendant and two passengers.
The kit can be used to build a train, platform, signals, 2 cars and a circular track offering various layouts. You will also find a remote control included, which gives kids control over the motorized train with 10 speeds. The remote is operated using Bluetooth connectivity.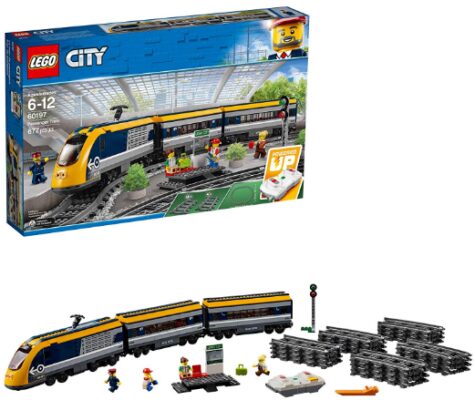 21. Caravan Lego Building Kit
This play set has 344 pieces which can be used to create the features of this game, an astonishing truck with a hitch, a big caravan with opening side, door, removable front roof and furniture and an extendable leg.
This playset has three figures; a dad, mom and son figure as well as a crab. This kit is best for girls around the age of 5 – 12 years old. They get to have experience in role-play while having fun with some of the activities in this LEGO kit. It is not a game limited to just girls; boys as well can have fun with it and for more boy lego check these out.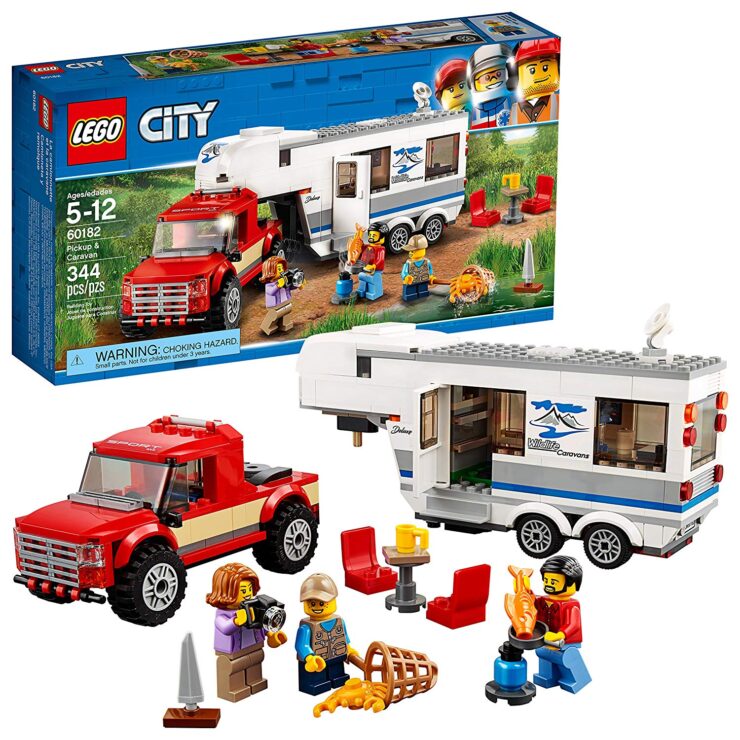 22. Engineering Building Set with K'NEX 100 Model
This building kit helps kids develop their mental growth – they learn how to assemble several parts and understand how they work. They are able to coordinate different skills and also solve different challenges and problems faced, as well as having the opportunity to exercise their creativity and imagination.
It contains over 860 pieces which can be used to create more than 100 different ideas. The pieces come in a storage suitcase, so they don't need to be scattered around. It's easy to access and reach if after use it is returned to the box.
There are more than enough pieces for kids to construct in different ways. There are different shapes, figures and structures to be built – this kit comes with an instructional booklet which guides kids through the creation of 100 outstanding designs with full illustrations.
K'NEX connectors and rods are put together and created in Hatfield, Pennsylvania USA at a manufacturing facility that is landfill-free, so this is the perfect toy for eco-conscious parents. This K'NEX set is great for encouraging an interest in STEAM and will help make your child more imaginative and inquisitive.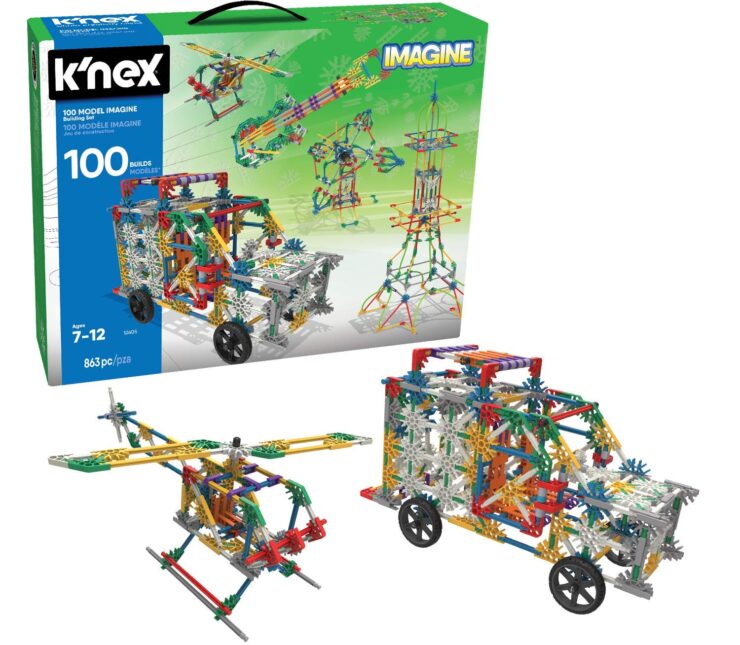 23. Masters of Spinjitzu NINJAGO Set
Here we have a unusual girls toy set, but something that gets the imagination going and for those who love dragon toys then this is a great pick.
The Dragon has opening jaws with scary lightening shooters and a dangerous swinging tail. This set comes with 4 mini figures and an array of weapons. Containing 493 pieces, the dragon measures 12 cm high, 49 cm long and 14 cm wide. For other great Ninjago LEGO ideas, click here for Ninjago toys.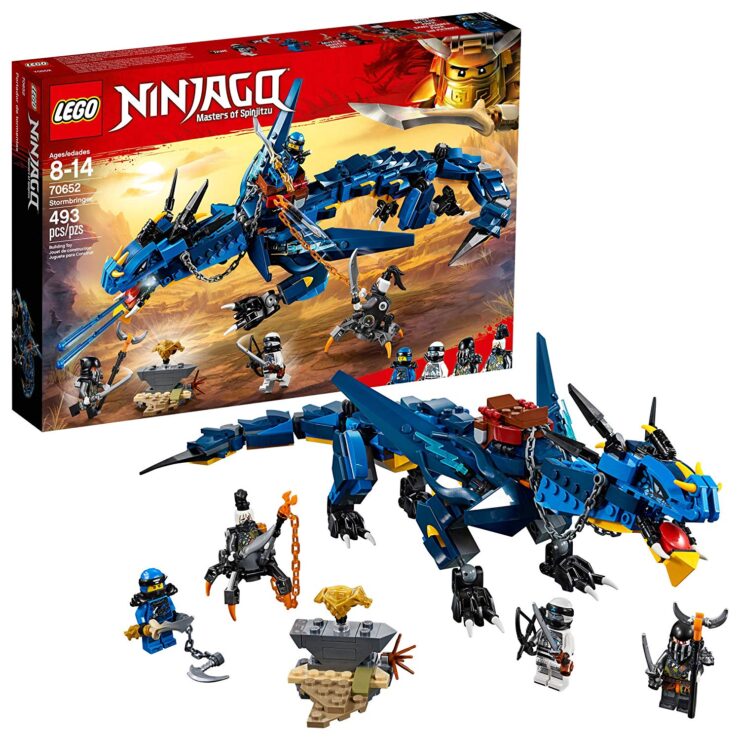 Best Overall Buy
Princess Cinderella's Dream Castle Disney Building set
Every little girl loves Disney! This toy is our best overall buy as it is a magical and exciting way for your little girl to learn and have fun at the same time.
The set comes with great accessories and secret hiding places, which help to create that fairy-tale story.
It has easy to follow instructions and will be a great gift for your little princess.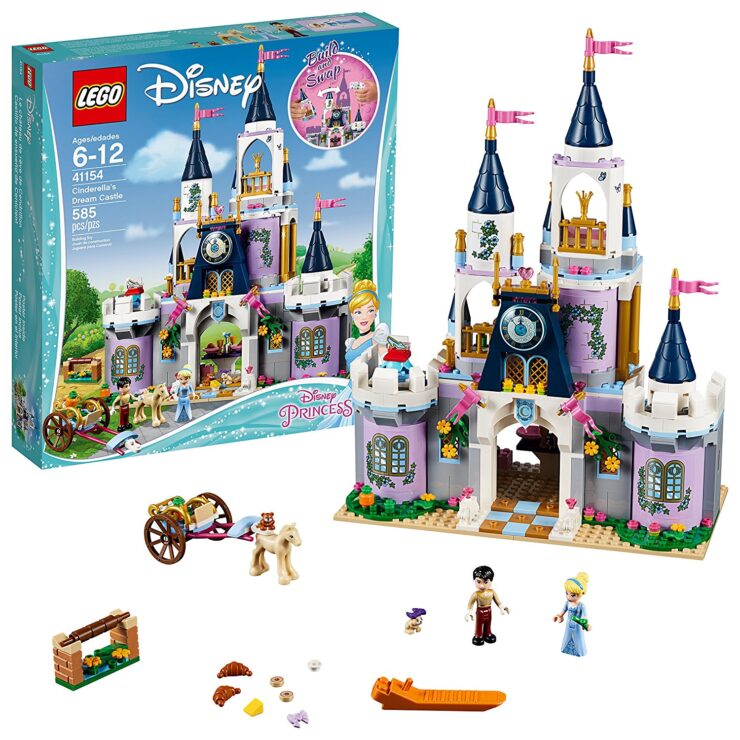 Best Budget Pick
Emma's Art Stand Building Set
This is a brilliant buy for those on a budget. This great LEGO set will nurture the artistic and creative side of your child.
It is great value for money, with loads of hours of fun and easy to build for girls that are new to LEGO.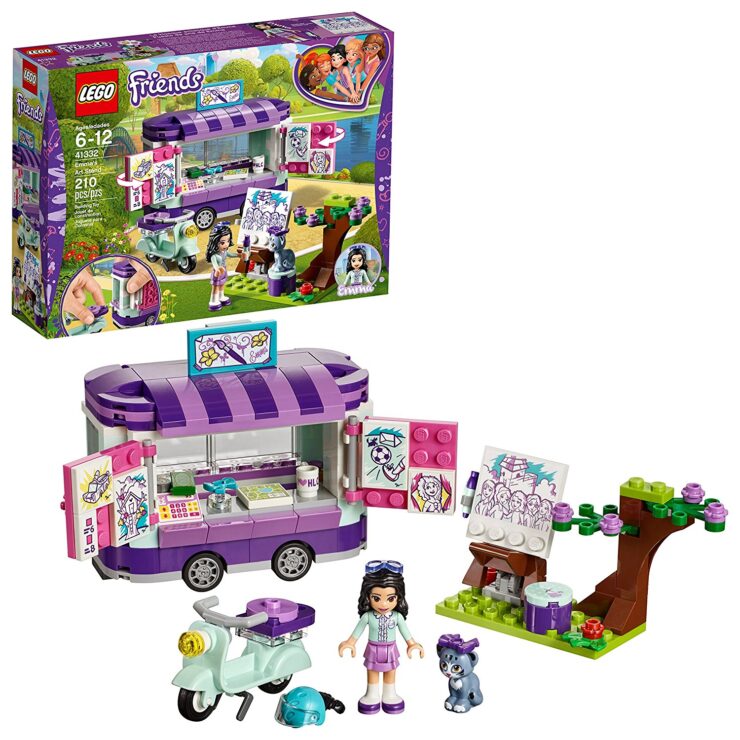 Have a look at some other interesting choices: