Tonka trucks for kids has been around for a very long time, and is still one of the most popular brands that children love to play with because of its durability. Made for the toughest kids and outdoor construction tasks, Tonka toys offer your child the opportunity to learn, play, and reach important developmental milestones relevant to their age group. Toy trucks will stimulate your child's imagination while helping them to understand real life concepts through intuitive play. The special features incorporated on these trucks allows your child to explore the different environments around them, and assist them in developing important language skills essential for meaningful interactions with others.
Considerations When Choosing a Toy Tonka Truck

When selecting a toy Tonka truck for your child it is essential to first consider their age group. It is very important to invest in something that will keep your child engaged and entertained while they play, learn and develop new skills. Size and features are also an important factor to consider when choosing the perfect Tonka toy. While a three-year-old might get excited operating a Tonka truck that has realistic sounds and flashing lights, an older child age 6 – 8 years old may feel that these features are practical and prefer something that they can use outdoors to dig and build with. Lastly, select a toy that is safe to operate. Young toddlers would benefit more from large size toys, as opposed to mini sets. Here is a list of Tonka truck toys your child will appreciate in 2023.
Best Tonka Trucks for Kids in 2023
1. Tonka Classic Mighty Dump Truck
Get ready for loads of construction fun with Tonka dump trucks for kids. With its moveable steel bed that allows your child to load and dump everything from sand to rocks, and other materials, your child will feel like they are on a real construction site. Plus, its large size and push and play feature is perfect for helping toddlers grow and nourish their gross motor skills, and creativity through pretend play. Tonka Mighty Dump Trucks are built for the toughest loading and dumping jobs indoors and outdoors, and will never fall short of meeting your child's objectives.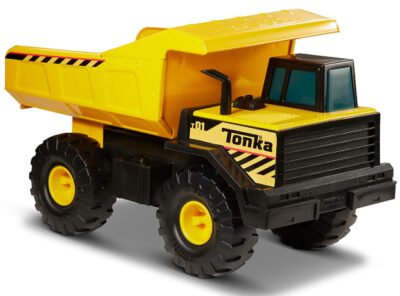 ,

2. Toughest Mighty Dump Truck
Watch your child's imagination come alive as they explore the world of construction with the biggest, toughest mighty dump truck that you won't find anywhere else. This is just one of the many Tonka toys that guarantees your child quality play time, and is built to last. Equipped with a flexible steel bed for incredible dumping action, your child will stay engaged and entertained moving various items around and dumping them in huge piles. Designed for the toughest kids, this giant Tonka truck is a fantastic tool that your child can use to create stories, explore meaningful characters, and make real life social connections through imaginary play.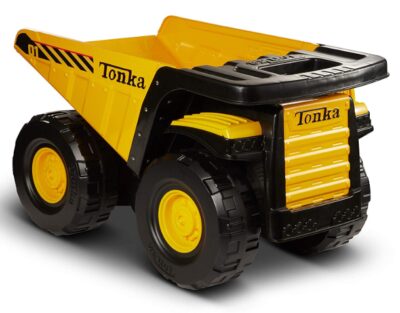 3. Tonka Steel Trencher
A popular edition to the Tonka metal trucks for kids is the exclusive Tonka Steel Trencher. These metal Tonka trucks are exemplary for younger children who love playing outdoors. With dynamic features that include a mobile scoop, a dump bucket, and a back hoe to dig trenches and create tunnels, your child's imagination can run wild while they play. Built with robust plastic and strong steel, the Tonka Steel Trencher will take your child on an adventure while they experience the world around them. Tough enough to withstand the hardest falls, your child will appreciate the steel Tonka trucks ability to complete the hardest construction tasks.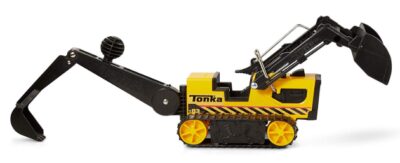 4. Tonka Steel Excavator
Learn what it means to be an excavator with this exact replica of a real excavating vehicle and haul dirt around all day long. Simply use the handles to move the arm and scoop up dirt to feel like you are on a construction site. Your child will never be bored with its free-wheeling push and play action. This toy would make a perfect addition to other Tonka truck construction vehicles for fun on the beach, or in your very own back yard. The cognitive and physical benefits of playing with the Tonka Steel Excavator vehicle are endless and worth the investment.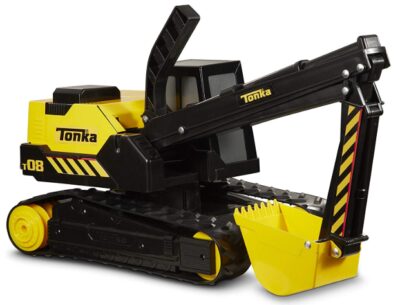 5. Funrise Tonka 4×4 Pickup
Gear up and drive on the most demanding roads and trails with the Funrise Tonka 4×4 Pickup truck, and get ready for classic towing action and a whole lot of fun with friends and family. Hook up trucks, cars and other toy vehicles using its winch feature. It is simple, easy to use, and perfect for boys and girls of all ages. This toy is perfect for a genuine backyard adventure when it's sunny outside, and great for indoor entertainment when it's too rainy to go out. Designed to last a life time, plastic Tonka trucks combine quality with free-wheeling mobility that will keep your child busy for hours and hours of play. Kids can race through the house, or tow away their friend's old Tonka trucks and other toy vehicles to be fixed. Tonka Funrise 4×4 Pickup is packed with loads of fun.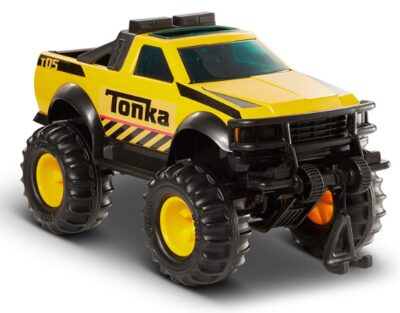 6. Mighty Motorized Fire Truck
Experience what it's like to be apart of an emergency response team, with the Mighty Motorized Fire Truck. This plastic Tonka truck is made strong and built to endure fast turns and abrupt stops as your child races throughout the house to put out fires and save lives. Complete with an extending motorized ladder that rotates, realistic sounds and hyper-lighting, kids can create amazing stories and be entertained while they perfect their language and motor skills. The Tonka Mighty Motorized Fire Truck is excellent for helping your son or daughter understand important social concepts, make meaningful connections with real-life events, and develop effective problem-solving skills through pretend play.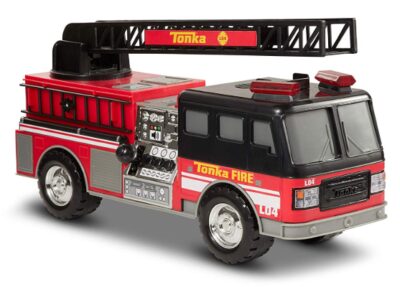 7. Power Movers Cement Mixer
Tonka introduces the latest innovative motion drive technology with the 12-inch Power Movers Cement Mixer fashioned to optimize your child's entertainment and fun. Flashing bright lights and realistic sounds are just a few of the unique features that will arouse your child's senses as they learn and play. Push or pull the truck forward to hear the revving sound of the engine, and move the truck backward to hear it beep as it is backed up. That's not all, you child can manually rotate the cement mixer to listen to the hydraulic sounds. The truck requires batteries to operate all the listed features, and is perfect for younger children, as well as kids at the junior stage.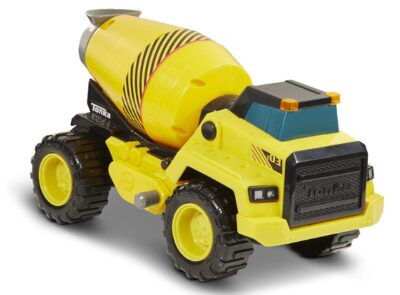 8. Retro Classic Bulldozer Toy
This model takes you back in time – vintage Tonka trucks are still as popular as ever! Clear pathways, dirt, and messes on the playground by lowering and raising the blade just like a real bulldozer. Again, this is another free-wheeling push and play Tonka truck for kids that allows your child to stay mobile. Pair up the Retro Classic Bulldozer with the Tonka Mighty Dump Truck to create the ultimate construction site. Story-telling and building fun is endless.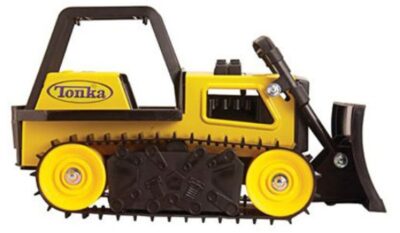 9. Tonka Mighty Motorized Garbage Truck
Powered up with triple A batteries, the Tonka Mighty Motorized Garbage Truck is easy to maneuver and operate using hands on control. Taking out the trash and cleaning up the streets has never been this fun. The toy truck is green in color and is a great way for kids to gain in-depth understanding of service workers and the important role they play within their communities. You can incorporate additional accessories such as the garbage truck trash cans for an even more realistic feel. The garbage truck makes sounds when the belt is lifted and lowered to provide effortless dumping action. This is another marvelous addition to Tonka's plastic truck editions.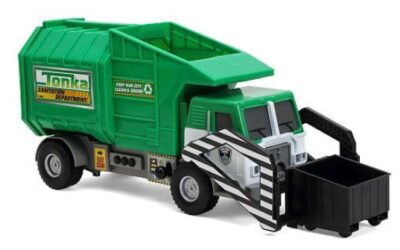 10. Tonka Steel Bulldozer
Similar to the Retro Classic Bulldozer, this particular Tonka truck for kids is excellent for clearing away just about anything, and is built to endure the harshest chores your child can think of while playing outdoors. Its handy blade lets your child demolish just like a pro. The Tonka Steel Bulldozer will help them to develop strong and effective problem-solving skills. Like every Tonka truck that is crafted for young boys and girls, this toy is built to last a very long time and won't fall apart due to accidental drops and hard bumps while playing outdoors.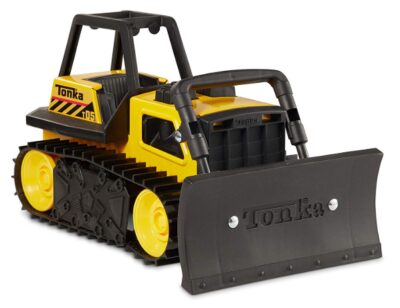 11. Lights and Sounds Garbage Truck
Join the rescue squad with the Lights and Sounds Garbage Truck from the Tonka Rescue Force series. These Tonka trucks for younger kids are ideal for keeping them busy and amused while they play and learn. There are three different buttons to press to produce lights and sounds. The garbage truck is 11.5-inches long which is excellent for a toddler's grip. Your toddler will learn hand and eye coordination as they pull and push their truck around. They will also be able to explore their primary senses and make connections using touch, hearing and seeing. You will need to purchase batteries for the truck to operate efficiently.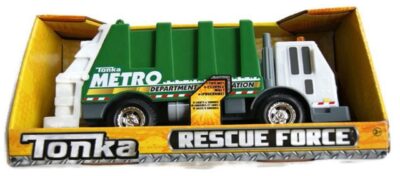 12. Tonka Tinys Mystery Garage
Wonderful for older children who enjoy the sturdy damage proof design of Tonka toy vehicles, Tonka Tinys Mystery Garage is a collectible edition that will amplify your child's amusement and maintain their curiosity through hours of free time. The Tonka dump truck set comes with three mystery vehicles and a mystery garage so your child can explore countless story-telling possibilities. Great for indoor use and outdoor fun because the set is completely portable and does not require any adult assembly. Whether your child is playing with friends, siblings or alone, they will always experience the best of what Tonka has to offer with these mini Tonka trucks.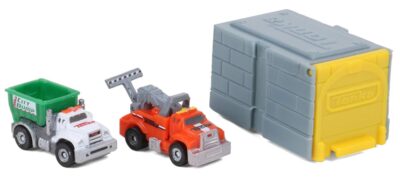 Overall Best Buy
Devised with multiple features such as the extending motorized ladder that rotates and moves up and down when the lever is pulled, flashing hyper-lighting, and realistic sounds, the Mighty Motorized Fire Truck is definitely our 2023 Tonka Truck best pick.
Not only is it made from high-quality plastic material that is built to last a lifetime, but this particular toy is a great resource that allows your child to develop keen problem-solving abilities, incredible language skills, as well as social skills. Since fire-fighters are an important part of the emergency response rescue services within our community, children will gain an in-depth understanding of the importance of empathy and what it means to help others within their community while interacting with the toy.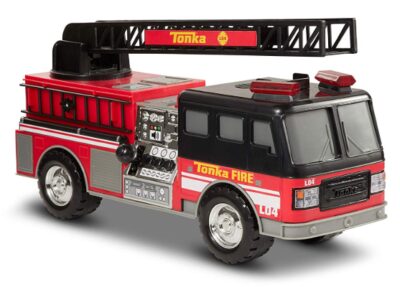 What are the Benefits of Playing with Toy Trucks?

It's a well-known fact that kids learn while they play, and they are always discovering new things when exploring various environments around them. Toy trucks are designed for various age groups from toddlers to children in the junior stage, and promotes fundamental physical, cognitive and social skills through toys that make pretend play feel real. With Tonka toys, your child can learn more about building and construction, along with the role of emergency rescue services and other essential services within their communities. The best part about Tonka toys is their quality, strong, damage-resistant plastic and steel construction that guarantees that your child's toys will last long. Although some trucks are battery operated, the larger toys do not require assembling and are portable, so your child can have fun inside, outside, at the beach, or in the car.
At What Age Will my Child Enjoy These Toys?

Since there are a variety of different Tonka truck vehicles that range in size from large to small, and most of them provide free-wheeling push and play action, your child will enjoy playing with these trucks from an early age. In fact, you can find kids Tonka trucks for 3 year olds and above.
The big Tonka trucks are simple and easy to maneuver, so won't have to worry about your child feeling frustrated or anxious while playing with them. There are also Tonka mini sets so their learning and exploring continues as they reach different developmental milestones.