Are you looking to find the best fire truck LEGO set for your toddler? Most of us have probably owned some LEGO or played with a fire truck toy in our lifetime and that shouldn't be any different for your child. When looking for these kinds of toys a great place to start is with LEGO activity sets.
LEGO is a household brand that has been around for many years, a safe secure creative toy that will offer no nasty surprises. A great promoter of educational play, providing spacial awareness skills, hand-eye coordination, the ability to follow clear concise instructions, and gaining confidence to build something by themselves. With lots of different options, these sets are great for kids of different ages and abilities, including options of fire trucks for 2 years in the Duplo range, and more advanced levels of construction play with the 'Expert' ranked best fire truck toys.
When choosing a LEGO set for your child there are a few things that you should think about rather than picking up the first box you see which kind of matches the description that your child has asked.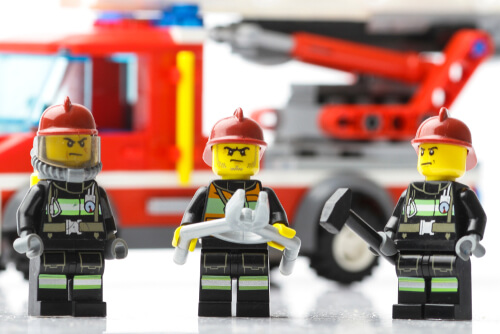 Considerations Choosing Toy Fire Trucks for Toddlers
AGE – Age is a big thing to consider. LEGO in all of their sets offers different ability ranges, from the DUPLO set aimed at toddlers, the junior sets that are for first-time lego users who are a little older, and the standard sets for more advanced LEGO builders you may have in your house.
Theme –  With these different sets, some altering themes can be within each box, the main creative construction element of LEGO is achieved in all of the products but it may not only be fire engines that your child is interested in, There a lot of franchised sets that offer vehicles and buildings from different films and TV programs. Finding a niche that your child already has an interest in is a great way to get them enthused about using LEGO.
Pre Existing Lego –  A great feature with LEGO sets is that they are compatible across the ranges, making the fun last forever and the only thing slowing your children down is imagination. Creativity is really encouraged if you're combining sets together ignoring the instructions and just building something unique and fun straight from your child's head.
Price –  With each different LEGO set there comes a different price tag. If you re choosing a franchise you are going to paying a little bit more money than you would do on a sole LEGO venture. The size of the set is also going to alter the price tag, normally being the more pieces the set includes the higher the price, so a cheaper alternative could just be a smaller set.
15 Best Fire Truck Lego Sets in 2023
1. Lego City Fire Station 60110
Fireman toys for 6 year olds can help with loads of things, especially creating imaginary scenes of playing with these everyday heroes. Build a massive fire station and hot dog stand. Loads of characters and vehicles are included in the box, such as a fire truck, a helicopter, and a fire chief car. There are 4 male firefighters included in this set, a female firefighter a dog, and a hotdog stand. The set has a massive 919 pieces and is aimed towards children between the ages of 6 and 12, as this set includes a lot of small pieces and different accessories. A really good size set that any child would really enjoy playing with. LEGO is great as well because it is an educational toy, learning how to follow instructions, hand-eye coordination, and building self-confidence when the toy is complete. If the instructions aren't your thing you can use your imagination to create endless different ideas as this set is compatible with most of the other products that are available from LEGO.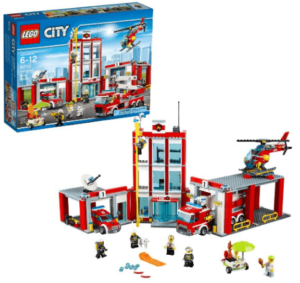 2. Lego 60231 City Fire Chief Response Truck
Build this cool fire truck that has an opening roof to make role-play action more fun. The extendable water cannon with a shooting function will put out any of the LEGO fires in no time at all. Inside this LEGO set, there are 2 mini-figures, Freya McCloud and a firefighter with helmet and ax. The removable ladder fits perfectly on top of the truck and the electrical box that is set aflame has opening doors for a more lifelike touch. This toddler fire engine measures 6 cm high, 16cm long, and 7cm wide, so it is a greater size for your child to drive around and handle with their hands. The 201 piece construction set is compatible with other LEGO sets, making the creative fun grow and grow with each new set that you get for your child. The Fire Chief Response Truck from Lego city makes an amazing gift for kids, introducing the creative play, recommended for kids aged 5 and above.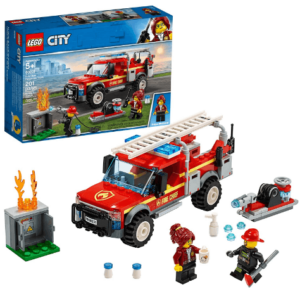 3. Lego City Burger Bar Fire Rescue 60214
The Lego Burger Rescue sets a scene of a burger restaurant that is on fire, and with the help of the fire truck and fire motorcycle the fire will be extinguished in no time at all. This buildable fire truck toy with rotating back end has 2 storage compartments and a directional pump with a water-jet function that simulates the firing of water to put out the fire. A burger bar and sign are included which is the building that is on fire. Three LEGO figures are included with 2 firefighters and a grill chef. The Firetruck toy with water pump cannon is over 3-inches high, 5-inches long, and 2-inches wide. The burger bar and sign together measure over 6-inches high, 4-inches wide, and 2-inches deep. A great sized set overall recommended for both girls and boys over the age of 5. This 327 piece kit comes with instructions but can also be used for creative play, getting your child to use their imagination.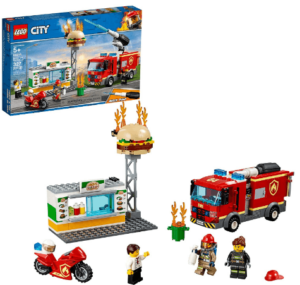 4. Lego City Downtown Fire Brigade 60216 Building Kit
This Lego set is aimed at children of 6 years and above, including lots of different things to construct and a lot of accessories. Included in the box is a fire truck that you build working lights and sounds, with an extending swivel ladder and swivel crane, that works with a winch system. The fire hose has a pump system and function that simulates water jets in a LEGO style. there is a massive 3 leveled building which the crane can reach to the top of, a helicopter, and a 3-stud shooter that is a really fun build. Loads of different builds so definitely a more advanced kit. Seven LEGO City characters are included in this set featuring 2 construction workers, 4 firefights, and a pilot for the helicopter. The scene is really set with a burning building with a lamppost, toilet, and construction are which measures over 10 inches in height. The Fire ladder truck measures over 3-inches, a crane measures over 9-inches high, and the helicopter are 3 inches in size. All great sizes for stimulating role-playing action fun. A great set fr any creative more advanced LEGO builders out there.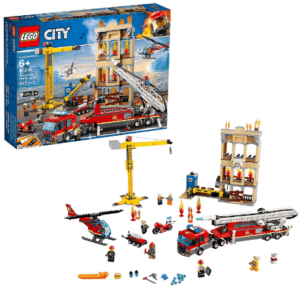 5. Lego Creator Winter Village Fire Station 10263
For a more festive feel, your child can build this festive winter village scene with a double level fire station. This is the oldest age recommendation in our list aimed at kids 12 and above, this is due to the big 1166 pieces that take to complete this build, definitely one for more advanced LEGO builders. The set includes a 2 tiered fire station, a fire truck, ice skating rink and Christmas tree with Christmas decorations for extra festivities. There are 6 different characters including firefighters, a dalmatian figure, a buildable snowman and a child figure wearing a moose sweater The firehouse building is over 23 cm in height, 25 cm wide and 14 cm deep, with an opening set of doors which has space for the 6cm high fire truck. An amazing festive LEGO fire truck toy for kids, but definitely for the more experienced LEGO users as there is an 'Expert' rating given on the box for buildability.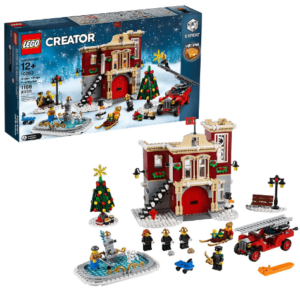 6. Lego City Fire Station Building
Kids will be able to build a 3-level fire station with a scout tower, toy garage which is separate and an off-road toy truck that has a new light and sound building brick included in it. This amazing fire station toy set will let your little ones create endless amounts of rescue adventures. Four Lego mini-figures are included in the set, a fire chief, firefighters, and also a fire dog figure. An added extra is the toy drone that kids can enjoy which has spinning rotors, and also a water scooter which will get to the fires quickly and easily. Perfect for boys and girls aged 5 and above with a keen interest in engineering and creative-minded play, they can become everyday heroes with this role-playing fun. In this set there are 509 LEGO pieces and is compatible with other sets, promoting imagination play in a strong unique way. The 3 level tower being 11 inches in height, 8 inches wide, and 10 inches deep it is a great size for younger children. The fire truck fits into the garage area of the station and the drone has an area to land on top of the roof.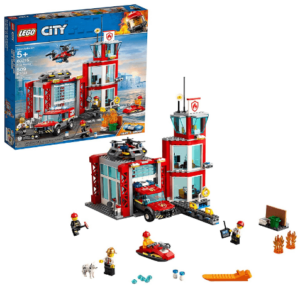 7. Lego City Fire Emergency 60003
The best toy fire trucks for kids are always multi-functional, and Lego is great at this. A real household name and brand you can trust, LEGO has created this kit for children between the ages of 5 and 12. It contains a fire truck, a house and 3 figures. The figures are all firemen, wearing uniforms and helmets, which can also hold and use different accessories such as an ax or a saw for some great role-playing fun. The fire truck features an extendable ladder that rotates around so the fires can be tackled at all angles and positions and a retractable hose that reaches to the top of the ladder when fully extended. The hose also features a water element looking that it is spraying water all over the house. The abandoned house features a street light, trash can, and retractable flames to really create a perfect setting for this action scene. Measuring 5 inches tall, 4 inches wide and 2 inches deep, a great size for stimulating fun.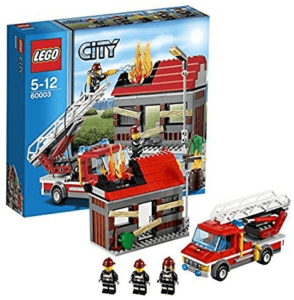 8. Lego City Fire Utility Truck 60111
The utility truck set from LEGO lets your child keep the TV stations on air by battling the fire that is blazing. The set comes with a truck and trailer with an extendable crane, and also 3 figures of 2 Firefighting LEGO men, and one TV station worker. Recommended for children between the ages of 5 and 12, this trailer has an extendable hose that reaches to the top of the bucket that is at the end of the crane. Accessories all fit in the toolbox that is provided. As with a lot of LEGO products, this kit is compatible with many other sets keeping the creativity alive, broadening imaginations of young kids.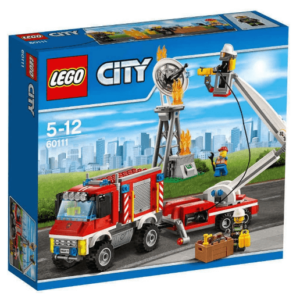 9. Lego City Fire Station 60004
Fire truck toys for kids like this set have loads of options. The set includes a massive fire station 12 inches high and vehicles like a fire truck, a helicopter, and the fire chief's car. These different vehicles give loads of different styles of play, keeping kids entertained and enthused. Four different male figures and 1 female firefighter are included as part of the team to help put out the fires, also a hot dog guy who sits outside the buildable hot dog stand. there is also a dog LEGO figure. This set contains a massive 919 pieces and is open to lots of different role-playing games with a variety of buildings and vehicles that are available to build. Recommended for boys and girls between the ages of 6 and 12, this set is for children a little older. The set is compatible with other construction sets from LEGO keeping the creativity going on and on.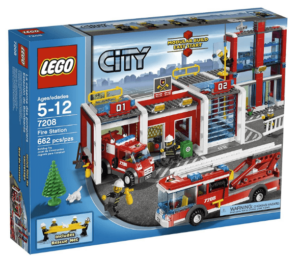 10. Lego Duplo Town Fire Truck 10592
The LEGO Duplo series is aimed at toddlers at a much younger age, with the bigger pieces and simple instructions and construction, your child won't become frustrated when trying to assemble this amazing firetruck. Spark imagination in young minds with a DUPLO Town fire truck with a crane that is moveable, helping to put out the fire that is in the building window, which opens as well. the retractable fire hose will reach from the truck to the top of the fully extended crane fixed onto the fire vehicle, so your kids can extinguish the child-safe flame LEGO piece. The set includes a lego duplo fire truck figure who fits in the bucket easily. A great way to introduce your child into the world of creative construction.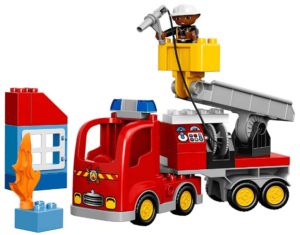 11. Lego City Fire Ladder Truck 60107
For a large toy fire truck, there is this 204 piece set. The truck features an extending ladder that can spin 360 degrees and a pull-out fire hose that soots out studs to symbolize water. Includes both a female and male firefighter. Move the extendable ladder on top of the truck, and position to put the fire out. Compatible with all LEGO construction sets, making the fun last forever and keep getting bigger and bigger. Recommended for both boys and girls between the ages of 5 and 12, this is due to the stud-shooting hose that could be a choking hazard in the hands of younger children. The fire truck is 3 inches high, 7 inches long and 1 inch wide a great size to hold and move along the playing surface your child is using.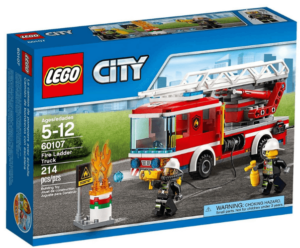 12. Lego Juniors Fire Patrol Suitcase 10740
Fire truck toys for toddlers are great, and with this junior set from LEGO a convenient box travel case is included, making playtime easy anywhere that you go. The junior LEGO sets are great as they are compatible with all construction sets from the brand, building creativity the more sets that you have. This take-anywhere toy for your child features an easy to build fire rescue adventure with pieces that are simpler than the usual bricks you would find in normal sets, including instructions for your young builder. The sturdy carry case contains a 110 piece set recommended for ages between 4 and 7. There is a male and female firefighter with tools and accessories needed to have loads of role-playing fun. The fire truck with trailer is love 7 inches high and 7 inches long. The bucket on the trailer is extendable to reach the top of the 2-inch high house. A motorcycle is also included in this set, giving loads of fun with the multitude of vehicles available.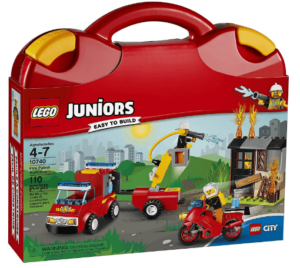 13. Lego City Fire Barbecue Burn out 60212
A fire truck toy for toddlers should be a part of any toybox, and this 64 piece set from lego is a great choice. Watch your child put out fires that have started in the LEGO park from a hot dog stand. The buildable firetruck with extending bucket crane and storage for tools. The great thing about this beginner's LEGO set is the Starter brick which will help your child quickly start building a whole new world, discovering everyday heroes. This set includes a firefighter and a park visitor, and also comes with a full how-to assemble guide that will guide your young ones through the whole process. Lego is also a great tool in problem-solving, following instructions, and growing confidence in themselves. This 64 piece Lego box is for both boys and girls and recommended for children aged 4 and above.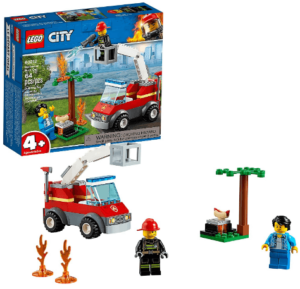 14. Lego City Fire Truck With Ladder
This is one of the amazing Toy fire trucks you can purchase from LEGO. The set includes2 firefighter mini-figures with loads of different accessories that will have your little one putting out fires in no time. These accessories include a fire hydrant, a firefighting ax, a saw, and a fire extinguisher. The firetruck itself features an extendable ladder on top of the truck which has a rotating base for more maneuverability. Your little one can really experience the thrill of being a firefighter with a real water element used in the retractable hose, and an opening hatch is placed on the side of the truck where all equipment needed is stored. This toddler fire truck is a good size measuring 3 inches tall, 6 inches long, and 1 inch wide. A great toy for kids, with a recommended age range between 5 and 12.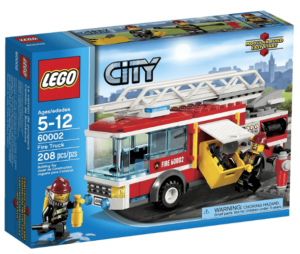 15. Lego City Fire Station Truck And Helicopter
A best toy fire truck set has to include loads of different things, and this set does that keeping your kids entertained for hours. This kit includes 5 mini-figures, a fire chief, pilot, and 3 firefighters with varied accessories. A great size measuring over 38 cm long, 31cm high and 25 cm wide. This set includes a helicopter with spinning blades, a fire van, and fire truck that has an extendable ladder making loads of choice when your child choosing what vehicle is needed in their role-playing game. Let your kids repair the fire truck, van or helicopter at the fire station, with fire fighters, a fire chief, a dog, loads of fire equipment, and much more. The accessories that are included have flames to put out, furniture, a computer, a toolbox with tools, ax, chainsaw, telephone, a cup, and walkie-talkies. With a recommended age of 6 to 12, there is years of continuous fun to have.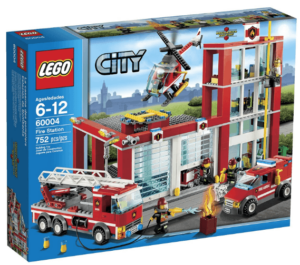 When buying a toy fire truck for your child the sets from LEGO are a great choice. They come in lots of shapes and sizes and offer educational fun for many different ages focusing on different developmental stages. Creative play is achieved when used these sets and your child's imagination can run away with itself because these sets all connect with each other making the fun last. Developing hand-eye coordination skills, ability to follow instructions, confidence and creative ability these fire truck toys for toddlers are amazing for your child, and may even bring a touch of nostalgia to you and your childhood, making them also a great bonding tool for any parent with their child. A great gift and a must-buy toddler toy. Overall we love lots of different products that the LEGO company produces, but the fire truck designs are great. They offer lots of functions like extendable ladders and cranes, an array of different characters which arent just people, as dogs and even snowmen can be found. Not just offering creative play with the building but with the role-playing games, after all the items have been constructed, a multi-educational toy and one all children will enjoy.