Kids love to sing, so finding them the right microphone for your little pop star will be a great gift for them. In this review, we will look through all the different types of microphones out there and find the best of the bunch. That way your kid can sing their little heart out in true karaoke style with a fantastic new microphone.
When shopping for the best microphone for kids you want to ensure that it has flashing LED lights, inviting sound effects, and easy connect using wireless Bluetooth. Studying the karaoke machine kid market has shown kids want to get a kid karaoke machine that offers voice changing to properly enjoy their Bluetooth karaoke machine.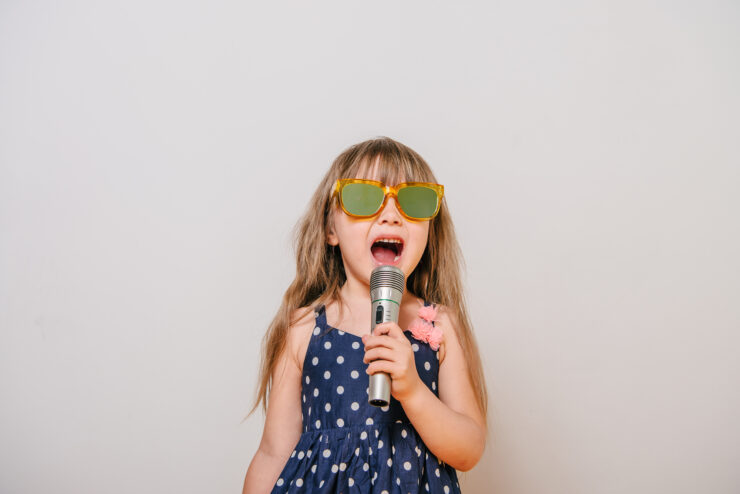 Considerations when choosing a kids microphone
Design and functionality – The easier they are to use, the better for little kids. There's a lot out there, from kids toys to professional microphones, and its hard to know what is what sometimes. There is a variety here in this review, but we will look into the children's range, which is usually cheaper and more user-friendly than some of the microphones that need a PA-system connected to play for example. All of the microphones in this review are battery operated, compact and wireless. Most kids don't want to be tied to a lead or want to have to think about the cable tripping them up.
Durability – Having a toy that can handle the rough-style of handling is crucial when kids of all ages are involved. Some are made better than others and in this review, you will be able to see the subtle differences and get an overall rating from me.
Battery life – Some require batteries and others don't but in this review, I have opted to give you more with ones that do need batteries, because of their ease to use, features and overall safety.
Safety – This is fundamental to all parents and all of these carefully selected microphones have passed U.S standard regulations. That being said it is important to make sure they are not too young to be handling devices that could cause them harm. Some kids handle and use items inappropriately, which increases potential risk and that's why microphones that are not plugged in via AUX and use batteries will always be safer as a general rule. However, some kids can find interesting ways to use batteries, so make sure to fit them yourselves.
Features – Some microphones have pre-recorded songs and keep kids entertained for hours. Others have app's that can be downloaded to a phone that can be controlled via wireless Bluetooth, which is a cool way to keep up-to-date with the latest content and music. The voice changing feature is another must have in karaoke machines, kids love to explore their world and voice changing would allow them have a lot of fun.
Top Picks for Kids
The following are the best kids microphone in 2023. If you are looking to get a toy that would allow your kids sing aloud and sing with joy, look no further.
1. Bagga Goods Handheld Microphone
This is a KTV handheld device with all the latest features and applications, from wireless connectivity to podcasting, and it even plays alternative styles of sounds.
It is easy to use and highly durable, so your daughter can take it anywhere, and it is great for family gatherings. It can really get make their creative energy starts to flow, and they will love playing with the echo and reverb effect. This girly microphone is one of the best wireless microphones for kids on the market.
The speakers are loud and clear with enough sound quality to make listening enjoyable. The shell is solid and designed with an alloy from aluminum, which makes it durable. It is also compatible with a number of other audio devices.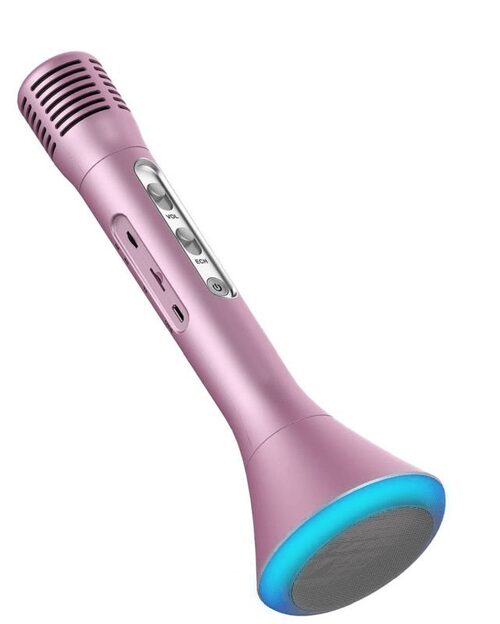 2. VTech Kidi Super Star Microphone and Mic Stand
The Vtech award winning musical toy is a great gift choice for an aspiring singer. This won toys of the year in 2016 and is worth every penny and could be the reason a star singer is in the making.
This has aa 3.5 mm jack for playing all the best songs to sing and can connect with iPods and MP3, so you can record and playback up to 5 minutes of audio.
Your kids will also be spellbound with the different voice effects this mic can do, which will provide hours of laughter for all the family. The best kids deserve the best gifts with awesome sound quality and beautiful flashing led lights.
This is recommended for 4 years old to 9 years of age. There are some batteries included for demo purposes, but these will not last too long.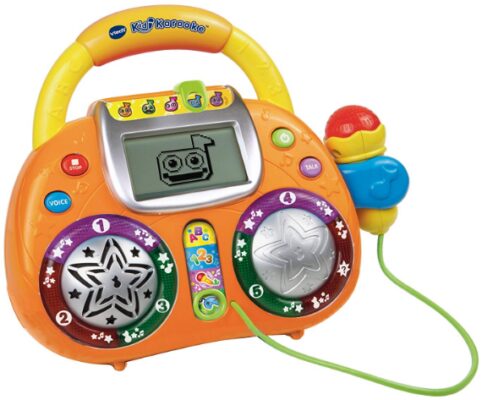 3. ThinkMax Kids Voice Microphone
This musical toy lets little pop stars record themselves singing their hearts out, and it has lots of cool little effects and functions to keep your child engaged.
This beautiful gadget is small and easy to handle. This has been designed for children aged 1 years old and older. The microphones features and effects are all very simple to get the hang of and most children will be able to learn how to use it very quickly.
It is fitted with the best toy microphone. It allows for up to 30 seconds of recordings and is just loud enough for the little ones to hear themselves and refine their songs. This is a fantastic musical toy for developing their newfound love of singing.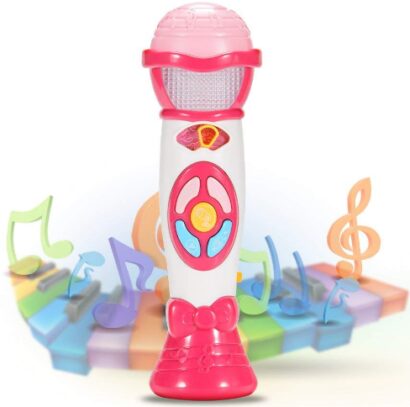 4. KIDdesigns Frozen Magical MP3 Microphone
Do you have a little singing queen? Does she love Disney movies? Then we have the perfect mic for her!
The frozen magical microphone comes fitted with durable kids microphones, it allows them have fun with their cute little gift for as long as possible. This toy can be her little companion as she can enjoy the sweet melodies from this magical MP3.
This is microphone is designed children aged 5 years old and above and doesn't need batteries, which is a bonus.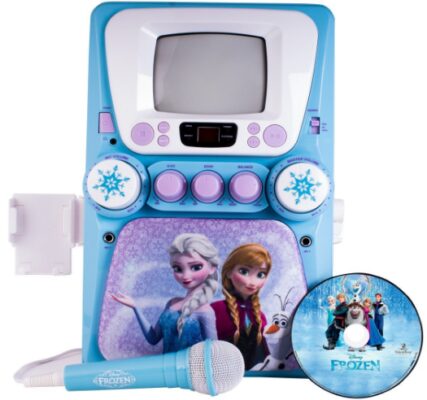 5. Kidzlane Microphone Kids 
This is one of the best wireless microphone for kids. It is easy-to-use and great for singing karaoke. It has are cool features for recording and playback, with the ability to even add in applause at the end. The speaker is fairly loud, but not too loud that the neighbors might start complaining.
It comes with 10 prerecorded sings to play and sing along with, including Mary Had a Little Lamb and BINGO, so its great practice for a little rock star or singing diva. They can even record up to 100 seconds
The wireless connectivity allows your child to sing with a paired device via Bluetooth, and we also really love that the lights on the mic flash to help your child stay in time with the music. This doesn't come with batteries included.
This is an ideal gift to stick in a kids Christmas stocking.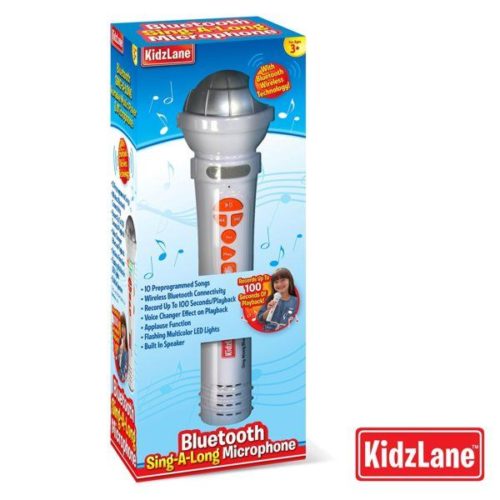 6. Karaoke Microphone & Speaker Stand
This is the best kids karaoke microphone, it is ideal for children who love to sing and dance. it is the ideal toy as it allows easy use of its karaoke features and offers one of the best kid microphones you would find anywhere.
The mic has a sing-along feature and plays MP3, so its ideal for a little one who wants to do a duet or sing along to their favorite music video or dance routine.
The audio jack is compatible with smartphones, CD players, and iPods. The microphone needs 4 AA batteries (not included).
This really is a brilliant karaoke machine. Kids do not like to sit still while they sing, and why should they! Let them dance with this great mic.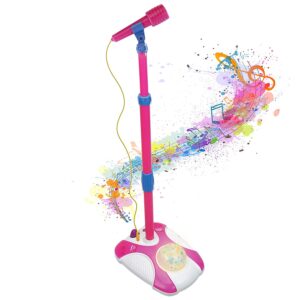 7. Wireless Toy Microphone
Encourage your toddler to sing and dance with this amazing wireless toy microphone. It has a cute and child friendly design that your little ones will love playing with, and it has 5 different voice effects that will keep them entertained for hours and hours.
This is the best toddler microphone as it can be operated in 4 different modes it can be set to, including songs, stories, poems, and a lullaby modes, so it can help your child's development too.
We really love that this children's microphone can connect to other devices with blue tooth, so you can play their favorite songs through it from your tablet or cell phone.
This comes in both blue and pink colors, meaning that this will be a great toy microphone for girls and boys.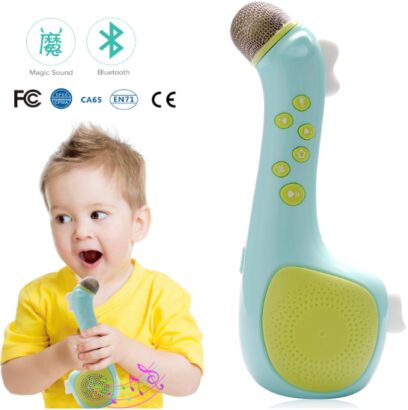 8. Giraffe Toddler Microphone
This cute kids microphone is a brilliant gift for a little one who loves to sing and dance. With 5 different voice effects, this will keep them occupied for hours and hours.
You can use blue tooth to connect this children's microphone to your devices and stream their favorite song to it, essentially turning it into a karaoke microphone.
This is also built with noise reduction technology inside, so it will even turn a child harsh screams into something a little easier on the ears to listen to. And if your kids scream as much as mine, you'll know that this is a true blessing.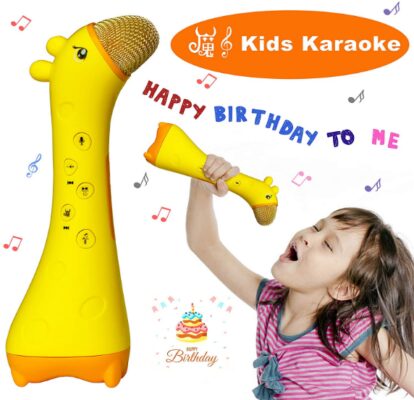 9. Children's Karaoke Microphone
Whether you are looking for a fun gift for a child who loves singing and dancing, or perhaps you want something to spice up a birthday or karaoke party, kids will love playing with this cool children's microphone recorder.
This is packed full of features, including led lights and echo and other sound effects, so this kid singing microphone will entertain your little ones for hours to come, whether they want to sing, role play or just mess around with it. Parents will also love using it when reading bedtime stories.
This mic can wirelessly connect to other devices via blue tooth, and can even double up as a blue tooth speaker in this way.
KOMVOX is tested and trusted brand, known for producing high quality, durable kids microphones. Their intelligently crafted device is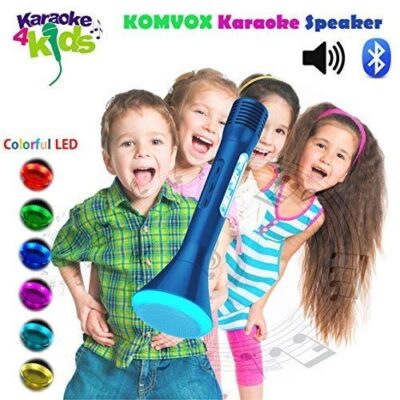 10. Frozen Kids Microphone and Boombox
Help your little princesses sing in top style with this awesome boombox and microphone set based on Disney's Frozen franchise. This cool little set comes with Frozen songs like "Let It Go", "In Summer", and "For The First Time In Forever" built in, so Frozen fans can imitate Anna and Elsa right out of the box and basically turn this into Frozen Karaoke.
However, you can also connect an MP3 player to the device and stream songs through it in this way too, giving you almost limitless potential in which songs they can play. You can store your MP3 player, such as an iPod, in the included carry bag for maximum convenience.
We recommend this as a microphone for girls as it is very simple to use, and it is so portable that they can take it with them wherever they go. Perfect for Frozen fans who love to belt out tunes and songs.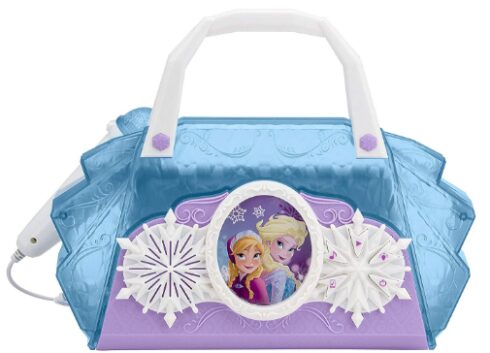 11. Kids Music Player and Microphone
Inspire your preschooler for a life of enjoying and loving music with this awesome blue toddler music toy.
This music player and microphone combo is compatible with most digital music formats, such as mp3, it is great for kids as has been built to withstand drops and knocks.
This comes with its own speakers and an LED screen that allows kids to easily find their favorite songs, so everything they need to sing a long to their favorite tunes is available right out of the box.
For toddlers and preschoolers, this is an amazing and durable set, and girls will love the cool pink color.

12. Kidoozie Sing Along Microphone
If you want your little toddler or child to enjoy singing along to their favorite songs then this might be a good choice, especially as it can connect to your phone or tablet. The beautiful device features one of the best microphone for toddlers,
This is a real microphone with amplifier features and is great for a child's first instrument with fun rhythms and colorful lights with quality sound for the price. This children's microphone with stand is a great pick for parents wanting to get their kids using their iphone with microphone.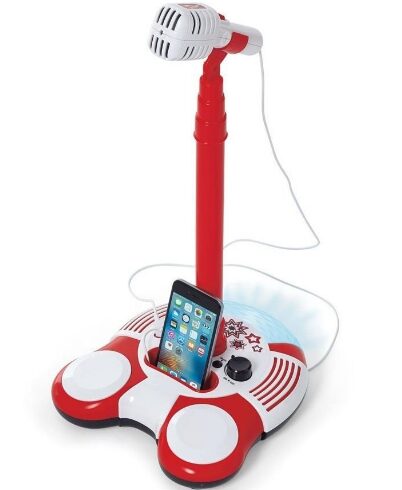 13. Tzumi PopSolo Karaoke Microphone for Kids
This Tzumi PopSolo 3 in 1 mic can function as a normal wireless microphone or a wireless speaker (thereby turning it into a mini karaoke machine) by using Blue tooth to connect to an apple or android. So your child will be getting a lot of use out of this toy with its cool karaoke microphone when friends come around for kids karaoke night.
This children's microphone set has smart noise reduction technology built in too, so it'll give your child a nice clean sound through the speakers, even if they hiss and scream.
Coming in either gold or pink, this cool kids microphone is a great gift for boys or girls, and will be perfect for little kids or older children as an extra mic for a karaoke set or to be used on its own.
This is the best choice If you are looking to get an easy to use bluetooth karaoke machine for kids. Karaoke has never been this much fun!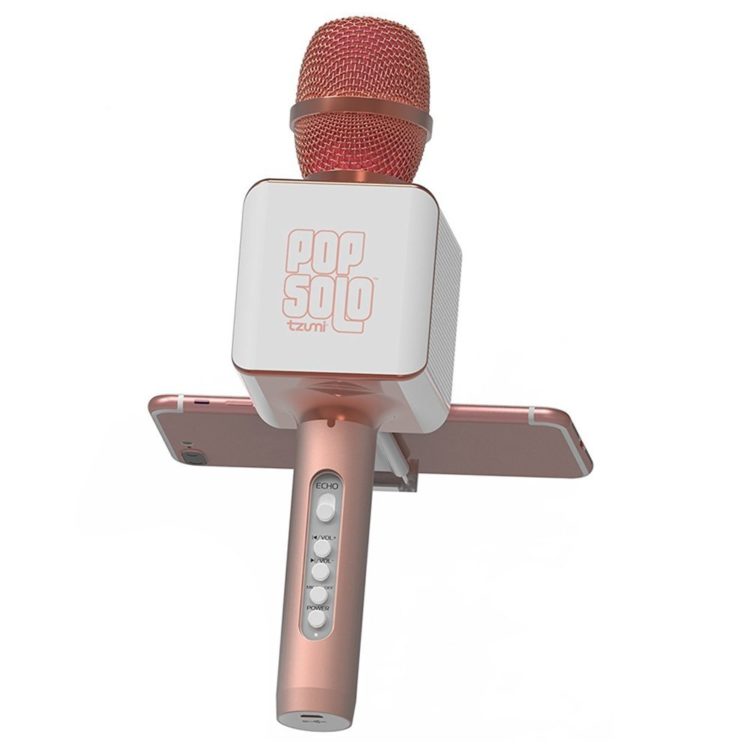 Take a look at these awesome picks: