Kids love using walkie-talkies and maintaining a direct line of communication for their latest plans and adventures. However, walkie-talkies are well known to safari and gamekeepers who have to communicate over long distances. You as a parent understand why it can be essential maintaining a direct line of communication. Sometimes in certain circumstances, parents losing sight of their child, for example, is a scary thought, especially at a theme park or carnival. This is why you as a parent might see the huge advantage of having a walkie talkie to consistently have a direct channel of communication, one which won't let you down.
There is a large selection of walkie talkies available on the market and therefore increasingly becoming more confusing with a huge range to choose from. Some devices are clearly better than others and the difference can be, for example, a range of 1 mile all the way to 35 miles, so if you need uninterrupted communication then be sure to read on.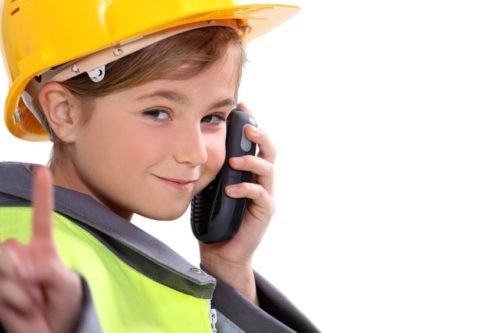 Choosing the best comes down to some features and those with certain criteria outweigh not having. Ideally, you want one that can handle child's play and be passed around or bashed a little. Considerations such as these will be the difference between being out and having lost a direct point of contact when there is too little time and too much in-between going on.
Kids Little Pretender Walkie Talkies
This little pretender walkie has a great range of 2 miles and is ideal for long range uses, especially if you and your family are the great-outdoor types. The antenna has a good transmitter-receiver and the sending or receiving is really clear, which makes things really easy to stay organized on big trips.
There are 3 channels that enable communication on different frequencies and ideal for communicating wirelessly. This particular walkie-talkie has an easy on/off button and an LCD screen which indicate different frequencies. To talk you simply push to talk (PTT) button on the side, which is next to the on/off button. Kids find this really easy to use and with a belt clip they can easily keep it close and stay in contact with you. This also features a small flashlight as well for SOS calls 🙂
The speaker is loud enough to be clear and easily understood, which is sometimes a problem with other cheaper types. These cheaper types have static and a slight hissing sound, which can be difficult to understand. The microphone is also good at detecting audio sound and the person on the receiving end usually can hear loud and clear, although in certain terrain it can be difficult.
Kids of all ages (5+ usually) will find this a really easy walkie talkies to use and will find this self-explanatory to use, so simply hand it over to them and they will figure out how it works, which is part of the fun.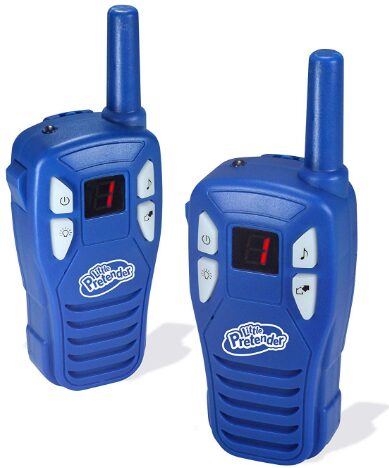 Retevis RT-388 Walkie Talkies for Kids
This is another great robust small easy to use Retevis Walkie and is ideal for the girls because it's bright,  pink and wonderful.
The durability is very similar to the 'kids little pretender' and will last through most rough kids play/handling. The battery life lasts for several hours and will keep things synchronized with a nice send and receiving antenna, which handles up to 9000 feet over various environments. This is less than the previous walkie-talkie in this review, but instead includes features like earpiece connection, 8 AAA batteries, and a rechargeable device.
This is easy to use and comes with a flashlight for when things get darker and forms of light add guidance. All the buttons, like the on/off, push-to-talk and channel selector is easy to use. The large 'TALK' button couldn't make things easier and some kids as young as 3 years can find this easy to use as a two-way-radio.
The walkie-talkie is made of durable materials and has anti-scratch technology mixed with a shell designed to handle high-impacts. This can handle kids dropping them, sitting on them and general rough handling, but obviously, they ain't bullet-proof. They take around 1-2 hours to charge and last for 4 hours in total, which most find ample time.

Kids Camouflage Walkie Talkies
Whether your up a mountain climbing, skiing or taking your kids on a great adventure this can assist in keeping your family safe and in constant reach through a huge 22 channel range with a GMRS system. The push-to-talk (PTT) features are the same as the 'kids little pretender' and make things easy to use when being handled. The overall handling is easy and with the clip, they can keep it safe on whatever belt or clothing they are using. This pair has a 38 CTCSS system of communication and subchannels, which makes finding the right channel easy and clear. This also comes with a Micro-USB connection slot and makes things easy to charge, especially if laptops are the only method at the time.
This has the best battery life so far and on standby, this can last up to 9 hours, but if used constantly it will last 3-3.5 hours. The batteries needed are 3 AAA per device and can run on rechargeable batteries. The batteries are not included with this walkie-talkie and the 'Retevis RT-388'  in comparison does come with 8 AAA batteries.
The range with this is around the 2-mile mark and is similar to the 'kids little pretender' and over 1000 feet stronger than the 'Retevis RT-388'. I prefer having a stronger signal and antenna because the unknown terrain and environment can cause issues with receiving transmissions.
The camouflage is a neat feature and kids going on hunting trips or likes to play army games will enjoy the cool looking design and graphics. The LCD screen is bright and can be easily read even during the day. The buttons like scan, menu, and light on/off are all easily visible for kids as young as 3-4 years, however, it is recommended for 4+ years as a guideline.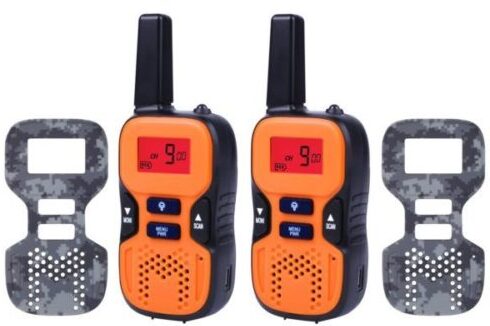 TECH Kids Walkie Talkie
This two-way radio device is ideal for long range and makes things great for parents wanting a larger capacity than the ones previously reviewed. This can handle up to 5KM and is the longest in this review for transmitting and receiving. The walkie can use both FRS and longer ranged GMRS bands, so depending on your families needs this can handle can assist.
This is good quality and made to last the test of time, which has been put the test. This can officially handle 1.2 M drops and is usually the typical height a child would drop them from if in use. This quality is continued throughout and the crisp sound and adjustable controls of all the 22 channels makes this one of the best contenders in this review so far.
This particular device has very little in the way of buttons and simplifies using it, but doesn't lose out on the functionality at all. The hands-free ability makes parents feel in control with easier multi-tasking use and basically helps free up your hands. The PTT button is easy to use and kids will find this small enough to handle even whilst moving across varied terrain.
The electronic toys are sometimes confusing to use and can take a while to handle with ease but this walkie-talkie is simple to use and with LCD screen displaying channels, battery status it really can be one to entrust your children with. The required are 3 AAA batteries
This can be used for children as young as 3 years and up, so unlike some of the more complicated hand-held devices, this is really as good as it gets. This has a huge range and with
a quick double-click, they will be easily heard even in the crowded spaces that you find yourselves in.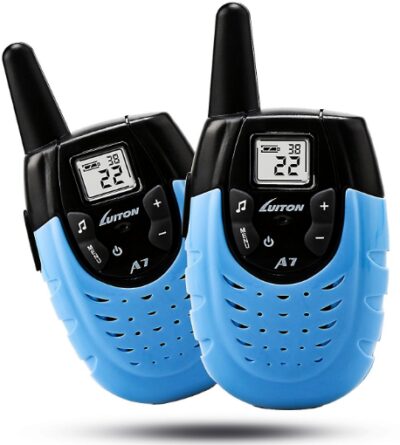 Kidzlane Walkie Talkies for Children
There's almost no limit to the amount of fun that kids can have with walkie-talkies, and this cool set will let them use their fav new toys with a huge wide range for all kinds of cool games and crazy adventures.
With their 3 different channels and 2-mile range, your children will love using these in all kinds of interesting ways, whether it is just exploring the woods or using them in games pretending to be firefighters or secret agents.  What we really love about them, is that the batteries will last for 9 hours on standby and for about 3 and a half hours of continuous use, so its more likely that your kids will get tired out before the walkie-talkies do.
These are really perfect for younger ones, as they are very simple to use with very large buttons, and it is so intuitive that even small kids will be able to use them no problem, and they have a clip on belt holders to make carrying them easier.  All in all this walkie talkie toy will easily become a firm favorite with your children.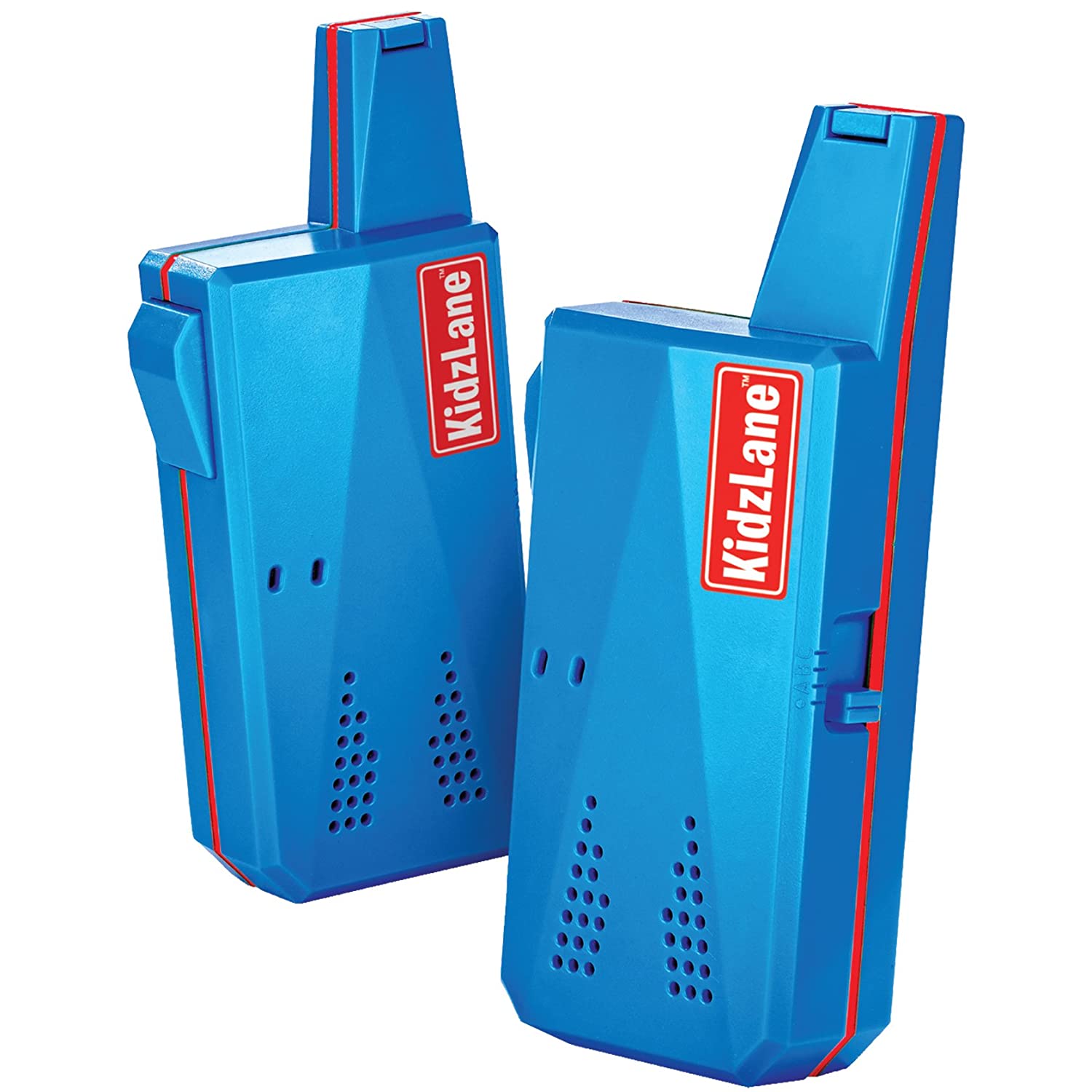 Best Overall Pick
This one is the best overall compared to the rest. The range is longer with the , continuous play-time of 3.5 hours and can handle rough kids play, even to the point it can be dropped from 1.2 meters. The durability, overall features, and reliability mean this is a fantastic choice for a reasonable price.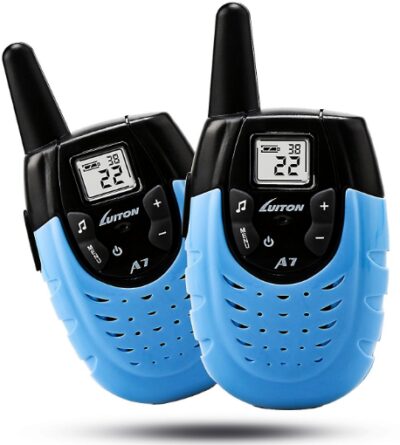 Best Budget Pick
The "Kids Little Pretender Walkie Talkie" is a great all-around device at an affordable price. The features are solid and offer 3 channels, 2-mile range and easy to read/use LCD display, so kids won't have any issues managing this one.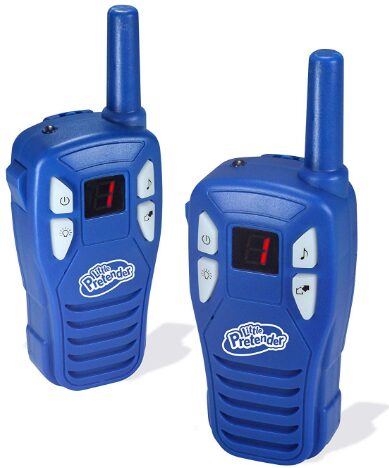 How to choose your kids' walkie-talkie
Sometimes when you plan to go on trips outdoors, whether for camping or at the shopping mall, even hotels, you'll need them to make sure you have a safe line of communication at all time to your kids, especially if you have several let loose. This is why you could use a walkie-talkie as an easy, fun and direct line to keep everyone close and safe.
There is usually 3 main factors when deciding on a final purchase and each one is as important as the other, but in this review, you will have a good overall selection to consider from. Children and parents should choose the most viable forms of communication without the added concerns over children being influenced by the social media, Apps and confusing texting-applications. This is why the walkie-talkie is ideal for kids aged 5+, but sometimes even younger children can use them, but at your discretion.
Size – Some types of walkies are too large to be child-friendly ones and that's why in this review you will only see a kids selection. The smaller types offer better control and ease of use, which is ideal for those little hands and fingers. Bulky items just end being an inconvenience and the smaller the better in most cases.
Durability –   Kids and toys usually go down like a storm and mean that they can sometimes get roughed up with rough handle and lack or care. This means durability is essential for any kids walkie-talkie and the more it can handle the occasional bump or fall means it'll last. Most walkies, for example, are attached to the hip and sometimes can be squeezed against an object and the child, so one that can handle the pressure is ideal. All the products in this review have been thoroughly tested for durability and are made to last the test of time.
Battery Life – After size and durability, the next factor to consider is the battery. The battery that has the longest life is usually one to get. A number of time parents complain of a walkie-talkie that went out of life too quickly makes this an important feature to have. Most types use AAA but others do AA and the more recent technological developments have created renewable long lasting chargeable batteries.
Most batteries should last around 4 to 9 hours and that is for continuous use throughout of active back and forth communication.
Range – The longer the range the better, which is the general rule. Different models offer different distances of cover, but the one that can handle large areas of terrain is usually the one to go for. This review has specifically chosen the ones that will extend to a solid 3 miles + and will manage most parenting and child needs.
Some walkie-talkies can reach for up to 10 miles and there are ones that can reach for tens of miles, but these usually cost too much and not fit for child purposes. Most kids want to chat through to the next house or a friend further down the street, which is a great way for them to build relationships and maintain friendships without the internet and annoying app's getting in the way.
Your kids will love playing with these at the park and will make the great-outdoors loads more fun, especially if they are reluctant to leave the house. However, you as a parent are well aware of the dangers of leaving your children out alone for prolonged periods and that's why knowing the terrain is important as well as having a good walkie-talkie.
Walkie-talkies you will find connect better when there is flat terrain and the communication can get disrupted when there is peaks and hilly ridges. Open spaces are always better and even obstacles like walls and houses can interfere with the line. Uninterrupted communication can range from 1 mile all the way to 16 miles and that's why choosing a good walkie is the difference between staying in contact with your child or not.
Ease of use – Some are easier than others to use and the more you filter through them all, as we did in this review, you more you realize that it comes down to battery life, range and overall durability.