Are you trying to find the best monkey toys for your child? In this review of the latest monkey stuff, which includes soft toy monkeys and rattles, we have compared different types of monkey toys to help you find the perfect toy. 
Animal-themed toys have been amusing and entertaining babies for generations. Infants and toddlers alike become quickly attached to their friendly faces and toymakers have responded by developing more toys and dolls featuring cute animals.
Monkeys are one of the most popular creatures to feature on baby toys and it is easy to see why! These cute and cuddly animals really appeal to little ones, with their large ears, curly tails, and sweet faces.
There are so many monkey toys for kids on the market, it can be overwhelming to make your choice! Do not worry, because we have done the hard work and brought together this article with some top recommendations full of the best monkey toys for babies, as well as considerations before making your purchase, and our overall best buys.
If you are looking for a sweet gift for a baby or toddler, check out this guide to the top baby monkey toys available in 2023. We will review a ton of the top toys to save you time searching through before you buy. Read on and you are sure to find what you need!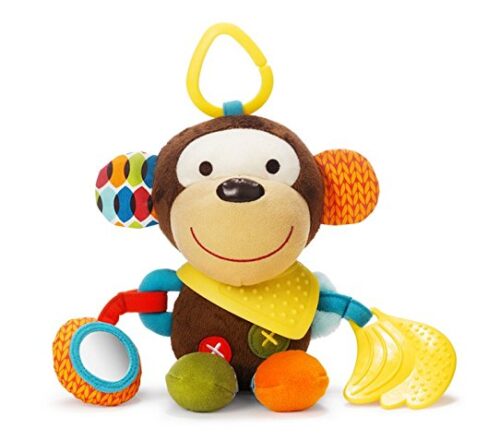 Considerations Choosing Different Types of Monkey Toys
As parents, we know that buying baby items can seem overwhelming, whether you are choosing for your own child or as a gift for a relative or friend's baby. Especially if you do not have children, it can seem like the number of items on the market for babies is completely confusing!
Do not worry, because we will talk you through some of the key factors to consider before making your purchase so that you can be confident you are making the best choice.
Safety: when buying a toy for a baby, the most important consideration is safety. Since babies are still mostly dependent on a parent or caregiver, they need a lot of supervision. It is essential that baby toys are free from risks to infants' safety, for example, that they do not contain small removable objects or choking hazards. It is also important to ensure that the materials used are non toxic and baby friendly. Many toys are required to have safety certifications so you can buy with confidence.
Age: suitability for the age and stage of the baby you are buying for is also an important factor to consider. The toys in our guide have different features that are designed to interest and engage babies and toddlers. If you think about the age and developmental stage of the child you are buying for, your gift is sure to be well received. For example, a baby who is learning to grab and hold objects is likely to enjoy a rattle or grasping toy, which will help them to develop key motor skills. Whereas babies who are on the move may enjoy a rolling or rocking toy that they can interact with as they crawl or toddle.
Materials: young babies are stimulated and engaged by a wide variety of colors, textures, and sounds, so when looking for a toy for an infant, choose something that features different textures and elements to explore. This will help stimulate sensory development and encourage babies to use their emerging motor skills. It is also important to consider safety and ensure the materials used are suitable for babies.
Best Baby Monkey Toys
We will now present our picks for the best monkey toys for babies and we are certain you will find the perfect gift in this guide. Read on for a selection of gift ideas and find our overall top picks at the bottom of this guide.
1. VTech Monkey Rattle Toy
VTech is a very popular brand of toy manufacturers and is particularly known for making engaging electronic devices for young children. This Lil' Critters Singin' Monkey Rattle is a great choice for babies learning to grasp and hold objects. It features a chunky easy grip handle so that little ones can hold and shake the toy easily.
As well as the brightly colored beads that move along the handle, this rattle has a cute monkey character with a light up button on its tummy. When your little kid presses the button, the monkey will play songs, music, encouraging phrases, and funny sounds.
With over 35 different sounds to listen to, babies are sure to be engaged for a while! The Monkey Rattle from VTech gently encourages motor skills development while babies fiddle and play with the moving beads, ball, and bananas.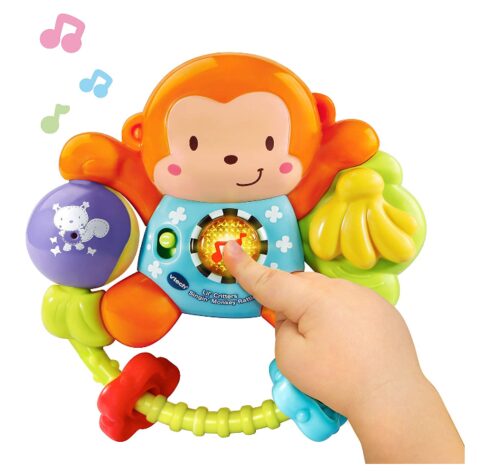 2. Brown Toy Plush Monkey
A friendly plush toy makes a wonderful baby gift so of course, we had to include this monkey stuffed animal for baby in our guide! This great value stuffed monkey is 8 inches tall and has two tone brown plush for the face and body.
Ollie the monkey is a soft and cuddly friend designed to appeal to and comfort babies and young children. The monkey plush toy features simple soft stitched eyes and mouth on his friendly face. Your monkey loving little one is sure to adore this little guy, who will make the perfect addition to any stuffed toy collection!
As an added bonus, Ollie the monkey can be machine washed and tumble dried so parents do not need to worry about getting him grubby. Matching nursery items are also available from Bedtime Originals.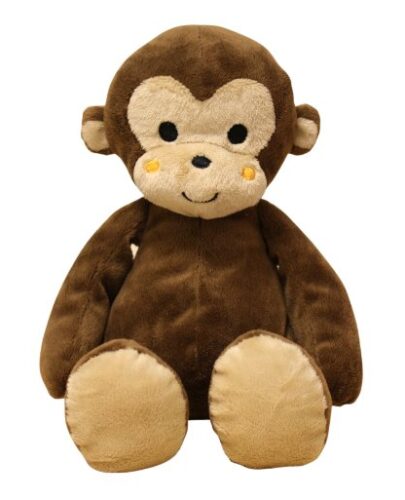 3. Skip Hop Monkey Teething Toy
When babies are teething, everyone usually knows about it! Those cute little baby teeth can really hurt when they are cutting through, and parents are always looking for something to make it a little easier. This Monkey Teething Toy from Skip Hop may be just what you are looking for.
It is a cute monkey with a soft bandana teether that can be removed for a parent to wear around the wrist. The monkey features lots of different textures and materials for your baby to explore. They will love playing with this multi sensory toy that rattles and crinkles and mouthing the soft teethers for comfort.
The monkey has a plastic loop at the top, making it perfect for attaching to a stroller or car seat when out and about. It is baby safe as it is PVC free and phthalate free.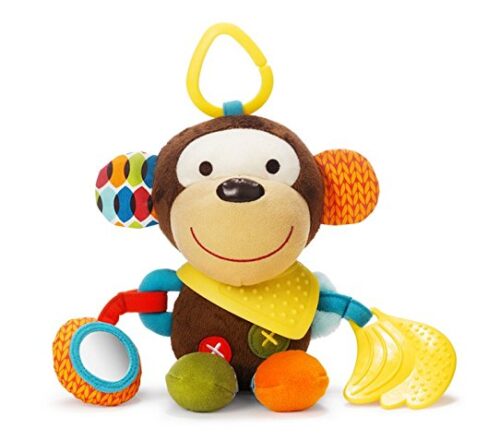 4. Monkey Shake and Glow Toy
If you are looking for monkey baby toys to take on the go, check out this Shake and Glow Toy by Bright Starts. It has a plastic ring to attach to your stroller or car seat to entertain your baby while on the move.
Monkey lite up toys for babies are a great choice as they can help stimulate visual development and eye tracking skills. This cute little animal hangs from a brightly colored plastic ring that lights up and plays animal sounds. When baby reaches for the monkey, it will swing back and forth from the vibrant ring, engaging baby's senses and curiosity.
The chunky size of the ring means it is easy for even young babies to grip and hold, and they are sure to love exploring this sweet toy! This toy is recommended for babies aged 3 months and older.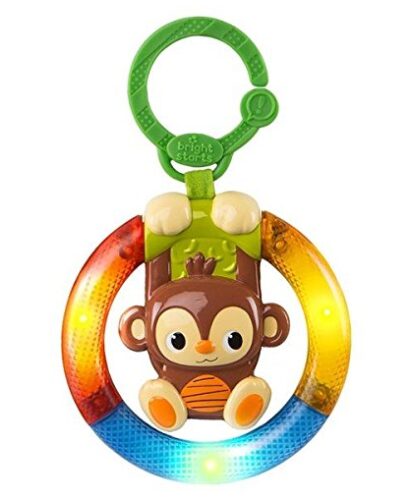 5. Monkey Cuddler Blanket Toy
A soft cuddler that is a combination of a small blanket and a plush toy can make a fabulous gift for young babies. The Marlow Monkey Toy from ebba would make a wonderful addition to any infant's toy collection.
It features an adorable cuddly animal that is securely and safely fastened to a soft mini blanket. The cuddler is made from high quality and snuggly plush fabric with a coordinating stripe fabric inner. Babies will adore exploring the cuddly fabric with little fingers!
The monkey's features are embroidered to ensure that the toy is safe for even the littlest infants to snuggle. This little monkey toy and its blanket measures approximately 16 inches long and is sure to become a firm favorite with any baby. Parents can buy with confidence as each toy is made from high quality and durable materials that are safe for babies.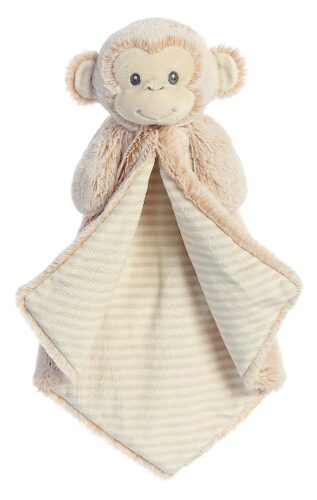 6. Monkey Educational Plush Toy
Young babies love exploring different textures and we know that the more they explore, the more they learn and develop! Give your baby a unique sensory experience with this educational plush toy from TOYMYTOY. It has a spiral design so it can be curled around a crib rail, stroller, or car seat handle.
Babies will love exploring the animal plushies made of various textures of fabric and materials, designed in bright colors to stimulate babies' attention and visual development. The friendly elephant, monkey, and giraffe are sure to appeal to little ones as they reach and grab for the toys.
Each animal features a different sound so your baby will love hearing the crinkly elephant's ears, musical giraffe, and monkey's bell. Watch as they discover each animal and learn to trigger the noises independently. This educational toy can support the development of many skills including hand and wrist muscle strength, motor skills, and auditory and visual development.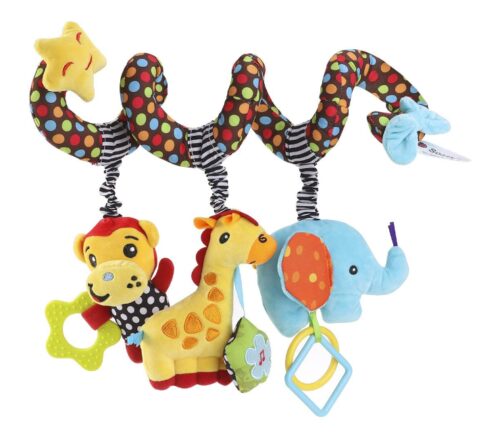 7. Baby Monkey Development Toy
If you are looking for a unique baby monkey doll, this cute development toy from Yoee would be a great pick! Featuring a cuddly soft monkey plush toy that crinkles as your baby explores it, this toy is bound to provide an engaging sensory experience.
It also has a teether ring for your baby to chew on when they are suffering from sore gums. And a truly distinctive feature is the feather like tail at the end, which is designed to encourage parent and baby interaction. Parents can gently caress their baby with the soft tail to promote bonding and body awareness.
Little ones will love playing with this multisensory toy, which is covered with different textures to stimulate baby's curiosity. It is totally baby safe as the teether is BPA free and the toy does not contain any small parts that could pose a risk.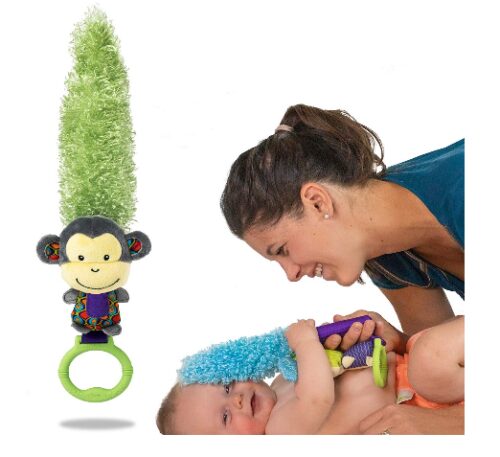 8. Monkey Rattle Toy Dazzle
Taggies are an incredibly popular toy for young babies and have become a trusted brand for parents. Taggies Rattles are a great addition to the range as they are small enough to be portable and can easily be taken anywhere baby goes.
If you are looking for a small monkey toy, this is the one we would recommend. At just 5.5 inches, it is the perfect size for little hands to grasp and shake. Featuring super soft fabrics for babies' hands to explore and a friendly embroidered face, this is sure to become a firm favorite.
And of course, the Taggies patented looped ribbon tags complete the design. Babies will love to investigate the brightly colored pull tags, which can help stimulate the development of motor skills and healthy curiosity. Taggies are made to be a durable and lasting companion for your baby through their various development stages.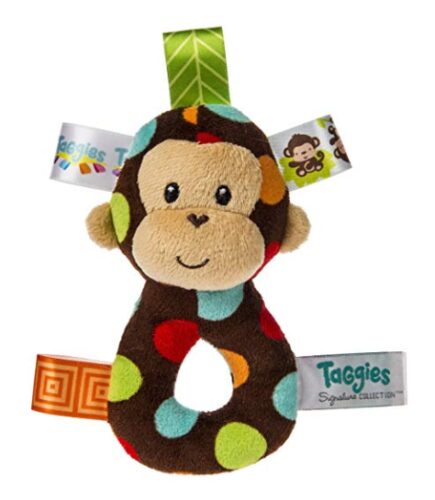 9. Fisher-Price Monkey Crawl Along
For babies who are beginning to crawl and move, this musical monkey baby toy is the perfect gift! The cute toy from trusted maker Fisher Price is designed to grow with your baby and offers a ton of opportunities for open ended educational play.
Parents can use the large peekaboo mirror to engage young babies during tummy time. They are sure to love looking at themselves as they play! When your baby is starting to sit up, they will love exploring the rocking toy, which plays fun music with every movement.
And when they start crawling, they can push the monkey along and marvel at the bright lights and cute sounds as they follow. This is really a toy that will engage your baby at each age and developmental stage. The rolling monkey toy has so many features to stimulate sensory development and is sure to capture your baby's interest.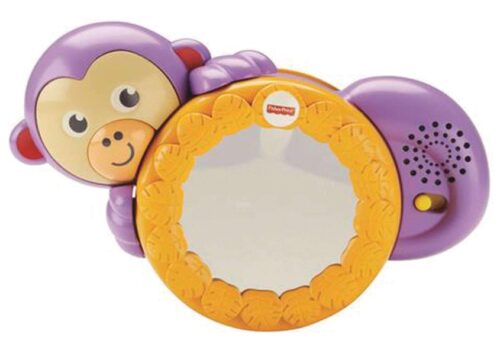 10. HAKOL Soft Toys with Monkey Sounds
One of the cutest monkey toys for 1 year old has to be this Jungle Friends Talking Plushie Set from HAKOL. Toddlers will absolutely love this set of sweet little jungle animals including a monkey, zebra, lion, elephant, and tiger. It comes with a cute 'Jungle House' carrier so your kid can take their creatures wherever they go.
The five jungle plushies make realistic animal sounds when squeezed, which is sure to delight your little one as they explore these toys. Each toy is made from soft fabric that is perfect for little fingers to investigate, and features bright and vibrant colors to appeal to toddlers and preschoolers.
Kids will adore playing pretend with this adorable set as they learn about jungle animals. The materials used are non toxic and safe for little kids to play with for hours of fun.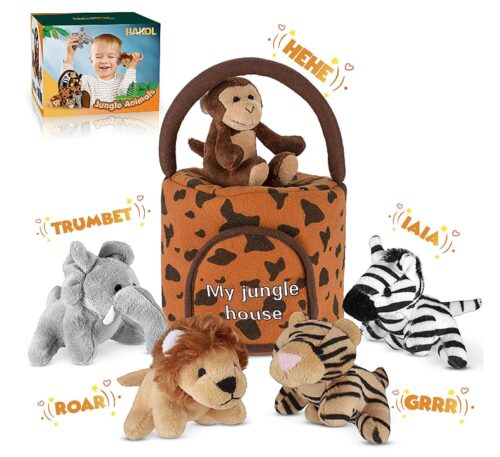 11. Monkey Hide 'n Spin Toy
If it is monkey toys for toddlers you are seeking, this Hide n Spin Monkey by Bright Starts is a fantastic choice. Little kids will adore dropping the brightly colored balls into the friendly monkey's hat, whether they are just sitting or learning to stand and walk around.
When toddlers press the monkey's light up nose, it will hide in its barrel before popping out to surprise your little one. Your kid will watch in delight as the plastic balls drop and spin into the tray, ready for them to catch before they start the fun all over again!
This cute toy is bound to engage babies whether they are sitting or standing, and will keep them moving and exploring the vibrant features like leaves and mini ball chutes. The friendly monkey will capture toddlers' attention and will provide hours of active fun!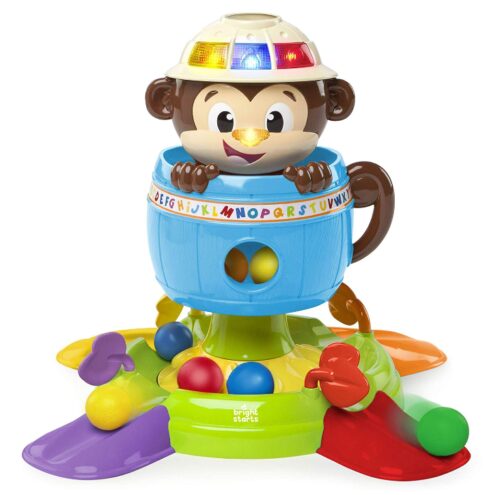 12. Plushland Adorable Sock Monkey
If you are looking for a gift with a difference, check out this gorgeous retro style sock monkey from Plushland. Original sock monkeys are said to have emerged during the Depression, when parents could not afford to buy new toys for their children.
Instead, they created sweet monkey cuddlies from old socks so that kids could have something fun to play with. Plushland proudly continues this tradition with its Sockiez, which are designed in a variety of expressive colors. Made from soft mixed color yarn to mimic the qualities of an old sock, these adorable sock monkeys make a wonderful cuddly comfort for babies, toddlers, and kids of all ages.
At 20 inches long, the sock monkey is a great size for snuggling with. It is fabricated from custom made soft knitted yarn and stuffed with top quality polyester fiber filling.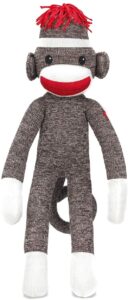 13. Toy Tinabless Baby Socks
Babies love to hear and make music and are often extremely curious about sounds and noises. This adorable set of socks and wrist rattles from Tinabless would make a perfect baby gift and they are excellent value for money.
The sweet socks are made from 100% cotton so they are soft on your baby's delicate skin. The bright colored stripes and sweet monkey and elephant faces will captivate little ones as they shake their feet around. Your baby will love exploring the animals' ears, which will crinkle when touched, helping little ones to understand cause and effect. Gently fasten the Velcro straps around your baby's wrists and encourage them to reach, grab, and shake to hear the rattle noise.
They will love making the sounds independently and developing their motor skills while they play. This set would make a wonderful baby shower or new baby gift and is sure to provide endless fun for little explorers.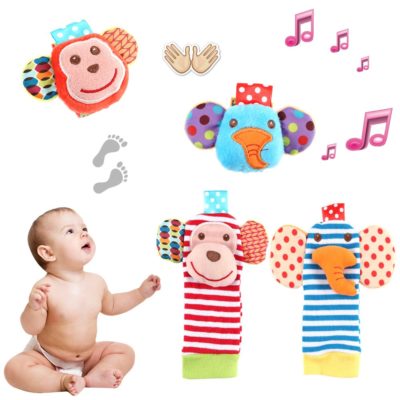 Overall Best Buy
We have reviewed some of the top monkey themed baby items but we know you may need a little more guidance so we will now present our overall best buys. Of course, the gift that you decide to choose will depend on the age of the child so we have selected a top pick for infants and another for older babies.
For infants, the ebba monkey cuddler is a beautiful keepsake that would make a wonderful new baby gift or baby shower present. The soft fabric is designed to appeal to young babies and be kind to their delicate skin.
Babies are sure to find the soft fabric comforting and will enjoy exploring the monkey's friendly face, which is embroidered instead of containing beads to ensure maximum safety for little ones. The materials are high quality and made to last, so this monkey is sure to become a true companion for your young child.
The combination of a sweet plush toy and a comforting blanket make it a lovely item for little babies.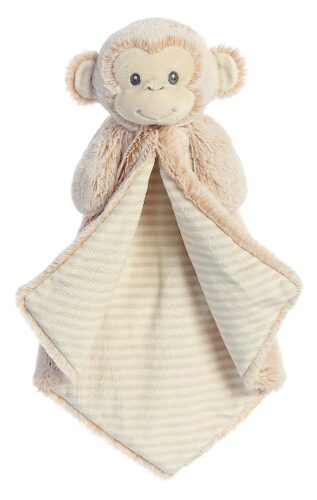 For older babies, the VTech monkey rattle is our pick for best buy. It has a lot to appeal to little explorers and can help babies to develop their many emerging skills. Its jumbo shape is easy for babies to hold as they learn to purposely grasp and move objects.
The monkey's bright colors and friendly face are sure to engage the attention of your little one as they explore this sweet rattle. Watch as your baby learns to press the button and prompt the sounds, which can help in teaching cause and effect and in supporting the development of motor skills as well as auditory skills.
Best of all, since VTech is a trusted brand, parents can buy with confidence knowing this toy is designed to be safe for babies.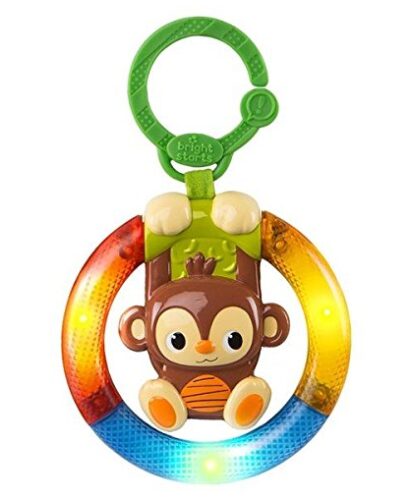 Best Budget Buy
If you are on a tight budget, there are still plenty of choices in our guide that would be suitable. Our top budget pick is the Fisher Price Monkey Crawl Along toy. It is designed to appeal to babies no matter which stage of development they are at, from young infants enjoying tummy time to beginner crawlers and walkers.
The peekaboo mirror helps engage a baby's natural curiosity and helps them to make sense of their world. Older babies will love pushing the toy along and crawling or toddling after it to catch the cute monkey!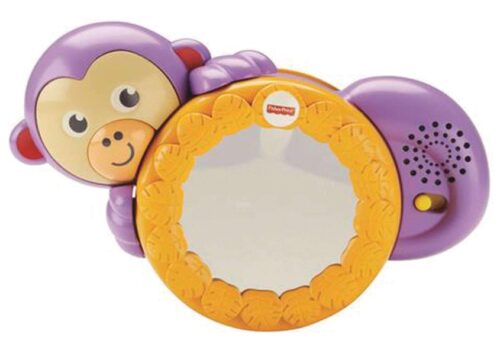 Take a look at some of the bestsellers from Amazon: