Are you looking for a toy for your one month old baby? Or perhaps you need a gift for a friend or family member's new child? Read on for a guide to the best infant toys for newborns, where we will showcase a range of available toys and review them in one handy place.
At one month old, babies are starting to notice the world around them and learning about interaction and communication. Yet they are still very new and can get tired and overstimulated easily. New parents are learning, too, and are getting to grips with their new baby's feeding, sleeping, and general care. You may think that babies at this age are too young to enjoy playtime but many experts suggest that playing with even very young babies can help them to learn and develop. Babies at just a few weeks old tend to enjoy different textures and large items that are easy to touch and grab. They also respond well to movement, sound, touch and other stimulation of different senses.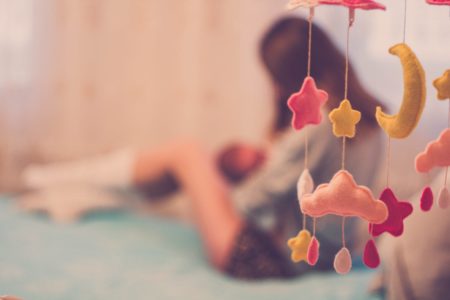 Here you will find a collection of the best playtime products for a baby at this age. We will help clear up questions like "what toys should I get for my 1 month old baby". Let's first look at the considerations to make before purchasing.
Considerations When Choosing a 1 Month Old Baby Toy
Safety: as with any product for babies, the primary consideration will be safety. Whether you are buying for your own baby or as a gift, you want to make sure that the toy you select is safe. This is particularly important with very young babies who are vulnerable. Look for a toy that is certified as safe from birth upwards.
Material: choose a toy made from materials that are suitable for this age. Babies enjoy a wide range of textured and materials. Very young babies tend to prefer toys with soft surfaces so they can practice holding and grabbing. Best toys should be baby friendly, easy for baby to touch and provide sensory stimulation.
Price: there is a wide range of baby toys available and you can find something to suit any budget. Of course, when you have a new baby you may not want to spend a lot as they are growing so quickly! But don't compromise safety or quality for a low price.
Age: your baby is still very young but there are many toys designed for infants of this age. It is important to look for age appropriate toys for any age of child. Check that the product is suitable for this age and look for something designed for young babies specifically. The best toys are those which support development and milestones at this young age.
Function: some toys play music or make sounds while baby plays. Others are designed for babies to investigate texture and touch. Your baby will enjoy playing with a mixture of toys with different uses, but baby toys do not have to be complicated! Sometimes the most simple toy is the one baby enjoys the most.
Gender: Buying toys for 1 month old baby girls or baby boys are usually not an issue as manufacturers tend to make most toys at this age unisex.
Best Toys For One Month Olds in 2022
1. Baby Crib Mobile Decoration
One of the best toys for a 1 month old is this musical mobile, designed to hang above your baby's crib or changing table. This mobile plays 60 nursery rhyme musical tunes, which is a full hour of music! It features cute and cuddly hanging characters of rabbit, bear, car, plane and white cloud. Your young baby will love gazing up at the colorful, soft characters while the music plays. The soft toys can also be taken off the mobile and used as rattles when your baby is old enough to grip them. The clever auto sleep function means you can leave the mobile playing and it will turn the music off after 30 minutes if there is no interaction with the unit.
Of course, safety comes first and the baby musical crib mobile uses environmentally non-toxic and durable ABS material, which means the mobile is safe for baby to put in their mouth. The unique bracket hangs the mobile in a high enough position to prevent baby strabismus or cross-eye from developing.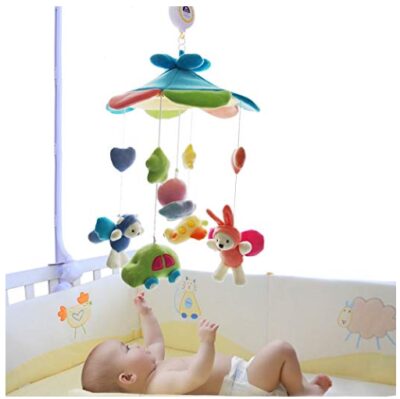 2. Manhattan Toy Rattle
The Skwish is a popular and ubiquitous learning toy for babies of all ages. It features brightly-colored wooden dowels connected with thick and flexible thread. Thought it is simple in design, its curious shapes and bright colors are likely to capture your baby's attention! Its unique shape and size allow babies to easily grasp and turn the toy, making it suitable for even very young babies. In fact, it is suitable even from birth.
This classic toy encourages the development of motor skills as well as allowing your baby to safely explore the world around them. Wooden beads attached to the dowels make a gentle sound when rattled, giving your baby auditory stimulation and feedback. The toy is designed to stimulate the senses with touch, sight, and sound all in one simple package. It is constructed sustainably from dense rubberwood and finished in water-based non-toxic paint. The wooden dowels are splinter and chip-resistant and the connecting elastic means the toy always returns to its original shape – no matter how much your little one 'skwishes' it down! The Skwish is available in a choice of colors, from bright primaries to natural wood.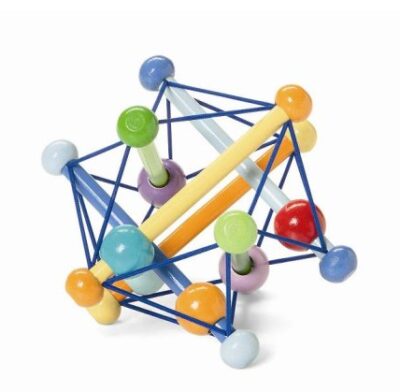 3. Soft Cloth Books Set
Babies absolutely love being read to, and experts now tell us that even very young babies benefit from hearing stories from their parents or caregivers. Even with your 1 month old baby, the interaction and communication that comes from sharing a book will help them to develop essential skills. These cloth books designed just for babies are a perfect gift for any little one. They are full of bright, colorful pictures on contrast backgrounds so are sure to pique your baby's interest. Carefully hand-crafted, they feature strong seams and firm stitching, making them suitable for babies and children of all ages to handle.
This set includes five books: three large books on animals, fruit and numbers, and two regular-size books of nursery rhymes. They feature textured fabrics that babies will love to explore and crinkle inserts to give some auditory interest. The colorful cloth books will promote babies to develop their vision, motor skills and interaction with parents and caregivers. They are certified for safe play and contain no loose parts, broken pieces or sharp edges. The cotton fabric is hypoallergenic and non-toxic so you can rest assured your baby can put the books in their mouth without any danger!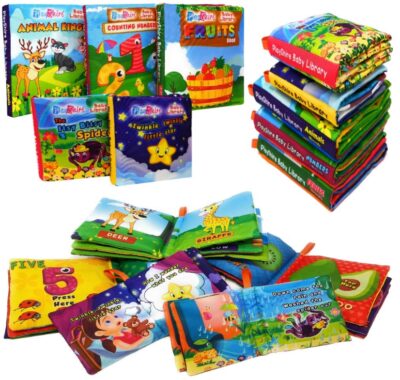 4. Baby Toys with Rattles
Rattles are a popular and excellent gift choice for 1 month old babies. Not only do they provide interest to encourage babies to reach, grasp and grab, but the sound gives stimulation and feedback. But before babies have learned how to hold a rattle, they may feel frustrated when trying to play. These animal rattles are the best buy for babies because they attach to baby's feet and wrists. Therefore baby will find it much more difficult to lose the toys! Pop the wrist rattles onto your baby's arm with simple and safe Velcro attachments, and the sock rattles simply slip onto your baby's feet. They will love to watch the animals move around and listen to the sound as they move their hands and feet!
These fun rattles for babies feature monotone stripes, which are great for developing babies' eyesight. They also have brightly-colored and baby-friendly insects with textured fabric that babies will love to look at and touch. The rattles would make a fun gift for any new parent.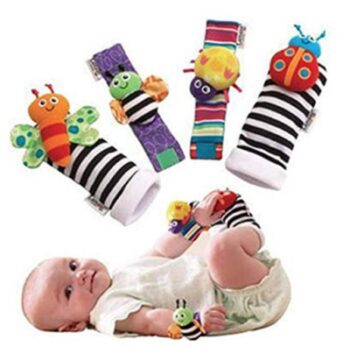 5. Baby Soft Rattles
If you are looking for a unique and simple toy for a 1 month baby, these teether rattle toys could be a great choice. They come in a wide range of styles and designs, including Sunflower, Giraffe, Octopus, Frog, Lion, Pear, Tortoise, Owl, Ship, and Rabbit. The rattles are designed with your baby's safety as a priority. They have passed the CPSIA, CPC and ASTM tests for babies from birth upwards, so you can choose this toy knowing that your baby will not be harmed when playing with it. The rattles are made from silicone and are of course non-toxic and BPA free. They are also heat-resistant and shatter-proof. Easy to clean, the rattles are soft, designed for a newborn's delicate gums.
Though your baby will love the gentle noise, it is deliberately designed to be a delicate level so as not to harm the baby's developing ears. This rattle is lightweight so your baby will be able to practice their grasping and holding skills, as well as providing comfort during the teething periods later on. The different textures will promote fine and gross motor skills and provide interest for your baby.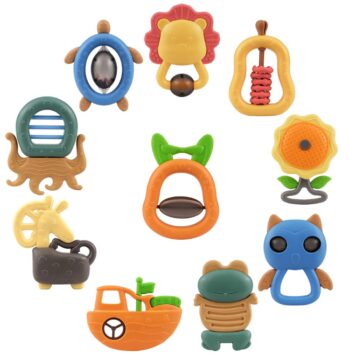 6. Hanging Bunny Stroller Toy 
This 4-in-1 hanging baby stroller or car seat toy features cute hanging creatures: an owl, donkey, elephant and dog. You can attach them anywhere you want to – on your baby's pram, to entertain them during a walk; on the car seat handle for interest on a journey, or to a play frame at home so they can lie and interact with the animals. It is designed for use by babies from 0 months and has passed the safety standards of ASTM F963, CPSIA and CPC. This is a suitable toy for babies of all ages.
The brightly-colored fabric animals and high contrast patterns will stimulate your baby's vision and eye tracking. Each of the clip-on creatures features a wind chime that makes a soft and gentle noise that babies will love. They also contain crinkly fabric and a variety of textures to keep baby interested. And not only are they great for young babies to touch and explore, but they also have a teething aspect when that time comes. This toy helps train hand-eye coordination as well as motor skills and vision.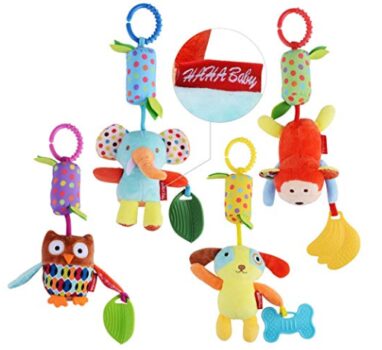 7. Fisher Price Glowing Seahorse

Little babies respond well to sounds of all kinds and can be very receptive to music. Encourage your baby's love of music with this Soothe & Glow Seahorse from Fisher Price. It is designed to be a comfort to your baby at night especially but is a great toy for any time. The perfect size for young babies to cuddle, the cute blue or pink seahorse features a light-up tummy that softly glows. It plays lullabies, classical tracks, and soothing ocean sounds for up to 5 minutes before gently fading out to avoid disturbing the baby.
The power and volume are controlled by the adult and have several settings. The seahorse has a cute and cuddly design that is sure to appeal to babies. Your little one will be curious about the natural ocean wave sounds coming from this toy. Let your baby gently drift off to sleep with the soothing sounds and glow, or encourage quiet play during the daytime. The sounds are activated when the baby gentle squeezes the toy.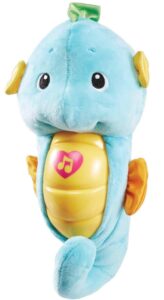 8. Liberty Imports Baby Rattle Set

This set of colorful and fun rattle toys is designed around a musical theme, with shapes like a trumpet and tambourine. The toys aim to encourage baby's development in a number of areas: hearing, tactile development, fine motor skills, and vision. The bright colors help your baby to focus their vision on the toy and can also assist parents to help develop their baby's eye tracking. The set of rattles comes in a baby bottle shaped package, making it perfect for giving as a present. The plastic toys can also be used as teethers and are safe for your baby to mouth and chew, being BPA free and ASTM/CPSC tested and certified.
The toy rattles come in the shapes of an IQ ball, dumbbell, drum, teething grip ring, trumpet, musical note and candy. The materials are smooth and durable, made to last, with no sharp edges that could scratch or hurt your baby. Babies will love to touch and explore the different textures and hear the gentle rattle of the toys. This set is recommended for age 6 months and up.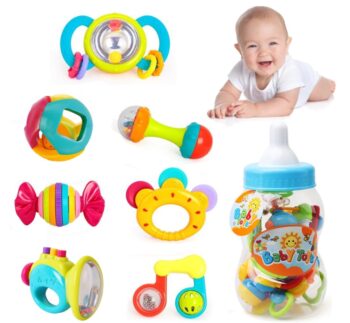 9. Baby Caterpillar Toy

Your baby will love to explore the feel and sound of this colorful plush caterpillar toy. It features a rattle, light-up cheeks and squeaker tail. It also plays soothing music that can help to calm your baby. With a friendly, cartoon-like face, the caterpillar is sure to become a fast friend for your one-month-old baby and it is suitable for use from birth. It has a variety of bright colors and textures to give your baby lots of sensory interest. The caterpillar also features fabric taggies, embroidered details and lining that crinkles when touched.
When the musical button is pressed, the toy will play gentle music to stimulate your baby's hearing and the caterpillar's face will light up. Babies will adore the mixture of sound and light and will have fun exploring this friendly creature! It also contains a plastic teething toy attached the tail, to give your baby comfort when teeth are coming in. The toy is designed to encourage hand-eye coordination, auditory and visual development.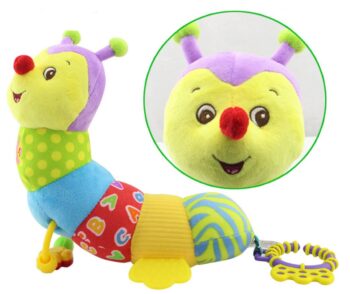 10. Baby Stroller Teether Toys 4 Pack

At this stage of development, your baby cannot see very far but their sight and hearing are constantly developing. This set of hanging bell rattle toys could be a great choice for your 1-month-old little one. It comes with four rattles, each with an elephant, an owl, a frog and a cat, as well as fun bright shapes and teethers. You can attach the rattle set to your baby's car seat, stroller, or play gym to encourage visual development and eye tracking. Babies will love to look at the cute, fun animals in bright colors and fabrics.
As well as visual interest, each animal toy features a built-in wind chime and rattle. When your baby squeezes or shakes the toy, it will make a noise to give them auditory feedback and demonstrate cause and effect. As your baby grows, they will love to practice grasping and reaching with the fun animal friends! The toys are made from good-quality plush with a soft PP cotton filling. They attach easily with the C-shaped rings at the top of each toy. This bell rattle set is designed for babies from 3 months and up.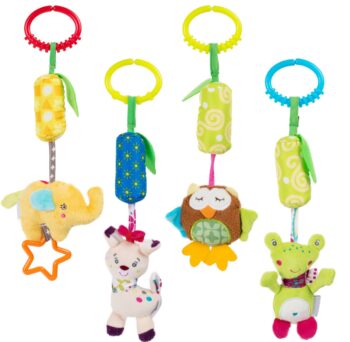 Overall Best Buy
The overall best toy for 1 month old baby boy or girl has to be the Fisher Price Glowing Seahorse. It combines the sensory stimulation of touch, hearing, and vision. The soft fabric is perfect for babies and the music is sure to soothe them. The tummy glows, giving visual interest and encouraging eyesight development. It is the ideal size for babies to cuddle with and comes in either pink or blue depending on your color preference. Parents can set the volume level of the soothing lullaby music, which fades out gently after 5 minutes to avoid disturbing the baby.
The seahorse toy is made by a most trusted brand in kids' toys, Fisher Price, so you can buy with the utmost reassurance that you will get a quality product for your baby. It is sure to be a toy your baby will enjoy playing with as they grow and develop.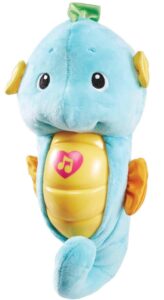 What are the Different Types of Toy for 1 month Old Baby Girls & Boys?
You may think that kids of this age are too young for playing with toys, but even though they are little they still enjoy interacting. The best toys for this age are the ones that support the development of lots of different skills, like hand-eye coordination, motor skills, hearing and vision. Newborns enjoy looking at bright colors, touching different fabric textures, and hearing a range of sounds and music from their toys. Many of the toys we have featured here have an animal theme, with friendly and cartoon-like faces to engage baby's interest.
There are many choices of toys for newborns, whether you are looking for a gift for a new parent or something for your own little one. Here are some of the different types of infant toys:
Rattles and shakers

Teethers and rings

Musical/lullaby toys

Crinkle toys

Fabric/plush animals

Cloth books

Hanging toys for strollers and car seats
What are the Developmental Milestones at One Month?
A good educational toy for a one month old baby boy and girl depends on their developmental milestone. At 1 month old, your baby has just arrived and is getting used to the outside world. They may spend a lot of time sleeping at this stage, as their brains are developing very fast! Of course, as a new parent, you are also getting used to your new addition and what that means for your family. Though it may not seem like it, babies at this age are learning new skills all the time, and all interactions with parents and caregivers help them to develop even more. Your baby's body is growing quickly, too, and could grow up to 1.5" in the second month!
While awake, your infant will be learning to focus on faces and objects as well as following them with their eyes as objects move in front of them. They will also be developing muscle tone and may enjoy practicing some deliberate movements as they lose the reflexes present at birth. And of course, you will have baby's first smiles to look forward to! At this stage, infants begin to communicate with you and hold eye contact as they learn from your responses and expressions.
How to Ensure Your Baby is Safe When Playing

The best way to ensure your one month old is safe when playing is to supervise them at all times. At this age, babies can even start rolling so it's important to keep a close eye on them! It is also essential to buy age appropriate toys for playtime, and there is a lot of choices available. By law, toys for children under 3 years cannot contain small pieces that could be a choking hazard for kids. However, you will want to check any potential purchases before buying to make sure that nothing can be pulled off, swallowed, or detached from your infant's toys. Likewise, any accessories that your baby could pull or get tangled in should be avoided. Look for toys with non-toxic, baby-safe materials and go for BPA-free options. For best buys, stick to trusted brands and check out reviews and guides before purchasing.