Chalkboards, they never seem to really go out of style. Most parents today remember having one in their playroom or bedroom, hours of endless creativity at their fingertips, long before the days of electronics and tablet computers. And they have endured the test of time, because regardless of age of ability, every single child will be able to enjoy the color and to be able to express themselves happily in chalk.
But unlike years ago, there is almost too much choice. This helpful guide will walk you through the various features and benefits of a range of children's chalkboard easels in order to help you decide which one is right for you.
Considerations When Choosing a Chalkboard

1. Price
Children's chalkboard easels are available in a wide range of prices, to suit any budget. You will want to consider making sure you buy one that is within your range, but that is also going to be value for money – that will last the test of time.
2. Size
The best sort of chalkboard for a kids' room should really fit appropriately. If you are using it in a bedroom, then the size of the other furniture will affect the size of chalkboard you purchase. Think about where it will be best placed.
3. Style/Finish
Believe it or not, chalkboards for kids come in more than one style. Some are double sided, with a magnetic chalkboard face and others have a whiteboard face. Chalkboard easels can come in plastic or wood or even in a chalkboard table style, some are even wall chalkboards.
4. Durability
Let's face it, it is going to get bashed and moved around a bit, so think carefully about getting one that you know is going to withstand little determined hands and fingers for years on end!
5. Product Guarantees
Some chalkboard easels for kids come with a money back guarantee, promising to repair or replace the item if it gets broken or damaged. This is also worth considering when you invest your money.
Best Chalkboards for Kids in 2023
1. Cedar Markers Board
This chalkboard comes in 3 handy sizes depending on your requirements and has the added feature of being 2 sided. One side black, and the other white, it is also magnetic and has a wooden frame. What is also handy is that this version hangs on the wall like a picture, and comes with a useful hanging set as standard. It is erasable on both sides and completely non-porous. It can be used with standard chalk or liquid chalk, which gives that added element of fun. As magnetic chalk boards for kids rooms go, it's a useful product. It also comes with a reassuring 100% guarantee from the manufacturer.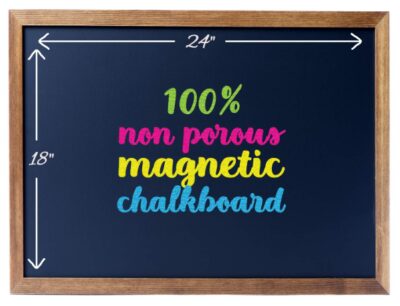 2. Rustic Wooden Magnetic Chalkboard
This wall chalkboard has a little subtle element of vintage about it, especially if you're hoping to create an off-beat look in your child's bedroom or playroom. It is useful for drawing, coloring or writing imaginative stories, your child will have hours of fun reusing the helpful, magnetic chalkboard surface. Again, this kids magnetic chalkboard can be enjoyed with regular, or liquid chalk, depending on your preference. It is made of solid wood, so is bound to be strong and durable. The manufacturer offers a lifetime replacement warranty for this item, if the buyer registers online, and an automatic year warranty on purchase.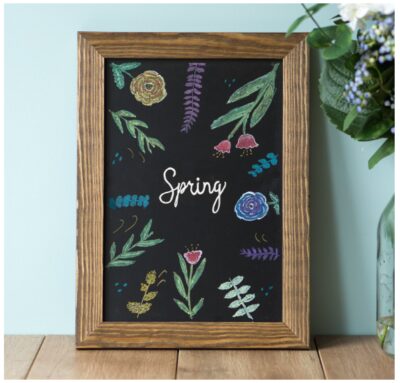 3. Tabletop Standing Chalkboard
A little different in style, this wooden framed chalkboard easel comes in a kickstand design, which is useful for a child who wants to use in on a table in the playroom or nursery. It measures 13″x 9″ which is a very handy size for drawing or doodling in chalk. The surface has an easy glide magnetic feel, and liquid and standard chalk are both compatible with this kids' chalkboard table easel. What's particularly nice about this table chalkboard, is that is boasts a very strong black surface, that allows chalks to remain vivid at all times. Even more fun and creativity!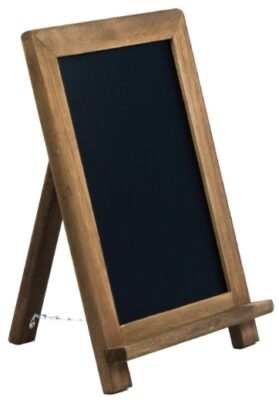 4. Chalkboard Signs
If you're looking for something a slightly bit more unusual, then this quirky four pack of wooden blackboards might be what you want. They are double sided chalkboards but do not have a magnetic feature. They are already designed with hanging strings so they are easy to put up in the playroom or bedroom of your little one. They come in a variety of interesting shapes, adding a different look compared to other more traditional wall chalkboards. They are lightweight and can be used with chalks or chalk markers. This four pack also comes with an unconditional one year refund promise.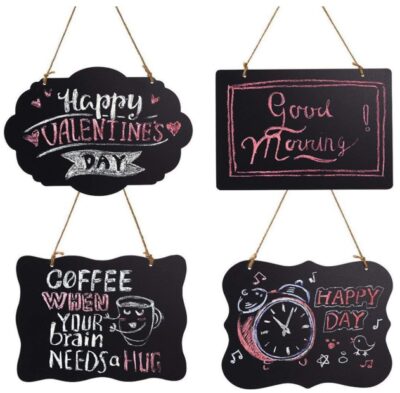 5. Wall Chalkboard For Kids with Eraser and Magnets
A more modern choice for a kids chalkboard is this combination set which comes with various useful accessories, including a magnetic eraser, a set of 14 colored chalk crayons (2 of each color) and 2 additional magnets. This kids chalkboard is also available in three different sizes so you can choose the right option for your wall. There are also useful movable hooks which make it much easier to put up. The style of this chalkboard might suit a slightly older child, who would want to use it for drawing, studying, making lists or organizing a schedule, but equally can be enjoyed by younger children too. This helpfully comes with a lifetime replacement guarantee.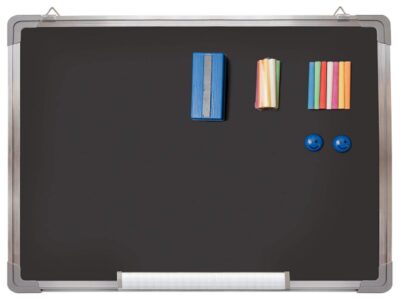 6. Arkmiido Double Sided Easel
This kids chalkboard easel is bright and cheerful and very fitting for a playroom. It offers a double sided easel design, one side chalkboard and the other a magnetic dry-erase board. It stands easel style, and has a large range of helpful accessories to help kids get the most out of the chalkboard experience. The storage shelf below holds a collection of 52 magnetic letters and numbers, in bright colors. It has dust free chalk, as well as 4 painting cups and other magnets. The possibilities of fun and learning with this versatile chalkboard easel are endless. A really helpful feature is that it is height adjustable, so it can grow with your child.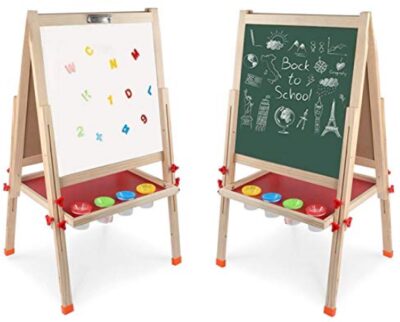 7. Wondertoys Standing Art Easel
An eye-catching chalkboard easel for kids is this natural New Zealand pine chalkboard. It has rounded, safe edges and is complemented in bright colors with non-toxic paints. It offers a double sided design, chalk blackboard and magnetic dry-erase. A cheerful and pretty product, it would brighten up any bedroom or playroom. There is a handy protective film on the surface of the boards which must be removed before use. It also comes with a range of accessories; dry-erase pen, chalk and chalk eraser, magnetic numbers and letters and a helpful wooden storage tray. The maker also offers a 100% guarantee and recommends it for use with children aged 3+.

8. Child's Chalkboard Desk and Chair
Combining the best features of table and chalkboard, this product is both playful and useful. Regardless of age, children can have fun with this chalkboard table throughout their pre-school and school years. There is a very helpful and ample storage nook inside the lid, which is easily and safely lifted up. The desk, chair and relevant items are included to assemble this easily. It is made of beech wood and has a pecan finish which is safe for children because it is non-toxic. This product definitely offers something in the way of practicality because it has the double use of both table and blackboard, although has no magnetic feature.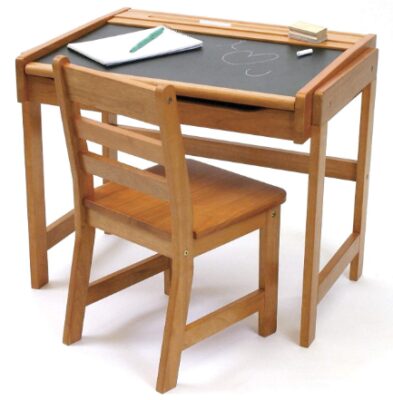 9. Logics Best Whitboard 3 in 1 Set
This chalkboard for kids is simple but perfect for any playroom or bedroom. There is the traditional black chalkboard side which can be enjoyed with chalk or chalk paint as you prefer. Alternatively it has the whiteboard dry-erase side of the chalkboard easel which is also magnetic and comes with bonus letters and numbers for educational play, as well as a useful marker and eraser. The whiteboard side can even withstand paint and can be cleaned off for reuse. The storage tray is not only helpful for keeping supplies safe and handy, but can also be removed for cleaning – music to any parents' ears! There is not, however any maker's guarantee.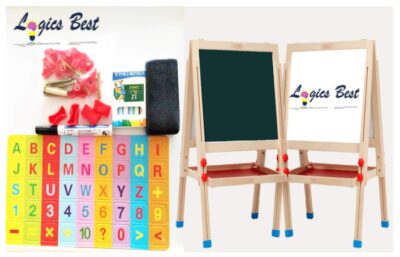 10. Melissa & Doug Art Easel
Boasting many features, this kid's chalkboard easel has a dry-erase board as well as a chalkboard and also offers a paper-roll holder which locks the paper securely into place. Helpful also, is the child-safe paper cutter and easy-clip grips to help children keep their creations in place. It has removable plastic storage trays and a wooden frame. The accessories are sold separately and it should be noted that this kids' chalkboard is not magnetic.  It can be folded away flat for easy storage and Melissa & Doug as usual with their products, offer a 100% guarantee for a refund. Ages 3 and up.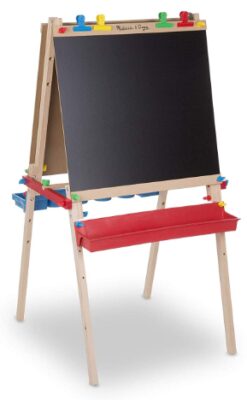 11. Minnie Mouse Double Sided Easel
There had to be a Disney option, didn't there? This magnetic chalkboard for kids comes in a range of Disney styles, including Minnie, Mickey, Ninja Turtles, Paw Patrol and Frozen, so all the favorites are included. It boasts the typical black chalkboard on one side and the more modern, wipe clean magnetic dry-erase side on the other. This chalkboard easel is made of wood and has two fairly deep, fabric storage bins underneath, to hold accessories and toys. An added extra included is a magnetic character puzzle and alphabet letter magnets, so your child can enjoy learning while they play. It is recommended as suitable for ages 3-8.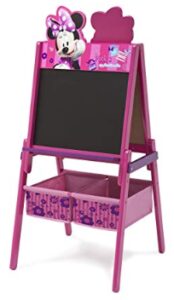 12. Billyboards Wooden Chalkboard 24 x 36 Inches
Available in 3 sizes, this vintage style chalkboard also comes in a range of colors, so if you are keen to place it in a bedroom or playroom with a certain design look in mind, then this may be a useful choice. It has helpful sawtooth mounting hangers on the reverse side and is only for use with chalk. There is a helpful note from the maker that markers are not best used on this style of chalkboard and that it should not be wet or washed too often. The frame is chunky, 3″ wide and comes in blue/green barnwood, buttermilk barnwood, coffee bean, distressed brown, and medium brown so it will suit every possible decor.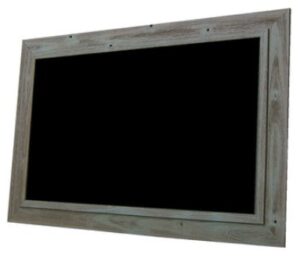 Overall Best Buy
This one was number 6 on our list, and it is the Arkmiido Double Sided Easel. We liked this product best because it has every feature you might need. While others offered a magnetic board, they may have been lacking the accessories, and not only was this board cheerful and bright, and would look stylish in any room, but it offers the accessories with the purchase. We thought the storage shelf was very useful and the addition of the painting cups was especially functional and fun. We particularly liked the inclusion of dust free chalk, which was extra safe for children.

What are the Different Styles of Chalkboards?

There are a range of chalkboard styles to suit any home or play space, and the selection and wide variety means that any customer can usually find the design that best suits their needs.
Picture Style
Traditional picture-style children's chalkboards hang on a wall or door easily and provide a useful space to draw, doodle or write lists during play.
Easel Style
The most commonly recognized style nowadays is the double sided, magnetic dry-erase and black chalkboard style design, helpful for a range of activities, and with a handy storage tray. Also useful for more than one child to play with at a time.
Table Style
If you want to make the most of your space and need a table as well as a kids' chalkboard, then a kids chalkboard table is also an option. These come with storage space built into the desk as well as a matching chair.
Which Features Should my Chalkboard Have?

Kids' chalkboards come with a range of features, and each product can offer a different combination of those. It depends on the buyer, but a good quality chalkboard should offer a durable, easily cleaned blackboard surface, that holds chalk well. Other features can include a magnetic dry-erase side, on which magnetic puzzles, letters, numbers or shapes can be placed and played with for educational use. A chalkboard for a kids room could also have the option for hanging on the wall, and may come with a hanging set or features on the reverse to allow for this. Some chalkboards for a kids room may also come with chalks, erasers or liquid chalk pens.
Which Kind of Chalk is Best and How Do I Keep the Board Clean?
There is more choice than you think, you can use chalk pencils, mechanical chalk pencils, liquid chalk markers or just traditional plain chalk. A kids chalkboard easel can be cleaned in several different ways. You can either use a clean, soft cloth or a felt eraser or a baby/wet wipe. Depending on the board, any of these options are effective. If you are using a cloth, you can use a home made solution of lemon-oil, or a store bought dusting product of your choice. Use a reasonable amount onto the cloth first, then gently wipe. If you are using a felt eraser, wipe the chalkboard in a regular motion, up and down or side to side, to avoid irregular patterns forming as you clean. You can also  clean your eraser occasionally with a lint cloth to keep it in good condition.