There is a time in a child's life where they want to take photos with a camera and capture images of things they come across whilst playing. There are loads of cameras to choose from and with a little investigation and comparison, you will find one that is ideal for your child's age and capacity, which will let the little ones creative photography begin.
The camera has been around a while now (1816 by Nicéphore Niépce) and although we have advanced from the early elitist only having access to one. These technological advancements have developed to the point now where everyone can have access to one.
This is a great opportunity and kids have never before had such access as they do now and whether you agree or not the future is encouraging kids to be creative with this available technology.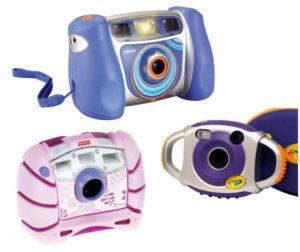 Photography is a great form of art and the power of an image can change a belief, prejudice or inspire to reach for greater goals, it's with this I feel kids should have access to cameras so they too can share, capture, edit and have memories develop while they're on the go through the every changing lenses of life.
Considerations 
Choosing a camera for your children is a journey and a parent should make sure to find one that is the right type for the age of the child. A child of 3 years old has a different capacity for photography than one of 8 years old, but for those who have not had the responsibility of a keeping a camera, it's a good idea to go with one with a hard casing, easy to use functionality and lower on the price range. However, if the child is older, 7 years old and above, and has shown signs being responsible then there is a cause for spending some extra time and money choosing.
So, what are the considerations to factor in when deciding on a camera for your kid? The usual factors like price, function, and durability is always a sensible start, but more specifically are:
Picture quality
Finding a camera that has good overall picture quality might suit some families who might be wanting their daughter to create a family photography project and will the quality need to be on high quality. Some parents get their kids to photos and then to make collages, calendars and framed photos for the extended family or grandparents.
Battery life
Some cameras are made to last a full day of snapping and taking photos, while others a just hold their battery life for a few hours.
Editing options
Some have a variety of easy to use features and makes learning fun and slightly challenging, which is good for the little one's development. Some offer to change colors, create funny faces and some integrate with computer software easily. The quality of the pictures so would say depends on the cameras pixels and light sensors. However, for a very young child, these are usually less important at the beginning stage of learning to be a photographer and more focus on having fun, making funny faces is more likely for them to associate joy and inspire their creativity.
Control difficulty
The younger the child is the more it makes sense to choose a camera that is very simple and for beginners. This might mean just a push function for capturing a photo and offers less functionality that can often be overwhelming.
Accessories
Some cameras come with a bag and this is great for the children when they are exploring the great outdoors with the family. There are also some cameras that offer a strap that secures the camera around the chest and decreases the unfortunate circumstances of a camera breaking.
Quality
The quality of a camera is crucial and the more expensive the camera the quality usually increases. Some parents want a camera that can handle getting bumped and bruised easily with getting broken. Some moms want them to be waterproof and able to the swimming pool, so a good durable underwater is essential. The flash is usually important when the child will be using this at night. Some parents will want their child to use a camera for a holiday trip or at some camping event, which might be less important for taking photos at night with, therefore less important.
The quality of the flash is usually important when the child will be using this at night. Some parents will want their child to use a camera for a holiday trip or at some camping event, which might be less important for taking photos at night with, therefore less important.
These are some of the main reasons for distinguishing between cameras and below I'll explore some of my personal favorites and explain why these might suit you and your kid's needs.
VTech Kidizoom Selfie Cam
Every kid wants a selfie-stick and the latest trend is for children to be out and about with a selfie-stick. This fabulous looking one looks good, it's easy to use and makes learning to use a camera fun.
Kids love this selfie cam because it means they can take photos of their friends while learning to use a camera. Little ones always learn best when the joy of learning can be shared and with a selfie cam they can get everyone in and included.
The camera itself rotates and can go from front photography to rear with an easy switch between the two. They also might enjoy taking a photo and then editing it, which is done via a USB cable. The video capture has the ability to record up to 5 minutes at a time and is enough time for them to begin developing their skills with using a camera.
The camera has a slightly smaller screen of 1.41 inches but is in color with 128 x 128 pixels and has an LCD screen. There are loads of child-friendly features and the musical slideshow is easy to use and fun to learn how to edit with. The video capacity has the ability to record at 320 x 240 resolution and the camera is 0.3 MP, which isn't that powerful for capturing amazing shots but is a good start for a kid's first camera.
The camera's capacity to hold photos is good and will hold a total of 600 photos, which is certainly enough for a day with the family or friends. This has been made for 6-years-old children and above and is frustration free with easy to use functions.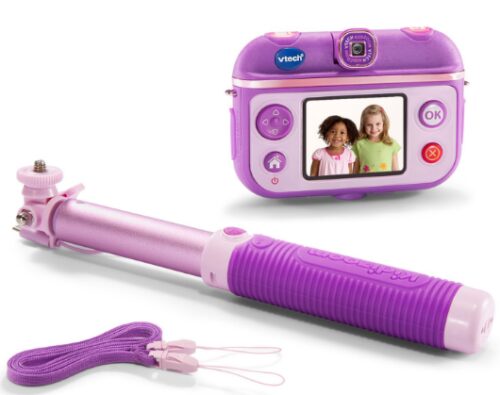 VTech Kidizoom DUO Camera 
This camera is the latest in Vtech kids camera technology and offers some new and exciting features that allow children to take selfies with the rear lens.
This camera switches between 2 viewpoints and can take forward and rear photo shots with a dedicated button for making switching between each easy for kids to use.
This camera has 5 inbuilt games and is good for those parents wanting to get them using this camera because some kids can bore easily if the camera only has image capture features. This one also has voice recording features and each one changes the sound effect. There is movie capture capability too and can be used for slow stop-frame animation, which is the only one in the review to have this feature. They can also upload their photos of the day to a computer and store all their best photos.
The camera itself has 2.4-inch screen size, which is in color and in high resolution with 1600 x 1200 pixels in the front camera and slightly less in the rear, which has 640 x 480 pixels. The inbuilt memory card makes storing photos easy and the 256 MB memory card is expandable with Microtechnology. The micro-SD and Micro-SDHC are sold separately and can hold up to 32GB.
This camera is easy to use and with an automatic shut-off system the battery life with be preserved. The time is 3 minutes before the shut-off happens and this is ideal for a whole day's outing or a trip to the beach. This requires 4 AA batteries and needs very little change if the batteries put in are new, however, this doesn't come with batteries.
This is designed for children aged 3 years old and all the way to 9 years old, but with easy to use features this is a great buy for all ages of children. The colors come in pink, camouflage and blue, so whatever the kids preference there is one to suit their needs.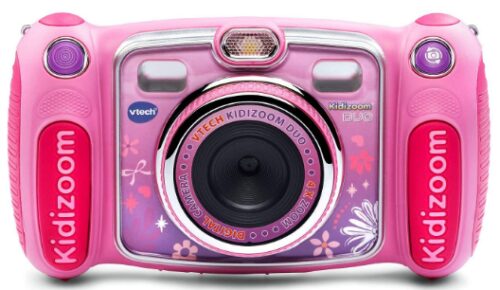 VTech – Kidizoom Camera
This is a great little Vtech camera and the colors and theme is an instant hit with those little ones, cause early enthusiasm is important as we all know, first impressions do matter and this one won't let you down.
The camera itself has a 2-megapixel capability and 4x zoom, which is great for those early enthusiasts trying to capture the gardens hidden secrets. Furthermore is the selfie self-detecting auto capture, which helps with the toddler and their camera beginnings.
This camera for kids comes with video recording, voice recording, and 4 built-in games which are in my view why this is a super kid-friendly camera. The animated picture availability will enhance the photos and leave the kids flicking through and choosing their favorite, which is great and considering there is 35 to choose from it's not gonna get boring quickly.
The option to download and upload to the computer is a great feature for this child camera and will get them thinking about the editing process, which could, in theory, be added by an adult and maybe when reviewing your child's photos you realize that there is a Steve Mccurry in the making. Personally, I would recommend this for children aged between 3 to 8 years of age.
This camera comes with batteries and the built-in memory card, which is great, but the SD card slot can be advantageous but doesn't come as standard, so keep this in mind, but otherwise a solid starting point for those little eager beavers.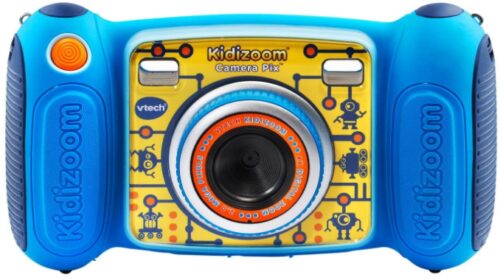 VTech Kidizoom Action Cam
This is the best camera for a 5-year-old and under in my view and for good reason, it comes with a durable case, it's waterproof and can be attached to a kids skateboard, bike, and other children's toys. The price is cheap and you get a lot for what you pay or so I think, it has an LCD screen (1.4 inches) and features stop-motion footage, videos and of course photos.
The kid's action camera is really tough and can go with them wherever their adventures take them, which means you won't have to worry it breaks.
The battery will last 2.5 hours and there is a microSD card slot ensuring as the photos pile up they won't need to be deleted. The camera itself isn't the best with 640 x 480 resolution, but as a starting camera, it will be a great first-time buy.

Frozen Action Camera
This themed camcorder is another kid-friendly camera and the manufacturers made sure this would last the test of time by creating a well-rounded product. This is a low budget cam but doesn't limit the quality of my view, it has a 5.1-megapixel camera, which is the best so far and a huge leap in comparison. This might look a little girly, but the blue theme is very gender neutral and will keep those aspiring creatives going and snapping.
This is a low budget cam but doesn't limit the quality of my view, it has a 5.1-megapixel camera, which is the best so far and a huge leap in comparison. This might look a little girly, but the blue theme is very gender neutral and will keep those aspiring creatives going and snapping.
The memory add-on is available with micro SD extendable support, which makes this equal in comparing the others above. The files are easily shared and stored by simply putting them onto the computer in a sec.
This can be used like most action cameras and skateboards, bikes, boards etc can all be used in conjunction with this.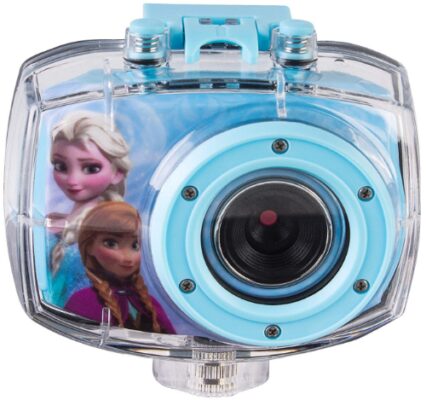 Fujifilm Pink Instant Cam
This unlike the previous 3 is an instant camera and is fun for those wanting to see the instant results and share with they're kinder school friends. This really is a little more feminine with the color scheme and is girl friendly, but it also comes in blue for the boys.
The new slim-line look is great for handling and I think would suit a slightly older child, simply because it doesn't have a protective case, but the price is a mid-range so little risk might be fine.
The new and improved picture shot cam can take soft pictures and is great for portraits and specific functions. The visibility is clearly upgraded and will produce a cracking photo.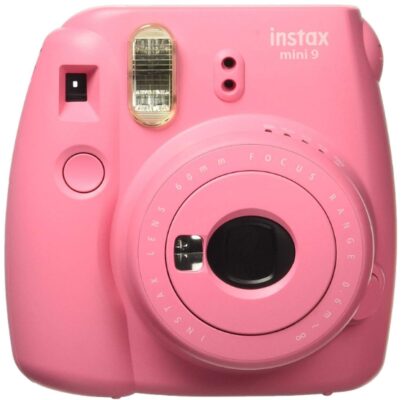 Overall Best Pick
The "VTech Kidizoom DUO Camera" is by far the best and offer high-quality design, features, and functionality both in terms of child-friendly use and level of fun whilst using. The camera has much better resolution than the others and when combined with the games and features the camera offers this now becomes the best overall camera.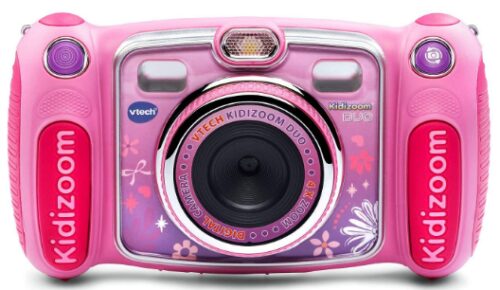 Best Budget Pick
The best budget is the "VTech – Kidizoom Camera" which has a neat little design and offers a good solid picture at 2 mega-pixel. The product itself is sturdy and will survive being dropped occasionally, which is very likely to happen when the kids start getting excited. The various setting and features, like the 35 animated frames, makes this a great introduction for them to get creative and have some fun in the process of learning to be a fantastic photographer.