Every kid loves soccer these days and this means finding the best pair that will get them their next goal. Some soccer cleats are better than others and if you have boys like mine they like to have shoes that stand out on the field.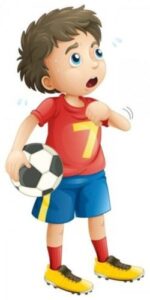 Every kid wants to stand out no matter the age and gender if they love the game of soccer than they love cleats as equally because one usually accompanies the other. Kids these days, whether indoors or out, can play on grass or specifically engineered artificial grass turf, which means there is an increasing rise in funding for manufacturing and designing the top-end cleats. Recent stars like Messi and Ronaldo have their own type and kids go crazy for them.
You want a pair of cleats to have good stability, agility and performance all-around regardless of the style of play. Children of all ages want to gain access to competitive games, whether local or not and the rankings and play with each potential league means one step closer to realizing their dream of being a star on the TV set.
A good pair of cleat will have been designed to handle wet, muddy and field conditions that most wouldn't want to step out into. However, they need to grip the ground and spring forward with each step, remaining firmly planted until made to move. Sometimes the cleats have differently formed patterns and some prefer more control at the tip, while others designs put emphasis on the sole arch. Both are ideal and for most kids and this kind of technicality is unnecessary, as long as they have grip and give fantastic traction that manages all surface types then you can't go wrong in choosing.
There are loads of different brands and some well known are Nike, Adidas, and Puma, which all offer the highest standard of quality to increase overall game-play. Make sure to find the best kids cleats and you're on the way to making your child feel amazing. Ok, so hearing all this isn't necessarily making choosing any easier, but soon you will have a bunch to compare to, both in price, brand, and quality. Below I have put together some of the best soccer cleats of 2017 and soon you'll find the right pair…
Considerations when choosing the best pair of cleats
Sometimes the best is not always necessarily the most expensive and with soccer you should find ones that give the best bang for the buck. You can do this by comparing material types, features and foot support.
Most players prefer a mix of leather and synthetic materials, but some have customized their boots to be ultra-lightweight. However, this is for the professionals and if you stick to the branded names you will usually get a mid-to-high quality shoe.
I think style is important for all soccer players both on and off the soccer field, so finding one that they will love is crucial. Some kids love the bright and colorful types because they stand out on the field and other players have an easy visual whilst the fast-paced game is underway.
Make sure to pick a pair that performs on rough surfaces and sometimes parents pick the wrong type of sole for soccer, but in this review only cleats with the good track are on display.
Kids Adidas Messi Cleats
Messi is one of the best players in the world and his cleats are world famous in the soccer community, which is why they are first in this review. These kids cleats are designed to perform to the highest standards and will help them play to their peaking potential.
The cleats are Messi-GAMBETRAX and unique in their design with a perfect touch of both grips from the messiTOUCH X-ray surface and comfort. The synthetic lining is comfy and the leather is cushioning to the feet, which makes for hours of play easy.
Agility and technique are what Messi is known for and the skeleton outer-sole makes game-play on both firm and soft grounds ideal.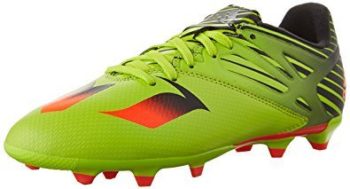 Vizari Striker FG Kids Soccer Shoe Cleats
This is another good type of shoe with an overall performance that makes for easy play whatever the weather and the color molded design makes for style and comfort.
The stitching on this soccer shoe makes them last through the toughest of gameplay and you will see these last a full season, even well into the next. Athletic boys tend to find that a flexible high-heeled
The front of the upper shoe has been stitched with synthetic leather and holds firm the front-foot without diminishing the lightweight toe-style of play.  The remolded under-sole has a rugged but tight grip on any surface it encounters and is slip-resistant when times get wet and slippery.
The overall style of this shoe is classy and sleek with a silver and black finish, which always stands out with white socks, which is common in junior soccer.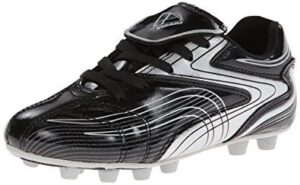 Adidas Kid X
Adidas is a well-known brand for producing high-quality soccer cleats and by combining synthetics and leather these are really a contender for being the best of the bunch.
The insole is soft and padded to ensure a snug fit without being too tight after the laces are tied up. The ankle has a little extra protection with this type and has a foot-friendly design for lasting the test of time, especially when the gameplay gets rough.
These are very breathable and offer a layer of ventilation through they're upper-arch on the front of the shoe.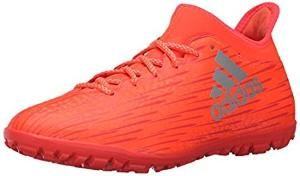 Vizari Infinity FG Kids Soccer Cleat Shoe
These are another type of synthetic rubber-soled soccer cleat shoe with a strong and durable feel, both with an anti-stretch to make the long hours of soccer practice easy on their precious little feet.
These can be used for both male and female players. There is a rise in girls playing soccer and these can assist those wanting to get a game. The colorful style makes them stand out in most game, but in comparison to the Messi shoe, these don't quite have the same WOW-factor!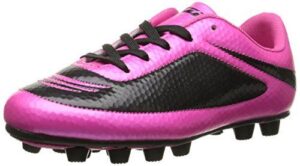 Vizari Frost Kids Soccer Cleat
Vizari is new to the soccer making shoe, but the feedback is positive and kids like the shoe for it's a cool design and stand-out features, which impress on the field of play because of their stylish appeal.
The materials are synthetic and the sole too, which makes them different in design, but with the man-made outsole they are sturdy.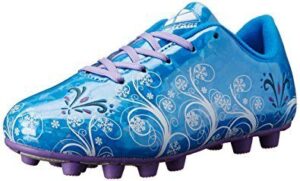 Best Overall Pick
The Messi 'Kids Adidas Messi Cleats' are the best and offer the best overall performance with outstanding stylish designs and features, which seems to make sense since Messi the best player in the world partnered up with one of the best producers of soccer cleat shoes, so naturally this combination was gonna make a miracle in design, agility, durability and over style.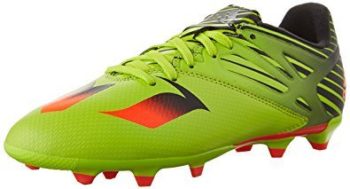 Best Budget Pick
The 'Vizari Frost Kids Soccer Cleat' are cheapest in price and comparing to the others in this review offer the overall balance between overall features with price, which is why this is the best budget pick overall.