A wooden toy kitchen makes a great birthday or Christmas gift for any young boy or girl. Toddlers and young children absolutely love role playing and copying mom and dad, so a kitchen is an excellent choice. There are so many different types of toy kitchen each with its own unique features, so we have reviewed a range of products to help inspire you.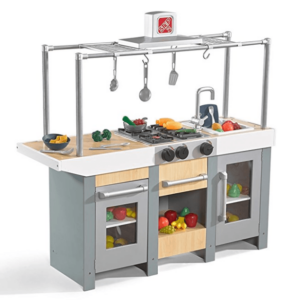 Types of Toy Kitchen
There are several different types of toy kitchen's available on the market. Some are small and simple, whilst others have all the features you could find in a real kitchen, and might even have light and sound effects. This review will focus on wooden play kitchens, but it's worth noting there are also plastic ones available. There are even kitchens featuring children's favorite cartoon characters such as Hello Kitty, Peppa Pig and Disney characters.
Play Food Accessories
There are so many accessories available to go with a kitchen set. Just about every type of food is available in a toy version, ranging from fruit to meat to tins of soup. This makes a kitchen a great gift for young children, as other friends and relatives can add to their collection on special occasions.
There are also a whole range of other accessories such as pots and pans and tea sets which may interest your child. Children will love to pretend to make their parents and friends meals and snacks, so you could even get them a toy toaster or coffee machine! A play kitchen is a great way to keep little ones entertained when parents are busy in the real kitchen. You could even ask your toddler to make your dinner whilst you are making theirs!
Considerations When Choosing a Kitchen

Because there are so many different kitchens available, there is a lot to think about when choosing the perfect one for your child. Here are some of the main thinks to consider when shopping for a kitchen for your toddler.
Age – If you are buying for a younger child, make sure that the kitchen is suitable for their age. For example, ensure there are no small parts which could be dangerous. Similarly, if shopping for an older toddler make sure the kitchen is large enough and has enough features to keep them entertained for a long time.
Features – Kitchens come with different features, ranging from basic models with just a cooker and a sink, to much more elaborate set-ups with refrigerators, washing machines and microwaves! There are even model kitchens which can double up as restaurants. Some kitchens come with special features like lights, sounds and even working ice dispensers! You might also wish to note whether or not the kitchen comes with any accessories, so you know what you'll need to buy to go with it.
Size – Some toy kitchens are quite large, so you'll need to make sure you have enough space to set it up. The good thing about this is that all the toy food and accessories can often be stored inside the cupboards to keep everything neat and tidy when play time is over.
Assembly – Most wooden kitchens come flat packed and require adult assembly. Make sure you have the required tools, and if the toy is going to be a gift, leave enough time to build it up before the big day.
The Reviews
Small Play Kitchens
Smaller, toddler play kitchens are great for younger kids, or for homes without much free space. Kids will still have loads of fun cooking a meal for mom and dad, and the smaller kitchens tend to be cheaper too, perfect for those on a budget. Below, you'll find a selection of our favorites to help you find what you're looking for.
Hape Toddler Kitchen
This small kitchen is perfect for those with limited space. It still packs a range of fun features into a small package, including a sink, stove, shelf, cooker and a cupboard. Also included in the box are a range of 13 accessories, such as plates, cutlery, pots and pans and even miniature salt and pepper shakers!
The stylish purple color of this kitchen makes it a great addition to any playroom. It is made from good-quality, sturdy wood, yet is also small enough to easily be moved to another room if required. The knobs click as they are turned to give a more realistic feel, and you could even give your toddler their own towel to hang on the handle of the oven.
The small play kitchen measures around 28" tall and 22" wide, perfect for younger children to be able to reach the top shelf! It also comes in a red and white color scheme, in a slightly different design.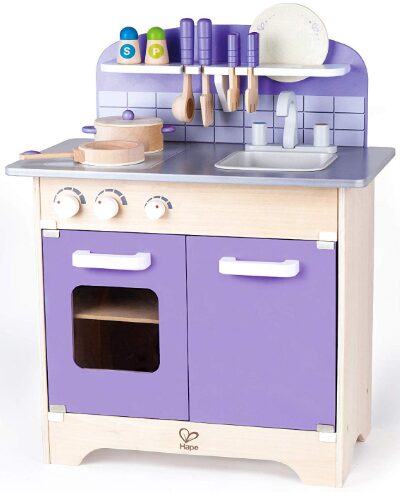 KidKraft Natural Toddler Kitchen
This toddler kitchen set offers loads of fun features but comes at a nice, smaller size. It offers plenty space for storing kitchen accessories or plays food, and also features a microwave, refrigerator and oven. The sink can be removed, so you can put a bit of water in it for your child to wash their dishes, without worrying about how to empty it afterward.
The neutral color scheme of this kitchen means it will look great in any room. It's also great for little boys who may not want something too pink or 'girly'. There are hooks to hang up kitchen utensils, and the display above the oven offers a realistic appearance. The microwave 'controls' are also very life-like, making this product great for kids who love to be just like mom and dad!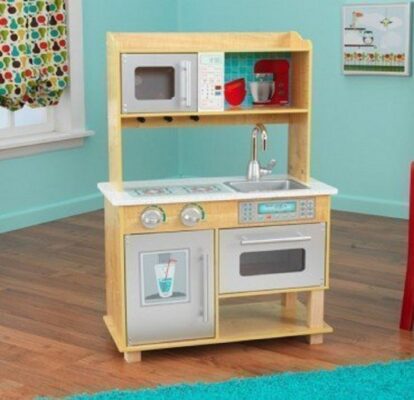 Giantex Wood Kitchen
This stylish, red play kitchen is ideal for children aged 3 years old and above. Whilst more basic in appearance than some other toy kitchens, it still offers a range of fun features to keep busy toddlers entertained. The knobs twist and turn, there are hooks to hang up accessories and there is plenty of space to store all the ingredients little ones need to make a feast!
The toddler play kitchen is made from long-lasting materials to ensure your child will have years of fun. It's also heavy enough that it's safe for young children to play without the risk of it toppling over. Parents will love how easy it is to wipe clean, after a busy day's cooking! The sink can also be removed for easy cleaning if it has been used for water play.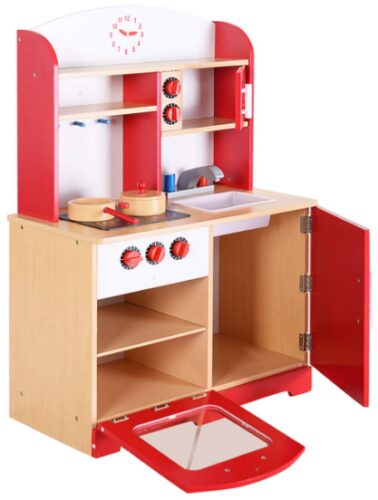 KidKraft Retro Kitchen
This cute, girl's toy kitchen is perfect for younger children, thanks to its smaller height. It's great for saving space, as the refrigerator isn't attached to the rest of the kitchen so they can be used in separate locations. However, the kitchen is just the right size for two children to play together at once, making it perfect for sharing with siblings.
The play kitchen is great for encouraging your child to use their imagination whilst they play. The doors all open and the knobs can be turned, clicking as they do so. The oven comes with a clear door, so little chefs can even keep an eye on what's cooking! Overall, this kitchen is great quality and will give any little girl years of enjoyment.

Large Play Kitchens
If you have plenty of space and a larger budget, it's well worth investing in a bigger toy kitchen. They have loads of fun features to keep little ones entertained for years to come and are perfect for playing together with friends or siblings.
Melissa & Doug Star Diner Restaurant
This double-sided play kitchen is perfect for a few children to play together at once. It features seating for two on one side, and on the other side is the kitchen. It's great for imaginative play – children can either be the chef or the diner, making it perfect for siblings or friends to take turns at playing.
The wood kitchen has everything you would expect in a real diner kitchen, including a stove, a grill, a service bell and even a milkshake dispenser! There is also plenty of storage space in the back of the kitchen to keep play food and accessories neat and tidy after play.
The toy kitchen is great for older kids, as it features a board where tickets containing orders can be held. There's also a sign that kids can use to advertise if the restaurant is open or closed. On the booth side, there is even a jukebox with moving parts, and a pretend coin to put into the slot.
You can be sure that your child will have plenty of use from this kitchen. The seats can hold up to 150 lbs, meaning even a small adult can sit down for dinner. Kids will love to sit at their special seat to eat their real dinner, too!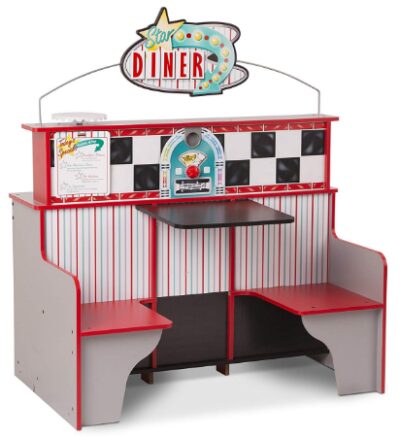 KidKraft Vintage Kitchen
This stylish wooden kitchen would make a great addition to any playroom. It comes in a choice of colors, to suit every room, and is a great size at almost 3' long and high. The kitchen even comes with a cordless phone, for your child to take orders or make important calls!
The kitchen has plenty interactive features to keep little ones entertained. For example, the knobs twist and click, and the doors all open and close with latches just like a real kitchen. There is loads of storage space both above and below the sink, making this kitchen perfect for children of all ages and heights.
There is even a drinks dispenser on the refrigerator, and the controls on the microwave and stove have realistic details. This retro play kitchen is a must-have for toddlers and young children of any age – it is great quality and will last a lifetime.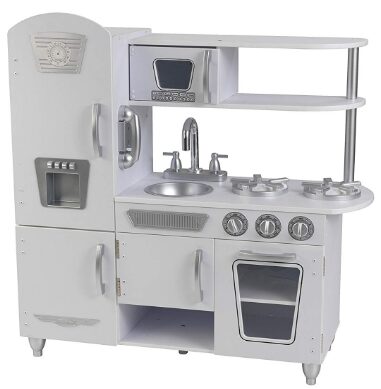 KidKraft Ultimate Corner Kitchen
This large wooden kitchen is perfect for those with a big playroom. It looks just like a miniature version of a real kitchen, with all the features you would expect. There are a washing machine and a dishwasher, and even an ice maker and stove with light and sound effects!
The toy even features granite-style counter tops, for a realistic appearance. The taps can be turned and the knobs click as they turn. There's even a window with drapes for toddlers to look out of as they prep their meals! There is plenty of storage space in this kitchen to keep all food and accessories neatly stored together after playtime is over. The stylish brown and gray color scheme of this kitchen means it will look great in any room.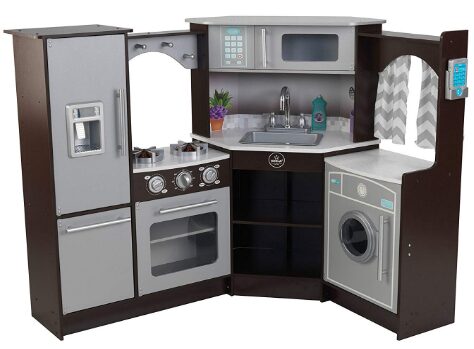 Step2 Uptown Urban Wood Kitchen Island
This toy cooker is great for families with more than one child. The 360-degree play space makes it well-suited for several children to play together at once. Kids will be able to see each other and interact no matter which part of the kitchen they are playing with, so it's great for encouraging communication and sharing.
The stylish wood and 'stainless steel' look of this children's kitchen ensure it looks great anywhere in the house. It also features clear windows on the appliances, so little cooks can see what's inside. There is plenty of storage space for when playtime is over, with shelves up high and plenty of cupboards at a lower level.
The kids' kitchen set comes with a 10-piece accessory set, including a plate and bowl, a frying pan and some utensils, as well as hooks to hang the utensils on. This is a great way to start your child's collection, and can easily be added to at a later date.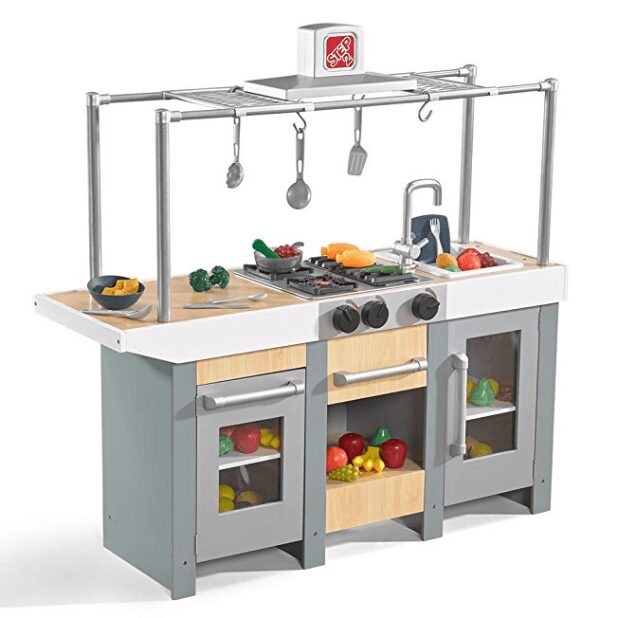 Teamson Kids Retro Play Kitchen
This stylish, retro kitchen comes in a choice of 5 colors so there's something to suit every room. It comes with a range of features sure to keep little ones entertained for years to come. There is a chalkboard on the door of the refrigerator for your child to keep track of what they need to do. The kitchen even comes with a cordless phone for kids to call friends and family to tell them what's for dinner.
The pretend kitchen is easy to assemble, coming with step-by-step instructions and taking only around 30 minutes. Like many other kitchens, the sink can be taken out for easy clean-up. There's also plenty of storage in this kitchen, to make tidying up at the end of the day a breeze. There is a small work area at the side of the kitchen, for little cooks to 'prep' their ingredients, which is a nice feature not found on many other models. Overall, this is a great, stylish kitchen which will look great in any home. The choice of colors is great, meaning there's something to suit boys or girls, or you could go for something more gender-neutral.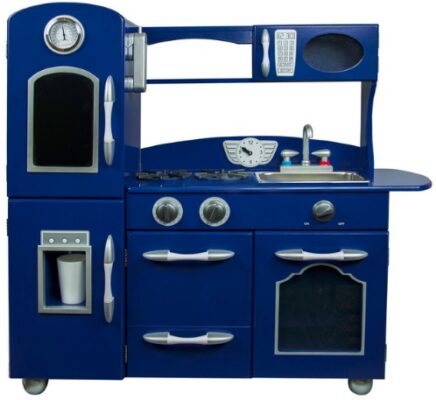 Best Overall Wooden Kitchen 
Melissa & Doug's Star Diner is a definite winner in the wooden kitchens category. It will give children so many years of enjoyment, starting from when they are toddlers. It even offers their own table to sit and play or eat, making it a well worthwhile investment. There are loads of great accessories to go with this kitchen too, making it a perfect gift to add to over the years.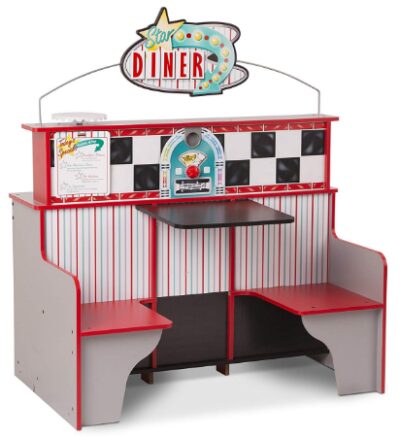 Best Budget Pick
For fun on a budget, Hape's toddler play kitchen is a great choice. Coming in at under others in price, it's a great choice for those wishing to save money, or without the space required for a bigger toy kitchen. It still offers plenty of fun features you would expect from something larger, and even comes with a set of accessories to start your little one's collection.