Finding a great beach toy is important for making the day in the sun extra fun for the children! Summer is here and it's time to take the kids to the beach with some of their favorite toys to splash around along sea shore.
There is an abundant amount of toys to choose from and finding the perfect toddler beach toy is where we come in. There are loads of variety in toys in this review, ranging from beach buckets, sand castle toys and all-inclusive beach bags with loads of different gadgets in an easy-to-carry bag. With all this variety in beach toys you little ones are sure to have a fun time and enjoy getting creative with the sand.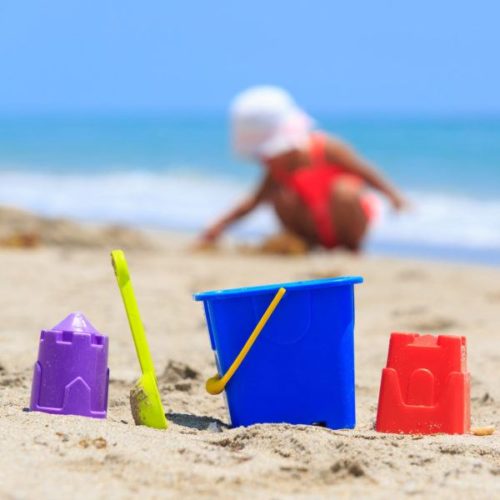 There are 11 beach toys in this review that your little ones are sure to have fun with and all are slightly different. Some toddlers are at the stage to enjoy splashing around the seashore with a shovel and pail while others are better under the toddler canopy out of the sun's heat with a beach play set.
15 Piece Castle Bucket Set 
Every trip to the beach needs a bucket and pale. This toy set is filled with 15 different pieces that range from a rake, shovel and a molded cast for building sand castles.
This 15 piece play set is great for carrying and is ideal for giving the toddler some responsibility. My little boy loves carrying things these days and with a transparent bag, this gives him a sense of importance on the trip to the beach.
This is a great set of toys for the beach and with them being lightweight they will be a welcomed companion. The colors are bright and engaging and the pieces are easy to clean without them losing color or becoming broken.
The price is very cheap and for those looking for a budget set for the beach without worrying about pieces getting lost then this is the one for you and your family.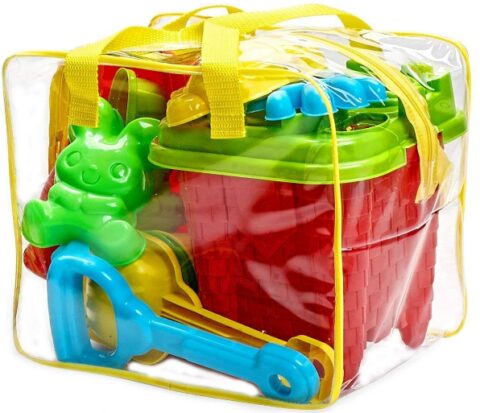 Melissa an Doug Flying Disk
Toddlers playing catch and throw at the beach is often a favorite game to play. The turtle designed disk makes this soft game fun for them to play.
The turtle is soft and easy to use, throw and catch which is great for little one's motor development.
This is easy to use but the manufacturing guidelines suggest for 3 years old and above. Some children develop earlier than others and I have seen 2 years old toddlers using them with ease. However, that's not to say they always catch it, but they sure do love throwing them.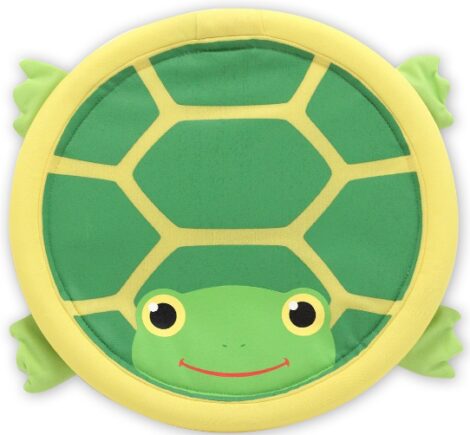 AUNAX Beach Float for Mother and Child
This float is an awesome way for a mom and child to spend some quality time relaxing in the sea. Children love this float and parents do too with its sun protective layer.
This is an eco-friendly toy for enjoying some time in the water. The material is safe and is also thick for rough play.
I particularly like the sun protection feature and if your children are light skinned like mine then you appreciate and form of shade available.
Using this float is very easy and while the arm support is on either side of the adult the toddler has and an easy slip in feature for remaining upright. This has been designed for 1 to 3 years old children and ideal for all toddlers. The steering wheel on the front of the float is fun for the kids to use and rotates from side to side.
The safety of this device is good and the child isn't likely to tip to either side. The inflatable float is easy to blow-up with air and very easy to deflate if needed, which makes transporting fine. The float comes with a storage bag and can be carried easily to and from the beach.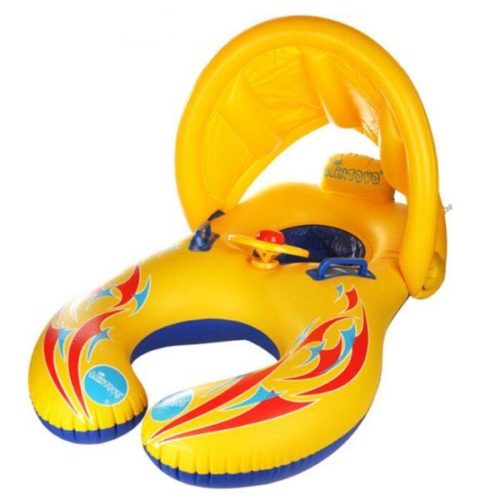 Considerations
There are some things parents might want to consider before choosing a perfect toy for the beach. If you're anything like me you'll want to make sure the essentials are thought of before arriving at the beach with regret. Of course, it's always important to bring along the swimwear and sunscreen, but once this is packed it's then onto deciding about which toys to gather for the fun and games.
Make sure to choose a toy that the kids love and will be amused for hours playing with. Toys at the beach that come to mind are always the classic bucket and spade choice, but with so much variety in toys do we still have to limit things to our childhood pastimes. We can get creative and with the latest in beach toy technology, we can ensure they are highly entertained.
Age
Toddlers range in capacity and age, which makes the ideal toy for one child not good for another which is slightly older.  The younger toddlers are always amused to be at the beach with some sand castle sets and beach bags filled with surprises for playing with.
Sometimes children aged between 1 years old and 3 years old are best kept close to mom and dad with toys. Some beaches have different conditions and offer safer environments for children to be left to explore with less supervision.
Some beaches have different conditions and offer safer environments for children to be left to explore armed with sunscreen and hat on and less supervision. I find that toddlers around the 1-year-old mark are best with a bucket and pale in close proximity splashing in the shallows on the sandy beach front.
Sun Protective toys
Some parents worry about the sun and it's harmful rays with fair skin types of children, it is always sensible to ensure toys keep them amused while being shaded. There are always sun hats and the conventional methods to reduce harmful rays, but with modern beach canopy toys, they can play in safe conditions.
Water Toys for the beach
The beach always has some hidden dangers as I'm sure you're well aware. Sometimes for those parents who have several kids splashing around the sea front, it's sensible to fit them with a floaty device or pool floats that they can hold on to.
There are loads of different floaty toys and pool floats in this review. Inflatable beach rings, armband floats, floating seat rafts, swim rings, toddler swimming life jackets and a mother and child dual floating float.
Cost 
There are loads of different types of toys to bring to the beach and some are more expensive than others. This review has a range of toys that range in price and are thoroughly reviewed to help make the decision in choosing easy.