Trying to find some LEGO and wondering where to buy lego castle sets at great prices? Look no further!
Almost every child (adults too) out there loves Lego, and who can blame them? With an abundance of creative sets out there, it can be difficult to choose just one. However, if you're looking for new castle LEGO's, we've got you covered. We've searched high and low to find the top castle legos sets to review. From Disney themed options to cool lego medieval castles, there is so much fun a child can have with this type of construction toy. Awaken their imagination in an entirely new way with fantastical playtime and get their STEM skills leveling up!
The great thing about all Lego toys is that they can be added to existing collections for ultimate play. Kids will love the fun elements and a sense of satisfaction that comes with building a finished product that becomes one of their favorite toys.
Considerations choosing Lego Castles 
Before we present our top toys in this category, here are some handy considerations to keep in mind:
Budget – Lego toys come in many shapes and sizes. Because of this, the associated price tag with the toys will differ. Consider a sensible amount for you to spend on this toy for your child. You can even get a big lego castle at an affordable price by shopping wisely.
Difficulty – Though al Lego sets come with clear guidelines for suitable ages, you should also consider your child's learning levels. This can help to give you a good indication of whether a set will be suitable. Think about whether your child completes tasks quickly or grow bored easily, that way you can ensure you're challenging them without the task being too overwhelming.
Age Recommendation – This consideration is probably the most important as it has a massive impact on the safety of your child. Always follow the age recommendations stated on a Lego toy before buying. These types of toys contain lots of small parts that aren't suitable for younger children.
Personality – Every child has their own personality and when choosing a toy it's important to honor this. Think about what they like and dislike their favorite colors, and characters they admire for a good idea of what type of Lego set may be suitable.
Top 20 Best Lego Castle Sets in 2023
Here are our top lego toys in this category ranging from awesome Disney themed toys to more complex builds. You'll be sure to find a suitable castle building set below!
1. Lego Harry Potter Hogwarts Great Hall 75954
If your child is a Harry Potter fan, then they'll be sure to love this awesome Hogwarts castle set. Included in this Great Hall set are all the Hogwarts accessories and features including house banners, a spiral staircase that moves, a treasure room, and a potion room too. Consisting of 4 levels, this is one of the latest lego sets we've found. Your child will love the 10 mini-figures that come with the set including Harry, Ron, Hermoine, Draco, and, professors as well as other characters from the movie. Your child will also get to build the Basilisk and Fawkes monsters and Hedwig too for plenty of fun, imaginative play. Accessories include wands, tumblers, lanterns, a broom, sorting hat, cauldrons, potions, and much more! This is an advanced building set and suitable for children ages 9 and 12 years old.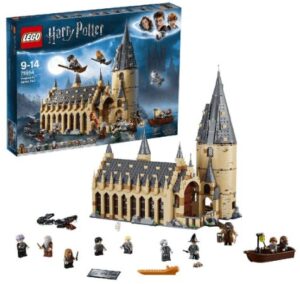 2. Lego Disney Princess Elsa's Sparkling Ice Castle 41062
For any Frozen fan, this beautiful big girls lego castle is guaranteed to be appreciated. Allowing for plenty of creative fun as well as allowing your child to develop important skills along the way. Featuring a pretty castle for Elsa with the icicle tree, a sleigh, a secret staircase, bed, ice cream bar, and ice hill, there is so much to build and enjoy! The set comes packed full of accessories too including ice skates, skis, glittery wall decorations, stickers, capes, and a tiara. When built, this castle measures over 6cm long and 23cm high. Suitable for children ages 6-12 years, your child can create their own narrative or follow the wonderful story from the movie. All girls are fans of Frozen and Elsa, which makes this lego castle sets for girls perfect!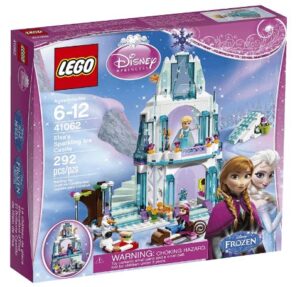 3. Lego Star Wars Darth Vader's Castle 75251 Building Kit
Your child will be able to build the striking Darth Vader feature-packed castle as seen in the movie, with this awesome set. Including a buildable advanced fighter, there is so much action-packed fun to have with this special toy. If you're looking for cool lego castles, this set comes with 6 characters figurines from Star Wars including Darth Vader and so many fun accessories. Children ages 9 years and above will get to explore imaginative play with a unique toy that is sure to provide learning skills too. When built, the Darth Vader castle measures over 16cm high and is 28cm wide. It includes 1,060 pieces and is one of the more advanced sets we've listed in this category making it perfect for kids who love a challenge!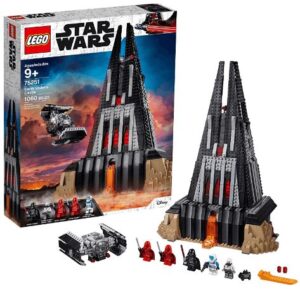 4. Lego Disney Princess Cinderella's Castle 43178 Kit
This set is a lovely option for younger children ages 4 years and above who love Cinderella. Included in the set are all the accessories and features from the movie including Princess Cinderella too. This magical set is going to provide your little one with plenty of Disney themed fun as they build their pretty castle using the handy starter brick base. Included in this set are also includes Cinderella's adorable pets Lucifer and Bruno to play with too. This beautiful set offers lots of imaginative play and is a great way to introduce children to Lego toys. Once built, your child will have so much fun acting out delightful scenes including their favorite Princess and friends.

5. Lego Architecture Buckingham Palace 21029
As one of the most unique castle kit we've found, your child can build Britain's queen's royal residence with this cool set. The London Buckingham Palace is one of the most iconic landmarks in the city and now your child can recreate it at home. Included in the set is the east wing. the forecourt, and palace gates as well as the Victoria Memorial, a red double-decker bus, and a taxi. Children will also receive a collector's booklet as part of this lego set that contains educational information about Buckingham Palace. This toy contains 780 pieces and is suitable for older children over the ages of 12 years.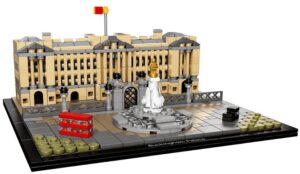 6. Ariel Lego Disney Castle 41160
This wonderful Ariel themed castle is going to delight any Disney fan who loves the movie. Kids will get to build a castle for the wonderful mermaid which features a doghouse for Max too. Using the special starter brick, this set is challenging but suitable for any child age 4 years and above. The construction toy includes an Ariel mini figurines and 2 animal figurines also. Included is a simple step-by-step guide that can be followed alongside the help of an adult to complete the awesome construction. Bright, colorful, and pretty, there is so much seaside fun to be had with this themed lego Disney castle set.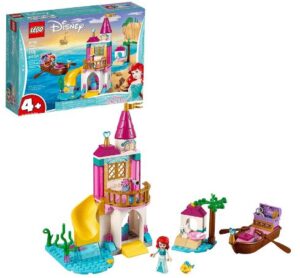 7. Lego Castle Dragon Mountain 70403
If you're seeking lego kingdom sets this super cool castle is sure to impress as one of the best knight sets out there. Suitable for children ages between 6 and 12 years, there is so much fun to be had with this construction. Featuring a huge catapult for attacking enemies, a spiraled staircase, tower with a dungeon, lego dragon nest, and potion room, kids will love all of the medieval-themed play to come with this toy. The large catapult is fully functional and other weapons include swords, a spear, and a staff for all the battles! Your child can go back in time while building their awesome construction which will tower the imaginary sky when built!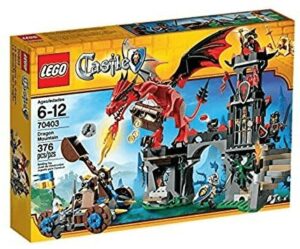 8. Lego Disney Princess Sleeping Beauty's Fairytale Castle 41152
This wonderful Disney lego Princess castle is pretty in pink and will bring an abundance of joy and entertainment. Suitable for children ages 6 to 12 years, the castle features a Princess and lots of lovely accessories from the Maleficent film, including the character herself. Kids will have so much fun constructing the pretty pink castle that comes with a high tower, an apple tree, wishing well, and other small accessories. With just under 300 pieces, once constructed this castle will provide hours of entertainment.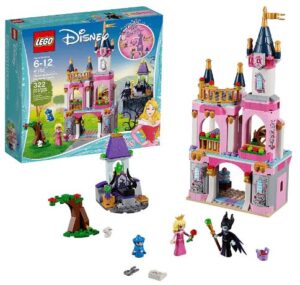 9. The Lego Movie 2 Queen Watevra's 'So-Not-Evil' Space Palace 70838
This one of kind Lego construction set allows children to build an awesome Space castle taken from the awesome movie. With this set, kids will have an awesome space palace toy to play with and a rocket toy for Queen Watevra Wa'Nabi which comes with pods that are detachable. A fantastic set for any child who loves the Lego 2 Movie, kids will get tons of figurines to play with including royal guards. Including 995 pieces, this toy is recommended for children ages 9 years and above. If you're seeking a new toy or gift that is going to be suitable for a child who loves constructing, this is an excellent choice all round.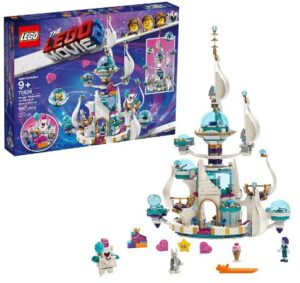 10. Lego Monster Fighters Vampyre Castle 9468
Add a bit of a spooky theme to your lego pick with this mysterious Monster Fighters toy. Children between the ages of 9 and 14 can get busy building this awesome Vampyre Castle that comes with a moonstone device, shooting spiders, spikes, a trapdoor, secret entrances, stairs, a coffin, and much more. The hero car included has a net launcher for plenty of fun activities and this set comes with 4 weapons included for defeating enemies. With this cool toy, kids will have fun defeating the Vampyre from Monster Fighters and his helpers!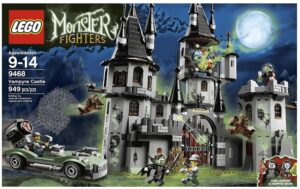 11. Lego 75948 Harry Potter Hogwarts Clock Tower
This iconic Hogwarts model spans 3 levels and is suitable for children ages 9 years and above. Included in the set are 8 Harry Potter figurines – Harry, Ron, Hermione, Fleur, Cedric, and others. The tower measures over 13 inches when built and towers over the small figures for fun imaginative play with this scene from the movie. If you're seeking Harry Potter-themed Lego toys that can be added to existing collections, this is an excellent option as one of the cheap lego castle sets in the Harry Potter theme.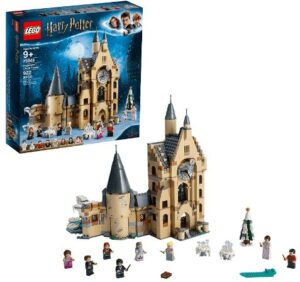 12. Playmobil Wolf Castle
If you're looking for a cool kingdom game set for your little boy or girl, why not go for this amazing Wolf Knights' Castle? The two towers once built make it easy for those in the castle to keep a lookout for unwanted visitors that may need to be defeated. The castle's other features include a breakaway wall on its side which simulates real action. A secret trapdoor is positioned above the dungeon, avoid it all costs! This action-packed set includes a castle, armored figures, a breakaway wall, and lots of other accessories too. Suitable for children ages 4 years and above, there is plenty of constructing fun to be had with this castle lego set.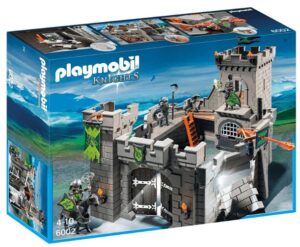 13. Kings Castle Lego 70404
This lego knights castle is one of the best that we've come across in the selections. It features a battering ramp and a catapult that fires the weapon at any enemies approaching the walls. When constructed it has a collapsing back wall, king's thrones, knight table, staircase that moves as well as a hidden door for escaping. Any medieval history fan will love the range of weapons included with this toy: a spiked mace, swords, crossbows, ax, and bow with quiver too. Suitable for children ages 7 years to 12 years, this awesome castle set also comes with super accessories such as shields and a treasure chest for lots of imaginative play.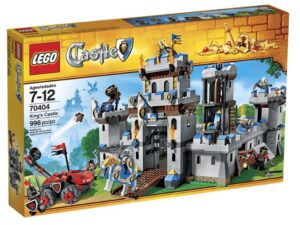 14. Angry Birds King Pig Castle
This is one of the most unique toy castle sets for sale out there featuring the awesome angry bird's characters and the infamous King Pig's castle. The castle once built features a spiral egg chute, a tower that spins, collapsible mini-tower, and a hangar to launch TNT at enemies. Included are 5 mini figurine characters to play with including the Mighty Eagle, Red, Chef Pig, Foreman Pig, and King Pig too. Kids will love the cool accessories including Chef Pig's hat, eggs, balloons, a cauldron, crown, and cape.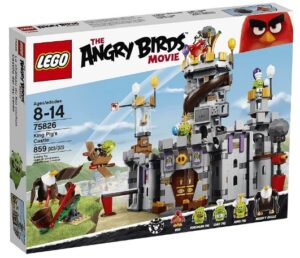 15. Lego Disney Princess Elsa's Magical Ice Palace 43172
This beautiful lego disney castle features a magical Frozen castle and all the favorite characters from the movie. The sparkling ice palace comes with a sliding bridge and a revolving staircase for plenty of playtime fun once constructed. Kids will love playing with the 4 Disney characters included, Anna, Elsa, Olaf, and Marshmallow. Measuring over 12 inches once built and 11 inches wide, this castle contains 701 pieces for lots of building time. It comes with a fantastic sleigh for exploring the wintery landscape too. Suitable for kids over the ages of 6 years old, this is one of the most magical lego sets available.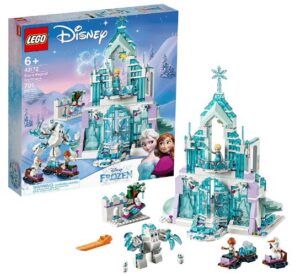 16. Lego Harry Potter Hogwarts Castle 71043
This is one of the biggest lego castle available for sale which features all the pieces needed to create a replica Hogwarts Castle from the Harry Potter movie. Kids will get to build the huge castle and play with it alongside all their favorite characters. In total there are 27 mini figurines including main characters Harry, Ron, and Hermione as well as professors and other students too. This lego toy comes with a whomping willow and the chamber of secrets for plenty of fun. The advanced building set is great for any fan who wants to challenge themself in an entirely new way. This wonderful toy captures all the magic of the wizarding world and keeps all the detail as seen in the movies.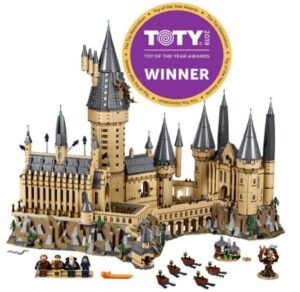 17. Lego Elves 41078 Skyra's Mysterious Sky Castle Building Kit
Children aged 8 to 12 years old will love this dazzling Elves castle which features so much magical fun. Once built, children can play with the magic portal, leaf curtains, ladder bridge, bucket lift, sofa bed, and other furniture pieces as the elf friends play out their stories in this mystical world. Emily the elf and her friends can complete lots of elves themed missions with this Lego toy and hideaway in the top of the tree which when constructed measures 17cm high. This is one of the coolest lego castle ideas that we've come across and we're sure that your child or children will love it too!

18. Castle Grayskull
This mega construx signature set includes over 3,500 pieces making it one of the most challenging castles out there to build. Once constructed the Castle Grayskull opens and closes with 3 floors and 6 areas inclusive of a throne room, dungeon, command center, and more. The Jawbridge is activated by the included power sword and the throne room includes a cool trap door. The 6 figurines include favorite characters like He-Man, Skeletor, Beast Man, and more. This collector's set is best for older children and certainly worth buying for all the fantastic detail!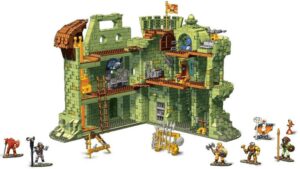 19. Lego Ninjago Castle of the Forsaken Emperor 70678
This ninja castle is the perfect gift for any lego Ninjago fan! Kids will be inspired with awesome ninja moves as the build this Fordbidden Ice Dragon castle which comes with lots of cool features including a throne-reveal function, ice prison, and shooting weapons. Mini action figures are can be found in the set to play with including Lloyd FS, Cole, and Akita. Once built the castle measures over 22cm high and 32cm wide making it one of the largest castles in this review. With 1,218 pieces there is so much building fun to be had, challenging children over the age of 9 to practice their construction skills.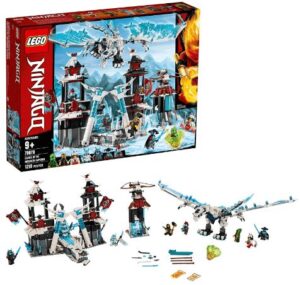 20. Lego Nexo Knights 70323
This awesome Knights castle from Nexo brings an extraordinary structure and characters from the future to play with. With blue and orange colors, this castle is eyecatching and sure to be a challenge to make. Suitable for any ambitious little builder over the age of 6 years, included in the set are awesome vehicles, weapons, guards, and more. Both boys lego and girls will love this fantastic futuristic structure which can be used for so many cool battle scenes once built.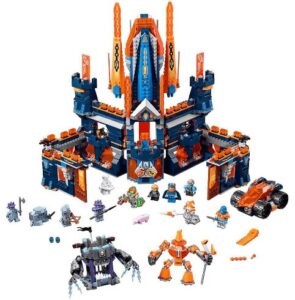 Now that we've come to the end of our legocastle review guide, we hope you've found the inspiration needed to choose the perfect toy for your child. There are so many fantastic lego castle series sets out there, by taking the considerations into your decision making, you can find the perfect option.
Best Budget Castle
Our best budget pick is the awesome Angry Birds big lego castle that comes with all the favorite characters from the mobile game. Suitable for children ages between 8 and 14 years, this awesome castle comes with lots of interactive features including a spiral egg chute.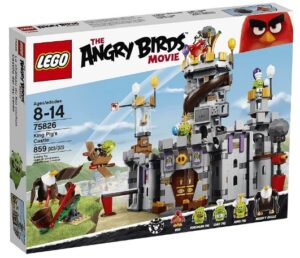 Best Overall Castle
At the top of our list is the fantastic Harry Potter castle which once built is the perfect replica of the movie's castle. Featuring all of the characters including Harry, Ron, and Hermione, there is so much fun to be had with all of the wizardry features and accessories too.
For more check out our Harry Potter review guide!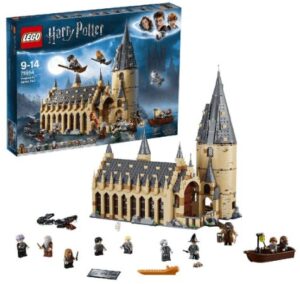 How To Build A Lego Castle
Some legos castles come with a starter brick, this is especially true for toys designed for younger ages (4 years and above). This brick base can is incredibly useful for getting started with constructing the castle. All of the lego castle collection toys come with instructions which will help children to build their brand new toy. To build a castle out of lego you will need to first organize all of the lego castle pieces that come in the box and lay them out so that they are identifiable. This is best done on a flat surface such as a table for example. Next, you'll need to start building from the bottom upwards using the included pieces. All castle legos sets require a lot of patience and sometimes (depending on complexity), the help of an adult too. Therefore, be around while your child is constructing their castle to offer help where it could be needed. The end result will be an amazing toy that can be played with for hours on end.
Where Can I Buy Lego Disney Castles?
You can buy all lego sets both online and in toy shops. However, if you're looking for more choice it's probably a better idea to stick to online platforms such as Amazon. There are many different types of Disney castle toys in lego that are available and if you want a specific one, you'll want to check out all possible retailers for competitive pricing. If you want to buy any Lego toy but save money, also consider buying deals closer to festive sales such as Christmas. There are many surprisingly cheap lego set that you can get your hands on at a bargain price.