Inflatable punching bag toys are awesome fun and in this review, I will share some of the best kids inflatable punch bags that'll get your kid bouncing around like "Rocky" and becoming the champion of the world.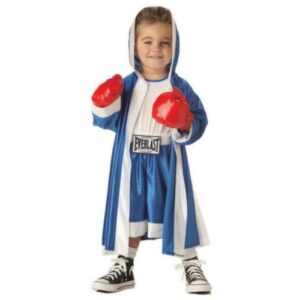 Firstly, kids, toddlers, and young ones are always full of energy and want to pounce, bounce and act like a tiger in "Winnie the Pooh", but without some boundaries, things can get out of hand as I discovered with my boys.
This inspired me to get a kid blow up punching bag and let them channel their energy into something a little less destructive than wrestling among themselves. I discovered that a blow up punching bag toy provide a means for toddlers to let off some steam. Under the right amount of supervision and scrutiny, boxing toys for toddlers can be really fun.
Toddlers
Children of all ages love punching bags, it's a great game without being violent towards each other. Learning to channel your child's aggression in a controlled manner is a positive step towards healthy sibling behavior.
There is a difference between 1-year-olds toddlers and 3-year-olds, so in this review, you will be able to find a suitable kid inflatable punching bag that is ideal for your children. Personally, my 2-year-old child uses this bop bag instead of his sister, which is saving the family dynamics.
Top Punching Bags
Check out which are our top picks in the category of the best inflatable punching bag for toddlers:
1. Intex 3D Bop Bag
This bop bag is a low-budget inflatable punching bag and is a great first time buy. The blow-up is easy to set up and comes flat in a box, which is easy and convenient for delivery. The setup is easy enough and just needs water to make the magic happen. This 3D bop bag looks good and also feels good.
The max height is 98cm and can be used both in and outdoors. The bop bag theme is fun and looks like a real boxer, which is always fun and inspires a little imagination in the kids.
I love these inflatable toddler bop bag teaches your child sheer determination and perseverance, it makes you wanna give as good as they give, which means the game might go on and last a while. This is one punching bag you must get for your kids.

2. The Original Bozo
This is one of the best punching bags available. The squeaky red-nosed friend likes to be punched, it is a great punching doll for those kids looking to be smiled at and whilst letting out a little pent-up energy, which happens to kids stuck indoors all day.
This child inflatable punching bag is in the lower-to-mid price range and is worth the money, especially with those features smiling back at you. This is a tall clown with 46 inches and its red center is ideal for kids to get focused on, it even has a squeaky nose to confirm a hit.
When I was a kid I always wanted to hit a clown square in the face, don't judge me wrongly as I never did, but this reminded me that dreams really can come true if you work hard and be patient…haha…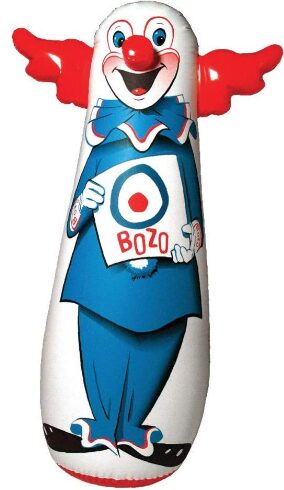 3. PowerTRC Kids Boxing Punching Bag
This toddler punching bag is an ideal gift for the slightly older child for those who pack a harder punch. It is one of the best punching bags for kids, and would allow your kids safely blow off steam.
This punching bag box set includes boxing gloves and is more firmly planted to the ground than the others in this review. The boxing gloves ensures your little ones are safe as they punch away on this inflatable punching toy.
The weighted stand has an elastic spring and is filled with sand, which can take a hard punch. The adjustable height puts this inflatable punching bag at a suitable range for children's heights and as they grow you can adjust the size.
The recommended ages are between 3 years old to 6 years old and are ideal for little kids.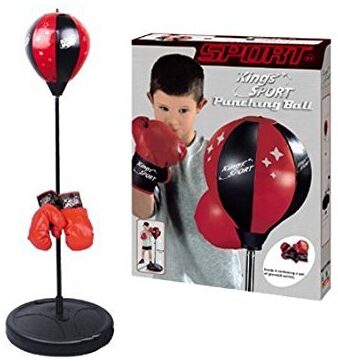 4. Pure Boxing Tough Guy Kids Punch Bag
This toy punching bag is tough by name and by nature, so the harder you hit he's still bouncing back with a stern face and ready for more, especially with a tough face like that, it's definitely inspiring.
The martial art theme here is getting the kids to start to think in other ways I feel and making their energy become a little focused and disciplined. The actual material is tough enough and is a vinyl construction, which can handle those big kicks and punches.
The height is recommended at 6+ but it depends if your kid is much bigger than 56 Inches. This can be filled with water or sand and is easy to set up like the former. Being able to ad either water or sand provide a means for your kid to have fun with two modes. This mid-range bag is a great buy and will keep them busy for hours having fun!
This no-messing coach makes training a thing to take seriously and make sure to give it you're all, commanding discipline, commitment and above all strength of character, so let your little ones live up to the challenge.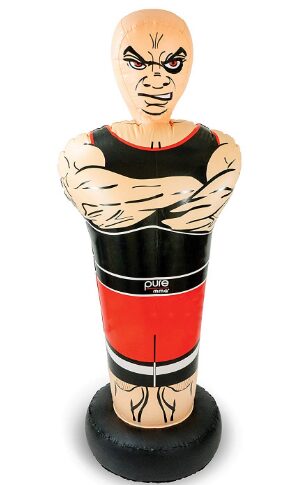 5. NCAA Tackle Buddy bag
These inflatable punching bags are in the team logo uniform, matching colors and looks mean as hell. He really isn't all that bad and will stare more than dare to fight back. The vinyl construction like the others ensures a sturdy foundation and the bounce back is ideal for those kids ready to give as good as he should get.
At 40 inches tall and with a weighted base, he is ready for action. This inflatable punching bag is a mid-range buy and is great for those toddlers aspiring to be ballplayers.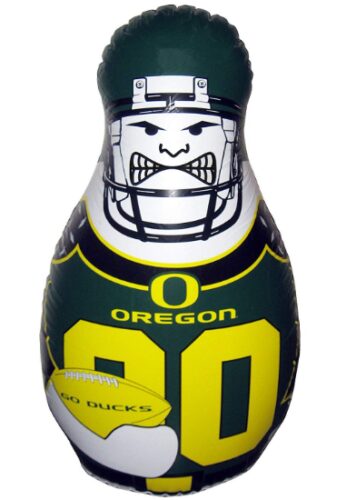 6. Eco-Bonk Kids bag
These high-end punching bags are for mothers wanting to make sure that their kids have a tuff bag because their boy is packing punches like he should be in a ring.
All that aside it is the only one that's Eco-friendly in this review and is great for those mothers wanting to focus and find the balance between consciousness and getting tuff. The bounce back gives an overall realistic feel to these punching bags.
The bag helps kids find their feet and learn about the rough and tumble play, allowing their imagination to run wild in a safe area. This can be washed and is great if it's going to get messy!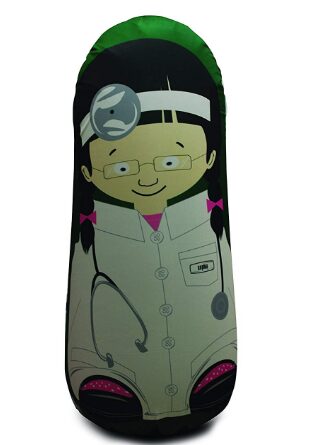 7. Bopper Power Bag
This big-time socker Bopper punching bag toy is a present that will get the boy's and girls excited with its colorful design. The target in the middle makes it easy to punch and focusing their minds on the power bag and not on each other, which some parents might understand.
This has been designed for children and is weighted at the bottom for holding it upright when punched and will bounce back as each punch strikes the bag. Their hands will not be hurt as they strike both with kick or fists because the material is filled with air and not sand as seen with grown-up types of punching bags.
This is the latest in the review and although this is a fantastic bag I still prefer the original Eco-Bonk bag, which offers slightly better usability and is a perfect gift.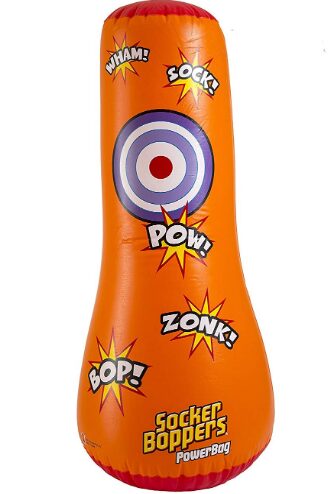 8. Bonk Fit Punching Bags
These are the best machine washable punching bags. Bonk fit is an industry favorite known to create only the best bags to give your kids unending amount of fun.
These punching bags are the best at entertaining your kids with the safest construct possible. Using only the best and safest materials, they bring fun to all kids who like boxing. The bag helps your kid exercise and come with a 1 year warranty.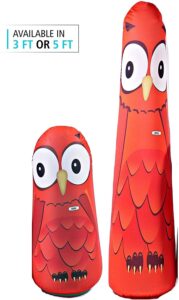 Best Overall Pick
The best punching bag is without a doubt the last in the review "Eco-Bonk bag" with its eco-friendly, washable, recycled and educational rough and tumble themes, which inspires the imagination and keeps them going for hours at a time.
This touch inflatable bag is 3x stronger than all the rest and will last through the birthday party beats it receives. This is a great bag and will not disappoint your little one.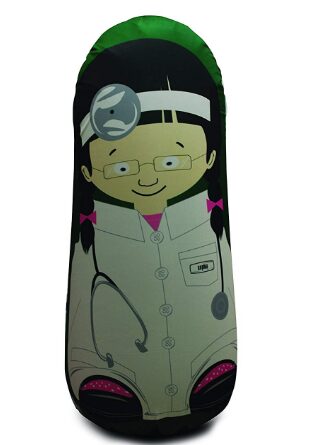 Best Overall Budget Pick
The original bozo a great buy and for the price you really can't go wrong, it's fun, makes noises, smiles at you and has a "bap-zone" for target practice. The bounce back on this bag is rapid, making it one of the best and it's steadily planted on the ground to give your kids a quick response time.
The height is great and will cater for a wide range of kid's heights, so make sure to think of those ones when deciding.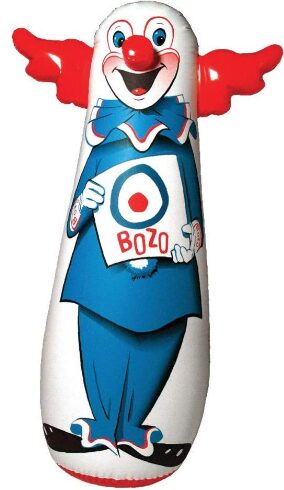 Here are some other great picks for youngsters: