Racing games are so much more fun when they're played with a steering wheel – it makes gameplay more realistic and can help your kids really feel like they're a top F1 driver! But, there are loads of different types to choose from, so how do you really know which is the best?
Here, we've picked out 10 of the best PS4 steering wheels on the market today and outlined some of their key features, so you can pick the one which best suits your child's gaming needs. You can also find some helpful buying tips and advice to further assist with your search for a great PS4 racing wheel to go with your PS4 games.
Considerations When Choosing a PS4 Wheel
There are a few important things to keep in mind when it comes to buying one of these wheels. First, the compatibility – the wheel will be useless if it's not compatible with the PlayStation 4! So, be sure to check with the manufacturer that it can be used with the platform and the games that your child plays.
Also check if it comes with pedals, as some do, whilst others do not. If this is something your child is interested in using, be sure to choose one which comes with them included. Each wheel rotates a different amount, so check this before buying too.
Finally, look at how many buttons the wheel has, and what their functions are. Generally, the more buttons, the more extra functions you can make use of, so this might be something to look out for, for serious racers.
Best Picks Reviewed
We will now present our pick of the best racing wheels for use with a PS4 console. With ten to choose from, you are sure to find one here which meets your needs.
1. Thrustmaster F599XX EVO 30

First up we have the F599XX EVO 30 from top brand Thrustmaster. This wheel is licensed by Ferrari and is an 8:10 scale replica – it even comes with authentic hand-stitched wrapping for a truly realistic experience. Inside, the wheel has a steel hoop, which is surrounded by polyurethane molding.
The diameter of this wheel is almost 12 inches, and it weighs around 2.5 pounds. It has loads of buttons and switches, as well as a D-pad so kids can easily control every aspect of their game using the wheel. This is the perfect choice for those looking for a luxury and realistic driving experience – the authentic Ferrari materials and branding are simply outstanding.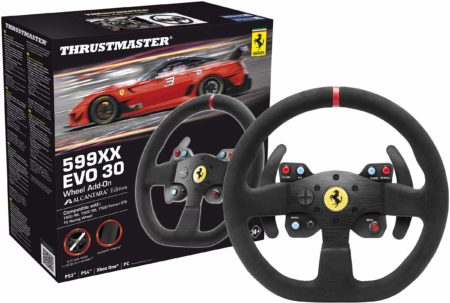 2. Thrustmaster Leather 28GT

Next up we have another offering from Thrustmaster, this time it's the 28GT. This steering wheel for PS4 is coated with hand-stitched genuine leather, so it feels great to use and offers an authentic driving experience. The diameter of the wheel is 11 inches, and it weighs around 2 pounds.
Some of the controls you can find on this wheel include two paddle shifters, a tact switch, 6 action buttons, a rotary switch and a multidirectional D-pad. This wheel has a premium feel thanks to the use of brushed metal in the center and for the sequential paddle shifters.
You can use the base with different wheels in the series, thanks to the quick-release system which allows for an easy changeover.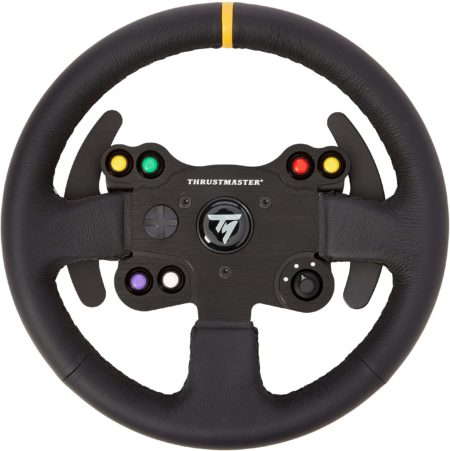 3. Logitech Dual-Motor G29

This great PS4 driving wheel is also compatible with PC, so it's ideal for those who use both platforms, as it can easily be changed from one to the other. The wheel also comes with three pedals, used for accelerating, breaking as well as changing gears.
These pedals feel just like those of a real car, so make for a fun and authentic gaming experience. The wheel is designed to offer easy access to all the buttons and controls a kid might need during a race, such as the paddle shifters. Steel and leather are used in the construction of this wheel to give a good, comfortable grip and a premium look and feel.
Another nice feature of this set is the dual motor force feedback, which makes the controls handle just like in a real car, giving user feedback depending on how and where the car is being driven.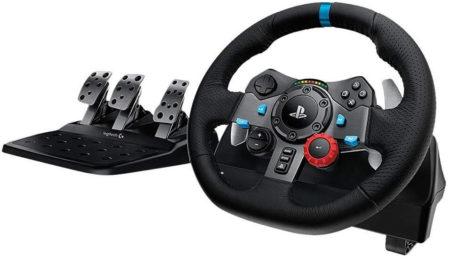 4. Subsonic SA5156

This PlayStation 4 steering wheel can be attached to a desk and has suction cups to make doing so easier, or can be used on the lap and has a curved design to enable it to sit comfortably across the thighs. It can turn 270 degrees, 135 in either direction, and comes with a gearstick attached to the base, as well as two foot pedals.
This set is compatible with any game and works with Xbox as well as all Playstations. The wheel can be customized and set up to your child's needs – the buttons can be programmed with different functions and the sensitivity of the wheel is adjustable.
There are three levels to choose from – arcade, pro or expert, depending on the experience of your little racer. The vibration function adds a life-like element to using this wheel to play driving games.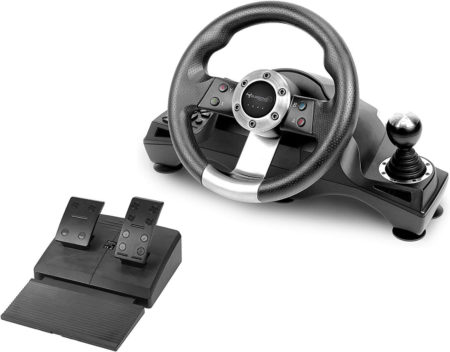 5. Thrustmaster T150
This Thrustmaster steering wheel PS4 edition has an outstanding control range of 1080 degrees, and it comes with a set of two wide pedals. You can also limit the rotation angle to a lesser 270 degrees depending on the vehicle being driven in the game.
It's possible to adjust the inclination angle of each pedal to ensure it is comfortable for everyone. Because this wheel is designed for Playstation 4, it has all of the official buttons in the center of the wheel. This means kids can easily access all the functions they need and seamlessly switch between their game, system menus and social features.
This wheel is equipped with 'Immersion Touch Sense technology', which gives excellent responses when handling different terrains, hitting bumps or braking for example. This means your kid will feel like they are really driving when enjoying a game with this wheel.
This wheel can also be used with a PC, so it's perfect for games who use different platforms, and it's also back-compatible with PS3, with a sliding switch to change between options.


6. PXN V3II

This universal wheel is compatible with all major gaming systems, including Playstation, Nintendo, Xbox, and PC. It's ever so slightly smaller than some of our previous picks, with a diameter of 10.2 inches. It also has a more limited turning circle of 90 degrees in either direction or 180 degrees total.
The PXN wheel does come with two pedals, one for gas and one for the brake. The base has seven suction cups to ensure it can adhere strongly to the table without moving around during gameplay. It has also a fixed support to clamp it down.
This wheel has rubber grips on the sides and it also has vibration feedback, which helps make it feel more like actually driving a car.

7. Serafim R1+

This wheel comes with everything you need for gaming on any platform, even mobile. That's because it comes with a phone holder in the middle of the wheel, so racing games on iOS and Android can be enjoyed even more with the Serafim R1+.
The wheel also comes with pedals for a more interactive driving experience. This set is very responsive – the pedals work quickly and the wheel makes navigating tricky corners easier. There are loads of controls on this wheel – paddle shifters, a gear shifter, and buttons on the wheel itself at 10 and 2 o'clock.
This wheel can turn through a total of 180 degrees and has suction cups on the base to help it stay in place on a tabletop when gaming.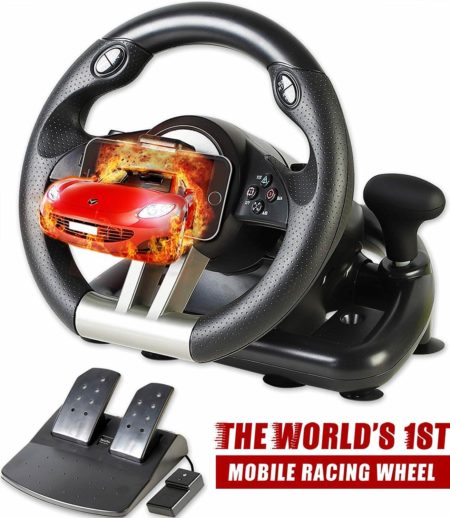 8. Logitech Driving Force

If you are playing Playstation 4 racing games, this wheel and pedal set from Logitech is sure to make the experience a lot more fun and realistic. It has an excellent 900-degree rotation for maximum maneuverability, similar to what you would expect from a real car.
The Logitech wheel is also equipped with force feedback technology, so it allows players to feel as though they are in a real car, and experience the movements of the road. There are gas and brake pedals included, as well as a sequential shift stick for more control over the gears.
This is an excellent pick for Gran Turismo players, as it is the official wheel of this game. It can be used to fine-tune the settings and features of the vehicle being driven in the game, and the force feedback is outstanding when used when playing Gran Turismo.

9. PXN V900

This 11-inch wheel has two different levels of rotation, so it can be tailored to suit the needs of different games optimally. The 270-degree rotation is ideal for racing games, whilst the 900-degree rotation is best for other driving games. There's a button on the wheel to switch between these different modes.
The pedals which come with this set are self-adjusting, and they have anti-slip surfaces for maximum control. The wheel has dual-motor feedback and the strength of the vibrations automatically adjusts to fit the scenario playing out in the game. There are both suction cups and clamps to attach the wheel to a surface for more comfortable play.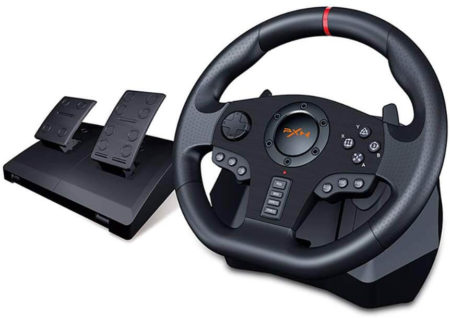 10. Thrustmaster Sparco

Our final pick for a PS4 driver is the Sparco R383, which has a slightly larger diameter than some of our other options, at 13 inches. There are many controls on the wheel, which allow gamers to access essential functions easily without having to take their hands off the wheel.
This wheel is designed to be used in professional e-sports, so you can be sure it's one of the best-quality wheels out there. The rally wheel can be used with any bases in this Thrustmaster series, as well as pedals and shifters, for a more immersive driving experience.
So, the downside of this wheel is that it doesn't include the base or the pedals. However, it can be used for both PC and PS4, which may be a plus to some users.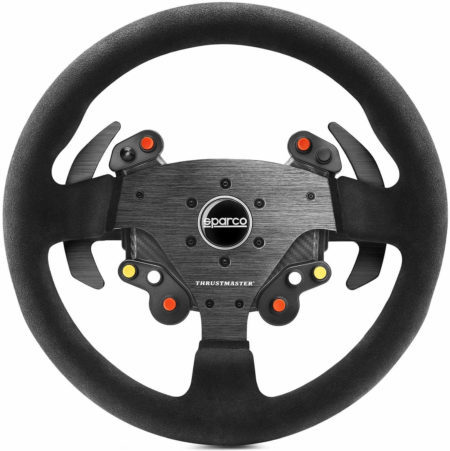 Best Buy Overall
After looking at 10 great PS4 steering wheel and pedals, it's time to decide which takes the place as the best overall in this case. We've decided to highlight the Thurstmaster T150 as the best option because it is designed for use with PS4 and so offers an excellent range of controls for this platform.
It can be used to access system menus and social features, and also has outstanding controls for when playing racing games. The degree of rotation is adjustable for different games and the force feedback gives a great feeling of realness.


Best Budget Pick
If your kid is just getting started with racing games, you probably don't want to spend a small fortune on their wheel. Fear not, we have another great, low-cost picked lined up for you.
The Serafim wheel is great because it comes with pedals and a shifter, as well as the ability to play on mobile, thanks to the phone holder in the center of the wheel. The thumb-access buttons are convenient for use when 'driving' too. It has a durable base with suction pads to help it stay adhered to the surface during gameplay.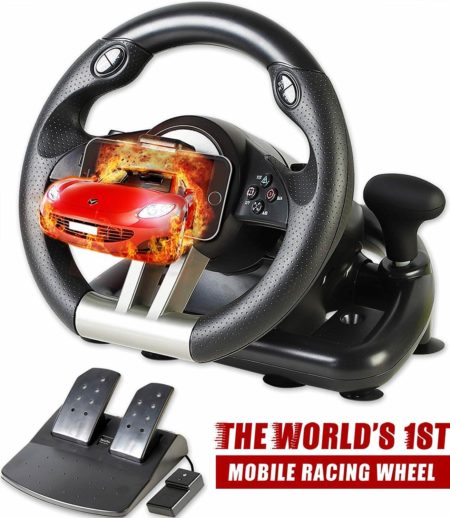 What Wheels Work with PS4?
All of the wheels featured in our guide are compatible with the PlayStation 4, but if you are going to look elsewhere, be sure to check with the manufacturer before purchasing, to avoid disappointment. Many wheels are in fact compatible with a variety of platforms, but it's always best to double-check.
What Racing Wheel Works with PC and PS4?
From our reviews above, there are a few models that can be used with both of these gaming platforms. In fact, some can be used with just about any system. The one which stands out the most in this category is the Serafim R1+, because it can be used with a cellphone, as well as PS4, Xbox, Switch and PC.
The cellphone holder in the center of the wheel is unique and makes it an excellent pick for mobile gamers. Other options that work with both PC and PS4 include Thrustmaster's Sparco and T150, Logitech's G29 steering wheel, and more.
Here are some other great choices for you to check out: