As parents, do you often worry that your children spend way to much time on the couch and not enough time exercising?  A good punching bag might be all the motivation they need in order to burn some calories and have a great time as they do.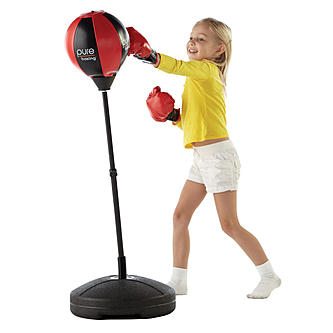 These days, you're going to need something really fun in order to drag them away from the screen.   Whether its for children or youths, a good punching bag will certainly do just that; not only are they incredibly fun, they have the added benefits of helping your young one let off some steam and getting some serious exercise at the same time.  Don't forget that this can lead to an interest in boxing or material arts.  If your children are anything like mine, you'll be delighted to hear that they've been hitting the bag instead of each other!
Different types of hanging or standing punching bags
As you can imagine, whether you're buying for a 4 years old or a youth will have a big difference on what you want to look at.  Don't worry though; buzzparent is here to break it all down for you.  Inflatable bop bags, also called punching dummies, are the best choice for very young kids, and there are a lot of these in our list for toddlers.  They make for great gifts for little ones, and fine for either indoor or outdoor use.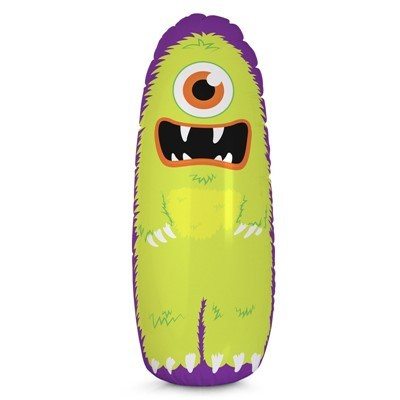 You'll also want to check out freestanding punch balls.  These are more suited to kids over 3 years old and are basically junior speed bags.  This could be a good pick for you as they come with their own stand and not too bulky, so you can easily move or store them.  Just bare in mind that the bag will bob and sway back and forth a lot, so you'll need to set it up in a room with plenty of space.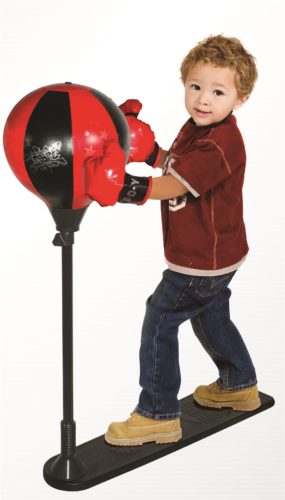 One for the little Rocky's out there, a heavy bag is a serious purchase, as it requires to be filled, usually with sand or water, and you'll need to mount it on the ceiling.  These types of punching bags are great, but we'd only recommend these if your child is serious about boxing, muay thai or any other combat sport.  Plus, they'll have no excuse for not burning some calories after you've gone to the effort to set it all up.  Don't let them anywhere near one of these without gloves though!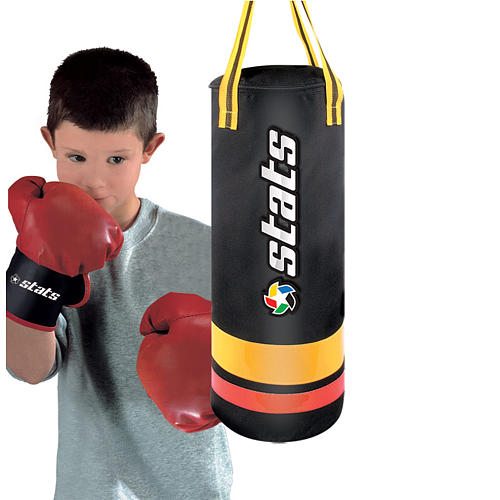 Punching bag sets
Most punching bags should come as a set of gloves and the tools to set it up.  Make sure you look carefully at the product you're thinking of; a heavy bag should come with wall mountings, and a punch ball should have a stand and a pump. You don't want your child to be disappointing if the bag arrives but they can't use it.
Gloves and wraps
As parent's ourselves, we know important safety is, and that why we must stress that quality boxing gloves are essential for a punching bag or dummy in order to protect those little hands from damage.  Also, if you buy a heavy bag, hand-wrappings are also a must.  If the bag doesn't come with gloves, make sure you buy a suitable pair.
The Review:  What are the best deals available on Amazon?
Now that you've got an idea of the different options of punching bags out there, you might feel a bit daunted considering just how much is on sale out there. Let us help you in deciding which bag to buy. We have organized this review by different children's ages. There is a range of bags for younger children aged 3 years old, 4 years and up to 5 years old in one section below.
Bags for 3 to 5 years old
Bonk Fit Kids Inflatable Punching Bop Bag
Don't let the childish appearance of this toy fool you, the Bonk Fit polyurethane bag is one of the strongest boppers out there, and you can rest easy knowing that this durable thing can take everything your kid can throw at it without breaking and will last a long time.   They also have removable and machine-washable covers, so you don't need to worry about it getting dirty or stained.
Features:
Easy assembly – just add 5 pounds of water to the base and inflate
High performance-tested – can take a lot of punishment and will last a long time
1 Year MFG Warranty
3 ft tall
pump not included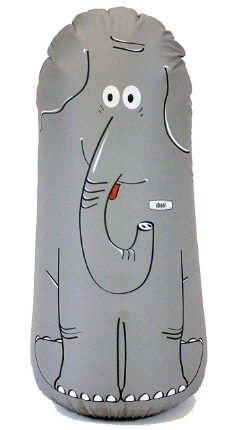 Physical Success Youth inflatable Punching Bag
This tall and snazzy looking bag is made of rugged PVC and has a large striking area, which will mean it is great for both punching and kicking, which makes it a great gift for any mini Bruce Lee fans out there.  It has been specially balanced for children from 2-7 years old, and its anti-leak base makes sure that it won't flood your kids' bedroom.  This bag will be ideal for fun and serious training.
Features:
44 Inches tall and 12 inches wide
Heavy Duty PVC construction
The base needs to be filled with water


Proforce Kids Boxing Set-Bag
This handy little package bring comes complete with a mini heavy bag, gloves, and headgear, giving you everything you need to get your little slugger started.
This is the perfect size for someone 3 years old to 5 years old, and it comes with a soft filling in order to ensure that your child won't hurt their little hands.  All in all, if you have the time and energy to hang it up, this is a brilliant little kit for the price.
Features:
17″x5″
Weighs only 2lbs
needs a wall mounting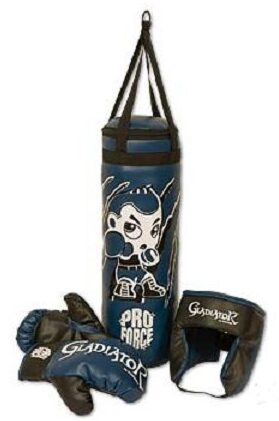 Ringside Youth boxing Kit
This great pack is currently a no.1 best seller on Amazon, and we can easily see why.  Coming in a selection of stylish different colors, this mini heavy bag comes with gloves and headgear packaged together, and it's the perfect weight to get tomorrows boxing champions on their paths to glory.
This boxing kit is used in some professional gyms and although it is ideal at home for kids use it is something that will last the test of time and extended use with heavy punches.
Features:
17×5 inches in size
Choose between red, blue or pink!
specially designed for boys and girls aged 2-5

Bags for 5-7 year olds
Velocity Boxing Children's Pro Punching Bag Set
Get your child up and moving easily with this great little set.  This is one of our top picks as it comes with everything you need including gloves, stand and a pump, and has clear Assembly instructions.  Best of all, this punch bag has adjustable height, so you can set it to the perfect height for your little fighter.  Just remember that these punch balls tend to swing around a lot, so make sure it's in a room with enough space.  One of our favorite all-in-one picks!
Features:
high-quality design and materials
adjustable from 47-57 inches height
The base can be filled with up to 50lbs sand or water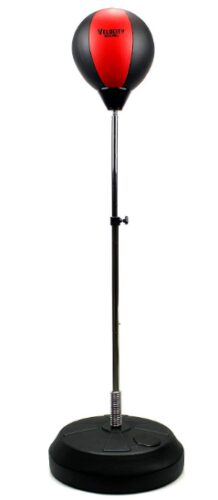 Tech Tools Punching Ball
Another brilliant punch ball set that comes with everything you need to make it work. The non-slip baseboard is extremely safe for your kid to use, and its adjustable height of 30″ to 50″ ensures that your little slugger will be jabbing away the ball for years and years to come.
The only downside we can think of is that the child will have to stay standing on the base while using the ball, but if your kids are anything like mine, having them stand still for a minute might not be the worst thing in the world.
Features:
suited for indoor or outdoor use
Soft yet durable ball
comes with gloves, pump, and stand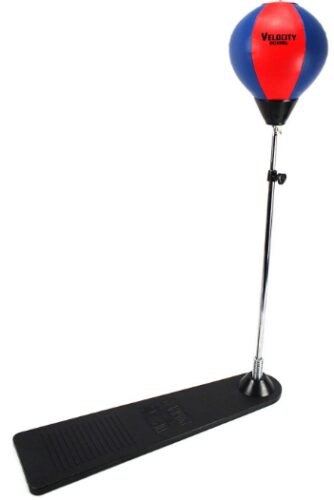 Century Martial Arts Kid Kick Wavemaster
A brilliant gift for little boxers, aspiring Karate masters or just kids looking to let off a little steam, the Kid Kick Wavemaster is an easy recommendation thanks to its low-profile construction and well-rounded base, giving ti extra stability.
This punching stand also has different height settings, perfect for a growing puncher or an enthusiastic parent who want to join in the fun.  Unfortunately, this is not a set, so you'd better pick up some gloves (and possibly some foot protectors).
Features:
4 height settings
the base can be filled with up to 170lbs sand or water
durable nylon cover over high impact foam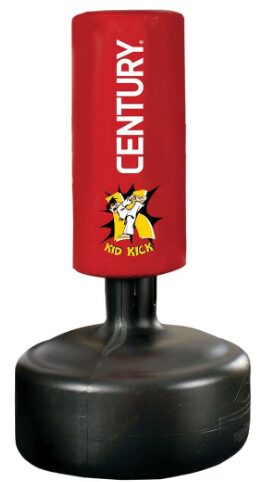 Bags for 8 years old and older
5 ft Bonk Fit High Performance Bop Toy
Quite possibly one of the biggest bop bags you'll find, this 5 ft tall inflatable monster makes an amazing present for an older child without having to commit to getting a heavy bag.  Like its smaller Bop Fit cousins, this bag is strong and durable, with the added benefit of having an easily removable and washable cousin.  It is a brilliant gift for an energetic kid.
Features:
Polyurethane construction
1 Year MFG Warranty
5 ft tall
pump not included


Schylling Punching Bag and Gloves Set for children
This great bag and gloves combo will be a great choice for slightly older kids are looking to let out some aggression.  This 18 inch tall bag comes with a set of vinyl gloves, foam stuffing, and a rope to hang the bag on, meaning that it comes with you've got almost everything you need to get this kit up and running.
Features:
Easy to set up
Big enough to be used by kids of all different heights
Bright and appealing design
Will need somewhere to hang it on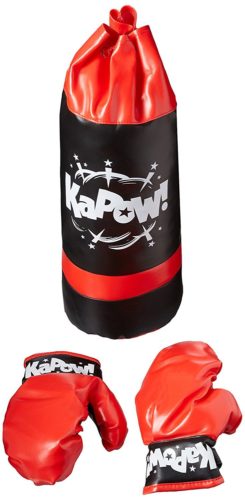 Velocity Toys Children's Punching Bag
This punch ball is a brilliant option for older children who do not have the luxury of putting up a heavy bag in their house.  Advertised for children of 6 years old and upwards, Velocity Toy's punchball comes complete with a set of gloves and its own adjustable stand and is sure to be a firm favorite in your household from the day it arrives.
Features:
15 x 15 inches ball
Stable base
doesn't come with a pump
adjustable height up to 48 inches

Ringside 40lb Heavy Bag Kit
This mega bundle will bring tears of joy to your little boxer in training with a 40lb heavy bag, gloves, and hand-wraps all delivered in one smart package, helping them work on their favorite combat sport and also get a solid workout in the process.
Kids aged 10 years old and older children might find this an ideal boxing kit for use, although slightly tougher in the material it will ensure they learn fast how to box properly. Just don't forget to buy a heavy bag hanger, otherwise, you won't be able to use it.
Features:
available in red and black
ideal for boxing, kickboxing and MMA
Will need to be hung from the ceiling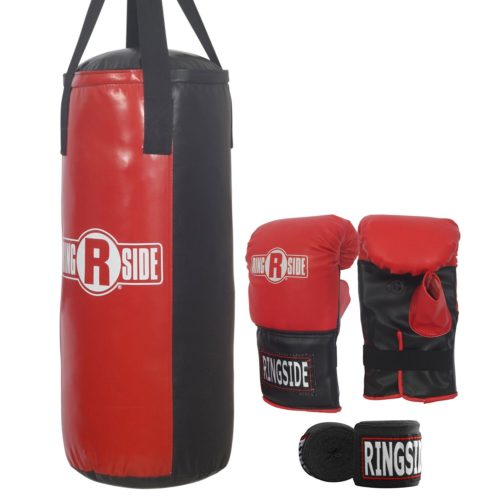 Teen Punching Bags Brands
We didn't put together a list of the best bags for teenagers aged 13 years old and above. There's not really a market for this; most teens will use adult-sized bags.  If you do want to pick up a punching bag for a youth, some of the best brands of bags you want to look at are:
Everlast
Century
Ringside
Outslayer
Title
Best Overall Punching Bag
With a high rating on Amazon and a huge number of customer reviews, the Velocity Boxing Children's Pro Punching Bag set has already proven itself a firm favorite with parents and children, and with its solid construction and robust materials, we don't think your little fighters will be disappointed with this kit.  It also comes with the added bonus of having a set of gloves with it, so you don't have to worry about that either.
The only real con here is that, unlike a heavy bag, we would advise against kicking this punch ball.  However, the advantages over heavy bags, such as being freestanding and inflatable, make this our top pick for aspiring punchers out there.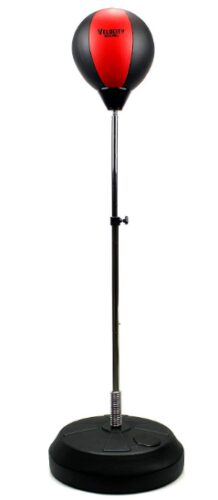 Best Budget pick
Whether you don't have the space for anything bigger or you simply don't want to spend a lot on something your child might grow to big for, the Tech Tools Punching Ball is definitely the smart choice here.  Although they are going to have to stand on the base when using it, you can buy this with confidence knowing that it comes with everything you need, including gloves, straight out the box, and you don't need go to the trouble of hanging it from the ceiling.