Are you looking to find the best roller blades for kids so they can play hockey? In this review of the top 15 roller skates on the market, we compare all different types of brands and review their quality, style and overall features.
If you're shopping for the new roller blades, and are keen to find out which sort are the right ones, then this list will guide you and offer you a helpful glance at a wide range of styles and brands.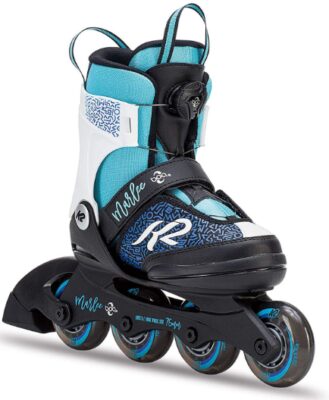 Considerations When Buying Roller Blades

Fit is probably the most important consideration when it comes to the moment when you buy kids skates, because if they pinch or nip at all, they will soon be discarded and barely get used. So make sure to check that your child's feet fit the skates properly. Another consideration is the style. There are more varied styles than you might first realise.
If you have a kid who is a Disney fan, for example then you can get a design that suits that passion. A final consideration is age, because there are a range of blades out there depending on the age of the child, that come with certain features and designs to suit a certain age group. It is important to keep all these things in mind when looking for kids blades.
Top Choices for 2023
1. Otw Cool Adjustable Inline Blades

Cool is certainly the word. These look almost like real ice skates, and have a modern, contemporary look. They offer a lot, including sizes that are fully adjustable. What makes this feature even more exciting is that the kids themselves can quite easily change the size by pressing the button, so there is no fussing with parents about adapting the size to suit.
When the skates are in use, the wheels light up with gorgeous colors, and the lights are fully generated by motion, rather than needing batteries. There is a soft inner lining shoe that provides comfort for the wearer as well as ankle supports made of aluminum so they are safe and supportive.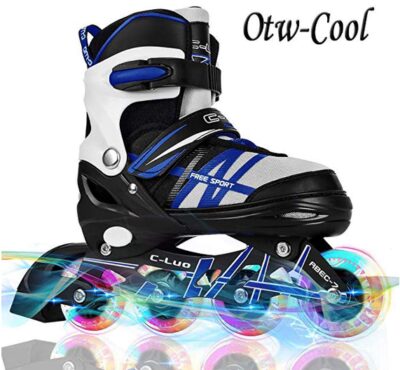 2. K2 Inline Blades

This is an edgier set for an older teenager who prefers something low key in design, but with a modern edge. This K2 set is one of the best lightweight roller blades and boasts the BOA Closure System which means it is amazingly comfortable, allowing the wearer to hone and shape the fit of the boot to their feet in a tailored way, even while they are skating.
Because of this clever system the skates can be popped on and off really quickly, so they are totally hassle free and there is no wrangling around with buckles and clasps. There is also a great stability cuff, allowing the ankles to feel fully supported as you skate. It can adjust up to five separate sizes and is made of a strong aluminum frame.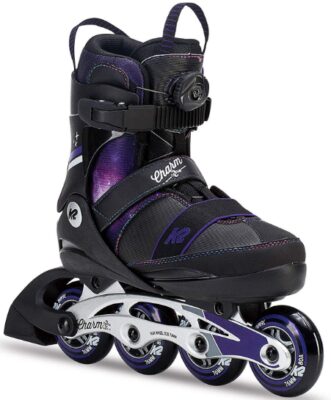 3. K2 Marlee Blades
This set of inline roller skates also features the BOA Closure System which is a really excellent feature. It means that the wearer can close the skate tightly with a quick notch of the cuff. It means that the top strap no longer struggles to bear the weight of the skater – resulting in a more comfortable skate overall.
These skates can be shared with several family members as they grow, because they can be adjusted to a range of five sizes so they are a great investment for a parent to make. The blue, black and white color scheme is great for boys or girls of all ages, so it is a very versatile pair of blades.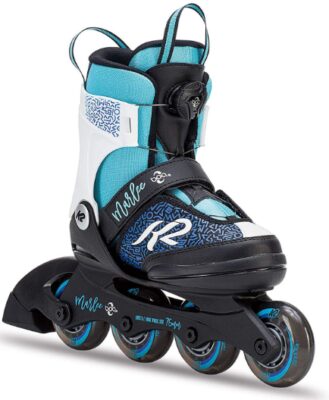 4. 2PM Sports Illuminating Blades
Another set of 8 wheel skates is brought to you by 2PM. It has a gorgeous magenta and violet color scheme and has amazing wheels that light up as they spin around, so they will be a real focal point when your child is playing with their friends. The rollers used in these blades are top quality so they are quiet and smooth and don't make too much noise so they are really comfortable to use.
There is no battery required for the wheels to light up, they are simply powered by the forward motion of the skater. This set also has cam lever style buckles as well as velcro straps and laces for ease of use so the wearer will find them secure, yet easy to get on and off again.  This is a great set of amazon kids rollerblades.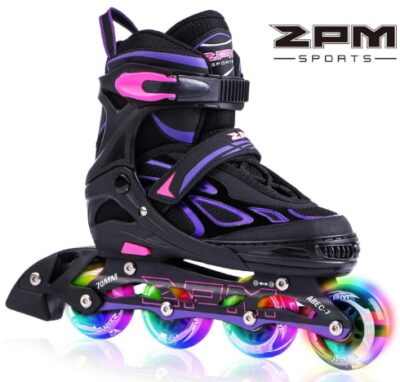 5. Roller Derby Stinger Blades

This dynamic pair of inline speed skates for kids is a real show stopper. They have a cutting edge, red and black motif and will be very popular with any boy who is into skating. They have silver rated bearings that go to five speeds and also boast adjustable sizing, from size 12 to 5 overall, which is great because they can be used by all the boys in the family and passed on from brother to brother.
The polymer frame means that it is strong and durable and the polyurethane wheels will be able to take a bashing as they are used to skate and slide around for hours on end. There is comfort as a consideration too, as the molded cuff will ensure that the ankle and foot are fully supported and kept. Another bonus is that the liner inside can be removed and washed.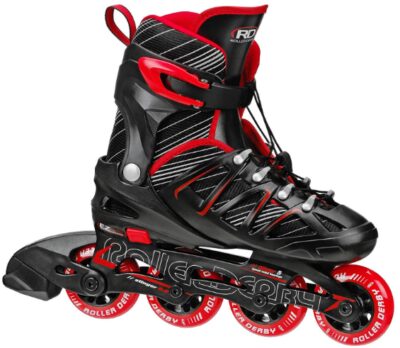 6. 2PM Sports Beginner Blades

This set of rollerblades has a more grown up edge to it. Some of the best kids skates out there are ones that have universal appeal, and these ones certainly do. The vibrant colors are eyecatching and are sure to excite any little boy or girl with an interest in inline skating. This pair adjusts to four sizes so it can be fitted perfectly to the wearer's preference and can also be used as they grow, because toys like this stay popular throughout childhood.
It is made with ABEC-7 bearings, which means that it doesn't scrap noisily and has a smooth, streamlined ride. The polyurethane wheels also make it strong, together with its aluminum frame. This company offers a 100% full refund, so you're on safe ground.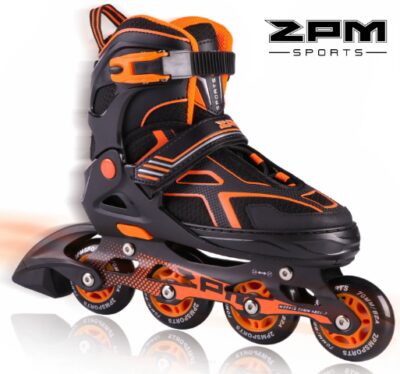 7. Boys Raider Pro K2 Rollerblades
This pair looks to be a really dynamic, yet comfortable pair of inline skates kids will just love. It has a speed lacing system, as well as a cleverly designed base that is made specifically to reduce the vibrations and bumps on the ground as you skate. There is an interlocking frame and a very simple push button adjustable facility, so your child can easily change the size whenever they need to, without having to ask an adult.
There is a special cuff around the edge, called the Stability Cuff, which means that they can feel supported around their ankles and feet, and therefore have a safer and more streamlined experience, without the worry of hurting themselves.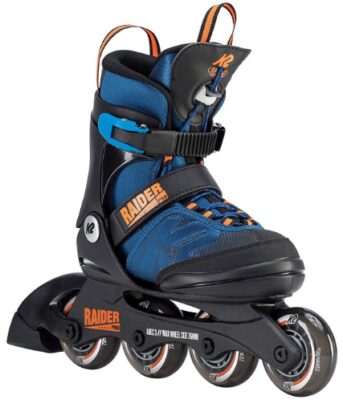 8. Roller Derby Tracer Blades

If you're wondering what are the best brand of toy blades for kids then you can take a look at these Tracer Blades. With a stylish and cool design, they will appeal to children of all ages, but particularly older children and the joy of them is that you can adjust the size setting across a range of four sizes and it only takes one simple button to do so. Kids can even adjust the settings themselves, because it really is that easy.
The smallest size that these blades fit is size 12J and the largest is size 5 so there is massive scope for keeping these blades active and used throughout your childhood and early teens. It cleverly has a removable liner for the boot so it can be taken out and washed so they will stay smelling fresh and clean over years of use. This set of skates even has a brake on the right hand one and the wheels are removable for cleaning also.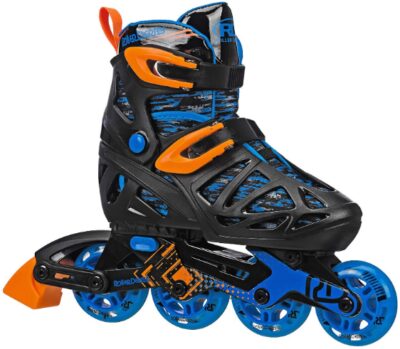 9. Woolitime Light Up Rollerblades

These blades are perfect for either boys or girls, as they have a neutral design that is still attractive and stylish. You might be on the hunt for hockey roller blades so this pair would be an excellent choice in that category because they would go well with any type of uniform in any sort of color. The sizes are fully adjustable on this pair also, from Y12 up to size 5 for kids and larger again from 5-8 for teenagers and grown ups.
The wheels light up when they spin and are made of very durable material that will last a long time. There is a clever feature in the safe closure system, with a velcro strap and smart rachet buckle as well as laces which offer three tiers of support for the ankle and good. The inside lining of the boot is also made of breathable material.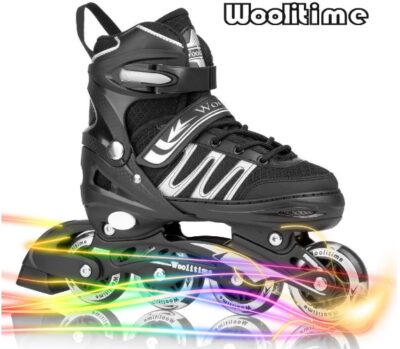 10. K2 Marless Pro Girls Blades

It can be hard to know what are the best quality blades for kids, but the K2 brand is certainly tried and trusted. It boasts a well designed interlocking frame, as well as a stability cuff, to limit the stress and strain on the foot and ankle as the wearer skates to their hearts content. This pair of skates is adjustable up to five different sizes so while your child grows, the skates will grow with them easily and without any hassle.
They are made of very strong and durable material so they will hold their age well and can easily be handed down to younger children in the family to be used again and again. This design features special frames that absorb any bumps and lumps in the road, so they can enjoy a more smooth ride.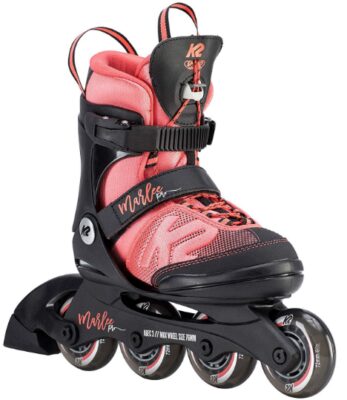 11. Banwei Pink Adjustable Rollerblades

Banwei have created a gorgeous pair of girls and kids inline hockey skates with this set. They are a fantastic design with attractive colors and it is a pair that can be adjusted very simply by pushing one button to change the size whenever you need to. The ever popular light up wheels are a feature here, and will sparkle as they spin around, making them very fun and eyecatching.
The power is created as the child skates, so no batteries are needed. The boots themselves are constructed from very strong nylon so they will avoid any wear and tear and will last a long time. There are also strong boot liners inside to provide extra support. It's all held together securely with three levels of closure; buckles, velcro and laces.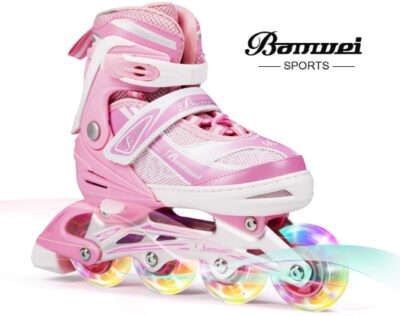 12. Xino Sports Illuminating Roller Blades

This is another pair that have a real 'sporty' vibe to them, both in design and color. When you see kids rollerblades for sale, it is important to check that they meet all the appropriate considerations when you are going to part with your money, and this pair really offer a lot. They have adjustable sizes, so that children won't grow out of them too quickly and will be able to get use and lots of fun out of them for several years.
There is a helpful outer strap that can be adjusted to make this work, along with a simple button action that completes the adjustment. Kids will find it easy and parents will be amazed that they don't have to struggle to get them to fit like they did in the past. The boot is constructed from strong, thick plastic and reinforced aluminum frame and has strong metal rivets holding it together, so it's going to stay strong and secure as long as you need it to. These come with a labour warranty and a money back guarantee.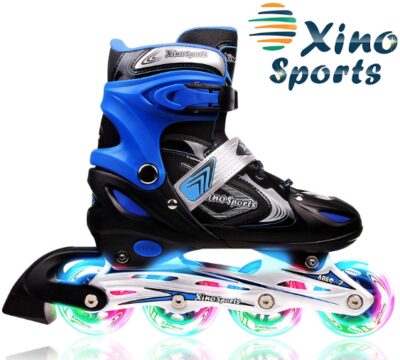 13. Kuxuan Inline Adjustable Rollerblades

Another great pair of kids inline skates that are perfect for any little girl. The pearl and pink color is pretty and attractive, and your child can enjoy these skates as their feet grow, enjoying the glide and roll of skating about with their friends. They are made using a great quality aluminum frame so they are incredibly strong and they are also made with light up wheels that self-generate, so no batteries required!
Kids will find this feature very cool. What makes these great as a gift however, is that they come with a pretty gift box to make them an extra treat, and they can also be stored inside when not in use. This company offer a satisfaction guarantee and say they will do all they can to manage any issues you might have. This pair also adjusts to fit up to four separate sizes.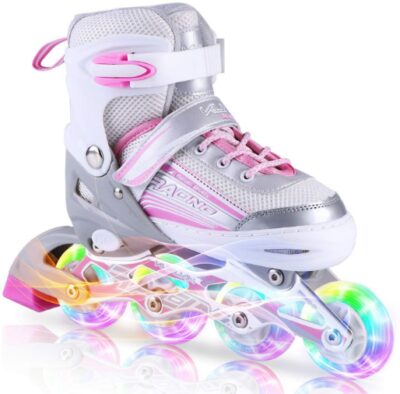 14. Roller Derby Carver Inlines with Accessories

What clever person thought to make kids rollerblades adjustable? Some smart designer, of course, and the consumers and kids are reaping the benefits when they buy a set like this. A little different from some of the others on our list, this pair of Carver Inlines come with an entire accessory pack, so you're getting lots with your money. Most parents will probably find themselves going out to buy all of these kids of accessories anyway, especially if they are concerned about keeping their child safe while they skate, so getting the entire set at the start is probably wise.
This set comes with the skates that are adjustable up to four shoe sizes as well as knee pads, elbow pads and a helmet too. There is a helpful brake on the right skate so you can have more control as you skate and there is loads of ankle and foot support built in to the padding and straps that tie it all together securely. The helmet fits up to 22.25 inches.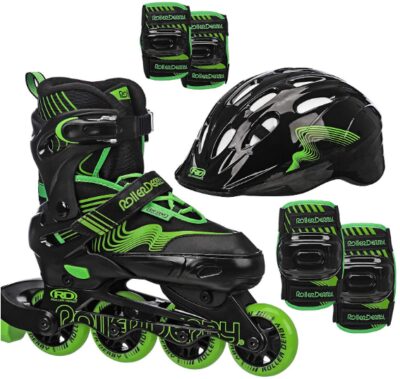 15. Papaison Sports Outdoor Rollerblades

These are a great example of the best inline skates for kids. Again, they are completely adjustable and can be changed and adapted to fit any size of foot, just by pressing the little button that allows them to change. The wheels cleverly light up and shine as they spin, and are powered simply by the motion of skating, rather than any expensive or gimmicky batteries.
These skates are constructed from strong, reliable reinforced aluminum allow and have polyurethane wheels that will withstand a long history of use from children, through many generations of family. The bearings are very smooth too, so the skates are quiet and slick when used, offering a more enjoyable skate. You also get a set of free professional skate socks with this pair of blades, that are breathable and comfortable when skating and have a durable heel and toe to provide extra comfort.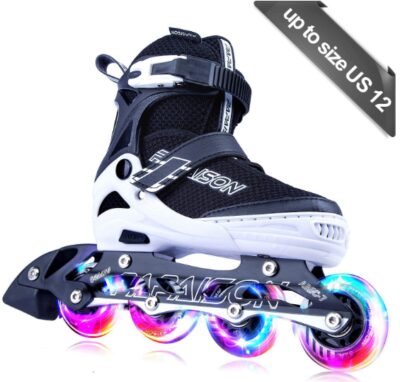 Best Overall Buy
We felt that these Roller Derby Tracer Blades were the best choice in this category because they had so much to offer to the buyer. The fact that they had a cool design that could be appreciated by any age or gender of child was one special aspect in its favour, but also the adjustable settings were also a selling point. The range of sizes that it fits was just amazing, from 12J right up to size 5.
We felt that many children in the same family would get lots of wear out of these blades, especially so because of the removable liner inside the boot that could be washed and replaced – this meant that they would stay fresher for longer, despite their age and amount of use they might have.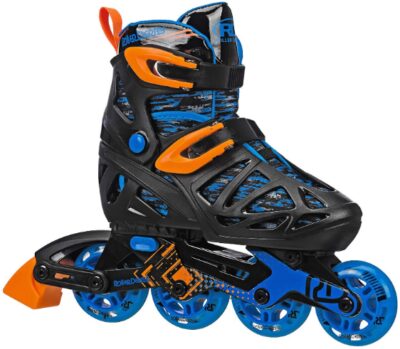 Best Budget Pick
Yes, it was actually first on our list, the Otw Cool Adjustable Inline Blades. Although it can be hard to get any pair of rollerblades for a bargain basement price, there are some pairs out there that won't totally break the bank. This pair is great because it is suitable for boys or girls and has a clever and stylish design that makes it look like a much more expensive pair of rollerblades.
The helpful button feature to change sizes was a great selling point and the fact that it had light up wheels was also a great aspect. They are just as strong as any other pair, being made from aluminum but offered the same comfort, with the softness of the shoe lining offering a comfortable skate for the owner.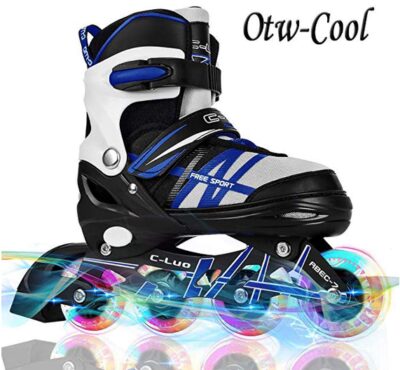 What are the Best Brand of Blades for Kids?
Everyone will have their own personal favorite, and that will be dependent on what your preferences are, but having reviewed many of these products, the K2 brand stood out as a quality product and brand that could be trusted to provide excellent skates and rollerblades for your child to enjoy for years on end. There was such a wide range of styles and designs as well as helpful features that allowed children to adjust the size and take ownership and responsibility for their blades.
How to Select Roller Blades
Firstly, make sure you think about the age of the child you are buying for. If they are very young, you will need to make sure you are buying a brand and style that is not only safe for them, but that actually fits them. There is no point in buying the fanciest, greatest pair if their feet are too small. Also think about the style they will prefer, do they like modern, gender non-specific style?
Or if it is a girl, would she prefer pink blades, perhaps? Also think about the use that they are going to have – will there be lots of family members reusing these blades? If so, think about getting a pair that has a wider range of sizes as they will get lots more use out of them that way.
Why Do Kids Love Roller Blades?
It's obvious, isn't it? The freedom. The fun. The fact that you can gain confidence, develop skills and enhance your physical fitness are all aspects also, but basically, kids just love the freedom and fun that they have when they can whizz about on a pair of amazing blades, especially the ones that light up as they skate. If you want to put a smile on that little person's face, then a cool set of rollerblades is certainly to do just that.
Here are some other great picks: