Looking for gifts for kids who love hockey? Or maybe your wondering what hockey toys are available and which ones are cool for kids! Here we have reviewed some of the best hockey gifts for kids to ensure you can a gift to be remembered.
If your child is passionate about hockey, it makes sense to choose a gift related to their interest. But how do you choose the perfect gifts for hockey players, or simply kids who are fascinated by watching the game? With so many possibilities, it can be difficult to make the best choice. That's why we have picked out 15 different hockey toys and gifts for kids of all ages who love the game. In our great guide, you will find loads of fun and exciting gifts a little hockey fan would love to unwrap on a special occasion. First, let's look at some of the things which should be considered when picking between the different options of cool hockey stuff on offer.
Considerations When Choosing Kids Hockey Gifts
There are a few things that must be kept in consideration when it comes to picking out hockey sets or gifts. The child's tastes are important – think about their favorite teams or players. Perhaps they don't have a favorite team but instead, love playing the game. In this case, something they can use when playing might be a better fit. Or, if the child is a fan of hockey in general, they might enjoy some of the hockey toys for kids that we have picked out. Also, think about how old the child is and check with the manufacturer's suggested age on the item you choose. Make sure it is safe and suitable for their current age and development level. There is also personalized hockey stuff worth considering if your into making it extra special.
15 Best Hockey Gifts for Kids
With the above considerations in mind, it's now time to take a look at 15 of the best hockey gift ideas. They are sure to delight kids of all ages who are fans of the game!
1. Team Number Crew Socks

First of our gifts for hockey players we have these cool crew socks which can be customized with the child's team number. Each sock can have any digit from 0 – 9, so you can have any number from 0 – 99. Kids will be instantly recognizable to their teammates with these cool socks! They are made from polyester with nylon and spandex for a classic look and feel. They will also stay up securely even when worn during an energetic game. The size is designed to fit most, and they are equally suitable for boys and girls. The material is good thick quality – kids won't want to take them off!


2. Playmobil Hockey Arena

If you are looking for the best gifts for a boy or girl who simply can't get enough of the game, this Playmobil playset is a great choice. It will allow them to imagine they are actually playing even when they can't get out and play! The playset has over 70 pieces and is ideal for children aged 5 years old and above. It comes with the rink, goals, and four NHL players complete with helmets, sticks, and pucks.
The players can hold on to their sticks and really try to score – there is a level to make them swing and another on the back of the goal for the goalie to try and deflect the shots. There are stickers included so kids can customize their players to reflect their favorite team.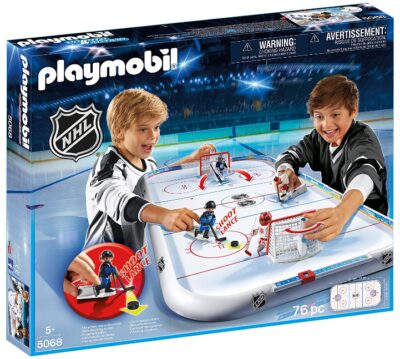 3. Hockey Guys Toys

If you are looking for hockey toys for toddlers, this set of NHL hockey guys is ideal. In fact, it is great for children of all ages who wish they could play hockey all the time! It comes with two teams and various accessories – 25 pieces in total. Kids will love to set up games between the two teams, and it also works well as a training tool to teach kids more about the rules of the game. There is a plastic mat included as well as wall pieces that can be joined together to make the sides. The set also comes with two goals and a large puck so games can be set up and played.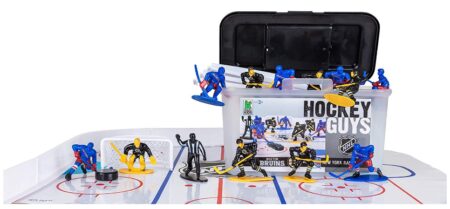 4. Finger Hockey

Our next hockey gift idea is another fun game that is perfect for two players. The game comes with a set of goalie pads for the fingers, a net, a hockey stick, and a puck. There is also a mat included to act as the skating rink. The set also comes with a rule book to explain how to play. Kids will have hours of fun with this game, and parents will probably like to join in too! The game is quite challenging but is sure to make everyone laugh – it will delight hockey fans for sure.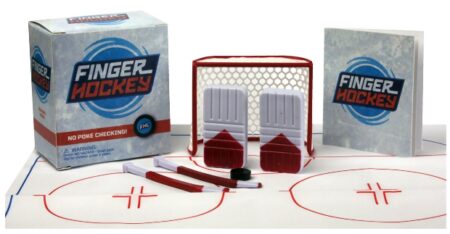 5. Paladone Miniature Table Hockey

Our next hockey toy is this tabletop game – you can really add water to it and freeze it to make a real ice rink at home! As well as the rink, the set comes with two hockey sticks, two goals, and a puck. The rink is marked with official lines to make the game feel even more authentic. This game is sure to give hours of fun and kids will love to freeze it and play it over and over again.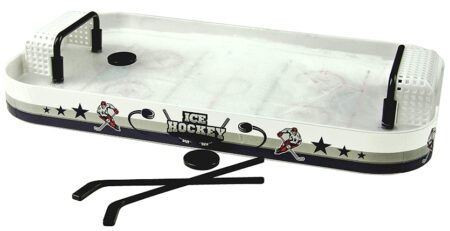 6. Franklin Sports Kids Hockey Set

Next on our list of great gifts for a hockey player, we have this nice kid hockey set. It comes with two goals, four sticks, and three balls. Two of the sticks are adjustable in length so they can easily suit kids of all heights and ensure they are playing comfortably. The other two sticks are for playing knee hockey, and two of the balls are made of foam for playing this game. So, kids can play two great games with one set – perfect for indoor or outdoor use.



7. Hockey Player Night Light

If you are looking for slightly different gifts for hockey lovers other than toys, this night light could be a perfect choice. It is lit using LEDs and can change between seven different colors, or remain solidly on just one of them. The light is really easy to control, as the base is simply touched to activate the light. When the night light is lit, it gives a nice 3D-effect illusion – kids will love having this in their room at night! These are also great kids hockey team gifts that get kept for ages!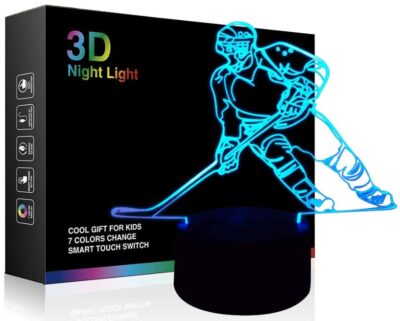 8. Hockey Pencils with Erasers

If you're looking for something a little different than a childrens hockey stick, how about these stick-shaped pencils instead? They come as a pack of 12, and each also has an eraser on the end. There are six each blue and red pencils, and four colors of erasers – green, black, blue, and red. These are great for kids to take to school, or for giving out as party favors after a hockey-themed party perhaps. This is a gift which is both fun and practical and is sure to make schoolwork a little more interesting to your child!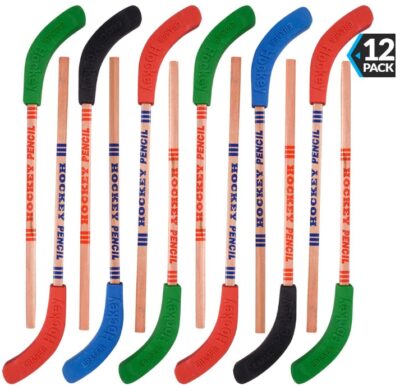 9. Franklin Sports Knee Hockey

Next on our list of the coolest hockey Christmas gifts, we have this knee hockey set from Franklin Sports. It comes with two mini sticks and two foam balls, all with official NHL branding. The stickers are 15 inches long, perfectly sized to play at home, any time. These are cool birthday gifts for kids that love hockey and 3 years old +.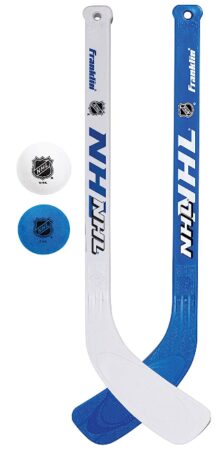 10. Hockey Wars by Sam Lawrence

When it comes to more unique hockey gifts, books are a great choice – different from the other toys and games. The paperback book has 138 pages and is written at a level that is ideal for children in the 8 – 12 age range. The story is about friendship and how it can change over time, and is ideal for teaching children some valuable life lessons. Kids who love hockey will be able to relate to this story, as it shows two friends becoming captains of rival teams, and how their friendship changes as a result. The book is exciting enough to keep children interested, with twists and turns to keep them engaged until the end.


11. Shoot Out Hockey

If you are looking for fun hockey gifts for boys and girls, this Shoot Out game is perfect. Players have to use levers to try and shoot the ball to score a goal, whilst the electronic goalie attempts to defend. The game can be played alone or with two players, and is ideal for children aged 5 years and above. There are 20 balls included, and when a goal isn't scored with a shot, it is automatically returned. Four AA batteries are required for this game to operate, so be sure to stock up before giving this as a gift!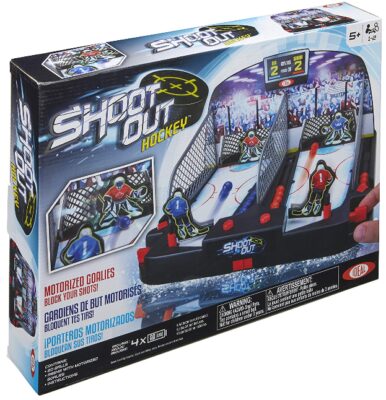 12. Hockey: The Math of the Game

When it comes to choosing cool hockey gifts, books might not be the first thing you think of. However, this one is packed full of fun mathematical facts about the game and is sure to appeal to any kid who can't get enough of hockey. The book is paperback and has around 50 pages, and is written to appeal to kids in the age group of around 9 – 13 years old. Kids will learn fun facts and tips that they might not learn from watching and playing the game, and will love to impress their parents and friends with what they have learned! One of the facts sure to delight children is how much water is needed to cover an ice rink!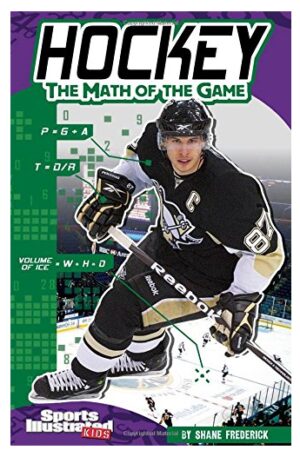 13. Inflatable Hockey Sticks

If you're looking for hockey presents for a sports-themed party, these inflatable hockey sticks are ideal. They come as a set of 12, in various different colors and designs, so there is plenty to share out with friends or to give as favors at the end of the party. When inflated, the sticks are 37 inches long, a great size for kids of all ages. These are also great for a hockey team party, perhaps to celebrate a big win. Kids will love the fun phrases printed on the sticks such as 'slap shot' and 'face off'. These are cool hockey gifts for girls and boys!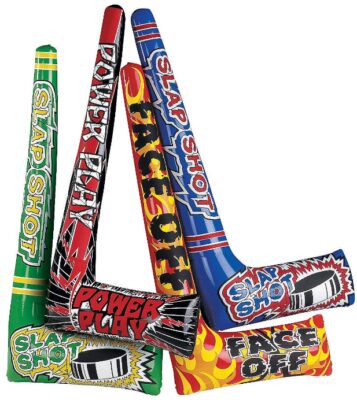 14. Drawstring Hockey Bags

If you need somewhere to store your kid hockey gear, these drawstring bags are perfect. They come as a pack of 10, so they are excellent for using to fill with party favors, as they can be reused by kids when they get home. Each bag measures 15.5″ x 13.5″ so there is plenty of space inside to store their gear, or they can use it for something else. The shoulder straps are 15.5″ long, which should be an ideal fit for most children. Hockey fans will love the cool design on these bags, and they are perfect for completing the theme of a hockey party!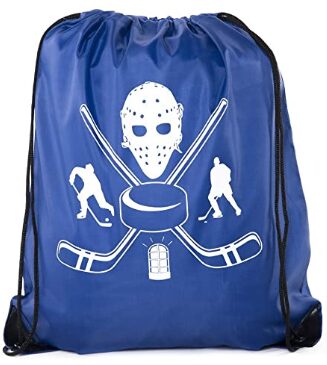 15. Hockey Wheeled Suitcase

Last on our list of the top gifts for hockey fans we have this 16″ wheeled suitcase. It has an extendable handle to easily pull the case along on its wheels, or there's also a carry handle on the top for when it needs to be lifted. The luggage itself is lightweight, at 3.5 lbs, so it's ideal for traveling with, and kids won't complain about having to carry or pull it. The dimensions are around 16″ x 12″ x 8″, so it's a great size for a short trip – kids will be able to fit a change of clothes and some toys inside easily. The hard shell design is ideal for keeping everything safe when traveling. Kids will love the design on the case and there is a zippered compartment inside for easier organization of the belongings.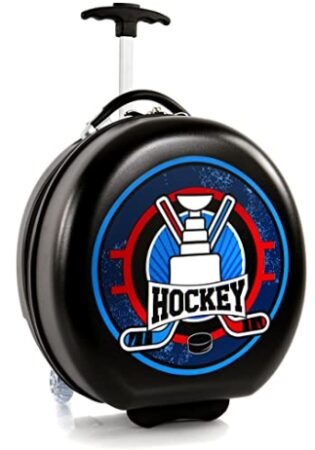 Our Top Gift Idea
After looking at the 15 best hockey gifts for kids, it's time to pick out the one which stands out above the others. In this case, our best buy is the Playmobil play set, for many reasons. It comes with many great pieces and provides hours of imaginative play. The moving parts are sure to entertain kids time and time again!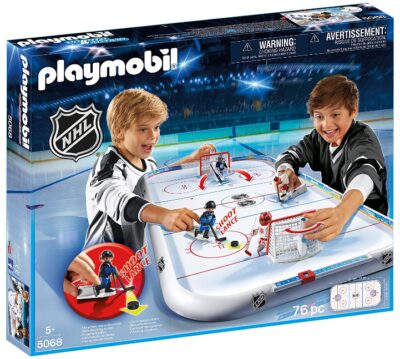 Best Budget Hockey Gift
If you are looking for a cheaper option than the above, we recommend the Hockey Math book instead. It will also keep hockey lovers entertained for a long time and teach them some fun and important information to deepen their understanding of the game. It's the perfect choice if you are looking for a small stocking stuffer gift for a young fan of hockey.