Looking for a perfect gift for a young troll fan? If so, then your child will surely enjoy the Trolls toys based on DreamWorks' 2016 movie Trolls. The Trolls blockbuster movie continues to be incredibly popular among children. These detailed troll-themed toys are based on the characters from the movie.
The toys are designed to speak several catchphrases and sing. They are safe and generally perfect for family fun with the young ones.
The most popular character is Poppy, the princess, and Branch. They are designed to look just as they appear in the movie. Featuring soft plush hair and other detailed features from the movie, these toy trolls are a great way to keep your child entertained.
Considerations When Choosing Trolls Toys
Safety- Generally, the Trolls toys are safe for your kids. The dolls and toys are well designed and come with an age recommendation for children over four years old.
Design and features- Look at the different designs and features of the Trolls toys and choose the most preferable one. The toys are detailed according to the movie and this will be interesting for your child.
Your child's interest- It's wise to consider your child's interest while getting them a Trolls toy. Most girls generally prefer Poppy dolls, based on the movie's main character Poppy. Some kids may opt for other Trolls-themed toys like the sound book.
Durability- Consider toys durability while buying it. The best thing about these Troll-themed toys is that they are made from plastic and hence more durable.
Best DreamWorks Trolls Toys in 2023
1. 12 Piece Mini Trolls Dolls
This Tolls Toys set comes with 12 Trolls figures, each with its own stand. This makes it easier for you to place it almost anywhere. These mini- Trolls Dolls also comes with all popular characters from the Trolls movie. Some of these characters include Princess Poppy, Branch, Dj Suki, Fuzzbert, Smidge, Satin and Biggie holding his pet Mr. Dinkles.
The Troll figures cake toppers are PVC hard and about 1.5 to 2.5 inches tall. They work best on regular sized cupcakes or 12-inch cakes. These mini-trolls are safe for children 4 years and older and are great gift ideas.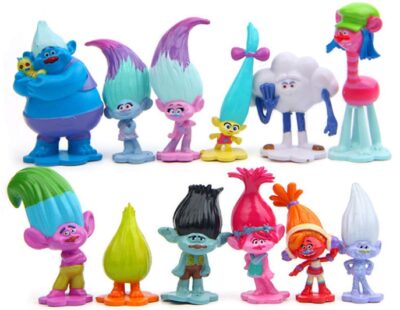 2. Poppy Trolls Styling Head
Have fun, hair-styling Poppy's pink hair with these Trolls inspired play-set. The set comes with styling accessories and 9 cute barrettes. It also includes mini-combs for styling Poppy's hair. Use the hair ties to Give Poppy pigtails or braid her hair.
The station comes with built-in storage. This helps you store all the accessories safely in one place. This Poppy inspired playing station is recommended for Troll lovers 3 and above. Gift your child this Poppy Troll Doll and let her have fun styling Troll hair.
Enjoy never-ending colorful hair-play and expand your imagination with the Poppy Troll Doll.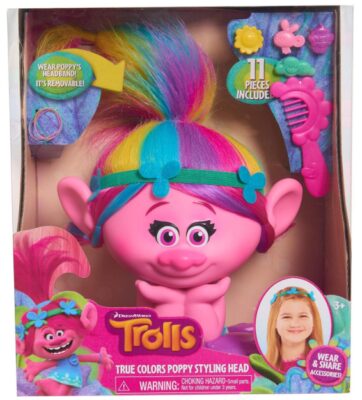 3. Trolls Sing-Along Boombox
Sing your heart out using this Troll Sing-Along Boombox. It comes with a real working microphone so you can sing all your favorite songs. The built-in music allows you to sing to some of the popular songs from the Trolls movie like 'Get Back Up Again' by Poppy.
Connect your songs via mp3 connection and sing to whatever playlist you like. There is also a storage compartment that allows you to store your mp3 player. There is a that handle makes mobility easier. This will be a splendid gift for your Little Troll star of 3 years and above.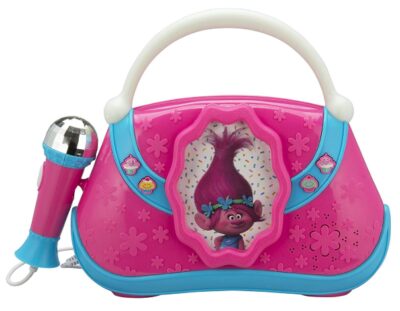 4. Stylin' Troll Collection
This Troll styling collection pack includes popular characters from the Trolls movie. Have fun playing with Troll hair and creating different hairstyles. You may also use the accessories provided in the set to add flair to the hair.
The figures are detailed and come with features as from the movie. Practice your hairstyling skills using Poppy's Pink hair or Branch's soft plush hair.
There are over 10 accessories included in the set, including a comb that will spice up everything. This stylin' Troll Collection is a splendid way to keep your child pre-occupied whilst having fun.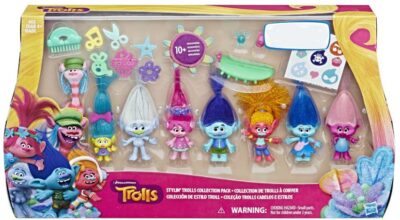 5. Pod'ular Troll Tree Playset
From the DreamWorks Animation movie Trolls, this line of dolls and playsets lets kids expand their imagination through a variety of play patterns. The playset is over 16 inches tall. Some of the features included are a zip line, a slide, and nooks for hiding. The slide is for getting down in a hurry.
You can also easily customize the tree using the interchangeable pods. Play with the 5 inch Troll Poppy figure and her friends (additional Trolls and playsets sold separately) This set is recommended for children over 3 years and may require adult supervision.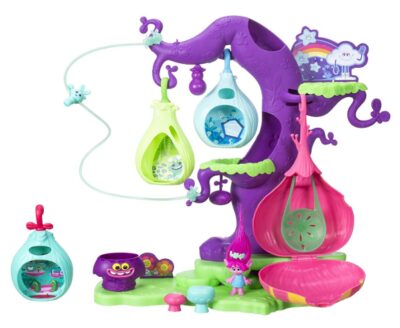 6. Trolls Wild Hair Collection
This collection allows you to play with characters from the Trolls movie. Have fun acting out scenes from the Trolls movie with Princess Poppy and Branch and Smidge. You may also style their wild Troll hair. Known for their crazy, colorful and magical hair; these Troll dolls will allow you to expand your imagination.
Kids can build and explore their own version of the Trolls movie using the figures.
The collections are recommended for children 3 years and above so, get this for your little one and keep them entertained for hours. With so many ways to play, it's a hair raising good time!

7. Poppy Hug Time Figure
The figure featured is Princess Poppy the main character of the Trolls movie. Sing along to her most popular song 'Get Back Up Again'. She also says some catchphrases from the movie and sings 'True Colors'.
Place her in front of her friend Branch, (sold separately as the Trolls Hug Time Harmony Branch) and watch them sing together. These two friends also talk to each other. The figure comes dressed in her dress, tiara and hug-time watch. The set is recommended for children over 4 years of age. Have immense fun with this doll in re-creating your own Trolls fantasy.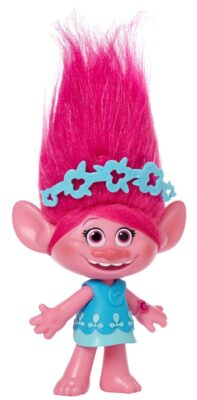 8. Trolls Party Hair Doll
This Troll Party Hair doll says over 40 phrases and fun sounds when you pull her plush rainbow-coloured hair. You can also have immense fun styling her hair. Roll Poppy on her skates and she'll sing 'hair in the air' from the theme song from the Netflix series, Trolls: The Beat Goes On.
The doll comes with her roller skates, a tiara, comb and 6 accessories. Use the accessories to style her colorful hair and sing along with the princess. This doll is for children of over 4 years and older and is just right for kid's parties or gifts.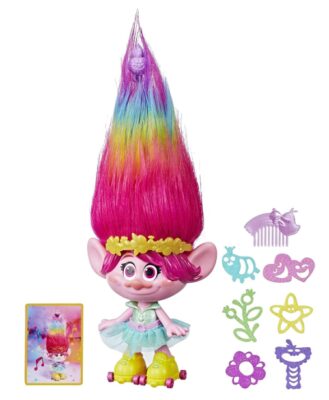 9. Trolls Branch Hug Time Figure
This DreamWorks Trolls figure is for children above 4 years of age and comes dressed in his signature shorts, bug time watch, and vest. Press his bug time watch and hear him sing 'Hair Up'. Place him next to his friend Princess Poppy (sold separately as Poppy Hug Time Figure) and watch them sing 'True Colors' together. You may also play with his blue plush hair.
The two also talk to each other. This adorable figure also says some silly catchphrases from the movie. Play with Branch and help him embrace his inner spirit and let his true colours shine.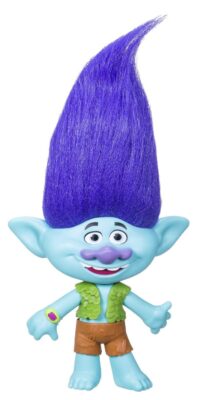 10. Trolls Play Doh Salon

Create colorful Play-Doh hairstyles for DreamWorks Trolls Figures with this set. Shape fun hairstyles with the book mould. Use the half-moulds to shape the accessories. The Play-Doh Trolls Salon includes two figures, a hair-book mould, an unassembled chair, 7 cans of Play-Doh Brand Modeling Compound and a pair of scissors.
It features Poppy and Branch characters. To start growing hair for the Trolls, load the chair Play-Doh modelling compound and slide Poppy or Branch on the chair. Press down on the chair to grow hair. Use the scissors to cut the hair and start all over again.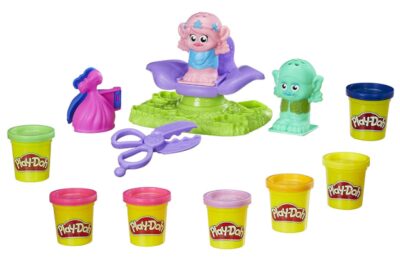 11. DreamWorks Trolls 9 Inch Poppy Figure
Have fun with Princess Poppy while styling her colorful wild hair. Style Poppy's beautiful Troll hair and accessorize it with her tiara. The figure is 9-inch tall and includes fuzzy flair hair-styling material. The figure also comes with a dress, tiara, comb, a cape, a pair of shoes and a sticker.
Act out magical scenes from the movie with this figure and practice hair-styling skills with her hair. There are small parts involved with this figure and so are a great toy for children 4 years and older. Get this amazing pink Troll toy as a birthday or Christmas gift for your little Troll lover.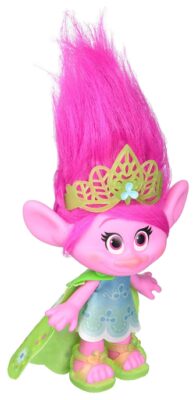 12. Poppy Plush Pillow
This adorable stuffed plush doll is the best for play, sleep, comfort, and travel. This Troll stuffed doll is soft, fuzzy, washable and great for both boys and girls. It is excellent for cuddling with and can be made into a pillow at night by unfastening its belly.
Pillow Pets present this adorable stuffed Troll Doll for you and your kids. Use these soft and cute stuffed animals as you travel on aeroplanes or during road trips. They can also be used for decorating bedrooms. This Trolls plush doll is super comfortable, cozy and children of all ages will love it.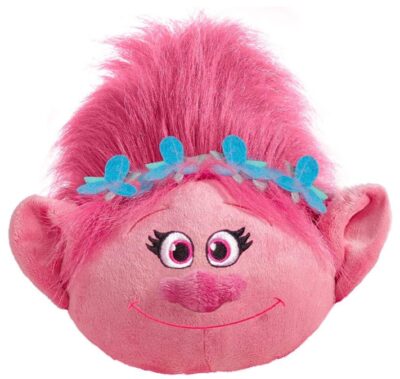 13. Poppy Plush Doll
This plush doll features Princess Poppy's colorful pink hair. The Troll figure is 12 inches tall and perfect for hugging and cuddling with. Have fun creating lots of hairstyles from her wild and colorful hair.
The Trolls plush is soft and cozy just like other Trolls stuffed animals. Kids love these comfy dolls and are a good way to keep them entertained. The dolls are also easy to wash and are in general comfortable and safe toys for your kids.Get this Poppy Plush Doll for your toddlers and get them ready for lots of hug time with the Princess.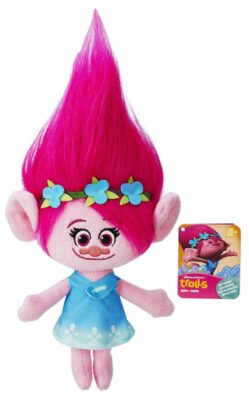 14. Trolls Hair Headband
These headbands are colorful just as Princess Poppy's pink hair. The headband is sparkly and has flowers. It is designed to look just like Poppy's. The headbands come in a one size fits all.
Get these headbands for your little girls for their birthday parties or for a costume party. The headband is more frequently bought with a Trolls Poppy Dress to finish the look. The dress and the headband is a finished princess looks for your little one and together with other Troll's Toys; she can re-create her own Trolls fantasy. The headband is also suitable for all toddlers.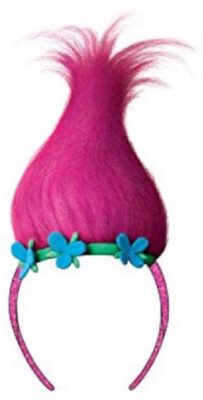 Overall Best Buy
The Poppy Hug Time Harmony Figure is our top pick. Most Trolls movie lovers will love this doll. This is because it features Princess Poppy, the main character. The figure has soft plush hair and lots of detailed features from the movies, such as the Hug Time watch.
The doll also sings 'Get Back Up Again' and says some few phrases from the movie. The Poppy Doll can also sing in harmony with Branch, the other main character from the Trolls movie.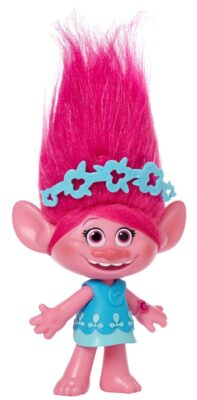 What are the Different Types of Toy Trolls?
1. Dam trolls are the oldest and were made of a hard vinyl material. These vintage troll dolls had a lot of hair and their clothes were made of felt. They had a wide variety of features and came in different sizes and outfits.
2. Russ trolls were quite popular and came in a variety of sizes. They were more detailed and had different from features from the Dam trolls.
3. Dam animal trolls were also popular. However, these animal trolls can be quite ugly or cute, depending on your opinion. There are still some of these vintage trolls going round and can sell for large amounts of money.
At What Age Will My Child Enjoy Playing with Troll Dolls?
Toddlers from the age of 4 will enjoy playing with these dolls. Troll dolls are a favorite of little girls and any little girl is guaranteed to have fun hair-styling poppy and singing along with her.
Other Toys like the Troll Tree Playset is a good way of expanding your child's imagination. They will find Tree-set exciting and entertaining. Toddlers will also enjoy playing with their plush dolls. Other Trolls merchandise is also amazing. For your little ones who love to sing, getting them the Troll Sing-Along Boombox would also be great.
What Are the Benefits of Playing with Trolls?
Toy Trolls are a great way to keep your child entertained. The Trolls movie and other related stories have consistent themes of friendships and working together. This is a great lesson your child can learn.
By playing with the dolls, kids can create their own magical adventures and stories. This helps them expand their imaginations and creativity. The Trolls movie involves lots of singing and fun. Exposing your child to such music develops their learning and listening skills.
Toy Trolls are generally safe and comfortable to play with. Your child will have lots of fun playing with these Toy Trolls.