Ponycycles can be so much fun for little ones, providing them with heaps of ride-on playtime and learning opportunities too. Inclusive of small, medium, and larger sizes, these awesome toys are an ideal birthday or Christmas gift for toddlers and children.
If you're seeking inspiration as to where to buy this type of unicorn ride-on toy or simply want to browse a range of the best Ponycycle unicorns and horses, we've got you covered with the extensive range below. From rainbow-colored options to traditional wooden styles, there are lots to choose from.
These types of toys can be particularly valuable for children as they aid them with a variety of vital skills including hand-eye coordination. They can help toddlers to strengthen their leg muscles as they learn to walk too. Mobility is important for children of all ages, from toddlers to younger children as they continue to learn.
A ride-on pony is capable of providing the aid needed while encouraging independent movement, making it an excellent choice for all children.
Top 15 Ride On Unicorn Toys
It's time to present our top pony cycles for kids, ranging for magical rainbow-colored options to more traditional versions, there is plenty to choose from. Let's reveal the best options we could find below!
1. Chocolate Brown PonyCycle
This beautiful chocolate brown ride on horse for toddlers is suitable for children ages 4 to 10 years of age. Allowing a maximum capacity of  88 lbs, its made using super sturdy and high-quality materials ensuring total satisfaction over time.
The seat height measures 24 " and it is suitable for indoor and outdoor use. Parents will love the joy this lovely horse toys for kids brings to their little one with its lovely design featuring a tan leather saddle and comfortable handles. Ride on pony toys can bring about plenty of fun and help children learn about the animal and improve their mobility along the way.
This lovely stuffed horse toy is easy to put together and requires little to maintenance at all, making it highly convenient too.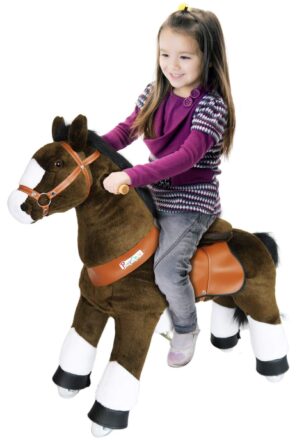 2. PonyCycle Riding Unicorn
A wonderful pony cycle for sale, this option is great for little boys and girls who are obsessed with unicorns as they have their very own to play with! Bringing fantasy to life, the riding unicorn is colored white with a pink horn and blue eyes.
The classic play pattern allows your child to gallop and go or simply rock back and forth for hours of playtime. Suitable for use both indoors and outdoors, bring the toy to the garden for summertime fun. The ridable toy horse is designed for young kids aged 4 years old and above, making it a great option for parents looking for a ride on pony for younger children.
It'll take just less than 5 minutes to assemble and requires little to no maintenance over time too. We love the addition of wooden handles that are safe and secure to use and the wonderful traditional brown saddle.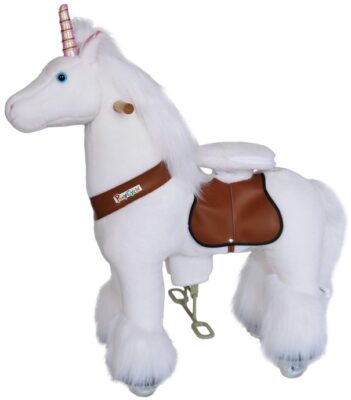 3. Black Ride-On PonyCycle
A wonderful black pony cycle large horse is an unusual yet pretty design that allows non-power walking and gives a real simulation of a moving horse. Great for childrens balance, active play, and coordination, having a toy horse of their own can really enhance their playtime!
The completely safe design is made to be sturdy for both indoor and outdoor use and is easy to install and maintain from the get-go. The addition of white detailing on the horse's nose makes this pony cycle extra cute, while the brown saddle carries a classic look. This lovely toy is suitable for kids aged 4 years old and above, up to 10 years old.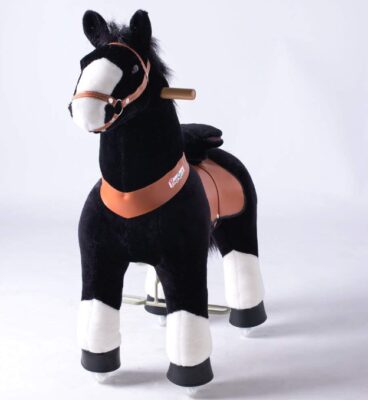 4. White Unicorn Ride On Toy
Brilliantly white and magical, this stunning set of pony wheels allows children to safely ride indoors and outdoors, stimulating real horse riding. Children simply need to bounce up and down on the saddle to get it moving along, the pony's head moved forward and backward in a galloping motion for lots of fun.
This lovely riding horse toy is designed to make little one's dreams come true with its fantasy design and large pink striped horn. The other elements of the ride on animals are kept traditional with a brown saddle, handles, and a fluffy mane. Make your child's dreams come true with this wonderful unicorn walking toy horse you can ride for hours of play time.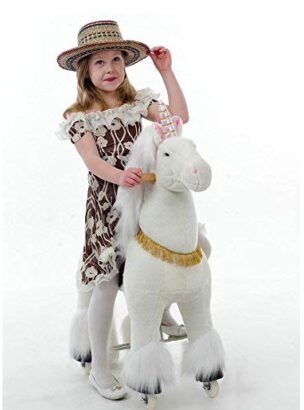 5. Tan Pony Wheels
A fantastic horse scooter colored in a beautiful tan brown, this ponycycle simulates the real deal perfectly. Suitable for toddler ages and above, there is so much fun to be had with this easy to steer toy. Kids can choose their speed and go as fast or as slow as they want to, the toy can also be used indoors and outdoors making it suitable to ride at any time.
Unlike some kids rocking horses, this design doesn't require any batteries to get started and is powered with body movements which will see it gallop comfortably. The pretty design features a lovely brown saddle to match the pony's fur as well as a white nose and natural wooden handles. As a more traditional option, this toy is going to please any little pony fan!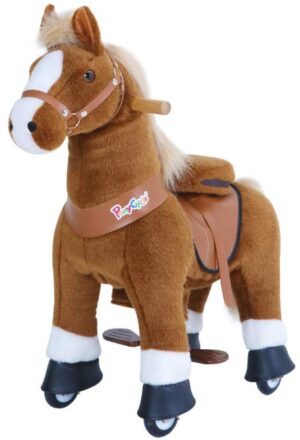 6. Life Size Horse Toy
This awesome simulated toy horse is perfect for little ones who love the animal and need a helping hand with developing their coordination. Great for active play too, children will be able to roam around both indoors and outdoors on a pony while practicing their balancing skills. The convenient toy is easy to install and maintain thanks to an easy set up which takes just a few minutes. If you're seeking a traditional large toy horse, this could be the perfect option with its brown and white appearance and tan brown saddle.
Children will love having a furry toy friend they can use to move around with this fun riding horse toy with wheels. This horse is extremely sturdy supporting toddlers and children of various weights for all-round great value for money.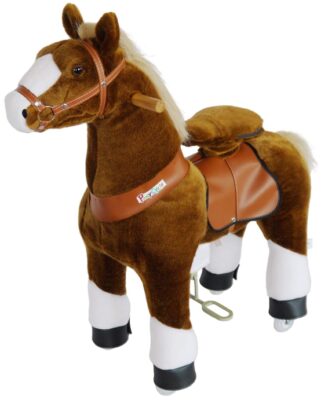 7. Zebra Ponycycle
A little bit different, this eye-catching zebra pony cycle toy for toddlers is a great horse simulator thanks to its well thought put design. Using the comfortable wooden handles and soft saddle, young children can ride indoors outside too whenever they wish to enjoy their playtime. It's a great option for parents who are looking for a toy addition that will really help promote balance, coordination, and active play.
The safety assured toy is easy to get to grips with and convenient to use for children ages above 4 years. For parents, you won't have to worry about setting up and maintenance which is also a breeze to complete. Any child who loves zebra is going to love having their very own toy version to ride around on while improving their mobility in the process too.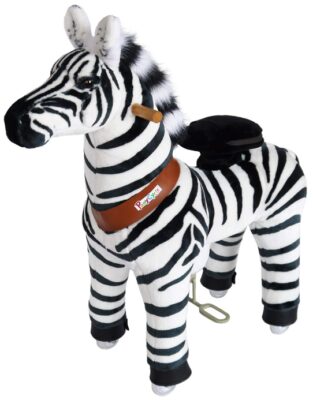 8. Unicorn Ride Toy
For both little girls and boys who love unicorns, they can have their very own to ride about on with this awesome kids' pony. Simulating real horse riding, which is great for children who are in need of developing their balance and coordination. Offering comfortable seating thanks to a soft saddle, this magical unicorn has both a lovely appearance and shape.
From the pink saddle to the horn on its head, there is so much attention to detail that offers your child a way to live their dreams. Suitable for use both indoors and outdoors, there is tons of fun to be had on this super-safe toy that is easy to move about on. This is one of the most unique toy horse for girls out there with its lovely coloring and unicorn horn which will make dreams come true.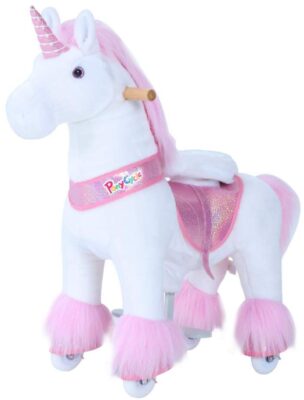 9. Grey Fluffy Ponycycle Unicorn
This large fluffy grey unicorn is lovely for both boys and girls who want their very own pony to ride about on without the real animal! Great for children aged 4 years and above, there is no better way to develop coordination than with this cool unicorn moving horse toy. By moving up and down, the pony cycle will move around and can be used both indoors and outside during summer.
The durable materials make this toy very high quality and while it showcases a twist on the traditional ride on animals toys, it still holds many classic features including wooden handles and a tan saddle. The wheels of this toy allow the pony to move forward and won't lose balance making it completely safe for children over the ages of 4 years to use.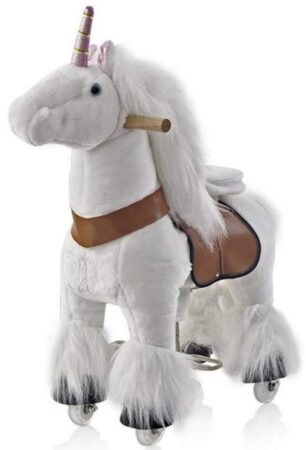 10. Purple And White Pony For Kids
An adorable play horse for toddlers, this magical unicorn is a great addition to any to a collection for a little girl. What's more, is that it will enhance coordination and mobility via pushing along by bouncing. The upgraded design ensures a fun riding experience every time and is made of the finest cuddly plush.
With a lovely appearance using white and purple as well as various accessories for more fun. this unicorn ride is one of the best we've come across. The metallic panel and comfort of the foot touch feeling add further to its quality while the light-up wheels are activated with movement. For a sweet birthday gift ideas for a toddler girl, why not go for this awesome toy that lights up when riding?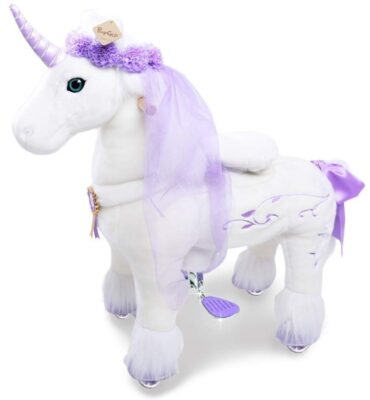 11. Classic Kids Pony Cycle in Black
This childrens horse toy, which has black fur, is lovely for both boys and girls and simulates real horse movements when bouncing up and down. Great for balance and coordination, this toy is a fantastic option if you're seeking more of a classic design. Safety assured you won't have to worry about little ones falling as this horse is completely stable indoors and outdoors on flat ground. Encouraging active play, there is so much fun to be had with this rolling horse toy.
The black coloring sets this pony cycle apart from many of the others while the saddle and straps remain classic in tan brown. We love this sweet little pony which steers away from traditional coloring for a more unique design overall.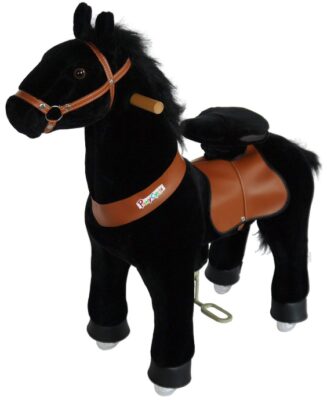 12. White Pony Unicorn Toy
Beautifully designed, this white rideable unicorn is one of the most popular options in this category. It comes with a gorgeous shape and appearance and is suitable for both boys and girls over the age of 4 years who are fans of the creature.
Offering comfortable seating and soft-touch feeling thanks to plush fur, the pink pony toy is comfortable to use and designed with quality in mind. It features a real horse-like motion when children bounce on it to activate its movement and it can be steered left and right using the handles to the front.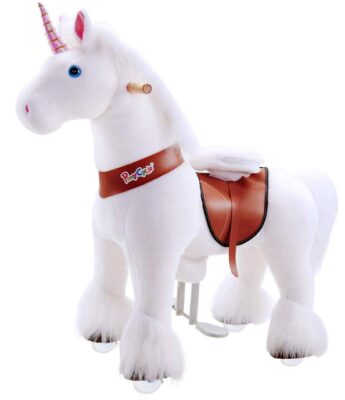 13. Brown Toy Pony
This pony toy simulates real pony's movements and can be comfortably steered from left to right. The adorable design is more classic than modern, making it a good option if this is the style that you're looking for. It can be used both indoors and in the garden for lots of adventurous playtimes and is guaranteed to keep children over the ages of 4 entertained.
Requiring no electricity or batteries, the ride a pony toy is beautifully designed with brown and white coloring to resemble the fur markings of the real animal for an authentic look.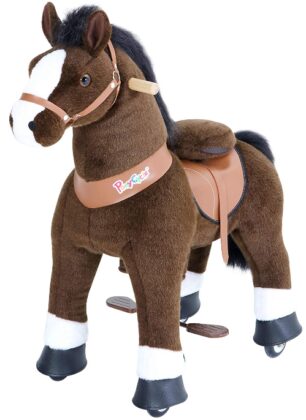 14. Unique Galloping Toy
Featuring an upgraded design, this lovely brown and cream galloping pony cycle offer a great riding experience for children. The appearance of the horses uses traditional colorings as found on the real animal while the blue and yellow saddle is extremely comfortable to sit on. The soft plush materials ensure lots of padded support when moving around and the various accessories add in extra fun inclusive of a brush for the pony's mane and body fur.
We love this wonderful plush riding horse which is suitable for children over the age of 4 years. For a toy that is going to help your child develop their mobility skills, this is one of the best options out there. This option is made unique with the fantastic bright colors and cute face that the pony has!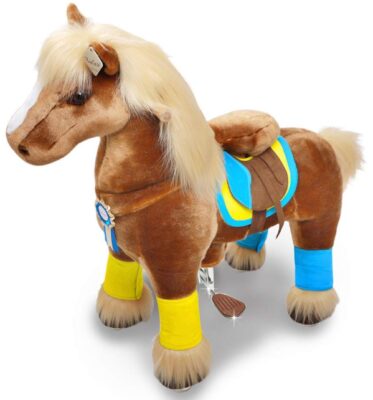 15. White And Black Pony Wheels
Our final ride on stuffed animals toy is this lovely white and black pony on wheels. Designed to simulate the movement of a real horse, this toy is easy to ride and convenient to maneuver thanks to its innovative design. Allowing all sorts of movements from cantering to swerving, the product us going to help little ones to fulfill their mobility needs as they travel around.
The ponycycle for sale focuses on both creativity and imagination and is designed for children over the ages of 4 years. If your little boy or girl is interested naturally in ponies, why not treat them to this fantastic toy and help them to build their mobility skills?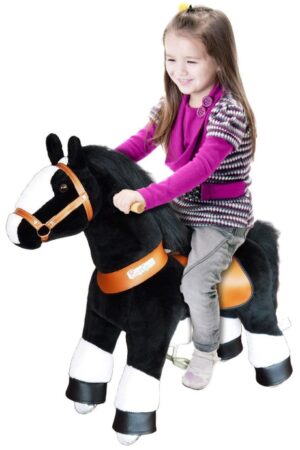 We've reached the end of our toy riding horse reviews and hope that you've found an option above for the child you're purchasing this product for. As always, we've picked our best and budget picks below to provide further inspiration and have added in some popular FAQs for this type of toy, so that you can further think about which option is best for your child.
Our Best Buy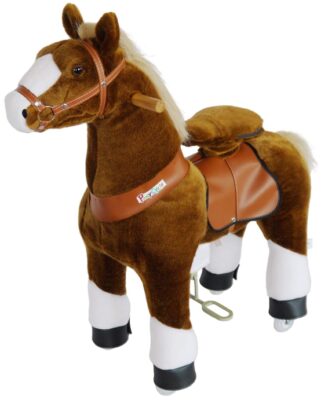 Our best buy is this gorgeous brown and white horse scooter which is super easy to maneuver around and simulates real pony movement. The coloring on this option mimics that of a real horse, giving more of a realistic experience for children when playing with the toy. Its comfortable saddle supports children as they use the horse while the wheels provide sleek movement both indoors and outside of the house.
Best Budget Option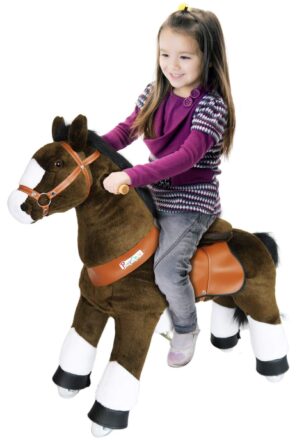 Our budget pick is this classic riding pony design which is great for children 4 years old and over. The brown and white coloring makes for an adorable plush toy that can be comfortably used to move about, helping to improve your child's balance. The cute design will invite children to play with this toy making sure it is not thrown aside after the first use. Little ones will love galloping around on this pony using their own body power to get it trotting!
Considerations Choosing a Ponycycle Horse and Unicorn
When choosing this type of toy for a child there are a few considerations to keep in mind:
Budget – first and foremost think of the budget you can allow for a ride on horse toy for toddlers. Whether you're buying for a birthday or other occasion, having a clear idea in mind price-wise from the beginning always helps.
Age – while most riding unicorns are designed for toddlers there are a number of them that won't be suitable for younger toddlers. As with all toys, be sure to check out the age recommendation when buying. This will help to prevent any safety issues from occurring and will allow your child to play comfortably.
Safety – safety always comes first when thinking of buying any toy for a child and especially in the case of a high up toy like a pony ride on. While children should be encouraged to explore freely and play, when using a ride on a unicorn, the supervision of an adult is advised.
Where Can I Buy a Ponycycle Toy?
There are many places you can buy a kids ride on horse from online stores to physical toy stores found on the high street. Ponycycles come in many different designs as seen from our selection above and as such you'll find them available at varying prices. We always recommend buying from a trusted retailer where possible.
You can also buy from second-hand stores too which is especially ideal when seeking a bargain. By choosing to buy a preloved toy gets a second home with a new child who can enjoy the toy allowing it to live on.
Another great way to ensure a bargain is to buy during seasonal sales of the year. This could be at Christmas time or Black Friday for example, when prices are slashed considerably. Amazon is our number one choice of place to buy this type of toy as not only can you compare the process to find the best option for you, customer reviews also help to build trust in products too.
By being able to review every toy in this category carefully taking individual features into consideration, you'll be able to confidently ensure that you choose the best toy ponies horse for your child.
How Does a Ponycyle Work?
Pony cycles work easily, making them perfect for toddlers too, using the power of a child's movement they can move on practically any flat surface. By bouncing up and down or pushing forward wit body weight, the pony toy will begin to move in a forward motion.
Unlike other moving ride ons, no batteries or electricity are needed to get the toy to accelerate. It may take a little bit of practice for your little one to find the best way to get the pony to move. While there are various styles of this product, each works in the same way meaning you won't have to worry about the toy's function, no matter where you buy it.
What Is The Best Horse Toy For A Toddler?
When choosing a pony rideon for a toddler, there is no right or wrong choice. As mentioned these toys are extremely beneficial for a child's development helping them to improve their mobility and coordination through the movement they are encouraged to do.
If you're looking for the best possible option in this toy category, we suggest referring to reviews where possible as with the ones we've set out above to help you make a good selection. The Ponycycle brand has several different designs of toy randing from magical unicorns colored in white with rainbow horns to traditional brown and white options for a more traditional design.
You can really personalize the type of child riding horse that you buy with careful shopping around. This type of toy is great for both boys and girls, in fact, ponies for kids are likely to help encourage skills needed for actual pony riding in the future too.