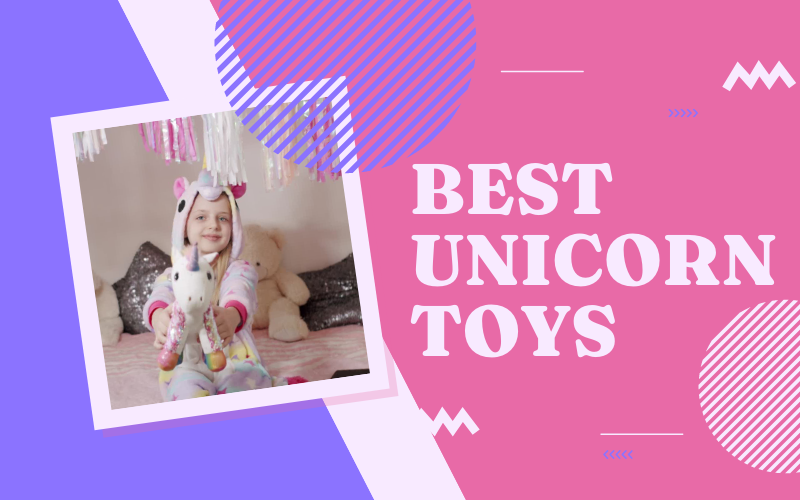 All little girls love unicorns, rainbows and glitter, so what better gift for them than a unicorn toy? Unicorn toys and gifts have really risen in popularity over the last few years. There is so much choice, finding something your child will love can be somewhat difficult. Playing with unicorn toys is great for the imagination, and is a great way to help kids enjoy a fairy-tale dream.
Unicorn-themed toys are perfect for adding a touch of magic to your child's life, and are sure to be loved and treasured for a long time. Whether you decide to choose a plush toy or a figurine, you can guarantee your little girl will enjoy playing with it.
There are numerous benefits attached to playing with a unicorn toy for kids. Such toys can be used to develop a sense of pretend play as well as helping improve the imagination. There are even toy unicorns aimed at young babies, to help develop their senses from a young age.
Although they are merely a myth, unicorns are fascinating creatures to all youngsters, so read on to find our top picks of the best unicorn toys to surprise your child with on their next birthday.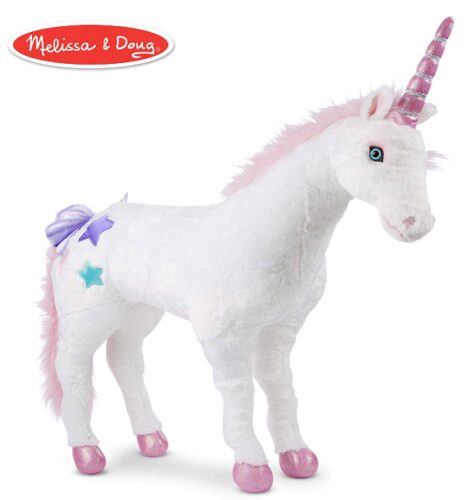 Best Unicorn Toys for Kids Reviewed in 2023
There is such a vast choice when it comes to unicorn toys. Whether you are looking for a small or large toy, a figurine, plush toy or even a talking unicorn pet, it is important to choose based on your child's interests. That's why we have included many different types of toy in our review here.
With the numerous unicorn themed toys available on the market today, it is difficult to decide which will be special to your child. Let's take a look at 35 of the best unicorn toys for kids, which will take away the stress of searching through hundreds of products to find the best unicorn gift.
#1 FurReal StarLily Plush Pet Toy
Offer this toy as a gift to kids aged four and above and you have certainly given them a friend for life. The FurReal StarLily plush pet toy is the best toy for kids to cuddle thanks to its soft and plush nature. The interactive toy responds to sound and touch, with over 100 combinations of sounds and motions. The unicorn can adopt different poses, either sitting, lying or standing, and also has a magical light-up horn.
The interactive pet unicorn can flutter her beautiful wings, and will even dance when she hears music! This is the dream toy for kids who want their very own, real-life unicorn – it is the closest thing you can get! Kids will love brushing and styling their pet unicorn's mane. Older kids will enjoy using the compatible app to play games and explore the forest where StarLily comes from!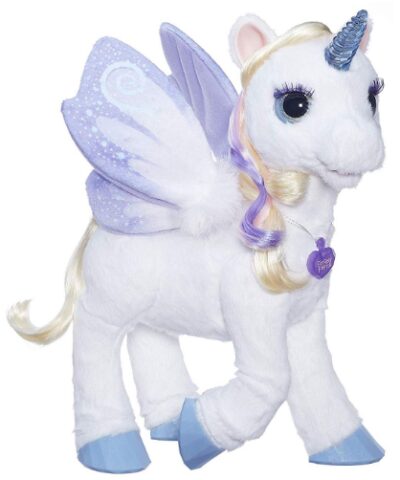 #2 Sparkles My Dancing Unicorn – Little Live Pets
This dancing unicorn can play music to which she will dance along. The horn lights up in changing colors, a fun feature which is sure to delight young children. Kids will also love the cute unicorn sounds that this toy makes – patting the unicorn makes it give a nuzzling sound. The unicorn can be fed her own donut and also comes with a brush to make sure she always looks her best.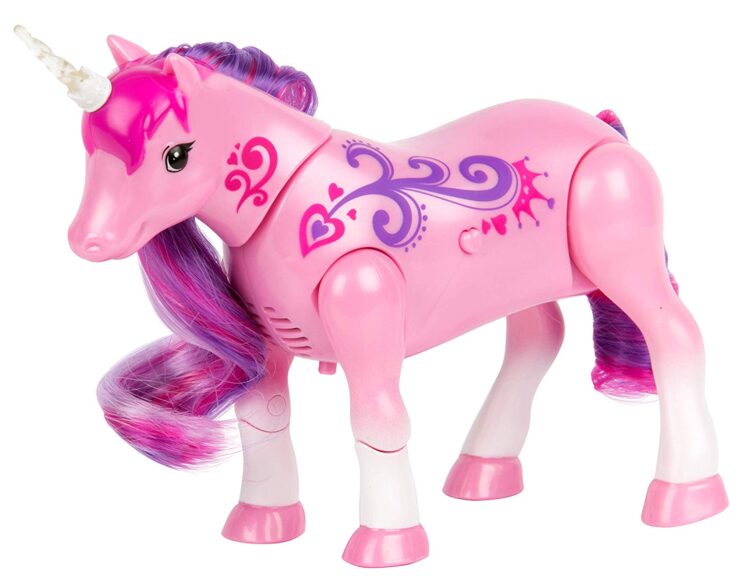 #3 Build-A-Bot Basic Fun Unicorn Robotics Kit
This is a fun and educational toy – kids can use the 20+ included pieces to build and customize their very own pet unicorn! The pieces easily snap together, and can then be decorated with stickers. Kids can train their pet using a magnetic accessory or by clapping their hands. It can walk, play and jump, so it's sure to provide endless entertainment.
This STEM toy is the best unicorn gift for a 5 year old girl, as it will teach her about robotics in a fun and relaxed way. The pieces can be used with other Build-a-Bot kits to mix and match and create whole new species!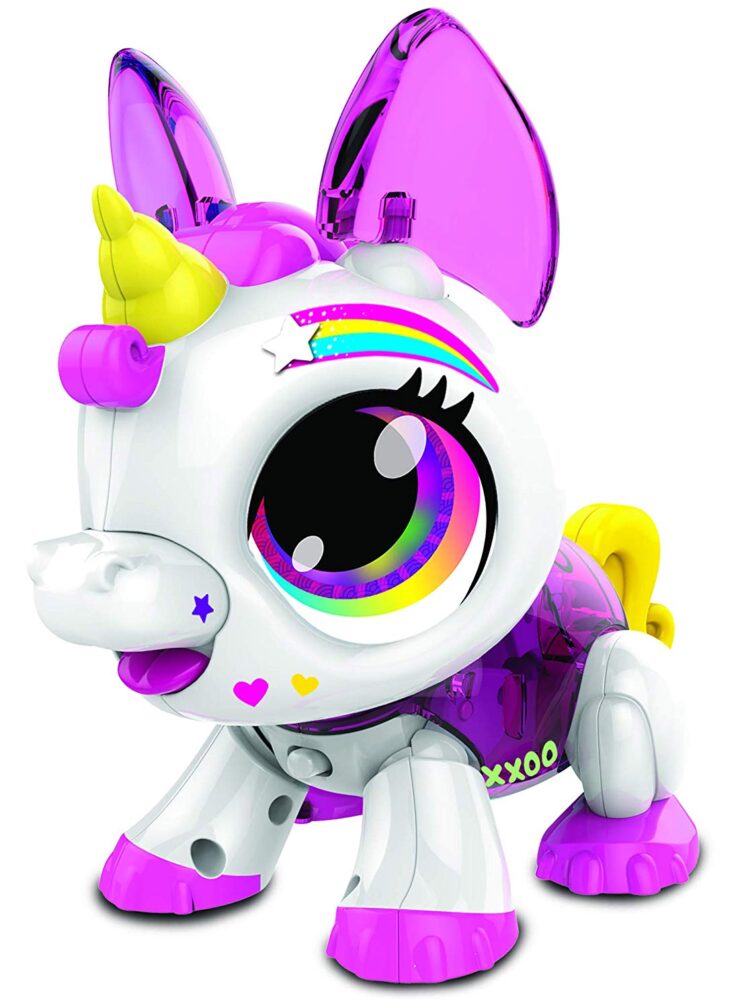 #4 Unicorn Ring Holder

This unicorn ring holder is an excellent choice for girls who both love unicorns and enjoy wearing jewelry. It can be used to safely store small items such as rings and earrings, so you can always find what you are looking for. The colorful unicorn head makes this dish look great – any girl would love to have it on display in her room! Items can be placed around the base of the dish, and favorite rings can be held on the unicorns horn.
Even if your daughter doesn't wear jewelry, this would be a great piece to keep other small treasures or loose change safe. This is the one of the best unicorn gifts for older girls who are less likely to be impressed by toys.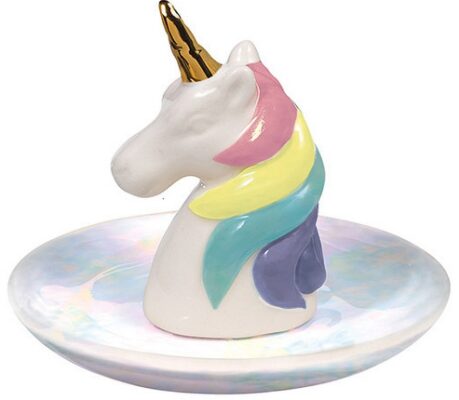 #5 Talking Unicorn Interactive Plush Toys 
This plush unicorn toy is designed to repeat something that has been said in a funny voice. Thanks to its in-built high quality speakers, kids will be able to hear clearly whatever this pet is saying. It is easy to switch on and off, and is the perfect gift for children of all ages, even babies! In fact, even adults with a light-hearted sense of humor might appreciate this gift!
The plush unicorn moves his head as you talk, which is a fun feature sure to delight young children. This is a great gift for Christmas – it is sure to keep the whole family entertained for hours!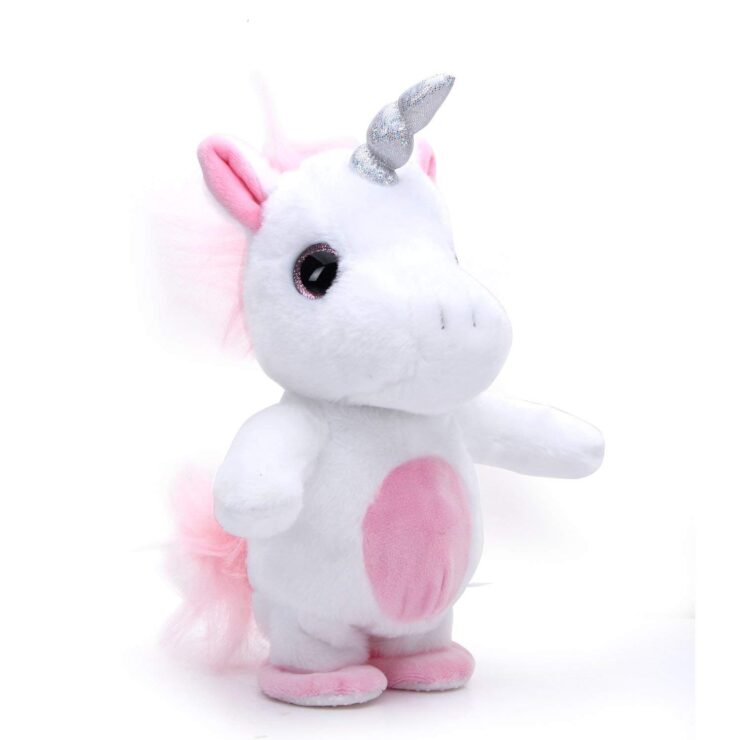 #6 Unicorn Stuffed Animal – Melissa and Doug
For kids who long to have their own, real unicorn, this offering from Melissa and Doug is an excellent choice. It has impressive shimmering fur and beautiful pink details. This unicorn will certainly appear magical to any young child!
The wire frame used inside the soft toy ensures it stands up well, and also allows it to be placed into different poses. However, it is not designed to be ridden, only cuddled and stroked! Standing at an impressive 32 inches high and 45 inches long, this unicorn is perfect for young children who would love to have a life-sized unicorn! If you are looking for the best unicorn gifts for 4 year old kids, this amazing plush has to be considered.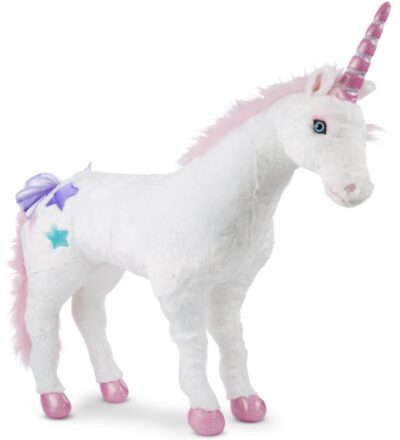 #7 Aurora World Fancy Peek-A-Boo Unicorn
This cute toy is sure to appeal to young children who will love it's sweet face and soft fur. The included bag is perfect for your child to take their new pet along everywhere they go. The high-quality materials give this toy a premium look and feel, so no matter how much your child wants to cuddle it, you can be sure it will last.
The bag the unicorn comes with is the perfect size for toddlers to carry around. They can even use it to put other treasures and important items in. The cute unicorn and ribbon detail on the bag is sure to delight them – they will love carrying their own bag around and showing it off to everyone! If you wish to find fun unicorn gifts for girls aged around five and under, this is the perfect choice.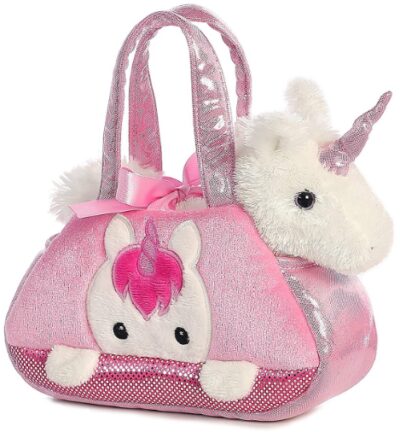 #8 North America Schleich Unicorn Figure
Durability is one of the main features of the Schleich unicorn figure, as it is made with strong and hard plastic. This ensures this toy lasts well and withstands the test of time. This unicorn toy will touch the heart of any child who plays with it – they will love the colorful mane and tail and the sparkly rainbow rhinestone detail. The figure is hand-painted so each one is somewhat unique.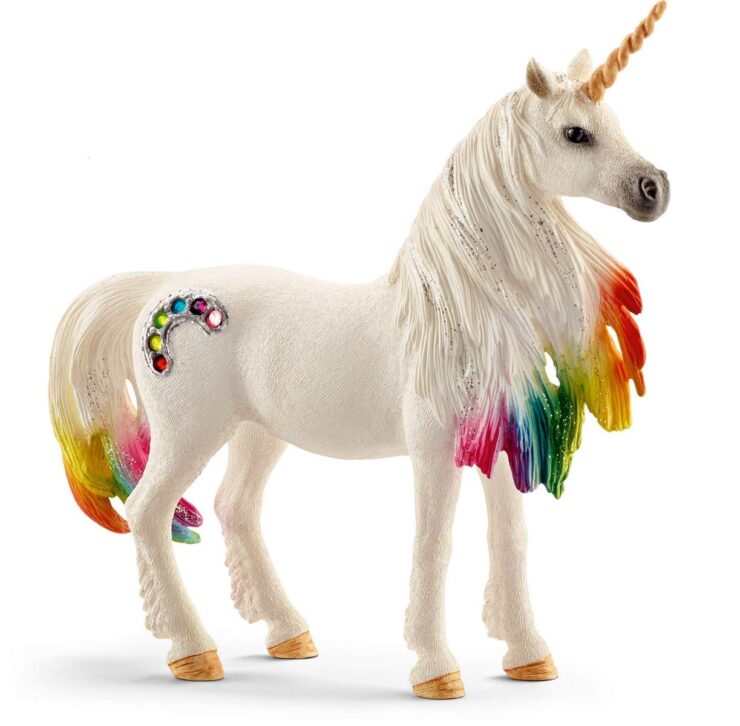 #9 Enchantmints Unicorn Music Jewelry Box
This is an attractive jewelry box with a unicorn figure in it which dances and twirls when the box is opened. It comes with a mirror which is perfect for applying makeup. The box is made from high-quality material so you can be sure it will last for many years. It comes with several useful features including side drawers and a large drawer at the bottom, which helps maximize storage space.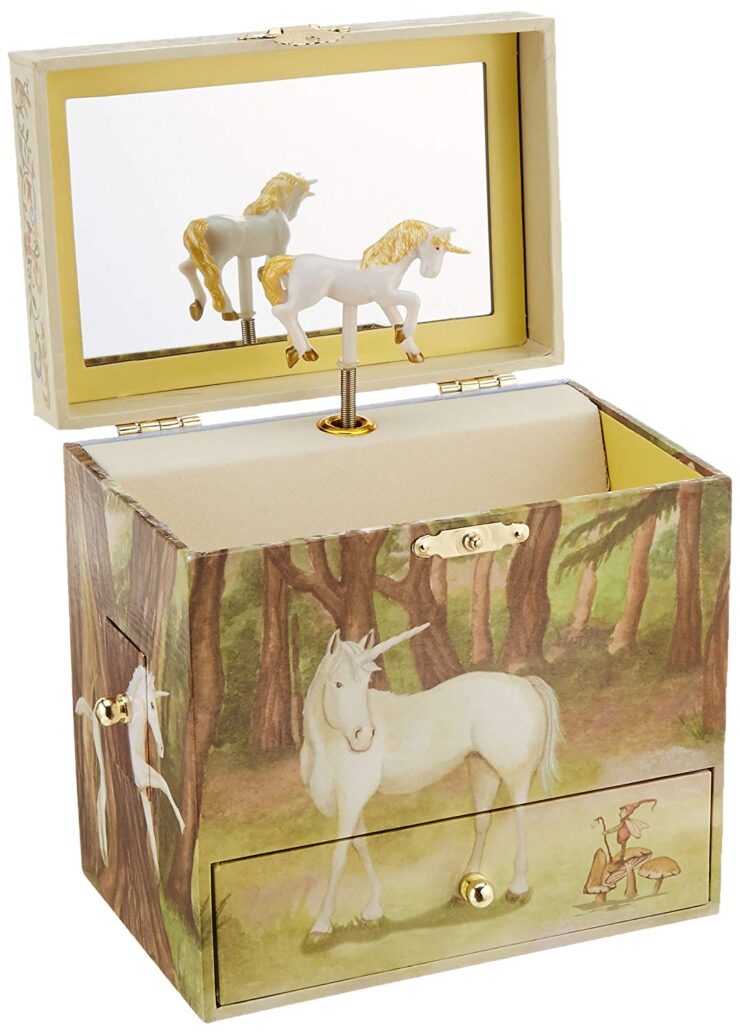 #10 Smart Friends VTech Go Unicorn Toy
At the press of a button, the VTech Go unicorn toy will start flapping her wings, moving her head and walking forward. It features fun phrases and even has the ability to light up which makes it really fun for young children.
The Smart Friends VTech Go unicorn toy comes with a fairy figure who can ride the unicorn for more interactive fun. This toy is compatible with all other Go! Go! Smart Friends characters, which are available separate. So, this toy is great for starting a new collection.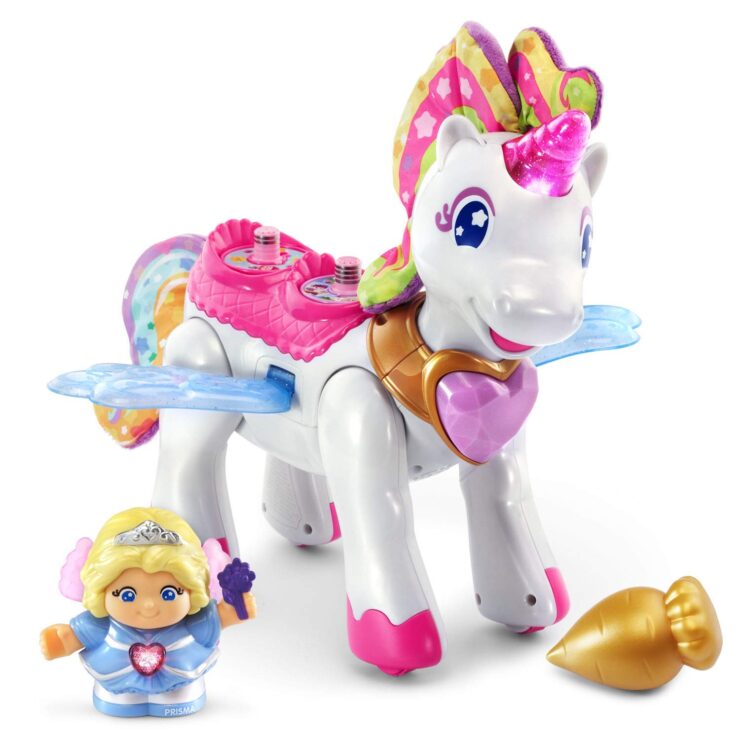 #11 Liberty Imports Unicorn Playset with Farm Tools and Accessories
This toy horse set is a great gift for any young girl who loves horses. It is great for playing alongside friends or siblings, as there are three horses included. The toy is ideal for promoting imaginary play and offers hours of open-ended play and fun. There are many accessories included which makes this toy even more fun to play with.
These include, saddles and bridles, a broom and shovel and a brush for taking care of the horses. These toy horses would be a wonderful gift for a young girl's birthday or for Christmas, where they sure to be greatly appreciated. The set comes in two designs – horses or unicorns.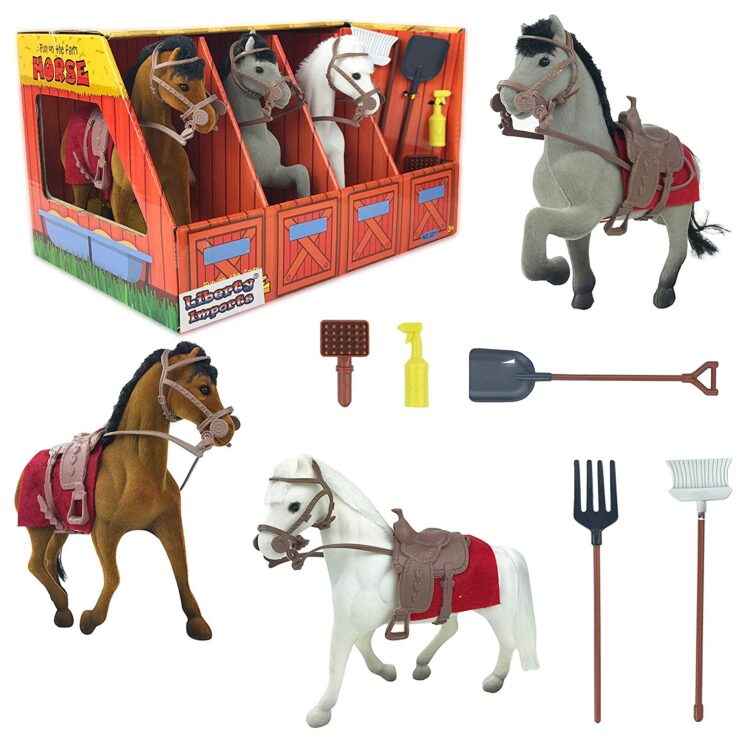 #12 Breyer Luna Color Changing Bath Time Unicorn
The Breyer Luna color changing unicorn is a toy that kids can play with during bath time. It is a very exciting toy which is sure to make your child keen to go for a bath! Playing with this toy is easy – simply clean it using warm water then watch closely to see the markings, tail and mane change color.
Upon drying, its color returns back to normal, making bath time magical! The unicorn toy comes with a spray bottle, brush and a bath robe. It is the ideal gift item for kids aged two and above.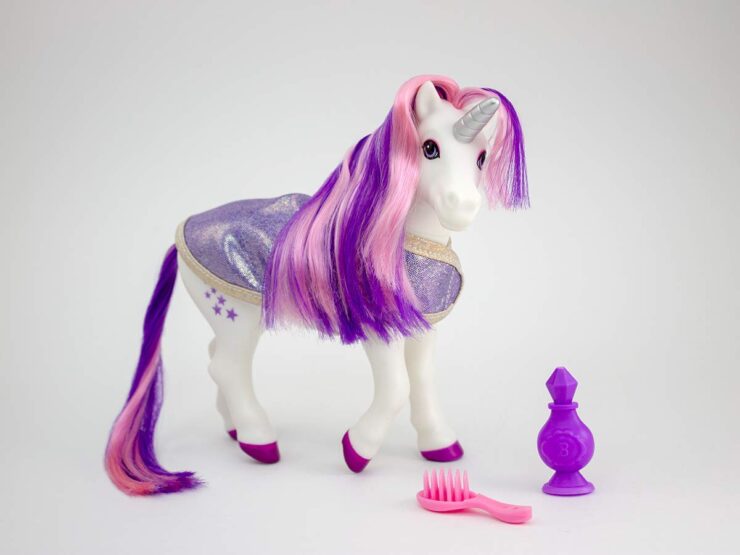 #13 Poopsie Slime Rainbow Unicorn Oopsie Starlight
The Poopsie unicorn is one of the most wished-for toys this year, and one which is sure to delight kids aged around 5 years old and above. The unicorn is 'fed' using a variety of packets which come with the toy, then sit her on her glittery potty and watch as she poops out slime! The package also includes a poop character keychain which can be used to store the slime, as well as an exclusive bottle. There's also a hair brush to keep your unicorn looking good, as well as a shirt and diaper for her to wear.
Making the slime is easy, as there are full instructions, a cleaning tool and a measuring cup included.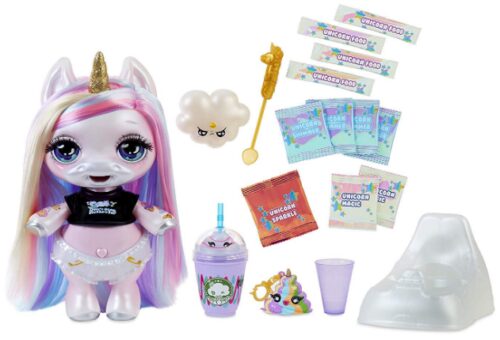 #14 Penelope Ivy and Lambs Dawn Plush Unicorn
This plush unicorn is made from quality polyester fabric which is designed to last. So, you can be sure it will remain in good condition even if your child wants to take it around everywhere! Penelope the unicorn can even be machine washed on a gentle cycle and is also suitable for tumble drying on a low heat.
The unicorn plush features a lovely and soft pink mane and tail, as well as a shiny golden horn. Kids will love cuddling up with this unicorn, which measures around 10 x 12 inches in the sitting position.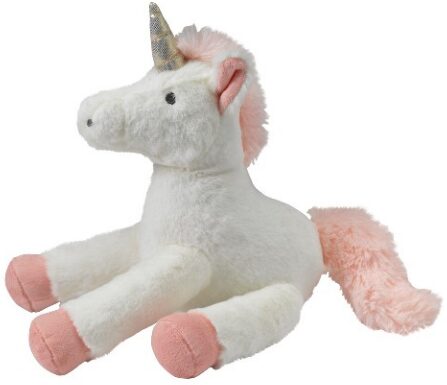 #15 WeWill Glow Unicorn Gifts for Halloween, Birthday, Christmas
One amazing feature of the WeWill glow unicorn toy is its easy to install LED light which lights up when turned on. It is the perfect gift for young children on any special occasion. The LED lights will go off automatically after thirty minutes of inactivity so as to help preserve battery life. This feature makes this toy ideal for young children who tend to go off and leave their toys after loosing interest.
This unicorn toy is the best companion for both daytime and nighttime, as the glow can be soothing to kids who are afraid of the dark. Kids will love the satin star decorations, fluffy cotton material and of course the color-changing light.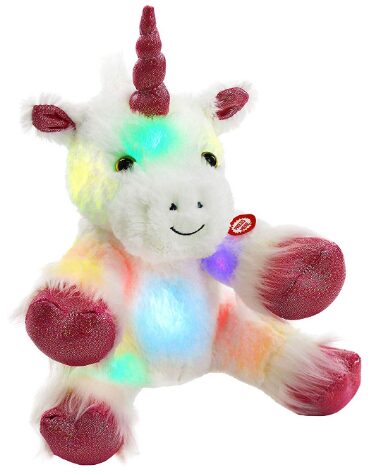 #16 Aurora Fancy Pals Unicorn 8" toy
The Aurora Fancy Pals unicorn toy is made using an extremely soft material which kids will love to cuddle. The cute and colorful design is sure to appeal to little kids. This would make an excellent gift for toddlers and young children – they will love a new companion for both day and night. The toy is easy to carry around thanks to the carry handles on the bag – this is another reason why young children will love this toy.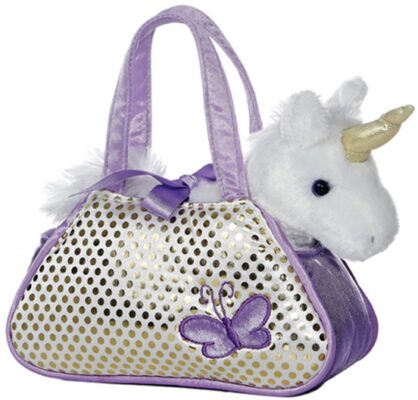 #17 Aurora Celestial Plush Unicorn Toy
The aurora celestial plush unicorn toy is the best companion for kids as they can easily cuddle this toy whether they are relaxing on the sofa or lying in bed. It is made using high quality materials, which guarantees it stands the test of time. Safety is also guaranteed with this plush unicorn toy as it features a soft bean bag feeling which is double-bagged to prevent bursting. It is quite large at around 25 x 11 x 6 inches, which means it's perfect for children of all ages! They will love cuddling their new unicorn and even lying on it as a pillow.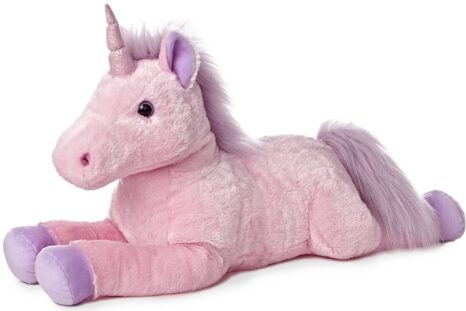 #18 Jojo Fingerlings Light-up Unicorn
If you are looking for the best unicorn gifts for 6 year old girls, then the Jojo fingerlings light-up unicorn is the ideal choice. The Fingerlings unicorn is a cute interactive pet, which responds to sound, motion and touch. The horn changes color and the unicorn can also turn her head and blink her eyes. She also makes cute noises and gets excited if you make a loud noise. She can also go to sleep – it's just like having a real little pet! Kids can even try holding the Fingerling upside down and watch how she reacts.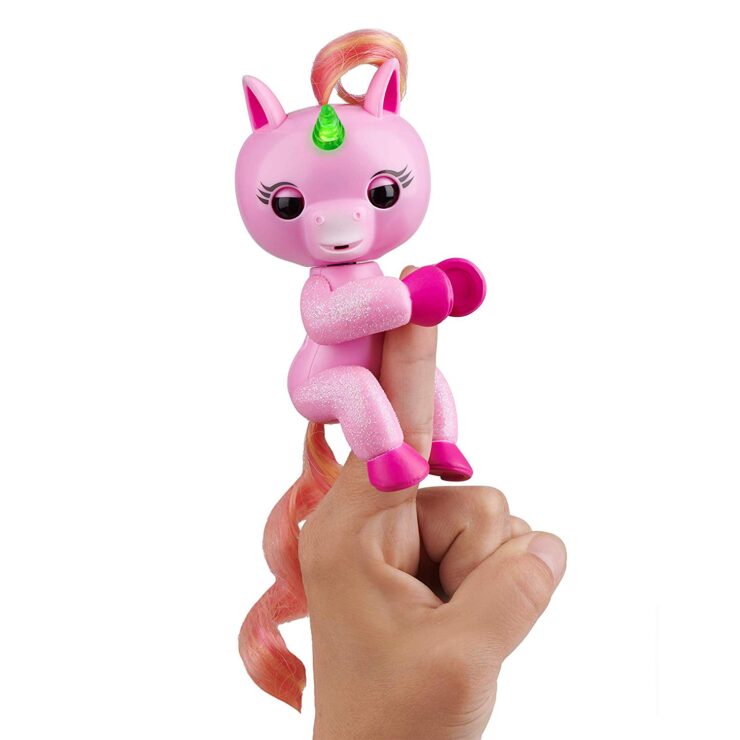 #19 Super Flopsie Aurora Rainbow Unicorn
This is another top quality unicorn toy from Aurora, which is made using fine materials to ensure it is durable. The materials used in making this toy are also safe for young children. It also comes with lock washer eyes and a double bagged filling design to ensure maximum safety for young children.
This unique unicorn toy has beautiful shimmery accents and a plush and cuddly feeling which makes it the ideal toy to hug and hold.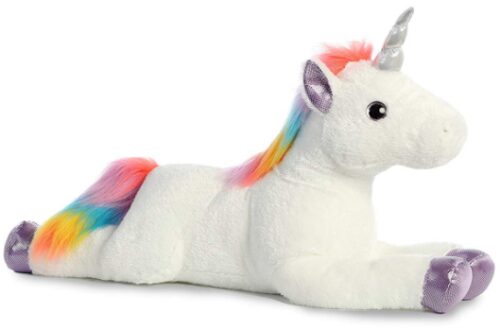 #20 Bright Starts Rock & Glow Unicorn Toy
This is must-have toy for babies and young toddlers, as it comes with a magical horn which, when touched, activates sounds and lights and makes the unicorn gallop. Not only is this toy loads of fun, it also helps kids grow and develop by teaching them about numbers, shapes and colors.
Babies can crawl around and chase the unicorn, so it's perfect for helping them practice moving around and keeping busy! Every time your baby catches the unicorn, it will change direction to ensure they are always entertained! If you are looking for the best unicorn baby gift, this is probably it!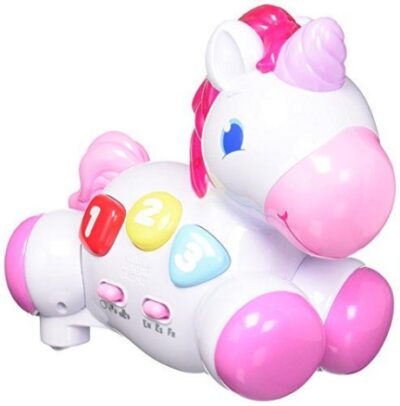 #21 Unicorn Night Light
Night lights are perhaps the best unicorn gifts for girls who have everything! They will love having a new decoration for their room, and it might even help if they are afraid of the dark. Kids are sure to look forward to bedtime when they have this light by the side of their bed!
It offers a unique 3D image – kids might think there's a real unicorn in their room for a moment! The light comes with a remote which allows users to change the color – there are 16 to choose from meaning kids will be spoiled for choice.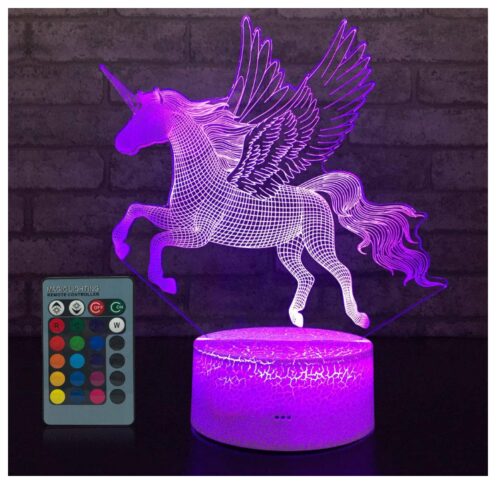 #22 Unicorn Music Box with Jewelry
For girls who can't get enough unicorn merchandise, why not consider this lovely musical jewelry box? It features different compartments to ensure girls can be organized, and it also comes with some jewelry included. When the box is opened and the key wound up, the box begins to play 'Somewhere Over the Rainbow' – a song loved by kids of all ages. Overall, this is a great product for helping young kids learn to look after and organize their belongings.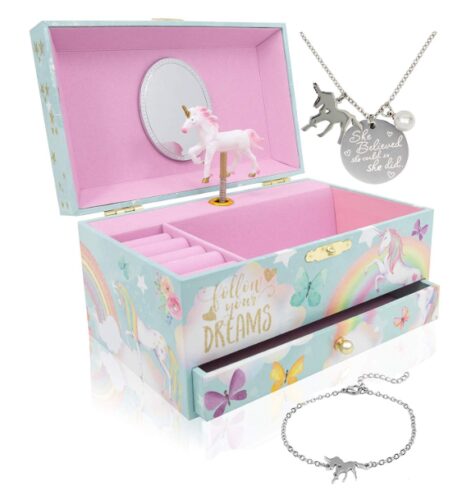 #23 Sleepwash Unicorn Blanket
If your girl has a room filled with unicorn accessories, this blanket is an excellent addition. Measuring 50 x 60 inches, it's a great size for kids of all ages, and mom can even borrow it too! Parents will love how easy the blanket is to clean – it can be both machine washed and tumble dried. Polyester is used to make this blanket, so it is soft, warm and and super comfortable to use! Girls will love the bright colors and lovely design on this blanket, and will want to use it all the time!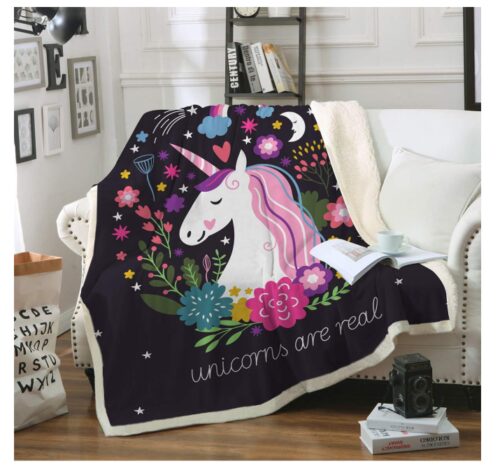 #24 Soft Hooded Unicorn Bathrobe
If your girl has plenty of unicorn themed toys and instead wishes to be a unicorn, this might be the best thing you can give her! There are loads of different colors and designs to choose from in this soft and cozy kids bathrobe. It even comes with pockets, a hood and a belt to keep it securely fastened. There are sizes to fit kids aged between 2 – 11 years old.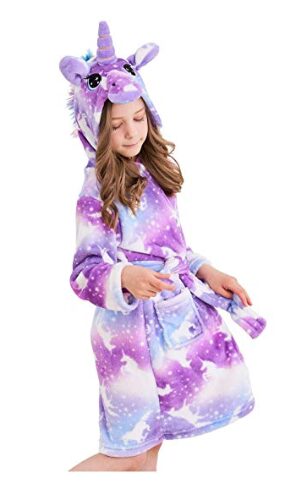 #25 Jerris Apparel Pageant Unicorn Dress
This dress is simply stunning and would be perfect for your little princess to wear to a birthday party, particularly if the theme is unicorns! There are four colors to choose from – purple, blue, pink and orange, and sizes range from 2 – 9 years. The dress is sleeveless, whilst there is an invisible zipper to fasten it at the back. Girls will simply love to twirl and dance with the multi-layered, floaty skirt!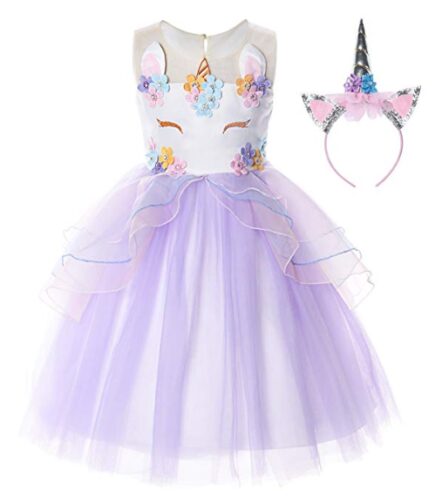 #26 Unicorn Light Projector
If you are looking for alternative unicorn gift ideas for kids rather than toys, this projector could be just what you need. It actually offers two different projectors in one, one is of course unicorn themed whilst the other features stars and moons.
However, to make things really fun, both projecting domes can be used at the same time to make a room filled with stars and unicorns! The lamp can be powered by batteries or a USB cable, meaning it can be used anywhere. It's great for when kids are relaxing in their room, drifting off to sleep or even having a party!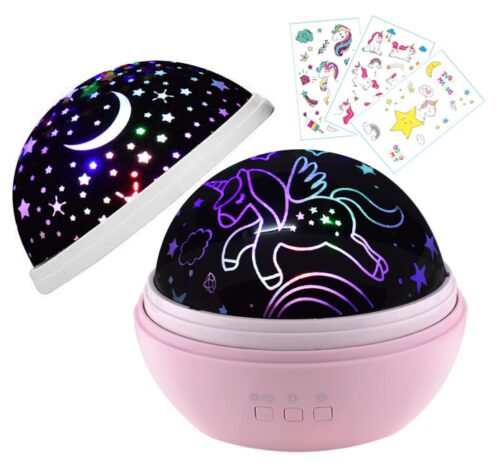 #27 Unicorn Gift Basket
This set of unicorn items contains everything a little unicorn lover needs to share her love with the world! Consisting of a drawstring bag, a keyring, jewelry, hair elastics and of course, stickers, this is simply a little girl's dream!
Again, this is a great choice if you are looking for something other than toys, and it offers a great selection to ensure it appeals to almost every little girl. The unicorn gift box is great if you wish to give a gift which is easy to give and is sure to delight the recipient.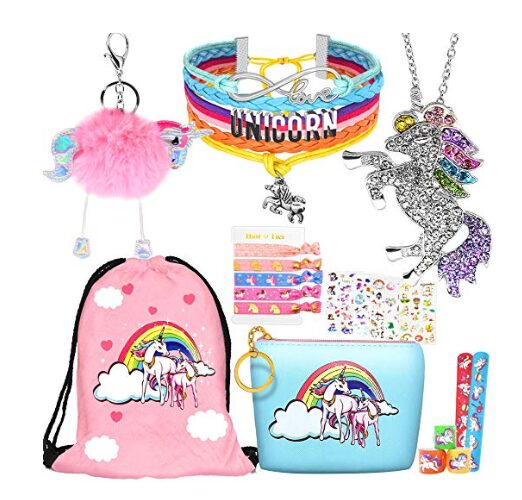 #28 Stainless Steel Unicorn Water Bottle
This water bottle might be the best gift for unicorn lover and it will also help ensure they stay hydrated throughout the day. It holds an impressive 17oz of water, and is vacuum insulated to ensure the drink stays cold for up to 24 hours. If buying for an older child, the flask can also keep drinks warm for up to 12 hours, so it's perfect for taking on day trips.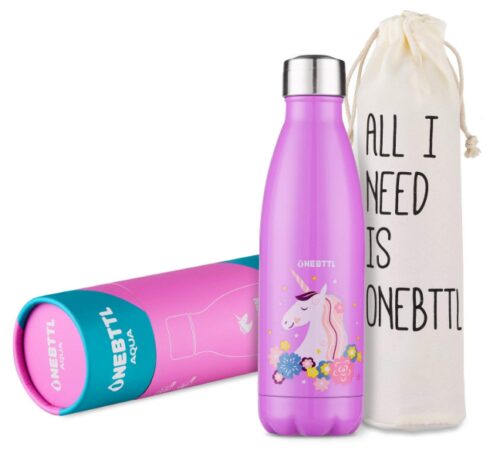 #29 Pop Up Unicorn Tent
If you are looking for the best gift for a unicorn lover, this is the ultimate choice! Kids love playing in tents at the best of times, but they will be simply amazed when they see this unicorn tent! It even comes with a unicorn head band for kids to dress up and role play when they are in their new den. The tent measures 41″ x 43″, making it a perfect size for up to three young children to play in at the same time. There's a storage bag included for when the tent isn't being used, and it's also easy to set up as it is a pop up tent.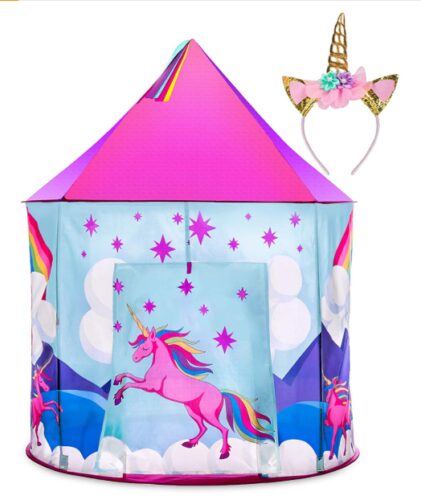 #30 Hot Focus Unicorn Scented Nail Art
For girls who simply love unicorn stuff, this scented nail art kit is the perfect choice. It comes with everything a girl needs to create a perfect, unicorn-themed manicure, including fake nails, nail stickers and even scented nail patches.
There's also scented nail polish, blue and pink, as well as a cute ring to finish off the look. The kit is ideal for kids aged 5 and up, and is perfect for using at birthday parties or sleepovers with friends!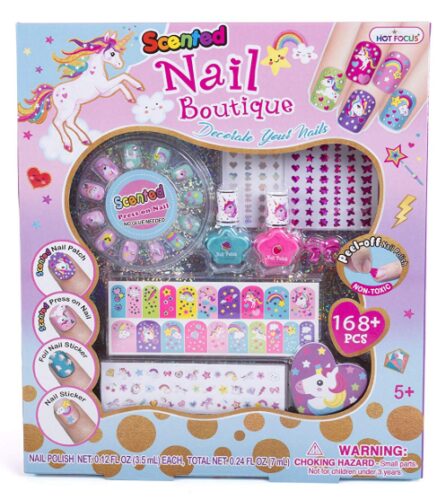 #31 Pajamas for Girls with Unicorn Print
If you are looking for unicorn gift ideas, pajamas are always a great choice! This shorts and t-shirt set comes in four different colors and designs, as well as sizes to fit kids aged between 3 – 13 years old. The pajamas are made from 100% cotton for maximum comfort, and the waistband on the shorts is elasticated. Stretchy material is used to ensure the pajamas are easy to put on and take off, and to give your child a comfortable and relaxing sleep!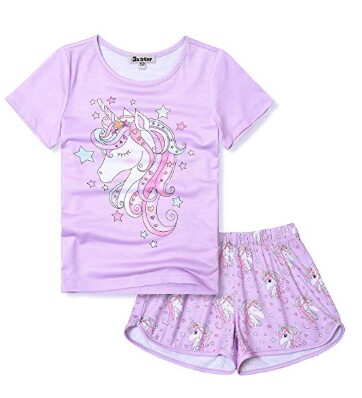 #32 Unicorn Head LED Sign
Like the above pajama set, this light is another of the best unicorn gift ideas and is sure to spruce up a little unicorn-lover's bedroom! It comes with a remote control which allows kids to change the color of the lights – there are 8 different options to choose from. So, kids can choose colors to match the color of their room, or simply to match their mood!
The light is battery-operated so you might wish to stock up, or perhaps invest in some rechargeable batteries, in size AA. The LED sign has a timer which allows the lights to automatically switch off after 10, 20 or 30 minutes, which is ideal for kids who often forget to turn things off when they are finished!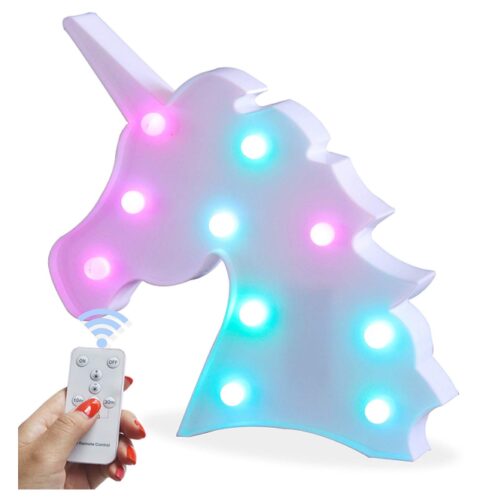 #33 Barbie Pet Doctor Unicorn Set
If you are looking for the best unicorn gifts for 5 year old girls, this could be just what you need! The set includes an adorable plush unicorn, as well as a range of doctor's tools to help kids look after her. There's even a backpack which everything can fit inside, so kids can take their new friend out and about on adventures. The toy unicorn is great for promoting imaginative play and encouraging a sense of compassion to others. It's also loads of fun – the unicorn's horn even lights up!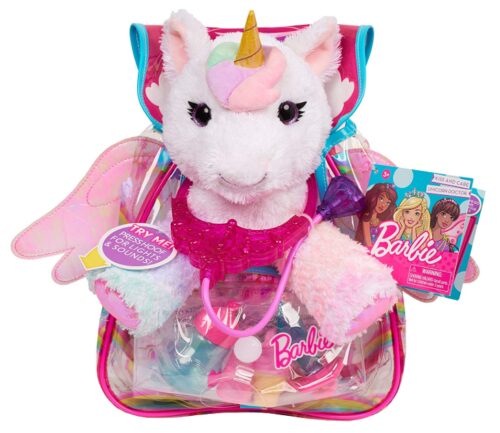 #34 Enlachic Kids Unicorn Hoodie
Perhaps the best gift for unicorn lovers, this hoodie features a stunning, colorful unicorn design allowing kids to show the world just how much they love unicorns! The print is on both the front and the rear of the hoodie, and it comes in various sizes from age 4 to adult XXL. There are various designs if this one isn't to your child's taste, so why not have a browse and choose their favorite colors?
The hoodie can be washed in cold water in a washing machine, but should not be tumble dried. It's made from polyester and spandex and features a kangaroo pocket, hood and drawstring. There is no fleece inside, so the hoodie is perfect for cooler days in the spring and summer.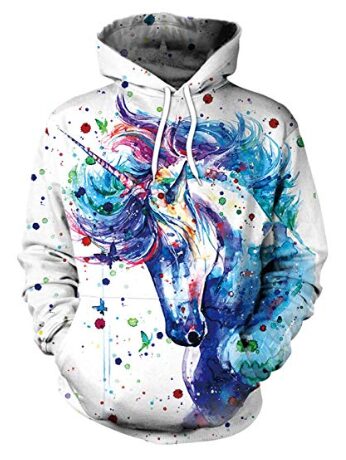 #35 Sterling Silver Unicorn Heart Necklace
This unicorn necklace is excellent for older girls who love unicorns but are too old to play with toys. It comes in a heart shape with a rainbow unicorn's head inside, as well as some 'diamonds' to make it really sparkle!
The pendant is inscribed with the message 'life is beautiful', and comes on an 18″ chain. It is good quality, made from 925 sterling silver meaning it won't discolor over time and won't cause irritation on the skin either. This sweet necklace is perfect for giving as a gift, as it comes in a gift box ready to wrap!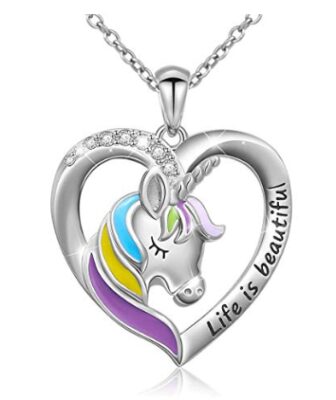 Best Pick for Girls
We have looked at loads of cool unicorn toys for girls in this review. In fact, any of them would make perfect gifts for a young girl on her birthday or any other special occasion when you want to spoil her with a sweet gift. If the little lady already has every toy under the sun, why not choose something different?
She is sure to appreciate a cozy unicorn blanket to curl up with when watching movies, or even an LED light to decorate her bedroom. As unicorns are very on-trend at the moment, there are loads of unicorn gift ideas to be found!
How to Make Unicorn Hot Chocolate Kits Gifts
Unicorn-themed food is a huge trend at the moment, and hot chocolate is one of the latest foodstuffs to be hit by the trend. If your kids are into sweet treats, they are sure to love unicorn hot chocolate! You can give them a thoughtful gift containing all the ingredients necessary to make a delicious mug of rainbow-colored white hot chocolate, all they have to do is add warm milk, with help from mom and dad, and decorate their drink with the included sweets and sprinkles.
To make a unicorn hot chocolate gift kit, you first need something to pack the ingredients into. A plastic cone or a paper cup with a lid is ideal. Then, fill it with white chocolate drops, colorful marshmallows, rainbow sprinkles and anything else colorful and sweet! You can also include a unicorn mug to make an extra special gift, or decorate your packaging with a unicorn's face and horn.
Where Can I Buy Unicorn Gifts?
Unicorn gifts can be found just about anywhere these days. Amazon has an impressive selection, and a quick search online will bring up millions of possibilities. Your local toy store will likely be filled with various unicorn toys. In fact, most stores will have some unicorn items in stock! The kids clothing department in any popular store will probably have some unicorn-themed clothing, and you are sure to find various unicorn items in any store which sells gifts.
How to Make Your Own Unicorn Gift Bag
If you're planning to treat your child to a new unicorn toy or gift, you will probably want to wrap it in matching packaging! It's quite simple to make your own unicorn gift bag, and it can actually be fun too! To start, you will need a plain white gift bag as well as some craft supplies – a black marker, some tissue paper, pink and white foam and finally some gold card or paper.
The foam is used to cut the shapes of the ears, whilst the horn is cut from the gold paper. Finally, glue all the pieces into place, draw the eyes on the front with the marker, and stuff the colored tissue paper in the top of the bag to resemble the unicorn's mane. You can also decorate the bag further using flowers or stars to make it truly unique!
If you don't feel like making your own packaging, you can find loads of great unicorn gift wrap for sale as well as coordinating unicorn gift tags to make sure the child knows the gift is for them!
Benefits of Getting Your Child a Unicorn Themed Toy
One of the main benefits of choosing a unicorn toy for your child is the positive impact playing with such a toy can have on your child's imagination. Kids are sure to feel happy and relaxed when playing with their new unicorn toy.
Unicorn toys are ideal because they can be played with all the time – some can be used in the bath and plush ones can be used to cuddle up with at night. So, you can be sure you'll get excellent value for money as your child will get loads of use from their new toy.
Final Thoughts
We have selected a range of great unicorn toys, so you can be sure that whichever you decide to choose, your child will love it! No matter what the occasion or how much you are looking to spend, there is something to suit in our review here. Large plush unicorns are great for girls who are looking for a new companion to take around everywhere, and the smaller ones in bags are perfect for toddlers.
For older kids, we highly recommend the Fingerlings unicorn or the Poopsie unicorn. They are sure to be delighted with the fun and interactive elements of these toys.