Ventriloquist dummies and hand puppets are a popular gift for kids. They offer the chance for imaginary play and developing acting and performing skills. There are many best ventriloquist dummies for kids available.
It is important to consider price, quality, and of course how child-friendly a ventriloquist puppet is when choosing one for your child.
The ventriloquist dolls specifically for kids are often simple in design and made to appeal to children. There is a large number to select from and choosing the right one will ensure your child has hours of fun. In this handy guide, you will find some of the best puppets for kids!
Considerations When Choosing a Kids Ventriloquist Puppet
There are a few things to consider when choosing a ventriloquist doll for your child. Luckily, there are many on the market so you will be spoiled for choice!
Firstly, think of the age of your child and whether a simple or more complex design will appeal to them. Younger children may enjoy bright colors and cartoon-like features on the puppet. Whereas older children might like a more realistic look to play with. Considering your child's age and preference means you are sure to find a toy they will love.
Quality is also an important consideration. You want the ventriloquist doll to last for as long as your child plays with it, so look for a trusted brand with good reviews.
Finally, consider the price of the doll. There are many available to suit a range of budgets, but it is important to ensure you do not compromise quality on for a low cost.
Top Ventriloquist Dummies for Kids in 2023
1. Tommy Boy Puppet
This full-body ventriloquist style dummy can be dressed in your child's clothes (size 18 months). It features hand entry through the back of the puppet.
There is an arm control rod that clips to either hand so your child can easily move the doll. It has a similar look to Muppets and Sesame Street puppets. The mouth is also easy to move, by opening and closing your hand, so kids can put on a great show for parents.
The body is 25" and stuffed with poly-fil so it is lightweight and easy for kids to hold. It is recommended for ages 5 and up.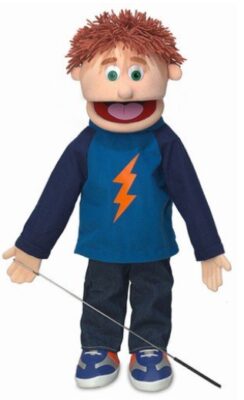 2. Charlie McCarthy Dummy
This one has a traditional ventriloquist's dummy look, with a top hat and monocle. Charlie was created by Edgar Bergen and was his famous sidekick for many years. He is operated by holding the head with one hand and pulling the string with the other. With this method, he will look like he is talking and will entertain for hours.
Charlie is approximately 30" in length and comes with a tote bag for easy storage and carrying anywhere you need to. As a bonus, this doll comes with a free ebook called 'How to Be a Ventriloquist', a step-by-step guide on ventriloquism.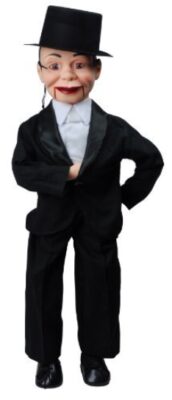 3. Melissa & Doug Chef Puppet
This chef puppet from Melissa and Doug has cute, cartoon-like features and a traditional chef hat. His name is Alfredo 'Al' Dente and he has a friendly smiling expression that kids will love.
He's designed for children to use easily, with a detachable wooden rod to move his body, and mouth and facial expressions moved by the hand. The wooden rod is suitable for left- and right-handed children.
Alfredo is 15" long and is suitable for kids aged 3 and up. Your child will love his white chef's coat, hat, and red bandana. You can also add the Melissa and Doug Deluxe Puppet Theater to extend your kids' play.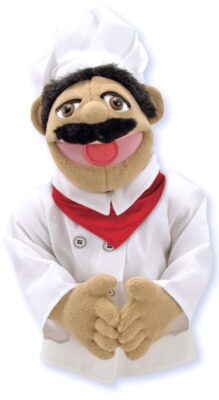 ,

4. Emily Girl Puppet
This full body ventriloquist doll has long blonde hair and bangs. Her friendly green eyes and cute button nose are sure to appeal to children.
Your kids can redress her in toddler clothes, and even style her hair. Emily is easy to move, with a metal rod that clips to either hand. You can open and close her mouth to make her 'talk' by putting your hand in the slot at the back of the doll.
With Emily, you can put on a fun show for your child, or your child can take a turn at puppetry! Emily is 25" long and lightweight, weighing approximately one pound.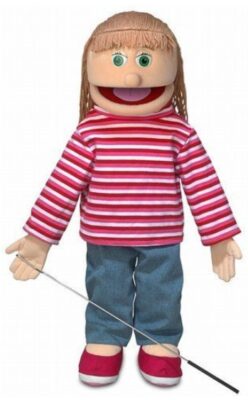 5. Cindy Girl Puppet Doll
Cindy is a high-quality ventriloquist's puppet with cute braids and shiny pink shoes! Her large cartoon-like mouth is easy to move by inserting a hand through the back of the puppet.
You can make her mouth open and shut, and move her body easily with a metal 'wand'. Cindy comes wearing a pretty floral shirt and a grey pleated skirt. Her clothes can be removed and she can be redressed in size 18 months clothes.
Cindy is 25" long and stuffed with poly-fill, making her lightweight. She is durable and designed to last a lifetime. This puppet is suitable for ages 5 and up.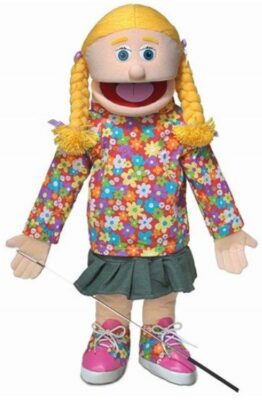 6. Melissa & Doug Ballerina Puppet
This beautiful Melissa and Doug puppet is dressed in a ballerina costume, complete with satiny leotard, tulle tutu and pink ballet slippers. Named Tina Prima, she's designed to be durable and soft to touch, with a friendly expression. Her hair is styled in a typical ballerina bun, and she has bright blue eyes with long eyelashes.
This ballerina puppet is designed for young children to easily operate, with a detachable wooden rod. Kids can make her dance around while moving her facial expressions with their other hand. Tina Prima is 15" tall and is suitable for ages 3 and up.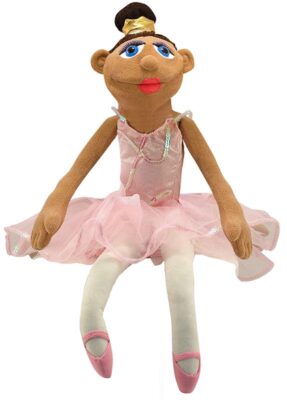 7. Kimmie 25 Inch Ventriloquist Doll
Kimmie is a full body ventriloquist-style doll with a great sense of style! Her soft, curly hair is tied in bunches and colored pink and green. She sports a sparkly silver top with a big pink heart, coupled with pink pants and soft fluffy slippers. Your kids will love her friendly face and big blue eyes!
She has a soft body stuffed with poly-fill, which makes her lightweight at only one pound. This puppet is approximately 25" long and can be dressed in toddler clothes (size 18 months). Her mouth opens and closes easily so won't hurt your child's hand. Kimmie's body can be moved using the long metal rod.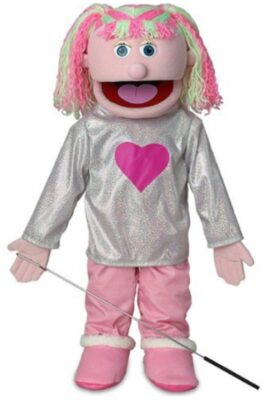 8. Mouse Animal Puppet
If you are looking for an animal puppet for your child, this mouse style is a good choice. It features a soft white body and adorable big ears.
The mouse doll has small black eyes and a big smile! Wearing a plaid shirt that can be changed, it is easily moved using the metal stick. Make it 'talk' by inserting your hand through an opening at the back to open and close the mouth. The puppet is designed to last and made to be durable.
It measures approximately 25" in length and weighs just one pound thanks to its poly-fill stuffing. It is suitable for ages 5 and up, or can be operated by a parent to show younger children.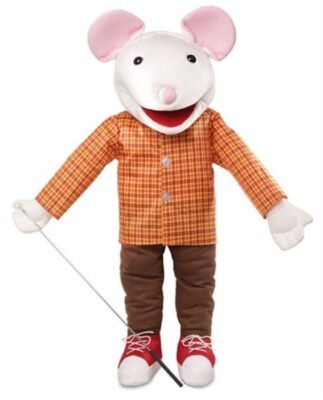 9. Mermaid Ventriloquism Doll
Mermaids are so popular with kids at the moment! Your child will adore this full-body mermaid ventriloquist style doll. She has long brown curly hair with a starfish accessory and a shell bikini top.
Her green tail is shiny and looks like it sparkles. She is approximately 25" in length and operated easily using her metal wand, which can be clipped to either of her hands. Perfect for encouraging imaginary play, your children can open and close her mouth to put on a great show.
The clothes are not removable but you can style her long hair to give her a different look.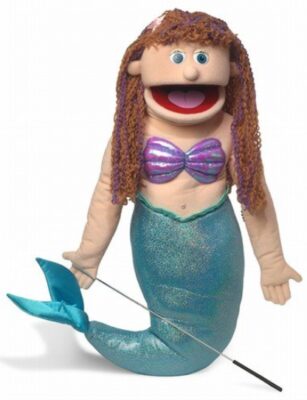 10. Devil Puppet with Light up Eyes
This full body devil puppet has the real wow factor with one special feature. Turn the lights out and watch your friends be amazed as you press the small button inside the doll's mouth to make its eyes light up!
Dressed in the traditional devilish outfit of a shiny black suit, the devil ventriloquist doll has red skin, long black hair and of course horns. Its body is moved simply by using the metal rod and its mouth can be opened and closed so it looks even more menacing! Though it looks larger than life, it measures approximately 25" long and is just one pound in weight.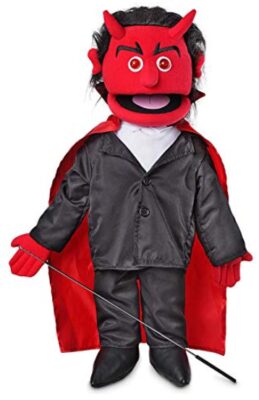 Overall Best Buy
The Melissa and Doug chef puppet is the best overall pick. It is suitable from a younger age, at 3 years and up. It is a slightly smaller size than some of the others, making it easy for young kids to use. Its bright colors and fun accessories encourage imaginative play and it is made by the trusted brand Melissa and Doug.
The addition of the Deluxe Puppet Theater and the brand's other costumed puppets mean your child's play will be endless.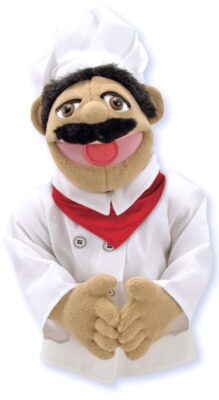 ,

What are the Different Types of Kids Puppets?
The two main types of ventriloquist dummies for kids are the traditional-looking ones with realistic features and the more toy-like soft-bodied style. Which you will choose depends on your child's age, preference, and the intended use. If your child is older and wishes to develop their ventriloquism skills, you may decide to buy a traditional style doll. Or if you have a younger child, you may choose a soft-bodied doll to introduce them to the magic of puppetry.
Ventriloquist dolls for kids also differ in the way they are manipulated. Some have a string to move the mouth and are operated by discreetly moving the head. Others have a rod, usually made of metal or wood, to move the puppet's body. Often the mouth can be opened and closed via an opening in the back of the body.
What Can Kids Learn from Puppetry?
Ventriloquists and puppets make fantastic gifts for kids, whether intended for the child or the parent to use. They can be used in many imaginative ways, for example, storytelling, puppet theater, and role play.
Parents can even use puppets to teach kids new skills like using cutlery and getting yourself dressed. Playing with puppets can help children to develop skills in communication, creativity, and imaginative play.
Through manipulating a ventriloquist style doll, kids also improve hand-eye coordination and motor skills. Learning these new skills helps improve kids' confidence as they enjoy interacting with their new toy.
Play is an essential part of a child's development and we know that kids learn valuable skills when they are playing. Ventriloquist dummies offer open-ended play that encourages kids to use their imaginations.
At What Age Will my Child Enjoy a Ventriloquist Doll?
Many ventriloquist dolls for kids are suitable from age 3 and up. The age your child will enjoy a ventriloquist puppet will depend on what you are looking to gain from it.
If you are simply looking for an interesting toy that your toddler or preschooler will love, Melissa and Doug puppets are suitable from 3 years and are easy enough for young kids to use by themselves. Older kids can enjoy them too, particularly if they wish to learn ventriloquism as an interesting hobby!
Even if you have a baby or young toddler, a puppet makes a fantastic toy for encouraging parent-child interaction and teaching new skills. Ventriloquist dummies for kids can also be operated by parents, making them a fun toy for all the family to enjoy.