We all know that unicorn lovers are not to be messed with. The magical creatures are growing in popularity and girls love these toys. The mythical creature pops up in all areas online, TV, Movies and now even toy shops all over the world. Amazon has a wide selection of unicorns, which is great for kids who love unicorns.
In this review, we have put together a mega-guide of everything unicorn, so no matter if you are unsure of what to get now, by the time you are finished reading you will have a clear understanding of what you want!
Things to Consider when Buying a unicorn Toy for your Children
There are loads of different types of unicorn items available online, from unicorn dresses, hats, jewelry, and even to the ridiculous unicorn bag of farts, which get children excited and hysterical with laughter.
So, finding cool unicorn stuff is what we do, we take it seriously. We have considered and trolled around the internet, searched high and low to find what we consider the best bunch of unicorn gear that is currently available in 2023.
Unicorn Gifts and Toys for Kids
Below we have created a mega list of unicorn Toy and Gift ideas that help you find something ideal for you little girl and boy. There is a huge range of toys for both boys and girls in this review, so keep searching until you find something amazing for your child.
1. Kids Classic Gold Unicorn Pink Leather And Goldtone Watch

These kids' watches are unicorn-themed with Japanese quartz movement and have a leather strap that's soft to the touch. These pink girls' watches would suit a girl who loves pink and knows how to take care of a watch. Watches are delicate and this is made for beauty and not durability, but for special occasions, this is an ideal gift.
2. Jxstar Girls Unicorn Dress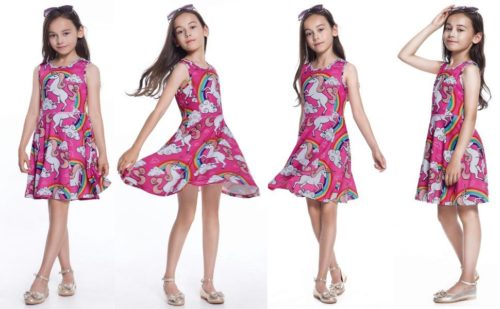 I love this dress! This round-neck dress has pockets and is great for summer. The unicorn design is a favorite of mine, just stunning. There are loads of different variations of color and type, but out of all the ones I looked at in terms of price and quality of make this stand out.
3. Kids Unicorn Shoes – Sketchers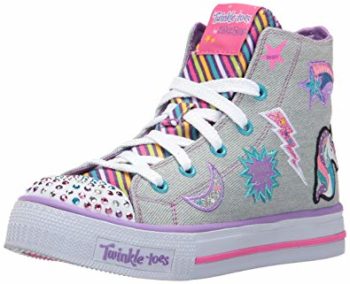 These shoes an awesome! The textile and rubber sole are stunning and designed for durability for kids who love unicorn everything! The shoes come with a light-up feature and are ideal for summer wear. All the designs on the exterior are cool and brightly colored for standing out and looking stylish. These are again ideal for girls and make a sensible gift idea, both practical and thoughtful, which is why we added them into this review.
4. Cute Kids Waldeal Unicorn Mesh Hat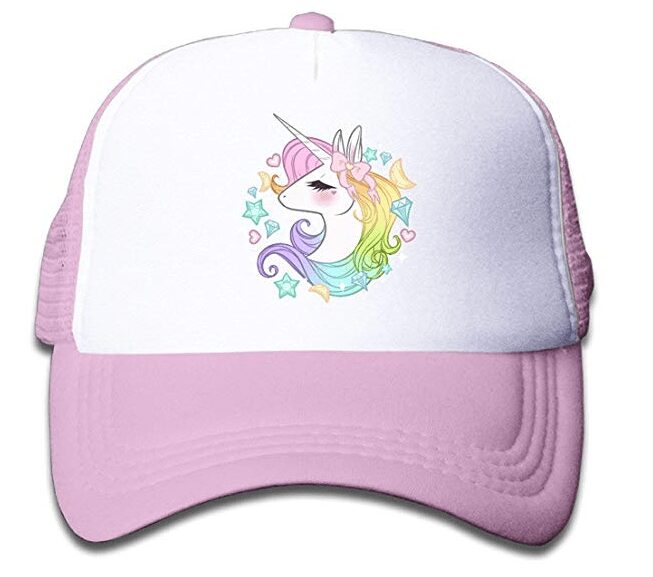 This unicorn truckers hat is great for kids who love unicorns. The hat comes in 2 shades, pink and black, so ideal for both boys and girls. The hat is made for outdoor use and ideal for keeping the kids head protected from the hot sun in summer, especially on school trips. The price of this hat is reasonable and if you are happy that the quality isn't amazing, but will definitely last the summer, then this is the one to grab.
5. Handmade Unicorn Jewelry Bracelet Wristband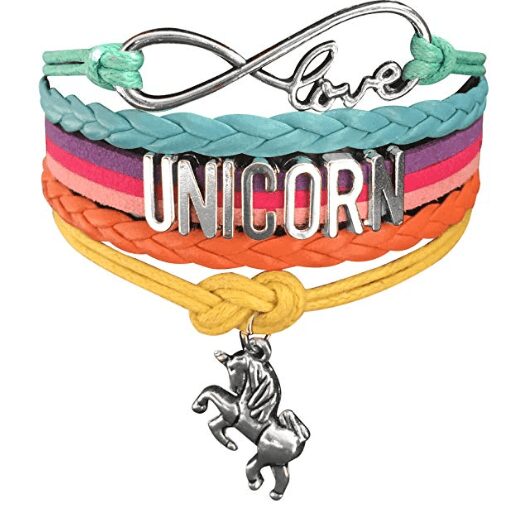 This bracelet is beautifully designed and very colorful for kids who need some sparkle in their lives. The wristband is adjustable and is designed for younger girls who love unicorns and want to show this in true stylish fashion.
The material is very safe and easy on the skin, so perfect for a gift or present on a friend's child's birthday. There is usually a 30-day full refund, but make sure to check the terms as some sellers change their terms of the agreement.
6. Breathable Unicorn Blanket for Keeping Warm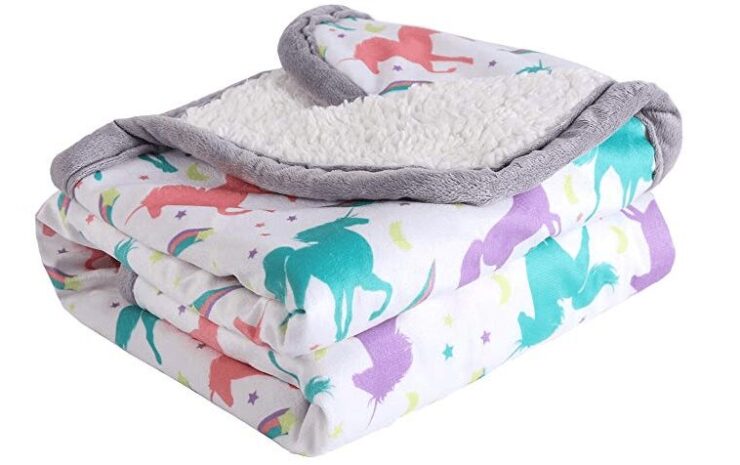 Having a blanket is always a good idea and with a warm fleece unicorn blanket, there isn't a better gift that will be remembered. This is an ultra-soft blanket and made with no harmful substances. The size of the blanket is 30 inches by 40 inches and is an ideal size for smaller children.
The can be used for babies and younger children and has been tested as safe to use and feels like you lying on soft 100% cotton, even though the material is 100% microfiber polyester, which is very durable.
7. Weird Unicorn
Glass Mug Gift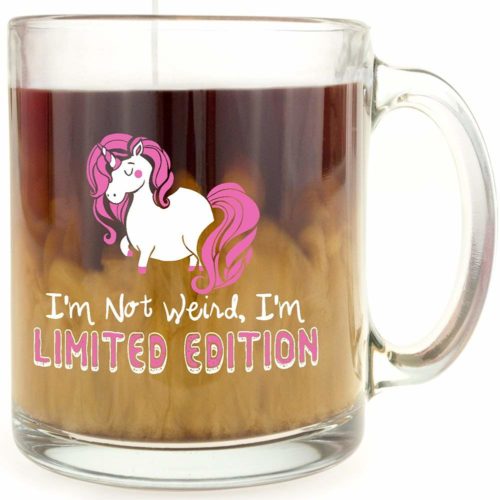 The design of this mug is strange and ideal for kids who love weird stuff, which is why I added this into the review to see if it caught someone's eye. The mug itself is designed to hold liquid up to 13 oz and is a clear glass design with a unicorn image with a cool quote saying "I'm not weird, I'm limited edition".
8. 3 Sprouts Unicorn Storage Box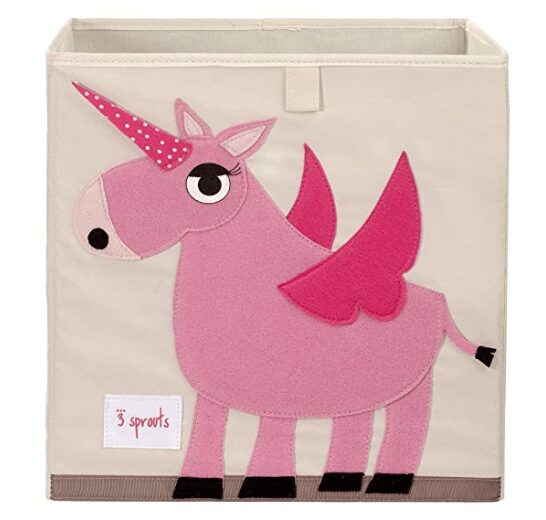 This pink unicorn storage box is a great item to have around the house. Storing kids things is always an issue and the more storage the better, so why not combine their favorite mythical creature with orderliness around the house. Some children love to keep their artwork and accessories in these.
9. Unicorn Decorative LED light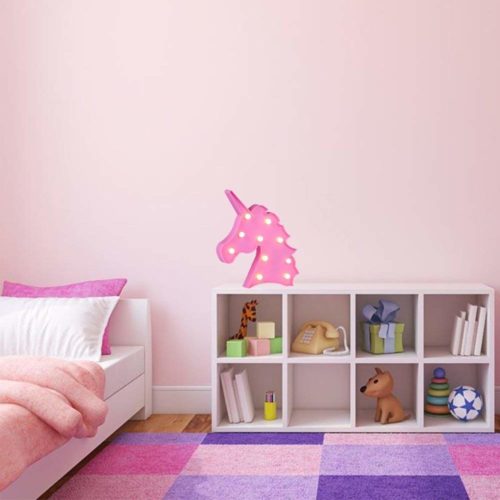 This unicorn light is bright pink and shines brightly wherever it goes. This is ideal for a kid's bedroom and makes a nice bedroom sidelight for when they want to read their books before bed.
The light shines via 2 AA batteries and therefore does not require a power source other than a battery, which both come with its pros and cons. The height is 24 cm and a diameter of 24.5 cm, which makes it light to carry, but this doesn't mean it isn't stable, because it's firmly planted on the ground.
10. Born To Unicorn Blanket For Girls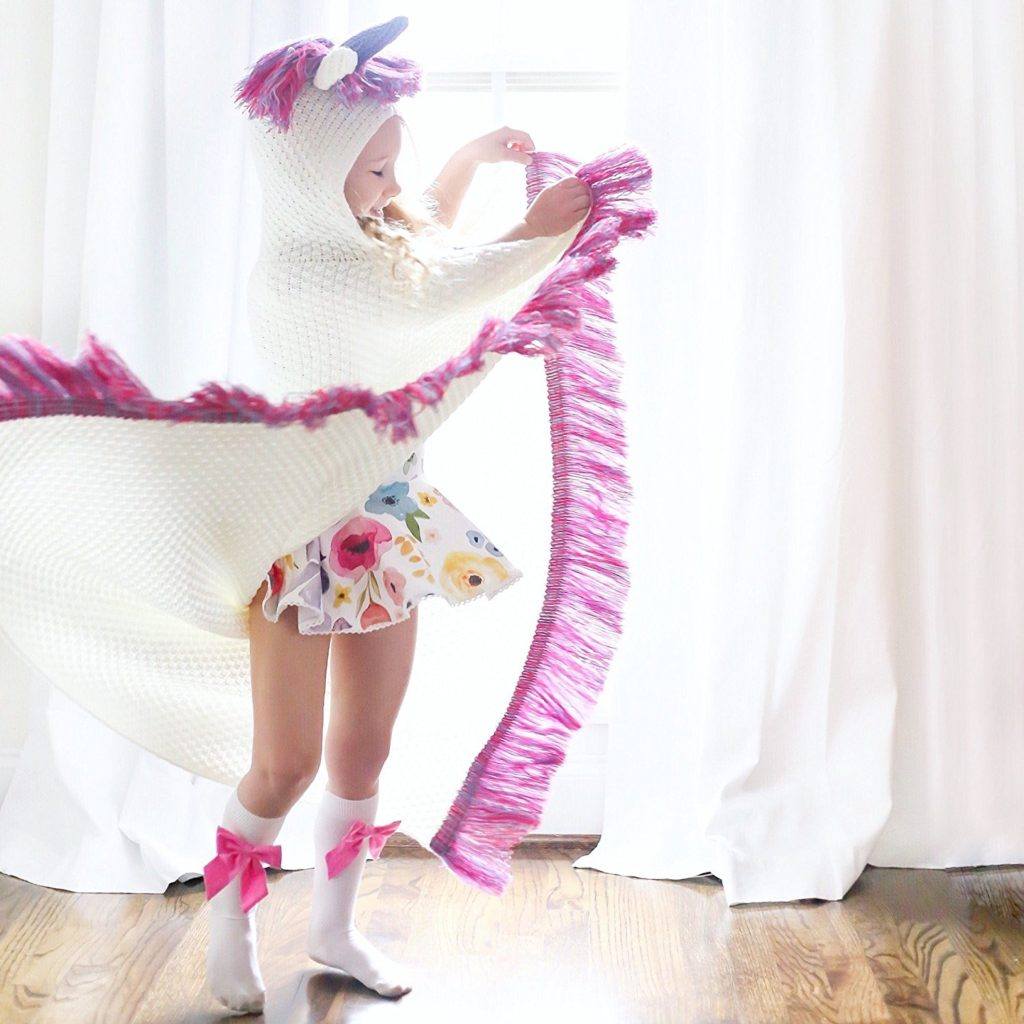 This is a fun gift idea and any girl who enjoys unicorn-themed stuff with love this snuggie hood. The blanket can be used to keep warm or as a decorative outfit. The charm of the unicorn knows no bounds which is why this holiday present is a perfect choice of gift.
The unicorn throw blanket is soft and made of acrylic and needs to be treated with care when washed. Ideally, this should be done in a hand wash cycle to help maintain its integrity and color. Cold water is best to help retain its pink color.
The main features are it can be easily washed, soft on the skin and is a friggin awesome unicorn blanket, so need I say much more!
11. Unicorn Stainless Steel Water Bottle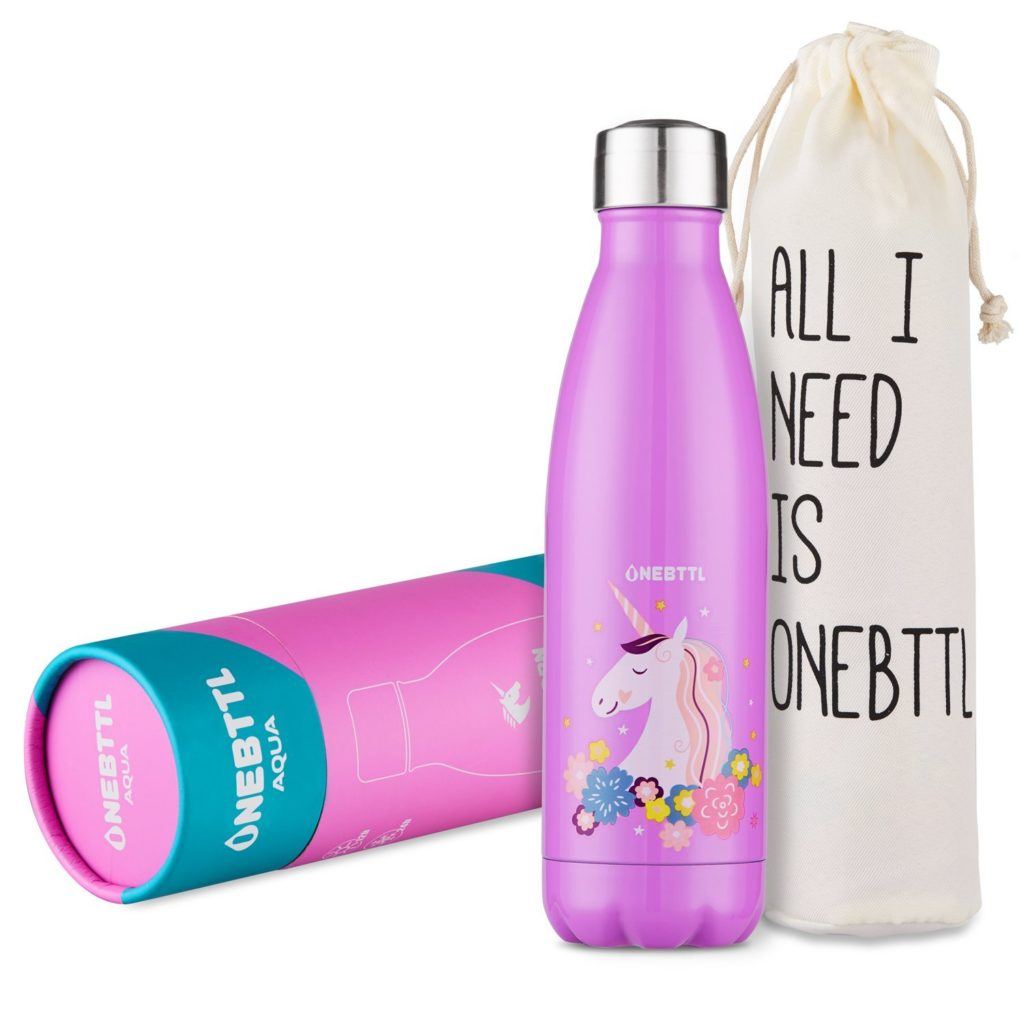 A unicorn bottle is a lovely gift as well as a practical present, which is ideal if girls like to be outdoors and need a cool drink while looking unicorn fantastic. There is no end to the happiness this bottle brings to a little girls day and especially when they get to show it off to their girly school classmates.
Materials: FDA approved and is free from BPA. The stainless steel frame is well-made and durable. The leak-proof container is guaranteed to keep things cool for up to 24 hours and hot up to 12 hours.
Capacity: The 17 oz container can hold 500 ml which is plenty of drinking fluid for a girl out and about for the afternoon. I love how the top is large enough to allow ice cubes for keeping it really cool on hot days.
12. Circle Circle Unicorn 3D Optical Illusion Lamp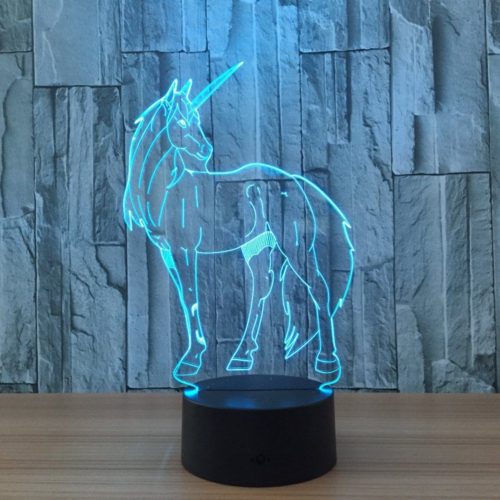 Perfect Christmas unicorn gift for kids who love to keep everything unicorn. This LED remote control light is fully customizable and is an ideal desk light. With an easy flick of a switch, you can turn from blue, yellow and green all with a click of a button. Note that the 3D look is a visual trick and it is a flat surface with an acylic plate.
Packaging: This is around 21 cm x 15 x cm x 5.5 cm allowing this to be a small item to post and collect.
13. Girls Unicorn Pink Backpack with Necklace & Hair Ties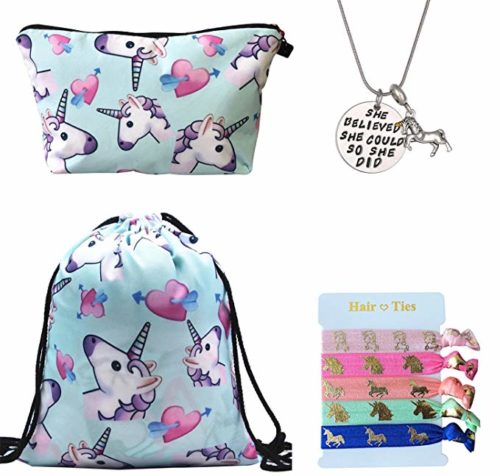 This is a lovely combination of unicorn stuff, from the hair ties to the backpack this is a cute combination of things to make it an exciting gift idea. The necklace with a small unicorn and a quote saying "she believed she could so she did" is a quote for life and is a little inspiration for the lucky princess who receives this present.
The unicorn bag is made of 100% polyester and is lightweight for carrying. The bag is big enough to fit an iPad or some small clothes for an overnight stay at friends.
14. Sequin Notebook Unicorn Journal – Gifts for Girls who love to write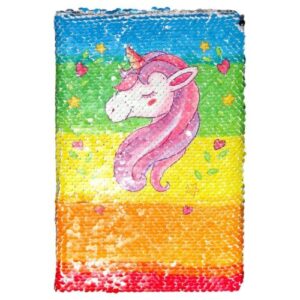 This reversible journal is a thoughtful gift for any child who loves unicorns and wants to write down or draw their thoughts. Having a journal like this would be a great gift for a girl who is unicorn-crazy!
The design of the notebook is eye-catching and is colorful with fluorescent rainbow colors on the front and back. The size of the notepad is 8.3 inches by 5.5 inches and is 0.8 thick, which makes it ideal for carrying and would easily fit into the backpack above. There are 78 pages with lines, which are ideal for writing in. This is an A5-sized notebook and is ideal for keeping a young girl memoires.
Why We Love it? 
Writing is something children need to learn to do at home as well as school and something with a little sparkly encouragement, like with this unicorn diary, helps get them beginning the life-long journey of self-discovery.
15. Aurora Little Unicorn Girls Purse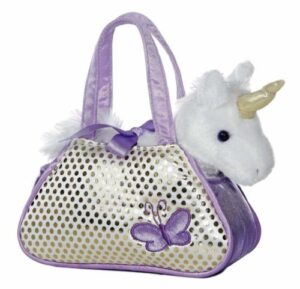 This unicorn purse is super-cute and adorable. The little unicorn sticking out is like the "Kardashians" and their little dogs. The material is soft to the touch and more about a little girl looking stunning than about a practical way for them to carry anything, but does that matter? NO!
This is a toy carrier and something that has been designed to be cute and fun for anyone who is mad about unicorns. This really is a cheap unicorn gift idea for anyone who wants to get their child a unicorn present.
The size is 8 inches and has a removable plush toy inside and combines to be a small purse and a unicorn carrier toy. The removable unicorn idea is great and I think this is why it's made by the award-winning toy creators Aurora.
16. GoFloats Unicorn Party Tube Inflatable Float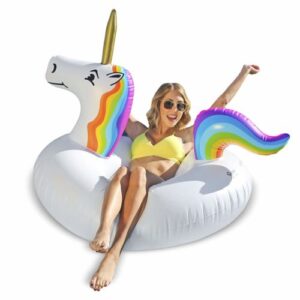 Why not have some fun out in the sun with an inflatable unicorn float. This is a great summer activity and why not float around in the pool with a unicorn party tube. This is a large size float and is 45 inches wide and ideal for all types of sizes, from children to adults this float is made for the big kids and little ones.
The material is thick and made to last with UV-treated vinyl, which is thicker than most other brands, which is ideal for long days at the beach when getting thrashed around. The float itself is easy to inflate and is ready to go in minutes. The valve is made to push air quickly and effectively so there isn't a 20 delay before it's ready to use, it's more like 2-3 minutes.
Lastly, this is an American product and is built to last.
17. WowWee Pink Fingerlings Baby Unicorn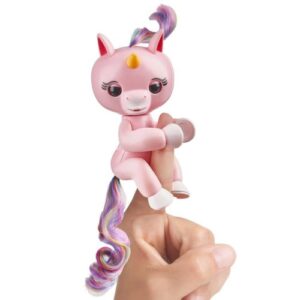 Gemma is well known for being adorable and is a little clingy by nature, but we all have someone close to us who fits that bill. So, why not start with fingerlings? This unicorn toy is fun, interactive and is exciting to play with. The toy makes noises and responds to sound motion, head turns and even blinks while making noises.
This really is a great pick for getting children's imagination going, just simply place on your finger and with each finger movement, the fingerling will move and react based on your movements.
18. Unstable Unicorns Base Game for Family Fun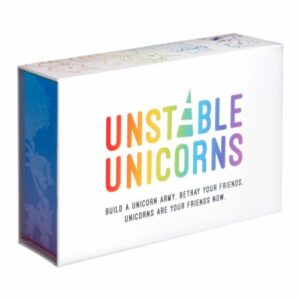 This is a strategic unicorn card game to play with friends but be warned there is competitiveness about this game that can turn friendships sour. This game is well known and got backed up Kickstarterer, it's one of the top games of all time. The game is designed for 2 to 8 players and the aim of the game is to build an army of unicorns, go against your friends and ditch friendships for unicorns.
If these weren't enough, check out some other picks from Amazon also: