Have you ever dreamed about becoming an astronaut? If you are anything like us, then the answer is YES! Many of us daydreamed about participating in the space odysseys and discovering new planets and galaxies at some point in our childhood. Today you no longer need to become an astronaut to get the feeling of space up close.
Would you like to learn how you can bring different planets, meteors, or moons to your living-room, or your kids' bedroom?
The star projectors or home planetariums are the answer to this question. There are two types of star projectors – the first ones are realistic, that can have a more educational role. On the other hand, we have interesting mood lights.
These project stars are a great décor element for someone's interior. You can use these lights to create a special atmosphere for your house parties or holiday celebrations. They can also help in fighting insomnia issues.
---
Best Choices for Home Planetarium
---
If you like the idea of owning a private piece of our galaxy right there at your home, continue reading as we will provide you in detail with the 10 best star projectors in 2023.
1. Homestar Classic by Sega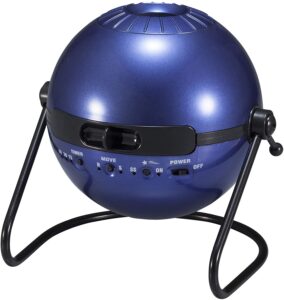 The Homestar Classic Planetarium is produced by Sega, which is a well-known Japanese game developer and publisher. This interesting gadget can be wall or ceiling mounted. It comes with a stand so you can place it on the horizontal surfaces, as well. The projector is made of ABS (acrylonitrile butadiene styrene), quite durable plastic material.
It is designed for users age 15 or older. The projection of constellations is more than realistic. More than 60000 stars are displayed, and they circle thanks to peripheral motor function. The integrated timer will switch off in 15, 30, or 60 minutes depending on the selected settings.
2. National Geographic Astro Planetarium Multimedia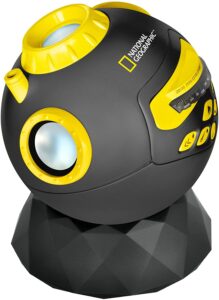 Who can teach you better about space and astrology than National Geographic? If you are an astrology nerd, or you know one, the Astro Planetarium Multimedia will make a great gift for you or your loved one.
The name of this gadget couldn't suit it better. You will indeed have a private planetarium at your home.
This gadget projects the stars true to the time and day. It comes with a built-in FM stereo, so you can instantly enjoy the adequate music in the background as you watch different galaxies and constellations.
It comes with two projecting disks, three AAA batteries, a star map, and the base. One of the disk projects only stars, whereas the project marked constellation. The power cable is sold separately.
3. Twilight Projector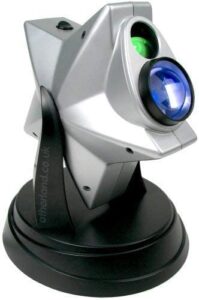 The Twilight Projector by the brand Laser Stars promises to bring the night stars and sky into our homes – it surely does! This projector is primarily designed for the entertainment of kids and young adults. It will help them learn their first lessons about astronomy and space.
The technology behind this product is the new green laser technology that uses class II lasers. You can choose between two settings- a clear starry sky or the sky with drifting clouds. It is an easily adjustable product that revolves around its center and projects the stars. The gadget comes with a timer.
4. Death Star Planetarium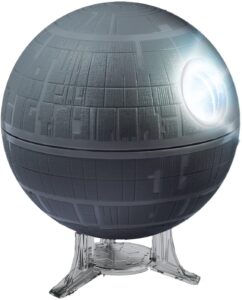 This tabletop home planetarium is a great gift for all those Star Wars fans out there. It is designed very unusually by the brand Uncle Milton. The planetarium has the shape of the Death Star from the aforementioned movie- saga.
Unlike other star projectors, this product displays 10000 stars and all the planets in the Star Wars galaxies. However, as there are three different projecting disks, you can project Earth's night sky and the scene from the Battle of Yavin from Star Wars Episode 4.
Integrated LED light, USB cable, constellation guide, and the Star Wars galaxy guide come with this high-resolution device. The projecting angle is flexible as the images rotate in both directions.
Take a look at how this Star Wars replica works:
5. Sky Lite Laser Projector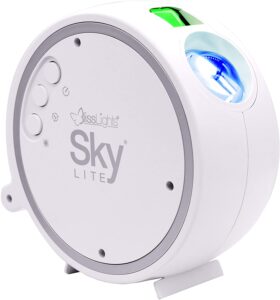 The Sky Lite Projector by the brand BlissLights is designed to entertain your youngest ones. However, it creates excellent mood lighting- adults will enjoy this decorative gadget greatly, too.
It projects green stars constellations against a blue nebula cloud. The cloud is constantly transforming and creating dynamic scenes. The projector incorporates a diode laser, precision optics, and holographic technologies.
It is an affordable product powered by a corded electric cable. It is small in size, light, and therefore easily transportable. You can participate in this awesome experience wherever you are.
6. Star Light Projector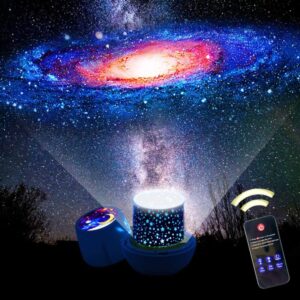 If you are looking for a budget-friendly mood light that will entertain your kids at night, look no further. The Star Light Projector from the brand BNL is absolutely worth considering.
This device comes not only with a remote control but also with 7 different projection films. The films will display the zodiac signs formed from the constellations, the nebula, dinosaurs, sea life, birthday decoration, meteors, and colorful elks.
The Star Light Projector can also work as a reading table lamp. As you may notice, this product acts as a multipurpose one. As mentioned, you can control both the lamp and projector with a remote that comes in the package.
7. Room Planetarium and Dual Projector Science Kit

Room Planetarium by the brand Smithsonian is a great learning tool for the kids aged 8 or older. This projector will bring the nighttime sky into your room. The important feature of this particular project is its dual nature.
This is a fairly versatile device as you can select to project planets, Moon, space crafts, and galaxies. All images are made in HD. You can choose between 50 different image combinations.
The images are dynamic as the projection of the stars is rotating. Your kids will love this room projector for sure.
8. Soccer Starry Creator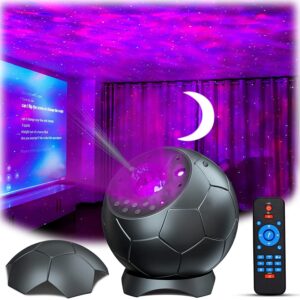 The Soccer Starry Creator is a projector by the brand Lupantte. It comes in the shape of a soccer ball and is a mood light gadget.
The Starry Creator has numerous and versatile functions, among which is projecting stars and galaxies. It also acts as a high-quality Bluetooth speaker. You can adjust settings so that the stars or nebula flicker with the music rhythm. This is a great device for house parties or birthday celebrations. Your kids will absolutely love this interestingly designed projecting tool. You can use it as a decoration for Halloween or perhaps in your home cinema.
The integrated timer comes with the Starry Creator. You can easily change the setting or turn it on and off via remote control.
9. HugeHard Night Light Projector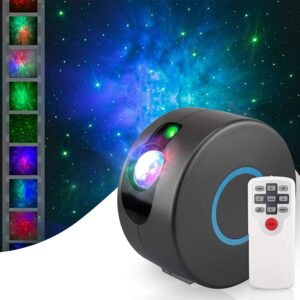 The Night Light Projector by the brand HugeHard is a quite affordable projecting device with remote control. This projector is designed both for adults and children.
This gadget has a rotation of 360 degrees and can display up to 15 different lighting modes. You can set the speed and the brightness of the projection according to your personal taste. Some of the lighting modes include the nebula cloud and stars, which you can play together at the same time as well.
A very particle remote comes included in the package. Now you can switch between the modes or turn the projector on and off directly from the comfort of your sofa or your bed.
10. Discovery #MINDBLOWN 2-in-1 Reversible Planetarium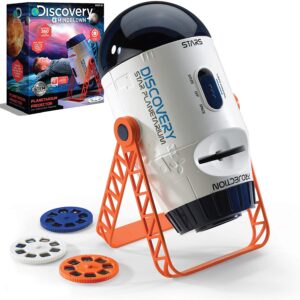 Discovery Kids has created this educational planetarium for children. It is designed in the form of a spaceship or a satellite and will be a great tool in teaching your children about galaxies and constellations. The design is a small-scale copy of a real-life space station with all its details.
There are two projector modes: stationary and rotating. In fact, rotating one includes a 360 degrees motorized star rotation. Your children can choose between 3 interchangeable disks. Each disk contains 8 slides, which means that there is a total amount of 24 distinct slides. One disk displays moons, other planets, and last but not least, it projects galaxies.
The Discovery 2-in-1 Reversible Planetarium is a great educational and fun gift for any child. They can learn so much about space, stars, and planets, all that while playing. It can be projected both on walls and ceiling, and cordless. All you need is to insert two AA batteries, and the projector is ready to display tiny space secrets.
Home planetariums are a pretty awesome gadget to have at home or gift to your loved one. However, choosing the right one might feel like an overwhelming task. Are you wondering how to select the right one? Wonder no more, as we have covered your back with our essential buyer's guide and some frequently asked questions.
Don't miss this review:
---
Buyer's guide
---
Usually, they come with integrated speakers so they can have more than one purpose. You can use some as table lamps, while others will help you combat insomnia. Some projectors can play melodies that sound like waves, nature, or relaxing music. In combination with the light effects, they will calm you down and help you fall asleep.
Mounting accessories are worth thing about. Plan how you want to position the projector in advance. Will you mount it on the wall or lay it on the table or floor? Note that white or walls painted in light colors are much more adequate for presenting the effects. Is the projector flexible and adjustable? Are the projections static or rotating?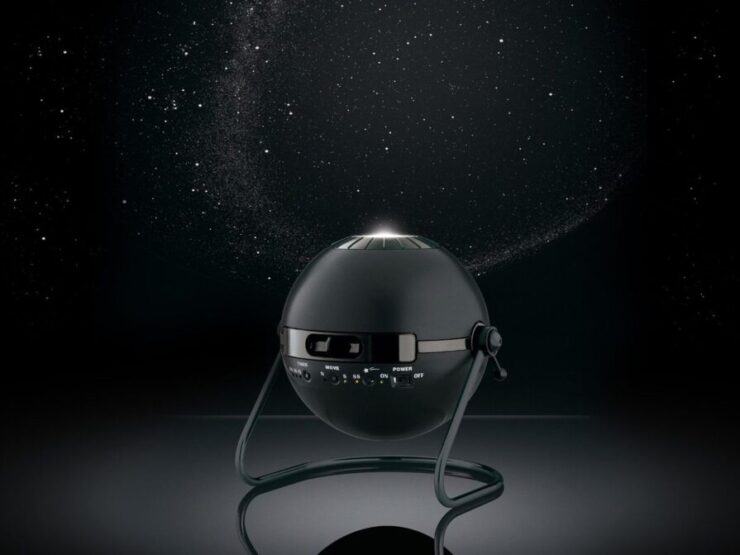 Some planetariums come with a timer, whereas others don't. Another element worth considering is a remote control. This tool will allow you to manipulate your device from the comfort of your sofa. The technology behind the projector is important as well. Some of them use LEDs as the power of the light source, whereas others use lasers. The lasers are more powerful than traditional projectors bulbs and have a longer lifespan.
Accuracy and clarity are features worth considering. Decide on how realistic you want your projection to be. As aforementioned, there are two different types of star projectors- educational and decorative ones. All of them come with an age suggestion. We can distinguish between:
professional projectors
projectors for young adults/ adults
projector for babies/ children
Decide what best works for you.
FAQs
Are star projectors good for babies?
The specially designed projectors for babies and infants will definitely help your sleep better and fall asleep sooner. They are called projector soothers, and they are by no means harmful to babies or young children. Usually, they display lights and release soothing melodies or play lullabies at the same time. The effect they have on babies is relaxing and calming.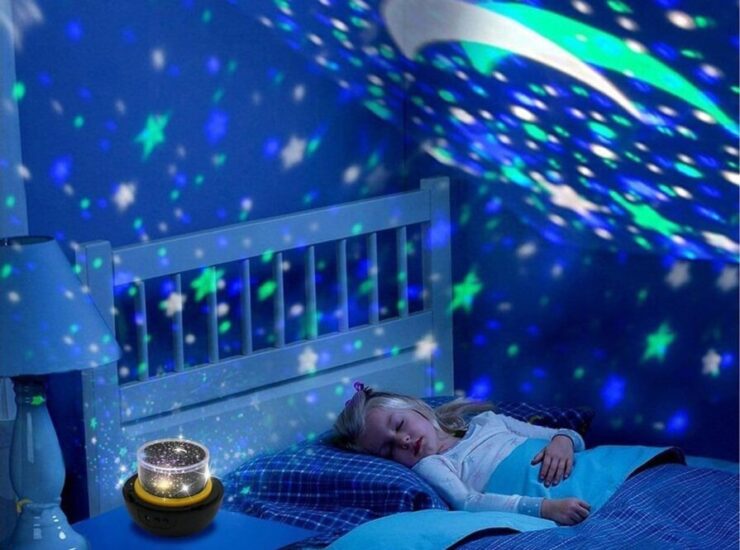 There are many projector soothers on the market, so choose one that best fits your and your child's needs.
What are the two types of astronomy?
From the beginning of the 20th century, two main types of astronomy have been in practice. Both of them are really complex streams of science. They are observational and theoretical astronomy. Both of these two types are equally important for explaining the past and predicting the future in space.
Observational astronomy uses tools- like telescopes and cameras to look at stars, planets, galaxies, and other objects found in space.
On the other hand, theoretical astronomy is based on math and computer science. This branch tries to explain activities that already happened or predict possible perplexed future space phenomenons.
Conclusion
Home planetariums are really cool home devices. They can help you and your children learn about space and some of its secrets. Educational or purely decorative, they are always creating a special atmosphere in your interiors. When purchasing one, decide which one fulfills your particular needs best.
Also, take a look at some of these models that can also be a perfect fit for you or your little astronaut:
Related Review: