All kids love riding bikes, and it's a great way to get them out of the house and keeping fit. Going for a cycle ride is the perfect family activity, so it's a great idea to get your kids learning to ride a bike at an early age. However, choosing a bike for your child is a big decision – there is such a wide variety of choice on the market these days.
There are also a lot of things you need to bear in mind when choosing a bike to suit you child's needs, so we have compiled this complete guide to buying a bike for your child. Whether you are buying your child's first bike or looking for an upgrade to their existing one, you are sure to find something here to suit you. We have chosen the best bikes for both boys and girls, ranging from 14 inches for toddlers right up 24 inch bikes suitable for teens.
We first review what you need to think about when buying a bike for a child. Next, we have broken down our best picks for kids bikes into categories based on size, so you can easily look for one to fit your child. We have chosen the bikes based on quality, value for money and features – there is something to suit every child and their parents here.
Kids bikes for ages 3 years old to 9 years old
RoyalBaby Little Swan 
This bike made by RoyalBaby is perfect for a little girl's first 'big' bike. Your child will love to ride this cute, stylish bike, and she can put her favorite stuffed animal in the basket.
The wider than average tires make this bike perfect for those who are still learning how to cycle. It also has anti-slip handle grips and the large ends prevent hands from accidentally sliding off the edges.
It's small size means the Little Swan is the perfect bike for a 3-year-old, but by raising the seat it can last until a child is about 5 years old. This bike also has easy to use, safe brakes ideal for a young child. The added benefit of a chain guard means parents can rest assured that their child won't get their fingers caught.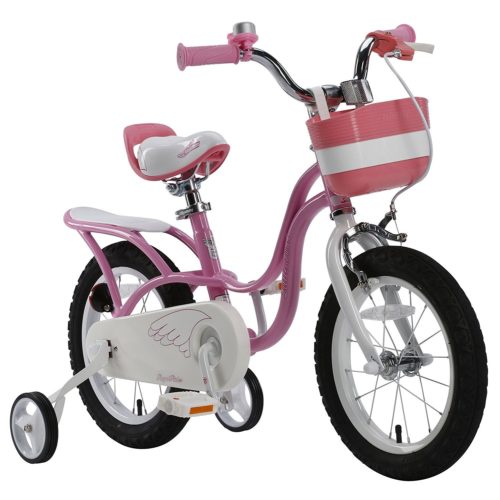 Thomas the Train bicycle 
This Thomas-themed cycle is sure to delight all fans of the friendly tank engine! It is the perfect first bike for 3 to 5-year-old boys. The face on the front of the bike can be pressed to play sounds – your child will love this fun feature!
Learning to stop is easy with this bike thanks to its coaster brakes. This means your child simply needs to pedal backwards, which can be easier than trying to work a hand brake.
This bicycle comes in at around 20 pounds, meaning it's not too heavy for parents to carry when little ones get tired of pedaling. It's relatively inexpensive and there is a whole range of matching accessories – perfect for Thomas fans!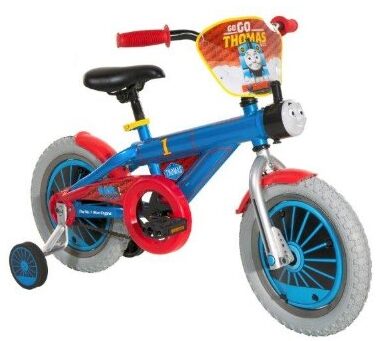 16 inch bikes – Bike Star Lilac and White 
This stylish and affordable bike is perfect for 5-year-old girls, and will last up to around age 8. The handlebars can be adjusted by 2 inches and the saddle by 3 inches, meaning this bicycle offers plenty of growing room. You can also change the angle of the saddle to ensure the rider has the correct posture.
The bike is solid and is made of steel, so you can be assured that it will withstand heavy use. It comes with a full set of reflectors so you can guarantee your little girl will be visible.
It has lots of useful features, including mudguards for off-road use. There's also a useful back carrier, a side stand and a chain guard for safety. This bike is great value and will last several years of heavy use, and has all the features your daughter will need.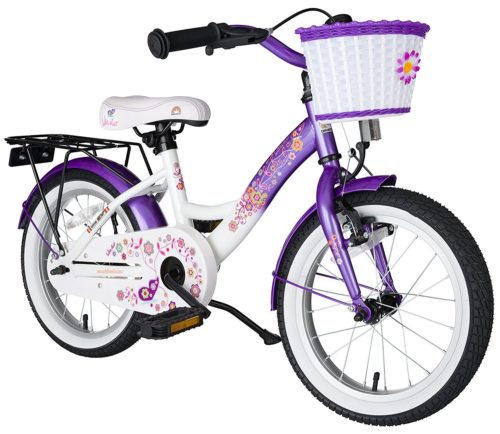 Raleigh Rowdy

This bike looks just like a scaled-down version of an adult bike. Raleigh is one of the best-known bicycle manufacturers, so you can be sure that this bike is of the highest quality.
It has a lightweight aluminum frame, making it easy for little legs to pedal up hills. The low height of the frame makes it easy for kids to step over to get on and off too. The 16 inch wheel size makes this the ideal bike for boys aged 4 years and older.
This bike has V-brakes on the front and rear, making it perfect for practicing how to stop properly. It has only one gear, giving your child one less thing to think about when riding. The tires are perfect for using off-road – great for little boys who love getting messy!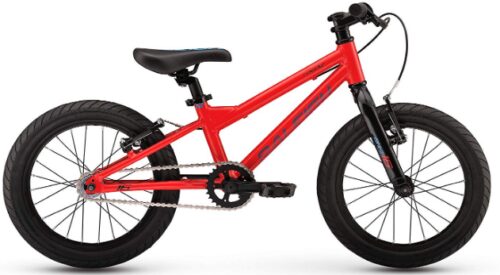 18 inch bikes – Monster High 18 inch bike

This is the perfect bike for 6 to 9-year-old girls. Your little girl will love riding this stylish bike – she will love the spoke decorations. The padded seat is comfortable to use for longer periods.
It comes with three brakes (both hand and foot operated) for extra security. The Monster High bike also has removable training wheels for children who are still learning. It is the ideal weight for its size, younger children should be able to handle it with ease.
There are handy accessories available for purchase separately, such as a matching basket, bell and helmet. The bike requires some assembly but this isn't difficult and can be done in around an hour.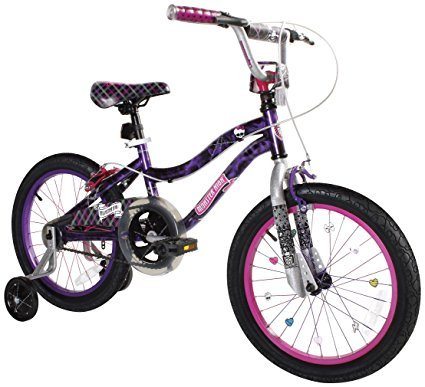 RoyalBaby Buttons CubeTube 
This 18 inch bike is available in a range of colors making it suitable for either boys or girls. It also comes in different sizes, so you can choose the perfect one for your child's size.
The simple design makes it perfect for parents who are looking for a practical, rather than stylish, bike for their child. It comes with both hand and foot operated brakes giving your child the choice of which they prefer.
The saddle can be adjusted in height by 2 inches, making it ideal for growing kids. It also has a kickstand for when the training wheels are removed, so it won't be left lying on the ground. The chain is fully enclosed for safety, and it comes will all the tools needed for assembly. Overall, this is a great, durable bicycle for kids of all ages.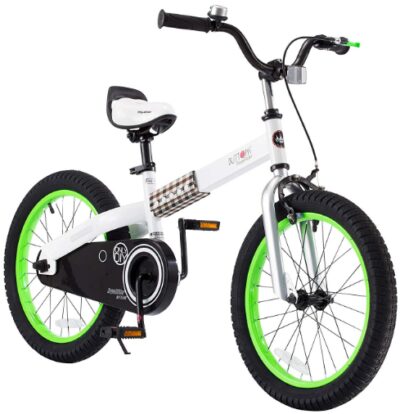 Mountain bike – Rock Candy by Kent
This is the ideal first mountain bike for girls aged 7 and above, as it has 20 inch wheels. It has 7 speeds, making it ideal for kids looking for their first 'gear' bike. It also has V-brakes making this is an ideal step-up until your child is tall enough for an adult bike.
There is dual suspension on this mountain bike to ensure your daughter has a comfortable ride. It has a steel frame, meaning it's a little on the heavy side. But, this also means that the bike will withstand a lot of heavy use, and it can grown with your child to last them many years.
It comes with a kickstand and reflectors, so it's perfect for riding around town too. This is a perfect low-cost mountain bike for older girls who aren't quite ready for an adult-sized bike. It has all the features you would expect from a mountain bike, but in a child-friendly size.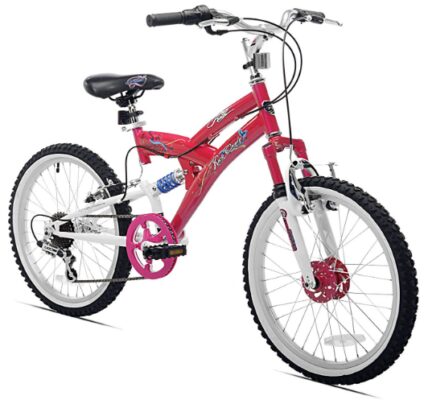 ScotchBlue MT20
This eye-catching mountain bike is perfect for young boys who want a bike with more features. The tires have great grip perfect for using off-road. It also has a front suspension fork to ensure a smooth ride.
This mountain bike has 6 speeds, perfect for use in all situations. It also has front and rear hand brakes – your little boy will be delighted his bike has the same features as dad's. The seat can be easily adjusted to fit your growing boy. Thanks to the quick-release clamp you don't even need any tools to do this.
The bike does require some assembly, but for the low price it's worth it. Your boy will be able to use this bike from around 7 years old right up to 10 or 11, so you can be sure he'll get plenty use from it.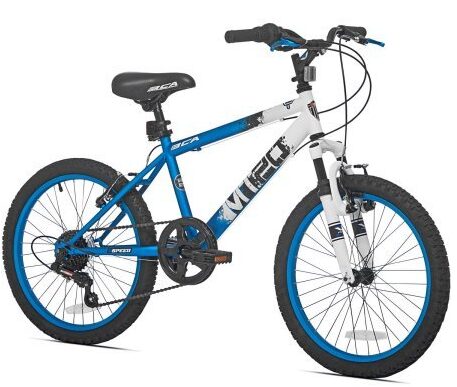 Kids bikes for ages 8 years old to 13 years old
20 inch bikes – Tauki 20 Inch Girl's Bike 
This bike comes with everything you need to get riding straight away. It requires minimal assembly and comes with tools and a pump for your convenience. The size of this bike means it's perfect for 7 or 8-year-old girls, depending on their height. It can be adjusted to give you years of use, and can last up to age 14, making it excellent value for money.
It has both hand and coaster brakes, making it perfect for learning how to stop like a big kid, whilst still providing a familiar back-up. The frame is made of aluminum which is ideal – it is durable but also light enough for younger kids to handle the bike easily.
The bike is very stylish, available in two different colors with a gorgeous floral design. It's sure to be loved by girls of all ages. The Tauki bike would make a perfect birthday or Christmas gift – parents will love the fact that their child will get years of use from this bike!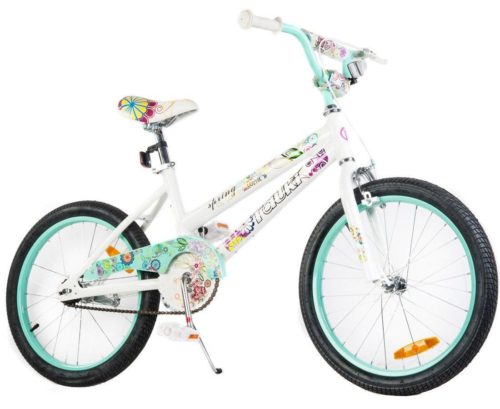 Razor Freestyle

This is a perfect BMX bike for tricks and daily riding. It has front and rear pegs to allow your child to practice their tricks. However, it is also ideal for daily use as it is fitted with reflectors and a chain guard.
The saddle on this bike is adjustable, so you can ensure your little boy will get many years of use from it. Stopping is effective thanks to the caliper and u-brakes. This means this bike is a perfect step-up to getting an adult bike.
The bike is very stylish, with eye-catching alloys. However, it is available in different styles and colors if this one isn't to your little boy's taste.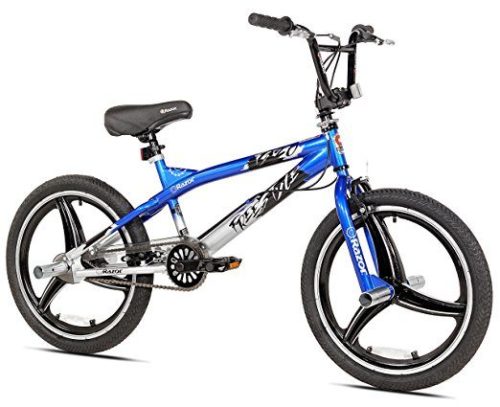 22 inch bikes
You may have spent some time looking for a 22 inch bike for your child only to realize they don't seem to exist. Kids don't grow so fast as they get older, so once they become too tall for their 20 inch bike, they'll be able to fit a 24 inch. This is why you won't find a 22 inch bike anywhere. Parents often don't need to buy their child the next size of bike once they get too tall for their current one – you may find your child who has outgrown their 16 inch bike can move straight to a 20 inch for example.
24 inch bikes
This is the perfect bike for girls aged 10 and up. It has a suspension fork to ensure a comfortable ride even on rougher terrain. It has 21 gears, making it perfect for older kids who want a more 'grown-up' bike.
The frame is made of steel, meaning the bike is quite heavy, at 40 pounds. It doesn't come with any accessories, however you can easily add a kickstand and some lights. The V-brakes give great stopping power, and the gears are easy to change with a twist of the handle.
Overall, this bike is great value for money. It has all the features a growing girls will need and it's strong and durable. Your daughter will be able to use this bike for years, until she is tall enough for an adult's bike.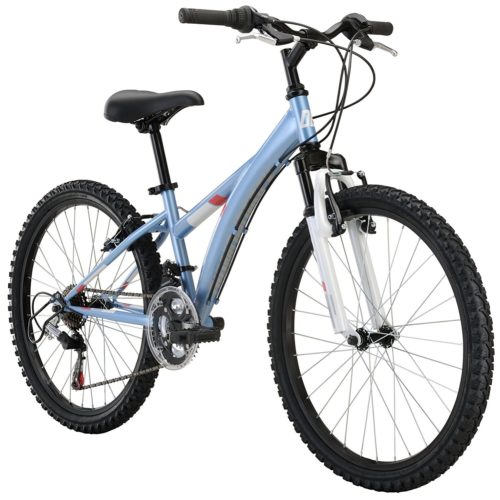 Guardian Lightweight Bike
This is the ultimate bike for kids aged around 8-13. It's available in both boys and girls models, so you're sure to find something to suit your child's tastes.
This bike has been called the world's safest kids bike thanks to its unique braking system.The front brake doesn't operate until the rear brake is already engaged, meaning no more falling over the handlebars. It has 7 speeds and weighs under 25 pounds, meaning it's perfect for kids who aren't used to riding bigger bikes.
Parents will love the fact that this bike is 95% assembled, meaning it will be a matter of minutes before it's ready to go. It provides excellent value for money, as it can fit children from around 4′-5′ in height.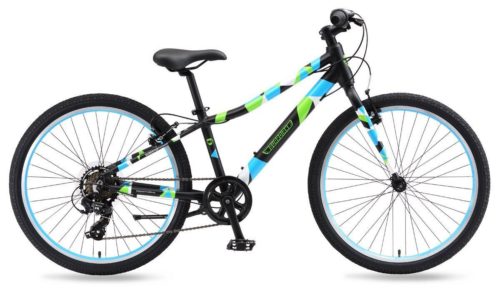 26 inch bikes

At 26 inches, bikes are classed as standard adult size. We've included them here as many older or taller kids will benefit from a bike this size. If your child is tall, a 26 inch bike is a great investment as it could potentially last them for many years if it is well maintained.
Next Avalon
This bike has dual suspension to ensure comfort on rough ground. It also has a 7 speed gear system, which is ideal for young teens who don't need much more than this. It has tires perfect for use on the street – this is the ideal bike for young teenagers to travel around town.
The Avalon is the perfect first adult bike for a young girl. It weighs around 40 pounds meaning it's easy for teens to handle. It also has rust-proof alloys, meaning the bike will last much longer.
This bike is rated to carry up to 250 pounds, meaning it could last your daughter well into her adult life. It offers excellent value for money – it has all the features a youngster needs at a great price.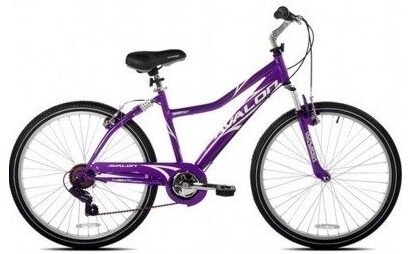 Raleigh Redux
The Redux is the ideal first adult-sized bike for youths. It has a simple design yet includes all the necessary features for a comfortable ride. The bike comes with 7 speeds operated by twisting the handle. It also has mechanical disc brakes which give great stopping power in poorer weather conditions.
Its stylish and minimal appearance, makes it ideal for a young boy who wants a more grown-up bike.  It has a lightweight aluminum frame, making it easy for  younger boys to handle.
The ties on this bike are ideal for navigating the city – they roll over curbs and potholes with ease. The bike is more expensive than others reviewed here, but it is very high quality and will last many years of heavy use.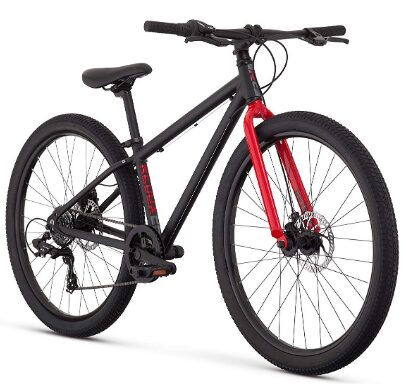 Mountain bike – Mongoose Excursion
This is the ideal first mountain bike for a young teen girl. It has a sleek, minimal design sure to appeal to all tastes. There's suspension in the front to make sure your child has a comfortable and smooth ride.
It has 24 inch tires and 21 speeds, making it ideal for girls aged around 10 years old and above. The tires are perfect for rough and rocky terrain and will provide perfect grip in all conditions.
The linear pull brakes on this bike mean it has all the features would expect from a full-size mountain bike but at a fraction of the cost. The steel frame makes this bike strong and durable – it will last your daughter well into her teenage years.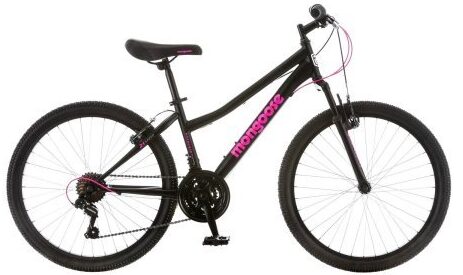 Roadmaster Granite

This is the perfect first mountain bike for older boys, thanks to it's 24 inch size. It is the ideal weight too at around 35 pounds, meaning it's easy for boys aged about 10 and up to handle.
The Roadmaster has 18 speeds, which is the ideal number for a young teenage boys. It is simple to assemble, taking around 30 minutes with a few basic tools.
This bike is a great price and your son is sure to get many years of use from it. Smaller adults could also use this bike if needed, as it has all the features of an adult bike. Overall, it is perfect for use both in town and off-road.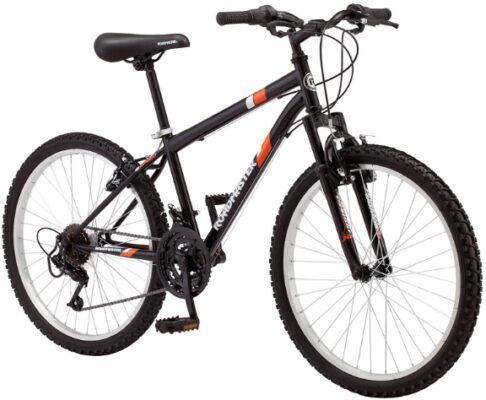 Summary
It is impossible to recommend one particular bike over another, as they all cater to different needs. When purchasing a bike for your child, it is important most of all to think about their height and choose the right size of bike accordingly. The bikes reviewed here all have different specs and safety features, so make sure you consider what your child needs. For those who will use their bike every day, sometimes more features are needed. If it is your child's first bike or you don't expect them to use it much, perhaps a more basic model will be suitable.
Considerations Before Buying a Bike for your Children

Because there is such a huge number of bikes to choose from, you need to think carefully about what will best suit your child. Think about where they are going to use it and what they are going to use it for, and also consider the factors below.
Size – Consider the height of your child – don't be tempted to buy a bike which is too large in the hope that your child will grow into it. A bike which is too big can be very dangerous as your child will not be able to control the bike properly and will have difficulty placing their feet down when they stop. You may also wish to consider the overall size and construction of the bike. If you plan to take it out in the car, you'll need to make sure it can fit inside, or purchase a suitable bicycle rack to fit to your car.
Safety – You need to think about safety features the bike has too – this is especially important for young children who are getting their first bike. We'll outline what you should be looking for later.
Features – You may also wish to review and extras the bike has, such as a basket for carrying their favorite toys. It's also wise to choose a bike which has, or can be fitted with, lights and reflectors especially when your child is likely to be riding at night. You should also think about gears – for a first bike, one without changeable gears is fine as you don't want to make learning to cycle more difficult for your child. For kids moving up to a bigger bike or for teens, you may wish to consider one with variable gears. This will allow them to easily navigate different terrains and provide more flexibility, and make the transition to an adult bike easier.
Materials – Look at what materials the bike is made of, too. Cheaper bikes tend to be made of heavier, and less weatherproof materials. If you can afford to spend a bit more on a bike made of high-quality materials, your child will really reap the benefits.
Price – Budget is also an important factor in choosing a bike for your child. As noted above, it's worth investing in the best-quality bike you can afford as it will be of better construction and will therefore be more durable to last your child longer.
Is your child ready for a 'big' bike? – If your child has never ridden a two-wheeled bicycle before, you should get them a pedal-less balance bike rather than a bike with training wheels. It is easier to transition from a balance bike to one with pedals rather than removing training wheels from a pedal bike. That way, your child will have already learned how to balance and simply needs to learn how to pedal – easy! We have also reviewed the best balance bikes available for toddlers, check it out here.
Once you have thought about what kind of bicycle will be ideal for your child, it's also important to think about safety clothing. You'll need to equip your child with a well-fitting helmet and perhaps some elbow and knee pads if they are very young and just beginning to learn how to ride a bike. High-visibility, reflective vests or sashes are a great idea for those who may be cycling in poor visibility conditions.
Our Guide to Buying Kids bike

There are so many different things to think about when picking the perfect bike for your child, so we have compiled a guide to make sure you remember everything. First and foremost, you need to accurately measure the child's height, and therefore find which size of bike they will need.
Also think about safety features you would like the bike to have. Think about if your child will be able to reach the brake levers – many kids' bikes have these closer to the handlebars so they are easy to reach. Check if there is a guard on the chain in case your child tries to touch it, so they don't end up injuring their fingers.
You should also consider the weight of the bike. If you are likely to end up carrying it around a lot when your child gets tired, choose something lightweight. If you are buying for an older child, think about the style of the bike – road or mountain. Consider what your child is most likely to use it for. If they will use it for going to school, are there are any accessories such as panniers they could put their bags in?
Ways to choose the best bike for your child
First, it's important to think about your child's ability – if you are choosing their first bike, don't overestimate their ability level. Choosing a bike which is too advanced can be dangerous and difficult, and will put your child off wanting to learn to cycle.
Let your child be involved in the decision-making process when it comes to picking out a new bicycle. That way, they will choose something they like the look of and will be excited to ride, meaning you won't waste your money on something the kids will never use.
Make sure the bike can be adjusted to perfectly fit your child's body shape. You'll want the seat to be able to be raised for when they grow, and it's also ideal if the handlebars can move to make sure your child doesn't get a sore back or neck from being incorrectly positioned on their bike.