Kids of all ages love to play on a trampoline, and it's a great way for them to burn off energy whilst also getting fit bouncing around outdoors. There are lots of different sizes and styles of trampolines available on the market, so we have compiled this guide of our favourite picks. We have chosen models of different sizes and with different features, so you are sure to find the perfect toy trampoline for your child.
 Considerations
It's first important to think about if the trampoline will be used indoors or outdoors. Some are very large and are best used outside. Other smaller trampolines are perfect for using indoors, and make a great addition to a playroom for when it's too wet to play outside and your child is full of energy.
Safety is key when choosing a trampoline. It's strongly recommended to use a safety net with a large trampoline, especially if it will be used by younger children, or for doing tricks. On the other hand, you should also make sure your child doesn't exceed the maximum weight limit, so the trampoline isn't at risk of becoming damaged. Similarly think about who else will be using it – if mom and dad are playing with the kids the weight will be much greater than just one or two children.
Also think about if the size and safety of the trampoline to make sure the toy is appropriate for your child. Some smaller trampolines are only intended for toddlers and won't be able to take the weight of older children. The opposite also applies – very large trampolines can be dangerous for young children, especially if used without a safety net.
Consider which extra features you may like with the trampoline. Some come with a ladder for your child to easily climb on and off. Others come with a safety enclosure, or a handle for younger children to keep their balance. Certain trampolines come with fun extras like a basketball hoop, giving your child two new activities in one!
Exacme 8-16' Trampolines
This trampoline comes in a choice of 7 different sizes, so you are sure to find something to fit the space you have available. The larger sizes can hold nearly 400 pounds safely, meaning the whole family can enjoy some fun quality time together. The 12' and larger models come with a ladder, so younger kids are able to join in the fun, too.
The Exacme trampolines have impressive safety ratings. The W-shaped legs provide stability and safety, and the springs are rust-proof and heavy gauge, to give a great bounce. The safety enclosure is high enough to keep kids of all ages protected whilst they bounce. It also features a sturdy zipper, which can be used over and over again without tearing or becoming caught.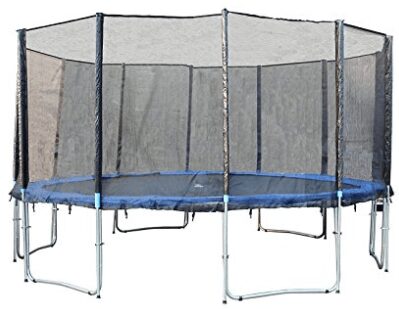 Sportspower My First Trampoline
This 84" wide trampoline is perfect for young children making the transition from a toddler trampoline to a 'big' one. It is low to the ground, making it easy for younger kids to climb in and out by themselves. All the metal parts are covered with foam or plastic, which greatly reduces the chance of injury. The springs have a special 'no-scratch' design, which further lowers the risk of your child getting hurt when bouncing.
Sportspower's My First Trampoline can be used indoors or outdoors, meaning your children can have great fun and work their muscles no matter what the weather. Parents will be able to assemble the trampoline with ease – it should take no more than an hour. Children will be able to use the trampoline for years, as it can take up to 100lbs, or an average 10-12 year old.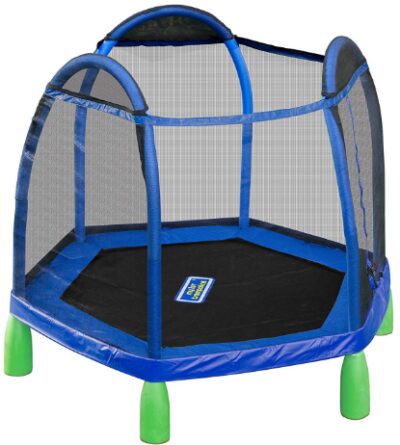 Little Tikes 3'
This Little Tikes trampoline is perfect for young toddlers. It is made of metal and plastic, and it suitable for indoor use only. The compact 3-foot size is perfect for indoor use, too. The handle is great for giving your child added stability, and the large bouncing surface also helps with this.
The toddler trampoline is suitable for children up to 55 pounds in weight, meaning your child will get a few years of entertainment before needing to move up to something bigger. It's even possible for two toddlers to bounce together for added fun! Your child will love using this trampoline for everything – from eating snacks to relaxing with a book. You can be sure to get excellent value for money with this little trampoline.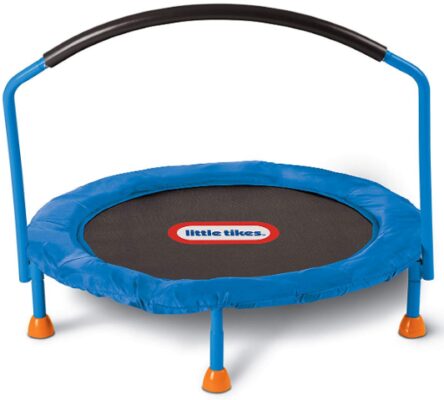 Skywalker 15-Feet Jump N' Dunk
This huge 15-foot trampoline is perfect for large families, or older kids who often have friends over to play. It features a basketball hoop, and also comes with a ball for your child to practice shooting and dunking whilst bouncing for double the fun! The trampoline comes in a choice of 6 different color schemes, including a stars and stripes design.
The safety net attaches to 6 foam-padded poles. It has a unique, patented design which means the net attaches to the edge of the jumping surface. This ensures there is no dangerous gap for little hands and feet to get caught in. The trampoline is very durable – the springs are rust-resistant and the padding which covers them is UV-resistant, to keep your child comfortable when they get on and off the trampoline.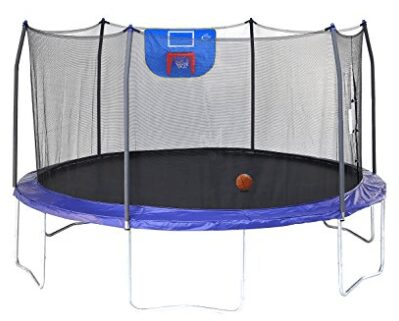 Giantex 55" Round Trampoline
This Giantex round trampoline is also perfect for younger kids looking for their first 'proper' trampoline. It measures 55 inches across, and 64 inches tall, from the ground to the top of the enclosure. The side rails are foam-covered, and the net attaches with tight ties to make sure there's no chance your child can fall out when playing.
Parents will love how portable this trampoline is. It is lightweight and features a collapsible design making it easy to dismantle and store or move it to another location. It is around 1 foot off the ground, meaning toddlers will be able to climb in and out with ease. The trampoline can hold children weighing up to 66 pounds, giving years of entertainment.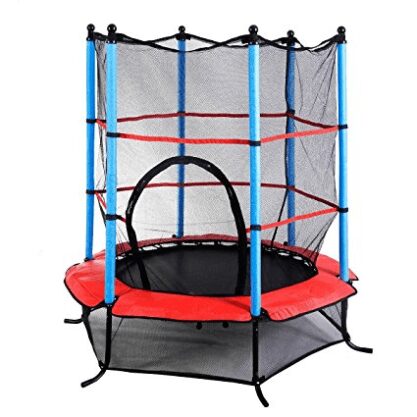 Merax 14-Feet with Basketball Hoop
This big trampoline is great for families with a few children, or those who often have others over to play – it has a weight capacity of up to 330 pounds. It conveniently comes with a ladder to help kids climb in and out. There is also a basketball hoop, to let your child burn off even more energy!
The round trampoline has a rust-proof steel frame, and 6 W-shaped legs for maximum stability. There is a YouTube video showing how to assemble the trampoline, to make parents' lives easy. However, because the trampoline is large and comes in several packages, it can take a few hours to assemble.
This trampoline is perfect for kids of all ages – from toddlers right up to teens you'll be sure your child will love it. It is perfect for older kids to practice doing tricks, and parents will love being able to join in the fun too.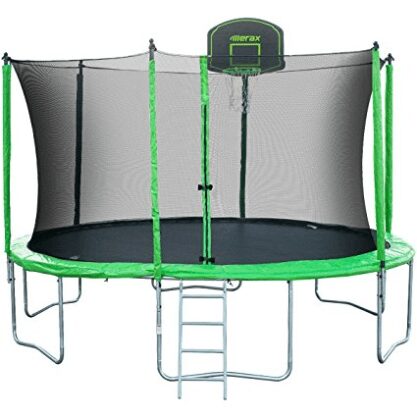 36-Inch Trampoline with Padded Frame
If you are looking for the perfect first trampoline for a toddler or young child, this product is the ideal choice. It can be used indoors or outdoors and is
very easy to move around. It's ready to use within minutes of being taken out of the box – it doesn't require a bungee cord. The trampoline can hold up to 150lb, so your child will be able to use it until they become too tall and need something bigger.
The foldable trampoline is perfect for those who are short on space – it is easy to store and measures 3ft in diameter so don't take up much space when it's assembled either. Even the youngest children will be able to safely bounce – the surface of the trampoline is 9 inches from the ground so it's really easy to climb up. Also, the cover around the surface is padded and stops feet from getting caught.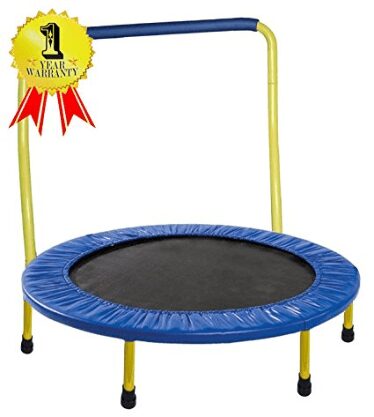 Merax 36" Mini Trampoline with Handrail
This toddler trampoline is perfect for little ones to burn off some energy when the weather is too bad to run around outside. It comes in a choice of three colors – pink, green and blue – so there's sure to be something to suit your child's tastes. There are rubber pads on the feet, to stop the trampoline from slipping on hard floors.
The handle is completely covered in foam to ensure your toddler won't hurt themselves even when they get over-enthusiastic. This 3ft trampoline gives great value for money – detach the handle and you are left with an exercise trampoline for mom and dad. It can hold a person weighing up to 180 pounds, despite the product weighing only 18 pounds.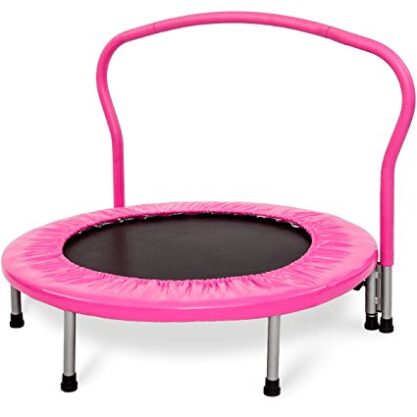 Skywalker 15-Feet Rectangle Trampoline
This huge, 15ft rectangular trampoline is perfect for large families with lots of outdoor space. It can hold up to 250 pounds, meaning several kids can play together. The trampoline also offers an even bounce across the whole surface, meaning no areas are less bouncy than others. The rectangular design also gives a higher lift than round trampolines, making it perfect for gymnasts or performers.
The trampoline is constructed from the highest-quality materials and has excellent safety features. The poles which hold the enclosure net are foam-covered and are angled at the top so the net stays away from the poles for added safety. The zip can be opened and closed from either inside or outside the trampoline, and there are also latches to keep the opening securely fastened. Button-holes keep the enclosure attached to the bouncing surface to ensure feet won't get caught underneath. This trampoline is a great choice for those who live in hot areas – the foam pad which covers the springs is 1 inch thick for comfort and UV-proof so it won't overheat in the sun.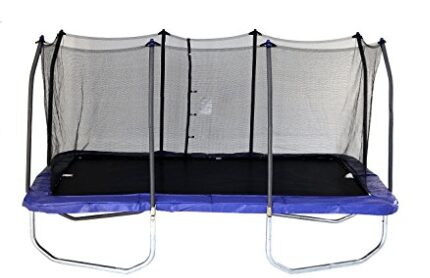 Merax Parent-Child Trampoline
This unique trampoline is perfect for parents who want to get fit whilst also having fun, quality time with the kids. It's also great for siblings who struggle with sharing their toys – the design makes sharing really easy. The weight capacity is 180 pounds total. The unit itself only weighs around 15 pounds, so is easy to assemble and transport.
The trampoline folds for easy storage or for moving it around. It can also be used without the bar if your kids prefer. However, the bar is great for young kids to hang from and use to do small tricks. The trampoline can be used outdoors and features a rust-resistant frame so it can withstand the elements. It also has rubber feet to keep it stable indoors on wooden floors.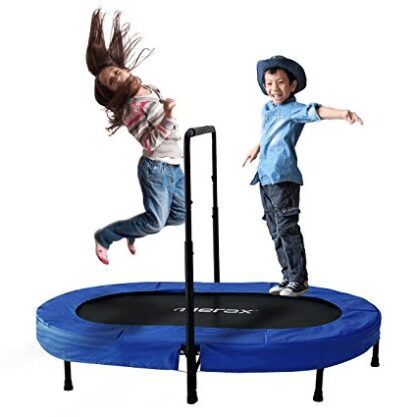 Best Overall Buy
For those with plenty of space in the backyard, a Skywalker Jump N' Dunk 15ft round trampoline is sure to be a hit with the kids. It is great for your child to burn off energy, jumping, dunking and throwing the ball. The choice of 6 colors is a great feature – there's sure to be something to suit your child, or to match the color scheme of your yard.
The hoop and ball are made from soft, safe materials, and the net attaches to the jumping surface at every spring, to ensure there are no dangerous gaps. These safety features mean the trampoline is perfect for children of all ages to enjoy, and parents will have total peace of mind.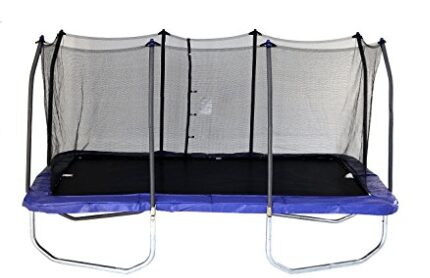 Best Budget Pick
Sportspower's My First Trampoline makes the perfect choice for those looking for bouncing fun on a budget. It is a great step up from a 3' toddler trampoline, but is still safe for young kids to play on. It is also small enough to be able to fit indoors in a large room but is also weatherproof for outdoor use. The sturdy legs ensure the trampoline is well-balanced, and the safety enclosure is strong and secure.
My First Trampoline can be used by kids up to 10 years old, so you can be sure that your child will have years of fun with this toy. Parents can rest assured kids will be safe with the foam padding and anti-scratch safety springs, to ensure accidents are kept to a minimum.