Are you looking for the best electric bikes for kids? You've come to the right place, as here we have 15 of the latest electric bicycles for children of all ages, whether you are looking for a Razor dirt bike or their first 6V to 12V bike with stabilizers, we have it all here!
These bikes are loads of fun to ride on, and are a great way to encourage your kid to spend more time outdoors. So, if you're looking for a way to get them away from their gadgets and screens, read on below for our top picks, with the Top electric bike overall revealed at the end.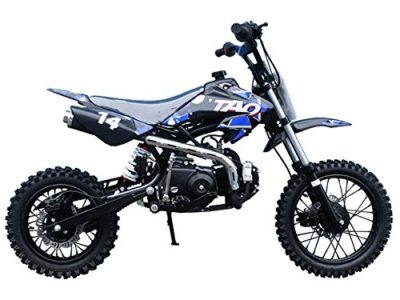 Considerations When Choosing a Kids Electric Bike
First, we need to learn how to pick the best kids electric motorcycle for your child's needs. First, think about their age and any previous experience they have of riding these bikes. This will help you choose a dirt bike which is the correct size and speed for your child.
Also look for safety features and ensure the bike meets all required standards for safety. I would always get them the right gear for riding with and check there are functioning brakes and that the bike has a restricted maximum speed if necessary. Finally, look for any fun features the bike might have which will interest your child. This could be sound or light effects or perhaps a storage compartment – practical and fun features your child will love!
Top Picks in 2023
Now we have looked at ways to choose the best bike, let's move on to review some of the different models out there. With 15 options to choose from, there is sure to be something your little boy or girl will love!
1 .
Monster Moto MM-E250
This super cool electric motorcycle for kids has a powerful 1000W motor which means it can reach a top speed of around 15mph. It's suitable for kids around 6 years old and above, but can easily take the weight of a smaller adult, so it will last them for years. There's an automatic clutch and a large comfortable seat, as well as adjustable handlebars to ensure a perfect fit. The seat is 23 inches from the ground, and the bike is fitted with no-dent fenders for maximum durability for off-road use.
There's no need to worry about the battery on this bike running out during use, as there is a status monitor on the handlebars which shows when it's getting low. The battery takes around 6 hours to fully charge. For safety, you can find a rear disc brake as well as a stop button on the handlebars. This is an excellent pick for kids looking for an authentic motorcycle experience!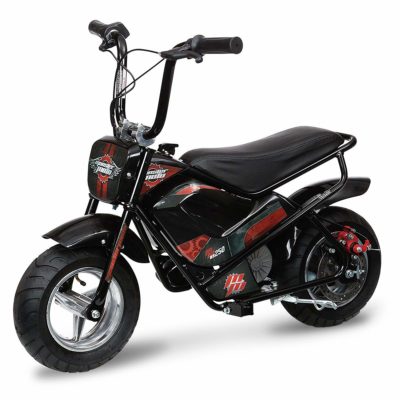 2. Razor
McGrath
SX500 
Razor is one of the top brands when it comes to kids electric motorcycle bikes and this one is based on top motocross rider Jeremy McGrath. It offers a decent battery life of up to 40 minutes continuous running, with a top speed of 15mph.
There's dual suspension for comfort and knobby tires for excellent grip on rough terrain. It's the perfect beginner bike for kids around 7 and above, and it has an easy-to-use twist grip throttle. There are dual disc brakes for easy stopping, and the high torque motor gives this bike loads of power. Again the handlebars are adjustable so this bike should last your kid for many years, until they wish to upgrade to something more powerful and faster.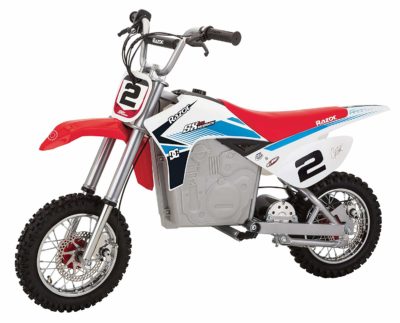 3.  Burromax TT250
If you're looking for dirt bikes for 10 year olds, this Burromax one is an excellent pick. It offers two speed selections, 7mph or 14mph, making it perfect for beginners to learn on and build up their confidence. It offers smooth acceleration and a lever-operated rear brake, so it is easy to start and stop. The battery can last up to 8 hours after charging, and can travel 14 miles on a single charge. The charger is included.
The seat on this bike sits 21 inches from the ground, the handlebars are wide-set and adjustable in height. The bike is capable of carrying up to 250 pounds, so it will suit teens and adults too, and will last your kid many years. You'll find front and rear suspension on this bike so it's comfortable to ride even on uneven ground. There's also a folding footrest and aluminum alloy wheels. This is the best electric bicycle for its super stylish looks, and is sure to delight kids of all ages.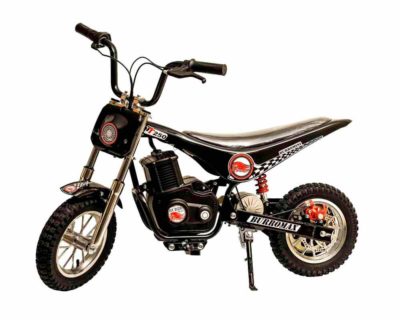 4. Razor Dirt Rocket MX350
Here we have another Razor kids electric bike, which can reach a maximum speed of 14 mph. The maximum weight capacity of this bike is 140 pounds, and unfortunately the battery life is only 30 minutes. The bike comes in a choice of either blue or pink- girly girls will love the bright pink option! The chain-driven motor is quiet when running and there's a twist-grip throttle for easy use. It has large knobby tires excellent for off-road riding and a rear brake which is hand-operated.
Other features of this bike include the folding foot pegs and kickstand, which ensures the bike doesn't have to be left dumped on the ground! The bike is made from steel and has a 24V battery, so it is powerful enough to tackle hills with ease.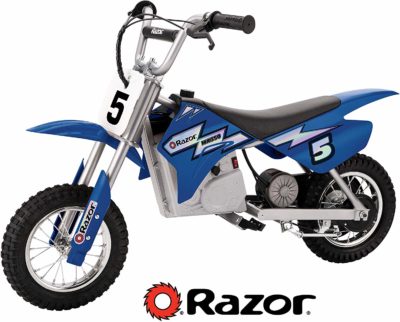 5. Dune Buggy by Razor
Here we have something a little different – a dune buggy! It can travel at 10mph for up to 40 minutes, and is ideal for young drivers aged 8 and above, so long as they weigh below 120 pounds. The bucket seat is padded and is fitted with a seatbelt so it's safe to ride. There is a blue kart available as well as the red one, so you can pick which your kid likes best. The throttle and brakes are both hand-operated, and no gas is needed. Kids will simply love racing around in this thing!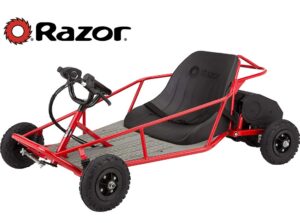 6.
Tao Tao DB14
This 110cc bike is definitely one for older kids and teens who have some experience riding dirt bikes already, because it has a maximum speed of a very impressive 40mph, depending on conditions. The bike has a 4-stroke, single cylinder engine and automatic transmission, so it's perfect for those who are serious about dirt biking.
There are front and rear hydraulic brakes, both hand and foot operated. The seat height is 28 inches from the ground, so it's ideal for taller kids. Also, the bike weighs 125 pounds so it can be a bit difficult for younger kids to handle. There are four cool color schemes to choose from – blue, green, red and orange, so you can pick your kid's favorite color.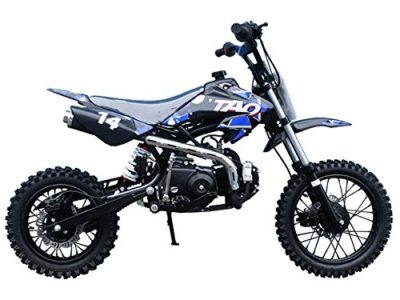 7. Razor MX650
Here we have the MX650 again from Razor. It is ideal for bigger kids, as it has a higher maximum weight capacity of 220 pounds and a top speed of 17mph. The bike is fitted with dual suspension and has a 650W motor for maximum power.
The motor is quiet and the pneumatic tires are knobby for excellent handling when riding off-road. To ensure the battery life lasts as well as possible, it should be charged at least once a month, which shouldn't be a problem as your kid will want to ride it all the time! The initial charge takes 12 hours too, so be sure to do this before giving it to your child as they will be keen to start riding straight away.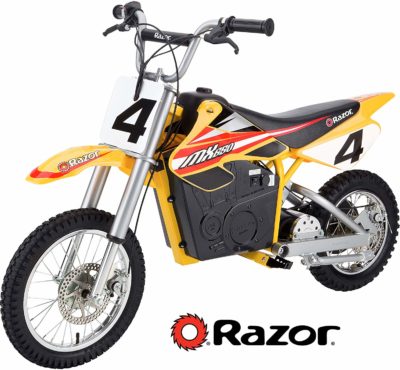 8. Razor MX500
When it comes to dirt bikes for 8 year olds, Razor have some excellent picks. Here we have the MX500, which is slightly smaller than the MX650 above. However, it can still hold up to 175 pounds, so teens and small adults can have a go too.
The maximum speed for smaller riders is 15mph, and the 500W motor is powerful enough to handle hills with ease. Kids will love the look of this bike – just like a miniature version of a real motocross bike. There's a kickstand to keep the bike upright when not in use, and the tires and handlebars are designed for maximum comfort. The 36V battery takes 8 hours to charge and this will allow for up to 40 minutes of continuous usage.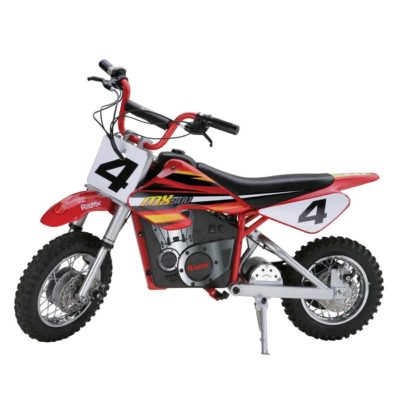 9.
Best Choice Products 6V eBike
If you're looking for the best cheap electric bike for younger kids, this 6V toy motorcycle is an excellent pick. It has a maximum speed of just 2mph and also has training wheels fitted, so it's a great pick for toddlers and younger children.
They will love the realistic look of this bike, with the engine, exhaust and off-road tires. There are built-in headlights and the bike also plays music, so kids will feel so cool riding it around the neighborhood! The maximum weight capacity is 44 pounds, and there are three colors to choose from – green, red or orange.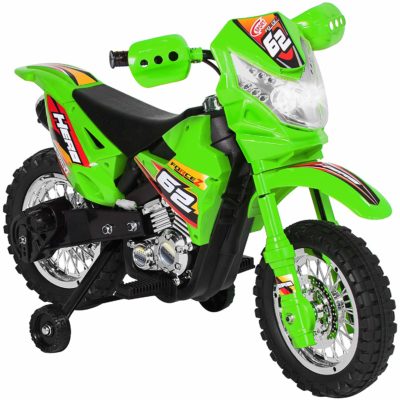 10. Qaba Electric Motorbike
This cool looking motorcycle is an awesome electric bike for kids aged 3 years and above. It's super simple to ride, with a button on the handlebars to make it move forwards, and it will stop when the button is released. There are training wheels on either side, so it's ideal for kids who haven't yet learned to balance on a bicycle. The top speed is just 1.5mph, so it's excellent for those who have never ridden before.
The bike is powered by a 6V motor which gives good power on hard surfaces (it's not recommended for off-road riding). The battery should be charged for up to 10 hours before the first use, and afterwards charging will take around 6 hours. This will give 45 minutes of run time. Kids will love the real working headlight and the fun sounds and music the bike plays – it gives them a realistic and fun riding experience!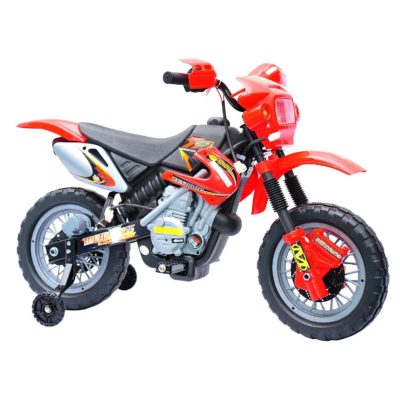 11. Razor Pocket Rocket
Don't be fooled by the tiny size of this bike – the clue is in the name! This bike offers maximum speeds of up to 15 mph, and has a variable speed chain driven motor to power it. It looks just like a real street bike, so it's perfect for kids who can't wait to own a real one when they get older! It's excellent for road surfaces, and the 10 inch tires are perfect for this.
You can ride the bike for around 45 minutes before it needs recharged, and charging will take between 4-6 hours. The bike is also available in a lovely bright red, which will really make your child stand out from the crowd! The maximum weight capacity is around 150 pounds, and the bike itself weighs 42 pounds, so it's not too difficult for kids to handle.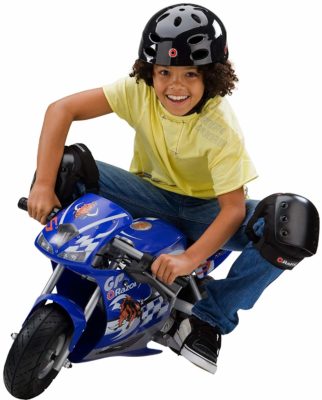 12. Hover Heart Electric Motorcycle
Kids will be delighted with this super cool motorcycle – just look at the LED wheels! It is ideal for kids over the age of 3 years old, and not yet big enough for a real dirt bike. It can hold up to 70 pounds, so they're sure to get many years of use from it before getting too big. To make the bike go, kids can use either the foot pedal or the grips, depending on which they find easier.
There are little training wheels to help your kid keep their balance when riding their new bike. There are two speed settings, allowing for a maximum of either 1.8mph or 3.2mph, with the lower level being ideal for very young children. You can choose between a blue bike or a red one, and they run for around 40 minutes before needing recharged.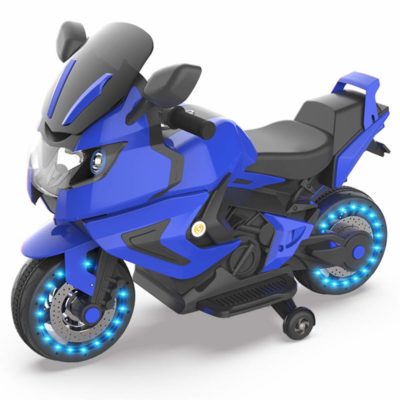 13. Kid Motorz Lil Patrol
This cute bike is perfect for little girls! The pink and purple police design is sure to appeal to them and they will be so excited to ride it. The storage box on the back is ideal for taking small toys along for the ride. Preschoolers and toddlers will love the bike's headlights and siren! The three-wheel design is ideal for beginners as it helps with balance and stability. There are other color schemes available to choose from, so you're sure to find something your kid will love to ride.
Kids as young as 18 months can enjoy a ride on this trike, and it has a very safe maximum speed of just over 1mph. The maximum user weight should not exceed 33 pounds. You can expect the battery to last a reasonable time of around an hour. The trike can also travel in reverse once your tot has mastered going forwards!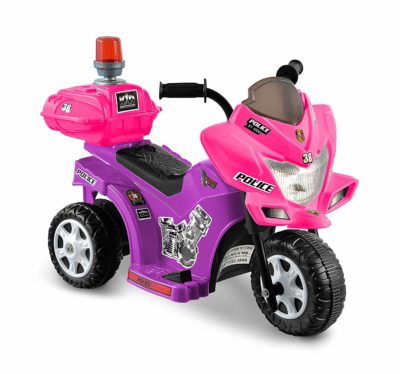 14. Lil' Rider 3-Wheel Chopper
This awesome chopper is probably the coolest toddler electric motorcycle out there! It has three wheels for maximum stability when riding, and it can be ridden both indoors and outdoors. It's suitable for little bikers as young as 18 months old, and up to 4 years old, with a maximum user weight limit of 50 pounds. The 6V battery gives this bike a max speed of a cool 3mph, perfect for younger riders.
The headlights really work, and the bike can reverse as well as traveling forwards. It plays realistic sound effects sure to delight your child. There is a choice of a red bike or a black one, so there's something to appeal to everyone. The motorcycle is operated using a foot pedal, which is easy to reach even for little kids.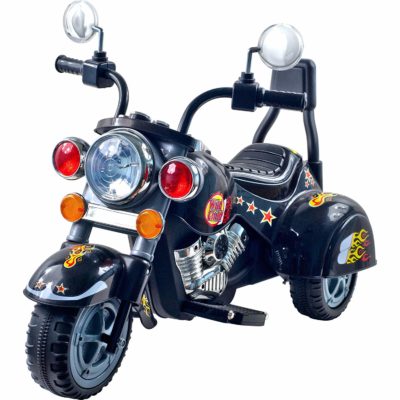 15. Razor MX400
Our final pick is this Razor dirt bike for 12 year olds. It has a powerful motor which enables it to reach a cool speed of 14 miles per hour, whilst carrying kids of up to 140 pounds. The riser handlebars are adjustable to ensure a comfortable ride every time, even as your kid grows. There's a twist grip throttle to operate the bike, as well as a hand-operated brake.
The single speed motor is powerful yet low-noise, and the tires handle a variety of terrains with ease. The bike will run for around an hour on a full charge, and can be used by kids from the age of around 7 or 8 and above.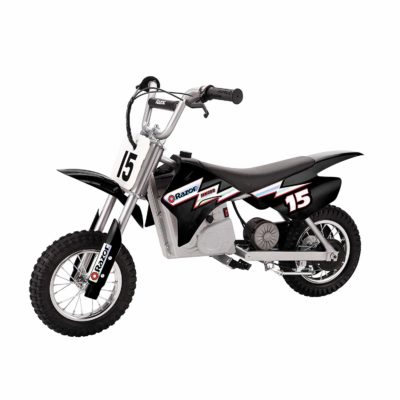 Best Buy Overall
The best electric bike on this list is hard to choose, because they are all excellent! The one which stands out more from the others has to be the MX650 from Razor. It has a great top speed and a higher upper weight limit than some of the other picks on our list, so it can be used for longer as your child grows.
Kids will love how it looks and feels just like a real dirt bike with the excellent suspension and large pneumatic tires. The 10 mile range is fairly typical of a bike like this. Parents will love being able to take a turn riding it too!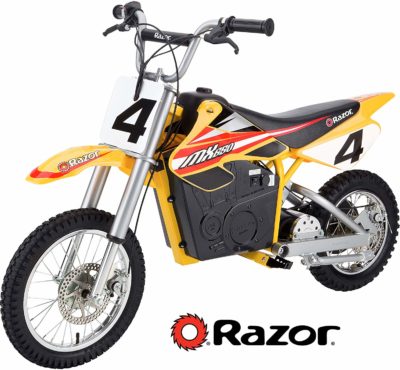 Best Budget Pick
If you are on a budget and don't want to spend too much, we have another great pick for you. The Best Choice Products motorcycle offers excellent value for money. The lower speed limit is excellent for new riders, as are the training wheels. The music and lights are sure to thrill your kid – they will love the realistic motorcycling experience! The bike is easy to operate for toddlers, so they can start riding straight away.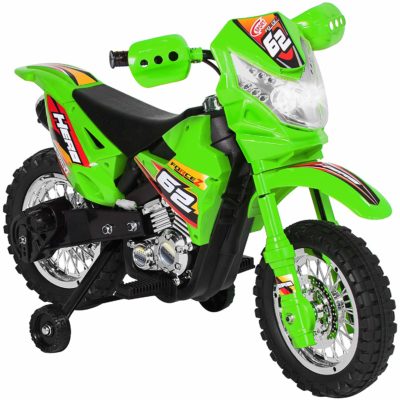 What is the Fastest Electric Bike for Kids?
Of our reviews above, the fastest bike is certainly the Tao Tao DB14, at #6 on our list. It boasts a very impressive top speed of 40mph on certain terrains, although this is likely to be a little less in most situations. The average of the other dirt bikes is around the 15-20mph range, with the smaller 6V kids bikes offering lower speeds of just 2mph for safety.
How Long Will These Bikes Run on a Single Charge?
Each bike has a different run time, and this varies between different manufacturers. The average time seems to be around one hour, with some only offering 30-45 minutes. Be sure to charge the battery fully before the first use, and to keep it charged regularly to ensure it remains in top condition.
Take a look at these vehicles for kids also:
More Motor Vehicles and Dirt Bike Related Articles: