Are you looking for $10 gifts for little girls that are still fun? Perhaps you have a limited budget and so are looking for gifts under $10 for a girl. Well, you've come to the right place as here we have picked 10 of the best low-cost gifts for girls of all ages, so you can give them something special without breaking the bank.
These gifts are perfect for treating her on a special occasion, or if you've already got her main gift and are looking for some smaller stocking stuffers. Let's first look at some ways to choose which gift is best for your girl.
Note: Some prices of these products do vary!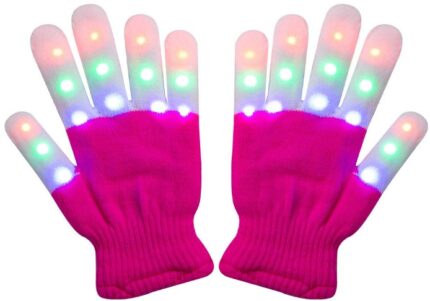 Considerations When Buying Inexpensive Gifts for Kids
When buying cheap stuff for kids, there are a few things which must be considered to ensure you pick something they will love. First, think about what they already have, and also what they would like.
If you don't know what the girl already has, try asking mom or dad to find out what she's into and to avoid buying duplicate items. When it comes to small gifts ideas for kids, you probably don't have to pay too much attention to budget, with all of these gifts costing under $10.
10 Top Picks Under $10
We've looked at some ways to pick the best gifts for kids, so now it's time to move on to review some of the cool options out there. With 10 great ideas to choose from, you are going to be spoiled for choice!
1. Melissa & Doug Friendship Bracelets Kit
First on our list of gifts for kids under $10 is this fun crafting activity from Melissa & Doug. It contains everything a girl needs to make over 10 friendship bracelets to wear and share with her friends. It has easy to follow instructions which tell kids exactly how to make the bracelets.
Some of the materials included are colorful and metallic strings, charms, beads and a mini loom to make the bracelets on. This is a great set for traveling with, as it is a nice compact size, and everything can be stored in the included pack.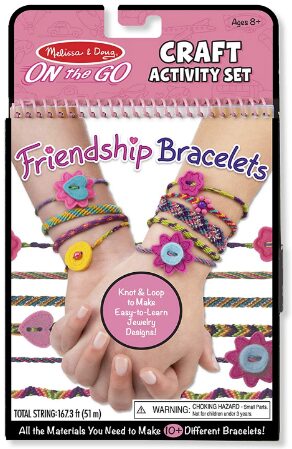 2. Frozen Digital Watch
If you're looking for gifts for little girls other than toys, how about this cool Frozen kids watch? It's a practical and fun gift which they are sure to have years of use from. The watch has a digital display so it's easy for kids to read the time from. The buckle strap is easily adjustable to fit most girls' wrist sizes.
It's a little tricky to set the time on the watch, but there are instructions included on how to do it. This actually comes in handy, as it means kids won't accidentally change the time!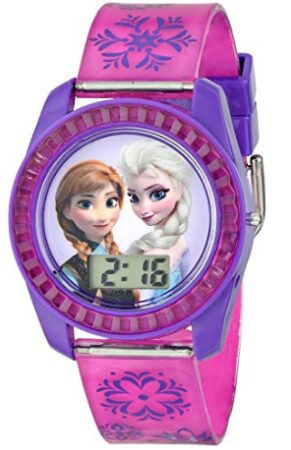 3. Ballerina Barbie Doll under $10
You might not expect to find Barbie on our list of best gifts under 10 dollars, as they usually cost a bit more than this. However, here we have the Fairytale Ballerina doll which comes in at a very reasonable price.
Girls will love her costume and the tutu is removable so she can be changed. She also has a matching tiara to complete her look. This Barbie can be posed into a variety of ballet poses, so girls will have hours of fun making her perform new routines!
Dollhouses and Barbie Houses also a great combination with anything Barbie!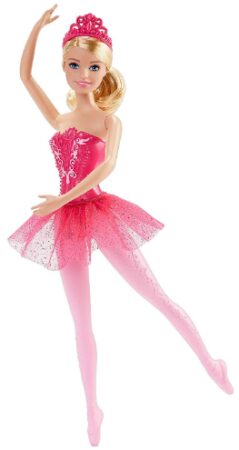 4. LED Lighting Gloves
One of the best 10 dollar gifts, and the most fun, are these LED flashing gloves! They come in a choice of seven different colors and there are loads of different lighting modes. There are green, red and blue lights on the gloves, and they can flash or morph, or choose just one color for a strobe effect.
The gloves are made from comfortable cotton material so they will keep your girl's hands warm, as well as looking awesome when out in the dark! There's no need to worry about the gloves running out of battery when they're being used, as batteries are already included, as well as a replacement set of batteries too.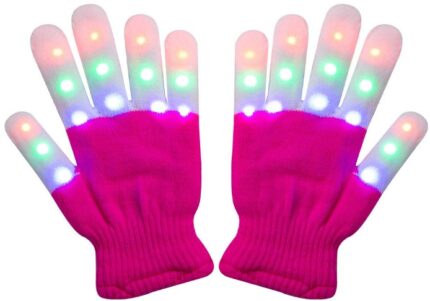 5. Light-up Spinning Wand
The next of our $10 gift ideas is this LED spinning wand, which is great for using in the dark! It comes with batteries already installed, so kids can use it straight away. The wand is 7″ long, and has a simple button to press to make the LEDs spin and light up in different colors.
It's great for using at parties or simply to light up their bedroom at night, and it's so easy to use that it's perfect for kids as young as 3 years old. This is a great gift if you don't know what the girl is interested in, as it will appeal to more or less everyone!

6. 100 Glow Sticks
Here we have one of the best unisex gift ideas under 10 dollars, and it's perfect for if you're having a party with both boys and girls attending. The pack of 100, 8″ long glow sticks is sure to make your party even more fun – kids of all ages love them!
The set also comes with different connector pieces so they can be used to make different shapes such as bracelets and necklaces, glasses and more – the possibilities are endless! Once activated, the glow sticks will remain illuminated for up to 14 hours, so they can be enjoyed long after the party is over.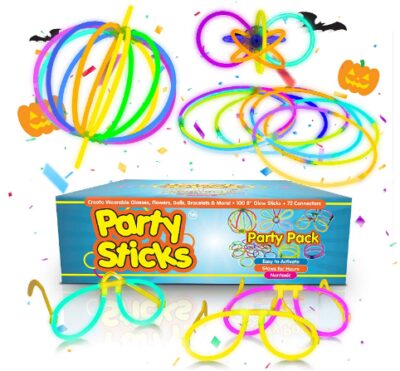 7. Dress Up Rings
Jewelry is one of the cheap nice gifts for girls, and this pack of 24 beautiful rings is sure to delight them. Some of the cute designs include flowers, bows and butterflies, and they are all different colors. The rings come in a handy box with slots to store each of them, so it makes a lovely gift, and you can be sure none will get lost. The sizes are adjustable so they can easily be worn on any finger with a comfortable and proper fit.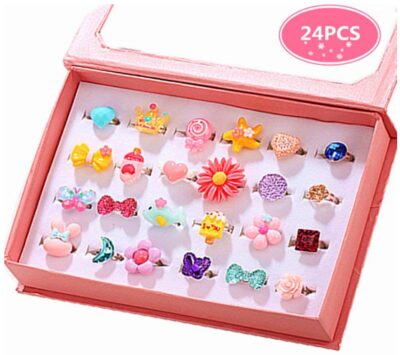 8. Try Not to Laugh Book
Joke books make fun gift ideas for kids under 10 dollars, and this one is excellent for girls as young as 5 or as old as 12 years old. The book is interactive and is designed to be played with a friend or family member, as each player has to read a joke, challenging the other not to laugh. If the listener laughs, or even smiles, the joke teller wins a point!
The challenge is repeated back and forth until one person has won five points. Girls will love these jokes and sharing them with friends and family, and it's a great way to brighten up your festive season! These gifts for girls age 10 under $10 are a great pick!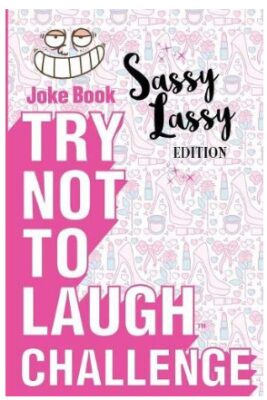 9. Melissa & Doug Minnie Mouse Dress-Up
Melissa and Doug have some premium toys, but they also offer plenty of cheap gifts under $10 for girls. This Minnie Mouse toy dressing up doll comes with over 35 pieces which can be mixed and matched to make different outfit combinations.
The set also comes with a stand to hold Minnie as she's getting dressed into the different outfits. The storage tray has different compartments and is ideal for keeping the pieces neatly stored when not in use.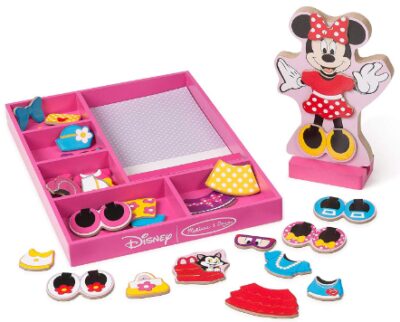 10. Unicorn Jewelry Set under $10
Our final kid gift under $10 is the adorable five-piece unicorn toy jewelry set. It contains a bracelet, necklace, earrings and a storage bag for the pieces. The bag comes in different colors and designs, so you can choose the one your girl would like best.
The necklace is adjustable in size so it can be as long or short as your child prefers. This is a great gift for girls who love unicorns, and makes an excellent birthday party gift if you're looking for something cute yet inexpensive.

Best Buy Overall
Now we've looked at a full list of gift ideas under $10, it's time to choose which is the best overall. The top spot goes to the LED gloves, which will fit most sizes and give hours of fun!
They're perfect for wearing outdoors in the winter when it's dark, or for at a disco party where your kid is sure to steal the spotlight on the dance floor! The choice of colors means these gloves will appeal to just about everyone, and we love how spare batteries are included.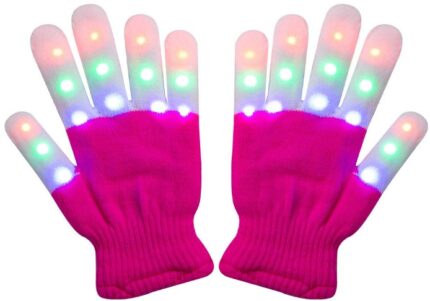 Cheap $10 Gifts for Girls who Love Makeup?
On a list of $10 gifts, you might not expect to find something for girls who enjoy wearing makeup, with many sets costing more than this. However, you can find some nice brushes at very reasonable prices, or perhaps a bag to keep all her products together.
You can also find organizers for her desk which can be used to keep all her beauty products and brushes neat and ready for use, and these don't cost too much either.
Where to Buy Cheap Birthday Gifts for girls?
Now you've seen loads of great gifts under $10, you might be wondering where you can go out and buy them. Luckily, all of our picks are available to buy on Amazon for convenience, so you don't even have to leave the house!
Inexpensive gifts can also be found in the dollar store, and many toy stores have a budget shelf with smaller stocking stuffer-type gift items. You might also want to consider personalized gifts for kids that are cheap? If so, check out these personalized gifts.
Other Gift Sections & Related Gift Articles: