Kids love playing with Lego and robots are particularly appealing to them, so what better toy to give them than a Lego robotics kit that allows them to build and explore. Along with occupying kids for long periods of time, these LEGO kits are great educational toys that not only encourage problem solving and role play but also introduce mechanics and coding to keep kids ahead with their learning.
Lego have produced an exciting range of robotics toys with some featuring popular characters from movies, so any young fans will enjoy building their favorite robots and seeing them come to life. If your kid loves Star Wars  sets or Batman then there are a great choice of Lego toys for them to choose from.
If your kids already have a range of Lego toys then you may be wondering what Lego kits are used for robotics? These clever robotics kits use Lego that is compatible with other Lego kits, so kids can mix and match kits to make the ultimate build. There are no boundaries when it comes to design ideas.
There is a range of advice of where to buy Lego robotics kits including; toy stores and online internet sites. Amazon are a popular online site that have a great range of Lego kits, so it is easy to compare different toy kits so that you can pick the best one for your child. They also have a wide range of kits on offer, so if you are looking for a particular toy it is easier to locate, whereas a toy store may have a limited range in stock.
These robotics kits have been designed for a range of ages, which are often stated on the box. This enables you to buy a toy that is appropriate for the age of your kid. This will ensure that the level of each toy is appropriate for them so that they can build the toy and navigate any coding programs. Some of the kits for younger kids make great starter kits for the beginner builder, while kits for older kids provide a greater challenge.
As there is a wide range of Lego robotics toys available, deciding on the right toy can be a difficult decision. This review will take you through the best of the robotics kits and help you choose the ideal toy for your kids.
Top LEGO Robotics Kits for Kids
1 . MINDSTORMS EV3
A great educational STEM toy for kids, this Lego Mindstorms EV3 Robot Kit will also provide a great amount of fun and excitement. Suitable for kids over the age of 10, this great Lego kit enables kids to build 5 different robot kits, from Track3R the all terrain robot,  to the muscle robot, Gripper, that can lift objects. The main robot, Ev3Storm, is a great size for kids to play with at 16 inches tall and has great features that kids will love. Once built the robot can be programmed using the Robot Commander App or advanced programming on your computer, which will enable the robot to come to life. This is the best of the Lego Mindstorms Robotics Kits that comes with 3 Servo motors, Infrared sensors and Infrared remote and for additional use the kit is compatible with other Lego construction kits, so the ultimate robot can be built. This 601 piece set will provide hours of entertainment and kids will love building these fantastic working robots over and over again.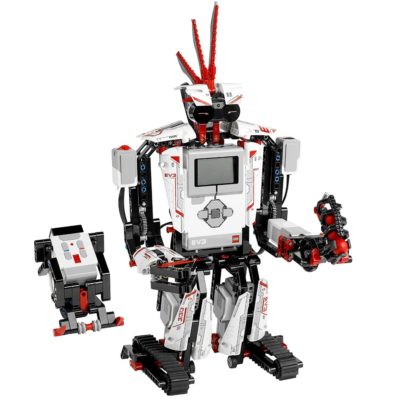 2.
 Robo Explorer 
This Lego Creator Robo Explorer kit is a fantastic 3 in 1 robot set that kids will love. Suitable for younger kids between 7 to 12 years old this kit would make a brilliant first robotics set. This great 200 piece Lego set enables kids to build 3 different robots, each with exciting features. The Robo Explorer stands at 4 inches tall with appealing bright green eyes, posable arms and a working claw. Its body and head also rotates for an additional effect. Your kids will also love the Robot Bird that is 3 inches tall and has exciting light up eyes. Additionally, kids can also build the 2 inch tall Robot Dog that comes with an exciting light up jet pack. These Robotics Kits Amazon sells make amazing LEGO gifts for boys and girls that will provide hours of entertainment.

3.  Creative Toolbox
If you are looking for the best robotics kits for beginners then this Lego Boost Creative Toolbox Kit is perfect choice. It is suitable for kids aged between 7 and 12 years old and features an exciting robotics set that they can build and code for hours of fun and learning. This kit requires the use of a tablet where through the free app kids can learn to use simple coding blocks to make their robots move. This is an exciting set with plenty of options to try as there are 5 different robots to build all made out of Lego. Your kids will love Vernie with its cool dance moves and they will enjoy playing with Frankie the cat. There is also the option to build a guitar, multi tooled rover and a fantastic auto builder, which is an automated production line that builds its own mini Lego models. This 847 piece Lego set can be combined with other Lego construction sets so the options for creating new models are endless.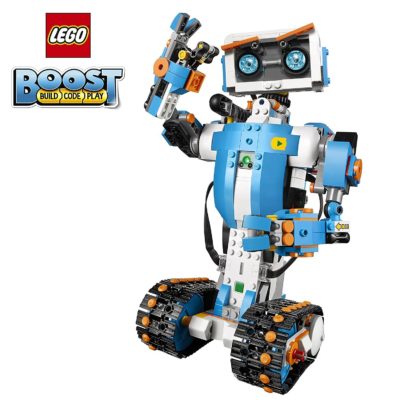 4. WeDo 2.0 Core Set
This WeDo 2.0 Core Set is the best of the Lego robotics educational kits that is perfect for use in schools or at home to encourage learning and exploring through play. This fantastic Lego set comes with a desk tray with compartments for sorting Lego pieces, which makes the set perfect for sharing with friends. The set includes a variety of different robots for kids to build, so there is plenty of fun to be had using this kit. With exciting helicopters, animals and vehicles to build kids will be occupied for hours. This kit also includes the WeDo 2.0 Curriculum Pack that provides e-learning that helps to teach kids to program and solve problems. This is the ideal robotics set for encouraging kids to develop their critical thinking skills while also introducing them to computer software that enables programming. Kids will love playing with this kit as they explore each the exciting robots that they build.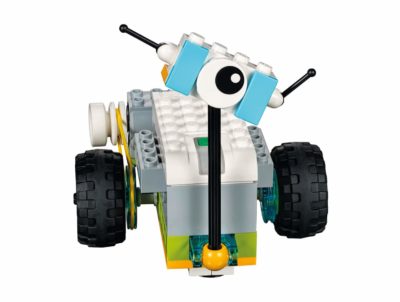 5.
Mindstorms NXT
The latest of the robotic Lego kits is this Lego Mindstorms NXT kit that perfect for older kids that enjoy building and programming robots. This would make a great follow on kit from some the simpler kits, as the robots can offer more interaction than most other kit designs. If you are looking to build a robot that can walk, talk and respond to its environment then this is the only set for you. With 5 different groups of robots to build this kit will never get old and will continue to provide your kid with hours of entertainment and learning. This kit uses the latest LEGO technology with a 32 bit command center and redesigned touch and light sensors, so your kid will love that this kit is top of the range. Everyone will love the cool designs of the Roverbot, Scorpio, Humanoid, Robotic Arm and all of the gadgets that can be produced. This 557 piece set will encourage learning through the great programming software and ensure that kids are introduced to a fun but challenging robotics kit.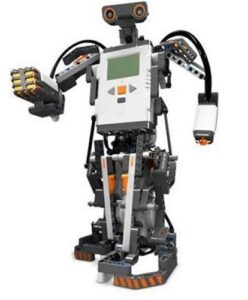 6. Exo Suit
Another great robot set by Lego, this Lego Exo Suit Kit will ensure that all fans of both robotics and Lego will enjoy building it. This is a set that will be enjoyed by older kids, as it is suitable for kids that are 12 years and above and they will love that the Exo Suit Kit has an exciting space theme. The kit even comes with 2 astronaut characters; Pete and Yves and their robot turtle. A great toy for encouraging problem solving and imaginative play, so that you can be sure that kids are having fun while learning. This 321 piece Lego kit stands at a maximum of 8 inches tall so is a great size for role play, once the robot has been built. The Exo Suit also has posable limbs and claws that grab for added excitement and the cockpit opens for more realistic play. There are step by step instructions included in the kit along with an exciting story to set the scene for your kids exciting adventures.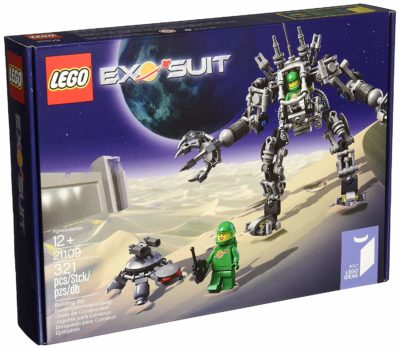 7. 
Fire Mech
Build Fire Mech, one of the exciting characters from the Lego Ninjago Movie. All young fans of Lego will love this adventurous Lego set that is fun to build. Once built, Fire Mech has a cockpit that opens and is the perfect size for mini figures so they can get involved on the adventure. The posable arms and legs of the robot mean that Fire Mech can alter its pose during your kids exciting battle games. For additional excitement there are 2 non-shooting fire blasters and 2 shoulder discs. This 944 piece set is a great Lego set that will be enjoyed by all kids between 9 to 14 years old so it will provide hours of entertainment. Along with Fire Mech, kids will also love the 6 mini figures that are included in the set, so Kai and Zane can enjoy going on many new adventures with their other mini figure friends. A great beginning Lego set that is simple and easy to build, making it a great robotics Christmas gift for kids.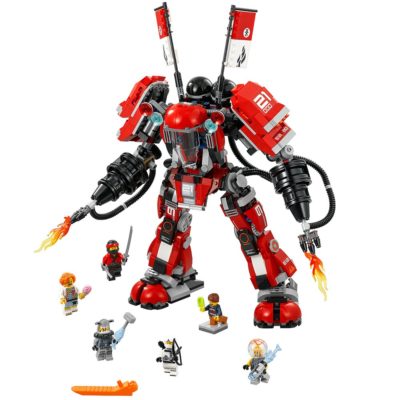 8.
Star Wars BB-8
The perfect Lego set for every Star Wars fan is this Lego Star Wars BB-8 Building Kit. Everyone that has seen Star Wars episode VIII The Last Jedi will love the great detail that this model of a BB-8 Droid shows once built. Kids and adults alike will enjoy this Lego robot that is 9 inches tall once built, so is a great size for role play and re-creating scenes from the movie. There is a handy display stand provided so you can proudly show off this great model with a decorative fact plaque for a extra special touch. This model of a BB-8 Droid cannot be rolled around but there are rotating wheels to turn the head and to open the access hatch, which will reveal the welding torch. This Star Ward Lego set would make a special gift for anyone that enjoyed the movie and loves building Lego kits.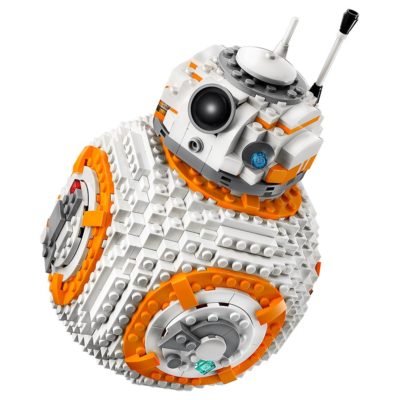 9. Disney Pixar Wall-E
A special Lego kit for every kid is this Disney Pixar Wall-E Lego Kit. All kids will love building Wall-E, who is everyones favorite robot and this realistic kit is a great representation of the well loved robot. Once built kids will enjoy playing with this Lego model and will have hours of fun with this friendly robot. This kit is suitable for kids over the age of 12 years old, with both boys and girls appreciating this fantastic Lego kit. There are 676 pieces, which give this Wall-E set many appealing features for kids to play with, as Wall-E has rolling tracks, so can be moved around and a trunk that opens and closes. The head, neck and arms are adjustable and the hands will grip, so for added excitement Wall-E can hold different poses. A top of the range Lego kit that allows kids to build this popular robot so they can go on many new and exciting adventures.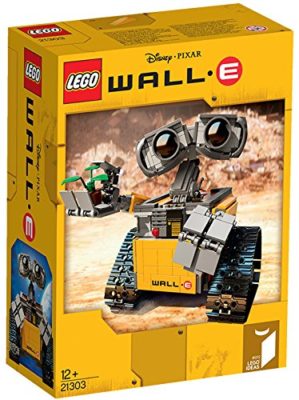 10.
Power Mech
This Lego Creator Power Mech Kit the ultimate Lego kit for kids that like creating and inventing games. There is plenty for kids to play with as this fantastic 3 in 1 set features 3 great robots that are ready to be built. Once one creation has been made it is quick and simple for kids to transform it into another, leading to endless fun. Kids will love the green armored Power Mech that has articulated arms and legs so can be posed to create battle like stances. There are also hand grabbers, antennae and leg-mounted boosters for extra great fun. At over 6 inches tall this Power Mech is the perfect size for role play battles. Once kids have finished playing with this great toy they can build an exciting helicopter with a rotating blade or an adventurous pick-up truck with a folding tail-gate and large off-road tyres. With a great variety of models to build this Lego kit is perfect for all kids aged 7 to 12 years old and is the perfect toy to teach kids how to build different Lego creations.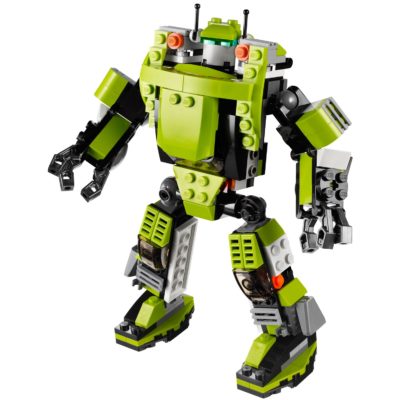 11. The Scuttler from
Batman 
If you are looking for one of the top of the range Lego league robotics kits then this Lego kit that features The Scuttler from Batman is a great choice. The kit is perfect for older kids aged between 9 and 14 years old and they will love building this great robotic model of this bat vehicle that features in the popular Batman Movie. Once built, The Scuttler stands at 8 inches tall and over 14 inches long, with arms extended, so is the ideal size for either playing with or displaying as a model. Batman fans will enjoy the launching net shooter, hidden jet pack and cockpit that opens, which is the perfect size for a Lego mini figure. The model also features 6 stud shooters and extendable arms for additional fun. The set is great for role play and recreating Batman Movie scenes, as there are 6 mini figures and the vine monster also included with this set.  A wonderful Lego set that is a top choice for any kid that enjoys Batman.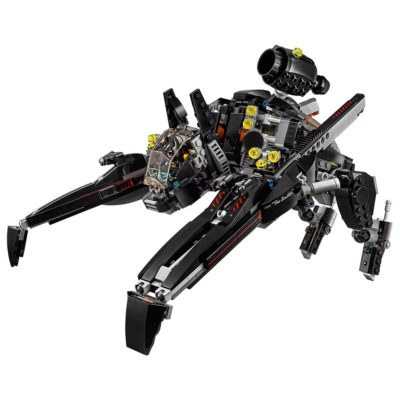 12. Star Wars
Droid Commander
The perfect gift for every young Star Wars fan is this Lego Star Wars Droid Commander Kit that allows kids to build 3 fabulous Star Wars models and bring each one to life. In this kit kids can build the popular R2-D2, a Gonk Droid and a Mouse Droid, with each model ranging from 5 to 7 inches tall, which are each a great size for playing with. For full effect you will need a smart device and batteries, as these are not included in the kit. The kit uses the Boost drag and drop coding app to allow each model to come to life and with an interchangeable move hub, interactive motor and color and distance sensor, there is endless excitement to be had with this kit. Suitable for kids that are 8 years old and above, these models are great for imaginative play. These toys make ideal Lego robotics kits for education as they will allow kids to learn about building and coding in a fun and exciting way.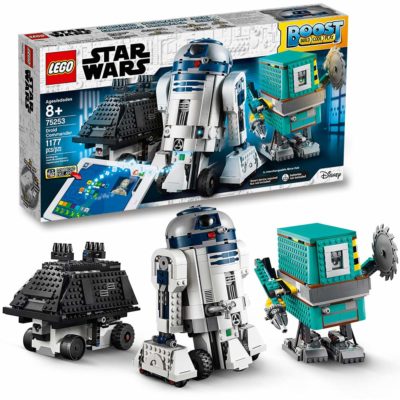 13.  Rescue Robot
This Rescue Robot Lego Creator Set is ideal as a kits first robot building kit. There are 3 different models to build and it is quick and easy to change between each design. The exciting Rescue Robot stands at approximately 5 inches tall and has antennae and articulated arms and legs, so is great for creating different battle poses. The robot is appealing to all kids with its armored chrome head protection and rocket blasters. Once finished with, kids can build the exciting laserbot and robocat for plenty of variety. The Rescue Robot is perfect for kids aged between 7 and 12 years old and the set has plenty of robots so encourages imaginative role play scenarios. As with all Lego Creator sets, the pieces are compatible with other Lego sets, allowing endless building options for additional fun. For added effect there is a cool light brick included and with the batteries provided this set contains everything needed to start playing straight away. This is another great Creator set that both boys and girls will enjoy these LEGO options.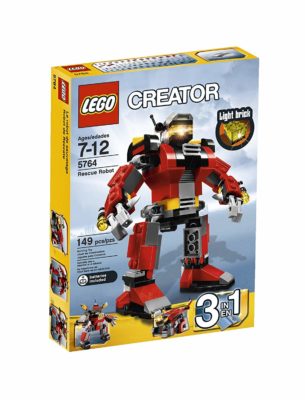 14. Quake Mech
Another great Lego build from the Lego Ninjago Movie, this Lego Quake Mech Toy is an exciting robot that will provide plenty of entertainment to keep kids occupied for hours. This uni-wheel model stands at over 12 inches tall so is the perfect size for all kids games and with plenty of attractive features this will quickly become a favorite toy. The Mech toy has posabe arms that give the option of posing in many different stances, the big wheel has a stabilizer and the cockpit opens to allow mini figures to enter. For additional excitement the hands grip and there are fold up shoulder loudspeakers with 8 hidden missiles. This is the perfect toy for battle games and is great for encouraging role play games. A great 1202 piece Lego toy that also comes with 5 mini figures from the Ninjago movie, enabling kids to recreate their favorite movie scenes.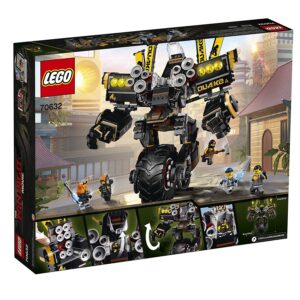 15.
Voltron
There are a great number of different robotics kits Lego have designed but this Lego Voltron building kit has to be a top pick for providing variety and building options. This exciting toy is based on the popular 1980 Japanese anime Voltron TV series and DreamWorks Voltron Legendary Defender Series, which enables kids to recreate the Voltron model with this great Lego build. This unique 2321 piece kit enables kids to build 5 Voltron lions, with each one being posable and great for battle games. The Voltron lions can then be combined to build the ultimate Voltron robot for great role play options. The Voltron robot stands at over 15 inches tall so is a magnificent size for play that kids will love. This fantastic Lego set is perfect for older kids as it is recommended for kids 16 years and older, so it makes the ideal follow on robotics kit for more experienced builders.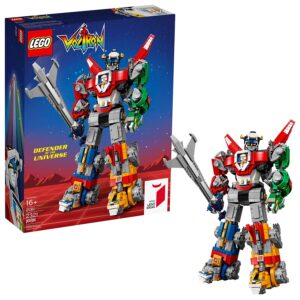 Best Overall Pick
Our best overall pick is the great Lego Boost Creative Toolbox Set, which has a large variety of models for kids to build, so they will use this set over and over again. It is recommended for kids between 7 to 12 years old, though older kids will enjoy getting involved when younger siblings play with this set. Each model can be brought to life with the simple coding games included, though you will need to provide the smart device to load the app. Each of the 5 great models have their own characteristics for kids to code, providing excellent educational learning, making this set one of the best Lego robotics kits for schools to use.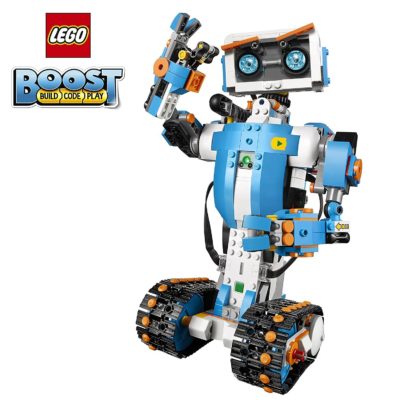 Best Budget Buy
The Disney Pixar Wall-E Kit is our best budget buy as this popular character from the Disney Pixar Movie will be appealing to all kids who will love to build this friendly robot. The rolling tracks and the posable head, neck and arms give this robot plenty of character and provide kids with the perfect excuse for creating role play scenarios. Wall-E even has hands that grip and a trunk that opens for added excitement. Once built Wall-E makes the perfect kids toy or even looks good displayed, ready to be shown off to visitors.