Are you wondering where to buy Pokemon toys? There are countless pokemon figures and cards to choose from, which makes it great for kids and more difficult for parents. With the wide variety of Pokemon for kids available, it can be difficult to know which toy set would be best for your child.
This review guide looks at the best Pokemon available and helps you decide on the ideal gift idea.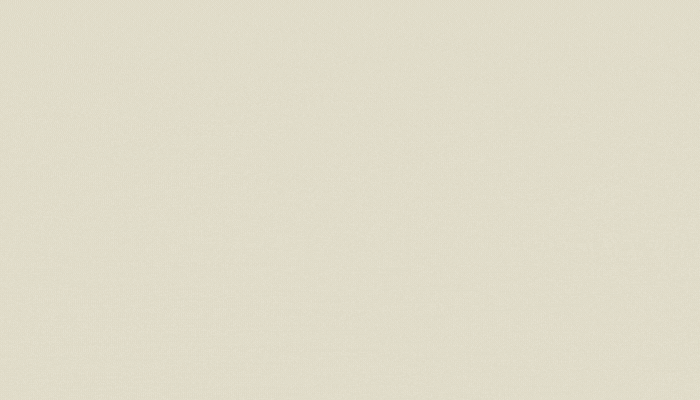 Considerations when choosing Kids Pokemon
When looking for the ideal Pokemon children toy then you should check the minimum age that each toy is suitable for, to ensure that the product is safe for your child and that they are old enough to understand how to play with the toy. Most toy sets are suitable for a wide age range so your child will get years of enjoyment from them.
All of the Pokemon range of toys are suitable for both boys and girls to play with, so are ideal toys to be shared with all friends and family. To pick the ideal gift you may need to know what your child's favorite character is so they can add their favorite Pokemon to their collection.
Top Picks for Kids
1. Gyarados Pokemon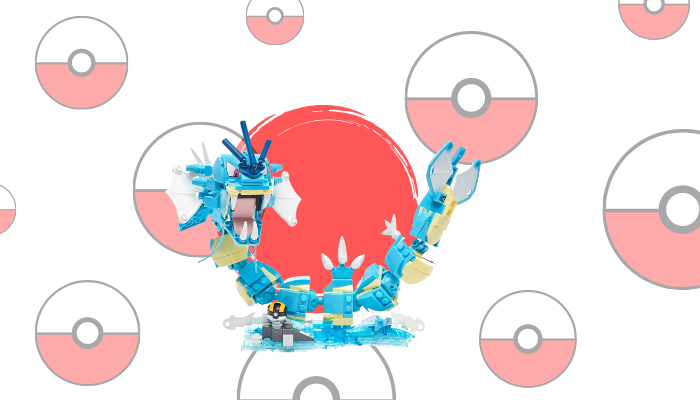 This Mega Pokemon Gyarados toy is an exciting figure set that all Pokemon fans will enjoy building. At 9 inches long this toy is the perfect size for children older than 8 years old to play with. Have fun building this popular Pokemon figure from this exciting 352 piece set and your resulting Gyarados Pokemon will be able to move, so can be posed in a number of battle-ready stances.
This exciting Pokemon figure also has fins, fangs and spikes, providing exciting detail. Gyarados can be displayed in your favorite pose using the water environment stand that is included in the set. This Pokemon set can be combined with other mega Pokemon toys allowing your child to build a unique collection that will occupy them for many hours.
2. Pokemon Battle Figure Set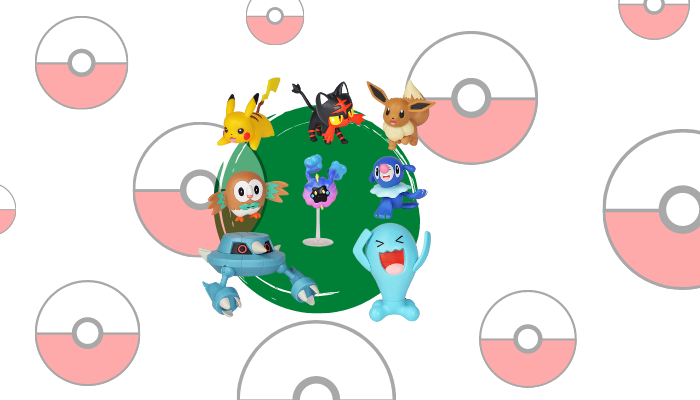 A popular Pokemon that your young child will enjoy playing with, this Pokemon Action Figure Mega Battle pack will provide hours of entertainment. There are 7 of the best-loved Pokemon characters included in the set, so your child's favorite is sure to be included. With a mix of 5 toys that are 2 inches tall and 2 toys that are 3 inches tall these toys for kids are perfect to share with family and friends.
The 3-inch toys both have exciting movable arms for added personality and your child will love the resemblance each toy has to its Pokemon character. A lovely Pokemon set that will encourage every child to develop their imagination.
3. Pokemon Mega Construx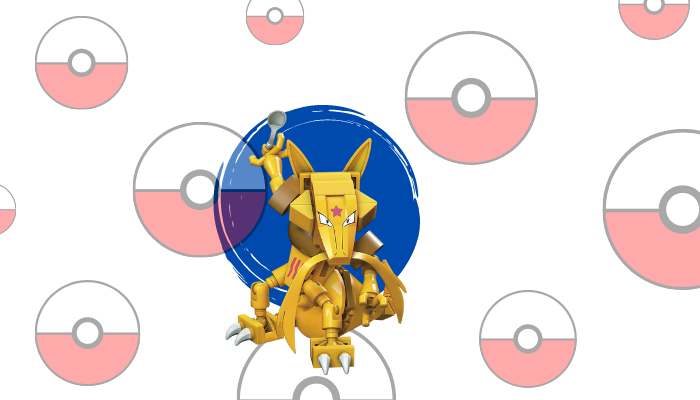 The Construx Pokemon Multipack is the ideal toy for every young Pokemon fan. This toy set includes 5 popular Pokemon characters including a special Pikachu, which is every child's favorite Pokemon. Each individual character needs to be built, providing the perfect opportunity for quality family time together and the set can also be combined with other Construx sets to build a unique collection of Pokemon.
Every character also comes with a Poke Ball that can beused to display each Pokemon. A toy that is suitable for children over the age of 6 years old. This Pokemon set would make a lovely childrens gift idea.
4. Plush Charizard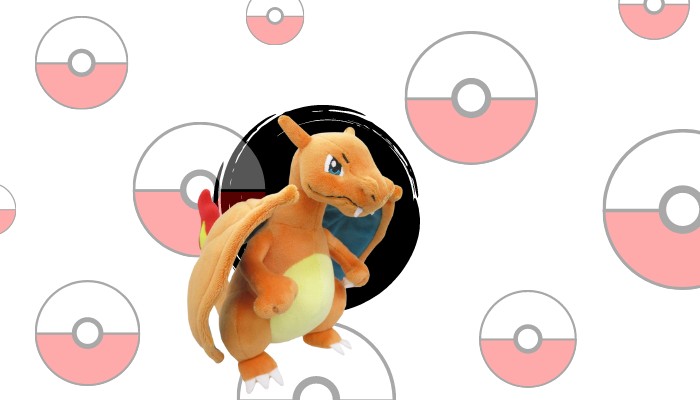 This Pokemon Charizard Plush Stuffed Animal Toy is a cuddly toy that all young children will enjoy. At 12 inches it is the perfect size toy for your child to take out and about and play with for hours, while also having an impressive level of detail.
These official Pokemon plush toys are suitable for children over the age of 2 years old making it ideal for most young children so it would be a lovely Pokemon cuddly toy gift. Within the plush collection of Pokemon toys, Charizard is a popular character from the Nintendo video games and the Pokemon trading cards and with other soft toy characters to collect your child can build up their own collection. Every child that enjoys Pokemon will love this stuffed toy.
5. Pokemon Launching Battle Figures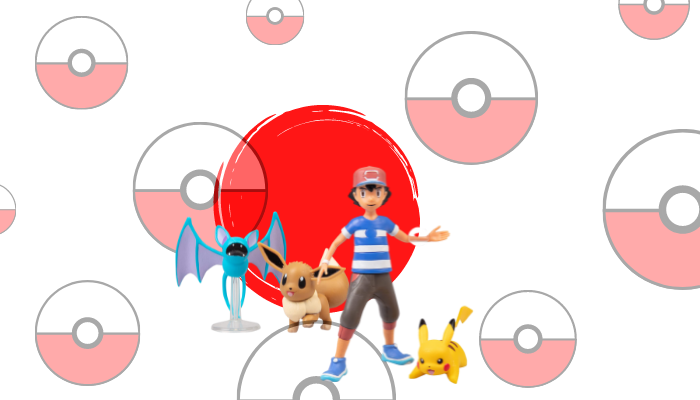 An exciting toy that is perfect for adventurous play, this Pokemon Battle Figure Multi-Pack Set is ideal for sharing with friends. A 6 piece set that comes with 5 popular generations 1 Pokemon character. Each character stands at 2 inches tall and is the perfect size for launching through the air. The set also comes with a 4 inch Ash figure that has the ability to launch each Pokemon, for exciting battle games.
The characters included in this set are based on the Nintendo video games and Pokemon anime trading cards so include all of your child's favorite Pokemon. The best of all toys this game is suitable for kids over the age of 4 years old and will be enjoyed by everyone that plays it.
6. Pokemon Bath Bomb Set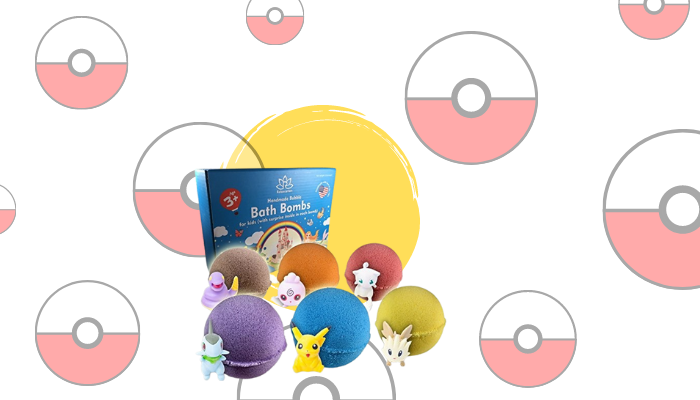 Make bath time exciting with these novel Pokemon Bath Bombs, with each one hiding an exciting Pokemon inside. The bath bombs are suitable for kids over the age of 3 years old, and they contain organic and natural ingredients including, essential oils and vitamins, perfect for kids delicate skin. Kids will love the fizzing of the bath bomb and will enjoy finding each toy, which is suitable for both boys and girls.
This set comes with 6 bath bombs and an additional yellow duck for your kid to play with. Each 5oz bath bomb has a scent that is appealing to all kids and includes everyone's favorite cotton candy and bubble gum flavors. A lovely kids gift idea with the added surprise of each little Pokemon that all kids will enjoy.
7. Throw 'N Pop Pokeball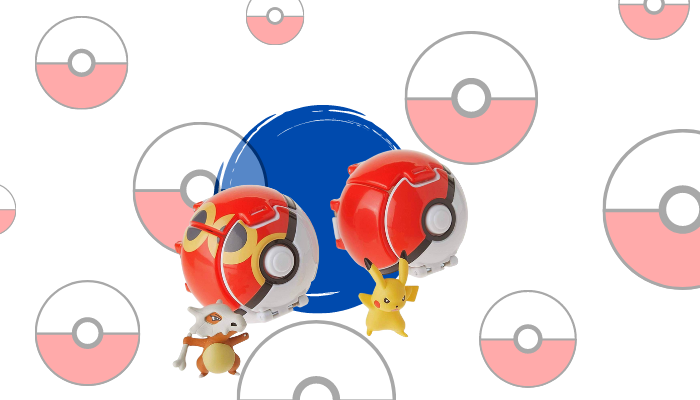 An exciting Throw 'N' Pop Poke Ball by the popular toy manufacturer Tomy. A cool Pokemon toy that is perfect to play with friends, as you battle to be the top trainer with the highest number of stars. Each set comes with the Pokemon figures, Pikachu and Cubone and they each have their own Poke ball. To play the game, put your figure inside the Poke ball and close it up.
When you are ready to start the game throw the ball onto a table where it will open on impact and reveal the number of stars that you have won during the battle. A game that will keep your kids entertained for hours.
8. Detective Pikachu Figures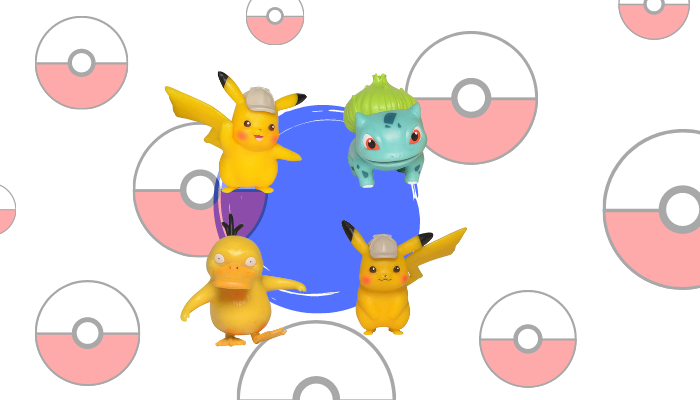 This Pikachu Battle Action Figure Set is a top of the range new Pokemon toy that will provide children with hours of entertainment. A comprehensive 6 piece set that is based on Pokemon characters from the Detective Pikachu movie. There is a mix of 2 inch and 3 inch figures in the set, with 2 Pikachus included along with other popular characters. Each figure has been produced to show an impressively high level of detail.
Mewtwo and Lidicolo are the 3 inch figures in the set that can move and be set into different poses for added excitement. This official toy will allow your child to enjoy imaginative play as they play along with their favorite characters.
9. 144 Piece Pokemon Figures Set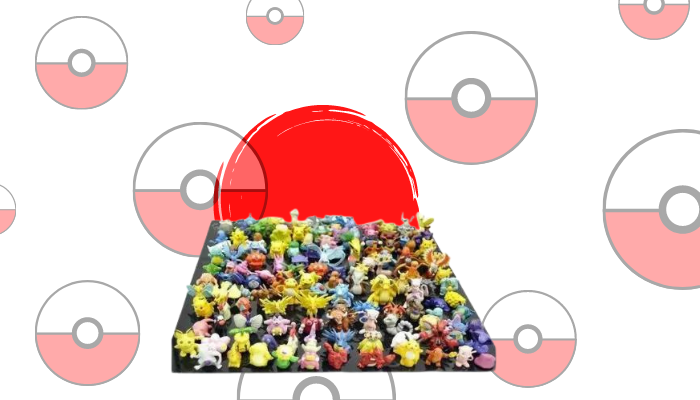 A comprehensive Pokemon Action Figure Toy Set that every Pokemon fan will enjoy playing with. This 144 piece set comes with many different Pokemon characters, so are ideal for sharing with family and friends and creating imaginative play.
Each figure is between 1.5 and 3.5cm tall so are a good size for your child to play with anywhere. Each set comes with a mix of popular Pokemon characters so you can be assured that your childs favorite Pokemons will be included. These are great cheap Pokemon suitable for any child that enjoys adventurous play and will provide hours of entertainment.
10. Pokemon Trading Cards Storage Case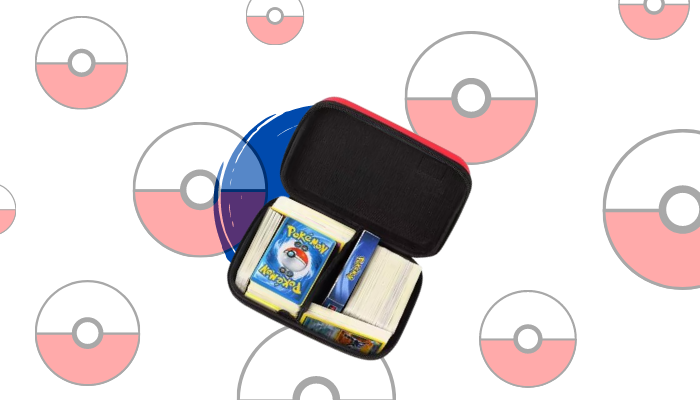 A perfect way for your child to keep their Pokemon trading cards organized is with this useful Bigib Lets Go Carry Case. With a hard waterproof exterior it will give their Pokemon cards ultimate protection and stop them from getting damaged.
The case will hold up to 400 cards, giving ample space for even the largest Pokemon card collection. There is a soft interior to the case with sufficient space to enable all of the cards to be organized ready for play, as well as being a suitable way to store your cards. This is the perfect item for your child to use take their cards out and about, while ensuring that the cards are kept safe.
11. Interactive Detective Pikachu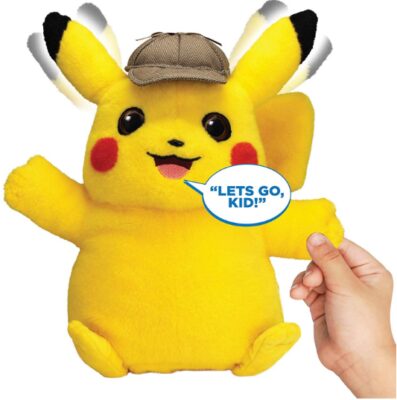 A fun Pokemon toy this Pikachu Interactive Talking Plush Toy is based on the much loved character from the Detective Pokemon movie. This lovely 12 inch cuddly toy has 2 voice modes of both Pikachu and Detective version and you can get Pikachu to talk by pressing his chest. Pikachu can also respond and has motorized ears for that extra personal touch and all kids will love interacting with this toy.
An official Pokemon that is suitable for all kids over the age of 2 so Pikachu will quickly become your young kids favorite toy. This toy does require 3 AA batteries to get started which are not included in the set. A top of the range gift idea, that is superior to an old Pokemon, and is suitable for any young Pokemon fan.
12. Greninja GX File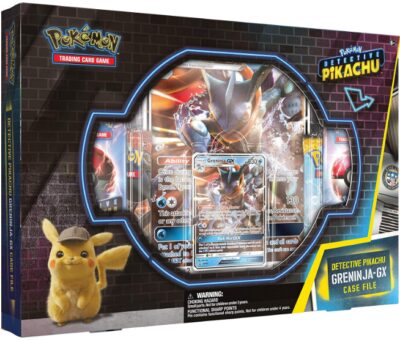 This Detective Pikachu Greninja-Gx Case File set is a must have Pokemon Trading Card Game for every Pokemon fan. Suitable for enabling your child to participate in trading card games as well an ideal set for collectors. This up to date game is based on the Pikachu movie and there are 26 new and exciting cards inspired by the characters that all children will love to collect.
This set comes with 5 sets of cards from the detective booster packs and 2 sets of cards from the sun and moon series booster packs. In addition there is also a promo card and oversize card of Greninja-Gx that will be a prize possession in every card collection. A great trading card game that will be the perfect addition to any Pokemon cards and toys collection.
13. Mega Construx Pokemon Clash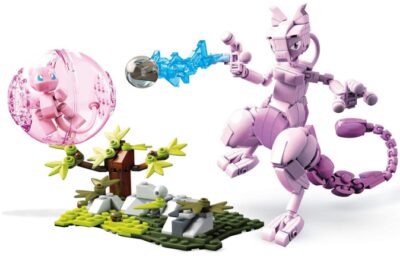 A Pokemon Mew Vs Mewtwo Clash toy that will result in many exciting battles. Both the Mew and Mewtwo toys need to be built, along with a build able environment, so is the perfect toy for spending quality family time together. Mew is a 2 inch figure that has movable arms, legs, head and tail that your child will enjoy playing with. There is also a power shield for your child to build that they can use to protect Mew.
Mewtwo is a 6.5 inch action figure that can be moved into different poses and is always ready to attack. From the Pokemon toys collection, this set is suitable for children over the age of 8 and it will provide many hours of entertainment.
14. Clip 'N Go Pokemon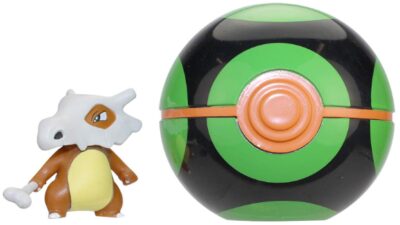 This Pokemon Clip 'N' Go toy is the perfect travel companion for your young child as it can be taken out and about and played with anywhere. The set comes with a Dusk Ball Poke ball and a Cubone figure, which is 2 inches tall, so is the perfect size to let your child feel like a proper Pokemon trainer. This official Pokemon toy balls set is suitable for children 4 years and older. A great gift idea for any Pokemon fan that they will enjoy taking on adventures and playing with alongside friends.
15. Pikachu Electronic Piggy Bank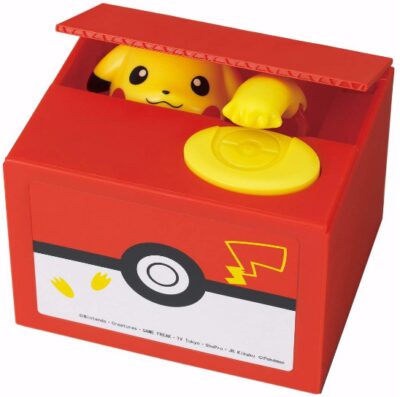 A lovey gift idea that children will love, this Pikachu Coin Bank is a novel piggy bank design. Any Pikachu fan young or old will enjoy using this electronic money box. A great way to encourage children to start learning how to save money, as they enjoy seeing Pikachu taking in their coins and hearing 243 different responses all in the Pikachu voice.
As a much loved character across the world, this Pikachu coin bank will quickly become your childs favorite money box. These rare Pokemon gadget toys are much loved by children and collectors, so would make a lovely gift.
16. Mega Construx Charmeleon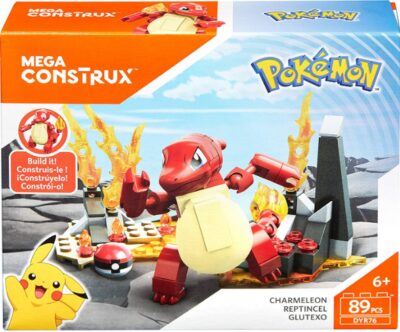 If you are looking for an exciting Pokemon action toy for your child then look no further than this Mega Charmeleon Pack. This 89 piece set is ideal for children 6 years and older as they will enjoy building the Charmeleon character and fire-type battle stage. Charmeleon is posable so your child will enjoy finding the best battle stance. For added excitement there is also a Poke Ball accessory to build.
The perfect battle toy that every Pokemon loving child will spend hours playing with. It is an ideal game to share with friends as the set is compatible with other Mega Construx kits and will allow your child to build their own unique Pokemon collection.
17. Blastoise Mega Construx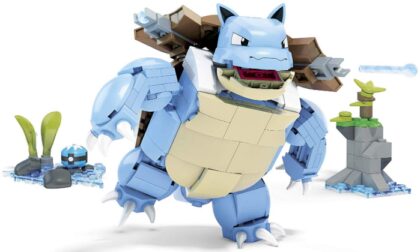 This Mega Construx Blastoise set is the ultimate Pokemon building set that will quickly become your childs favorite toy. This 284 piece set enables your child to build the popular character Blastoise, which can move its arms, legs and head, so can be positioned into many battle ready poses. For added excitement there are also 2 working water cannon blasters, providing extra fun.
Your child can also build Blastoises water type surroundings that can also be used as a display stand, and they can also build a mini dive ball. This toy is suitable for children over 8 years old and the set can be combined with any other Mega Construx set. One of the best Pokemon action toys available that every child who enjoys Pokemon will love playing with.
18. Pokemon Monopoly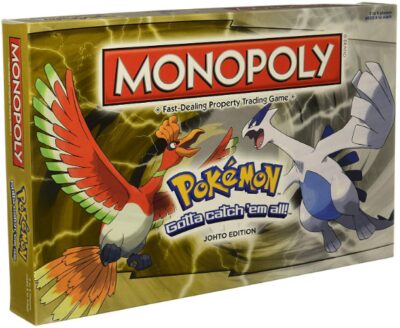 A Pokemon Johto Edition Monopoly game that is based on the much loved classic Monopoly game. Everyone over the age of 8 years old will enjoy joining in on this Pokemon themed game. Each player can play as their favorite Pokemon character, as many of the best loved Pokemons are included. There are exciting differences to this game with houses and hotels being exchanged for Pokemon centers and Poke Marts, a fun twist that every Pokemon fan will enjoy.
The instructions are included in this game so new players can quickly join in. There is also a speed Monopoly game included for games that last around 1 to 1.5 hours. The perfect Pokemon games and toys idea for sharing with family and friends.
19. Pokemon Trainer Set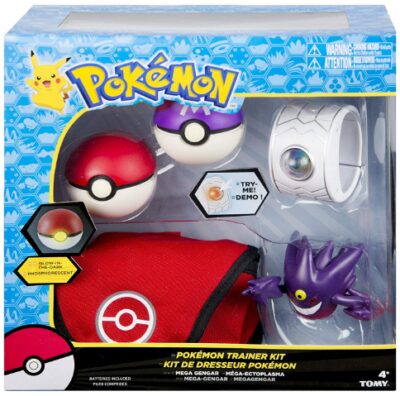 This Pokemon Trainer kit has everything your child could need to become their dream Pokemon trainer. Suitable for children over the age of 4 years old this exciting kit will entertain them for hours as well as being the ideal size for traveling with, so can be played anywhere. The 2 foam Poke Balls that are included have exciting glow-in-dark buttons, so the toy can be played within the dark.
The Poke Balls can be put in the trainer pouch for easy transport. Your child will also love the exciting LED light function of the bracelet. This Pokemon kit also comes with Gengar figure can be moved into different poses. This will be a much-loved kit for any young child.
20. Nendoroid Action Figure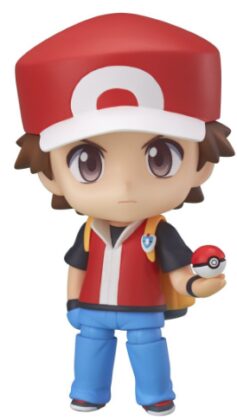 This Good Smile Pokemon Set with a red Nendoroid Action Figure would make a lovely set for any young child to enjoy hours of action play. The set includes everyone's favorite Pokemon trainer Red, who has 3 different facial expressions for added excitement.
There are also the great Pokemon toys Charmander, Bulbasuar and Squirtle included and they are ready for a battle. With the special Pokemon extras of backpack, Pokedex, Poke Ball and a Master Ball this toy set has everything needed for your child to start playing. A great gift idea for any young boy or girl that will become a much-loved action game.
Best Overall Buy
Our best overall buy of the Mega Construx Pokemon Blastoise building kit requires real family involvement to get this popular Pokemon character built in no time at all. Once built Blastoise will take on the world and is ready for many exciting battles with its water blaster cannons providing exciting extra details. A kit that can be combined with other Pokemon Kits so that your child can build their own unique Pokemon toy collection.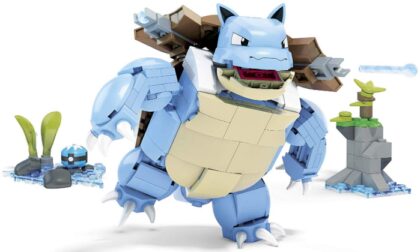 Best Budget Pick
The Pokemon Clip 'N' Go toy is our best budget buy pick as it will give any young child everything that they need to be able to join in with Pokemon battles. The set includes a Dusk Poke Ball and a Cubone figure and is a good size to be able to take out and about so can be played with anywhere. Your child will enjoy playing with this Clip 'N' Go toy which is one of the best Pokemon stuff available and is ideal for sharing with friends.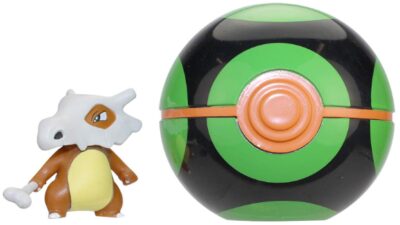 Where Can I Buy Pokemon?
Pokemon toy sets are popular with both kids and collectors, so they can be found in many retail stores and online companies, with many places having a good variety of choice.
If you are looking for a specific toy or character then online searches would determine where you can purchase your toy from. Vintage Pokemon toys are popular with collectors so can be harder to find but you will have more success locating a toy using the internet.
Where to Find Pokemon Stuffed Toys?
Plush Pokemon stuffed toys make ideal gift ideas for children and are popular with a wide variety of children and adults. While certain toy stores may stock Pokemon kids toys, there is usually more variety found through internet searches, which are quick and easy to do, so would be recommended if you are looking for a certain character.
Who Makes Genuine Pokemon Toys?
It can be difficult to know where the best place to buy Pokemon products are as there are so many different options available. Genuine products are often found at large retail stores and you can check the quality of the toy and that it comes with official packaging. However, this is more difficult to do online, so you can compare products that you wish to purchase with toys available from the official Pokemon website to check for any quality differences. Genuine Pokemon retailers should state that they sell official merchandise helping you to avoid bootleg Pokemon.
When Were Pokemon Toys Introduced?
Pokemon is a Japanese brand that was first released in 1996 and it quickly became a popular brand across the world. Shortly afterwards in the late 1990s Pokemon official merchandise were released. A brand that has continued to grow in popularity, even to the current day, that now has a wide Japanese Pokemon range representing video games and movies.
Ever since the Pokemon brand was released in the 1990s Pokémon stuff has been increasing in their popularity. This has been driven by the multiple video games and movies that have been released over this time, which has kept the brand appealing to young children and adults alike. The most recent movie, Detective Pikachu, has resulted in the release of its own range of themed toys, which are must-have items for any Pokemon fans.
The success of the Pokemon brand is apparent by the demand for Pokemon merchandise by both kids and collectors. This is also shown by the popularity of McDonald's Pokemon and Burger King Pokemon items that have been available over the years at each fast food restaurant.
Before you go take a look at these awsome toys: