Want to learn how to warm Comotomo bottles? You're on the right page! Feeding a newborn properly and right isn't just about breastfeeding alone. You may have to make use of bottles.
Fortunately, there is a lot of this out there. And one of them is the popular Comotomo baby bottles.
If you're considering a solid brand to use in supplementing breastfeeding, then they're a reliable source to use.
Comotomo bottles are the perfect alternative to breasts. They serve to mimic natural breastfeeding and come in handy for moms who end up with inverted nipples and engorged breasts.
They are also meant for moms who prefer pumping milk and moms feeding with baby formula. Whether you're feeding with milk or formula, it is important to keep your baby's food warm.
Because Comotomo bottles are made from heat-resistant silicone, getting them to warm up and essentially keep food at the perfect temperature is important.
Here's how to effectively warm up Comotomo bottles and their contents:
How to Warm Comotomo Bottles – In 4 Easy Steps

---
1. Use a Bottle Warmer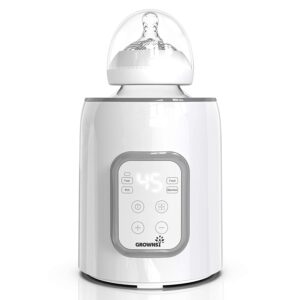 Using bottle warmers is among the most popular method of warming among mommies. Whether you're a new mom or a veteran, you probably have come across it at least once.
This may be because they are easy to use. Bottle warmers use battery or powered with electric supply. This offers a good option for moms who are busy either at home or on the go.
For those who prefer battery, the only thing they have to do is change the battery, depending on how long they last.
And for those who don't want that extra cost, they can simply plug it in and go about their business. Moreover, bottle warmers come with timers and regulator settings.
And in some cases, they come with led light indicators that let you know when the food is warmed to the right temperature.
So one needn't worry much about manual processes.
All you need to do is fill the bottle with the food, pop it onto the bottle reservoir and set the time. They also come in different sizes to fit the shape and size of Comotomo bottles.
2. Use a Jug with Warm Water
Pour milk or formula into the Comotomo bottle and ensure its tightly closed with its bottle cap.
Then fill up a wide-mouthed jug with warm enough, but not boiling water and leave the comotomo bottle in it to adjust to the temperature of the water.
This process will take approximately 15 minutes. However, within this time, you'll need to ensure that the contents of the bottle don't overheat. If it does, it might cause scalding upon contact with your baby's tongue.
If the Comotomo bottle contains milk and gets overheated, the milk's nutrients will most likely be lost. And this will not serve your baby, which I know you don't want.
3. Use a Microwave
Although most Comotomo bottles are microwave approved, this isn't always the go-to method for moms. And that's because it could overheat the content of the bottle.
Being that milk especially doesn't heat up evenly in microwaves, warming it up at a lower temperature rather than on medium or high and for shorter periods of 30 seconds each till its warm enough is the best way to go.
This prevents the milk from forming uneven pockets that could scald the baby's mouth or throat. And the likelihood of losing nutrients from overheating will be well reduced.
If you're able to follow these instructions, microwaving Comotomo bottles shouldn't be a problem.
4. Use a Counter/Stove Top
This method isn't highly recommended. However, in dire situations that include not having a bottle warmer, jug or microwave, improvising makes it a last resort.
It doesn't mean you can still use this method if you have your bottle warmer. However, the stress you'll have to go through may not be worth it.
Since using a bottle warmer is easier and possibly faster, you may want to go that way.
But you have to be prepared for when a situation warrants the use of your stovetop. To use it, you'll only have to follow a few steps.
Simply place the Comotomo bottle in a pot of water and onto a heating stove/countertop.
You'll have to be extremely mindful of the temperature of the water.
You should be watching and testing it as often as possible so you don't allow the water to come to a full boil to prevent overheating of the bottle's contents and nutrient loss.
Take it out and shake the bottle to even out the warmth of its contents.
Final Words
As you can see from the preceding paragraphs, there is more than one way of warming our Comotomo baby bottles. One thing that's also clear is that some methods are favored over others because they have a lower chance of spoiling the bottle.
That's why some parents prefer some over the others. But what method is the best?
Using a bottle warmer. It's easier. And the chance that the bottle will melt is lower compared to the other methods.
It's also true that some moms don't like warming the bottle. They prefer to prepare the food and feed their baby when it's still warm.
However, that's not always possible. Sometimes, your baby won't want to eat everything at once. So you keep it and bring it back when they're ready for more. And that will almost always warrant warming.
In fact, if you're reading this and are ready to warm the bottles, you're already doing good. Doing this helps in preventing food wastage. And it does not necessarily affect the bottles.