One of the most important aspects of feeding your baby is making sure you do it right. And that has to be at your first try. Why? When you get it right from the onset, you are giving your baby a gift that'll stay with them for a lifetime.
Imagine if someone wants to give you a special gift that'll last a long time.
I'm pretty sure you're going to want to spend a few days thinking about what it should be. The same thing should be done when you are selecting baby feeding bottles for your little one.
If your baby needs the best slow flow bottles and you go get a fast one, not only will your baby find it difficult to feed on it, the chances of rejecting the bottle is very high.
Fortunately, you don't have to worry about any of this. 'Cause, I've done all the research for you.
In the following paragraphs, you'll learn what it takes to choose the right bottle for your baby. Whether you're buying for your newborn, breastfed baby or preemie, you'll find one that'll suit your LO.
But first, what should you consider when choosing this kind of baby bottle?
Here are a few pointers for you.
Best Slow Flow Bottles for Newborns in 2023 [Reviews]
1. Munchkin Latch Nipples Stage 1 (Bundled with Bottles)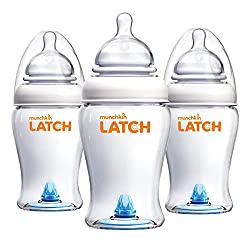 If you are looking for nipples for your baby to go back and forth with, then the Munchkin latch slow flow is a good option to look at.
First of all, the nipple fits in with the Munchkin Latch Anti-Colic Baby Bottle.
If you don't already have a bottle to use the nipple one, you should get the nipple along with the bottle.
For those who already have the bottle and simply want the slow flow nipple, the Munchkin Latch Nipples stage 1 is the suitable choice for you.
Features of the nipples
The nipple is ultra-flexible and works in three ways to mimic breastfeeding:
It flexes. This lets the nipple conform to your baby's head movement while feeding. Thus, it allows for a continuous, consistent flow. Your baby will be encouraged to feed. And because your baby will hardly distinguish between the bottle and the real deal, you'll find the nipple great for switching or transitioning to bottle feeding.
It stretches to and back from the soft palate so that your baby can latch on easily. Unlike other nipples we've come across, this allows your baby to concentrate on the food and not whether they are feeding directly from mummy or a bottle.
It pumps, making it easy for your baby to control their feeding. Just as it is with breastfeeding, your baby needs to have some sort of control to be able to feed to his heart fill. And that's what this nipple aims to achieve.
These features make this nipple a brilliant option for mixed feeding.
With similar action to breastfeeding, these nipples shouldn't cause any confusion to your baby, so that the chances of your baby rejecting his bottle is much lower.
So, if you already have a couple of bottles that your baby doesn't take to, you should try the Munchkin Latch stage 1 nipple on them.
We've found that there are many other nipples in the Munchkin line that are suitable for different ages and this one is suitable for newborns.
If you don't want your baby to gulp his food, you want to choose the nipples that can allow him to eat at the same pace as breastfeeding.
2. Philips AVENT BPA Free Natural Newborn Flow Nipples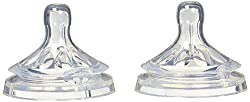 Don't let the name deceive you. These newborn flow nipples come in a package with a Philips Avent Natural baby bottle so you can expect to buy more than just a nipple when you get to the product page.
Why do we choose this as the best slow flow bottles for preemies?
Well, there is a couple of reason.
The nipples come in 6 different stages, with each suitable to a different age of the child.
The first is the 0 first flow, which has a very small hole. It's suitable for preemies and newborns that are less than a month old.
The next one in the chain is stage 1, which has a slightly bigger hole and is ideal for breastfed babies of all ages as well as newborns.
Once your baby is a month plus, you'll need to switch to the slow flow, which has two holes and suitable for breastfed babies and newborns.
At 3 months+, you should go for the medium flow that has 3 holes and suitable for babies above the 3 months of age. The other two are faster, with 4 holes and above. They are meant for babies that are 6 months of age and more.
Features of the nipples
1. The nipples have a wide-neck design. This makes it easy for your baby to switch between breastfeeding and bottle feeding. It's naturally shaped so that it encourages easy to latch on by the baby. This, therefore, makes feeding uninterrupted.
Moreover, it allows for easy tongue movement that babies make when breastfeeding as much as possible so that going back and forth between bottle feeding and breastfeeding is less confusing for your baby.
2. As it's well-known with other Philips Avent designs, these nipples come with two anti-colic valves to make feeding more comfortable for your baby.
By pushing air back into the bottle and releasing only milk to your baby's tummy, there is less discomfort in feeding.
3. The nipples come with comfort petals which makes them flexible and soft.
This means that your baby can latch on easily. And because this prevents nipple collapse while your baby is feeding, your baby is going to feed without any interruption.
4. The nipples are flavorless and odorless, thanks to its durable, soft silicone construction. Another important advantage of this is that you can clean it with the dishwasher. Or if you want, sterilize it. It can also withstand up to 5 minutes of boiling, which makes cleaning flawless.
The downsides of the nipples
The downside of these nipples is that you can't leave them in water overnight. If you do, the silicone nipple might turn cloudy. This means you need to replace them as they may have become unusable. This can be painful since that's more money out of your pocket.
Another thing to consider is that some users complained that the nipples leak either because the nipple flow is too fast or the nipples don't fit into the baby's mouth properly.
Lastly, the flow size of each nipple is not clearly drawn so you might have a hard time knowing which size is suitable for the first time. But once you use it a couple of times, you should be able to identify which is which.
3. Dr. Brown Bottle with Preemie Nipple
,
This is another bottle with a slow flow that's ideal for feeding premature babies. If you have a baby that's exclusively breastfed and you are now going to get busy, this slow flow nipple is great for them.
If your baby has a slower feeding preference, then you may want to look into this.
The nipples come in different sizes to fit different age groups, which is great for tracking your baby's progress. However, the preemie nipple is the most important since it's suitable for your baby.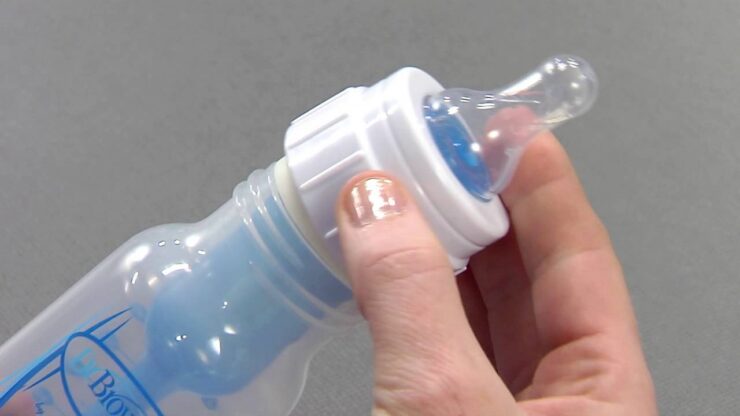 Features:
Its nipple limits the flow of milk and formula so that your baby can feed at the right place. And it's super soft and made from high-grade silicone material.
The nipples come with Dr. Brown Original Bottles but will fit naturally on Dr. Brown's narrow bottles as well as Medela baby bottles.
The nipples are durable and can be washed in the dishwasher for as much as you want. Not only are they dishwasher safe, but are also free from BPA and other harmful chemicals.
The downside is that there is a possibility of the bottles/nipples leaking and most have found the solution is to increase the level of the nipples. This can solve the leaking as well as the problem of baby taking in air through the mouth.
4. Playtex Nursers with Drop-Ins Liners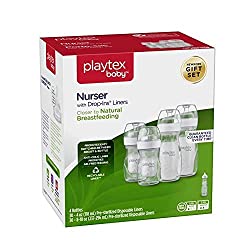 ,

If you're tired of washing 10 parts per bottle or just looking for a way of reducing constant gas/spit up in your little one, the Playtex nursers with drop-in liners come with some nice features that you'll like.
This is a gift set that includes the bottle, nipples, and feeding essentials to meet your baby's needs. The bottles come with nipples which also come with liners.
Specifically, the liners on these nipples help seal airflow so that gas and spit up is reduced. Moreover, they cut down on cleaning since you have only the nipple (and the ring if you want to be super hygienic) to clean.
And since they are recyclable, you can spend more time with your baby and less time washing.
Features of the nipples
The nipples are great for eliminating excess air. Where regular bottles might let the air go back in due to not being concave, this drop-ins will deflate as the baby drinks allowing for only the milk to be swallowed. In this case, it fairs better compared to anti-colic bottles that may not be as effective in preventing the air from going back in and mixing with the milk.
The bottles come with pouches. This helps to keep the bottle in good condition as well as make it easy for your baby to grip them. Another advantage of the pouch is that it prevents the bottle from cracking when it drops, which means you can use it for a long time to come.
The bottle is very easy to clean. Unlike others where you have to clean the whole thing, you're only going to clean the nipples. This can be a lifesaver for even busy stay-at-home moms. It can shave off from those cleaning time so you can focus on even more important chores.
The top part of the bottle can be flexed and angled at 45 degrees. This is a great feature to have for newborns. It allows your baby to feed at it more easily. Or it makes it easy for you to hold it to their mouth.
The nipple cover, which is at the top of the bottle, can be removed and affixed at the bottom of the bottle. This ensures you don't lose the cover and protect the bottom of the bottle.
One other plus for the Playtext Nurser with Drop-ins is that the nipple has consistent flow compared to others like the NUK nipples. Some NUK nipples are faster while others are slower. With the Playtex, you get the same flow across the nipples, which makes it easy for your little one to feed with.
Downsides of the nipples
The downside is that the nipple might leak since there are no caps to prevent the spillage. This can make it impossible to travel with. For example, if one of the bottles trips over in your bag (which is very likely when traveling), it will spill the content and wet other items.
Another thing is the bottle is a bit heavy. So, it may not be possible for your baby to hold or feed on it on their own. If your baby is still very young, you won't need them to feed on their own anyway, so that isn't a big deal.
Another thing to be aware of is that you have to regularly buy new drop-ins, which can add some extra costs. You probably won't mind paying the price if you enjoy the benefits.
Final Words
As you can see, there are quite a lot of options to choose from. When you're choosing, it's advisable to choose a complimentary bottle to the nipple.
This will reduce your costs and ensure that your baby is getting a comfortable feeding experience. And don't be bothered with a variety of options, just choose one that's good in terms of budget and your own needs.
Need a recommendation? Here is it:
Our recommended slow-flow bottle/nipple is the Munchkin Latch Nipples Stage 1 (Bundled with Bottles).
Here are some other interesting models that you might like: