Deciding to purchase an all-action towing truck for your children is an ideal way to stimulate their imaginations and promote creative play. Fortunately, there's an equally imaginative selection of tow toy trucks for kids on offer with a host of special features that mimic the real-life vehicles they no doubt find so fascinating to watch in the street.
Such interactive toys arouse a child's curiosity to learn how different components work together during play. They also help young kids develop essential fine motor skills. This type of toy is frequently manufactured to the highest quality providing hours of safe, reliable fun and it's sure to be one of their favorite toys for years to come.
Considerations When Choosing a Toy Tow Truck

Kids love toys that have an instant visual appeal. Bodywork in bold primary colors of red, blue and yellow is guaranteed to draw their attention. Look for additional decoration from stickers with hazard warning stripes to shiny silver-gray fenders and radiator grilles.
Battery or friction-powered movement can increase the toy's appeal. Toys that have an interesting array of gadgets like opening hoods, illumination and sound effects make a child eager to play. But to retain your kid's interest these working features must reach a reasonable level of reliability combined with ease of use.
Sturdiness is a key factor, particularly with winches, folding ramps and windshields. Size is important if the toy is to complement model vehicles they already have. Heavy toys provide stability during boisterous play but younger children might prefer lighter versions for easy portability.
Best Toys in 2023
1. Tonka Mighty Tow Truck Toy
Tonka toy tow trucks are well-known for their sturdy reliability. This interactive, blue and white truck is manufactured from a robust plastic. It features six large wheels for additional stability. Its generous size of 15.2×6.5×8 inches and weight of 3.14 pounds makes it one of the most durable toys that can withstand years of demanding play.
The battery-powered, motorized winch is accompanied by realistic sound effects and lights. The mechanism is operated by a simple push button device that children from three years of age will have no difficulty in using. Traffic cones are also included for extra interest.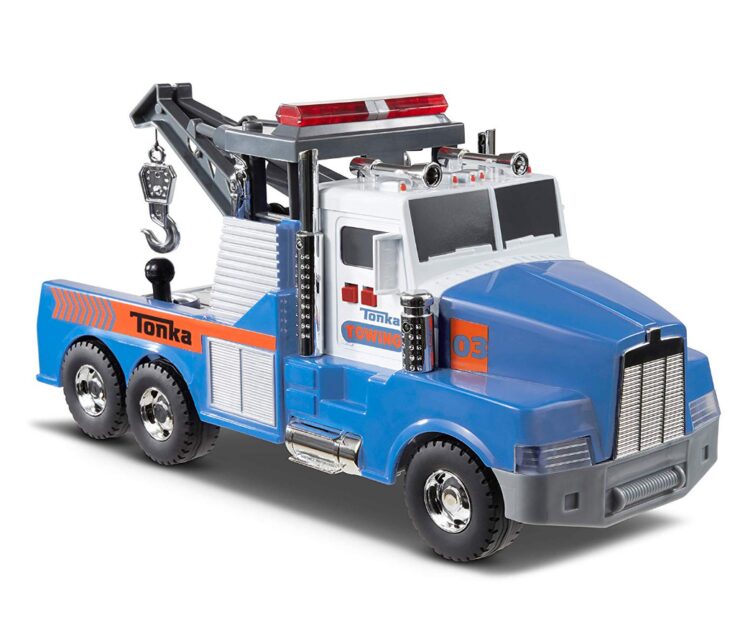 2. Big Daddy Friction Powered Truck
Toy trucks manufactured in steel are perfect for the roughest play. This model measures a sizeable 14x8x6 inches although it has a low weight of just one pound. The six tires are deep-cleated for an improved grip on rugged terrain outdoors while being gentle on indoor flooring.
The toy achieves fast levels of motion through friction power. The bodywork is painted in dark blue with a pale blue stripe. The main feature is an unusual double winch mechanism with two hooks which provides a greater balance if the truck is used in conjunction with larger toy cars.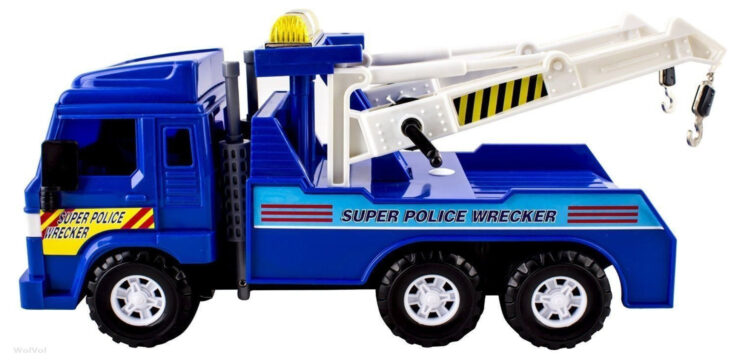 3. Driven Mini Tow Truck Vehicle
This compact toy truck with a size of 7.5×3.2×3 inches and a weight of under 12 ounces is ideal for children aged between four and ten years. Six rubberized wheels provide a good grip without scratching indoor floor tiles. It has many interactive features to promote exciting play.
The ramp at the back drops down to allow the car, which is an additional accessory, to be easily loaded onto the truck when attached to the hook and line of the winch. The doors on both the truck and car open and close. When the hood is lifted it reveals the truck's engine.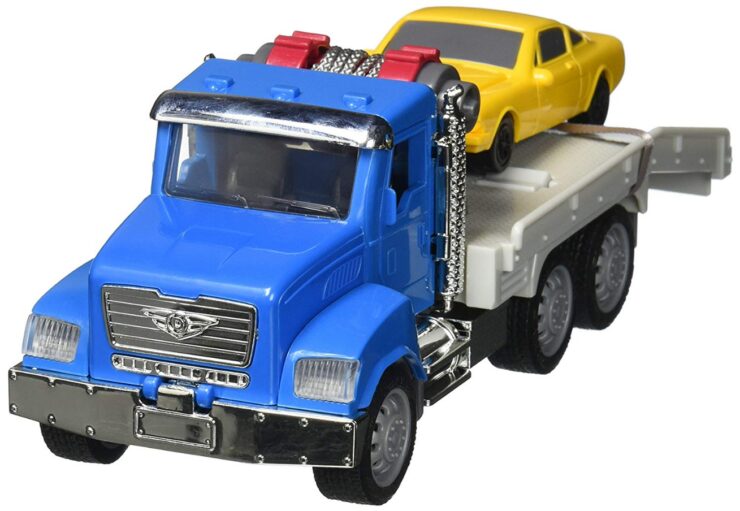 4. Tonka Steel Tow Truck
A lifetime's guarantee indicates the rugged durability of this steel Tonka toy. Its large frame measures 13×5.5×6.5 inches and weighs 2.1 pounds. The four large wheels have deep ridges and are made of textured plastic for smooth mobility.
Children as young as three years old will find the truck is easy to maneuver into position. The yellow paintwork is highlighted by a contrasting black trim. The winch mechanism has a versatile platform which can lift items and tow vehicles. The arm of the winch can be positioned in four different settings for plenty of action-packed play.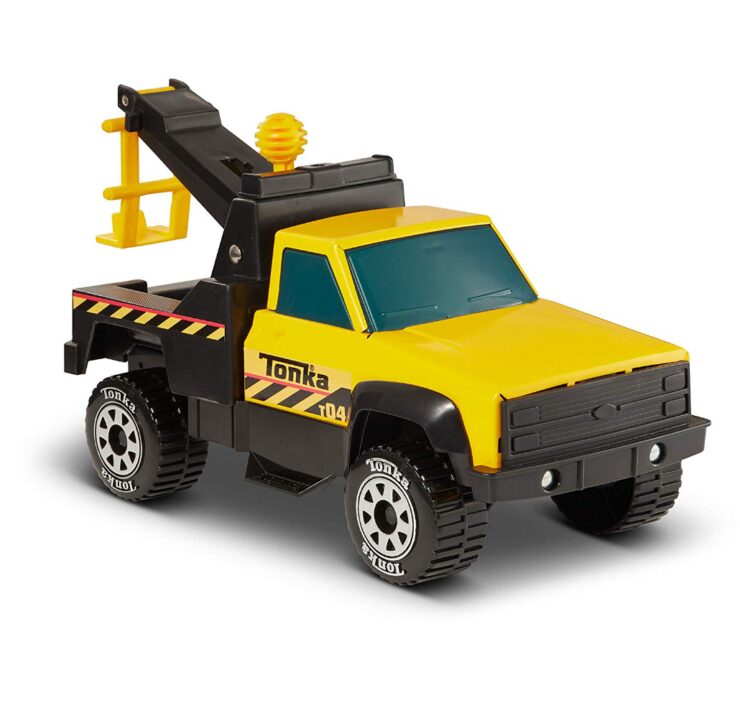 5. Bruder Man TGA Truck
There is a wide range of features and accessories that make this one of the most interesting of big toy trucks. The sturdy yellow truck measures approximately 19.5×7.5×10 inches and weighs 4.6 pounds. Three to eight-year-old children will love the winch which can extend, retract and turn a full 360 degrees. There is a drop down rear platform and side mirrors that fold.
The engine can be viewed when the cab is lifted forwards. The winch can tow or be used to load items with the lifting gear of bar and chains. Included is a red cross-country vehicle which has an axle-pivot steering mechanism, folding windshield and opening hood.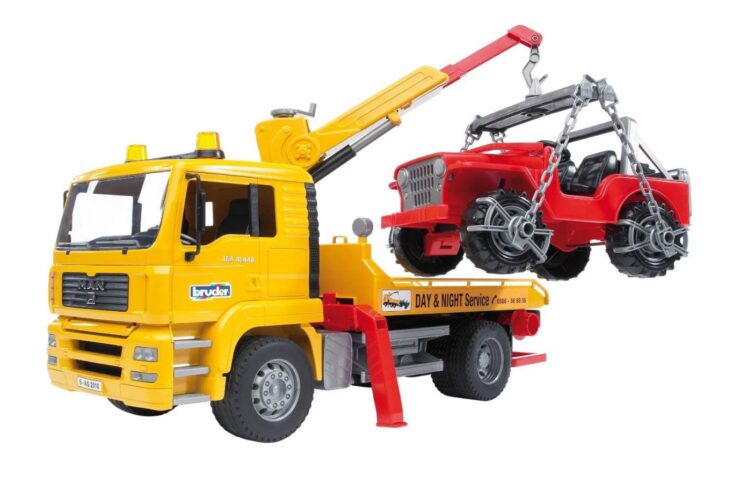 6. New Ray Truck and Cab Diecast Models
The accuracy in this 1:32 scale version of toy trucks diecast in metal is sure to appeal to older children. The solid construction of the black and silver Peterbilt truck towing a cab painted in red measures approximately 25x8x5 inches. The collective weight is 2.75 pounds. The main truck has an extending winch complete with double towing hooks for versatile play. The red cab can be used separately.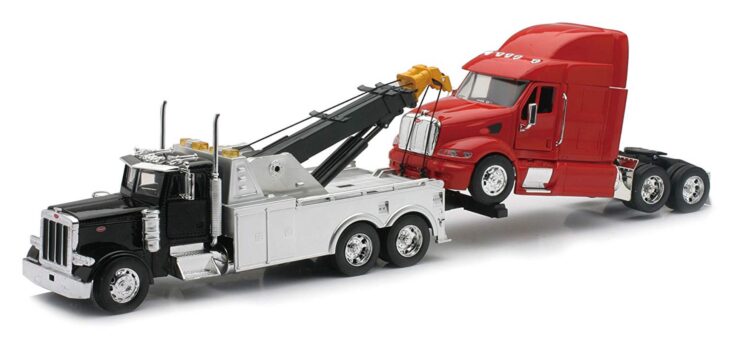 7. Dickie Toys Pump Action Truck
A large yellow cab with a red winch and loading platform plus a blue car to tow makes this truck visually appealing to children. Manual operation offers great versatility during hours of entertaining play. The red winch arm includes hydraulic pumping action that's operated by moving a lever and pushing a button. The cables from the winch wrap around the car and can be used on other vehicles.
It's a sturdy and durable truck measuring a large 21×6.9×9.3 inches. It weighs three pounds and combined with the six wheels provides excellent stability during the most hectic of vehicle recovery games.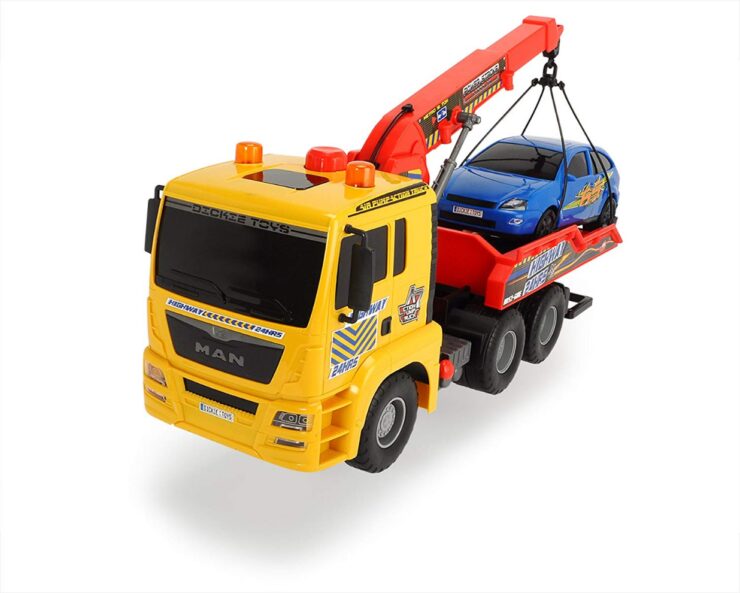 8. Disney Pixar Cars Tow Mater Truck
Although the cartoon face and gigantic wheels of this truck won't appeal to children with a penchant for traditional styling, it's not short on features. Battery-powered, it provides two operating levels of Turbo or Max speeds. Measuring 15x15x9 inches and a heavy four pounds it can plow its way through gravel and grass.
One of the toy tow trucks with lights that also includes up to fifty sound effects, it can push or pull heavy loads weighing several pounds. The strong towing hook is attached to a long chain.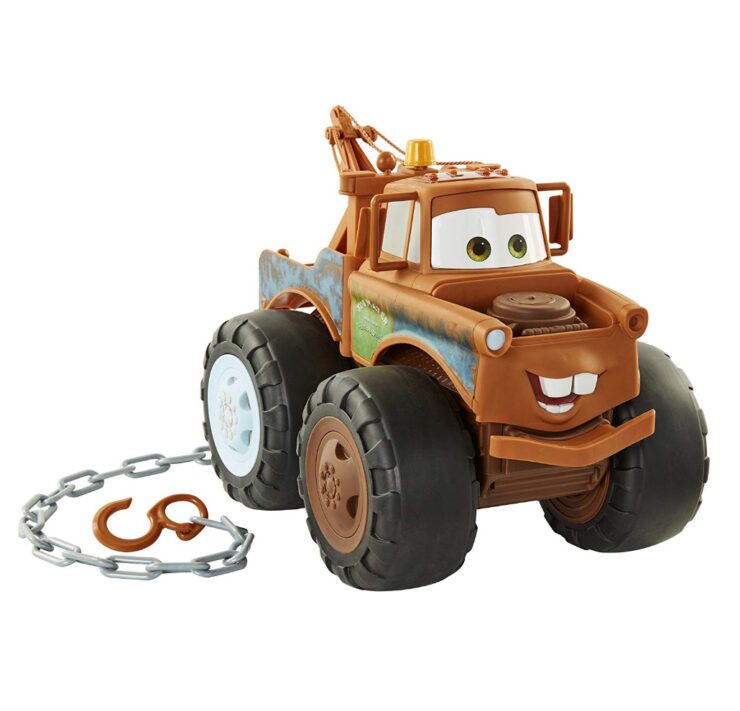 9. Wader Basics Truck
This is an ideal example of what toy tow trucks for toddlers should be like. The cab has an open frame for small hands to grip. It weighs only fourteen ounces and measures 9.5×5.5×5.5 inches which ensures it's portable. The red, yellow and blue plastic body is UV protected to ensure it retains its vivid colors while withstanding bouts of boisterous play.
The winch can be extended and retracted by turning a knob and is manually operated to encourage small children to perfect their fine motor skills.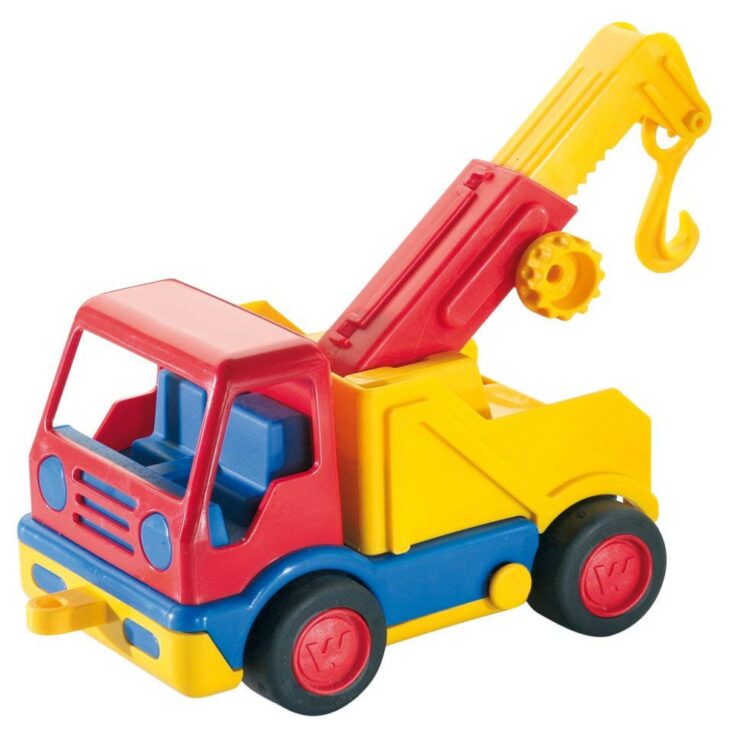 10. Chevy 1953 Off Road Truck
The striking red cab is an accurate 1:38 scale model of a 1953 truck. It's a high-quality metal vehicle with hinged doors. Forward motion is achieved by pulling the truck backwards. The arm of the winch can move vertically. Four large, grooved tires provide a good level of traction and stability. Measuring 5.5×3.5×3.5 inches and weighing just over three ounces ensures this truck will endure years of use.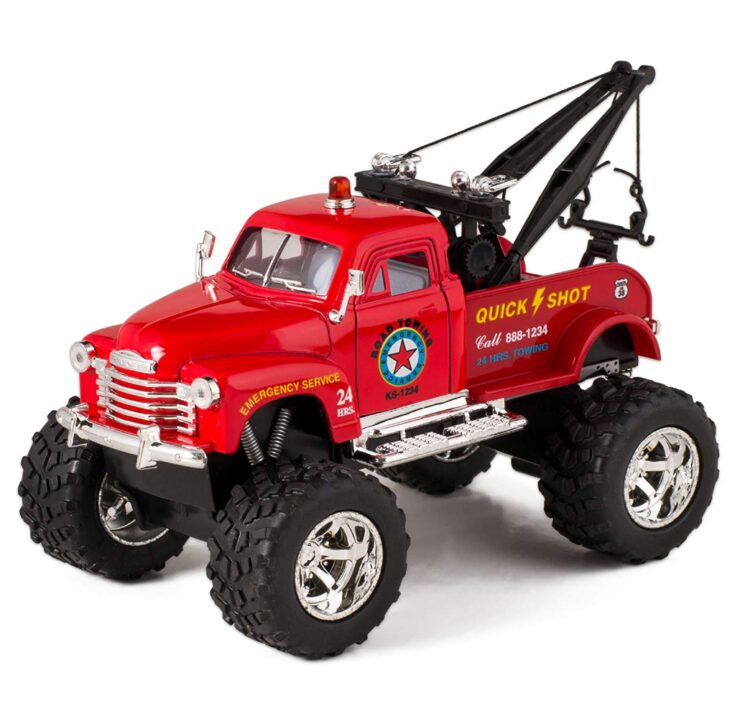 11. Max Speed Truck
At a weighty seven pounds and measuring 15x15x9 inches, this truck is a monster with plenty of strength. Four over-sized, cushioned tires won't damage floor surfaces and dominate the comparatively tiny cab.
The truck specializes in pushing objects aside, climbing over obstacles and pulling wheeled items of up to 200 pounds. The vehicle is powered by batteries and has a large repertoire of phrases and sound effects. Suitable for children of at least six years of age.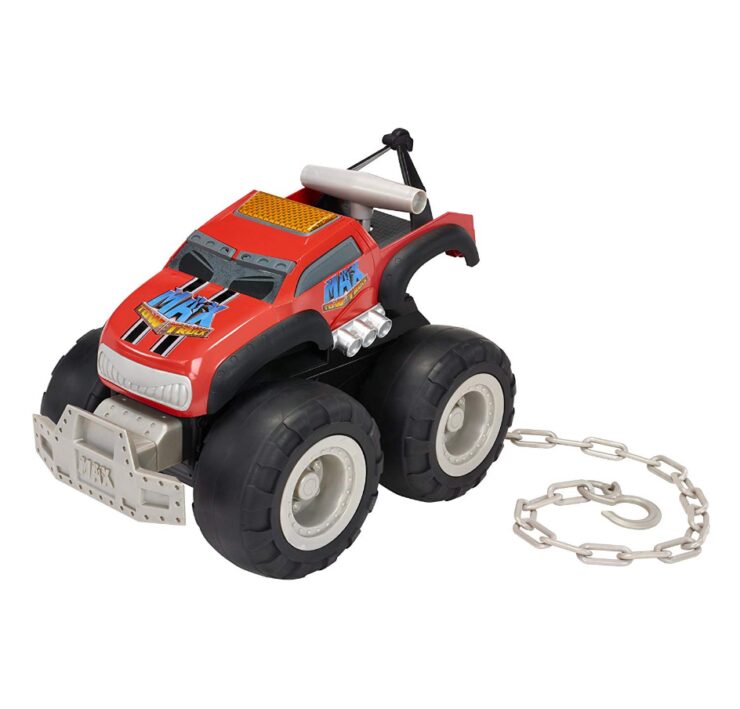 12. Set of 4 Chevy Trucks
This set of four vintage tow toy trucks are endorsed, 1:38 scale models of the 1953 originals. In red, dark blue, black and green, they are ideal for children aged eight and above. The size of each truck is 7.8x5x3.1 inches and is moved by pulling it back to operate the friction-powered mechanism. The winch arm is hinged for easy positioning and the towing rope has a flexible, sprung action.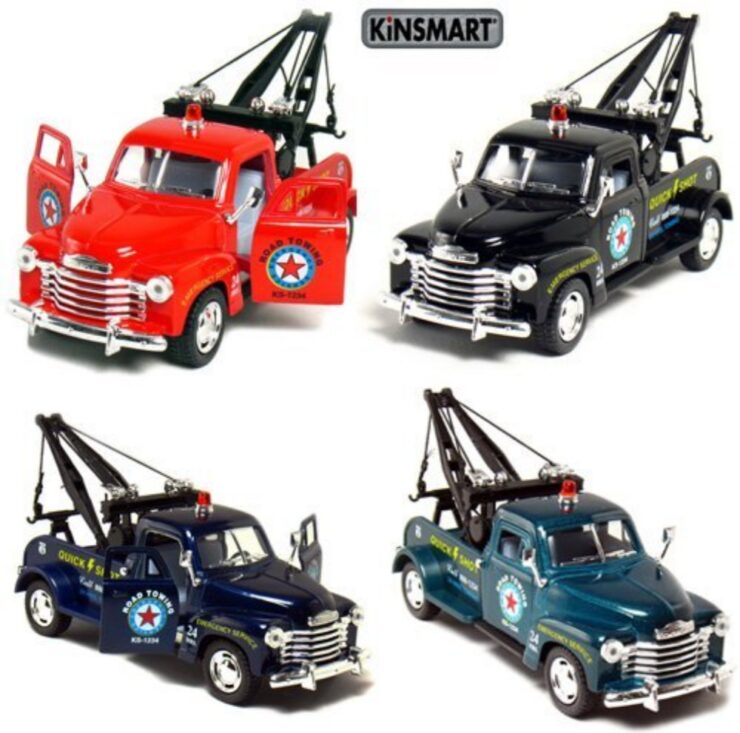 13. Dickie Toys Light and Sounds Truck
The large, yellow cab and body has a silver-gray radiator grille. Six wheels add to the truck's free-wheeling movement which should appeal to children who love active games. The red winch arm is easy to operate and has a towing line and hook. The vehicle measures 13x5x6 inches and weighs a sturdy 2.25 pounds. The set includes a road barrier and traffic cones. Battery power provides lighting and a selection of interesting sound effects.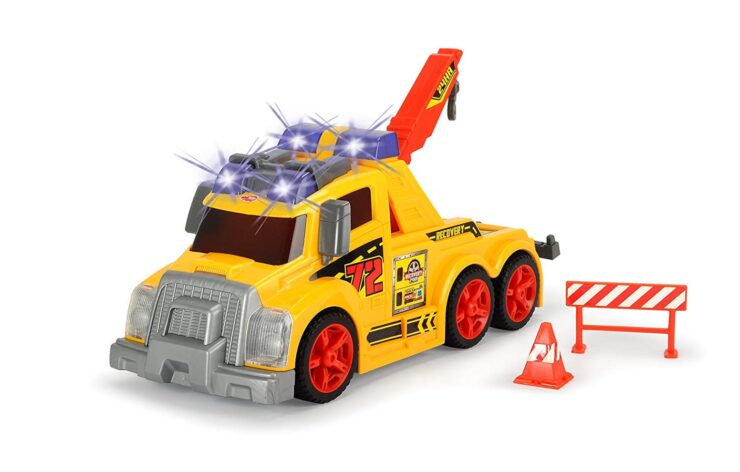 14. LEGO City Police Truck
For the ultimate in creative play that allows children to develop their technical and fine motor skills this set cannot be improved upon. Suitable for children aged at least five, they have to build their own red truck with a winch arm and hook that can be used to load and transport items.
There's a safe packed with valuables, a thief, two police officers and their motorbikes to provide a plot which children can enhance as far as their imaginations can reach. There are 144 separate pieces which integrate with other bricks and accessories in the extensive LEGO collection.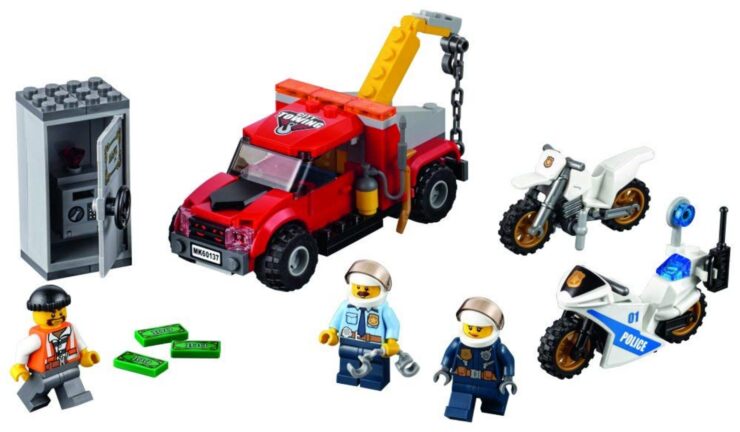 15. Friction Powered Garbage Truck with Crane
Toy flatbed tow trucks like this garbage collector vehicle provide hours of interactive fun. The winch picks up and deposits a variety of trash cans and packages that are part of the set. The winch can move vertically and rotates through 360 degrees. The truck is friction-powered but a battery operates various functions including sound effects, reversing alarm, flashing lights and horn. The truck weighs 1.3 pounds and measures 13×7.4×3.6 inches.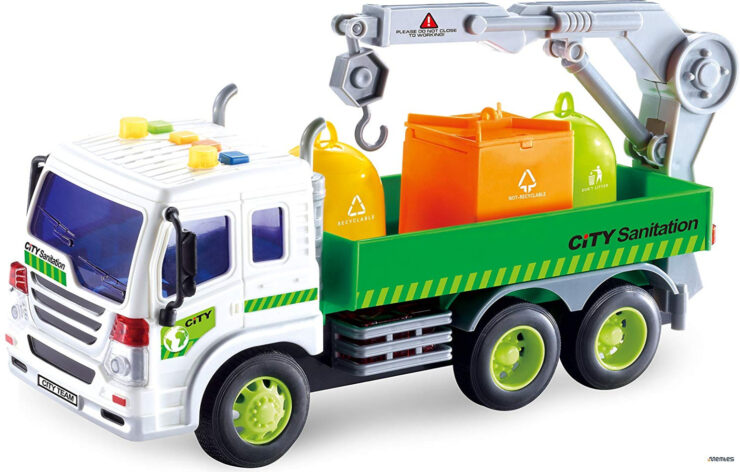 Overall Best Buy
The Bruder Man TGA truck provides absorbing entertainment for children. Its robust design combines long-lasting durability with a range of reliable, practical features to inspire young imaginations as they play. The vehicle is large and bright with a strong, flexible winch.
The platform, doors and cab move for added interest. The additional vehicle is interesting in itself and is an ideal accessory for learning how to hoist and tow a car. Manual operation develops a child's practical skills.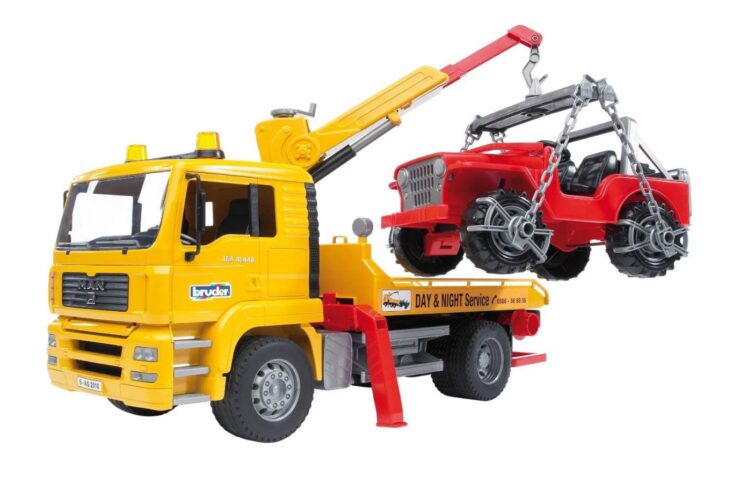 What Games Can my Child Play with their Tow Truck?

A tow trucks toy is perfect for boisterous games that imitate wild driving on the highway! The truck is essential for retrieving overturned sedans or Cadillacs that have run out of gasoline.
Kids who love the idea of fixing breakdowns can fire their imaginations as they use the truck to tow a vehicle along a printed road play mat to their toy workshop. The truck's great for towing casualties from road races. It can also be used to winch toy animals, cars or spaceships from mud, puddles or snow.
What Can Kids Learn from Playing with Toy Trucks?

A toy with a working winch helps to develop your children's fine motor skills and manual dexterity as they enjoy carefree play. Operating a winch by hand enables them to experience how they can directly affect the action that's taking place. It even leads to their understanding of basic problem solving when they learn what happens as they use the toy's features.
Children benefit enormously from imaginative role play encouraging creativity and complex thought patterns as they invent different scenarios when playing with their truck.
Take a look at these also: