Has your child grown tired of their toy vehicles, and you're looking for something new? We've searched high and low to put together this list of the top garbage truck toys for children. These type of toys are renowned for STEM learning and will have your kids pick up the knowledge to move forward with about being environmentally conscious too! From remote controlled trucks to retro styles, we have something for every type of child below. Take a look now!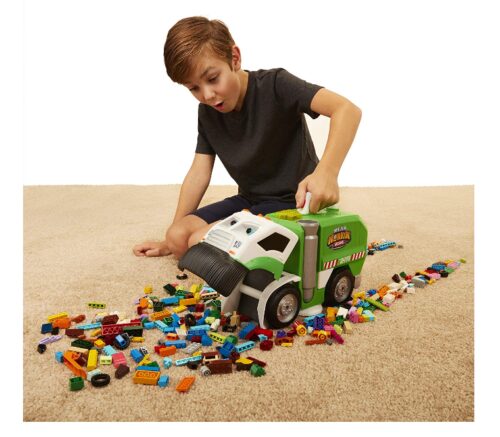 What to Consider When Buying Garbage Truck Toys?
There are tons of truck toys on Amazon and, you might be left at a loss when it comes to choosing one to buy for your child. From remote controlled types to ones that boast lights and sounds, let's take a look at the things you may want to consider before buying this type of toy.
Age recommendation: While there are lots of different toy trucks out there, don't assume they're all suitable for children of the same age. Due to the fact that a lot of vehicle toys often have interactive elements such as opening and closing doors and other small parts, there is a risk of choking hazards. Always be sure to check the age recommendation before buying such toys.
Features: Toys these days come with many features and vehicle toys don't fall short. From lights to sounds and even remote controls! Depending on the child that you're buying the toy for, you should consider the truck's features. An older child is probably going to grow bored very easily of a vehicle with few features, in this case, consider one of the pack's containing many pieces or featuring an educational element that will challenge. For toddlers and younger children opt for the more simplistic trucks that still teach motor skills without the added complexity.
Material: Lots of toy cars and other vehicles are made of a heavy duty metal to replicate the real-life design of a truck. These toys can be particularly chunky and may cause injuries to younger children. When choosing a toy that falls into this category, be mindful of the age of the child and how they're likely to handle the vehicle. Metal can be painful if dropped on toes and on fingers too. Think ahead and avoid any unwanted accidents, instead, where possible for younger children consider a plastic toy that could cause less pain if dropped.
Top Garbage Truck Toys for Kids
#1 The Trash Pack
Are you looking for a mega kids garbage toy? This pack comes with an awesome lime green truck and a collector's trash can too! Your kids can have endless fun with this toy as they get to empty their full trash cans into the back of the truck and drive it to the next neighborhood ready to load in more.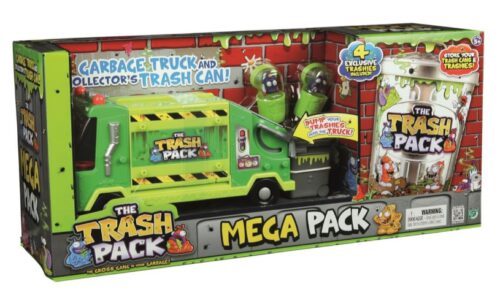 #2 Dickie Toys Garbage Truck
This dickie toys action truck is a great addition to any toybox. The blue truck is 13 inches in length and features an air pump to teach kids how real life trucks work! With the touch of a button, children can get cleaning all the trash in the area. The garbage container can be opened and emptied, raised and lowered pneumatically for a real feel. Choose this truck for your child if you want them to fine-tune their motor skills and have plenty of imaginative fun at the same time. You won't need batteries to power this toy either, isn't that a bonus?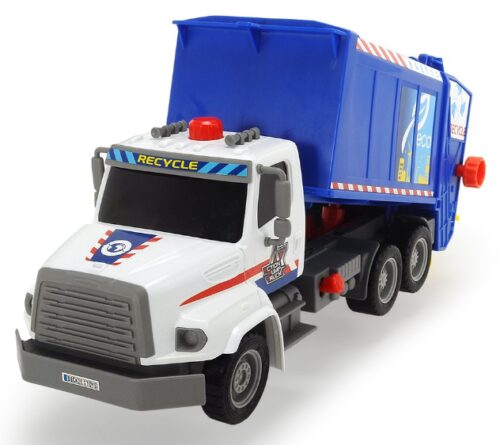 #3 Large Garbage Matchbox Truck
Garbage truck kid's toys come in lots of sizes and variations, but this model stands out! 15 inches in length, this mighty truck is hands-activated for lots of trash dumping and rolling. Children can use the lever to raise the full trash cans and empty them into the back. Navigate the truck forward or backward to clean up the neighborhood and, for extra effect the horn can be pulled down on to alert everyone that this truck is in the area. This toy will get kids recreating real-life scenes and encourage imagination for purposeful play time. What do you make of this awesome truck?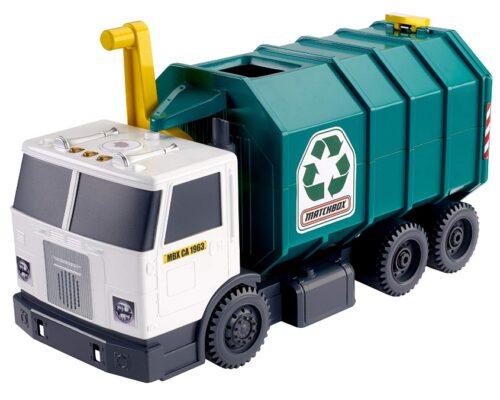 #4 Real Workin Buddies Garbage Collection Truck
This truck is among the most popular garbage toy trucks for children. For hours of creative play, this Real Workin Buddies Garbage Collection Truck navigates the streets to pick up any small toys in the way. Battery powered, this buddy has his own personality and over 50 different motivational phrases to get the job done. Featuring lights and sounds too, this toy is a perfect choice when it comes to truck toys for boys.  Use the toy's rotational wheels to move forward and backward and get cleaning! To power up buddy, 4AA batteries are required. This truck is recommended for children over the age of 3 years old only.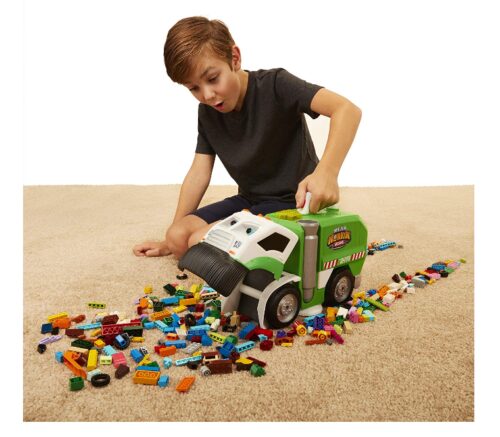 #5 DICKIE TOYS Garbage Recycling Truck
Have your kids join in with the household cleaning with this awesome dinky toys garbage truck. In a bold lime green color, kids can get hands-on as they drive the truck around to collect trash. Equipped with a moving fork, children can use it to pick up any bits left around after craft time and more. The tipping trailer allows kids to load and unload trash swiftly. What will your kids pick up as they carry out their cleaning duties? The truck features tons of aesthetic detail including recycling motifs and replica metal too. Creating a multifaceted play experience with lights and sounds, this truck will have kids cleaning their own space happily, every time!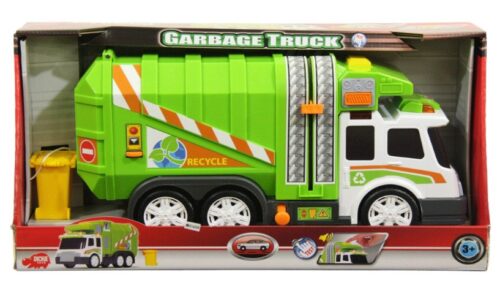 #6 Air Pump Green Truck
In classic green, this air pump trash truck is a great addition to a child's existing vehicle toys. Kids can get hands-on as they replicate the trash clearing process using the air pump feature of this fantastic toy. Expand your child's imagination and set up mini trash piles for them to clear away. Using the raising and lowering mechanism of the truck, they'll be able to conveniently clear any space! With freewheel motion, this truck is easy to navigate and no trash job is too big of a task. What do you make of this air pump action truck?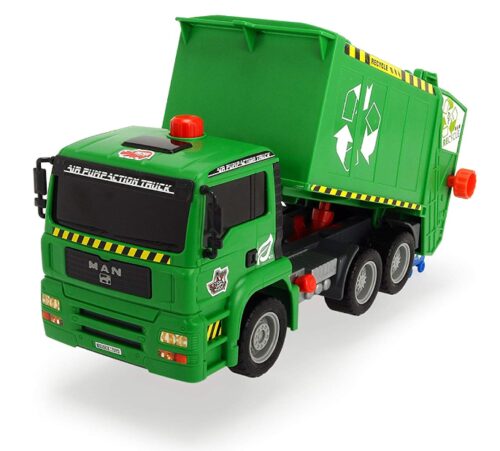 #7 Action Series With Trash Container
This truck is going to get noticed on the streets as it's cleaning up thanks to its vibrant orange color. 16 inches in length, this mega garbage collecting truck toy for children is fantastic for immersive play time that encourages imagination around everyday scenarios. Your child can pick up and dump trash easily into the container which lowers and lifts for easy access. What's more, is that this cool truck also features plenty of lights and sounds for extra fun along the trash collection way. Could this be the new perfect toy for your child to add to their collection?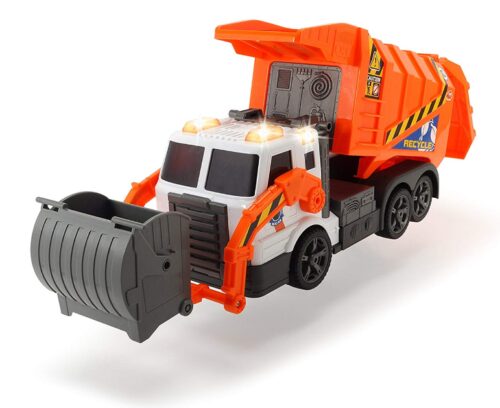 #8 LEGO Garbage Vehicle Truck
Every kid loves Lego and, this Lego trash truck is a great gift for children ages 4 years and above. Complete with two worker figurines, kids can select a driver to move the truck through destinations and using the awesome Lego cleaning tools, get thins sparkling clean. Featuring green Lego bins, what will your kids find to clear away? From realistic food items such as bananas and fish to bits of debris, this Lego City pack is a must-have for any little fans out there.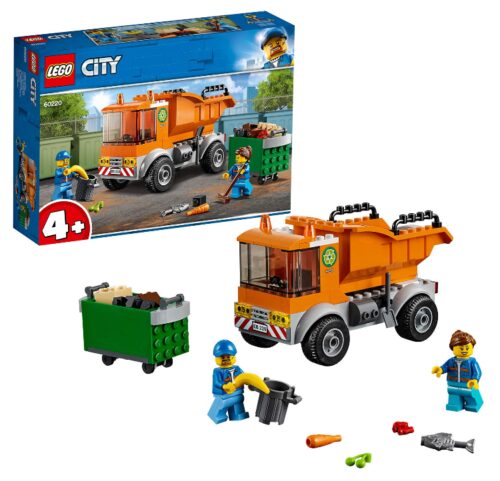 #9 Toddler Garbage Truck Special
Do you love this awesome toddler trash truck as much as we do? Safe to navigate and great for the imagination, toddlers will have endless fun with this recreation trash vehicle. This cute green truck comes with a driver character, 2 detachable trash cans and features moveable parts for plenty of interaction. Your toddler can empty full trash cans into the back of the truck using the red lever and, move the truck along smoothly thanks to its comfortable rubber wheels. The design of this toy replicates loved vintage toys and it thanks to its durable composition it will last your child an entire childhood! This toy is suitable for toddlers aged 18 months and above.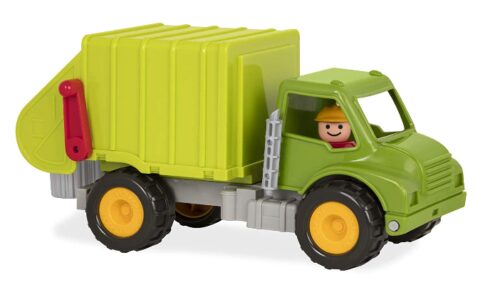 #10 Toy Green Recycling Truck
Help your child develop fine motor skills with this awesome toy. A fantastic, simply designed dumper truck will allow your kid to sort through all types of garbage including bottles, card, and cans for an environmentally friendly clean-up. Kids will get to learn about the way in which such vehicles operate and teach themselves to be conscious of the way in which rubbish should be mindfully disposed of. The recycling truck is composed of earth-friendly materials and it features 3 trash chutes as well as a tipping mechanism too! Easy to clean, safe and educational, this toy is a great addition to any kid's toybox, don't you agree?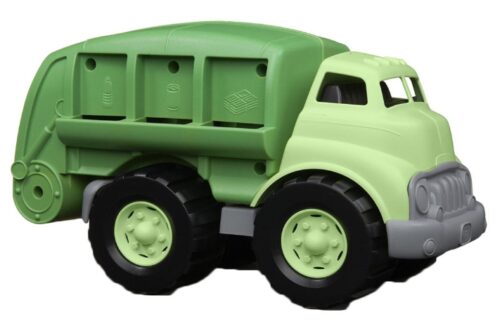 #11 Waste Management Truck
This waste management truck is as close to it gets with replicas of the real thing! In a funky blue color and composed of high-quality metal toy vehicle is perfect for any child who wants to learn about the job and recycling. With a fully detailed interior and exterior, this truck comes with functioning arms, forks to pick up trash cans and an opening rear door too. If you're looking for a high simulation truck for fine-tuning a child's motor skills, educating and of course, fun, this is the toy for you!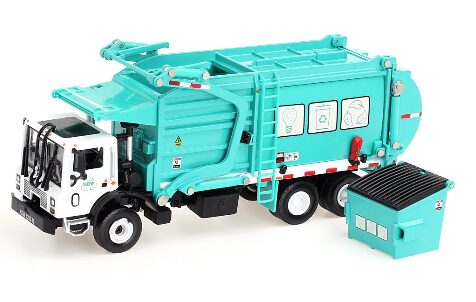 #12 Orange Trash Truck
Whether you're looking for something new to add to a collection or, you simply want to buy a trash garbage collector truck for your child, this model is simply awesome! With no need for batteries, children can get busy unloading their full cans into the back of this bright orange vehicle as they clean things up. Suitable for kids above 4 years of age, this truck will help young children understand more about the job, how trash is disposed of and will also keep them entertained for hours and hours…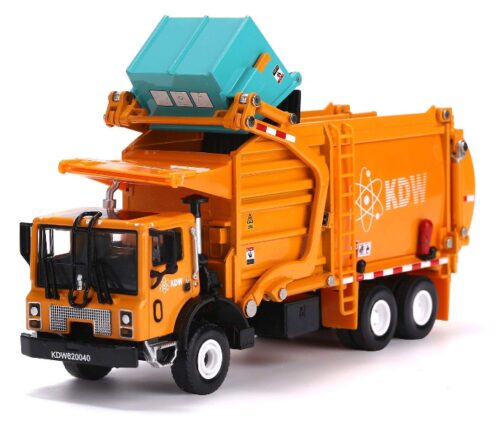 #13 Metal Garbage Model Truck
Not dependent on battery power, this cool metal garbage model truck is great for a collector or a child who wants a new toy! Lifelike, the vehicle can be easily maneuvered thanks to its wheels which give kids the ability to collect trash wherever they may find it, indoors or outdoors. Get kids inspired as they get to unload the trash can that's included using the replica mechanism. Bring purposeful play to your kid's spare time!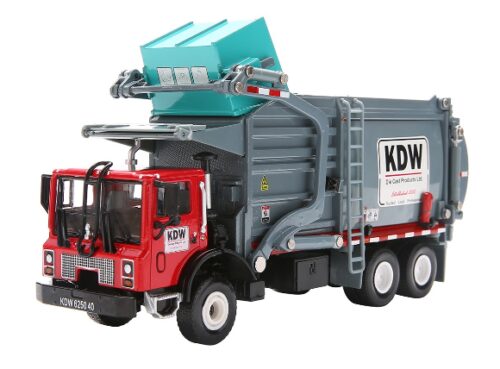 #14 Granite Truck
Looking for a unique waste management toy truck? This granite garbage truck model features retro colors and is both practical and great for collectors too. Featuring an engine hood that opens, doors that can be used, fold out mirrors and of course a tilting refuse container, kids will enjoy hours of play with this toy. Your child will be able to maneuver the refuse by turning the easy handle located on the side of the truck as well as navigate it around smoothly thanks to its treaded tires.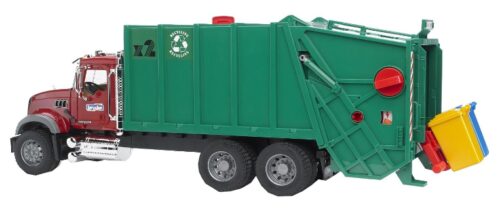 #15 Garbage Crane Truck
Kids get to control their truck fully with this cool remote control garbage truck toy! Why not give your child a driving experience as they imagine their role in this job? Featuring four channels, children can move the truck's wheels forward, backward and rotate them too. This awesome green-colored truck also features a crane that helps lift heavy trash into the container. The crane jib can rotate 180 degrees and reach any trash it needs to as well as moving up and down to dispose of it. Bring the truck to life further by switching on its lights and help your child learn through play. Great for developing hand-eye coordination and holding a super realistic appearance, there's more reason than one to invest in this toy for your kid!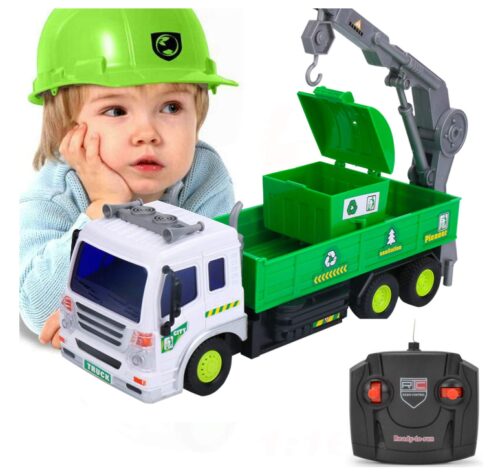 #16 Recycle Building Kit Truck
Check out the awesome design of this recycle truck that comes fully kitted out with luminous LED lights for an extra special touch! Including 330 pieces, this mega pack will provide your child or children with endless opportunities for imaginative play. Take your workers to the streets, even at night with light-up clothing, to clear the city trash away. Your child can customize their truck with a selection of cool decals and learn about green living as they do. The truck itself features a lifting arm to get trash unloaded into the back container ready to recycle! This set is also compatible with Lego making it great for those who have existing sets and would like to mix and match. Get your kid involved in STEM learning now! Note that this toy isn't suitable for children under 6 years of age due to small parts.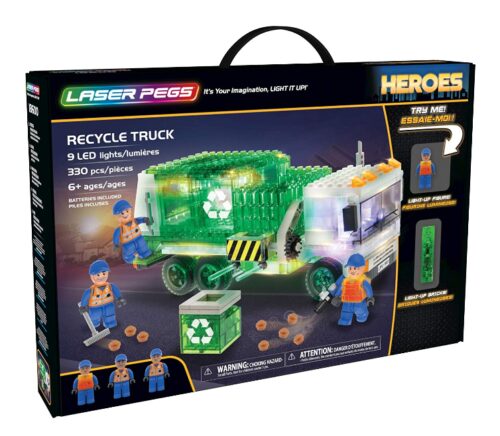 #17 Tonka Motorized Garbage Vehicle
This battery powered garbage motor truck is at the top of its game when it comes to interactive vehicle toys. Featuring a motor, this tonka truck toy is one-of-a-kind. Your child will be able to interact fully with the whole trash clearing process as they can move the vehicle around and use hands-on controls to operate the sounds and dumping action. Close to the real thing, this green toy has branding on its side and a recycling motif too. Get your kids acquainted with the world of recycling early, help them develop motor skills and see them have lots of fun along the way too!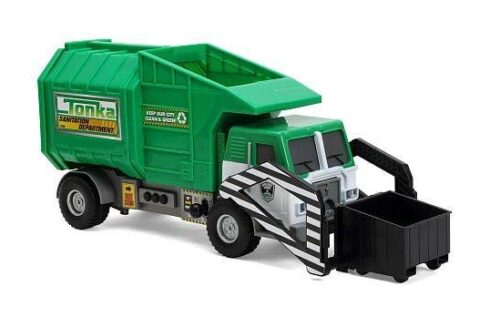 #18 Mattel Stinky Matchbox Garbage Truck
Introducing you to matchbox stinky truck! This monster truck is a trash disposal animal and can navigate any terrain to pick up trash in the way. With mega wheels, the vehicle is easy to navigate and can be used both outdoors or inside as your child can play out their garbage collecting scenarios. The colors used are eye-catching and replicate the real themes amongst many trucks. Have your child immerse themselves in interactive play and, for a surprise the truck can turn into a character too! Stand Stinky up on his back wheels and see the underside come to life. We think that this truck is simply awesome and a brilliant gift idea.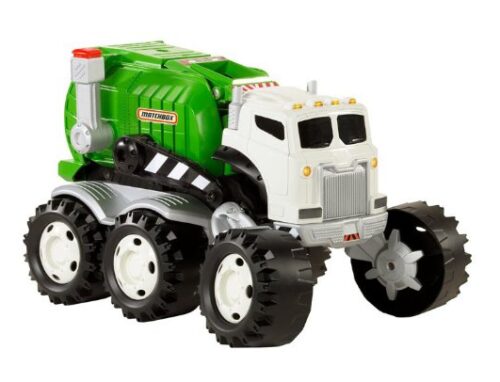 #19 Wooden Truck
This beautifully designed garbage vehicle is a great choice for toddlers. Designed using wood, it's sturdy and durable which makes it perfect for younger children. As part of a three-piece set, it features a back arm that lifts and mimics the disposing action of trash being emptied into the back container. Suitable for kids ages 3 years and above, this toy is great for helping to develop motor skills and to teach hand-eye coordination through 'driving' the truck forward and backward with its wheels.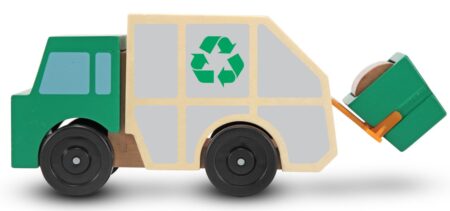 #20 New York Truck
This die-cast New York style truck is a must for any child who loves this type of toy vehicles. White in color, it features an arm which can lift and dump rubbish from the green bins included as well as branding on its side. Scaled on a 1/50 basis, it is easy to navigate and will get kids using their imagination as they make way around in the vehicle to clean up the streets swiftly. Note that this toy should not be given to young children due to choking hazards and its weight which may cause injury if dropped.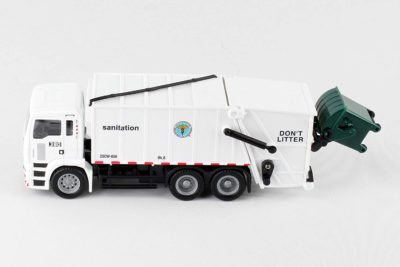 Our Top Pick
All of the trucks above are awesome but when it came to choosing a favorite we chose the Garbage Crane Truck. With lots of features to keep a child entertained, this garbage green truck ticks all the boxes and more! Your child will get to pick up trash cans and dispose of the waste contained inside using the awesome silver crane. Perfect for strengthening a child's hand-eye coordination and fine motor skills, there's lots of fun and learning to be had with this toy.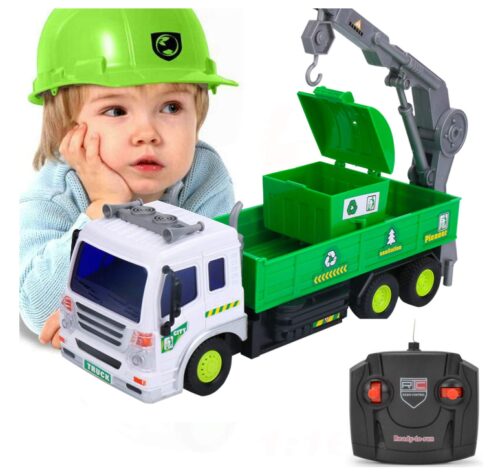 What Are The Benefits of This Type Of Toy?
While vehicle toys seem pretty straightforward in the type of play they can provide a child, there are in fact lots of benefits that come with engaging with these type of toys. Let's take a look at some of the benefits…
Spacial awareness – Through navigation of such toys, children learn how to better become aware of their environments and the space around them. This is especially true for remote-controlled toy trucks, which require heightened awareness of the area in which the toy is moving.
Communication – Children learn to communicate through playing with toys and creating scenarios with other kids too. You'll find that this rings particularly true when it comes to interacting with toy vehicles as children speak about the actions they are taking and why. As parents, it's beneficial to sit with your children and observe whether they are openly communicating during play time. If not, perhaps try prompting your child with a few questions about what they are doing…
Motor skills – Such toys are great for developing and strengthening a child's motor skills. Through maneuvering, your child is learning about hand-eye coordination and will be better equipped to engage in activities such as sports as they continue to learn and develop.
Imagination – It's crucial to engage a kid's imagination when they play. Creativity helps a child to be more aware of the world around them and how it operates. Through interacting with these type of toys, a child will be able to think up their own scenes where their toys come to life in the real world. The creativity of make-believe is priceless, however, replication of everyday activities through play is also immensely valuable too.
STEM skills – Toy vehicles can help a child to develop STEM skills as a child's mind will work while carrying out actions. This is part of the wider way in which learning begins to form in these areas and continues throughout childhood.
Encourages sound in play – While this may fall under the umbrella of communication, children will naturally narrate and make sounds when it comes to interacting with such toys. Whether your child is replicating noises they've observed or not, there is plenty of value to be had when it comes to this element of playtime.
Physical development. Toys that move require your children to move too! Toys with wheels will get your kids active, even if not intended as they navigate around the space in which they're playing. Movement will help your kid to develop their motor, coordination and balancing skills whilst strengthening their muscles at the same time if they're particularly young.
There we have it! A complete list of the trucks you can choose from when selecting this type of toy for your own child and the benefits that come with playing with these toys.